Bartolo Colon signs with Monclova Acereros of Mexican Baseball League
MEXICO CITY — Bartolo Colon is headed to Mexico.
The right-hander, who will turn 47 in May, has signed with the Monclova Acereros of the Mexican Baseball League.
The Acereros, defending champions of the Triple-A circuit, announced the signing of the Dominican right-hander Friday. The team didn't provide details of the contract.
"Bartolo Colon would be an important piece of the pitching staff of the current champions, becoming one of the bigger signings in our baseball history," the team said in a press release. "The 'Big Sexy' show would be something the Monclova fans will be to enjoy."
Colon hasn't pitched in the majors since 2018 with the Texas Rangers.
He became the top winning pitcher born in Latin America, getting his 246th career victory on Aug. 7 against the Seattle Mariners.
Colon is 247-188 in 565 games — 552 as a starter — since his big league debut with Cleveland in 1997. He also was the 2005 AL Cy Young Award winner while with the Angels.
Nats' Mike Rizzo not satisfied with Astros' apology, says 'they cheated'
WEST PALM BEACH, Fla. — Count Washington Nationals general manager Mike Rizzo among those not impressed or satisfied by the Houston Astros' attempts to apologize for — and put behind them — their sign-stealing scandal.
"They cheated. They were found guilty of it. And I haven't heard it yet," Rizzo said Friday after Washington's second formal workout at the spring training complex the team shares with Houston.
"The thing that pains me the most is it puts a black cloud over the sport that I love. And that's not right. The commissioner did an investigation and found that they cheated in 2017 and 2018. Somebody's got to say the words over there: 'cheated.' And that's important to me," Rizzo said. "For the sport to move on, which is what I'm most concerned about, we have to make sure that all the i's are dotted and the t's are crossed on this investigation before we end it."
Rizzo's NL champ Nationals went into last year's World Series prepared to deal with against-the-rules actions by the AL champ Astros before beating them in Game 7 for the title.
"I have no proof of what, if anything, they did in 2019," Rizzo said. "We assumed they were, and we prepared diligently for it."
World Series MVP Stephen Strasburg said the Nationals used new catcher's signals and changed them during games, so if Houston had been trying to steal signs in October, there wouldn't be anything from his past outings that could be relied on.
"Regardless of if there was any funny business going on, we controlled what we could control, we were prepared for it, and we did what was necessary to go out there and make it as even a playing field as possible," Strasburg said.
Rizzo and Strasburg said people from other teams reached out to the Nationals as soon as it was known their opponent in the Fall Classic would be the Astros.
"We got a lot of volunteer phone calls on how to beat them and how to play them," Rizzo said.
Noted Strasburg: "The league is a lot smaller than you think."
Last month, commissioner Rob Manfred punished Houston for using a video feed to view and decode opposing catchers' signs during the 2017 — when the team won the championship — and 2018 seasons. Players banged on a trash can to signal to batters what pitch was coming, believing it would improve the chances of getting a hit.
Rizzo made a point of saying the Astros "cheated to win the World Series."
Houston's manager, AJ Hinch, and GM, Jeff Luhnow, were suspended by Manfred for a year and immediately fired by the club.
"I know for a fact that could not and would not happen with the Washington Nationals, because I would not allow it to happen with the Washington Nationals," Rizzo said. "So we certainly take pride in that, the way we conduct our business and our process, and we try and do things the right way for the good of the game in its entirety."
Told of the general nature of Rizzo's comments Friday, Astros pitcher Brad Peacock said: "I don't know how to answer that. All I know is we're moving forward, looking forward to next year. And everybody spoke yesterday about it. And I agree with everything they said."
The Associated Press contributed to this report.
Indians' Mike Clevinger has knee surgery, out 6-8 weeks
Cleveland Indians pitcher Mike Clevinger had arthroscopic surgery on his left knee on Friday and won't return to baseball activities for 6 to 8 weeks, the team announced.
The right-hander partially tore his meniscus Wednesday during a spring training workout at the team's facility in Goodyear, Arizona.
Clevinger, 29, avoided arbitration this offseason by reaching a $4.1 million deal with Cleveland. He went 13-4 with a 2.71 ERA in 21 starts in 2019, and is being counted on to be a key part of the rotation after the Indians traded two-time Cy Young Award winner Corey Kluber.
He has won 38 games over the past three seasons. He made 21 starts in 2019, but missed time early in the year with a strained back muscle.
Cleveland on Friday also signed free agent Domingo Santana to a $1.5 million contract that includes a $5 million club option for 2021. The outfielder, who made $1.95 million with the Seattle Mariners last season, had a promising start to 2019 before missing 24 games in August and September with an injured right elbow.
Santana appeared in 121 games and hit .253 with 21 homers and 69 RBIs.
Prior to signing with the Mariners, Santana spent three-plus seasons with the Milwaukee Brewers. His breakthrough season came in 2017, when he hit 30 home runs with 85 RBIs, 88 runs and 15 stolen bases for the Brewers.
Since entering the majors in 2014, Santana has a career .259 batting average with 75 home runs and 232 RBIs.
Information from The Associated Press was used in this report.
Josh Hader loses to Brewers, says arbitration model 'outdated' for relievers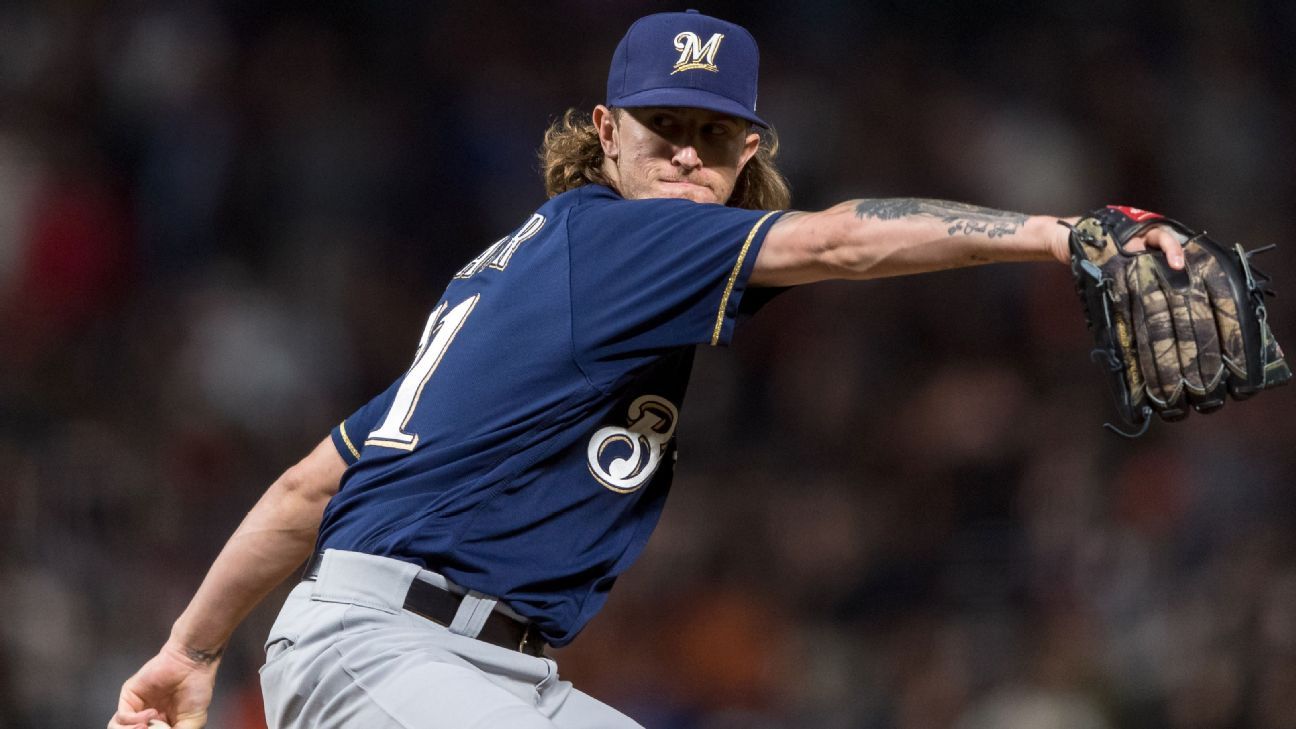 PHOENIX — Baseball's arbitration model for relief pitchers is broken, Milwaukee closer Josh Hader said Friday after losing his case against the Milwaukee Brewers.
Hader will earn $4.1 million rather than his $6.4 million request, a decision that dropped players to 1-6 in hearings this year. Arbitrators Mark Burstein, Dan Brent and Fredric Horowitz made the decision, a day after hearing arguments.
"We're in a unique position, the way we're used as relievers nowadays," Hader said. "I think the system's just outdated on how we're used. We're mostly being used for lineups, not innings."
While teams used to have set roles for pitchers in the seventh, eighth and ninth innings, computer programs now determine which matchups in the batting order are best for which pitcher.
"We're going to a new part where guys are pitching in situations that could come in the fourth inning and you're facing the middle of the lineup to get maybe out of a jam," Hader said.
Hader made his big league debut in June 2017 and was used in 2018 as multi-inning reliever who often bridged the gap between the starter and hard-throwing right-handers Jeremy Jeffress and Corey Knebel.
When Knebel sustained an elbow injury that required Tommy John surgery last year and Jeffress battled ineffectiveness and injury, the shaggy-haired left-hander moved into the closer's role and converted 37 of 44 save opportunities while going 3-5 with a 2.62 ERA. He earned his second straight All-Star selection.
He failed to hold a 3-1 lead in the eighth inning of the NL wild-card game, loading the bases by hitting one batter, walking another and allowing a bloop single, then giving up a two-out, bases-loaded single to Washington's Juan Soto that scored three runs. The Nationals won 4-3 and went on to their first World Series title.
After making $687,600 last year when his contract was renewed, Hader just made the arbitration eligibility cutoff with 2 years, 115 days of major league service.
General manager David Stearns detected "no hard feelings" in a conversation with Hader ahead of the decision.
"Josh said he wants to help us win a World Series," Stearns said.
Teams also beat Boston Red Sox pitcher Eduardo Rodriguez, Los Angeles Dodgers outfielder Joc Pederson, Minnesota pitcher Jose Berrios, Atlanta reliever Shane Greene and Colorado catcher Tony Wolters.
Dodgers reliever Pedro Baez has been the lone player to win.
Seven players, including Brewers left-hander Brent Suter, remain scheduled for hearings, which run through Feb. 21.