Tony Kemp says he refused to take part in Astros' sign stealing
MESA, Ariz. — Called up in September 2017 by Houston, Tony Kemp immediately was asked by teammates whether he wanted to be a part of the Astros' sign-stealing scheme. He says his answer was a firm no and that he didn't feel further pressure to take part.
"That stood," the second baseman said Friday after arriving in Oakland's spring training camp and reuniting with former Astros teammate Mike Fiers, who went public in November about Houston's sign stealing that rocked the baseball offseason. "Once I got there in September, the system was already in place, and I just tried to keep my head down and play hard and not really concern myself with it."
Kemp said what Houston did was wrong and, when asked whether the 2017 World Series title is tainted, noted: "That's a good question. Everyone's going to have their own speculations about it, everyone's going to have their own opinions about it. I'm not sure."
Houston manager AJ Hinch and general manager Jeff Luhnow were fired last month, on the same day commissioner Rob Manfred suspended them over the sign-stealing scheme. Former Astros bench coach Alex Cora was dismissed as Boston Red Sox manager, and ex-Astros player Carlos Beltran lost his job as New York Mets manager.
Kemp said he appreciates the apologies by Astros players, which he considered sincere, and said "you definitely feel for them."
"I'm not going to say that things that were going on over there were necessarily right. Those things were wrong," said Kemp, who was acquired by the A's from the Chicago Cubs last month. "I think that they're feeling remorse now. You see those guys and how they feel and how they're acting and you can definitely tell that there was some wrongdoing there."
Kemp planned to speak to his new teammates individually rather than make a statement in front of the group.
"If I was more involved, then I think a statement would be the right thing to do, but we're all grown men and I think if you have questions you can come up and ask me and I'll be straightforward with you," Kemp said. "I think that if teammates have questions and want to come up to me, I'll be more than welcome to answer the questions."
A's manager Bob Melvin met with Kemp on Friday and agreed with the infielder's approach to getting to know his new teammates, many of whom he faced in the minor leagues. Melvin said the reception might be different had Kemp been a regular player for the Astros in recent years, saying, "I think this thing gets closed pretty quickly as far as his time over there in Houston."
"He's got a real clear conscience about what happened," Melvin said. "Most of our guys know him. I think in the position that he's in, I don't need to call a meeting and have him talk to everybody. The guys know they can go up to him and talk to him in groups. Everything I heard was all good, move forward with him. We're happy to have him."
Fiers, a 15-game winner last season who pitched his second career no-hitter, has declined to speak in detail about the Astros situation or his role as whistleblower. He said he approached Kemp on Friday.
"I've always respected Tony. He's always been a good guy," Fiers said. "Always got along with him. Good dude to have on the field and as a teammate."
Kemp said he chose not to participate in the sign-stealing system because "I was comfortable with the way I was swinging the bat at the time in Triple-A."
"Once I got called up, I just felt like I was going to trust my abilities up there," he said. "I just didn't want any distractions."
He also didn't have a guess as to how many players were stealing signs because he hadn't been there long.
"In '17, that was my choice," he said. "I had four or five months in the big leagues under my belt at that time, and I just felt like at the time that I didn't want to use it. I'm not going to sit here and say bad things about the people who did, but it is what it is. We move forward, and now we're in the same division, so now it's going to be fun. It's going to be a healthy competition. I think everyone's looking forward to it."
Oakland won 97 games each of the past two seasons to finish second in the American League West behind Houston. Kemp, who will get regular work at second base this spring, realizes the matchups with the Astros will now have new meaning and might be difficult for Fiers at times.
"I think that leaving Houston and going to a different team, I think you have to at least say, 'Hey, they do some things, you might have to switch your signs up or you might need to do something,'" Kemp said. "For Fiers, it's a tough situation to be in because you have teammates in Houston but you also have new teammates. It's a sticky situation."
Los Angeles Dodgers clinch NL's top seed, 8th straight division title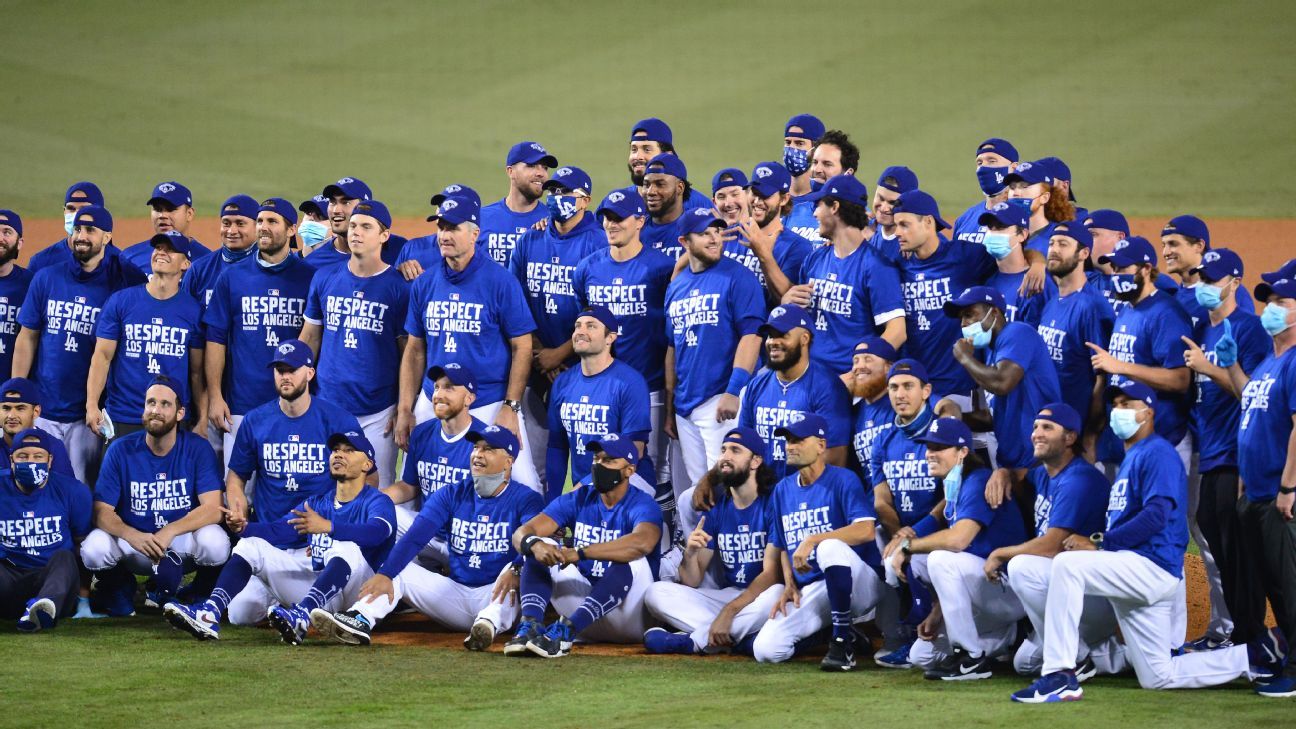 LOS ANGELES — Wrapping up an NL West title has become routine for the Los Angeles Dodgers, but in a year in which no one was sure three months ago if there would be a baseball season, manager Dave Roberts wanted his team to still savor the moment.
The Dodgers clinched the NL's top postseason seed and eighth straight division title Tuesday night with a 7-2 victory over the Oakland Athletics. They are third team to win at least eight straight division titles, joining the Atlanta Braves (14 straight from 1991-2005) and New York Yankees (nine straight from 1998-2006).
"To fast forward a couple months and be crowned NL West champs is a credit to everyone. It should never be taken for granted," Roberts said. "Truth be told a lot of guys didn't know we could clinch. We were responsible but I let it know that it has to be appreciated."
The Dodgers, who own the best record in the majors at 39-16, were the first team in the majors to clinch a playoff berth on Sept. 16. They will open postseason play on Sept. 30 by hosting every game in a best-of-three series against the No. 8 seed.
Los Angeles came into the day with a magic number of two and got help with the Angels' 4-2 victory over the San Diego Padres.
Instead of a wild celebration on the mound after Jake McGee struck out Sean Murphy for the final out, players briskly walked out of the dugout to celebrate with teammates. Everyone grabbed a division clinching shirt and cap before heading to the mound for a group photo.
The clubhouse celebration was also muted. Champagne was still involved, but it was players toasting each other with a glass instead of being showered in it.
"We talked about it instead of dumping stuff on people. It's a moment you need to celebrate and we did," said Corey Seager, who had three hits and one of Los Angeles' four home runs. "It stinks not being able to do champagne and beer showers because some of the younger guys haven't been able to experience that."
Max Muncy, Chris Taylor and A.J. Pollock also went deep for Los Angeles, which leads the majors with 104 home runs.
"This whole year has been weird. There's no other way to describe it," Muncy said. "It's sad not to be celebrate as usual but we know there is a lot more at stake."
Dustin May went five innings and allowed two runs on three hits. The 22-year-old red-headed righty set a team record by not allowing more than three earned runs in his first 13 career starts, which include 10 this season.
Seager tied it at 1 in the first with an RBI single and then led off the fifth with a drive to center off T.J. McFarland to extend LA's lead to 6-2.
Muncy gave the Dodgers a 3-2 lead in the third inning with a two-run homer. Taylor and Pollock extended it with solo shots in the fourth off Oakland starter Frankie Montas.
Cody Bellinger added two hits for the Dodgers, including an RBI single with the bases loaded in the seventh.
Dodgers third baseman Justin Turner was scratched from the lineup less than an hour before first pitch due to left hamstring discomfort. He came off the injured list on Sept. 15 and has not played in the field since Aug. 28.
Joc Pederson was in the lineup at DH after missing five games while on the family emergency medical list. Roberts said before the game that he wasn't sure if Pederson will remain with the team during the entire postseason.
The Associated Press contributed to this report.
Marcell Ozuna, Braves beat Miami, clinch 3rd straight NL East title
Bryse Wilson pitched five scoreless innings, Marcell Ozuna drove in five runs with four hits that included two homers and the Atlanta Braves clinched their third straight NL East title by beating the Miami Marlins 11-1 on Tuesday night.
Atlanta hit five homers, including drive by Dansby Swanson and Freddie Freeman off Nick Vincent in a five-run seventh. Freeman drove in two runs with three hits.
After Jorge Alfaro lined out to Freeman to end the game, Braves players hugged on the field and exchanged high-fives in the dugout.
Wilson (1-0) allowed three hits and one walk, striking out a career-high seven. It was an unexpected showing by the 22-year-old right-hander, who had a 7.04 ERA in four relief outings and had been at the team's alternate training site until Monday. He had not started since July 16 last year at Milwaukee.
Atlanta clinched its record 20th division title, one more than the New York Yankees. The Braves won 14 straight in completed seasons from 1991-2005 but have not won a postseason series since 2001 and have not won a championship since 1995.
Miami remained in position to earn its first playoff berth since winning the 2003 World Series.
Ozuna hit a first-inning homer off Jose Urena (0-3), who allowed four runs in six innings. Ozzie Albies homered in the second, and Ozuna added a two-run double in the fifth and drove in Freeman with a 450-foot homer to center field in the eighth.
Manager Brian Snitker said the Braves were prepared for a low-key celebration, due to social distancing rules in the pandemic. He said Major League Baseball "pretty much restricted all that" due to space constraints in the clubhouse.
"I think we go in and air high-five to everybody," Snitker said.
The Associated Press contributed to this report.
Chicago Cubs lose 3-2 to Pittsburgh Pirates but still clinch playoff berth
The Chicago Cubs are in the postseason for the fifth time in six years, clinching a spot on Tuesday night despite losing 3-2 to the Pittsburgh Pirates.
It's David Ross' first trip to the postseason in his first season as the Cubs' manager.
"It's nice," Ross said after the game. "Super proud. Thankful for the group I have. It's very rewarding for that group in there that's put in the hard work in a unique atmosphere."
The Cubs got off to a fast start, winning 13 of their first 16 games to take command in the National League Central, where they've been in first place since the season opener. Their success has been tied to their pitching staff, which ranks third in ERA in the National League.
But Chicago's offense has slumped since the quick beginning to the season. The Cubs rank 22nd in OPS and are hitting under .200 against left-handed pitching.
"It's a lot of credit to us for not being in sync the whole year and grinding through and getting wins," first baseman Anthony Rizzo said. "It's a full team effort and that's what it's going to take to be the last team standing."
The Cubs have a history of making the postseason after changing managers. In 2003, Dusty Baker led the Cubs to a division title in his first season; Lou Piniella did the same in 2007. Joe Maddon also made it to the playoffs in 2015, his first season at the helm. Ross was a player on that 2015 team.
"There is so much to be proud of and thankful for from my seat," Ross said. "They came in ready to summer camp and it showed."
In the coming days, the Cubs are in good position to clinch their third division title since 2016 and host the first round of the playoffs at Wrigley Field, where they produced the lowest batting average in history there this season (.210). But Chicago features several October tested starters, including Yu Darvish, Kyle Hendricks and Jon Lester. And many of the core players are still there from when the team won the World Series in 2016.
"To be one of the playoff teams is very exciting," Rizzo said. "It's something that we're going to not take for granted because this is not easy.
"It's [the playoffs] a whole different beast. It's a different game. It's a different vibe."