Tyrod Taylor could earn starting spot, Chargers coach Anthony Lynn says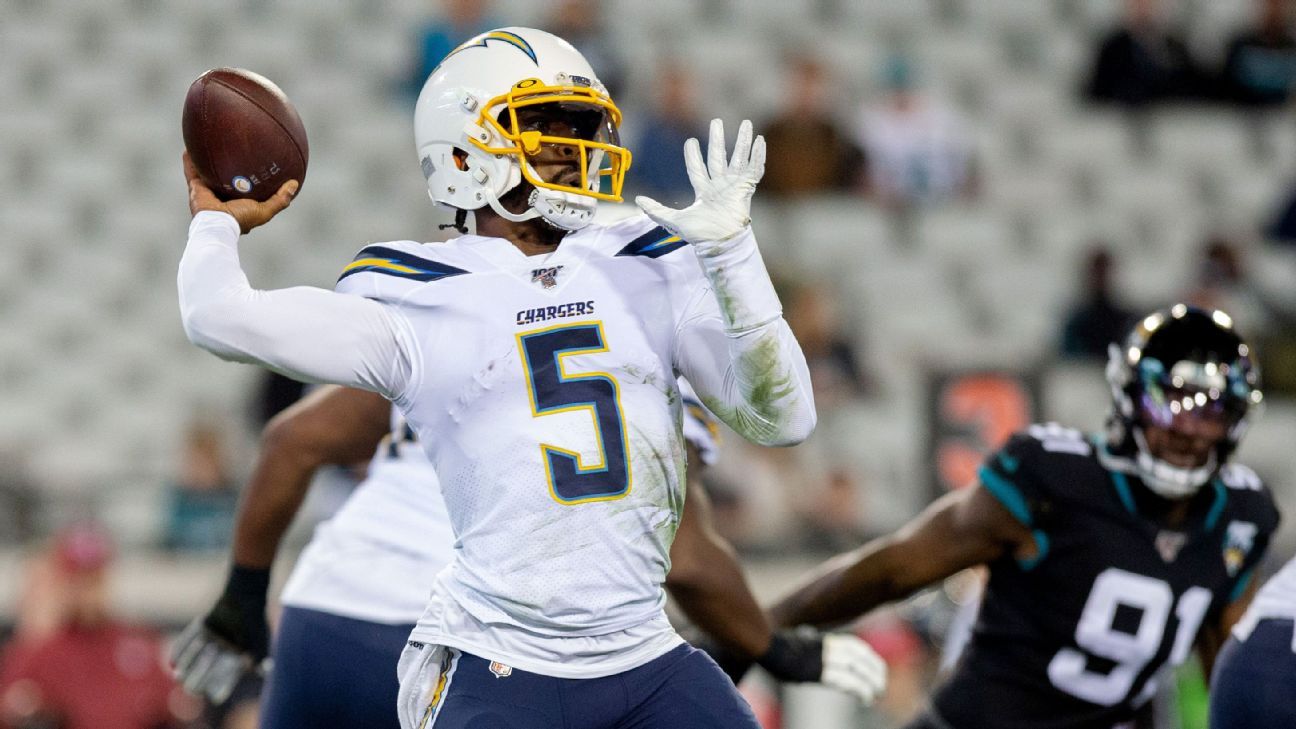 COSTA MESA, Calif. — In his first comments since the Los Angeles Chargers announced a mutual parting of ways between longtime quarterback Philip Rivers and the organization, head coach Anthony Lynn said Tyrod Taylor, last year's backup, could have an opportunity to earn the starting job in 2020.
Lynn recently signed a one-year contract extension that puts him with the Chargers through the 2021 season, according to a source.
"Tyrod Taylor is a heck of a quarterback," Lynn told AM 570 LA Sports in Los Angeles. "We couldn't have a better backup right now, and now he has an opportunity to maybe step up into a starting role. I've had Tyrod before, and I know what this young man brings to the table, in the passing game and the running game.
"One of the things he does very well is take care of the football. I believe every year he's started in this league he's been the No. 1 quarterback in taking care of the football. I believe more games are lost than won. So if we can just take care of the football and take it away, we'll be okay."
Rivers turned the ball over 23 times in last season's 5-11 campaign. Taking care of the football is a top priority for Lynn. The Chargers finished 2-9 in games decided by one score last year.
Taylor signed a two-year, $11 million deal last offseason and will make $5 million in total compensation in 2020. The Chargers also have another athletic quarterback on the roster in Easton Stick, a fifth-round selection from last year's draft.
In his last full season as a starter, Taylor turned it over just six times in 2017, leading the Buffalo Bills to the postseason for the first time in 18 years.
Taylor also helped the Bills lead the league in rushing during the 2016 season (2,630 rushing yards) in which Lynn, who prefers mobile quarterbacks, served as his offensive coordinator.
"There are some guys that can win from the pocket, but when you look around the league, most of these guys are mobile quarterbacks that can move," Lynn told 570 AM Radio, when asked what style of quarterback he prefers. "All you have to do is watch high school football on Friday nights. High school football told me 10 years ago the direction the NFL was headed.
"So that's just the world that we're in right now — you can do more things and be more cutting edge (with a mobile quarterback). But that guy that can stand back there, pick up all those protections, throw the ball from the pocket and use the quick passing game (instead of) his legs, you can still win with a classic pocket passer."
Lynn also talked about the process of moving on from Rivers after 16 impressive seasons as the face of the franchise.
"We looked at a lot of things with Phil and where he's at in his career," Lynn said. "And Phil had a say so in it as well. We agreed to split. And we couldn't have done it any classier or better. My conversation with Phil was one of the best I've had with him, I can tell you that.
"I'm a big fan of his. And if he decides to continue to play, I'm going to root for that young man and Tiffany, they are two special people. But it was just time. It happens. Brett Favre left Green Bay. Joe Montana left the 49ers. Peyton Manning left Indy. It happens."
Arizona Cardinals' DeAndre Hopkins expects relationship with Kyler Murray to flourish
TEMPE, Ariz. — As new Arizona Cardinals receiver DeAndre Hopkins gets to know his quarterback, Kyler Murray, and they start building that ever-important chemistry, Hopkins says he can't simply be teammates with Murray — they have to be as tight-knit as possible.
"My expectation is us becoming best friends and doing everything together, because I have to be on the same page as my quarterback no matter what for us to be successful as a team, not just him and I," Hopkins said during a video conference call on Monday.
Hopkins has been around Murray in person for less than a week — they worked together, along with about 20 other teammates, for a few days in Dallas last month, and have been in Arizona the past couple of days. So he has been trying to speed up the process of building a rapport with Murray on and off field, which can sometimes take months, if not years.
That starts with communicating, Hopkins said. The two have been texting and talking on the phone, he said. Hopkins' goal is to build a "camaraderie of something that is going to last for a long time, not just while we're playing football, but after football."
Hopkins expects more non-camp throwing sessions between Murray and the receivers when there's free time, he said. Those will help build chemistry, he added.
Hopkins, who the Cardinals traded for in March, said Murray has been helping him learn the Cardinals' offense.
"I think, obviously, he's matured in this offense, and I'm new to it but he's doing a good job of keeping me up to par with things and also the other guys around me," Hopkins said. "But, I think we will have time to develop chemistry once we kind of get out there and throw a little bit more against the defense. I think that it'll help.
"Obviously, we don't have a lot of time to get ready. So, every rep really counts, but I think Kyler's mindset is we're gonna make it work. So, that's my mindset, as well."
Hopkins has been studying his playbook twice a day, he said, which has helped him absorb the scheme. He has been so immersed in studying the offense that his screensaver is made up of plays, he said.
"I think so far this offense is coming along well for me," Hopkins said. "These guys are doing a good job of the way they teach. [Coach Kliff Kingsbury] is. He's a great coach. He's doing a good job of having everybody prepared for whatever happens."
Hopkins has been impressed with the reigning rookie of the year so far.
"Kyler has an arm," Hopkins said. "Obviously, I'm thankful to play with a quarterback like that that can make any throw anywhere on the field, and has confidence to throw.
"And just from what I've seen, we're gonna have a good time playing football together because obviously he's confident in his arm and the guy is very talented, very smart, high football IQ. But what I'm seeing so far is someone with a very strong arm."
That bodes well for Hopkins in the Cardinals' offense, which he has been told by teammates is "far advanced" at this point, more than it was a year ago. Hopkins is coming off three straight 1,000-yard seasons and believes his new scheme can help him stand out yet again.
"I think the offense is great for a receiver, for a skill player," Hopkins said. "You can actually showcase your skill set in an offense like this, getting the ball and being able to make plays, but I think they do a good job already of getting playmakers the ball."
As Hopkins continues to get to know Murray and the rest of his new teammates, he's keeping an eye on how the coronavirus can impact the season. So far, Hopkins has been impressed with the protocol the NFL has in place. He thinks getting tested daily is a smart idea and said the coaching staff in Arizona has pushed hand washing in the facility in addition to the maintenance staff cleaning and sanitizing everything the players touch.
But as players around the league continue to opt out, Hopkins said he hasn't had to think about it yet, but hasn't ruled it out if it became a necessity.
"I play football for a living but I'm also a family man for a living," he said. "And hopefully it doesn't have to come to that but I take it day-by-day. I think in the present moment, not the future. So, I take things day-by-day, but seeing guys opt out, I see a lot of guys getting criticism for it and I feel bad for those guys because obviously they're losing a lot of money by opting out, but to those people they don't want to risk what can happen and you can't blame them.
"But for myself, I take it day by day and I really don't look past that."
QB Aaron Rodgers shies away from conjecture about Packers tenure
GREEN BAY, Wis. — Aaron Rodgers isn't into conjecture — whether it's about his future with the Green Bay Packers, the possibility of getting through a season without a positive COVID-19 test or whether quarterbacks should operate in their own mini-bubble.
No, Rodgers doesn't know how his time with the Packers will end — an ever-present topic since the team traded up to take quarterback Jordan Love at No. 26 in April's NFL draft — and he made it sound like he'd prefer not to answer that question anymore.
Rodgers' answer on a Zoom call Monday resembled what it was the first time he spoke publicly after the draft and what it was last week during an interview with Kyle Brandt on the Ringer Podcast Network that reintroduced the topic into the NFL vernacular.
"There's been a lot of hypothetical questions on here; I'm not always a huge fan of guessing those things," Rodgers said Monday during a 26-minute virtual session with reporters on the first day of player availability during training camp. "But obviously, I've said that before: I think if I retire on the team's timeline, then all is well. If they're looking to move on before I'm done playing, there becomes an impasse at that point. I can control my play and my performance and my approach and my leadership, but at some point, there's other factors involved. It's what I said to you guys Day 1 when we talked about this, and that's what I said to Kyle. That's the facts to me at this point."
Just a day earlier, Packers coach Matt LaFleur said he envisions Rodgers as the Packers' quarterback for "a really long time" but acknowledged that no one knows how long that would be.
"Nothing's guaranteed in this league," LaFleur said Sunday. "But I feel so lucky to be able to work with him on a daily basis. I don't see that changing for a really long time."
When asked what his definition of "a really long time" is, Rodgers, in part, chose to focus mostly on the present.
"I savor every moment, every season," Rodgers said. "I don't take any of it for granted. I don't know what the future holds. I know I can control this year and my play and my approach and my attitude. And I'm enjoying being back with the guys. It's fun to see them. Different, obviously, circumstances. There's a lot of things that are strange compared to the last 15 years I've been here, but I'm really enjoying being back here with the guys and being back in meetings and workouts and just seeing the energy and the smiles and the laughs. That really makes it fun."
The Packers signed Rodgers, 36, to a contract extension worth $134 million in August 2018 that runs through the 2023 season. Love's rookie contract, without the fifth-year option, runs concurrent to Rodgers' deal.
The Packers could begin to save salary-cap space on Rodgers' deal if they moved on from him after this season, but it would be a small gain; they would save only $4.76 million on the cap and have $31.556 million in dead money. After the 2021 season, the Packers would save $22.648 million in salary-cap space by making a move but would have to count $17.204 million in dead money.
As for this season, Rodgers said he never considered opting out, but he doesn't hold anything against players who have. So far, only one Packers player, receiver Devin Funchess, has taken that option.
"I was always gonna play," Rodgers said. "I respect any person who decides to opt out. There's a lot of different circumstances around, I'm sure, each individual case. … I respect all those guys who decided to make that decision, even Devin. We had a conversation before training camp started and he talked to me before it had kind of gone public. I just told him I respect his decision. I have a lot of appreciation for how difficult that must be to weigh the love of playing with football with the safety of your family. So I have an appreciation for that and absolutely zero judgment."
The Packers so far have five players on the COVID-19 reserve list: kicker Mason Crosby, long-snapper Hunter Bradley, tight end Jace Sternberger, defensive lineman Treyvon Hester and linebacker Greg Roberts. Those players have either tested positive for the virus or had come into close contact with someone who has. They must have a series of negative tests before they can return to the facility.
Rodgers would not say what the likelihood is of a player getting through the season without a positive test, but he said he felt safe at Lambeau Field.
"I think the first part is a hypothetical one; I'm just not going to touch that one," he said. "I think the protocols that we have in place here are such that I think it gives us a really good chance. We've been obviously testing every day, and there's tracking devices and just the rules of the facility are obviously a lot different this year than years past and I think give us the best chance to get into the season and finish the season."
On Sunday, LaFleur said he has considered keeping his quarterbacks as separate as possible from the rest of the team and even employing a quarantined backup who would have limited or no contact with the rest of the quarterbacks in case an outbreak hit that position.
"That's not my decision; that's Matt's decision," Rodgers said. "Obviously, this year presents different types of challenges than years past and it's crazy to think of — that those are the types of conversations that we have to have in order to play — but that's the reality we live in."
Chargers' Joey Bosa thankful, relieved with record extension
Joey Bosa expressed gratitude and relief Monday that he will enter his fifth NFL season with a five-year, $135 million contract extension from the Los Angeles Chargers.
But, for at least a few minutes before he reported for coronavirus testing last week, Bosa seemed uncertain that a deal would be reached after only a week of negotiations because of the coronavirus pandemic.
"It definitely came together a little faster than I expected," Bosa said during a video conference with reporters.
Bosa revealed that he sat inside his parked car near the Chargers' reporting site, out of view of team personnel, last Tuesday for about 10 minutes as his agent continued to negotiate a new deal.
"I have a bright blue car, so they would have seen me from 10 miles away if I had pulled up into the parking lot of the hotel, so I was parked off to the side and I got that call that it was done and it was hard to contain my emotions," Bosa said.
Bosa arrived only a few minutes before the reporting deadline and provided no hint that he agreed to an extension that included $102 million guaranteed, a record for defensive players.
"Coming in there getting a swab, it probably helped that I had a mask on, probably, because it was — I had the biggest smirk underneath my mask walking in there," Bosa said. "I was like, 'Hey guys, I made it' and I kind of got the swabs and walked out and after that a rush kind of came over me and I made calls to my parents and all that. It was very emotional."
Bosa declined to say if he planned to hold out if an agreement was not reached.
His record-breaking deal came less than two weeks after Cleveland Browns outside linebacker Myles Garrett agreed to a five-year deal that included $100 million guaranteed, a then-NFL record for defensive players.
Bosa credited Garrett, in part, as well as his own decision to hold out before his rookie season because of contract negotiations, for his getting a deal done quickly and with relative ease.
"They know that I know what I bring to the table and I know my own value and I think they've seen the body of work that I've put in and I don't think either of us wanted to butt heads," said Bosa, the third overall pick in 2016. "I don't know how much of a factor it had, but I'm sure it played a small part."
Bosa also says that he doesn't expect to hold the record for long, especially with his younger brother, Nick, starring for the San Francisco 49ers. "It will probably be a short-lived record," Bosa said. "Which is great because I'm happy to just set the bar and maybe my brother in a few years will surpass me, I'm sure of that."
As a rookie last season, Nick Bosa recorded nine sacks and earned Pro Bowl recognition.
Over the next six seasons, the Chargers expect Joey Bosa, who has 40 sacks in 49 career starts, to anchor a defense that they've recently invested in.
The Chargers signed All-Pro cornerback Chris Harris Jr. and veteran defensive tackle Linval Joseph each to two-year, $17 million contracts and traded up in the NFL draft to select Oklahoma linebacker Kenneth Murray with the 23rd overall pick.
The Chargers also return standout defensive backs Casey Hayward, Desmond King and Derwin James and defensive end Melvin Ingram this season.
"I feel confident saying if we're not the best, we're definitely one of the best," said Bosa, when asked if he and Ingram should be considered the best pass-rushing duo in the league. "When we're both healthy out there, rushing at our best, it's hard to stop, it's hard to account for."