Report — Kevin Pillar agrees to 1-year, $4M deal with Red Sox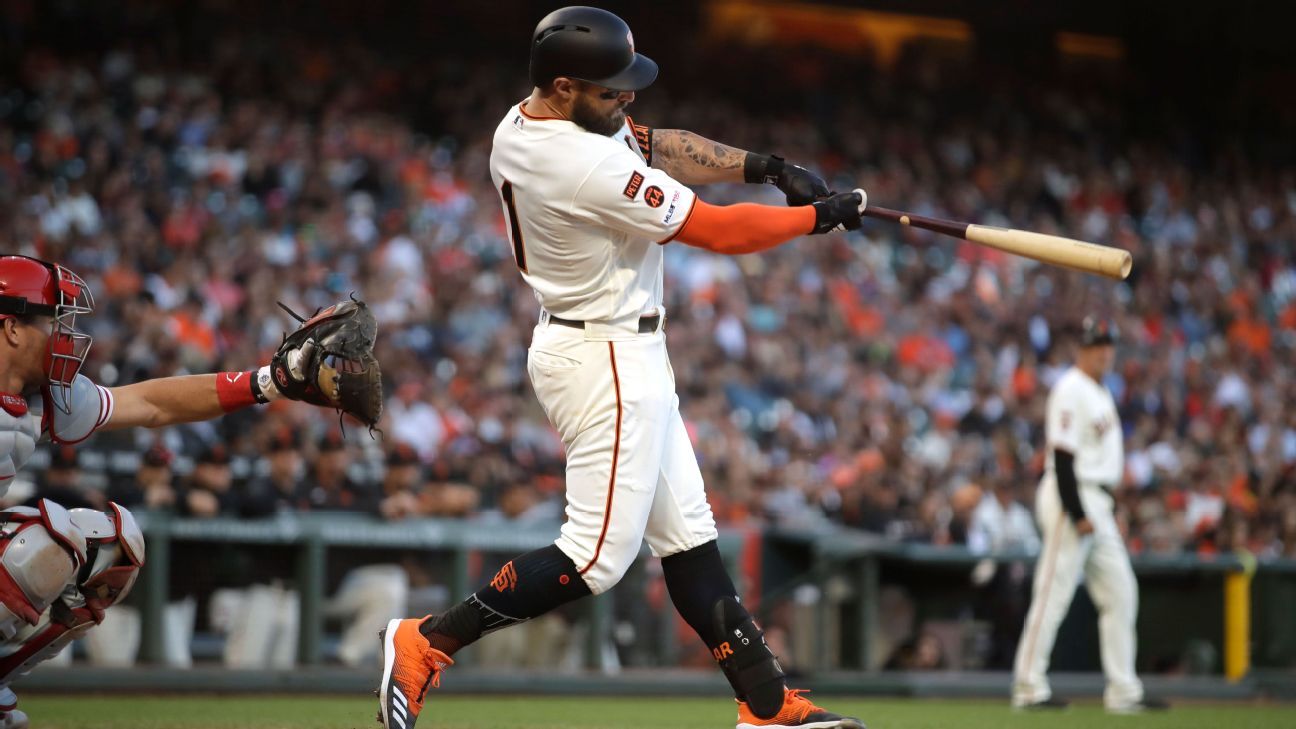 The Boston Red Sox have agreed to a deal with free-agent outfielder Kevin Pillar, according to The Boston Globe.
The newspaper reports it's a one-year, $4 million deal that could become official as soon as this weekend if Pillar passes his physical.
Pillar will provide Boston with some outfielder depth with Mookie Betts now gone via trade to the Los Angeles Dodgers and Alex Verdugo, whom the Red Sox acquired in the deal, no certainty to be ready for Opening Day. Verdugo missed the end of last season with a back/oblique injury, and while he said in December that his goal was to be ready for the opener, he told MLB.com then that he'd have to wait and see how the injuries were progressing.
Red Sox position players aren't mandated to report to spring training until Sunday.
Pillar began last season with the Toronto Blue Jays and moved to the San Francisco Giants as part of a four-player trade in early April. The slugging outfielder had the best season of his career, leading the Giants in several offensive categories, including homers (21), RBIs (87), hits (157) and on-base percentage (.339).
Pillar, who made $5.8 million in 2019, was not tendered a contract by the Giants after the season, as he would have become eligible for arbitration and likely would have commanded approximately $10 million.
A right-handed bat, Pillar had been Toronto's longest-tenured player before being traded in his seventh season with the team. Known for stellar defense in center field, the 30-year-old has a .261 average with 76 home runs and 318 RBIs in 851 games. The Blue Jays selected Pillar in the 32nd round of the 2011 amateur draft, giving him a $1,000 signing bonus.
Pillar's time in Toronto was not always smooth. In May 2017, he was suspended two games after yelling a homophobic slur at Atlanta Braves reliever Jason Motte. Pillar later apologized to fans, Major League Baseball and the LGBTQ community.
New York Yankees' Tommy Kahnle likely to have Tommy John surgery
The New York Yankees got the worst news possible Friday on Tommy Kahnle's injured elbow, as manager Aaron Boone announced the reliever is likely destined for Tommy John surgery.
"He's probably headed for surgery," Boone said. "Your heart goes out to Tommy, knowing it's a significant injury that has to get taken care of right now."
Kahnle underwent an MRI that revealed a a right ulnar collateral injury. The right-hander first felt right forearm tightness during the Yankees' impromptu workout Tuesday night at Camden Yards in Baltimore, following the postponement of their scheduled games against the Phillies in Philadelphia.
Kahnle, who turns 31 on Aug. 7, had an important role in the Yankees' bullpen, having thrown 61⅓ innings in 2019 with a 3.67 ERA and an average of 12.9 strikeouts for every 9 innings.
"It's a big loss," said outfielder Aaron Judge, who hit a two-run homer Friday in the Yankees' 5-1 victory over the Boston Red Sox in their rescheduled home opener. "During a game like this, when it's 3-1, you have that back end of our bullpen of Greeny [Chad Green], Tommy, Otto [Adam Ottavino] and then [Zack] Britton, that's tough to get by. Kind of missing a big piece like Tommy Kahnle is going to be tough for us."
Kahnle had pitched one scoreless inning this season, striking out three Washington Nationals batters in the eighth inning on Sunday.
"We're going to have to pick up the slack," Boone added. "Tommy is an elite reliever in the league; some guys are going to have to step up and pick up some important outs along the way."
Mets' Luis Rojas not saying if Edwin Diaz has lost closer's role
ATLANTA — New York Mets manager Luis Rojas wants to get Edwin Diaz back on the mound quickly.
Rojas won't say if the next outing for Diaz will come in a save situation.
Diaz's role as the Mets' closer again is being watched closely for the second straight season after the right-hander walked two batters, hit a batter and gave up a run while recording only one out in Thursday night's 4-2 loss to Boston.
"It was a little bit surprising, just kind of how the outing went," Diaz said through a translator before Friday night's game at the Atlanta Braves. "It had been five days since I last threw, so I felt like I didn't have my mechanics in order."
Diaz said he was "trying to overpower my pitches too much."
Diaz said he told Rojas he would like to be used more frequently — no matter when he enters the game.
"I'm open to pitching whenever," Diaz said. "That doesn't matter to me. It's just one of those things where I would like to pitch more frequently, as opposed to having those long layoffs."
Rojas said he had "a healthy conversation" with Diaz about the goal "to get him back on track when we get the chance."
Rojas said "the stuff is there, obviously," but he was worried about the emotions and lack of control Diaz showed against the Red Sox.
"We didn't talk about a specific role moving forward but we talked about looking forward to getting him back in there as soon as we can," Rojas said.
The Mets' ninth-inning options also include Seth Lugo, Jeurys Familia and Dellin Betances.
"Diaz is part of the depth that we have for pitchers that have experience closing games," Rojas said. "For us, we always talk about how much of a luxury that is."
Diaz has one save in two chances this season after losing the closer's role in 2019, when he had a 5.59 ERA. He had 57 saves and a 1.93 ERA with Seattle in 2018.
Dodgers' Clayton Kershaw to make season debut Sunday
Clayton Kershaw will make his 2020 debut for the Los Angeles Dodgers on Sunday vs. the Arizona Diamondbacks.
Kershaw was scratched just four hours before he was set to throw the first pitch of the Dodgers' season because of back stiffness.
Kershaw's back originally stiffened up while he went about his normal routine in the weight room in the days leading up to the Dodgers' opener, but an MRI later that day came back clean. He received treatment over the next couple of days but couldn't get his back loose enough to make his first start.
Walker Buehler will get the start on Monday against the Padres.
Kershaw will be a welcome addition to the Dodgers' rotation, which lost starter Alex Wood to the injured list because of shoulder inflammation earlier this week.