Sources — Gary Kubiak to take over OC duties for Vikings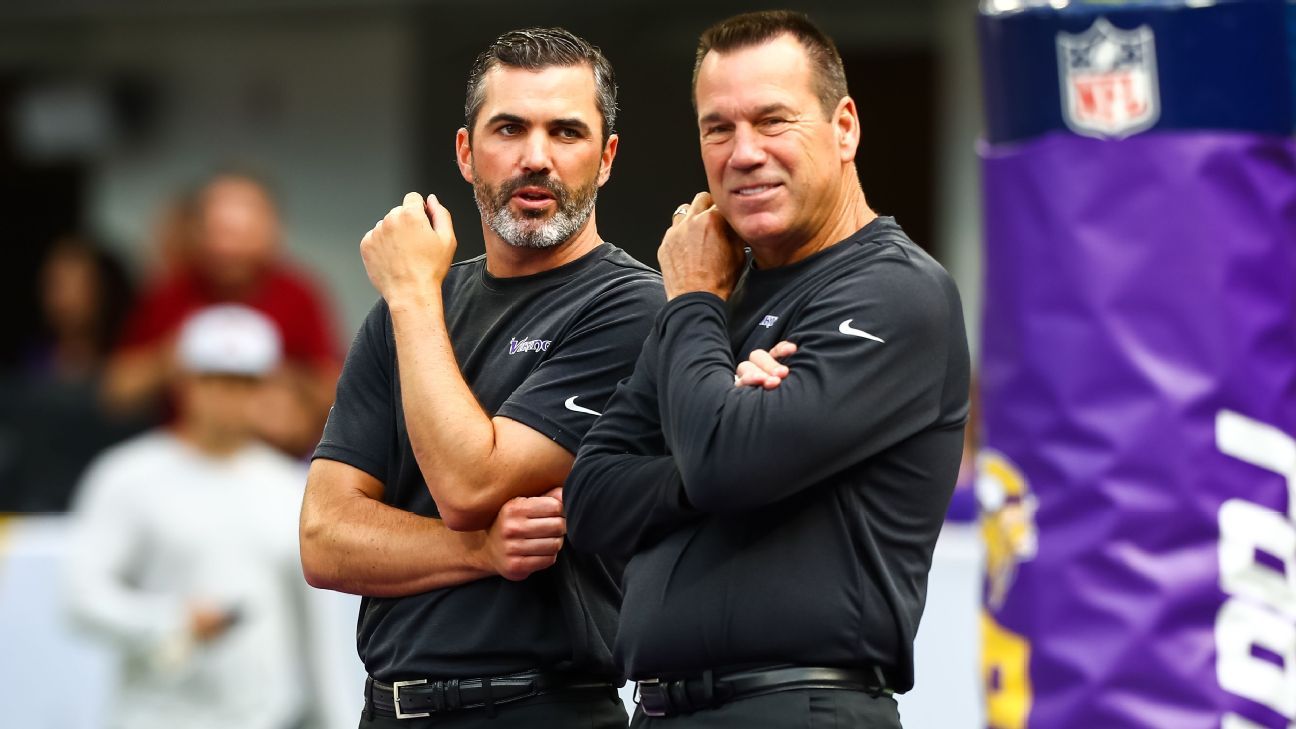 MOBILE, Ala. — The Minnesota Vikings are handing offensive coordinator duties to Gary Kubiak, multiple league sources confirmed to ESPN. Kubiak served as the team's assistant head coach/offensive adviser during the 2019 season.
Kubiak will take over the role held by Kevin Stefanski since Week 15 of the 2018 season. Stefanski left Minnesota after 14 seasons to become the new head coach of the Cleveland Browns.
During his season-ending news conference, Vikings coach Mike Zimmer prioritized a need to retain continuity on offense as the team began its search for Stefanski's replacement. Minnesota hired Kubiak last year to serve in an advisory role; on game days, Stefanski called plays from the sideline while Kubiak oversaw the offense from the coaches box. Along with the hire came Kubiak's signature zone-blocking scheme that he ran in 21 seasons as an NFL head coach or offensive coordinator.
From 2018 to 2019, the Vikings offense jumped from 19th to eighth in points and 23rd to sixth in yards per attempt. Minnesota had the second-highest designed run percentage (47) in the NFL last season and averaged 133.3 rushing yards per game.
"It'll be the same system," Zimmer said last week. "Obviously [quarterback Kirk Cousins] is going to have a new offensive coordinator. It'll be his fifth coordinator in five years, I think he told me yesterday, or at least voice in his ear on game day. So, I mean, there's nothing I can do about that, but I think it's important not just for Kirk, but for the entire offense, to have the same system, the same calls and things like that so that when they come in here on day one it's not completely foreign to them."
Kubiak's passing offenses have ranked in the top 10 in net yards per attempt 12 times since his first year as a coordinator in 1995. Eleven times, his scoring offenses cracked the top 10 during that span. A lot of that had to do with how much he was able to get out of the quarterback position.
Cousins compiled one of his strongest seasons as a pro, leading the NFL with 13 touchdowns off of play-action. The Vikings QB notched the third-highest completion percentage of his career (69.1), had the fourth-best passer rating (107.4) and was seventh in yards per attempt (8.1).
"I think Kirk played a lot better this year than he did the year before," Zimmer said. "I think obviously the scheme helped him quite a bit, and so I think yeah, I think this may have been his best year that he's played in the NFL."
Kubiak, who already under contract through the 2020 season according to a source, helped revive the Vikings offense during a season that ended in the divisional playoffs. Stefanski often talked about the impact Kubiak had on his limited experience calling plays.
"Having him around has been invaluable to me," Stefanski said in November. "This is my first year doing this, so having somebody that I can bounce ideas off of both during the week and during the game and then on top of that … you guys know Gary — great person. In terms of working together, I think he among all of our staff, I'd point out to every single one of our coaches, I think it's a really great working environment where we could get a lot done and respect each other's ideas and thoughts. And Gary's certainly at the forefront of that."
Prior to joining the Vikings staff, Kubiak held a position in the Denver Broncos personnel department after retiring from coaching after the 2016 season. He led Denver to a win in Super Bowl 50 and holds the all-time record for wins with the Texans (61), where he was the head coach from 2006-13.
Coronavirus tests negative for Week 1 Kansas City Chiefs-Houston Texans
The NFL passed a significant test in dealing with the coronavirus. Tests on all Houston Texans and Kansas City Chiefs players, coaches and team employees from Week 1 came back negative this week, a source told ESPN's Adam Schefter.
These were the first tests to come back from the regular season. The Texans and Chiefs kicked off the season Sept. 10 in Kansas City with the Chiefs winning 34-20.
While the NBA, WNBA and NHL are playing in bubbles and testing players regularly, it was not clear how testing would go in the NFL once travel and full contact between teams began.
One Tier 3 person, a groundskeeper, did test positive, but he was nowhere near players, the source told Schefter.
'It's hitting us pretty hard right now': Richard Sherman latest 49ers injury – San Francisco 49ers Blog
SANTA CLARA, Calif. — The San Francisco 49ers aren't even two full weeks into the 2020 NFL season and their so-called "Legendary Revenge Tour" has taken an unwanted detour.
Cornerback Richard Sherman (calf) and wide receiver Deebo Samuel (foot) are on short-term injured reserve, tight end George Kittle's status for this week is in the air because of a sprained left knee and the 49ers have already suffered a handful of other key injuries dating back to training camp. That's on top of losing the season opener to the Arizona Cardinals.
As they head east this week to begin a two-game road swing against both New York teams with a week at The Greenbrier resort in West Virginia sandwiched in between, it's safe to say the 49ers are already facing the type of adversity that doesn't usually hit teams until much later in the season when normal wear and tear is more apt to set in.
• From Lambeau Leap to D.C. disaster
• SoFi's huge videoboard targets GenZ
• Raiders ready the 'Death Star'
"It's a challenge, but you always have something like this each year," coach Kyle Shanahan said. "It's hitting us pretty hard right now."
Indeed, the 49ers have been hammered by injuries at a few spots, namely wide receiver, cornerback and center.
In addition to Samuel at receiver, the Niners lost Jalen Hurd (torn ACL) for the season in training camp, veteran Travis Benjamin opted out and Richie James Jr. is dealing with a hamstring injury. Rookie wideout Brandon Aiyuk missed the first game with a hamstring injury, though he's back in the mix and expected to play this week against the Jets, barring a setback.
At center, the team will be without starter Weston Richburg (patellar tendon) for at least the first six games. Backup Ben Garland missed the first game because of an ankle injury, though he is also expected back on Sunday.
Cornerback became the latest position of concern Wednesday when the Niners placed Sherman (strained calf) on IR and cornerbacks Ahkello Witherspoon (concussion protocol) and Jason Verrett (hamstring) did not practice.
It's a list that even Santa Claus would find arduous to read but is particularly jarring given how early in the season it is.
"Definitely some adversity," running back Jerick McKinnon said. "We've got a lot of depth, so when an injury happens, it's the next guy up. The next guy has to step up, fill in that role and fill in that hole as best he can. Yeah, it's a little bit of adversity, but this team has been through so much adversity since I even first got here, so it's nothing new. Just have got to find a way to get the job done."
Indeed, the 49ers must find a way to get the job done, particularly in the next few weeks with winnable games against the Jets, Giants, Philadelphia Eagles and Miami Dolphins. Last season, the Niners found themselves in a similar situation about a quarter of the way through the season when they lost key cogs such as tackles Joe Staley and Mike McGlinchey and fullback Kyle Juszczyk. They survived because little-known players such as Justin Skule, Daniel Brunskill and Ross Dwelley successfully filled the void as they rattled off an 8-0 start before their first loss.
That same type of production will be needed this time from the likes of Witherspoon, who is expected to replace Sherman, Kendrick Bourne, who is still in for Samuel, and others, such as soon-to-be-signed wideout Mohamed Sanu.
"We've dealt with this before," quarterback Jimmy Garoppolo said. "I think every team, you've got to deal with your injuries. 'Next man up' mindset, but in the past, you've got to rely on the guys that you can trust. They earn that in practice."
According to linebacker Fred Warner, the Niners have already flushed last week's loss to Arizona and their focus is solely on the Jets. Still, it's hard to put together a game plan when you have so many moving parts. The 49ers know they must move on quickly, and after turning a 4-12 2018 into a 13-3 2019, nobody knows better than the Niners that the distance from a pat on the back to a kick in the rear is a matter of inches.
The good news? If San Francisco can weather this storm, they should get Samuel and Sherman just in time for the meat of the schedule, because the new IR rules allow unlimited players to return after just three weeks.
"It allows you to manage some stuff differently," Shanahan said. "… So, it's a challenge and some stuff is still up in the air, but it's not our first time doing this."
Free-agent safety Eric Reid says he hasn't received a contract offer or workout invite
Despite setting two defensive franchise records for the Carolina Panthers last season, Eric Reid remains unsigned, like his close friend, Colin Kaepernick.
Reid told The Associated Press on Wednesday he has not received any offers nor been invited for a visit by any team since the Panthers released him in March. The 28-year-old safety had 130 tackles, four sacks, six passes defended, two fumble recoveries and a forced fumble in 2019. The tackles and sacks are the most by a Panthers safety in one season.
Washington coach Ron Rivera, Reid's former coach in Carolina, gave him a strong endorsement Wednesday. Rivera said he hasn't received any calls from coaches or general managers inquiring about Reid.
"I would tell them he's a heck of a teammate," Rivera said. "He came in and the young man did exactly what was asked of him. He was not an issue. I will say this, too. He's a young man who really, truly helped me understand the entire movement that's going on right now. He's a heck of a young man. I'll tell you that much.
"We're in a fortunate position where we have Landon Collins. A guy like Eric Reid wouldn't fit us here. But if we didn't [have Collins], believe me, I'd call him. I think he's a guy that has the ability to play in this league and hopefully, if somebody needs a strong safety, he's a guy they would call."
The admiration is mutual.
"I enjoyed playing for Coach Rivera," Reid told the AP in a text message. "He's the real deal. He has that reputation for a reason."
A first-round pick by San Francisco in 2013, Reid went to the Pro Bowl his rookie season. He joined with Kaepernick in 2016 when the former star quarterback took a knee during the national anthem to protest against police violence, racism and social injustice.
Kaepernick hasn't played in the league since that season and Reid sat out the first three weeks of the 2018 season before Carolina signed him. Both players filed collusion grievances against the NFL and settled their cases in February 2019.
Reid has also been a vocal opponent of the NFL's new collective bargaining agreement. In March, he called for an investigation and a revote over language added following ratification of the pact.
Reid could easily argue he's being blackballed because of his criticism of the league and the NFL Players Association.
NFL commissioner Roger Goodell finally apologized to Kaepernick last month in an interview with former player Emmanuel Acho on Acho's YouTube show, "Uncomfortable Conversations with a Black Man."
"I wish we had listened earlier, Kap, to what you were kneeling about and what you were trying to bring attention to," Goodell said. "We had invited him in several times to have the conversation, to have the dialogue. I wish we had the benefit of that, we never did. We would have benefited from that, absolutely."