Sources — Gary Kubiak to take over OC duties for Vikings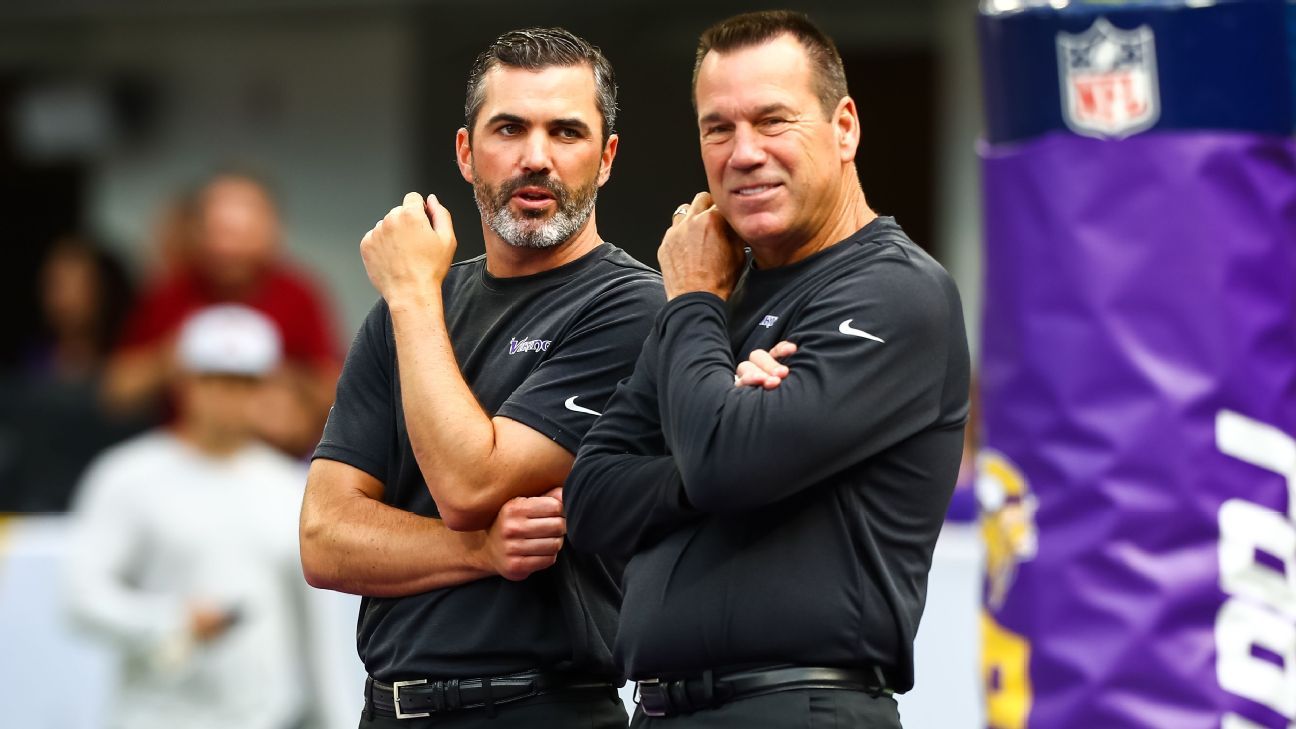 MOBILE, Ala. — The Minnesota Vikings are handing offensive coordinator duties to Gary Kubiak, multiple league sources confirmed to ESPN. Kubiak served as the team's assistant head coach/offensive adviser during the 2019 season.
Kubiak will take over the role held by Kevin Stefanski since Week 15 of the 2018 season. Stefanski left Minnesota after 14 seasons to become the new head coach of the Cleveland Browns.
During his season-ending news conference, Vikings coach Mike Zimmer prioritized a need to retain continuity on offense as the team began its search for Stefanski's replacement. Minnesota hired Kubiak last year to serve in an advisory role; on game days, Stefanski called plays from the sideline while Kubiak oversaw the offense from the coaches box. Along with the hire came Kubiak's signature zone-blocking scheme that he ran in 21 seasons as an NFL head coach or offensive coordinator.
From 2018 to 2019, the Vikings offense jumped from 19th to eighth in points and 23rd to sixth in yards per attempt. Minnesota had the second-highest designed run percentage (47) in the NFL last season and averaged 133.3 rushing yards per game.
"It'll be the same system," Zimmer said last week. "Obviously [quarterback Kirk Cousins] is going to have a new offensive coordinator. It'll be his fifth coordinator in five years, I think he told me yesterday, or at least voice in his ear on game day. So, I mean, there's nothing I can do about that, but I think it's important not just for Kirk, but for the entire offense, to have the same system, the same calls and things like that so that when they come in here on day one it's not completely foreign to them."
Kubiak's passing offenses have ranked in the top 10 in net yards per attempt 12 times since his first year as a coordinator in 1995. Eleven times, his scoring offenses cracked the top 10 during that span. A lot of that had to do with how much he was able to get out of the quarterback position.
Cousins compiled one of his strongest seasons as a pro, leading the NFL with 13 touchdowns off of play-action. The Vikings QB notched the third-highest completion percentage of his career (69.1), had the fourth-best passer rating (107.4) and was seventh in yards per attempt (8.1).
"I think Kirk played a lot better this year than he did the year before," Zimmer said. "I think obviously the scheme helped him quite a bit, and so I think yeah, I think this may have been his best year that he's played in the NFL."
Kubiak, who already under contract through the 2020 season according to a source, helped revive the Vikings offense during a season that ended in the divisional playoffs. Stefanski often talked about the impact Kubiak had on his limited experience calling plays.
"Having him around has been invaluable to me," Stefanski said in November. "This is my first year doing this, so having somebody that I can bounce ideas off of both during the week and during the game and then on top of that … you guys know Gary — great person. In terms of working together, I think he among all of our staff, I'd point out to every single one of our coaches, I think it's a really great working environment where we could get a lot done and respect each other's ideas and thoughts. And Gary's certainly at the forefront of that."
Prior to joining the Vikings staff, Kubiak held a position in the Denver Broncos personnel department after retiring from coaching after the 2016 season. He led Denver to a win in Super Bowl 50 and holds the all-time record for wins with the Texans (61), where he was the head coach from 2006-13.
RFA Taysom Hill considers himself a franchise QB, would leave Saints for 'right opportunity'
METAIRIE, La. — Count Taysom Hill among those who believe he can be the New Orleans Saints' quarterback of the future.
Hill, who has been a revelation as a modern day "Slash" while playing quarterback, running back, receiver and tight end in Sean Payton's offense, recently told The Associated Press' Rob Maaddi, "I definitely view myself as a franchise quarterback."
Although Hill said he hopes his future is in New Orleans, he also suggested that he's willing to go elsewhere in search of his best opportunity as a 29-year-old restricted free agent.
"I think as you look at the other questions — 'Is it New Orleans? Is it somewhere else?' — as you go into free agency, this is the time that you start to find out how people view you. And we haven't gotten into free agency long enough to really know how these guys view me, and we'll just handle it as it comes," Hill said on a podcast with Maaddi that was recorded during Super Bowl week. "There's no denying that I loved my time in New Orleans. I love Coach Payton. I love Pete Carmichael and Joe [Lombardi], the offensive coordinator and quarterbacks coach that I've worked with, the special teams. It has been an incredible experience for me. The fan base. I have loved every second of my time there. So do I want to leave? The fact of the matter is no, I don't. But as you look at free agency, you have to find the right opportunity for you.
"You have to find the situation to take care of your family. You know, I want to play quarterback in this league, and if New Orleans don't view me that way, well, then I have to leave. So that's really where we're at."
Hill doesn't seem to be trying to force a timetable on the Saints, though.
When asked about the possibility of 41-year-old Saints QB Drew Brees retiring this offseason, Hill said, "I hope he comes back. I would love to play with him again. He's become one of my best friends and like a brother to me. And I hope we see him again."
"This last season has been so much fun for me," Hill said. "We have such a great locker room. You talk about being able to play with a guy and be a part of Drew Brees and all the records he's breaking. And then Coach Payton is notorious for always having things to switch it up. That just make it so much fun."
All indications suggest that Hill could have a future in New Orleans, whether or not Brees decides to retire this offseason.
There have been multiple reports that Payton views Hill as a future franchise QB. If Brees does come back for a 20th season in 2020, the Saints could lose veteran backup Teddy Bridgewater in free agency.
Payton told ESPN's First Take during Super Bowl week that he thinks it would be "very difficult" and "unrealistic" to keep all three QBs on the roster.
Brees, 41, and Bridgewater, 27, are both unrestricted free agents, though Brees has made it clear that he will either return to the Saints or retire. Bridgewater could also choose to stay in New Orleans, like he did as a free agent last year. But he could find more lucrative offers on the open market after going 5-0 in 2019 as New Orleans' starter while Brees was sidelined by a thumb injury.
Hill, who went undrafted out of BYU in 2017, is a restricted free agent, which means the Saints can maintain the right to match any offer he might sign elsewhere. If they make a high enough qualifying offer to him, they would also require another team to cough up a first- or second-round draft pick to sign him.
The exact dollar amounts haven't been set yet, but it should require an offer of at least $4.5 million to require a first-round draft choice and $3.2 million for a second-rounder.
Hill (6-foot-2, 221 pounds) got a late start in the NFL because of a two-year church mission that followed his five-year playing career as a dual-threat QB at BYU, which included four season-ending injuries. He signed with the Green Bay Packers before the Saints claimed him on waivers following cut-down day in 2017.
Over the past three seasons, Hill's role has grown from special-teams coverage to kickoff returns to all of his offensive roles. He was a standout in New Orleans' 26-20 wild-card playoff loss to the Minnesota Vikings last month, completing a 50-yard pass, running the ball four times for 50 yards and catching two passes for 25 yards and a touchdown.
He caught a total of seven TD passes in 2019, including the playoffs.
Payton has always insisted that he sees a potential future for Hill at QB, comparing his late-bloomer potential to that of Hall of Famer Steve Young.
Payton has never publicly committed to Bridgewater or Hill as Brees' successor. But he told First Take, "We feel like that heir apparent potentially is in the building" while stressing that both QBs are "fantastic leaders and teammates."
"When you watch them play, watch the sideline and the bench, and see the excitement," Payton said.
Saints did nothing wrong in helping Archdiocese of New Orleans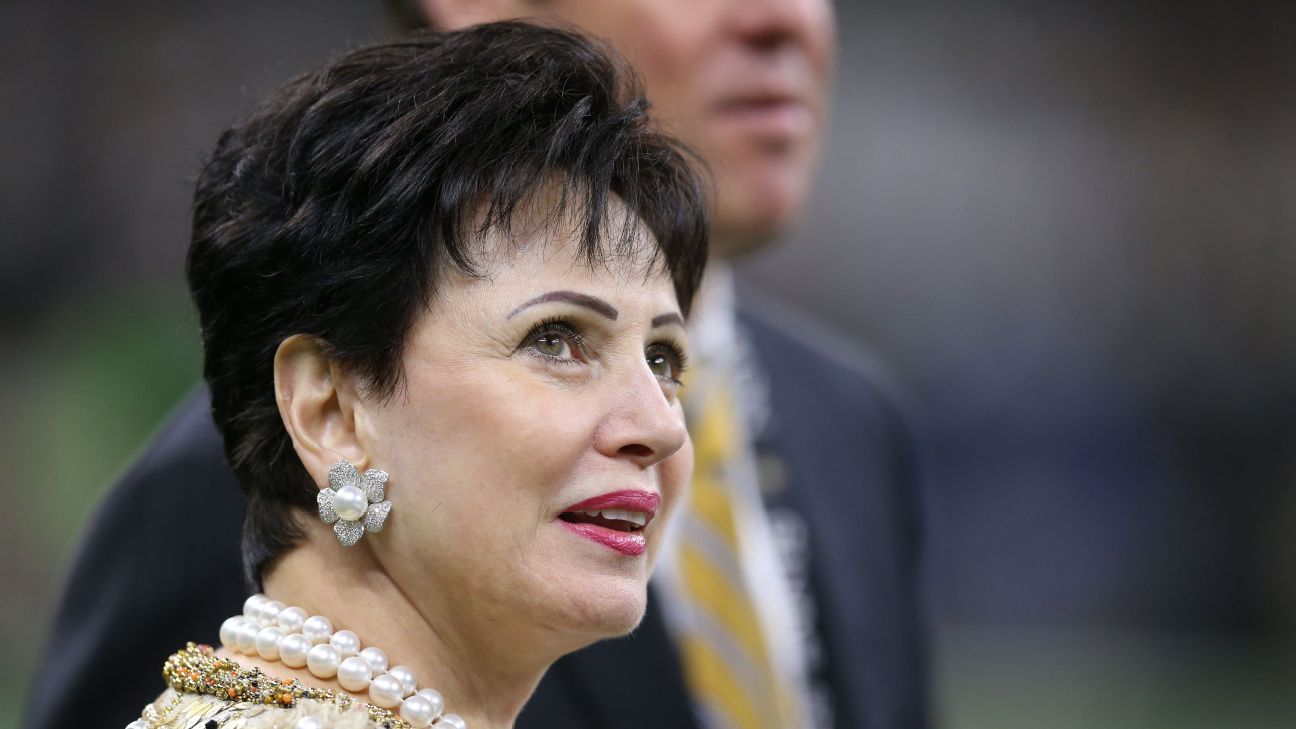 METAIRIE, La. — New Orleans Saints and Pelicans owner Gayle Benson released a lengthy statement on Monday evening to "bring clarity to questions about my relationship" with New Orleans' Roman Catholic Church Archdiocese amid the church's sexual abuse scandal.
Benson and team executives have been accused by attorneys of plaintiffs suing the church of helping to shape the Archdiocese's public relations response while releasing the names of clergy members who have been credibly accused of abuse. A hearing is scheduled for later this month to determine whether emails between Saints executives and the Archdiocese will be made public.
The Saints have insisted through previous statements that they only offered input on how to work with the media and that senior vice president of communications Greg Bensel's advice was to be "direct, open and fully transparent."
However, Benson said she felt compelled to write her own personal statement after The Associated Press requested an interview with her for a story that will be published on Tuesday.
"I have decided to no longer stand idly by while stories are written about our role in this matter and speak to this in my own words," said Benson, a devout Catholic who has a longstanding friendship with Archbishop Gregory Aymond. "This is a profoundly sad time for the Church, but more so for the victims that live with the daily pain that was inflicted upon them.
"We are proud of the role we played and yes, in hindsight, we would help again to assist the Archdiocese in its ability to publish the list with the hope of taking this step to heal the community. In addition, we already turned over every email to the court and plaintiff attorneys.
"Which brings me to my connection to the Church, the Archbishop and making this statement. I remain repulsed by the actions of past clergy in this abuse scandal. I pray for the healing of the victims and I am hopeful this terrible time will provide a path to eradicate this behavior in the Church. That is why we wanted to help. It is time for healing, which was the purpose of our involvement."
Benson went on to detail that she and her late husband, Tom Benson, "have supported the Catholic Church and this Archdiocese both financially and spiritually for decades, proudly." But she insisted that neither her husband nor herself or any of their organizations "have ever contributed nor will ever make payments to the Catholic Church to pay settlements or legal awards of any kind, let alone this issue. To suggest that I would offer money to the Catholic Church to pay for anything related to the clergy-molestation issue sickens me."
Attorneys representing a plaintiff knows as John Doe replied with a statement of their own: "As we previously stated, it is obvious that Gayle Marie Benson has not read the e-mails at issue, or re-read her own e-mails. If she had, she never would have made some of the false claims asserted in her statement today," the statement read.
As of Monday evening, the Saints have not been accused in court filings of offering money to help pay for settlements.
The NFL has not yet commented on the case or whether the Saints could face any discipline for their involvement.
Unhappy with deal, Quinton Dunbar asks Redskins to release or trade him
ASHBURN, Va., — Washington Redskins starting corner Quinton Dunbar, dissatisfied with his contract, has requested to be traded or released, a source told ESPN Monday night.
Dunbar has one year left on his contract, with a base salary of $3.25 million — none of which is guaranteed. He also has a roster bonus worth up to $250,000. Dunbar had talked with the previous administration about an extension, but a source said there had been no contact with the Redskins since Ron Rivera was hired after the season.
If the Redskins don't honor his request, and no extension is signed before training camp, the source said that Dunbar would play out his final season and sign elsewhere.
Dunbar won't participate in the spring OTA workouts, the source confirmed. His desire to skip those voluntary sessions as first reported by NBC Sports Washington. Dunbar's contract plus Reuben Foster's injury played into that decision. Foster tore multiple ligaments and suffered nerve damage on the first day of OTA work last spring. There's still uncertainty about when Foster will return.
Dunbar spoke with a member of the Redskins' administration Monday evening.
For Dunbar, seeing that injury and knowing his lack of guaranteed money fueled his desire to seek a contract that provided security.
The Redskins already had questions at receiver with Josh Norman a candidate to be released. Norman has one year left on his contract and would save the Redskins $12.43 million if he's cut. Norman was benched late in the season and played in only 10 snaps over the final six games combined. The Redskins tried to trade him before the deadline last season, but there were no takers.
The Redskins signed Dunbar as an undrafted free agent receiver out of Florida. But, in his first camp, they moved him to corner because of his length and speed.
By 2018, Dunbar became a full-time starter and Washington's most consistent corner. However, Dunbar suffered nerve damage in his leg that season, limiting him to only seven games. Last year, he played 11 games and ended the season on injured reserve because of a hamstring injury.
The previous staff considered Dunbar one of the game's better starting corners when healthy. Dunbar's side point to him being rated as Pro Football Focus' second highest-rated corner in 2019.
Dunbar's situation will be one of a handful for Rivera and his staff to settle. It remains uncertain if they can work out left tackle Trent Williams' situation. He held out last season, upset with how a medical situation was handled – but also desiring of guaranteed money in the final two years of his contract. Williams had requested a trade last year.