Major League Baseball to sponsor U.S. Olympic softball team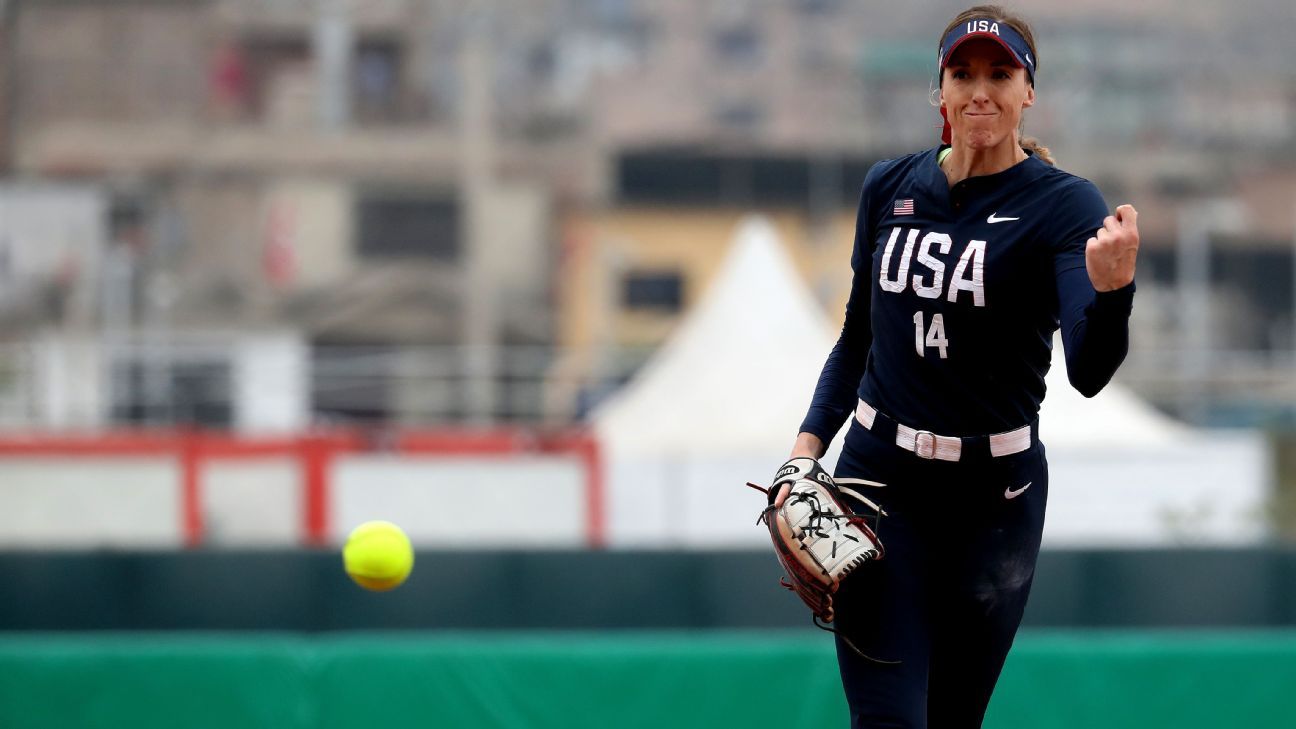 NEW YORK — Major League Baseball is using its financial muscle to support the U.S. women's softball team, which already is assured a spot in the Tokyo Olympics while the American men's baseball team struggles to qualify.
MLB announced an agreement Thursday to become the presenting sponsor of the women's "Stand Beside Her" tour, a slate of exhibition games leading up to the Olympic tournament from July 22-28.
"We're both bat and ball sports. Even though we're not the same sport, there are so many similarities that you just can't ignore," said Kim Ng, MLB's senior vice president for baseball operations. "It was important for us to make sure that they have this acknowledgment and recognition of their ability and their talent."
Softball began as an Olympic sport for the 1996 Atlanta Games. The U.S. won gold medals in 1996, 2000 and 2004 with players that included Dot Richardson, Jennie Finch and Jessica Mendoza, then lost to Japan in the 2008 gold medal game.
Baseball and softball were dropped for the next two Olympics, then restored for this year, when the U.S. and Japan will be joined by Australia, Canada, Italy and Mexico for games in Fukushima and Yokohama but not Tokyo. The sports are likely to be dropped for 2024 in Paris but could return four years later in Los Angeles.
The U.S. men's baseball team stumbled in its first attempt to qualify, wasting a ninth-inning lead against Mexico in the final game of the Premier12 tournament in November and losing in the 10th. The U.S. has two more chances to join Israel, Japan, Mexico and South Korea in the Olympic field: an Americas tournament in Arizona from March 22-26 and a final tournament in Taiwan from April 1-5.
MLB is not allowing players on 40-man big league rosters to compete in qualifying, and few top pitching prospects were at the November tournament.
Softball has no such issues. The Olympics are the sport's highest-profile event.
"The platform for us is 10 times bigger," American outfielder Haylie McCleney said. "For us, it's a great opportunity for people that have never watched softball before, people that have only followed it at the collegiate level, to really see how fun our game is to watch, how pure it is. If people are baseball fans, I guarantee they're going to love softball because it's pretty much just a faster game — it's shorter, it's quicker, it's more entertaining to watch, in my opinion."
The 2008 gold medal softball game took 1 hours, 45 minutes — less than half the 3:45 average for this year's World Series.
As part of the deal with MLB, the softball team's official training facility will be at the Jackie Robinson Training Complex in Vero Beach, Florida, the old Dodgertown spring training camp.
MLB Network will include programming from the tour, which currently starts Feb. 4 in Tampa, Florida, and has about three dozen stops.
The U.S. women's soccer team has attracted huge television audiences. MLB sees softball as an opportunity for the sport's growth.
"These are world-class athletes," Ng said. "Because we have not been in the Olympics for the last 12 years, they just haven't had that stage. So it's really important at this point that we show as much support as we can for them."
Oakland A's clinch third straight playoff berth, but 'a lot bigger goals' remain
OAKLAND, Calif. — An AL West title will mean so much more than simply clinching a playoff berth given how the past two seasons have gone for the Oakland Athletics.
Then, the A's might let loose and celebrate a little. But not just yet.
They secured a third straight playoff berth with Seattle's loss to San Diego and a 6-0 win against the San Francisco Giants on Friday night, highlighted by Matt Olson's three-run homer.
"Clinching the playoffs is the goal every single year. Exciting, but winning the division I think is going to be a lot better for us," winning pitcher Chris Bassitt said. "It was literally another win. We have a lot bigger goals."
The A's scoreboard read "POSTSEASON BOUND" high above the cardboard cutouts of fans filling the Oakland Coliseum.
Oakland is in the playoffs for the sixth time in nine seasons and now shifts its attention to the division title, which could be locked up Saturday. The A's haven't captured the West since 2013, winning 97 games each of the past two seasons to finish in second place behind Houston and before losing the AL Wild Card Game both years.
Olson connected in the third inning of a balanced offensive attack for the A's in the opener of the second round of the 2020 Bay Bridge Series.
Jake Lamb's RBI single in the first staked Bassitt to a quick lead. The right-hander struck out seven over 6 2/3 innings to win his third straight start.
"He's been absolutely terrific," manager Bob Melvin said, "probably as consistent as we've had all year."
Tommy La Stella and Marcus Semien also singled in runs for the A's, who finally got a day off Thursday following a grueling stretch with 16 games in 13 days with three doubleheaders.
San Francisco hardly had to travel far to continue its road trip. The Giants were scheduled for games in Seattle earlier this week but smoke from all the West Coast wildfires created dangerous air quality and the clubs instead played at Oracle Park in San Francisco on Wednesday and Thursday. `
The A's played a Monday doubleheader in Seattle, and players expressed concern about the air.
"The air quality is much better than we last saw it here, it certainly is better than Seattle, too," Melvin said.
Right fielder Stephen Piscotty missed his fourth straight game with a sprained right knee. The A's were going to put him through batting practice to determine his status for Saturday.
Also, right-hander Daniel Mengden was medically cleared from a positive COVID-19 test Aug. 28. He has been asymptomatic throughout and resumed throwing off the mound at the club's San Jose alternate site Friday. He is slated for a simulated game Saturday.
Left-hander Jesus Luzardo starts for the A's on Saturday afternoon, looking to end a four-start winless stretch in which he is 0-2.
The Associated Press contributed to this report.
Los Angeles Angels' Albert Pujols passes Willie Mays on all-time home run list
ANAHEIM, Calif. — Los Angeles Angels slugger Albert Pujols passed Willie Mays for fifth place on the career home run list, hitting No. 661 on Friday night against Texas.
The 40-year-old Pujols connected for a solo homer with one out in the fifth inning. He sent Wes Benjamin's fastball on a 1-2 count over the wall in left field.
Pujols has hit five homers this season. He tied Mays last Sunday at Colorado.
It is only Pujols' second home run since Aug. 4. He now trails only Barry Bonds (762), Hank Aaron (755), Babe Ruth (714) and Alex Rodriguez (696).
The Angels quickly congratulated Pujols on Twitter.
Congratulations, Albert. What an incredible accomplishment 🙌 pic.twitter.com/dxQObF7tI8

— Los Angeles Angels (@Angels) September 19, 2020
Pujols has one more season left on his contract with the Angels after this year.
Benjamin was the 428th different pitcher Pujols homered against in his career. Only Bonds has homered against more (449).
The Associated Press contributed to this report.
St. Louis Cardinals put pitcher Dakota Hudson on IL with forearm strain
The St. Louis Cardinals have placed right-hander Dakota Hudson on the 10-day injured list with a strained right forearm.
Hudson left his start Thursday night after two innings due to what he described as discomfort in his right arm.
The 26-year-old is 3-2 with a 2.77 ERA in eight starts this season.
St. Louis added right-handed reliever Nabil Crismatt to take Hudson's roster spot. Crismatt has a 3.24 ERA in 8 1/3 innings over six appearances this season.
Information from The Associated Press was used in this report.