Locking up Texans' core players could do a number on salary-cap space – Houston Texans Blog
HOUSTON — The Houston Texans are expected to make quarterback Deshaun Watson and left tackle Laremy Tunsil among the highest-paid at their positions this offseason, but the team also has many other decisions to make about the makeup of the roster.
What you need to know:
• First-round draft order: Picks 1-28 »
• McShay's 2020 NFL Mock Draft 1.0 »
• Kiper's Big Board » | McShay's Top 32 »
• First Draft podcast » | 32 draft nuggets »
• Full draft rankings from Scouts Inc. »
More NFL draft coverage »
The team enters the 2020 offseason with an estimated $41 million in cap space but is expected to spend most — if not all — of that before the start of the season to keep its core in place for the future.
The Seattle Seahawks' Russell Wilson is currently the highest-paid quarterback, but he is expected to be eclipsed with whatever deal Kansas City Chiefs QB Patrick Mahomes signs, and perhaps what Watson signs, this offseason.
Tennessee Titans left tackle Taylor Lewan is currently the highest-paid player at his position, but Tunsil and the Baltimore Ravens' Ronnie Stanley will likely set the market in 2020.
But what about the other free-agent or notable contracts the Texans are to decide on this offseason? Here's a look:
Contract status for 2020: Unrestricted free agent
What the Texans are thinking: Roby was the Texans' best cornerback in 2019, but he also made nearly $10 million on a one-year, prove-it deal. Even though he missed five games with a hamstring injury in the middle of the season, he likely priced himself out of Houston. The Texans aren't likely to pay a premium for one-year contracts going forward, and Roby will get offers for multiyear deals.
Contract status for 2020: Unrestricted free agent
What the Texans are thinking: A fifth-round pick in 2016, Reader's price went up because of how well he played. In 2019, Reader was Pro Football Focus' sixth-ranked interior defender and head coach Bill O'Brien and defensive coordinator Romeo Crennel have spoken highly of Reader and what he means to the Texans' defense.
"He's been a really good player for us ever since the day he walked in here," O'Brien said. "So, we're going to sit down with D.J., we're going to talk and we're going to try to do what's best for both sides. We'll see where that goes."
The Texans could also use the franchise tag on Reader instead of giving him a big contract extension this offseason or use the time to get a new deal done by the July franchise-tag deadline.
Contract status for 2020: Unrestricted free agent
What the Texans are thinking: Hyde came to Houston with a chip on his shoulder after being traded on cut-down day by the Kansas City Chiefs. Hyde had the best season of his career, with 1,070 yards on 245 carries and six touchdowns.
Houston certainly has room at the position for Hyde, and he said after the loss to Kansas City that he wants to be back with the Texans next season.
"I definitely want to be back here," Hyde said. "I don't want to go to another team and start all over again. I felt like Houston was home. I think I handled my part. I've just got to let things play out in the offseason and see what happens."
Contract status for 2020: Unrestricted free agent
What the Texans are thinking: Fells was a great surprise for Houston this season, standing out among the five tight ends the team had in training camp. The 33-year-old had a career-best 34 catches for 341 yards and seven touchdowns, setting a franchise record for touchdowns by a tight end in a season. The Texans might get outbid for Fells' services next season, but the team will try to bring him back.
Contract status for 2020: Unrestricted free agent
What the Texans are thinking: Joseph has been in Houston since 2011, but he played fewer than 60% of Houston's snaps this season because starting Week 13, he did not play consistently. In 2018, he played more than 75% of the team's snaps. But the 35-year-old said he's not thinking about retirement.
"I'm playing next year," Joseph said after the playoff loss to the Chiefs. "Without a doubt. Unless someone [doesn't] employ me."
Contract status 2020: $9.6 million cap hit, no 2020 dead money
What the Texans are thinking: By signing Hargreaves in November after he was cut by the Tampa Bay Buccaneers, the Texans got a chance for an extended look at the 2016 first-round pick. O'Brien likes Hargreaves, but he might not want to pay the cornerback the $9.6 million he's scheduled to make on his fifth-year option that is guaranteed for injury only.
"I don't think that's easy to be able to come in, in the middle of a season, and really later than that, and play that nickel position is not easy," O'Brien said." So, I give a lot of credit to Vernon. There's a lot of things that he's going to work hard to improve upon. We're going to help them with that, but I think Vernon stepped into a tough situation and really made the best of it."
With Roby and Joseph both free agents, Houston has so much potential turnover at cornerback that the team might be able to bring Hargreaves back on a multiyear deal with a lower cap hit.
Contract status for 2020: Unrestricted free agent
What the Texans are thinking: For the first time since Watson was drafted, the Texans had a capable backup quarterback in McCarron. He only played in two games in 2019 — in mop-up duty in the Texans' blowout loss to the Ravens and in Week 17 when Houston rested its starters — but showed he could run the offense if Watson gets hurt. He and Watson get along well and it would make sense for the Texans to re-sign him.
Contract status 2020: Unrestricted free agent
What the Texans are thinking: O'Brien and the Texans like Miller, but now that he's coming off of a torn ACL, he's unlikely to get a multiyear offer this offseason. Houston could bring him back on a one-year, incentive-based deal after he's tested the market. The Texans' running backs room has openings, but the Texans aren't likely to bring back both Hyde and Miller.
Contract status 2020: $7 million cap hit, no dead money
What the Texans are thinking: Fulton has two years left on his four-year, $28 million contract, but he has no dead money in either of the next two seasons. Despite his expensive contract, Fulton did not play up to his high price tag in 2019, and moving on from him could be an easy way for Houston to save some cap space with the impending signings of Watson and Tunsil.
If Houston cuts Fulton, they would either have to rely on guard Greg Mancz or draft another interior lineman to play opposite 2019 second-round pick Max Scharping.
Follow live: Baker Mayfield welcomes fellow No. 1 pick Joe Borrow to the Battle of Ohio
Tom Brady focused on leading Tampa Bay Buccaneers to first win after rocky debut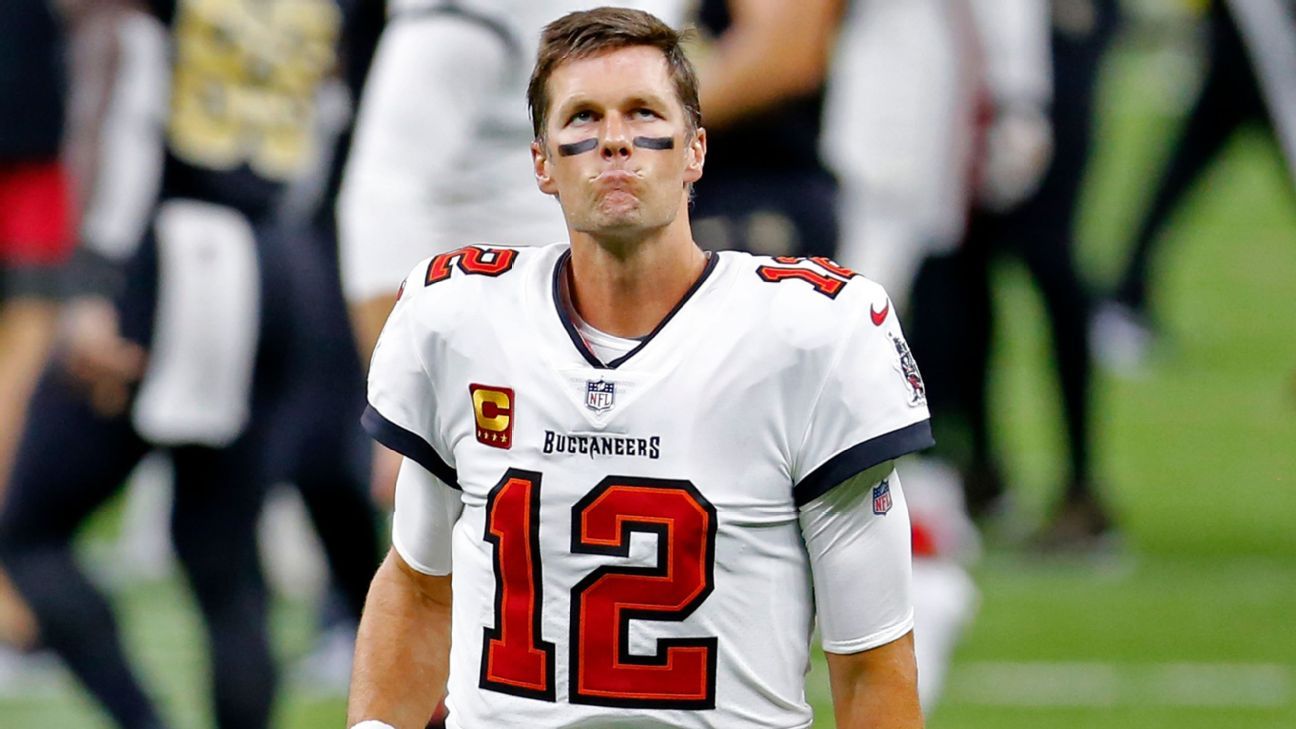 TAMPA, Fla. — Tampa Bay Buccaneers quarterback Tom Brady was asked Thursday if he was surprised coach Bruce Arians pointed out his mistakes in a news conference after Sunday's loss to the New Orleans Saints, which was considered a no-no in New England and a move that has drawn criticism this week.
Brady didn't let on to how he was feeling, but he quipped, "He's the coach. I'm a player. Just trying to win a game."
Offensive coordinator Bryon Leftwich has been on the receiving end of that criticism before, and was even cursed out for something Ben Roethlisberger did when he was his backup with the Pittsburgh Steelers and Arians was offensive coordinator.
"It's B.A. being B.A," Leftwich said. "All we can worry about is getting to practice, work, get better [and] try to fix our mistakes so we can go out there and try to win football games."
What Brady did let on to Thursday is his growing impatience. Winning is his singular focus right now; everything else is just in the way.
"I think that's just his competitive fire. It really comes out when we're losing, when stuff isn't going good at practice, it comes out because that's not who he wants to be and that's not who he wants us to be as a team," wide receiver Scotty Miller said. "We want to be great, we want to win football games."
The Bucs didn't do that Sunday. And losses overall haven't happened much in Brady's career – he's 219-65 all time, with a higher winning percentage (.771) than any other quarterback in NFL history. But when they do, Brady has historically rebounded.
Since 2001, Brady has gone 48-13 (.787) after a regular-season loss, second only to the Seattle Seahawks' Russell Wilson, according to ESPN Stats & Information research. It's why Arians said, "I would expect him to show a bit more grit and determination this week."
It's Carolina Panthers coach Matt Rhule gushed over Brady's 25-point comeback in Super Bowl LI against the Atlanta Falcons, a game he watched as a fan.
"We know we'll have our hands full," said Rhule, whose Panthers travel to Tampa, Florida, on Sunday. "No one is better at bouncing back from a loss than Tom Brady."
The first order of business has been improving communication. Throughout Sunday's game, the offense looked out of sync. Brady's first of two interceptions was the result of him and Mike Evans not seeing the same coverage on an option route, with the receiver bending his route instead of going downfield, believing he was seeing Cover-2, while Brady, whom Arians said saw the correct coverage, saw quarters coverage.
"I think that's part of just working on things and being on the field at the same time and communicating though 'em, so it's like anything — the longer you're together, the less you'll have to say certain things because you'll already have experienced them, you'll have talked about them, you'll have worked through 'em," Brady said. "There's a lot of black and white in football and there's a lot of gray. The problem is, when there's too much gray — I thought one thing, you thought another — whoever's right and wrong, it doesn't matter."
In Evans' case, some of the miscommunication stemmed from him missing three days of practice last week due to a hamstring injury but still being heavily involved in the game plan. With Pro Bowl wide receiver Chris Godwin in the concussion protocol this week, that could create additional challenges, as he led the Bucs with 79 receiving yards Sunday.
And like Brady, Evans has a knack for rebounding, too. In games where he's finished with one catch or fewer, Evans has averaged six catches and 85 receiving yards, according to ESPN Stats & Info.
"The reality is, bad plays happen. And when bad plays happen, you put yourself in a nonadvantageous position," Brady said. "We've gotta eliminate as much as we can, 'Oh I thought this, you thought that, oh you thought this, I thought that' and one time you're right, one time you're wrong — the reality is, the other team can't come away with the ball. That's gonna keep us from scoring points, it's gonna keep us from winning games."
"The whole issue is we're here to win games. That's why we're playing football, so we've gotta put ourselves in a good position on every play to figure out exactly where we're gonna be so that we can play with confidence and anticipation. You can practice them, and I think that leads to great execution, you have confidence in one another. Once you have confidence in one another, you can really anticipate and make good plays."
And some of those plays did happen.
Evans was shut out most of the game, but he and Brady managed to connect on a 2-yard touchdown pass with 2:41 left in the game. There was also the 9-yard touchdown pass to O.J. Howard that Brady threw right after he was pick-sixed by Janoris Jenkins. And the QB sneak on the Bucs' opening drive.
"He's the best for a reason," Leftwich said of Brady. "The way that his mind works, the way that he sees the game — he's a special guy, he's a unique guy, because the way he sees football. I don't expect nothing different from him. I expect him — he's gonna come in, do what we can, bring energy, bring excitement to the game, to the team, and do all the things possible for us to execute at a high level."
Jamie Collins of Detroit Lions calls actions that led to ejection unintentional
Jamie Collins said butting his helmet into the chest of referee Alex Kemp in the second quarter of the Detroit Lions' 27-23 loss on Sunday to the Chicago Bears was not intentional.
Collins was ejected for the play.
Speaking publicly Wednesday for the first time since the incident, the veteran linebacker called what happened "a mistake."
He said he didn't believe he made contact with Kemp and he was trying to demonstrate what he believed Chicago running back David Montgomery had been doing — lowering the crown of his helmet, which would be a penalty. Collins said he didn't agree with the ejection and that he believes he wasn't "a threat or anything towards him."
Collins said he wouldn't second-guess anything he did or said and explained that he "was demonstrating what the situation was, and I just so happened to bump the referee."
"Nothing was intentional, obviously," Collins said. "It's crazy [that] a person like me would ever, so they say, headbutt a referee. It wasn't intentional. It is what it is. They called it. They threw me out. Can't do nothing about it but take it on the chin and hope for the best, get ready for next week, or this week, shall I say."
Kemp said in a pool report after the game he believed Collins' actions were "unnecessary." So he called a penalty and then decided to eject him, ruling "unnecessary contact."
Lions coach Matt Patricia said he spoke with Collins and the entire team about the ejection after the game and made it clear you can't touch officials.
"There's rules in place for a reason, and it's to protect everyone that's out on the field, including the officials, and everybody knows that," Patricia said. "Whether it's an honest mistake or not, you just can't do that, and that's the bottom line."
It was Collins' first game for the Lions after coming over from the New England Patriots in free agency.