Texans' J.J. Watt to host 'Saturday Night Live'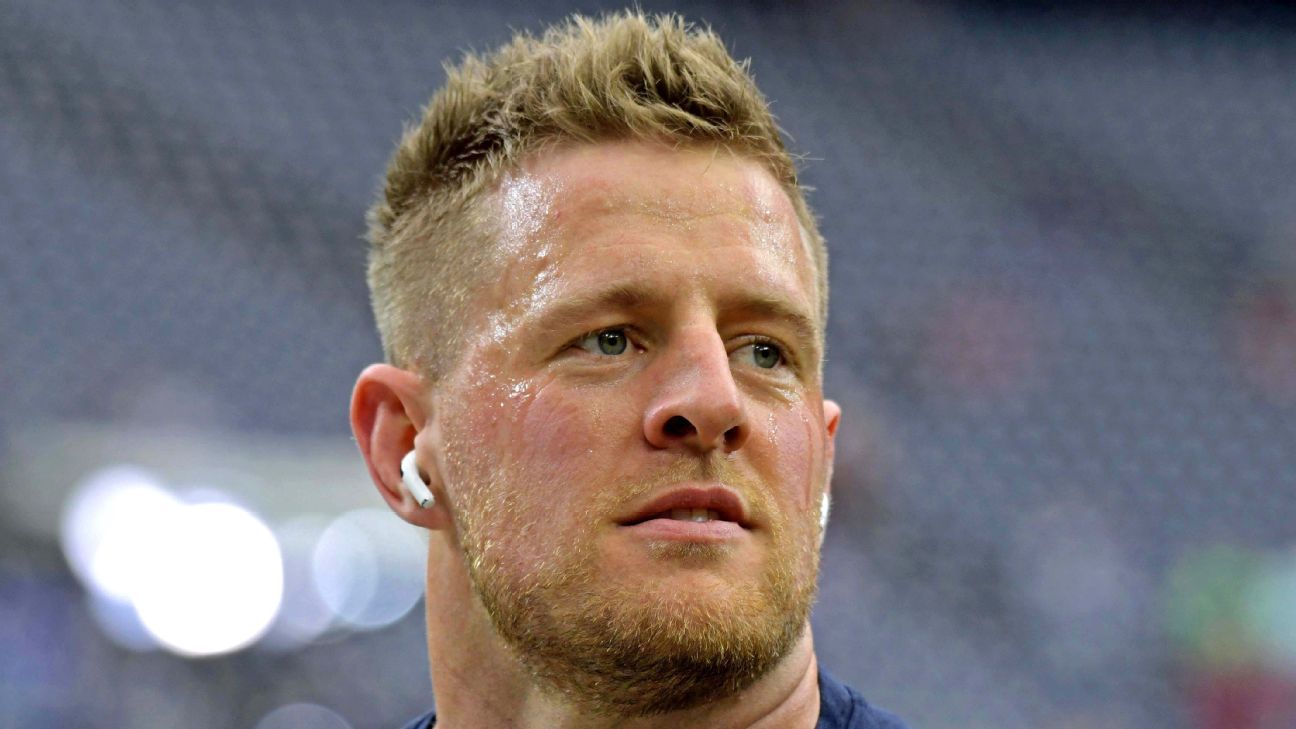 Houston Texans defensive end J.J. Watt will host "Saturday Night Live" on Feb. 1, the show announced Tuesday on Twitter.
Watt will host the show, with musical guest Luke Combs, the day before Super Bowl LIV.
"SNL!!!! I can't even pretend to hide my excitement about this haha! This is something truly special and I am extremely grateful for the opportunity from Lorne and everyone involved at @nbcsnl," Watt tweeted. "New York City let's have some fun!!!"
Watt will be the 11th NFL player to host the show, and the first since New York Giants quarterback Eli Manning in 2012.
The three-time NFL Defensive Player of the Year missed eight games this season with a torn pectoral muscle but returned to play in Houston's two playoff games.
Watt not only appeared in the movie "Bad Moms" in 2016, he also co-hosted the CMT Music Awards that year.
NFLPA holding conference calls to discuss CBA negotiations
The NFLPA is holding a series of membership-wide conference calls Thursday and Friday to update players around the league on the state of collective bargaining negotiations with the NFL, sources told ESPN.
The sources said Thursday that there are eight calls scheduled — one for each NFL division — and call-in information was distributed to every player in the league, not just the 32 team player representatives. It's unclear how many players have participated or will participate in the calls, but the union sees this as a chance to speak to its full body of membership about the current CBA offer on the table, as well as the voting procedure by which the deal might eventually be ratified.
The current 10-year CBA proposal includes an option for the NFL to expand its regular season from 16 games to 17 games at some point during the life of the deal (likely sometime between the years 2021 and 2023) while also reducing the number of preseason games and expanding the playoffs to include more teams. Some high-profile player reps have spoken out against the idea of a 17-game season on the grounds that it adds health and safety risks to players in a sport that already includes plenty of them.
Sources familiar with the current proposal say it also includes concessions from the owners' side on issues such as revenue split, higher minimum salaries, improved player benefits, relaxation of offseason and training camp workout rules, a revised drug policy and others. The questions the players are trying to answer among themselves, the sources said, is whether those concessions are enough to justify an expanded regular season, whether they need to go back to the owners with a counterproposal that asks for more concessions, or whether 17 games is a non-starter no matter what. The NFLPA hopes this week's conference calls will give it an idea of where a broad cross-section of its members stands on those questions.
No hard deadline has been set for completion of a new CBA, as the current one doesn't expire until March of 2021. But people on both sides are eager to get the deal done in time for the start of the 2020 league year March 18, so that elements of the new deal can be in place in time for this offseason. The NFL is also set to begin negotiations with its TV broadcast partners on new contracts, and the league and said TV broadcast partners would prefer as clear a picture as possible of the labor landscape before finalizing those deals. If no new CBA deal is reached this offseason, the possibility exists that negotiations could float into next offseason, which raises the possibility of a work stoppage in 2021.
The NFLPA's rules require a two-thirds vote of its player representatives to approve a new CBA deal before it moves on to the next step, which is a vote by every player in the league. Once the vote gets to the full-membership stage, a simple majority of players is required to ratify the deal. Three-fourths of the league's owners would then have to vote to approve the deal.
Steelers GM – Rehabbing Ben Roethlisberger not at the end
PITTSBURGH — Steelers general manager Kevin Colbert is optimistic that Ben Roethlisberger's rehab is going in the right direction and said he doesn't think the veteran quarterback "is at the end of the road."
Roethlisberger, who will turn 38 next month, had surgery on Sept. 23 to repair a season-ending elbow injury he suffered in Week 2. Colbert would neither confirm nor deny that Roethlisberger had Tommy John surgery, but said he remains on track in his rehab and has a checkup in Los Angeles on Feb. 21.
"All signs are good at this point, and where that goes, we're hopeful he can make a complete recovery," Colbert said. "As of right now, he's on schedule for that. Where it goes from here remains to be seen."
Roethlisberger is the last remaining quarterback drafted in 2004 who is with his longtime team, after Eli Manning's retirement and Philip Rivers' departure from the Chargers. Colbert believes Roethlisberger, a two-time Super Bowl champion, is still a valuable asset.
"He had an injury to his right arm, but other than that, he's relatively healthy," Colbert said. "We're not minimizing the right arm injury to a right arm quarterback, but we don't think he's at the end of the road."
Without Roethlisberger for most of last season, the Steelers had to rely on a pair of young, unproven backups, Mason Rudolph and Devlin "Duck" Hodges, to take the reins. The team went 8-6 on their watch and finished just outside the playoffs at 8-8.
The margin for error shrank with Rudolph and Hodges starting, placing more of a burden on the Steelers' defense. Still, Colbert said the team is comfortable going into training camp with that pair and Paxton Lynch — a 2016 first-round pick who initially joined the practice squad before being elevated to the active roster — as Roethlisberger's backups.
"Optimistically, [Roethlisberger] is on schedule to return and we hope to return to maybe even a better Ben Roethlisberger than he was previous to the injury," Colbert said. "In the meantime, we understand who our backups are. We're comfortable with who those backups are. I thought they did a great, representable job in 2019 under the circumstances."
Despite missing the postseason for the second year in a row, Colbert is optimistic about the direction of his team.
"We're all disappointed at 8-8," he said, "but I feel better moving into 2020 than I did moving into 2019 coming off of 9-6-1."
Tyrod Taylor could earn starting spot, Chargers coach Anthony Lynn says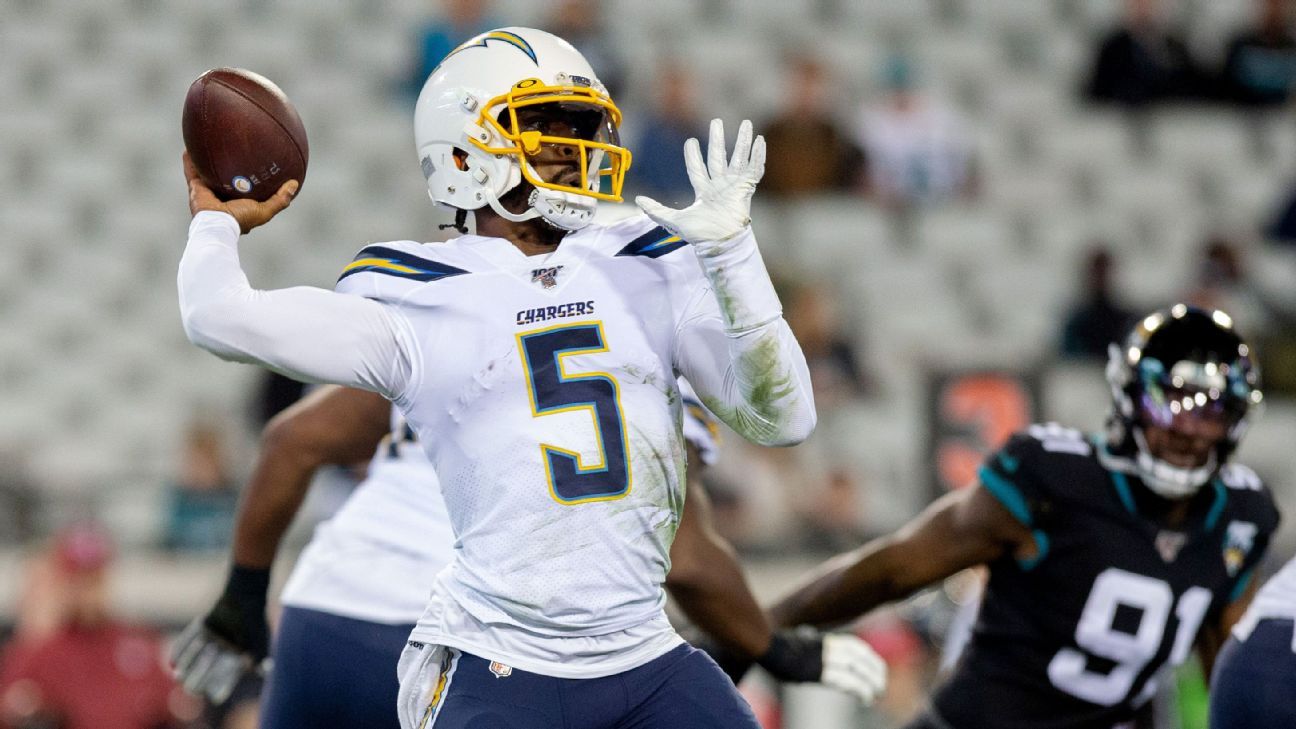 COSTA MESA, Calif. — In his first comments since the Los Angeles Chargers announced a mutual parting of ways between longtime quarterback Philip Rivers and the organization, head coach Anthony Lynn said Tyrod Taylor, last year's backup, could have an opportunity to earn the starting job in 2020.
Lynn recently signed a one-year contract extension that puts him with the Chargers through the 2021 season, according to a source.
"Tyrod Taylor is a heck of a quarterback," Lynn told AM 570 LA Sports in Los Angeles. "We couldn't have a better backup right now, and now he has an opportunity to maybe step up into a starting role. I've had Tyrod before, and I know what this young man brings to the table, in the passing game and the running game.
"One of the things he does very well is take care of the football. I believe every year he's started in this league he's been the No. 1 quarterback in taking care of the football. I believe more games are lost than won. So if we can just take care of the football and take it away, we'll be okay."
Rivers turned the ball over 23 times in last season's 5-11 campaign. Taking care of the football is a top priority for Lynn. The Chargers finished 2-9 in games decided by one score last year.
Taylor signed a two-year, $11 million deal last offseason and will make $5 million in total compensation in 2020. The Chargers also have another athletic quarterback on the roster in Easton Stick, a fifth-round selection from last year's draft.
In his last full season as a starter, Taylor turned it over just six times in 2017, leading the Buffalo Bills to the postseason for the first time in 18 years.
Taylor also helped the Bills lead the league in rushing during the 2016 season (2,630 rushing yards) in which Lynn, who prefers mobile quarterbacks, served as his offensive coordinator.
"There are some guys that can win from the pocket, but when you look around the league, most of these guys are mobile quarterbacks that can move," Lynn told 570 AM Radio, when asked what style of quarterback he prefers. "All you have to do is watch high school football on Friday nights. High school football told me 10 years ago the direction the NFL was headed.
"So that's just the world that we're in right now — you can do more things and be more cutting edge (with a mobile quarterback). But that guy that can stand back there, pick up all those protections, throw the ball from the pocket and use the quick passing game (instead of) his legs, you can still win with a classic pocket passer."
Lynn also talked about the process of moving on from Rivers after 16 impressive seasons as the face of the franchise.
"We looked at a lot of things with Phil and where he's at in his career," Lynn said. "And Phil had a say so in it as well. We agreed to split. And we couldn't have done it any classier or better. My conversation with Phil was one of the best I've had with him, I can tell you that.
"I'm a big fan of his. And if he decides to continue to play, I'm going to root for that young man and Tiffany, they are two special people. But it was just time. It happens. Brett Favre left Green Bay. Joe Montana left the 49ers. Peyton Manning left Indy. It happens."