Boston's Dustin Pedroia has serious setback in recovery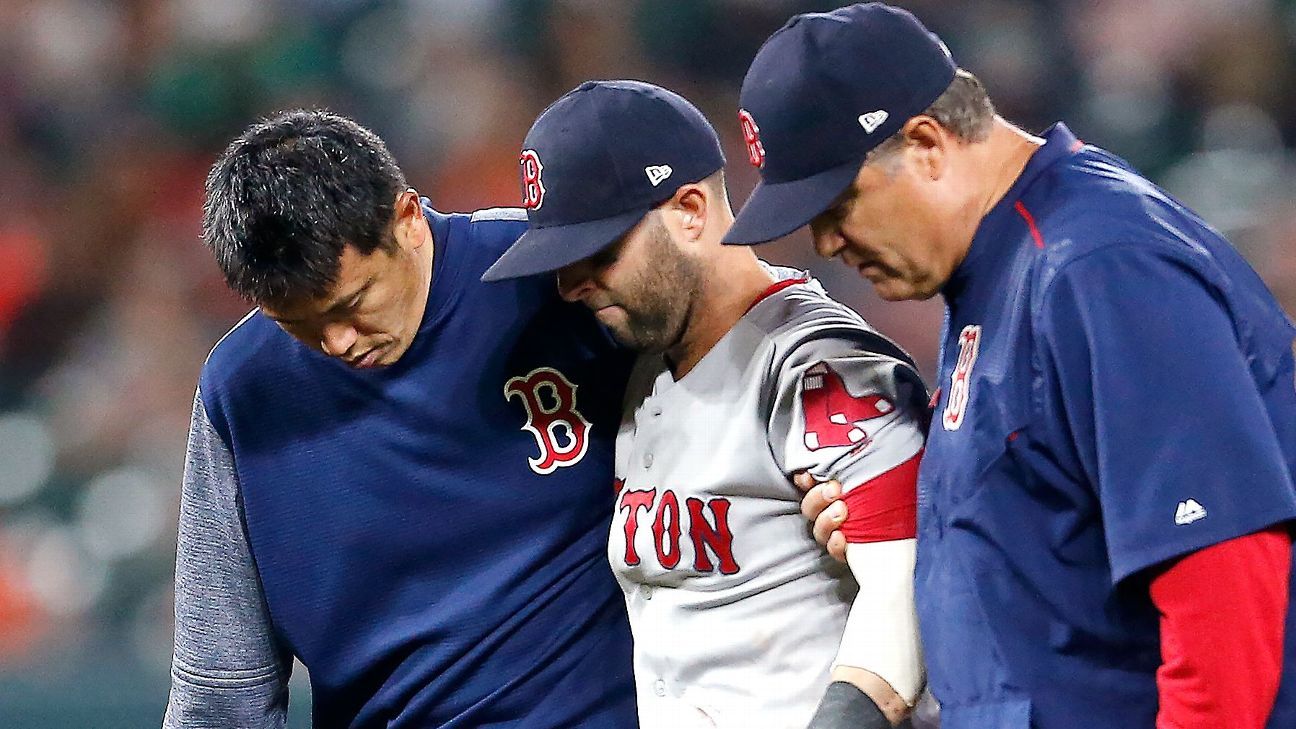 Dustin Pedroia's lengthy comeback attempt hit another roadblock, as the Boston Red Sox second baseman suffered a "significant setback" with his left knee, a team spokesperson confirmed to The Associated Press on Tuesday.
Pedroia has played just nine games over the past two seasons, collecting three hits in 34 plate appearances while trying to return from a knee injury suffered in 2017 on a slide into second base by Baltimore's Manny Machado. Pedroia last played a game on April 17, 2019.
Pedroia, 36, is now discussing his options with his family, the Red Sox and his representation, sources said.
News of Pedroia's setback was first reported by The Boston Globe.
Pedroia underwent knee joint preservation surgery — often an alternative to full knee replacement — in August, and he spent much of the 2019 season away from the team, rehabilitating his injury and spending time with his family.
Pedroia, whose gritty nature and willingness to fight through injuries has endeared him to Red Sox fans, expressed doubts last May that he would be able to return to the field.
"I'm at a point right now where I need some time. That's what my status is," Pedroia said. "Some days, I feel fine, and an hour later, walking is tough. If I'm on an hour-to-hour basis of being able to do anything athletically, that's tough. I think the time will give me the right answer of if I can do this."
After the surgery, Pedroia's mindset shifted, and he indicated to the Red Sox that he hoped to return to the field and become an everyday player again. But news of his latest setback brings up the question of retirement, given that he is now three seasons removed from a fully healthy season, when he played 154 games for Boston in 2016.
Red Sox general manager Brian O'Halloran expressed optimism for Pedroia's return as recently as the GM meetings in November.
"He's been working out and doing well by his own account and we're going to talk to him and learn more," O'Halloran said. "I don't think anything specifically has changed. I think it's more that time has passed and he's been feeling better."
Pedroia is a four-time All-Star and American League Gold Glove winner. He was the AL MVP in 2008 and a key player for the World Series-winning teams in 2007 and 2013.
Clayton Kershaw urges Dodgers to use anger over cheating Astros as fuel
GLENDALE, Ariz. — Clayton Kershaw is pleased practically everybody in the sport seized the opportunity to tee off on the cheating Houston Astros and Commissioner Rob Manfred's handling of the scandal over the past several days.
The Los Angeles Dodgers' veteran ace also believes it's time for baseball to go back to work.
"This type of thing has never happened before, and people are upset by it," Kershaw said Tuesday after the Dodgers' first full squad workout of the spring. "People feel cheated, and rightfully so. The only thing I will say now is we've got a great season coming up. Everybody is really excited about baseball. Baseball is in a great spot. We've got a lot of incredible players."
Kershaw echoed the vibe around the clubhouse with the team that was among the most damaged by — and the angriest about — the Astros' use of illegal methods during their 2017 World Series championship run. The Dodgers haven't cooled down about the revelations, but Kershaw thinks that energy can be channeled into a quest to win an untainted ring in 2020.
MVP Cody Bellinger and Justin Turner ripped Houston and Manfred with equal zeal, while Los Angeles closer Kenley Jansen called it "the worst thing that could have happened to baseball. Worse than steroids, in my opinion."
Three-time AL MVP Mike Trout from the crosstown Los Angeles Angels joined the chorus Monday, and Kershaw was glad to see that as well.
"To hear that you've lost respect from the best player in the game like that, that hurts," Kershaw said. "I think the message is getting sent loud and clear that this is unprecedented."
Kershaw repeatedly made the point that the players' righteous indignation can serve as fuel to power a loaded team that added Mookie Betts and David Price shortly before camp opened.
Dodgers President Stan Kasten had a simple message when he addressed the team during its morning clubhouse meeting: the Astros' misdeeds are terrible, but that won't help the Dodgers this summer.
"If you look at the last four, five years, we've won more baseball games than anyone in baseball," manager Dave Roberts said. "So it's just the challenge of putting the blinders on, and now it's time to play baseball and get better each day."
Kershaw said the negativity of the atmosphere around the cheating scandal is putting a damper on a typical time of optimism.
"I love baseball," Kershaw said. "I'm excited about it, and I'm just thinking about the 12-year-old kid that hears all this stuff, and it's hard to decipher. It's just a lot of negative, negative, negative, and rightfully so. It's a lot of stuff that's going on that shouldn't have happened. But at the same time, this season is happening. We're excited about it."
Kershaw said he would like to see more headlines about the Washington Nationals, who knocked the seven-time NL West champion Dodgers out of the division series last October. That defeat ended LA's 106-victory season in disappointing fashion coming off back-to-back NL pennants.
Once the focus turns away from the Astros, Kershaw also hopes to hear more talk about the Dodgers' renewed commitment to winning, particularly with the acquisitions of Betts and Price.
"The Dodgers are doing all they can to win," said Cubs star Kris Bryant, who has also been subjected to trade speculation. "They really want to win, and that's kind of admirable. They're really going for it. They traded away a really good outfielder that really helped their team last year for maybe one year of Mookie Betts, which they saw as a chance to get them a World Series. Good for them. I wish more teams would kind of follow that in terms of really trying to win, go all in."
Hank Aaron on hand as hopeful Braves ramp up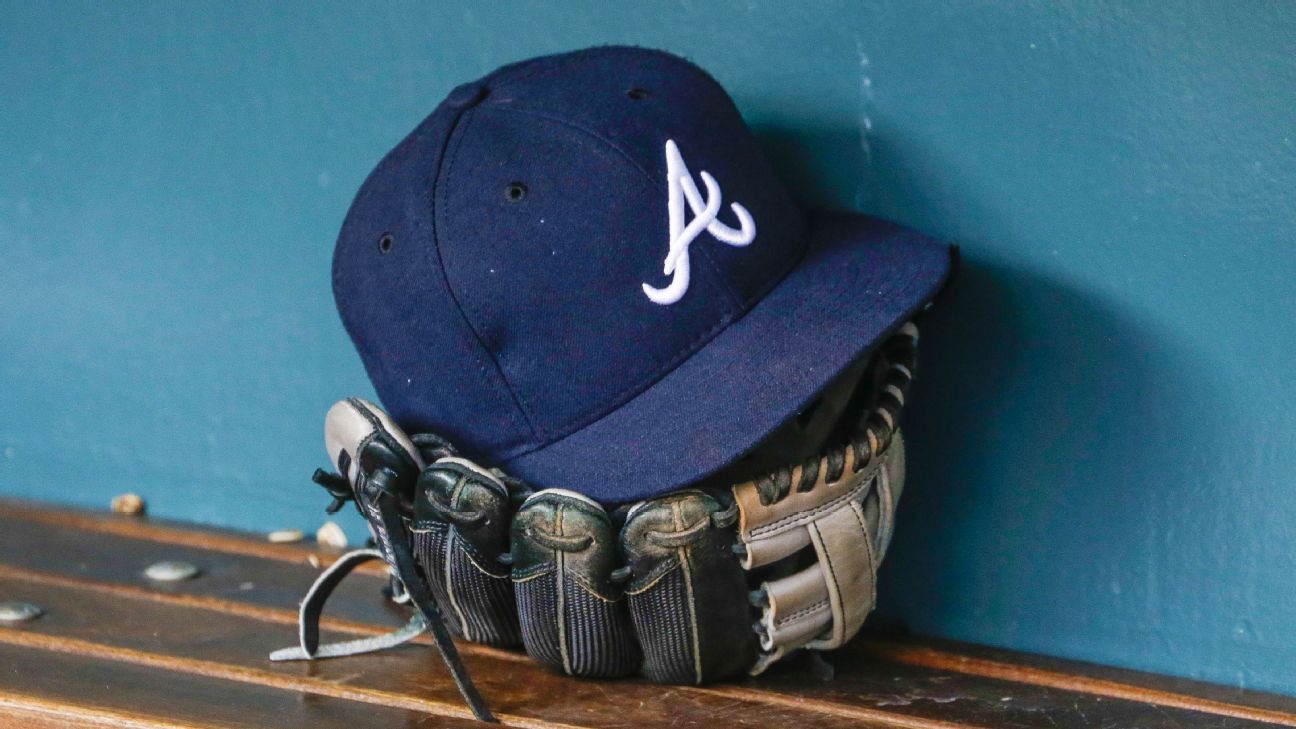 NORTH PORT, Fla. — Nothing like a little encouragement from Hammerin' Hank himself to show the way at spring training for the Atlanta Braves.
The Braves welcomed Hall of Fame slugger Hank Aaron to their first full-squad workout and named a street for him at their new complex Tuesday, starting off a season full of high expectations.
"It's awesome, we're so appreciative," manager Brian Snitker said. "We talked in the winter of him coming down. I told the guys and Hank we'd like to have him around more."
Proud to introduce at CoolToday Park…

Hank Aaron Way 👑 pic.twitter.com/Ei6OD5Oczf

— Atlanta Braves (@Braves) February 18, 2020
The two-time NL East champions intend to put some pressure on themselves this year.
The Braves signed outfielder Marcell Ozuna, starting pitcher Cole Hamels and reliever Will Smith in the offseason, and gave contract extensions to general manager Alex Anthopolous, Snitker and his coaching staff.
That's all intended to boost a team that went 97-65 last season, but lost to Ozuna and the St. Louis Cardinals in a five-game division series.
Atlanta hasn't won a playoff series since 2001, with one-and-done showings the last nine years it reached the postseason. The Braves last won the World Series in 1995 — before that, it was 1957 when Aaron helped spur a Game 7 victory at Yankee Stadium.
With star first baseman Freddie Freeman proclaiming "World Series or nothing," the tone is set.
"I kind of feel that way too," Snitker said. "I felt that way last year.
"I told the guys, the first box to check off is the division. That's got to be the goal," he said.
The Braves are looking for a new starting third baseman and seeking to spread playing time to a surplus of outfielders.
They also are seeking a No. 4 and No. 5 starter while Hamels recuperates in Dallas after experiencing some shoulder discomfort. He's expected to miss about three weeks of spring training.
The Braves chose not to match the four-year, $92 million contract third baseman Josh Donaldson signed with the Minnesota Twins.
Johan Camargo, who lost 18 pounds in the offseason, and Austin Riley are the top candidates to replace Donaldson.
"It's an opportunity to win a job," Riley said. "I have to come out and show what I can do and help this team win."
Riley said he's been told he's going to get more reps at third base and that there has been no talk about outfield work.
"But they also said be ready for anything," he said.
Adding there's no tension between him and Camargo, Riley said that while they're competing, their goals are the same.
"We both want to help this team win," he said. I think there's a sense of urgency. The guys want and expect to be in the World Series."
Snitker said he plans to give both players starts, as opposed to one replacing the other during games.
With Ozuna signing a one-year contract, the Braves have five outfielders who had 130 or more plate appearances last season. That includes Ronald Acuna (715), Ozuna (549), Nick Markakis (469), Ender Inciarte (230) and Adam Duvall (130).
"It's tough, outfield is hard," Snitker said. "We're going to need to use all of the Grapefruit League."
At 36, Markakis is a major league veteran of 14 years. He said he feels like he's 21 and still has the same hunger.
"I'm up for the challenge," he said. "I'm excited. I'm here to help the team any way I can. I've always had competitive juices, I don't need much motivation.
"Now, I will say, I didn't like (Ozuna) last year in the playoffs," he said.
Ozuna admitted that going from beating the Braves to joining them is "a little weird. Now we are family."
Snitker said he talked to former Braves manager Bobby Cox this week but doesn't expect him to make it to spring training. Cox suffered a stroke last April. "It's tough for me not having him around," Snitker said.
Aaron Judge on Astros' 2017 title — 'You cheated and you didn't earn it'
TAMPA Fla. — Aaron Judge did not mince words when addressing the Houston Astros' sign-stealing scandal, saying the team should vacate the title and that players should have been punished.
"I just don't think it holds any value with me. You cheated and you didn't earn it," Judge said of the 2017 World Series championship won by the Astros. "It wasn't earned the way of playing the game right and fighting to the end. The biggest thing about competition is laying it all out on the line, and whoever's the better player, better person, comes out on top. And to know that another team had an advantage — nothing that you can really guard against — I just don't feel like that's earned."
Speaking after the Yankees finished their first full-squad workout Tuesday afternoon, Judge also addressed the comments made last Friday by the reigning National League MVP Cody Bellinger, who accused Astros All-Star second baseman José Altuve of stealing the American League MVP Award from Judge in 2017.
Judge confirmed that he deleted a social media post congratulating Altuve not long after learning about the result of the MLB investigation, which backed up claims made by Mike Fiers to The Athletic back in November. The investigation led by MLB confirmed the Astros had cheated by using a camera-based, sign-stealing system during their 2017 World Series-winning regular season and playoffs, and during part of the 2018 regular season.
"I think I took it down right when, I think, the story broke out — right when, I think, Mike Fiers came out and stated that this is what was going on in '17. Once I heard that, I [was] just — just sick to my stomach to find out," Judge said. "I had a lot of respect for those guys and what they did, especially what they did for the city of Houston and that whole organization. And then to find out that it wasn't earned, they cheated — that didn't sit well with me, and I just didn't feel like the post that I did really meant the same anymore."
Judge also said he believed the Astros' sign-stealing had a direct impact on the 2017 American League Championship Series, which the Yankees lost to Houston in seven games. And even though the investigation detailed that the sign-stealing did not take place in 2019, the 27-year-old outfielder believes it continued.
"From what the report stated, they cheated in '17 and '18. That affected a lot of games. No matter what anybody says, that impacts the game — knowing what's coming. That's more people on base, you're getting more walks, you're getting more hits; comes to the plate with more opportunities with guys on base. So it definitely impacted the results of that series. And they can say that we didn't score runs, we didn't do this and that, but it affected the game big-time," Judge said.
"It's tough to think that it didn't continue," he added. "I don't know all the facts; nobody knows all the facts. So to think that they cheated and won it all in '17, to think that they just clear-cut stopped the next — '19 or '18 — it's tough for me to say that. But we'll never really know, to be honest. I don't think so."
Judge also specified that he disagreed with the fact that the players themselves did not receive any punishment from Major League Baseball commissioner Rob Manfred because they were granted immunity during the investigation.
"I really wasn't a fan of the punishment; I thought that was a little weak for a player-driven scheme, that no players involved got any punishments," Judge said. "When it comes down to a player-driven scheme, I feel like the players involved need to be punished. If I go out there and cheat the game — I think [Yu] Darvish was the one that said, 'If you're playing in the Olympics, you win a gold medal and you find out you cheated, you don't get to keep that medal.'"
The Yankees slugger is currently nursing what manager Aaron Boone called "crankiness" and a "little soreness" in his right shoulder. Judge, who is expected to miss at least the first Yankees spring training game on Feb. 22, did not take batting practice for the first full day workouts but did participate in most fielding drills.
Boone specified that even though the Yankees shut down Judge from hitting and throwing this week, an MRI and a series of tests did not reveal any injury. Judge, who missed 50 games last year due to an oblique injury and had a sliding catch back in September that jammed his right shoulder and kept him out of the lineup, dismissed it as a minor issue.
"It probably started a couple weeks ago, when I first got down here," Judge said. "I've been hitting since early November, and working out since early November. Once I got down here, hit on the field, hitting outside — I just felt a little soreness up in the shoulder. Nothing alarming. So I said, hey, we got plenty of time going into spring training; let's take it slow these next couple days, make sure everything's right, and then kinda go from there."