Source — Bret Bielema joining Joe Judge's staff with Giants
Former Wisconsin and Arkansas coach Bret Bielema is joining the New York Giants staff, a source told ESPN on Tuesday.
Bielema spent the past two seasons as a defensive assistant with the New England Patriots, where he worked with new Giants coach Joe Judge. Bielema served as New England's defensive line coach this season.
Judge, a first-time head coach, is building an experienced staff. Bielema and offensive coordinator Jason Garrett, the former Dallas Cowboys head coach, provide veteran sounding boards.
The Giants also added veteran Jerome Henderson as their defensive backs coach, a source told ESPN's Field Yates. Henderson worked on Garrett's staff in Dallas prior to joining the Atlanta Falcons.
But Judge's staff is proving to have strong Patriots roots. Beielema is just the latest.
Defensive coordintator Patrick Graham is a former defensive assistant under Bill Belichick and quarterbacks coach Jerry Schuplinski also worked in New England prior to a year in Miami.
Beielema, 50, was the head coach at Wisconsin from 2006-12, where he won three Big Ten championships. He then went to Arkansas where he posted a 29-34 mark. Overall, he had a 97-58 record as a head coach at the collegiate level.
Eagles releasing linebacker Nigel Bradham
The Philadelphia Eagles are releasing veteran linebacker Nigel Bradham, a source tells ESPN's Adam Schefter.
Bradham, 30, was informed of the Eagles' decision on Tuesday afternoon, the source said.
An eight-year veteran, Bradham had 61 tackles and one interception in 12 games last season, his fourth with the Eagles.
Oddsmakers tab Lions, Dolphins as favorites to draft Tua Tagovailoa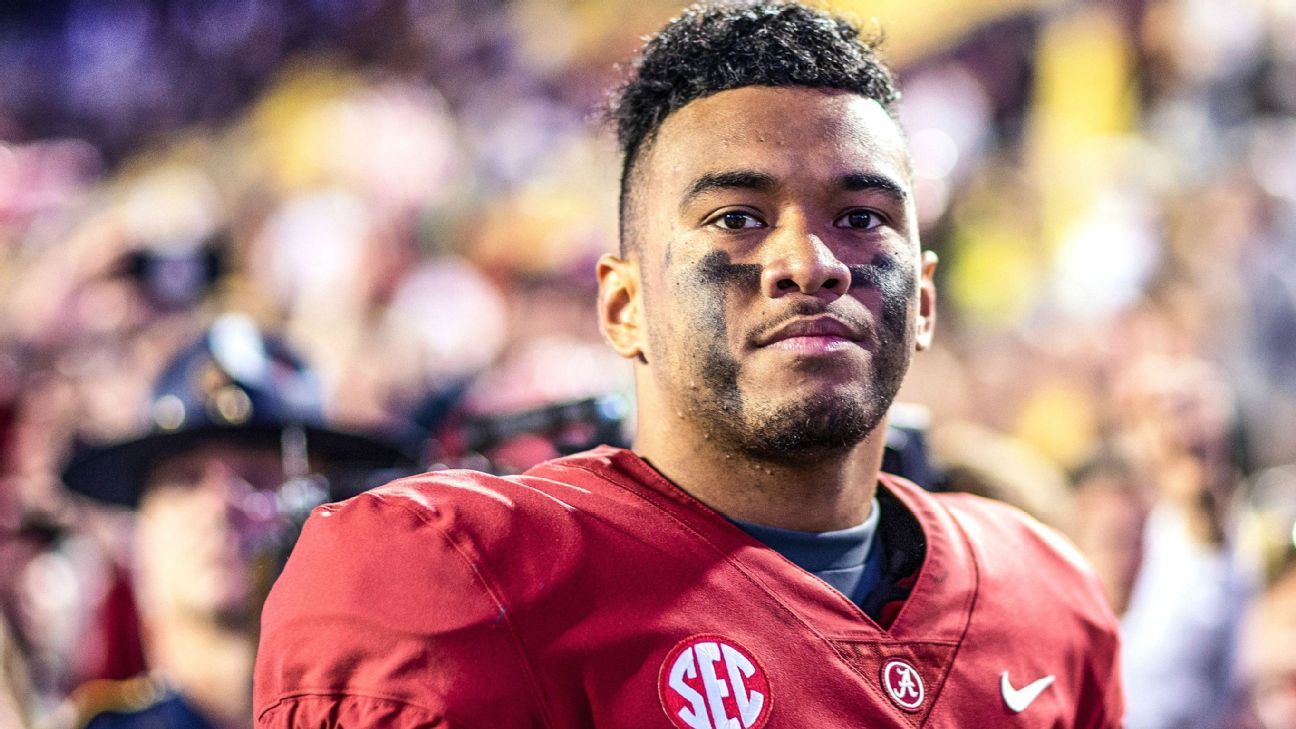 Oddsmakers at Caesars Sportsbook believe the Detroit Lions and the Miami Dolphins are the two most likely landing sports for Alabama quarterback Tua Tagovailoa.
Caesars has the Lions and Dolphins as co-favorites at -110 to land Tagovailoa, who is recovering from a hip injury he suffered in mid-November. Detroit owns the third pick in April's NFL Draft, with Miami at No. 5.
Lions general manager Bob Quinn has denied that the team is shopping veteran starting quarterback Matthew Stafford, but ESPN football analyst Mel Kiper Jr. has Tagovailoa pegged to Detroit at No. 3.
The Los Angeles Chargers (5-2), Cincinnati Bengals (7-1), Carolina Panthers (7-1) and Jacksonville Jaguars (9-1) are next on Caesars' odds to draft Tagovailoa, who could return to football activities in March. Sources told ESPN that recent test results showed his hip has healed and he has good range of motion.
On Tuesday, Caesars also released an over/under on the number of quarterbacks to be drafted in the first round. The line opened at 4.5, with the vigorish shaded toward the under at -150. Kiper has four quarterbacks in his current first-round mock draft.
LSU quarterback Joe Burrow is the overwhelming favorite to go No. 1 to the Bengals. DraftKings sportsbook has Burrow listed at -10,000 to go first overall.
Oregon quarterback Justin Herbert and Washington quarterback Jacob Eason also are currently in Kiper's mock first round. Utah State's Jordan Love, Georgia's Jake Fromm and Oklahoma's Jalen Hurts are other quarterbacks who could receive early consideration.
The NFL Draft will be April 23-25 in Las Vegas.
President Trump pardons former 49ers owner Edward DeBartolo Jr.
WASHINGTON — President Donald Trump has pardoned Edward DeBartolo Jr., the former San Francisco 49ers owner convicted in a gambling fraud scandal.
DeBartolo, 73, who helped to build the 49ers' dynasty of the 1980s and '90s, was involved in one of the biggest owners' scandals in the sport's history.
In 1998, he pleaded guilty to failing to report a felony when he paid $400,000 to former Louisiana Gov. Edwin Edwards in exchange for a riverboat gambling license.
The White House announced the surprise decision to reporters on Tuesday. NFL greats Jerry Rice, Jim Brown, Ronnie Lott and Charles Haley were in attendance.
DeBartolo, whose 49ers won five Super Bowls under his leadership, stepped down as owner in 1997 after two Louisiana newspapers reported he would be indicted for gambling fraud. He avoided prison, was fined $1 million and was suspended for a year by the NFL. But the episode effectively ended his NFL career.
Rice, a Pro Football Hall of Famer who played on three of DeBartolo's Super Bowl-winning teams, said DeBartolo "was like that 12th man" of the great 49ers teams.
"He's the main reason why we won so many Super Bowls," Rice said. "So today is a great day for him. I'm glad to be here and be a part of that. It's just something I will never forget. This man, he has done so much in the community, has done so much in NFL football."
DeBartolo withdrew from the project after the state gambling board demanded he hand over all documents he gave to the grand jury. The documents included an "unexecuted agreement" between DeBartolo and Stephen Edwards, according to a copy of a grand jury subpoena obtained by the newspapers.
The state gambling board canceled the project after DeBartolo withdrew.
The DeBartolo family built their fortune through commercial real estate — mostly owning shopping malls. The family business was started by DeBartolo's father, who died in 1994. In addition to the 49ers, the family also owned the Pittsburgh Penguins of the National Hockey League before selling the team in 1991.
DeBartolo Jr. ran the 49ers starting in 1977, and his hiring of coach Bill Walsh in 1979 led to the franchise's most successful era. From 1982 to 1995, the team won five Super Bowls.
After the suspension, DeBartolo gave control of the team to his sister, Denise DeBartolo York.
He never returned to the NFL after his suspension. The team is now run by his nephew, Jed York.
DeBartolo was elected to the Pro Football Hall of Fame in 2016.