Jim Caldwell leaves Dolphins having never coached team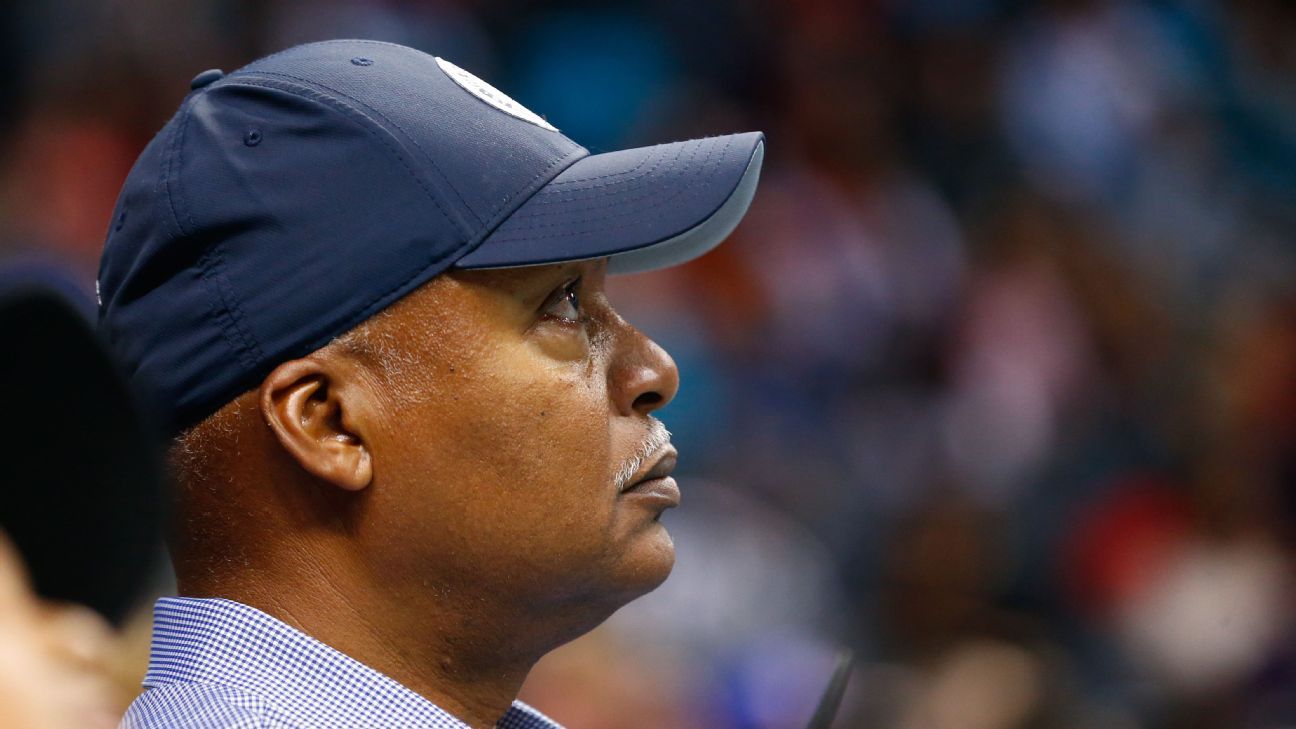 Veteran coach Jim Caldwell won't return to the Miami Dolphins' staff in 2020.
Caldwell, who was hired by Brian Flores in February as assistant head coach and quarterbacks coach, never coached a game for the Dolphins. He took an indefinite leave in July due to an undisclosed health issue and did not return to his on-field role.
Caldwell is ready to resume coaching again. The two-time former head coach, who led the Colts to the Super Bowl in 2009, has been mentioned as a candidate for multiple vacant roles this offseason including the Philadelphia Eagles' offensive coordinator gig.
The Dolphins hired West Virginia senior offensive analyst Robby Brown to be the quarterbacks coach. Miami's assistant quarterbacks coach Jerry Schuplinski was hired as the New York Giants quarterback coach earlier this month.
Caldwell is a highly respected coach throughout the NFL with a history of developing quarterbacks and running strong offenses. He was on Fritz Pollard Alliance's recommendation list for teams looking to hire a new head coach. The Alliance is an independent organization that works with the NFL to champion diversity.
Flores has undergone a dramatic overhaul of his coaching staff as he leads the Dolphins into a very important 2020 offseason.
The Dolphins are in the market for a franchise quarterback and could find that player high in the 2020 draft. They have the No. 5, No. 18 and No. 26 selections in the first round.
The Dolphins also officially hired Chan Gailey as offensive coordinator, replacing Chad O'Shea, who was fired after one season. Josh Boyer was promoted to defensive coordinator after Patrick Graham left that role to take the same gig with the Giants earlier this month.
Oddsmakers tab Lions, Dolphins as favorites to draft Tua Tagovailoa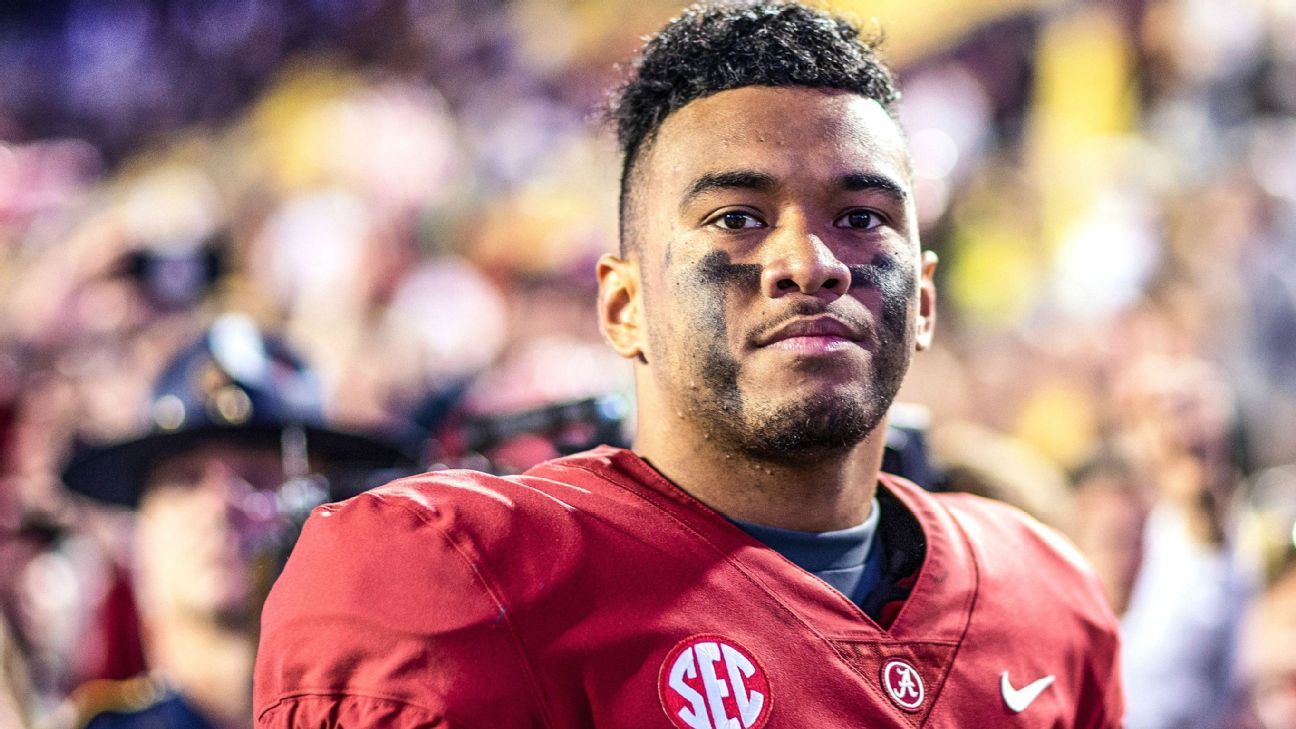 Oddsmakers at Caesars Sportsbook believe the Detroit Lions and the Miami Dolphins are the two most likely landing sports for Alabama quarterback Tua Tagovailoa.
Caesars has the Lions and Dolphins as co-favorites at -110 to land Tagovailoa, who is recovering from a hip injury he suffered in mid-November. Detroit owns the third pick in April's NFL Draft, with Miami at No. 5.
Lions general manager Bob Quinn has denied that the team is shopping veteran starting quarterback Matthew Stafford, but ESPN football analyst Mel Kiper Jr. has Tagovailoa pegged to Detroit at No. 3.
The Los Angeles Chargers (5-2), Cincinnati Bengals (7-1), Carolina Panthers (7-1) and Jacksonville Jaguars (9-1) are next on Caesars' odds to draft Tagovailoa, who could return to football activities in March. Sources told ESPN that recent test results showed his hip has healed and he has good range of motion.
On Tuesday, Caesars also released an over/under on the number of quarterbacks to be drafted in the first round. The line opened at 4.5, with the vigorish shaded toward the under at -150. Kiper has four quarterbacks in his current first-round mock draft.
LSU quarterback Joe Burrow is the overwhelming favorite to go No. 1 to the Bengals. DraftKings sportsbook has Burrow listed at -10,000 to go first overall.
Oregon quarterback Justin Herbert and Washington quarterback Jacob Eason also are currently in Kiper's mock first round. Utah State's Jordan Love, Georgia's Jake Fromm and Oklahoma's Jalen Hurts are other quarterbacks who could receive early consideration.
The NFL Draft will be April 23-25 in Las Vegas.
President Trump pardons former 49ers owner Edward DeBartolo Jr.
WASHINGTON — President Donald Trump has pardoned Edward DeBartolo Jr., the former San Francisco 49ers owner convicted in a gambling fraud scandal.
DeBartolo, 73, who helped to build the 49ers' dynasty of the 1980s and '90s, was involved in one of the biggest owners' scandals in the sport's history.
In 1998, he pleaded guilty to failing to report a felony when he paid $400,000 to former Louisiana Gov. Edwin Edwards in exchange for a riverboat gambling license.
The White House announced the surprise decision to reporters on Tuesday. NFL greats Jerry Rice, Jim Brown, Ronnie Lott and Charles Haley were in attendance.
DeBartolo, whose 49ers won five Super Bowls under his leadership, stepped down as owner in 1997 after two Louisiana newspapers reported he would be indicted for gambling fraud. He avoided prison, was fined $1 million and was suspended for a year by the NFL. But the episode effectively ended his NFL career.
Rice, a Pro Football Hall of Famer who played on three of DeBartolo's Super Bowl-winning teams, said DeBartolo "was like that 12th man" of the great 49ers teams.
"He's the main reason why we won so many Super Bowls," Rice said. "So today is a great day for him. I'm glad to be here and be a part of that. It's just something I will never forget. This man, he has done so much in the community, has done so much in NFL football."
DeBartolo withdrew from the project after the state gambling board demanded he hand over all documents he gave to the grand jury. The documents included an "unexecuted agreement" between DeBartolo and Stephen Edwards, according to a copy of a grand jury subpoena obtained by the newspapers.
The state gambling board canceled the project after DeBartolo withdrew.
The DeBartolo family built their fortune through commercial real estate — mostly owning shopping malls. The family business was started by DeBartolo's father, who died in 1994. In addition to the 49ers, the family also owned the Pittsburgh Penguins of the National Hockey League before selling the team in 1991.
DeBartolo Jr. ran the 49ers starting in 1977, and his hiring of coach Bill Walsh in 1979 led to the franchise's most successful era. From 1982 to 1995, the team won five Super Bowls.
After the suspension, DeBartolo gave control of the team to his sister, Denise DeBartolo York.
He never returned to the NFL after his suspension. The team is now run by his nephew, Jed York.
DeBartolo was elected to the Pro Football Hall of Fame in 2016.
Drew Brees to 'make another run at it' with Saints
METAIRIE, La. — Drew Brees isn't done yet.
The New Orleans Saints quarterback and the NFL's career passing leader will return for a 20th season after posting to Instagram on Tuesday that he will "make another run at it."
Brees, who turned 41 in January, was scheduled to become an unrestricted free agent March 18, but he has made it clear for the past several years that he has no interest in testing the open market. So his only choices were staying in New Orleans or retiring.
The two sides will need to work out a new contract, but that shouldn't be contentious. The last time Brees was a free agent, in 2018, he agreed to a two-year, $50 million contract that was slightly below market value — with only one year of salary guaranteed.
The Saints will also have to decide if they want to try to keep both of their backups: unrestricted free agent Teddy Bridgewater and restricted free agent Taysom Hill. Coach Sean Payton said in late January that he thought it would be "very difficult" and "unrealistic" to keep all three quarterbacks with the Saints slammed tight against the salary cap.
That would seemingly make Bridgewater, 27, the odd man out for financial reasons — especially if another team is willing to pay him like a starter on the open market. Bridgewater went 5-0 as a starter while Brees was sidelined by a thumb injury in 2019, which should make him more attractive than he was as a free agent last year.
Hill, 29, will be easier to retain as a restricted free agent. The Saints can match any offer he might sign with another team. And depending on the size of New Orleans' qualifying offer to Hill, teams would have to give up either a first- or second-round draft pick if the Saints don't match the offer. A first-round tender will likely cost somewhere between $4.5 and $5 million.
There have also been multiple reports that Payton views the versatile QB/RB/WR/TE/special-teams monster Hill as a future franchise quarterback, despite the fact that he has attempted only 15 career passes, including the playoffs.
No matter who ultimately becomes Brees' successor, they will have to wait at least one more season.
Brees said he wanted to take time with his family after the season to decompress and mull his future — something he has done after each of the past three seasons. But it would have been a bit surprising to see him walk away now, since he is still playing at such a high level.
He finished with the best passer rating of his career in 2019 (116.3) and helped lead the Saints to a 13-3 record, despite missing those five games early in the season with the thumb injury. He was named the NFC's Offensive Player of the Month for December, when he threw 15 touchdowns with zero turnovers and completed a NFL-record 29-of-30 passes in a Week 15 win over the Indianapolis Colts.
Brees had a disappointing performance in the Saints' wild-card playoff loss to the Minnesota Vikings (208 passing yards, one touchdown, one interception and one lost fumble), but that was all the more reason to expect him to come back and try to return to the Super Bowl for the first time since the Saints won their only championship in the 2009 season.
Apparently Brees also wasn't ready to concede his NFL records for career passing yards (77,416) and touchdown passes (547) to 42-year-old Tom Brady, who is in striking distance of both marks.
Although Brees is no longer throwing for 5,000-plus yards per season and doesn't dial up the deep ball very often anymore, he has continued to adapt his game by being even more efficient. He just posted the three best completion percentages in NFL history over the past three seasons (72.0 in 2017, 74.4 in 2018 and 74.3 in 2019) and has a total of 18 turnovers over the past three years combined.
Payton said in late January that he hasn't seen any drop-off in Brees' performance.
"I'm watching this guy perform, and again his numbers this year exceeded last year's. The job is for him to win, and he's done that," Payton said. "Look, is the ball going down the field the same way? Maybe it's not. And yet his yards per completion and all those things have been real good."
Brees said late last season that when you combine that efficiency with "all the experience and wisdom, I think that just allows you to maintain your prime for longer and longer."
"I really do feel like I should be better every week and every year," Brees said.