Cardinals' Matt Carpenter has 'personal motivation' after rough 2019
ST. LOUIS — This was not what Matt Carpenter or the St. Louis Cardinals envisioned when he signed a new contract.
Because when the three-time All-Star third baseman wasn't hurt last season, he wasn't hitting.
"I certainly was candid with our front office and our coaching staff at the end of the year," Carpenter said Monday. "I just wanted to apologize. I felt like I'd let them down. I was really hard on myself the way that I played. I was hopeful that they still had faith in me. We had some real good conversations."
Coming off a career-high 36 home runs in 2018 that made him an MVP candidate, Carpenter signed a $39 million, two-year deal on April 19 that included a no-trade clause.
But he wasn't able to reverse a slow start. He was hitting .216 with 10 home runs when he was put on the injured list with a lower back strain on July 2. Carpenter was activated on July 11, placed back on the IL after fouling a ball off his foot and was out until early August.
Carpenter finished hitting just .226 with 15 home runs.
Team owner Bill DeWitt Jr. is optimistic about Carpenter returning to form.
"I think and know he wants to bounce back. He's always been a really hard worker," DeWitt said at the Cardinals Winter Warm-Up fan gathering. "I know he wants to get back to where he was the year before, which was pretty elite."
"It's just one of those situations where he had a down year and never kind of got untracked. He did play better at the end. He was disappointed with his season and he's highly motivated to get back to being Matt Carpenter that he has been throughout his career," he said.
First baseman Paul Goldschmidt agreed.
"I expect a huge year out of him like I always do," Goldschmidt said. "There obviously were some ups and downs for him and really for our whole team, especially our offense. I think we're all learning from it whether it's myself or Carp or the team as a whole."
Slow starts have been common for Carpenter, who turned 34 in November.
"I put a lot of pressure on myself to perform," Carpenter said. "I take a lot of pride into doing the things that help you have a good year. I felt like I did everything I needed to do to put myself in a position to be successful and it just didn't work out."
"I got off to an ugly start. It just snowballed. I felt like at times I was trying to save a season with one swing. It just wasn't a good recipe for success and I got myself in a hole," he said.
The Cardinals have indicated Carpenter will be their starting third baseman for 2020.
Manager Mike Shildt believes Carpenter will be help the NL Central champions be better at the plate.
"The good news is that Matt's capable of hitting anywhere (in the lineup). I really, firmly believe that," Shildt said. "And I also really, firmly believe he's ready to be in a great spot to compete and help us this year and be a more complete hitter."
Pitcher Adam Wainwright said he thinks last year might end up helping Carpenter in the long run.
"I think he probably will tell you that he needed to do a lot of things different with his swing and his approach," Wainwright said. "I think he's worked really hard on that in the offseason this year."
Carpenter expects to go into camp competing for a spot.
"Just like everybody does, you have to come into spring training and try and earn a job," Carpenter said. "It's not a guarantee. That's my mindset. I want to come in and find a way back on the field more consistently. You got to perform to do that. Nothing is given to you. I'm ready for that challenge."
"Sometimes it's good to just have years like that," he said. "I really look at last season for me as more of a good thing than a bad thing. Was I happy I performed like I did? Of course not. But now having gone through it, I'm glad it happened. I've got a lot of personal motivation."
Game notes
DeWitt confirmed the Cardinals' payroll for 2020 will remain about $170 million and said that was "pushing the envelope." … C Yadier Molina is in the last year his three-year $60 million contract that he said in 2018 would be his last one. Molina has played in 2,081 total games for the Cardinals and won nine Gold Gloves. He said Monday he would be open to returning to the Cardinals. "If they want me, they are the only team I want to play for," Molina said. "If they do want to move apart, that's it for me. I would love to play with the Cardinals." He said there is no timing for any contract talks. "Probably two more years, would be great."
Red Sox's J.D. Martinez thinks Astros bashing a bit much
FORT MYERS, Fla. — The passionate reaction around baseball regarding the Astros sign-stealing scandal continues to capture the attention of the entire sport, with stars like Justin Turner and Mike Trout speaking out against MLB's punishment of Houston on Monday, but Red Sox designated hitter J.D. Martinez said that he believes that the discourse around baseball was "getting a little bit too much."
"I understand player's frustrations and stuff like that, but I think in my opinion, it's already getting a little bit too much," Martinez said. "We have to move past it at some point. We can't continue to talk about it. I know it's frustrating right now. People want to talk about it, this and that, but it's 2020. I think teams are aware of everything that's kind of happened. … From here on out, it's going to be a different message in the clubhouses and a different environment with people like steroids. The punishments were so harsh that people weren't going to attempt to think about doing anymore. I think it will get to that point."
Martinez, 32, a three-time All-Star and Silver Slugger award winner, also defended Manfred's decision to grant the players immunity, saying that the facts of the situation would not have emerged otherwise.
"One-hundred percent they wouldn't have," Martinez said. "That's the way it is. There was never any hard core facts that were jumping out at you. If it weren't for players talking and getting that immunity, I don't think no one would have ever have said anything."
Martinez did however take issue with the announcement from Manfred that MLB is in talks with the players' union to further restrict in-game use of video, such as when hitters go to the clubhouse to review their at-bats before returning to the dugout.
"I think it's really important for us to send a message to our fans," Manfred said, "that not only did we investigate and punish, but we altered our policies in a way to help make sure it doesn't happen again."
The Red Sox designated hitter uses video extensively in his preparation, recording every swing during batting practice and routinely breaking down footage to check for any irregularities in his swing, playing a major role in his success following his release from the Astros before the 2014 season.
"He said there are going to be some restrictions, but I think to go out there and take all video out and you're not allowed to look at at-bats, I think is a little ridiculous in my opinion," Martinez said. "All of these kids now, when I was in the minor leagues, Double-A, Triple-A, we had video systems. It's not something you grew up with. You always go back and check something in your swing and it helps you throughout the game. To all of a sudden take that away is a little extreme."
Martinez continued: "The way the at-bat system works is like you're watching the game live from NESN. You watch it on NESN, can you steal the signs? It's too hard. It's cutting in and out. There's a guy eating a sausage and they're talking about him eating a hot dog and this sausage and then all of a sudden everything and then there's the pitch. I think it's a little bit extreme to say all of that. Maybe they should become more informed on what exactly you can do and talk to players who have played. 'Hey does this help? How can we monitor it?' If you want to delay it, delay it, whatever you have to do, but to sit there and take that away, for me, it's what makes me me. I'm a very analytical guy. I like to study what my back foot is doing, my elbow. There's a lot of guys who are like that, and that's the trend of the game and the way the game has gone."
Martinez also suggested that limiting access to video could diminish the offensive production on the field.
"You start taking angles away, you're just making it harder," Martinez said. "What does the commissioner want? More offense, more offense, but you're going to limit hitters for doing that? I think it's tough."
Dodgers' Justin Turner irate with 'out of touch' commissioner Rob Manfred
An offseason of anger for the Los Angeles Dodgers again boiled over Monday as third baseman Justin Turner took aim at Major League Baseball commissioner Rob Manfred.
Turner took umbrage with the commissioner's characterization of the World Series trophy a day after Manfred called it a "piece of metal" when talking with ESPN's Karl Ravech about the possibility of stripping the Houston Astros of their 2017 title.
"I don't know if the commissioner has ever won anything in his life," Turner told reporters Monday, according to the Los Angeles Times. "Maybe he hasn't. But the reason every guy's in this room, the reason every guy is working out all offseason, and showing up to camp early and putting in all the time and effort is specifically for that trophy, which, by the way, is called the commissioner's trophy.
"So for him to devalue it the way he did yesterday just tells me how out of touch he is with the players in this game. At this point the only thing devaluing that trophy is that it says 'commissioner' on it."
Turner remains displeased with the punishment meted out by MLB. Houston general manager Jeff Luhnow and manager AJ Hinch were suspended for a year and ultimately fired by the team, yet no active players were disciplined.
"Now anyone who goes forward and cheats to win a World Series, they can live with themselves knowing that, 'Oh, it's OK. … We'll cheat in the World Series and bring the title back to L.A. Screw [manager] Dave Roberts and screw [general manager] Andrew [Friedman]. It's just those guys losing their jobs. I still get to be called a champion the rest of my life.' So the precedent was set by him yesterday in this case."
Turner added that he doesn't think Manfred did enough to uncover everything the Astros may have been doing in their sign-stealing scheme. The league's investigation revealed a system in which the Astros were able to decipher a catcher's signs in real time and relay them to the batter via bangs on a trash can.
"I think it all comes down to everyone keeps saying, 'The facts, the facts. You don't know the facts. These are the facts,' " Turner said. "I don't think anyone knows the facts. I think everyone just wants to hear all the facts. And I think that the commissioner didn't do a good job of revealing all the facts to us. I still think there's some stuff we don't know."
Turner is the latest member of the Dodgers, losers of the 2017 World Series to the Astros, to sound off about Houston.
Closer Kenley Jansen called the Astros' cheating "worse than steroids." Right-hander Ross Stripling said he would "lean toward yes" when asked if he'd bean a Houston player if he were given the chance in a game. And reigning NL MVP Cody Bellinger went scorched earth, going as far as to say the Astros stole the 2017 World Series from the Dodgers and that Houston second baseman Jose Altuve stole the AL MVP award that year from Aaron Judge of the Yankees.
Angels star Mike Trout rips Astros, calls for more punishment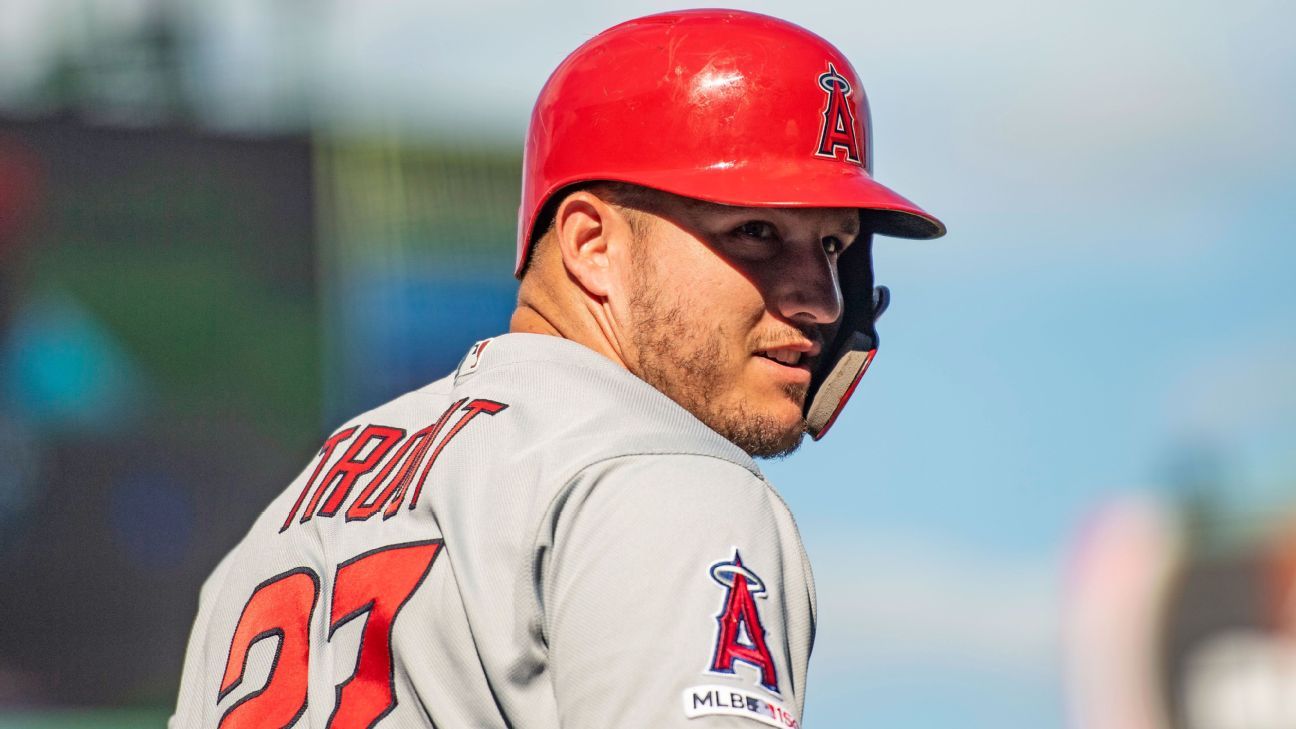 TEMPE, Ariz. — Mike Trout has played 55 games at Minute Maid Park in Houston since his rookie season in 2011, but didn't remember hearing any trash can banging when he met with the media on Monday morning.
He recalled hearing something of more significance.
"I noticed the banging on the bat," Trout said. "It just feels like they weren't missing pitches."
Trout, the Los Angeles Angels star center fielder who is widely considered the face of baseball, joined the long list of established major league players taking pointed shots at the Houston Astros, who have been tainted by the cheating scandal that might have helped them secure the 2017 World Series championship.
Trout's Angels weren't impacted by the Astros' sign-stealing methods during the postseason, but as a division rival that plays them nearly 20 times each season, they might have been among those most affected.
"It's sad for baseball," Trout said. "It's tough. They cheated. I don't agree with the punishments, the players not getting anything. It was a player-driven thing. It sucks, too, because guys' careers have been affected, a lot of people lost jobs. It was tough. Me going up to the plate knowing what was coming — it would be pretty fun up there."
Trout, a three-time American League MVP at the age of 28, wouldn't venture a guess as to what his batting average would look like if he knew which pitch was coming. "But it would be fun," he repeated. Trout said a few members of the Astros reached out personally to explain what happened, but it didn't sound as if that was good enough.
"I lost some respect for some guys," Trout said. "… All the stuff coming out, it's tough to see."
Anthony Rendon also reported to his new team Monday, but the Angels' new $245 million third baseman was more circumspect in his thoughts on the Astros, his hometown team. Rendon's Washington Nationals beat Houston in the World Series last year.
"Even when I watched their games over the previous years, it was suspicious," Rendon said. "It looked weird. They were (sitting) on balls that were very tough pitches, and just the way that they were playing the game. They're all talented players. I love those guys over there, especially what they've done in my city of Houston to help us out. But it definitely raises a lot of question marks, watching those games."
The Associated Press contributed to this report.