Felix Hernandez gets minor league deal with Braves
ATLANTA — Longtime Seattle Mariners ace Felix Hernandez reached a minor league deal with the Atlanta Braves on Monday that includes an invite to big league spring training.
The right-hander would get a $1 million, one-year contract if added to Atlanta's 40-man roster.
Hernandez, who turns 34 in April, is coming off his worst season in the majors. King Felix went 1-8 with a 6.40 ERA in 15 starts for the Mariners and lost his place in the rotation.
Hernandez was among the best and more durable pitchers in the majors for more than a decade, a stretch that included six All-Star selections and the 2010 AL Cy Young Award. He was a huge crowd favorite at Safeco Field, with fans holding up K cards in The King's Court to mark his many strikeouts.
The two-time NL East champion Braves hold their first workout for pitchers and catchers on Feb. 13.
—
More AP MLB: https://apnews.com/MLB and https://twitter.com/AP-Sports
Wade Davis ready to regain closer's role with Rockies
SCOTTSDALE, Ariz. — Wade Davis has again entered spring training as the Colorado Rockies' closer after a rough 2019 season.
Davis lost his ninth-inning role in the final two months last year, when he finished 1-6 with 15 saves and an 8.65 ERA in the least effective effort of an 11-year career.
"It sucks when you're not doing well at anything, anything in life," Davis said. "The biggest thing is to move past it. That's when you learn and grow. You work harder. You prepare and you are at ease with what happened and your struggles. That's why I feel good about where I'm at now, despite whatever."
Scott Oberg took over as closer and pitched well before a blood clot in his right shoulder forced him to miss the final six weeks of the season and required offseason surgery. Oberg is healthy this spring and will join Davis in the back end of the bullpen.
"I think in a perfect world Wade is our closer and Scotty pitches in front of him in some capacity, whether it is an inning or one-plus or two innings," Colorado manager Bud Black said. "Our best-scenario thing is if Wade returns to form and pitches as closer when he is available, and Scott and others pitch those other innings."
Black said his confidence in Davis' return is based on "Wade himself, the guy he is, and his stuff."
The 34-year-old Davis has a résumé that includes a World Series ring with Kansas City in 2015, a 1.80 ERA in 30 postseason appearances and four All-Star Game appearances.
"You know, you see the best in the world struggle," Davis said. "You see them come back and do good. There are not too many guys that don't have a rough patch in their career."
Health appeared to play a major role in Davis' struggles.
Davis was 1-1 with seven saves and a 2.45 ERA in 17 appearances before landing on the injury list with a strained oblique muscle in late May. He ran into trouble upon returning three weeks later, giving up seven earned runs in 2⅓ innings with two blown saves in a four-game series against San Diego.
Davis said it took him until December to fully recover.
"I did focus a lot on maintaining that area and getting stronger," Davis said of his offseason regimen. "There's an injury I'd never had before. So definitely, I can feel the difference now."
The injury hindered his ability to rotate during his delivery and square up to the plate before release.
"You'll always be out of balance, basically, is what it feels like," Davis said. "But you know, I felt good enough."
Oberg was 6-1 with five saves and a 2.25 ERA in 49 appearances last season before being shut down after his last save Aug. 16.
He had surgery to enlarge an artery in his right shoulder, a procedure he was told will alleviate further issues. Oberg missed the final six weeks of the 2016 season with a blood clot in the same shoulder.
Oberg received a three-year, $13 million contract in December.
"The sample size was so small, it is still kind of tough to know if I really picked up anything significant enough where I can carry that moving forward," Oberg said of serving as closer last season. "I'm still always leaning on Wade because he has so much experience, especially deep playoff runs. Being in the role that he's been for a lot of years, I always try to pick his brain."
Marlins to test versatile Jonathan Villar in center field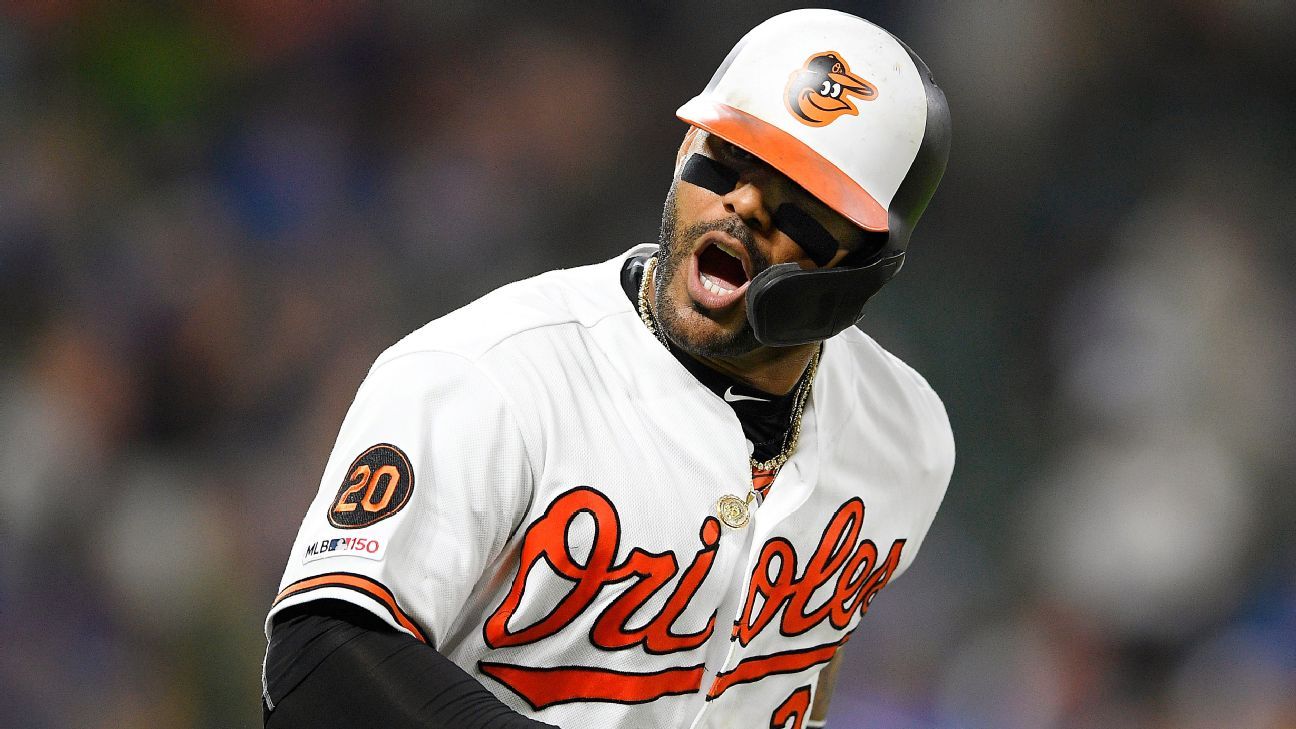 JUPITER, Fla. — Versatile newcomer Jonathan Villar is expected to be an ironman in the Miami Marlins' lineup, even if they don't know where.
Villar played in all 162 games last year for the Baltimore Orioles, mostly at second base and shortstop. But the Marlins will give him a spring training tryout in center field because they have little experience there.
"I'm coming here to help the team," Villar said. "They want me to play center field, so I'll try. If I can play another position, I'll do it."
Villar's seven-year career has included eight games in center field, most recently in 2017 with the Milwaukee Brewers. He has been mostly a middle infielder but has also played third base and left field.
"We're going to mess around with center field and see if that's a position he can handle," manager Don Mattingly said. "You look at Jonathan and really feel he's the best athlete on the field. So we're going to give it a shot. We think he fits there with our club and our pieces, and it would be great if he is able to pick that up. We've got spring training to see."
Regardless of whether Villar plays center field, he's the centerpiece of offseason efforts to upgrade an offense that scored the fewest runs in the majors in 2018-19 as Miami lost 203 games. The speedy switch-hitter gives the Marlins the prototypical leadoff man they've lacked since trading Dee Gordon two years ago.
Last year Villar had 24 homers and 73 RBIs, both career highs, while batting .273 and stealing 40 bases. He was one of five players to play in all 162 games.
"That was a surprise for me," he said. "I never thought I would do it. This year I'll try to play every game again."
But where?
The Marlins are hoping highly regarded Isan Diaz will take charge at second base after batting just .173 in 49 games as a rookie. With Miguel Rojas they're set at shortstop, the only position where they ranked above average in WAR last year.
Third base is an option for Villar, which would push Brian Anderson to right field. But the job in center is open, with prospect Monte Harrison, Magneuris Sierra, Lewis Brinson and utilityman Jon Berti among the other candidates.
"There are options," Mattingly said. "Jonathan's mindset has been, 'I'm here to win, I'll give it a try.' If it doesn't look like it's going to work, we'll pivot and make adjustments."
Cardinals' Miles Mikolas (elbow) likely to miss start of season
JUPITER, Fla. — St. Louis Cardinals right-hander Miles Mikolas will receive a platelet-rich plasma injection in his ailing throwing arm, likely delaying his regular-season debut by about one month.
A 2018 All-Star, Mikolas received a similar injection after last season to treat a flexor tendon issue.
St. Louis manager Mike Shildt said Tuesday that the injection will keep Mikolas from throwing for three to four weeks. Once he is cleared to throw, Mikolas will have to restart his throwing program from the beginning.
"It gives us a better chance to be able to get him off to a healthy start and get what he's dealing with behind him," Shildt said.
The Cardinals scratched Mikolas from his second scheduled bullpen session of the spring. An MRI done over the last few days showed the arm to be no better or worse than during a similar exam taken following the 2019 season.
It's possible that Mikolas will remain in Jupiter when the Cardinals break camp in late March.
"I think the plan is still evolving, quite candidly," Shildt said.
Mikolas was expected to receive the injection later Tuesday.
"It's a setback, but it's not anything that we can't overcome," Shildt said. "It's going to ultimately be good for Miles. We now move forward and adjust."
Mikolas signed with St. Louis before the 2018 season following a successful stint in Japan. He went 18-4 with a 2.83 ERA during his first season with the Cardinals and earned a trip to the All-Star Game.
He couldn't duplicate that success last season, going 9-14 with a 4.16 ERA. Mikolas acknowledged that the same arm issue bothered him "from time to time" late last season.
Mikolas started 32 games in each of the past two regular seasons and made two postseason starts last year, wining one. He received a platelet-rich plasma injection to treat his arm soreness after the Cardinals were eliminated from the playoffs.
"It's been a long couple of seasons for me," Mikolas said over the weekend.
Despite last season's struggles, Mikolas entered spring training as one of four pitchers expected to be in the Cardinals' rotation, joining Jack Flaherty, Dakota Hudson and Adam Wainwright.
Carlos Martinez, South Korean offseason signee Kwang-Hyun Kim, Alex Reyes, John Gant and Daniel Ponce de Leon entered camp as the leading candidates for the fifth starting spot.