Hall of Fame says deceased players on MLB's ineligible list won't be on ballots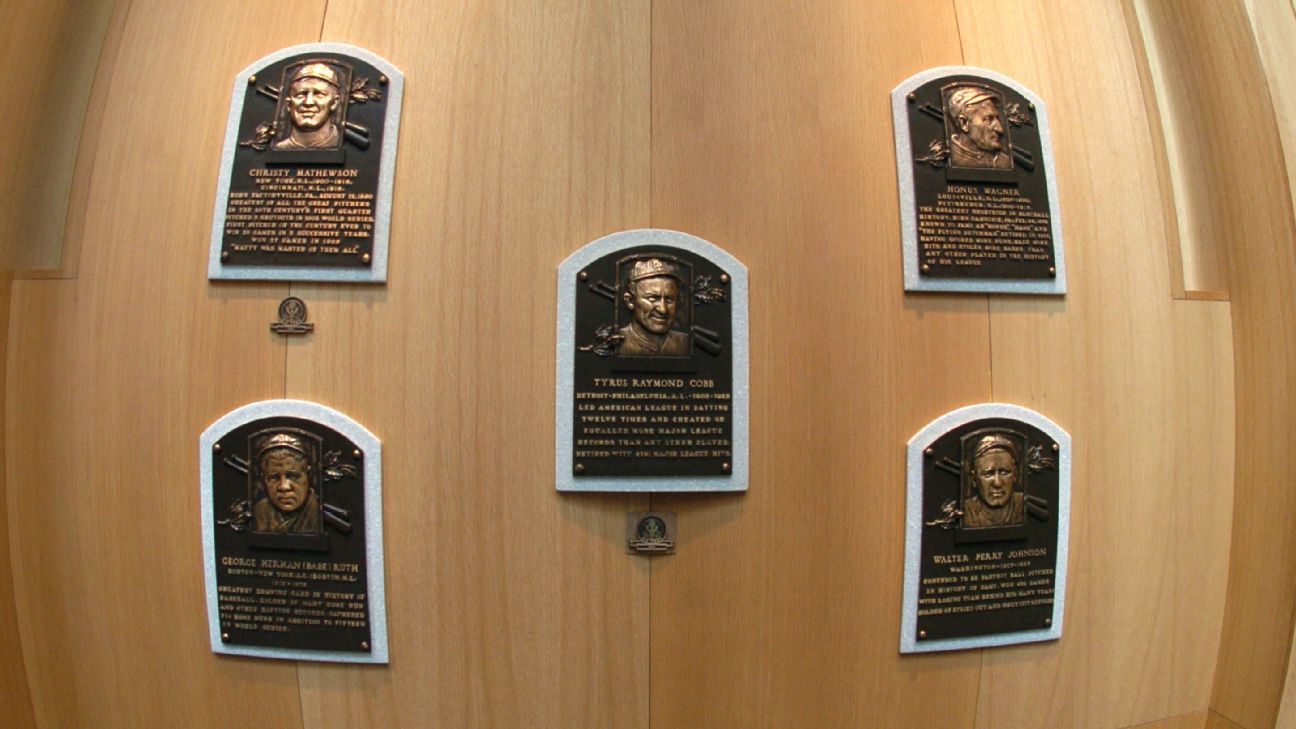 Any player on Major League Baseball's ineligible list will not be considered for induction into the Baseball Hall of Fame, even after the banned individual's death, a hall spokesman told ESPN on Saturday.
"This designation remains in place after an individual's passing," said Jon Shestakofsky, a Baseball Hall of Fame and Museum spokesman.
The Hall of Fame's statement comes one day after ESPN reported that a senior MLB source said that the league has no hold on banned players after they die because the ineligible list bars players from privileges that include a job with a major league club. This would have meant MLB no longer views banned players who die as being on its permanently ineligible list.
The previously unreported change gave fresh hope to supporters of "Shoeless" Joe Jackson that he would be considered later this year for Cooperstown by the Hall of Fame's Early Era committee. Jackson is a .356 career hitter who was prohibited from playing professional baseball in 1921 by commissioner Kenesaw Mountain Landis for having a role in the fixing of the 1919 World Series won by the Cincinnati Reds.
But the Hall of Fame apparently shut the door on that possibility on Saturday, saying, in effect, that permanently banned players would remain banned forever. Shestakofsky declined to answer a follow-up question about whether MLB's shift in thinking about the ineligible list would impact, or could change, the hall's view.
In February 1991, the Hall of Fame's board of directors passed a rule declaring any player ruled ineligible by Major League Baseball would not appear on a Hall of Fame ballot. This quickly became known as "the Pete Rose rule," because it closely followed the indefinite banning of Rose, MLB's all-time hits leader, by MLB commissioner Bart Giamatti in 1989.
Unless the rule is changed by the Hall of Fame's board of directors, it apparently also ends any chance Rose would have to get inducted into the Hall of Fame, even after his death.
Rose has never appeared on a Hall of Fame ballot, and his application for reinstatement was rejected by commissioner Rob Manfred in December 2015. The change in baseball's thinking about deceased players on its ineligible list will be a part of the latest episode of the ESPN docuseries "Backstory," which debuts Sunday on ESPN (3 p.m. ET). In the episode, Rose is asked if he believes he'll be inducted into the Hall of Fame after his death, and if it matters to him. "How'm I going to know?" Rose said, laughing. "Can you help me with that?"
Two MLB sources said that there is deep opposition among baseball insiders to Rose getting into the Hall of Fame, even after his death. And that factors into the thinking of the Hall of Fame to not consider "Shoeless" Joe Jackson, nearly 70 years after he died at the age of 64 in Greenville, South Carolina, the sources say. Since the late 1980s, South Carolina legislators, baseball legends Ted Williams and Bob Feller and thousands of people have lobbied and signed petitions for Jackson to be removed from MLB's ineligible list and be considered for induction into the Hall of Fame.
As recently as 2015, Manfred declined a request to remove Jackson from MLB's ineligible list.
Earlier this week, after repeated questions on this issue, a senior MLB source told ESPN, "From our perspective, the purpose of the ineligible list is a practical matter. It's used to prevent someone from working in the game. When a person on the ineligible list passes away, he's unable to work in the game. And so for all practical purposes, we don't consider a review of the status of anyone who has passed away."
A subcommittee of the Early Era's committee will decide the 10 individuals who played or were involved in the game prior to 1950 that will appear on this year's ballot, to be voted on by the full Early Baseball committee in December 2020. In August, Major League Baseball will play a regular season game between the New York Yankees and Chicago White Sox at the Field of Dreams movie site in Dyersville, Iowa, where the 1989 movie that helped turn Joe Jackson into a sympathetic figure was filmed. Some baseball commentators and fans have speculated whether MLB and the Hall of Fame is planning to announce that Jackson would be considered for induction into the Hall of Fame.
Manfred, who is also a member of the Hall of Fame's Board of Directors, declined to comment through a league spokesman.
As for the perennial debate over Jackson and Rose's eligibility, an MLB source told ESPN, "We're agnostic about a players' eligibility for the Hall of Fame, whether they're dead or alive." On Saturday, another MLB source said, "There is now significant daylight on this issue between baseball and the Hall of Fame. It'll be interesting to see how it all plays out."
The shift in thinking by MLB has been pushed for years by some baseball historians, including John Thorn, the official historian of MLB who first argued that the ineligible list ends with an individual's death in an essay in February 2016. He made the case again in an op-ed in The New York Times last October upon the 100th anniversary of the fixed World Series between the White Sox and the Cincinnati Reds.
"Major League Baseball removes players from the ineligible list when they die, and because the Baseball Hall of Fame aligns its balloting procedures with Major League policy, theoretically there is no barrier to Jackson's induction," wrote Thorn, who declined to comment for this story.
Baseball insiders told ESPN that in years past, Manfred had not agreed with Thorn's view. But an MLB source told ESPN this week that Major League Baseball does now agree with Thorn's view that the ineligible list ends upon a player's death. In fact, a source said, MLB has seen it this way for some time but had chosen not to make it public until this week.
Backstory with Don Van Natta Jr. premieres at 3 p.m. ET on Sunday (re-air at 9 p.m. ET) on ESPN. The show is also available to watch anytime on the ESPN app.
Philadelphia Phillies pitcher Zack Wheeler rips fingernail putting on pants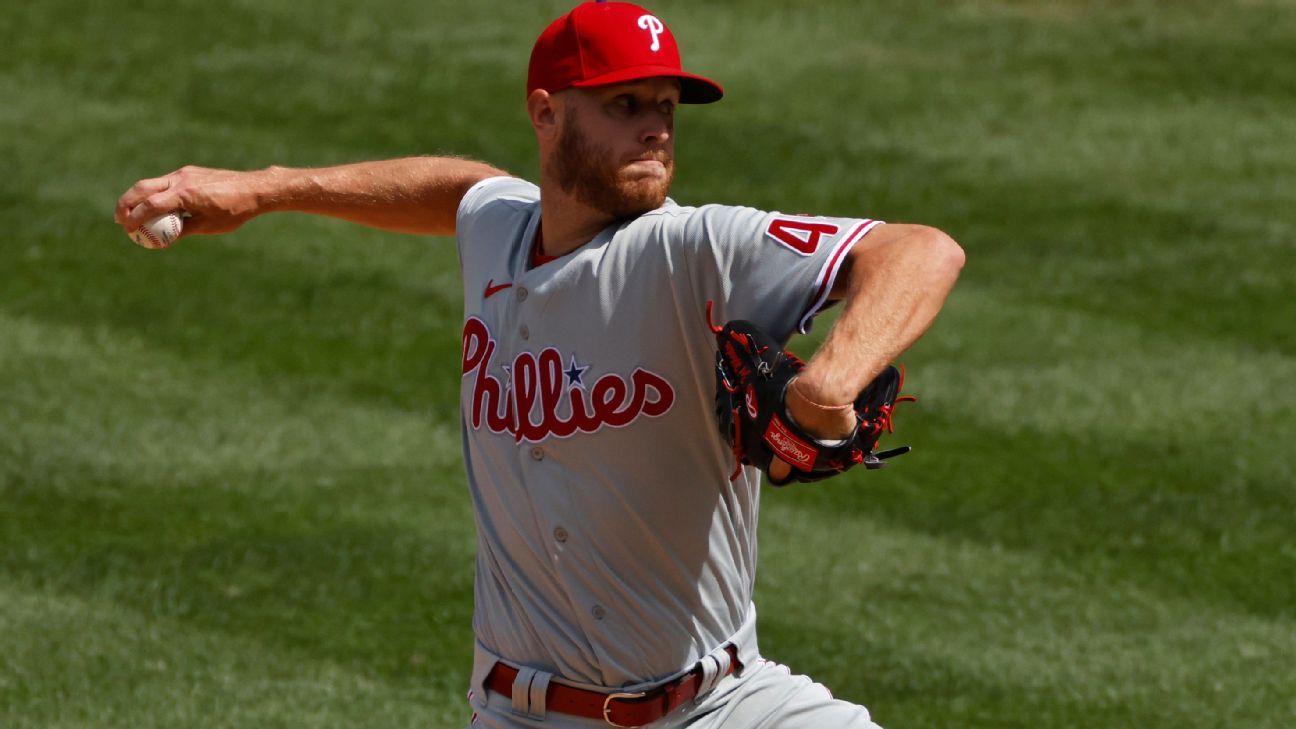 MIAMI — Undefeated Philadelphia Phillies right-hander Zack Wheeler ripped a fingernail putting on his pants, delaying his next start for two days and perhaps longer.
Wheeler might lose the nail on the middle finger of his right hand.
"Just one of those stupid things," he said Friday. "I tripped a little bit, I lost my balance, and my jeans yanked out of my hand."
Wheeler, 4-0 with a 2.47 ERA in eight starts, had been scheduled to pitch Saturday in Miami. That start has been pushed back to Monday, which is probably wishful thinking, manager Joe Girardi said.
For now, Wheeler's finger is swollen, sore and taped.
"We don't think it's a [IL] thing, but it depends on what happens to the nail," Girardi said.
Wheeler said the nail has been an issue throughout his career, and it's prone to catch on things. He hurt it Wednesday shortly after the team arrived in Miami.
"It's just going to be a day to day thing," he said. "We'll see how the soreness goes, and see how this thing starts healing up."
Spencer Howard is scheduled to start in place of Wheeler on Saturday.
Tampa Bay Rays first in MLB modern history to start all pure lefties
The Tampa Bay Rays hold the lead in the American League East, but three losses in their last four games have them looking for some answers.
On Friday night, in an effort to get right, the Rays opted to go all left.
Manager Kevin Cash batted nine pure left-handers in his order against Boston Red Sox right-hander Andrew Triggs, the first time that has happened in the majors in the modern era (since 1900), according to ESPN Stats & Information.
When they go right, we go left https://t.co/W1ChzjNpXt pic.twitter.com/LZlUKrbAEu

— Tampa Bay Rays (@RaysBaseball) September 11, 2020
Several teams have started a lineup in which all nine batters have hit from the left-hand side of the plate, but Friday would mark the first time that none of those players were switch-hitters, per ESPN Stats & Info.
Triggs, a 31-year-old claimed off waivers from the San Francisco Giants last month, is 0-1 with a 6.00 ERA for Boston this season.
Yankees may have Aaron Judge, Giancarlo Stanton back in lineup by next weekend
NEW YORK — Ailing sluggers Aaron Judge and Giancarlo Stanton might be back in the New York Yankees' lineup as soon as next weekend.
Manager Aaron Boone said Friday that both players are at the tail-end of their recoveries and could be sent to the club's alternate site in Scranton, Pennsylvania, this weekend to get at-bats. That would put them on track to return for the final 10 or so games in this pandemic-shortened 60-game regular season.
"I would say they're both close," Boone said. "They're both feeling well. They're both doing well. Hopefully, we're in the final days before they start getting some at-bats."
Judge is recovering from his second stint on the injured list this season with a strained right calf and last played Aug. 26. Stanton has been out since Aug. 8 with a left hamstring strain.
New York has slumped badly without its towering power hitters. After starting this pandemic-shortened regular season 16-6, the Yankees entered Friday with 15 loss in their past 21 games, dropping to the bottom of the playoff picture.
New York started Friday 1 1/2 games ahead of Baltimore for the final postseason spot and opened a four-game series against the Orioles with a doubleheader Friday night.
Left-hander James Paxton had a setback this week in his recovery from a strained left flexor tendon, and it's uncertain whether he will pitch again this season.
Boone said there's "still a chance on some level" that Paxton can contribute. He also said it's possible the 31-year-old could return as a reliever. Paxton can become a free agent after the season.
"It'll be challenging but we'll see how day by day goes," Boone said.
The team is also without third baseman Gio Urshela (right elbow bone spur) and pitchers Luis Severino and Tommy Kahnle (Tommy John surgery). Right-hander Jonathan Loaisiga remains out with an unspecified medical condition, as well.
Loaisiga was expected to throw a bullpen session Friday, and Boone hopes he can be activated Tuesday.