Hall of Fame says deceased players on MLB's ineligible list won't be on ballots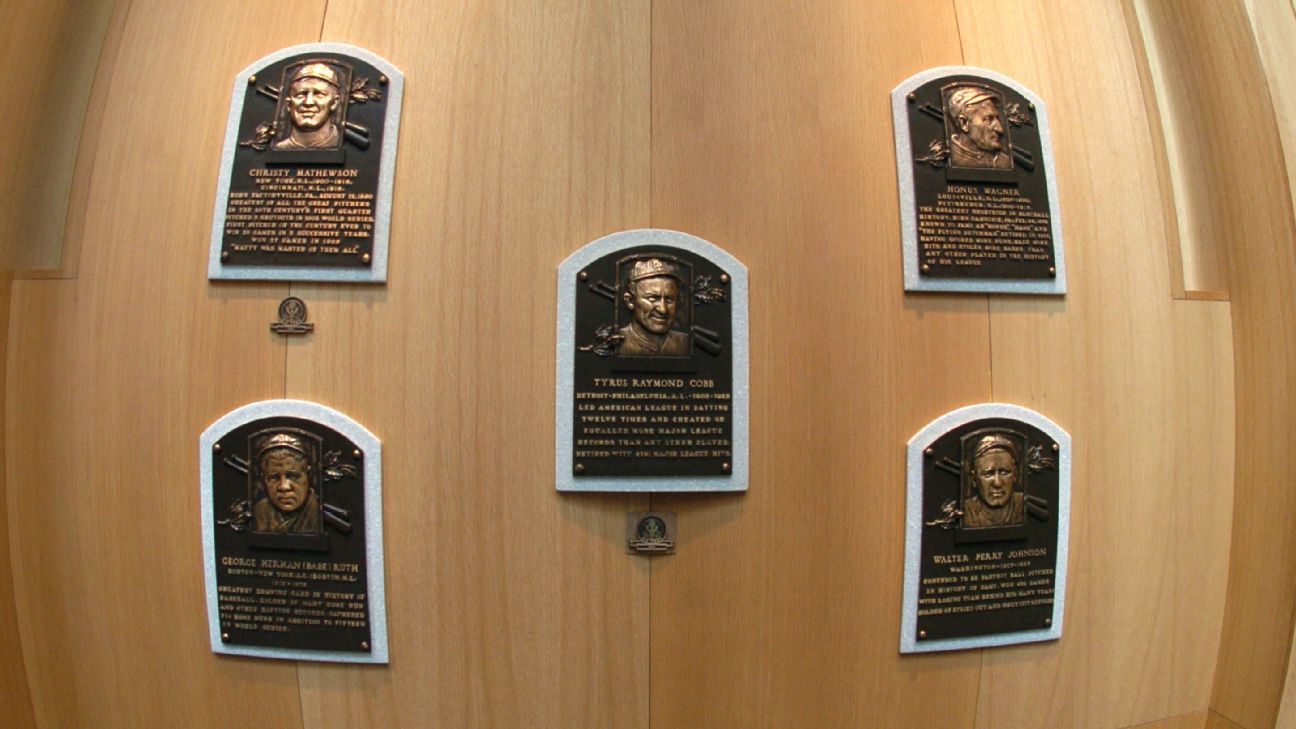 Any player on Major League Baseball's ineligible list will not be considered for induction into the Baseball Hall of Fame, even after the banned individual's death, a hall spokesman told ESPN on Saturday.
"This designation remains in place after an individual's passing," said Jon Shestakofsky, a Baseball Hall of Fame and Museum spokesman.
The Hall of Fame's statement comes one day after ESPN reported that a senior MLB source said that the league has no hold on banned players after they die because the ineligible list bars players from privileges that include a job with a major league club. This would have meant MLB no longer views banned players who die as being on its permanently ineligible list.
The previously unreported change gave fresh hope to supporters of "Shoeless" Joe Jackson that he would be considered later this year for Cooperstown by the Hall of Fame's Early Era committee. Jackson is a .356 career hitter who was prohibited from playing professional baseball in 1921 by commissioner Kenesaw Mountain Landis for having a role in the fixing of the 1919 World Series won by the Cincinnati Reds.
But the Hall of Fame apparently shut the door on that possibility on Saturday, saying, in effect, that permanently banned players would remain banned forever. Shestakofsky declined to answer a follow-up question about whether MLB's shift in thinking about the ineligible list would impact, or could change, the hall's view.
In February 1991, the Hall of Fame's board of directors passed a rule declaring any player ruled ineligible by Major League Baseball would not appear on a Hall of Fame ballot. This quickly became known as "the Pete Rose rule," because it closely followed the indefinite banning of Rose, MLB's all-time hits leader, by MLB commissioner Bart Giamatti in 1989.
Unless the rule is changed by the Hall of Fame's board of directors, it apparently also ends any chance Rose would have to get inducted into the Hall of Fame, even after his death.
Rose has never appeared on a Hall of Fame ballot, and his application for reinstatement was rejected by commissioner Rob Manfred in December 2015. The change in baseball's thinking about deceased players on its ineligible list will be a part of the latest episode of the ESPN docuseries "Backstory," which debuts Sunday on ESPN (3 p.m. ET). In the episode, Rose is asked if he believes he'll be inducted into the Hall of Fame after his death, and if it matters to him. "How'm I going to know?" Rose said, laughing. "Can you help me with that?"
Two MLB sources said that there is deep opposition among baseball insiders to Rose getting into the Hall of Fame, even after his death. And that factors into the thinking of the Hall of Fame to not consider "Shoeless" Joe Jackson, nearly 70 years after he died at the age of 64 in Greenville, South Carolina, the sources say. Since the late 1980s, South Carolina legislators, baseball legends Ted Williams and Bob Feller and thousands of people have lobbied and signed petitions for Jackson to be removed from MLB's ineligible list and be considered for induction into the Hall of Fame.
As recently as 2015, Manfred declined a request to remove Jackson from MLB's ineligible list.
Earlier this week, after repeated questions on this issue, a senior MLB source told ESPN, "From our perspective, the purpose of the ineligible list is a practical matter. It's used to prevent someone from working in the game. When a person on the ineligible list passes away, he's unable to work in the game. And so for all practical purposes, we don't consider a review of the status of anyone who has passed away."
A subcommittee of the Early Era's committee will decide the 10 individuals who played or were involved in the game prior to 1950 that will appear on this year's ballot, to be voted on by the full Early Baseball committee in December 2020. In August, Major League Baseball will play a regular season game between the New York Yankees and Chicago White Sox at the Field of Dreams movie site in Dyersville, Iowa, where the 1989 movie that helped turn Joe Jackson into a sympathetic figure was filmed. Some baseball commentators and fans have speculated whether MLB and the Hall of Fame is planning to announce that Jackson would be considered for induction into the Hall of Fame.
Manfred, who is also a member of the Hall of Fame's Board of Directors, declined to comment through a league spokesman.
As for the perennial debate over Jackson and Rose's eligibility, an MLB source told ESPN, "We're agnostic about a players' eligibility for the Hall of Fame, whether they're dead or alive." On Saturday, another MLB source said, "There is now significant daylight on this issue between baseball and the Hall of Fame. It'll be interesting to see how it all plays out."
The shift in thinking by MLB has been pushed for years by some baseball historians, including John Thorn, the official historian of MLB who first argued that the ineligible list ends with an individual's death in an essay in February 2016. He made the case again in an op-ed in The New York Times last October upon the 100th anniversary of the fixed World Series between the White Sox and the Cincinnati Reds.
"Major League Baseball removes players from the ineligible list when they die, and because the Baseball Hall of Fame aligns its balloting procedures with Major League policy, theoretically there is no barrier to Jackson's induction," wrote Thorn, who declined to comment for this story.
Baseball insiders told ESPN that in years past, Manfred had not agreed with Thorn's view. But an MLB source told ESPN this week that Major League Baseball does now agree with Thorn's view that the ineligible list ends upon a player's death. In fact, a source said, MLB has seen it this way for some time but had chosen not to make it public until this week.
Backstory with Don Van Natta Jr. premieres at 3 p.m. ET on Sunday (re-air at 9 p.m. ET) on ESPN. The show is also available to watch anytime on the ESPN app.
Marlins to test versatile Jonathan Villar in center field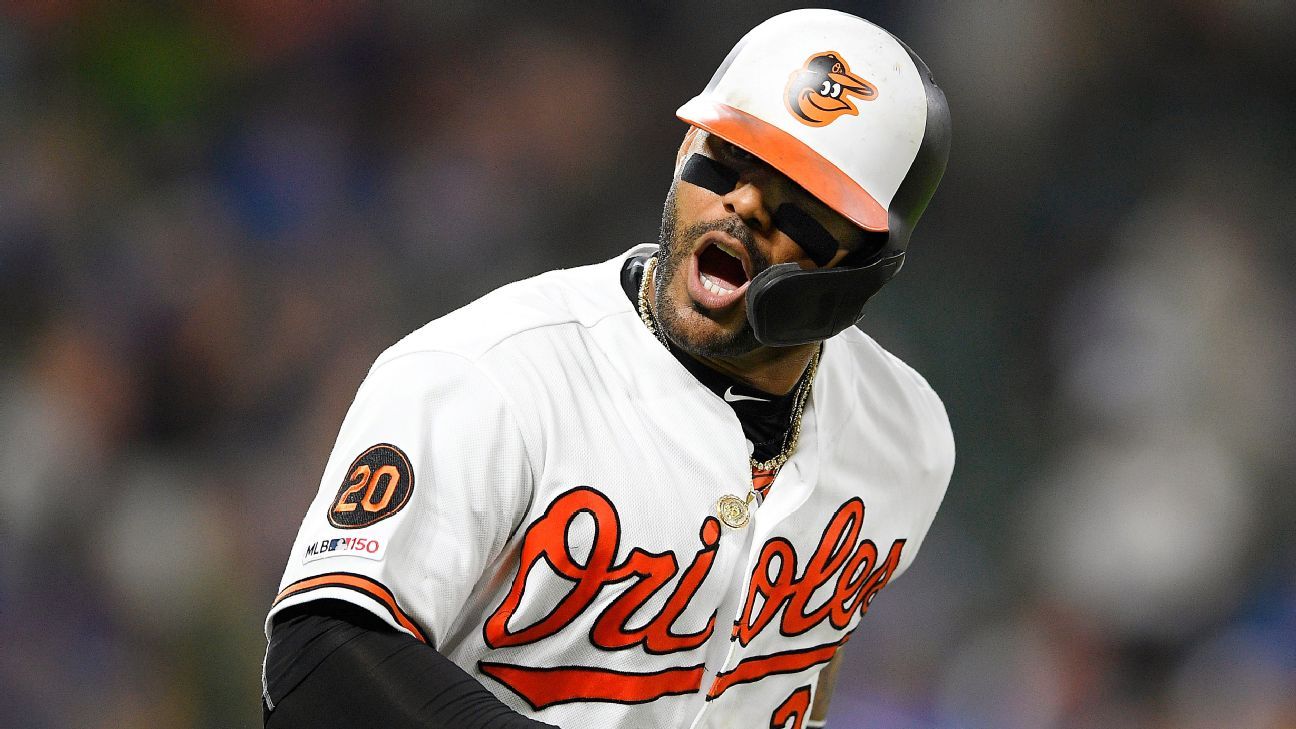 JUPITER, Fla. — Versatile newcomer Jonathan Villar is expected to be an ironman in the Miami Marlins' lineup, even if they don't know where.
Villar played in all 162 games last year for the Baltimore Orioles, mostly at second base and shortstop. But the Marlins will give him a spring training tryout in center field because they have little experience there.
"I'm coming here to help the team," Villar said. "They want me to play center field, so I'll try. If I can play another position, I'll do it."
Villar's seven-year career has included eight games in center field, most recently in 2017 with the Milwaukee Brewers. He has been mostly a middle infielder but has also played third base and left field.
"We're going to mess around with center field and see if that's a position he can handle," manager Don Mattingly said. "You look at Jonathan and really feel he's the best athlete on the field. So we're going to give it a shot. We think he fits there with our club and our pieces, and it would be great if he is able to pick that up. We've got spring training to see."
Regardless of whether Villar plays center field, he's the centerpiece of offseason efforts to upgrade an offense that scored the fewest runs in the majors in 2018-19 as Miami lost 203 games. The speedy switch-hitter gives the Marlins the prototypical leadoff man they've lacked since trading Dee Gordon two years ago.
Last year Villar had 24 homers and 73 RBIs, both career highs, while batting .273 and stealing 40 bases. He was one of five players to play in all 162 games.
"That was a surprise for me," he said. "I never thought I would do it. This year I'll try to play every game again."
But where?
The Marlins are hoping highly regarded Isan Diaz will take charge at second base after batting just .173 in 49 games as a rookie. With Miguel Rojas they're set at shortstop, the only position where they ranked above average in WAR last year.
Third base is an option for Villar, which would push Brian Anderson to right field. But the job in center is open, with prospect Monte Harrison, Magneuris Sierra, Lewis Brinson and utilityman Jon Berti among the other candidates.
"There are options," Mattingly said. "Jonathan's mindset has been, 'I'm here to win, I'll give it a try.' If it doesn't look like it's going to work, we'll pivot and make adjustments."
Cardinals' Miles Mikolas (elbow) likely to miss start of season
JUPITER, Fla. — St. Louis Cardinals right-hander Miles Mikolas will receive a platelet-rich plasma injection in his ailing throwing arm, likely delaying his regular-season debut by about one month.
A 2018 All-Star, Mikolas received a similar injection after last season to treat a flexor tendon issue.
St. Louis manager Mike Shildt said Tuesday that the injection will keep Mikolas from throwing for three to four weeks. Once he is cleared to throw, Mikolas will have to restart his throwing program from the beginning.
"It gives us a better chance to be able to get him off to a healthy start and get what he's dealing with behind him," Shildt said.
The Cardinals scratched Mikolas from his second scheduled bullpen session of the spring. An MRI done over the last few days showed the arm to be no better or worse than during a similar exam taken following the 2019 season.
It's possible that Mikolas will remain in Jupiter when the Cardinals break camp in late March.
"I think the plan is still evolving, quite candidly," Shildt said.
Mikolas was expected to receive the injection later Tuesday.
"It's a setback, but it's not anything that we can't overcome," Shildt said. "It's going to ultimately be good for Miles. We now move forward and adjust."
Mikolas signed with St. Louis before the 2018 season following a successful stint in Japan. He went 18-4 with a 2.83 ERA during his first season with the Cardinals and earned a trip to the All-Star Game.
He couldn't duplicate that success last season, going 9-14 with a 4.16 ERA. Mikolas acknowledged that the same arm issue bothered him "from time to time" late last season.
Mikolas started 32 games in each of the past two regular seasons and made two postseason starts last year, wining one. He received a platelet-rich plasma injection to treat his arm soreness after the Cardinals were eliminated from the playoffs.
"It's been a long couple of seasons for me," Mikolas said over the weekend.
Despite last season's struggles, Mikolas entered spring training as one of four pitchers expected to be in the Cardinals' rotation, joining Jack Flaherty, Dakota Hudson and Adam Wainwright.
Carlos Martinez, South Korean offseason signee Kwang-Hyun Kim, Alex Reyes, John Gant and Daniel Ponce de Leon entered camp as the leading candidates for the fifth starting spot.
What Ken Griffey Jr. trade teaches us about scouting Lindor, Arenado and Bryant
Twenty years ago, when the Cincinnati Reds were trying to trade for Ken Griffey Jr., it wasn't as though they had discovered a toolsy phenom playing semipro ball in a sugarcane field. Griffey was probably the most famous, most popular and arguably best baseball player in the world. He had just been voted, by his peers, the Player of the Decade. He had just won the Gold Glove and the Silver Slugger award — which pretty much covers it all — for the fourth year in a row. His dad was the Reds' hitting instructor.
"You don't scout Ken Griffey Jr.," says Jim Bowden, who was the Reds' general manager at the time. "You just look and say, 'Oh, there's a Hall of Fame player.' So when you're making a trade for Griffey — I never looked at a scouting report. I never needed to."
And yet, the scouting reports for Ken Griffey Jr. were written. As trade talks heated up and Bowden prepared for the winter meetings, the Reds' front office produced three new reports on Griffey, to go along with the two that had been filed by scouts at the end of the regular season, and the dozen or so that had been written, at a rate of a couple per year, since Griffey had become a perennial 40-homers-and-a-Gold-Glove MVP candidate. The Ringer's Ben Lindbergh, who acquired thousands of Reds scouting reports from that era, revealed some of what those scouting reports said: Reds scouts gave him elite grades for his power and defense, plus very strong grades for his hitting, arm and baserunning. Obviously!
Which is all to say that there are, out there, scouting reports on the recently traded Mookie Betts, the most obviously great ballplayer this side of Mike Trout (and peak Ken Griffey Jr.). There are scouting reports on Francisco Lindor, on Nolan Arenado, and on Kris Bryant — all of whom are reportedly available in a trade right this minute if a GM wants them bad enough. Some of these scouting reports are regular, run-of-the-mill reports, with descriptions of his body type and swing plane: data points to track the player's career progression in a clinical, check-every-box sort of way. Others are probably best seen as attempts to persuade: persuade the GM, or persuade somebody above the GM to approve and fund the trade.
So put yourself in the scout's shoes: You've got to file a report on a player everybody knows everything about. Presumably, you want it to matter, and that's not an easy thing to accomplish. One GM who recently acquired a superstar hitter says he had multiple reports on the player, and, he says wryly, "They all thought he was pretty good. … I can't say I remember poring over the details of those reports."
So what would a useful scouting report for these superstars do?
We can take some cues from the old Griffey reports, particularly the ones that came during the trade talks, when (according to just-after-the-facts reporting from Tom Verducci) the Reds' front office was engaged in internal debate about whether to acquire him. Bowden — who had been calling the Mariners "three or four times a year" inquiring about Griffey since he had been hired in 1992 — was in aggressive pursuit, but according to Verducci he had to convince the Mariners and his bosses in the C-suite. They were less sure, and at least twice ordered Bowden off the chase. It was around this time that the tone of the reports shifted: The annual reports had been fairly straightforward, sometimes veering toward gushing but mostly bland. There are abbreviations and technical terms.
The reports that were produced during trade talks were more hyperbolic, more personal. There were exclamation points ("If you can acquire him, go get him!") and clauses in all capital letters ("IS THE MICHAEL JORDAN OF BASEBALL"), and appeals to his place in baseball history and the broader culture. The nice thing about doing a scouting report on a known entity is that it frees you. The truth is already known. The report, then, can focus on the essence of the player. It's not so much about describing him as putting him on the right scale.
If we were writing reports for the three superstars on the trade market right now, we'd write something like:
Francisco Lindor
The best all-around shortstop since Alex Rodriguez and one of the 40 best players in history through age 25 — and 80% of those guys went on to make the Hall of Fame. His first five full seasons were as good as Derek Jeter's, and he was a year younger than Jeter when he became a full-timer. When he dives for a ball, he's up faster than any shortstop in baseball — mousetrap levels of spring. When he goes to his left, looks like he's running downhill, and can spin and throw as accurately as most shortstops could throw and then spin. Nobody in baseball's highlight reel looks more like it was spliced together from two different stars: A power hitter launching 35-degree bombs into the second deck, interspersed with a diving defender ranging impossibly to his left and glove-flipping feeds to his second baseman. He hit the ball as hard (by exit velocity) as Ronald Acuna Jr. and Pete Alonso last year. He's going to make the Hall of Fame, and he's simultaneously going to keep Andrelton Simmons out of it, by heisting Gold Glove Awards that would otherwise have been directly deposited into Simmons' account.
History will remember all that, but not just that. In a few decades, it'll be clearer that, late this decade, the era switched over from that era to this era. Before Lindor, Major League Baseball had been in a 25-year rut of players not being allowed to look like they were having much fun. The quirks, passions and extravagances of the 1980s were all suppressed — even Griffey was playing it straight after his first few years — and players were expected to maintain a scowl and chip on their shoulder. And then came 2016, when Lindor and Javy Baez were in the World Series, and it was like when Elsa realized that love was the key to controlling her magic. Lindor smiled constantly, and winter began to thaw. Lindor was young and stress-free and sometimes wearing a fedora, and for the first time in years baseball had a giddy superstar on its biggest stage. His nickname is Mr. Smile. That's going to be on a Hall of Fame plaque someday: Mr. Smile.
Smiling, you know, is contagious. In 2003, German researchers at the University of Tübingen put subjects into an fMRI machine, showed them a facial expression, and told them to make either the same facial expression or the opposite one. When the subjects were mimicking the expression they saw, the emotional part of the brain was in action. When they were making the opposite expression, the inhibitory part of the brain was in action, resisting. I'm a scout, not a neuroscientist, but as I understand it the brain wants to mimic the emotions that it sees. Boss: You need to smile more, in my opinion. I do too. We need to smile around each other, and then we'll both smile more. I smile when I watch Francisco Lindor play, and not just because of the glove-flip feeds to the second baseman. He's telling a different story than the serious players out there, and I respond to it. It is, of course, important that we give our fans a winning product, and Lindor helps with that too, but we want to give them something bigger: a fun day at the park, a happy feeling after watching a game on TV, a sense that we're rooting for the good guys out here.
If every player in baseball were exactly as good as every other player in baseball, Lindor would be the first player I'd take to start a franchise.
Nolan Arenado
Every other third baseman is a small-town cop driving around hoping to be there when a bad driver runs a red light. Arenado is the red-light camera, catching all of it, unthwartable. He's the computer in the highest level of Pong, with invincible AI-level anticipation. He throws harder from his knees than some left fielders throw from a crow hop. His barehand is impervious to spin. He's got a nifty, underrated move when he has to stray far to his right: Instead of planting and throwing over his shoulder, or spinning and jump throwing in the first baseman's vicinity, he cuts a little bit toward home plate, takes a step or two in and throws across his body, giving himself a good clean look at his target before he has to unload. That's one of the amazing things about Arenado's defense: When he makes an incredible stop — and he does about once per game, or sometimes five times — he never rushes the play. He usually has a moment, and he takes advantage of that moment to settle, square up and avoid turning an acrobatic stop into a two-base error with a wild throw. It also works almost as a taunt to the defeated hitter, one last split second that he has to run hard, despite Arenado having already sucked all the hope out of the play. Check this play out. It's got a bit of all of that, and preserved a no-hitter.
Scholars estimate that as many as eight of the best highlights in baseball since 2014 are from Arenado. Nobody chews gum harder than this guy.
But you know all that, and you also know that he's an RBI monster, and you mostly ignore the RBIs because it's 2020 and we read Harvard Business Review. Boss: Don't just ignore the RBIs. Of course, they're an overrated stat and in Arenado's case they're partly a Coors Field creation. But Arenado, a good hitter overall, has been one of the best in history with runners on base and/or in scoring position. Only nine players in the past century have raised their performance with runners on more than Arenado, and only one has raised his performance more with runners in scoring position. Arenado is a .274/.323/.503 hitter with the bases empty — essentially Matt Chapman's line, though boosted by his ballpark. Put a runner on second or third and he has hit .332/.411/.630. There probably aren't more than five hitters in baseball I'd rather have up with a couple of runners on, and we don't have any of those five in our lineup. (No, I'm not criticizing you. You've done a fine job. I'm just saying.) His RBI percentage — the rate of baserunners he has driven in — has been among the NL's 10 best in each of the past five years. Is that a little bit of a junk stat? Probably! But you already know all the facts about Nolan Arenado, perennial MVP candidate, future Hall of Famer, etc. I'm giving you something better than facts: superstitious speculation. The man is clutch. The junk stats prove it.
Kris Bryant
We have a couple dozen scouts, and this year we're going to send them into every corner of this nation and most corners of a dozen others looking for good baseball players. Our scouts are going to drive tens of thousands of miles each, go to hundreds of games, file thousands of reports on players who will mostly fail to reach Double-A, all in search of the small handful who could turn into valuable major leaguers. These few are so rare and so valuable that dozens of coaches will spend hundreds — thousands? — of hours working with them to try to cultivate their special gifts. We will stare at these few constantly, filming their every at-bat, collecting terabytes of data and trying within this matrix of information to find the faint heartbeat of a future career. If any of these players make it to the majors and contribute, it's no exaggeration to say that hundreds of our employees — coaches, scouts, strength trainers, support staff, teammates and front-office executives — will have needed to do their jobs correctly.
But, boss, check it out: I have a shortcut. It's Kris Bryant. Literally the Kris Bryant. One of the best college hitters in history, one of the best minor leaguers in history, a Rookie of the Year and an MVP and the best player on a recent World Series champion. Other people already did all the work for us. They found him, they cultivated him, they got him here. If we get him, we quite possibly get a future Hall of Famer to invite to future old timers' games, a uniform number to retire someday, and a guy who had a 4.78 high school GPA. (For our book club!) I just checked his stats and his projections, and he's still really good.
Of course, you know all that. You know, too, that he hasn't been quite as good lately as he was in his first three seasons. He had a shoulder injury that sapped his power for at least one season and maybe two. His defense is, predictably, getting worse as he ages and slows. He's an extreme fly ball hitter who might be more dependent on the juiced ball than most stars, and who really knows whether the juiced ball will show up again this season or not? All of that. But look at our third baseman, and look at Bryant. Bryant is better. My job here is just to point that out. There's an easy way of doing things and a hard way, and you need to ask yourself whether we're in the easy way business or the hard way business. Answering that question is above my paygrade.
(Speaking of which: Let's talk about my raise.)