How Mike McCarthy can make sense of the 8-8 Cowboys he's inheriting – Dallas Cowboys Blog
FRISCO, Texas — As Mike McCarthy comes close to finalizing his Dallas Cowboys coaching staff, there will come a time when he will look at what happened to the 2019 team that he inherited.
McCarthy will find a team that did not make much sense.
The Cowboys (8-8) had the second-largest point differential of a team not to have a winning record (plus-113) since the 1989 Cincinnati Bengals (plus-119). They finished with the No. 1 offense in terms of yards and were sixth in points with a first-year offensive coordinator in Kellen Moore, who will remain on McCarthy's staff. Defensively, the Cowboys were ninth in yards and 11th in points per game.
• The 'best man' battle: LaFleur vs. Saleh
• Baseball helped Titans' Brown blossom
• Chiefs sound drained at facing Henry
• Mostert riding wave as 49ers' X factor
• What Browns are getting in Stefanskie
No wonder Dallas owner and general manager Jerry Jones used the term "mind-boggling" after the season-ending win against Washington in describing the Cowboys' 2019 season.
But there are reasons Jones opted to move on from coach Jason Garrett and hire McCarthy that were specific to 2019 and not the sum of a nine-plus-year run as coach.
Let's take a look at some of the reasons:
No tight wins
The best NFL teams win close games. In 2018, the Cowboys went 9-3 in one-score games on their way to a 10-6 finish to win the NFC East. They went 1-6 in one-score games in 2019.
A good portion of the 2019 roster was a part of the 2018 roster, so why did the struggles happen when it mattered most?
"Hard to put a finger on a specific thing," Garrett said late in the season. "Probably different things happened in different games. We talk to our team all of the time that essentially two-thirds of games in the NFL are within one score of each other. The teams that are able to play at the end of the year in the playoffs are the ones that win those games."
Of the six NFC playoff teams, the Seahawks had the most wins (10) in one-score games. The Green Bay Packers went 8-1; the New Orleans Saints went 7-1. The San Francisco 49ers earned the first-round bye in part because of a 5-3 record in one-score games. The Eagles went 5-5 and only the Minnesota Vikings had a losing record (2-4) among the playoff teams in close games.
In a league where the margins for error are small, successful teams have to win in the end. The Cowboys did not do enough at winning time.
Stars let the Cowboys down
For the first time in franchise history, the Cowboys had a 4,000-yard passer (Dak Prescott), 1,000-yard rusher (Ezekiel Elliott) and 1,000-yard receiver (Amari Cooper) in the same season. They actually had two 1,000-yard receivers (Michael Gallup). And, yet, they are sitting at home for the playoffs.
All four players likely have moments they want back.
Defensive end DeMarcus Lawrence received the most guaranteed money and highest average pay-per-year deal in team history when he signed his five-year, $105 million deal, but he had five sacks this season after posting 25 total sacks in 2017 and 2018. His complete game was at a Pro Bowl level, but he was paid to sack the quarterback.
Linebacker Jaylon Smith signed an extension before the season that included $35.5 million in guaranteed money. While he led the Cowboys in tackles, he did not impact the game enough and struggled in coverage at times. Cornerback Byron Jones went through his second full season without an interception.
The Cowboys had three Pro Bowl offensive linemen in Tyron Smith, Travis Frederick and Zack Martin but each had critical moments they would want back. Cooper was held without a catch in the Week 12 road loss against the New England Patriots and was hardly a factor down the stretch.
Given the structure of the Cowboys' roster, they need their highest-paid players to perform at a top level. That did not happen enough in 2019.
Poor starts
One reason the Cowboys did not fare well in one-score games had to do with how they opened games.
The Cowboys scored touchdowns on their opening possessions three times out of 16. One touchdown came on a 45-yard drive after the defense forced a rare turnover. The other two TDs came in back-to-back games against the Buffalo Bills and Chicago Bears. Then, the Cowboys' defense allowed 26 and 24 unanswered points in key defeats late in the season.
In three other losses, the Cowboys trailed the Packers 31-3, the New York Jets 21-3, and the Vikings 14-0.
The Cowboys were unable to play complementary football. When the offense was halted, the defense could not get stops. When the defense could not get stops, the offense could not score.
"Situationally, we weren't effective," Frederick said. "That shows up in the way that the games turned out. When you look at the win margin, in games where things were working, they were really working; in the games that they weren't, we just weren't able to pull it out. We need to go back to the drawing board and really reflect on what it was that caused that to happen and really attack that."
No real rookie production
Without a first-round pick in the 2019 NFL draft because of the Cooper trade, the Cowboys knew their rookie class would lack sizzle. They didn't expect it to lack substance.
Second-round pick Trysten Hill was inactive for nine games and was known more for falling asleep in a team meeting as Basketball Hall of Famer Isiah Thomas was speaking. Third-round pick Connor McGovern did not play a snap because of a partially torn pectoral muscle that he first suffered in the spring and aggravated again before the season started.
Tony Pollard, the Cowboys' fourth-round running back, showed some flashes as Elliott's backup. Fifth-rounder Mike Jackson opened the 2019 season on the practice squad before signing with the Detroit Lions. Defensive end Joe Jackson, their other fifth-rounder, was active for five games. Sixth-round safety Donovan Wilson showed some playmaking ability in the preseason but was not given much of an opportunity in the regular season.
For a team that has drafted well over the past five years, the Cowboys will need a ton more production from the 2020 class.
Cincinnati Bengals TE C.J. Uzomah injures right Achilles in loss to Cleveland Browns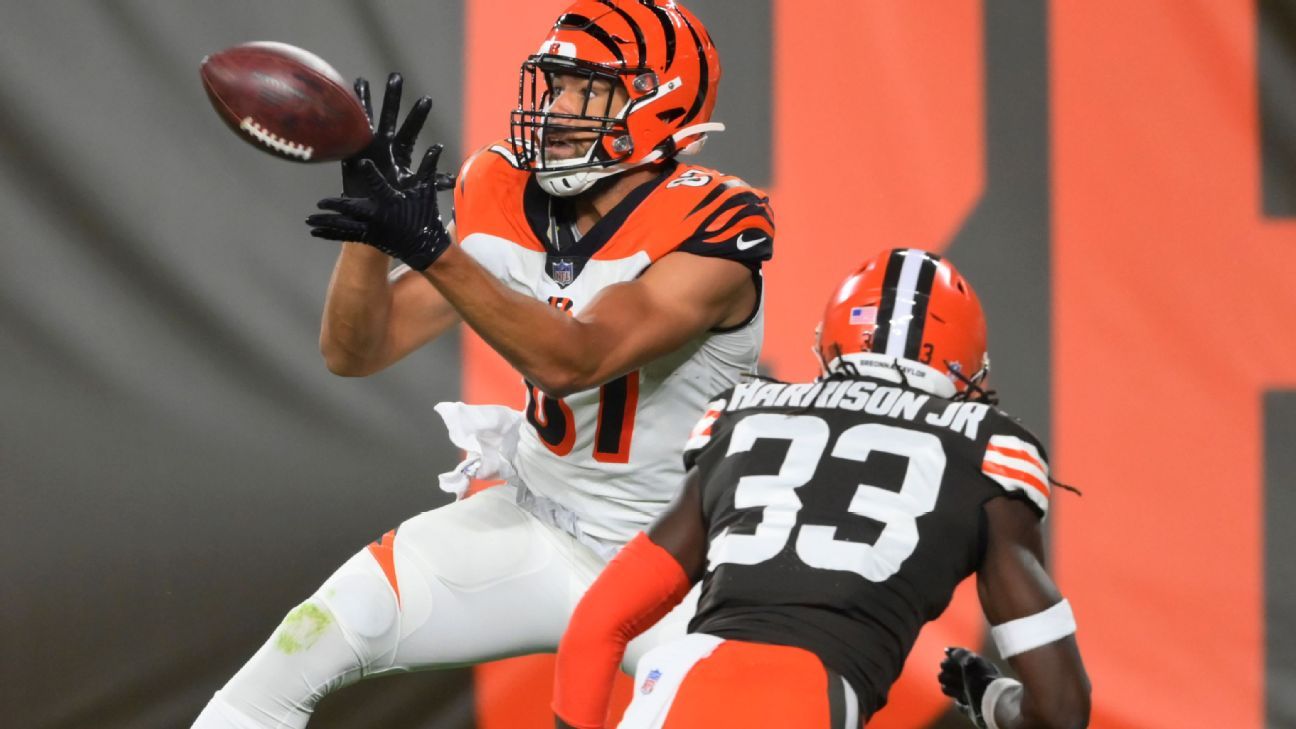 Cincinnati Bengals tight end C.J. Uzomah was carted off the field and ruled out of Thursday's 35-30 loss to the Cleveland Browns with a right Achilles injury.
Uzomah went down after he caught a 5-yard pass from rookie quarterback Joe Burrow with a little more than eight minutes left in the game. Uzomah quickly shed his helmet after he went down as the cart promptly made its way to him on the field.
Before the injury, Uzomah was one of Burrow's most effective receivers. The tight end had four catches on six targets for 42 yards and one touchdown — Burrow's first passing touchdown in the NFL.
Uzomah and second-year player Drew Sample entered the season as the team's top tight ends after Tyler Eifert left in free agency and eventually signed with Jacksonville.
Michelle Kenney disappointed not to hear from Maurkice Pouncey, hopes to work with Pittsburgh Steelers in future
PITTSBURGH — The mother of Antwon Rose Jr. said she was disappointed that Pittsburgh Steelers center Maurkice Pouncey did not reach out to her before writing on Instagram that he was distancing himself from the team's decision to place her son's name on its helmets.
But Michelle Kenney said she believes she and the Steelers organization can work toward a common goal of establishing better relationships between police and the communities they work in and in reforming the way departments police in Pennsylvania.
Kenney's son was killed by an East Pittsburgh officer as he fled a traffic stop in 2018.
On Thursday, Pouncey wrote on Instagram that wearing Rose's name on the back of his helmet "inadvertently supported a cause of which I did not fully comprehend the entire background of the case."
Kenney said her issue was not that Pouncey didn't want to wear her son's name — and was choosing to make his own decision about what name to wear going forward — but that he didn't reach out to her for an opportunity to understand each other.
Though her son was fatally shot by an officer, Kenney said she is not anti-police. She added that she believes she and Pouncey, who wrote that his focus will "continue to be on helping the police in our communities," can work together to reach the same goal.
"If he got to know me, he would understand that I am not anti-police," Kenney told ESPN on Thursday night. "I'm actually an advocate for not defunding the police. … I actually want the relationship between the police and the community to be better. So based on part of his letter, we have some common ground here.
"I'm definitely with him that we need to make some changes so that we can establish better relationships between the police and the communities but there's work to be done … I would have much rather he reached out to me and said, 'Ms. Kenney, I'm questioning my decision on wearing Antwon's name. I'm choosing not to do it, but how can we move forward?'"
Before the first game of the season, the NFL announced players could wear helmet decals honoring the victims of systemic racism and police violence. In a statement Thursday, Steelers president Art Rooney II said the organization supported the decisions of each player, coach and staff member in how they express themselves in social justice topics.
Statement from #Steelers President Art Rooney II: pic.twitter.com/Mh4fnKhr0e

— Pittsburgh Steelers (@steelers) September 17, 2020
Rose, who was unarmed, was shot and killed by East Pittsburgh police in 2018 after the car he was riding in with other teenagers matched the description of one involved in a drive-by shooting.
Officer Michael Rosfeld ran after Rose, one of two passengers who fled the car, and shot him three times in the back, face and elbow. Rosfeld, who had been on the force for just three weeks, was charged with criminal homicide but was acquitted of all charges. During the trial, Rosfeld said he thought he saw one of the two teenagers point a gun at him, but he didn't know which one.
The shooting was captured on video and sparked some protests in the region. Rose's name has continued to be a rallying cry used by protesters in demonstrations.
The family reached a $2 million settlement in a federal civil rights lawsuit against the borough of East Pittsburgh and Rosfeld in 2019.
Kenney said the Steelers told her before Monday night's season opener that the team took a vote and the majority decided to put Rose's name on the back of their helmets — something safety Minkah Fitzpatrick refuted Thursday. The team did not offer additional clarification when asked.
"It was mostly made from people upstairs and everything else like that," Fitzpatrick said of the decision. "Don't know exactly who. Don't know exactly how. But we did. We knew that we were going to have somebody on the back of our helmets, and it wasn't exactly clear on what it was going to be. It was mostly made by everyone upstairs."
The news that the Steelers would wear her son's name moved Kenney — but it was about far more than his name.
"I was crying," she said. "Not because the Steelers were recognizing Antwon, it's more because the Steelers were recognizing what was happening to Black people in this country was wrong. And for so long, this particular entity has remained silent because they come here and they're told how to behave. Because the Steelers have an image. All I wanted was them to recognize that the city that they play for is not perfect and they have a voice and a platform that can make a change.
"I was excited, and it has nothing to do with Antwon's name being on a helmet. For me, it's bigger than that. It's about the fact that they want to do the work. They want to step up, they want to push a platform and they want to make these changes come to fruition. The helmet is just the icing on the cake."
Because of that, Kenney said she's OK if the Steelers make the decision to put a different name on the backs of their helmets this season.
"I am 100 percent open to that because there are other individuals that have lost their lives for no good cause and their mothers are suffering the same as I am," she said. "So if they opt to change the name, I'm sure that there will be some outcries from the public, but it's not about the name. The only thing that would matter to me is that they decide to stop doing the work.
"I'm just looking for people that realize that we need to make a change and actually make that change happen. If there are 52 people on the team and only 40 of them believe that there's a problem with the way we do policing in this country, I'll work with the 40. If there's only four, I'll do that, too. I just want to move forward, but I'm not begging anyone to stand next to me."
The team announced before Monday night's game that it would wear Rose's name all season, but offensive lineman Al Villanueva, a former Army Ranger who served three tours in Afghanistan, covered it up for the first game, and instead, wrote the name of Army Sgt. 1st Class Alwyn Cashe, a Black soldier who was killed on duty in Iraq and was posthumously awarded the Silver Star for heroism.
Though Villanueva told Steelers coach Mike Tomlin of the change before the game, the move "surprised" defensive captain Cam Heyward.
Kenney said she wasn't upset that Villanueva changed the name on his helmet, but that he broke from what she believed to be a team decision, made by a majority vote.
"I don't have an issue with him not choosing to represent Antwon," she said. "I believe that he, like everyone else, is entitled to their own opinion. … My only problem with the entire thing was that I was told they were taking a team vote. I do not believe that Antwon's life supersedes the death of any other person. I just believe they died in different ways. Him choosing to represent someone else wasn't what offended me.
"I feel like with Pouncey, like with Villanueva, if you didn't want to wear Antwon's name, say that and don't do it. Don't set the movement backwards because of your own personal agenda. Because this is bigger than Antwon. Antwon's gone. I'm trying to save the life of the next Black person."
Browns' Baker Mayfield rolls out for 43-yard TD pass to Odell Beckham Jr.
CLEVELAND — Following the rough season opener, Cleveland Browns quarterback Baker Mayfield came out on fire Thursday night against the Cincinnati Bengals.
After connecting on his first four passes on a touchdown drive to begin the game, Mayfield hooked up with wideout Odell Beckham Jr. off a play-action bootleg for a 43-yard touchdown down the sideline to give the Browns an early but emphatic 14-3 lead.
According to NFL Next Gen Stats, the air distance on Mayfield's TD pass to Beckham was 53.4 yards, his fourth-longest pass completed in his NFL career.
.@bakermayfield finds @obj FOR SIX! 😱

📺: https://t.co/xCYUKnVxnh pic.twitter.com/PXLKQI8WDB

— Cleveland Browns (@Browns) September 18, 2020
This is Beckham's 14th career receiving touchdown of at least 40 yards, tied with the Kansas City Chiefs' Tyreek Hill for second most since 2014 (when Beckham entered the league). Only DeSean Jackson (16) has more 40-yard receiving TDs in that span, according to ESPN Stats & Information research.
Mayfield started 3-of-3 for 78 yards and a TD on play-action passes from outside the pocket. He was 4-of-12 for 37 yards on such passes in his previous six games combined.