CC Sabathia says Yankees were 'cheated' out of title in 2017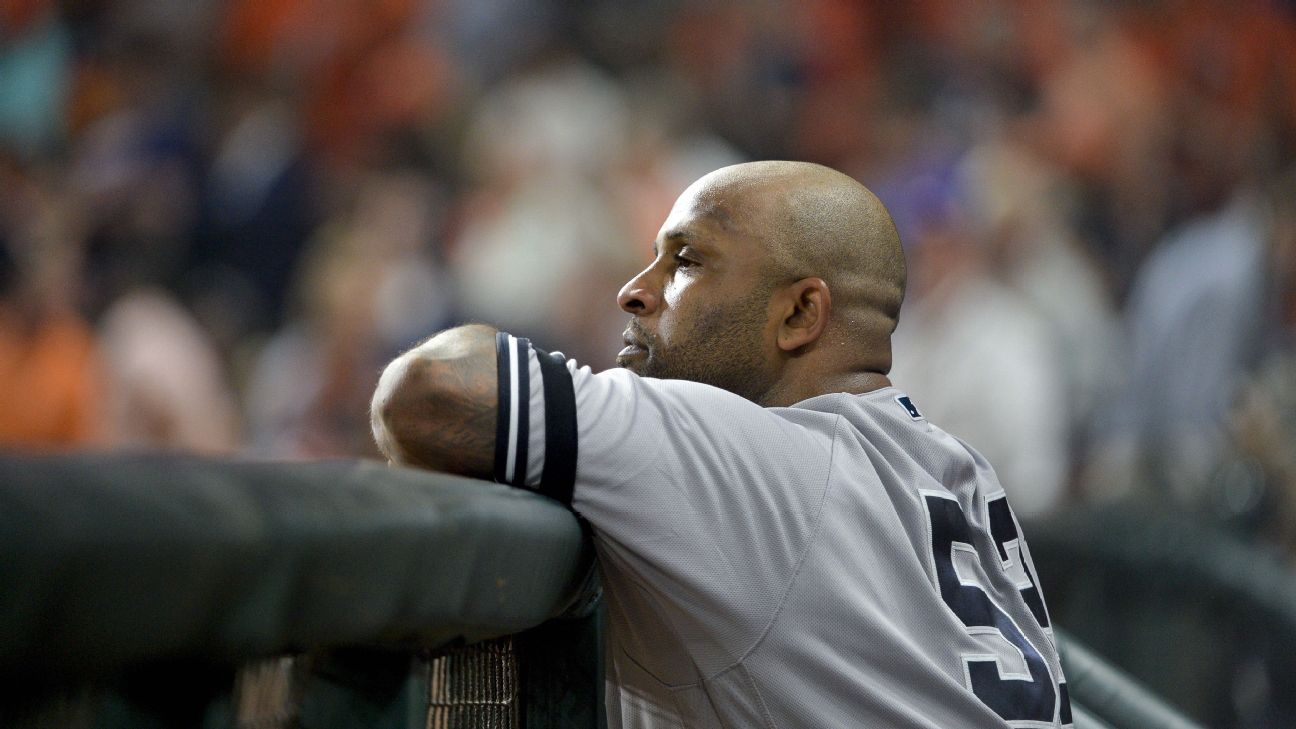 Among the notable victims of the Astros' cheating scandal in 2017 were the New York Yankees, who lost to Houston in a thrilling American League Championship Series that year.
New York went 0-4 at Minute Maid Park, where the Astros were found to have used a monitor displaying the center-field camera feed throughout the 2017 season.
CC Sabathia, the longtime Yankees pitcher who started Game 7 of that series, isn't taking what the Astros did lightly.
"It's weird, like it changes all the time," Sabathia said during an appearance on Showtime's "Inside the NFL" on Tuesday night. "When I first heard it, I was upset, and then as investigations went on … I was like, well, we can't go back and play the games. … But as more information started to come out, I'm like, we played a seven-game series in 2017, ALCS, and we lost really on kind of like one pitch.
"As everything's been coming out and the more facts that we get, it's getting frustrating, man, to sit here and know that late in my career I could've had a title, maybe '17 or maybe '18. But we got cheated out of a team kind of doing something that's not within the rules of the game."
Sabathia, 39, retired after this past season, his 19th in the majors and 11th with the Yankees. He has since taken a job as a special adviser to the team, according to the New York Post.
Sabathia's comments came a day after Major League Baseball suspended Astros general manager Jeff Luhnow and manager AJ Hinch for the 2020 season for their roles in the scandal, which the league said involved the team using a camera-based, sign-stealing system in 2017 and part of 2018. Luhnow and Hinch were later fired by Houston owner Jim Crane.
As part of its penalties, MLB also said the Astros would lose first- and second-round draft picks in 2020 and 2021, and the organization was fined a record $5 million.
Sabathia, though, wishes commissioner Rob Manfred had taken it a step further.
"Vacate it," he told Showtime, referencing the Astros' World Series title that year. "I wouldn't be mad at that."
Major League Baseball still is investigating the Boston Red Sox over allegations they illegally stole signs in 2018. The team on Tuesday night parted ways with manager Alex Cora, who was bench coach for the Astros during that 2017 season.
Boston hired Cora the following offseason, and he led the Red Sox to a World Series title in 2018, getting past Sabathia and the Yankees in the AL Division Series that postseason.
Chicago Cubs' Alec Mills went from being a college walk-on to throwing a no-hitter
CHICAGO — You won't confuse Chicago Cubs right-hander Alec Mills with any of the flamethrowers in baseball, but perhaps you've seen his teammate — and 2016 ERA champ — Kyle Hendricks pitch. Mills is called a "baby Hendricks," and Hendricks is called a "baby Maddux" — a reference, of course, to Hall of Famer Greg Maddux.
The point is that these guys don't throw hard, but they still have success. And now Mills has done something neither of those other pitchers can claim: He has thrown a no-hitter.
Mills' 114-pitch gem against the Milwaukee Brewers on Sunday was a work of art, which is what any great game thrown by a soft-tossing hurler is called. He struck out only five batters, but his array of curveballs kept the Brewers off-balance just enough, and the former 22nd-round pick of the Kansas City Royals put his name in the history books.
"I'm very overwhelmed." Mills said after the 12-0 win. "Obviously, a once-in-a-lifetime type of thing. I'll always remember it."
He'll also remember his journey. Mills grew up in Tennessee and was a walk-on on at the University of Tennessee at Martin before he was drafted in 2012. He rose steadily in the minors, but having Tommy John surgery early in his career proved to be an obstacle.
"That's a big bump in the road," Mills said. "Mentally, it's tough to get over."
Spending parts of eight years in the minors was a journey itself, but Mills finally established himself with the Cubs after being designated for assignment by the Royals in 2017. Even then, he had to work his way onto the roster and into the rotation, filling a role when others failed or got hurt. Sunday was just his 15th career start.
"The one thing that stands out to me about Alec is that no matter what situation I've put him in this year, he's answered the expectations we've had for him," Cubs manager David Ross said.
After a dip in his performance earlier this month, Mills recovered in remarkable fashion, throwing the 16th no-hitter in franchise history. He did it the same way he moved up the rungs of the baseball ladder: methodically. On Sunday, he threw 62% fastballs, 20% curveballs and 12% changeups. It was nothing fancy and certainly nothing hard. His fastest pitch clocked in at 91 mph. Mills induced just five swing-and-misses, the fewest in a solo no-hitter since Dallas Braden's perfect game for the Athletics in 2010.
The mild-mannered, goggles-wearing Mills was asked if he ever had a low point in his career, when he thought he might not make it. He shook his head.
"I've always thought of things on the brighter side," he said. "I stepped up in the minors. Never was really stuck anywhere."
With the Cubs entrenched at the top of the NL Central, Mills might be "stuck" in the rotation come October. Only a few days ago, the Cubs weren't sure if they had more than two options to start a playoff game. After a Jon Lester gem on Friday and a stellar performance by Hendricks on Saturday, the Cubs might have more than enough pitching, with Mills staking his claim to a postseason start as well as the history books.
His manager, a journeyman himself, can appreciate where Mills has come from.
"Just a proud parent moment," Ross said. "You see the adversity somebody has been through. To get an opportunity and make the most of it is really rewarding from my seat."
Angels' Albert Pujols hits 660th career home run, ties Willie Mays for 5th on all-time list
DENVER — Albert Pujols hit his 660th career homer, tying the Los Angeles Angels slugger for fifth on the all-time list with Willie Mays.
Pujols launched a fastball from Colorado Rockies reliever Carlos Estevez into the empty seats in left field Sunday at Coors Field for a two-run drive in the eighth inning.
Pujols' teammates congratulated him in the dugout after he gave the Angels a 4-3 lead.
It was his first homer since Aug. 4.
The 40-year-old Pujols now trails only Barry Bonds (762), Hank Aaron (755), Babe Ruth (714) and Alex Rodriguez (696) on the career home run list.
Estevez became the 426th different pitcher that Pujols has taken deep. Only Bonds has homered against more pitchers (449).
It's the latest milestone for Pujols, who hit his 669th carer double in the sixth inning Saturday to pass Craig Biggio for fifth on that list.
The three-time MVP and 10-time All-Star did most of his homer damage during his 11 seasons in St. Louis, where he hit 445 before leaving town after the 2011 season. While in a Cardinals uniform, he swatted 40 or more home runs six times, with his best season being 2006 when he hit 49 homers and drove in a career-high 137 runs. He left for Southern California at age 32 with a 10-year contract and seemed a lock to join the 700-home run club.
But injuries have slowed his pace later in his career. Pujols has averaged 26 home runs per season over the past eight years with the Angels. His best home run season with the Angels was in 2015 when he hit 40.
Pujols, who has one season left on his contract with the Angels after 2020, has gone deep four times this season.
For a power hitter, Pujols doesn't strike out often. His high was 93 in his rookie season and in 2017. In 2006, he nearly had as many homers (49) as strikeouts (50).
It was his 12th homer at hitter-friendly Coors Field. His most road homers have been at Houston's Minute Maid Park, where he's hit 31.
The pitcher he's taken deep the most often? That would be Ryan Dempster, who gave up eight homers to Pujols.
Rockies manager Bud Black said Pujols' place in history is already secured.
"One of the greatest right-handed hitters of all time," Black said. "There's no doubt about that. There were periods in his career where he amassed statistics that are comparable with the greats of all time.
"Years from now when we talk about Hank Aaron, Willie Mays, and you transfer to next generation, the Mike Schmidts and then into the Jim Thomes and more of the modern era, Albert will be in the same conversation with the greats."
Chicago Cubs' Alec Mills tosses no-hitter against Brewers
Chicago Cubs righty Alec Mills threw the league's second no-hitter of the season on Sunday, shutting down the Milwaukee Brewers in a 12-0 victory.
Mills, 28, struck out five while walking three.
Asked in the postgame interview on the Marquee Sports Network how he felt, Mills responded: "I have no idea. It hasn't really hit me yet. I didn't really know how to celebrate. Just something that came together today."
The Brewers never got close to a hit in the final innings as Mills threw a career-high 114 pitches in just his 15th career big league start. He induced a pop up by Jacob Nottingham and then struck out Tyrone Taylor for the first two outs of the ninth inning before getting Jace Peterson to ground out to short.
Mills said that his curveball was his best pitch on the day. He often set up hitters with a first-pitch curve for a strike.
Mills had to wait in the top of the ninth as the Brewers used shortstop Orlando Arcia as a pitcher and the Cubs tacked on two more runs against pitches topping out in the 50s.
Mills said he was "just trying to calm down and relax and make it seem like the same inning every day."
Mills was a walk-on at Tennessee-Martin and had been cut by the Royals. He never had a complete game in the big leagues.
He was asked how he would respond if someone told him in college that he would end up throwing a no-hitter in the big leagues.
"I definitely would have told them they were crazy. … They gave me a chance there, and other teams have given me a chance," he said. "And I'm just going to try to keep proving them right."
Mills' no-no was the 16th franchise no-hitter and the first since Jake Arrieta in 2016.
Chicago has cornered the market on no-hitters. Lucas Giolito of the White Sox threw the first one of the season Aug. 25.