Former D-back Alex Romero strikes catcher with bat after HBP
A wild brawl erupted during the Venezuelan Professional Baseball League playoffs Wednesday night after former major league outfielder Alex Romero struck the opposing catcher with his bat after being hit by a pitch
The incident occurred in the eighth inning with Caribes de Anzoategui on the way to a 13-2 win over Aguilas del Zulia
After a benches-clearing brawl in the seventh inning, Romero, who played for the Arizona Diamondbacks in 2008 and 2009, was hit by a pitch from Angel Nesbitt.
Romero responded by swinging his bat and striking Caribes catcher Gabriel Lino twice as both benches emptied again and a wild brawl erupted that included players kicking and punching opponents.
Lino, Nesbitt, shortstop Cesar Valera and catcher Willians Astudillo for the Caribes and Romero from Aguilas were ejected.
Astudillo, who plays for the Minnesota Twins, was Caribes de Anzoátegui's last catcher in the roster. Team captain Niuman Romero had to put on the gear and catch for the remainder of the game.
MLB, MLBPA agree to hold playoffs in bubble settings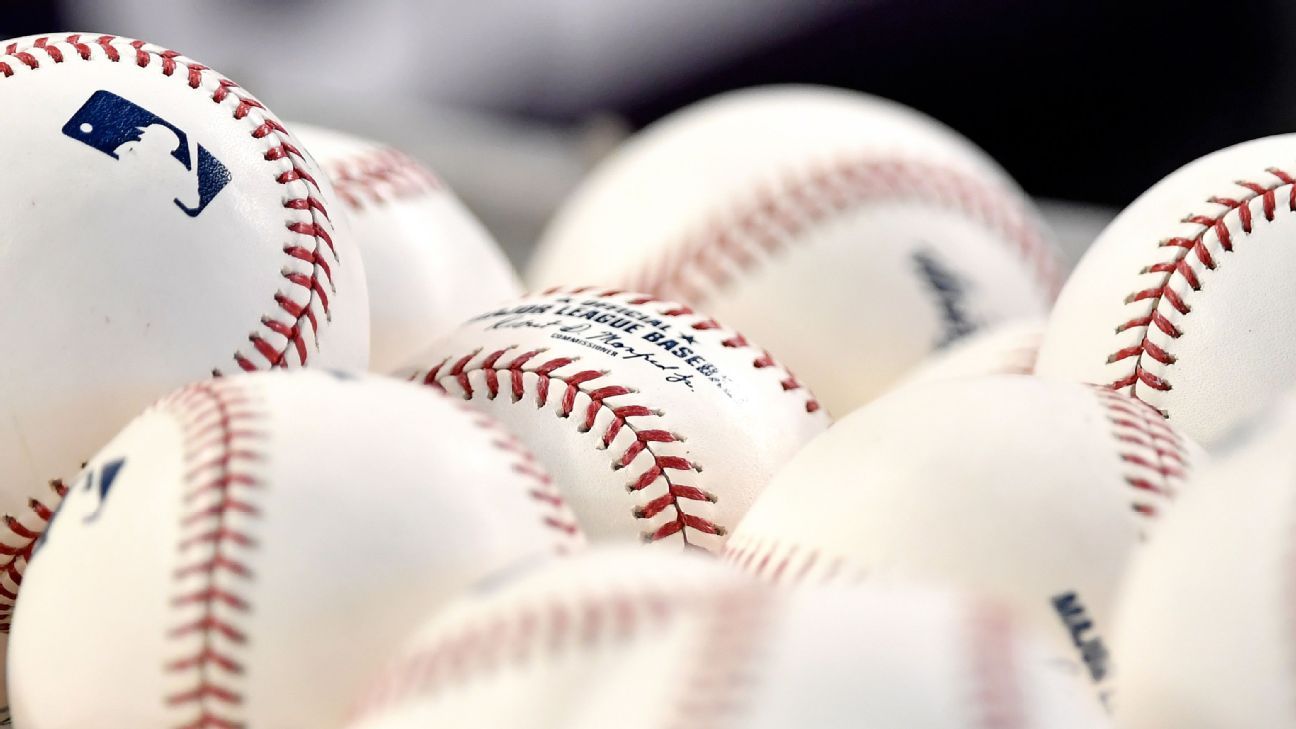 Major League Baseball and its players' union have reached an agreement on playing this year's postseason in bubble settings, sources confirmed to ESPN.
The Athletic earlier reported MLB and MLB Players Association have reached agreement.
ESPN's Jeff Passan reported on Friday that under the plan, which awaited the MLBPA's approval, the World Series would start Oct. 20 at Globe Life Field in Arlington, Texas, and would end no later than Oct. 28. It would culminate a month of playoff games that begins with the top four seeds in each league hosting all the games in a best-of-three wild-card series. The four American League series would run Sept. 29, Sept. 30 and Oct. 1, and the National League would play Sept. 30, Oct. 1 and Oct. 2.
The highest remaining seed in the NL would play its division series in Arlington, while the next-highest seed would face its opponent at Houston's Minute Maid Park. The top seed from the AL would be the home team at San Diego's Petco Park, while the other series would be held at Los Angeles' Dodger Stadium. The AL Championship Series would take place in San Diego and the NLCS in Arlington, giving the NL's top seed — likely the Los Angeles Dodgers — a path to a stationary October.
'It's like picking your favorite kid' — MLB insiders on the NL Cy Young race
There is one thing Major League Baseball executives, scouts and players can agree on when it comes to the 2020 National League Cy Young race: It's going to go down to the wire.
With a tip of the cap to Los Angeles Dodgers star Clayton Kershaw, his current 1.98 ERA just isn't going to cut it. Not with pitching at most 10 starts for the entire season. It means Chicago Cubs right-hander Yu Darvish and Cincinnati Reds hurler Trevor Bauer have the best chance to dethrone the two-time defending winner, New York Mets ace Jacob deGrom. But he's not giving up the award easily. This might be the tightest race in years.
"It's so close, I'm glad there is more time left," one NL executive not associated with the Cubs, Reds or Mets said.
That might sound strange to hear in mid-September, considering the season's end is around the corner, but when 12 regular-season starts is all anyone is going to get this year, two or three can make the difference. So where are people in the game leaning? It depends whom you ask.
"I'd go Darvish, deGrom, Bauer," one NL general manger said.
"Yu Darvish has been fantastic but I would go deGrom," an NL scout said.
Each made a case for their guy, using a mix of stats and value to their respective teams. Kershaw got a late start to the season, which counts against him. In a normal year, missing a couple games wouldn't get a second notice.
"Kershaw starting the season on the [injured list] has hurt him," one exec said. "I think he's 10 [innings pitched] or so behind, which in a 60-game season is a lot. Even in his starts, he hasn't given the length that these other guys have. He's great, first-ballot [Hall of Fame] type, I just don't think it's his award this season."
So let's scratch Kershaw off the list and take a quick statistical look at the other three.
Jacob deGrom
Going into the week, deGrom led in ERA (1.67) and strikeouts. He also has the highest swing-and-miss rate (40.7 %) in the NL, which would also be the highest in baseball since 2000. (Shane Bieber in the American League also has the highest since 2000).
"My choice is deGrom," one NL player said. "It's not even close who the best pitcher in the league is."
An executive observed that "deGrom has been awesome as always. If this was a 162-game season, I'd bet on him. He's had three to four inconsistent starts but nothing 'bad.' He only has four decisions. He's great, I just don't think he's been as dominant as Yu."
Trevor Bauer
Bauer leads in ERA-plus, which adjusts for his hitter-friendly home ballpark. And he also has the lowest WHIP and hits given up per nine innings. He's making a strong push on a Reds team nearly out of the playoff race.
"Bauer has been awesome," one exec said before Bauer's start Monday. "His .510 [expected OPS] is excellent. I hold him back a bit due to his three-start stretch from Aug. 24 to Sept. 4 when he wasn't quite as sharp or consistent. I know it's an extreme case of me nitpicking, but I think we have to in a 60-game season. He's also 4-3. I don't think that's a huge deal, especially in a shortened season, but I think it's a slight separator in this case."
Yu Darvish
Until he gave up three runs in the first inning of his previous start, many felt Darvish was the leader in the clubhouse. He still might be. And if you dig deeper toward his true value to the Cubs, he might get extra points. In any of the "win probability" areas, Darvish is ahead of his counterparts.
"As crazy as it may have seemed a year or two ago, Darvish has been the most consistent," another exec said. "Since his below-average first start, he's pitched six-seven innings in all eight starts. He's 7-2. His peripherals are in line with the other guys. His team has been the best, and he's been the ace/anchor that the Cubs' rotation really needed coming into the 2020 season."
Value to the team was a phrase heard often. If the Mets squeak into the playoffs, that could give deGrom the nod. And it might be the reason Bauer loses out. The Reds have underperformed, so what has his season meant? Then again, how much worse would they be without him? We can go around and around on this subject, as those who were asked seemingly did as well.
"I have deGrom and Darvish above Bauer due to better [field independent pitching] and while Bauer has been awesome, his much lower [batting average on balls in play] makes him look luckier than the other two," one of the NL executives said. "Kershaw hasn't pitched as much as they have. I would have Max Fried fourth."
Braves left-hander Fried was near the top of the Cy Young list until he got hurt. He has yet to give up a home run and if he completed a full, 60-game schedule unscathed by the long ball, perhaps that would have tipped the scales in his favor. But like Kershaw, Fried probably won't finish in the top three.
After they each take their turns early this week, the three supposed finalists will all have two starts left in the season. Those are bound to be the difference-makers.
"I've faced two of them this year and it's like picking your favorite kid," one NL hitter said. "I guess I'd give it to Darvish right now."
So while the playoff races rage on, so does the race for the best pitcher in the NL. Bieber has the AL award wrapped up, but three hurlers will be throwing for more than a team win in the final two weeks.
"I think that this is a very close race between Darvish, Bauer, and deGrom," one exec summed it up. "Probably most between Darvish and Bauer. The last couple starts each guy makes will likely be the separator."
Dodgers vs. Padres is the new high-stakes rivalry MLB needed
If you had any doubt about whether this was real — whether Monday's Major League Baseball game meant more than any had all year and whether the San Diego Padres had elevated themselves enough to become legitimate threats to the mighty Los Angeles Dodgers — consider the disdain with which Trent Grisham homered off Clayton Kershaw in the sixth inning. He offered an admiring glance, a swift turn toward his own dugout, a smug grin as he approached first base, an all-out dismissal of the esteemed pitcher who gifted him with a fastball out over the plate.
As Grisham neared home, Dodgers players on the edge of the third-base dugout berated him, and in that moment, it seems, the Padres became so much more than charming, young, innocuous underdogs.
They became threats.
Grisham's home run tied the opener of a three-game series and set the tone for the big seventh inning that allowed the Padres to distance themselves in a 7-2 victory, giving them eight consecutive wins and pulling them within 1.5 games of first place in the National League West. Perhaps one day, if this upward trajectory goes as expected, this will become a seminal moment in a long-standing rivalry within a division that has long struggled to provide the Dodgers with a worthy opponent.
"It felt a little different," Grisham said of the Padres' first win against Kershaw since 2013. "It felt more satisfying."
The Dodgers, winners of seven consecutive NL West titles, and the Padres, 14 years removed from their most recent postseason appearance, were less than three games apart when the penultimate week of this regular season began. The series opener at Petco Park represented arguably the most important Padres game in a decade, and both teams treated it with proper reverence.
Dodgers manager Dave Roberts strategized his batting order in a way he hadn't all season, stacking three lefties near the top as a way of enticing the opposition to remove the menacing Dinelson Lamet when the lineup turned over a third time. Padres manager Jayce Tingler aligned his players so that Kershaw would face a right-handed hitter through eight of the first nine spots. Then the game started.
"You see Clayton has his best velocity of the season. You see Lamet sitting at 98, 99 for five innings. I thought both players, both dugouts, had energy," Roberts said. "You can just feel the importance of the game."
Roberts played in San Diego, coached in San Diego and still lives in San Diego. He has spent the past five years presiding over a Dodgers team that has consistently been among the sport's greatest, guiding it through two World Series and eight elimination games. The experiences have made Roberts cautious about magnifying regular-season moments. But he acknowledged beforehand — in this season, with expanded playoffs and few benefits to home-field advantage — that this is "a big series."
"I can't imagine what this place, in a normal year, the electricity in the stadium and just all around the city, would be," Tingler said three hours before Monday's first pitch. "I wish we could experience it over the next three days."
The Padres made their intentions clear last year, when they allocated $300 million for Manny Machado and placed Fernando Tatis Jr. and Chris Paddack on their Opening Day roster, eschewing modern baseball's abuses of service-time manipulation. After a 70-92 finish by a team that was clearly on its way up, Padres executive chairman Ron Fowler declared that "heads will roll" if the Padres didn't find themselves in contention in 2020.
The statement was a bit heavy-handed and perhaps even a little misguided. The Padres were seemingly at least another year away. But then they began the 2020 season with 18 wins in 30 games, and their general manager, A.J. Preller, acquired at least six difference-making players in less than 48 hours without mortgaging a loaded farm system, and it all started to feel real.
"It's their reign," Padres third baseman Manny Machado said of the Dodgers two days after the Aug. 31 trade deadline. "And it's their division, honestly. But we're comin'. We're definitely comin'."
The Dodgers — good as they are, proud as they are, accomplished as they are — can feel it. That seemed evident in Monday's bottom of the seventh, at the tail end of an otherwise magnificent Kershaw start. The Padres scored five runs in a half-inning that included three defensive miscues and very few hard-hit balls. Kershaw gave way to Pedro Baez with two on, one out and his pitch count at 99. He could only watch as Padres DH Jorge Ona legged a blooper into a double. Then Dodgers first baseman Max Muncy hesitated after fielding a grounder and let Jurickson Profar dart home. Then Dodgers infielder Chris Taylor seemed to lose Muncy's throw in the lights. And it all unraveled.
"We just kinda fell apart there," Roberts said postgame.
The Dodgers and Padres have split their eight games thus far, with three of them decided by three runs or fewer. They'll meet two more times in the regular season and seem destined to meet again in the NL Division Series, regardless of how the top of the NL West shakes out.
Kershaw dismissed Grisham's home-run celebration — "I'm not gonna worry about their team," he said — and downplayed the potential of a budding rivalry.
"They're a great team this year," Kershaw said. "Eventually, we might see them again in the playoffs."