Veteran LHP Brett Anderson signs 1-year deal with Brewers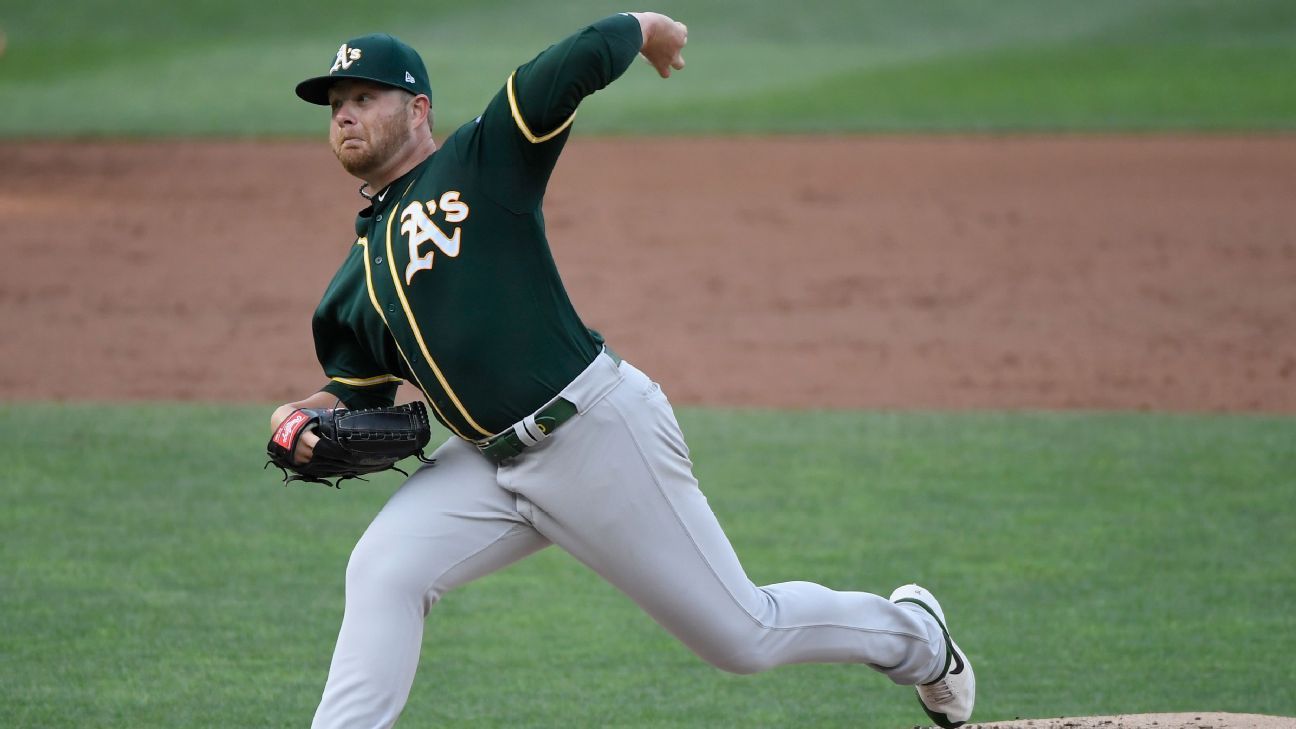 MILWAUKEE — Left-hander Brett Anderson is the latest addition to the quickly transforming Milwaukee Brewers, agreeing Friday to a one-year contract.
The deal is for $5 million, with a chance to earn another $2 million in performance bonuses, sources told ESPN's Buster Olney.
The 31-year-old left-hander was 13-9 with a 3.89 ERA in 31 starts with Oakland last season, when he had a $1.5 million base salary and earned $1 million in performance bonuses based on starts.
Anderson posted the lowest strikeout rate of any qualifying starter in baseball (just 12.1% of batters faced) yet still boasted a 2.7 bWAR (Baseball-Reference's wins above replacement) thanks to a low walk rate and the third-best ground ball rate among starters.
"We looked at Brett as a pitcher who has proven throughout his career that when he's able to stay healthy, he's been effective," Brewers general manager David Stearns said. "He's someone who throws strikes consistently. He keeps the ball on the ground, and we like the additional left-handed presence he gives us in our rotation."
Milwaukee has just 12 players left from the 25 on its Division Series roster against Washington.
Anderson has been hurt throughout his 11-year big league career. Anderson had back surgery for a herniated disk at the end of the 2014 season and again in 2016 for a bulging disk. He had Tommy John surgery in 2011 and has missed time with an oblique strain and broken finger.
"Any time there have been injuries and have missed time or a player has missed time because of an injury like Brett has over the course of his career, there's going to be an increased emphasis placed on that," Stearns said. "But we are comfortable, based on durability last year when he logged over 175 innings and made over 30 starts, that we have a player who is capable of making a similar output for us moving forward."
Anderson is 59-61 with a 4.05 ERA and 682 strikeouts in 176 starts and 12 relief appearances, for the Athletics (2009-13, 2018-19), Colorado (2014), the Los Angeles Dodgers (2015-16), the Chicago Cubs (2017) and Toronto (2017).
"My goal first is just to be healthy," Anderson said. "As far as teams go, I've been around the league a little while now, on both sides of it, but I wanted a team that's going to be competitive. I've been on teams that haven't been very good and on teams that have been pretty good, so it's nice to have a competitive team. That was one of the biggest priorities. It's a little bit similar to Oakland in that it's a smaller market."
Anderson has induced ground-ball outs 56.8% of the time over his career. Anderson began throwing a cutter last season, using it 14% of the time.
"Just something that wasn't going away from righties, that I could jam them a little bit," Anderson said. "I don't have the same velocity on my fastball or arm speed on my slider that I had when I was 21, so I wanted another pitch tie up righties so they couldn't dive over the plate on the sinker and changeup. It was an effective pitch for me. It's not the best pitch; it's a work in progress. But if I can get a pitch that's trending in that direction, I'll take it."
Anderson will join right-handers Brandon Woodruff and Adrian Houser, and left-hander Eric Lauer, as rotation candidates.
"I think we're making progress," Stearns said. "We're never going to close the door on increasing our depth and increasing our options but we do think we're making progress toward filling out a starting rotation that's going to be very competitive."
Information from The Associated Press was used in this report.
Similar to NFL officials, MLB umpires could get mic'd up
NEW YORK — Big league players, managers and fans might be hearing a lot more from umpires this season.
Much like NFL referees have done for years, umpires could be mic'd up and announce whether reviewed calls are upheld or overturned, sources told ESPN's Pedro Gomez. They may also explain rules, if necessary.
Major League Baseball and the umpires are actively discussing the possibility. If the technical aspects can be worked out and the umps are comfortable with the concept, they could be mic'd up sometime this year. Both sides say there's lots of work to do, making it uncertain whether this could be in place by Opening Day on March 26.
"I feel like getting more information on replay reviews would be great. Being able to hear what they see/say about the play will provide a better explanation of the call, which will be very beneficial for both sides," Arizona Diamondbacks catcher Stephen Vogt said.
The NFL and NHL have their referees announce the results of replay reviews. In the NBA, the arena public address announcers relay decisions.
Baseball fans have become familiar with seeing crew chiefs such as Joe West, Ted Barrett and Tom Hallion take off the headsets and signal the ruling from the replay center in New York — either indicating a player is out or safe, or perhaps pointing to where a runner should go.
Under the innovation, an umpire might tell everyone at the park whether a challenged call is confirmed, stands or is reversed. It is not known whether there would be any additional explanation of a ruling beyond the basics.
"It will be helpful to the fans, which is good," Oakland manager Bob Melvin said. "Sometimes they're left in the dark as with what is being challenged."
In the NFL and NHL, the referee is apart from the players when he speaks. MLB likely will want to be sure umps turn off their microphones for any disputes that might result.
"Well, sounds like players might be picked up on the umps' mic," longtime outfielder Rajai Davis texted to the Associated Press. "It wouldn't affect me personally, but it will other guys."
The Associated Press contributed to this report.
How Starling Marte trade turns D-backs into threat to Dodgers' NL West reign
It was the one trade everyone has predicted all offseason and it finally happened on Monday: The Pittsburgh Pirates traded outfielder Starling Marte to the Arizona Diamondbacks for two prospects. The Diamondbacks needed an outfielder, and with the Pirates stuck in the mire of Nowhere Land it was for them to trade a 31-year-old outfielder while he still had two years of team contractual control remaining.
What are the Diamondbacks getting? Other than a subpar 2017, when Marte was suspended 80 games for a positive PED test, he has been a consistent performer at the plate, with an OPS+ ranging between 113 and 120 every other season since 2015. He did set career highs in 2019 in home runs (23) and slugging percentage (.503) thanks to the lively baseball.
Marte is a two-time Gold Glover, with those awards coming in 2015 and 2016 when he primarily played left field. He played center field the past two seasons and he posted the worst defensive metrics of his career in 2019 with minus-9 defensive runs saved. The Statcast numbers, however, are a little more kind to his glove work, crediting him with two outs above average and a high jump rating. Given his speed remains near-elite, Marte reasonably projects as at least an average defender in center field, sandwiched between David Peralta and Kole Calhoun.
Pirates trade Starling Marte to Diamondbacks for two prospects
Outfielder Starling Marte was traded from the Pittsburgh Pirates to the Arizona Diamondbacks on Monday for two prospects and $250,000 in international signing bonus pool money.
Marte, 31, has spent his entire eight-year career with the Pirates. He has a career .287 batting average with 108 homers, 420 RBIs and 239 steals. He had career highs last season with 23 homers and 82 RBIs.
Marte won Gold Gloves in 2015 and '16.
He reached the All-Star game in 2016 but also served an 80-game suspension in 2017 after testing positive for steroids.
The Pirates are in the midst of a rebuild after revamping their leadership structure following a last-place finish in the NL Central in 2019. The ascension of outfielder Bryan Reynolds during a breakout rookie season in 2019 and Gregory Polanco's expected recovery from shoulder issues that limited him to 42 games last season gave Pittsburgh all the flexibility it needed to move Marte
The players going to Pittsburgh are right-handed pitcher Brennan Malone, the 33rd pick in the 2019 draft and shortstop Liover Peguero, a toolsy 19-year-old from the Dominican Republic who excelled in short-season ball.
"We're excited about adding two young players of this caliber and the opportunity we'll have to help them continue to grow." Pirates general manager Ben Cherington said in a prepared statement. "In addition, we now have a greater ability to acquire impact-type talent in this year's international free agent market."
Malone, a hard-throwing right-hander, was considered one of the top prospects in the Arizona system. He went a combined 1-2 with a 4.50 ERA in seven appearances in Class A. Peguero hit a combined .326 (74 for 227) with 11 doubles, five triples, five home runs and 38 RBIs in 60 games in the low minors last season.
Arizona was dealing from a farm system that is one of the deepest and best in baseball, along with San Diego's and Tampa Bay's.
ESPN's Jeff Passan and The Associated Press contributed to this report.