Injured Yoenis Cespedes agrees to pay cut in grievance settlement
NEW YORK — Yoenis Cespedes' salary for 2019 was cut in half and his pay for 2020 significantly reduced as part of a settlement of a grievance between the injured outfielder and the New York Mets.
Cespedes agreed to a $110 million, four-year contract in December 2016 but hasn't played since July 20, 2018. The outfielder had surgery to remove bone calcification from his right heel on Aug. 2, 2018, and his left heel that Oct. 26.
Mets general manager Brodie Van Wagenen, Cespedes' former agent, said in late May the outfielder suffered multiple right ankle fractures in an accident at Cespedes' ranch in Port St. Lucie, Florida, where the club's spring training complex is located.
New York withheld part of Cespedes' salary, alleging he was hurt during an activity prohibited by his contract's guarantee language. The players' association filed a grievance, and the sides settled on an amended contract before the case was argued.
"The club has reached an agreement with Yoenis Cespedes to amend and restructure his contract," the team said in a statement Friday. "Cespedes remains under contract with the Mets through the 2020 season."
Van Wagenen said last month he was uncertain whether Cespedes would play in 2020.
Cespedes had been owed $29 million this year and $29.5 million in 2020. His 2019 pay was cut to $14,811,828, according to Mets' payroll information made available to all clubs.
The amended contract will significantly lower his 2020 guaranteed salary from $29.5 million, a source told ESPN's Jeff Passan.
Cespedes will have the chance to earn additional bonuses.
A two-time All-Star, the 34-year-old has played in only 119 games in the first three seasons of the contract — just 38 since the end of the 2017 season.
Minor league instructor and former Mets player Endy Chavez posted and then deleted video on Nov. 19 of Cespedes taking swings.
Also Friday, former All-Star right-hander Michael Wacha and the Mets completed a $3 million, one-year contract that includes $8 million in performance bonuses. Wacha can earn $7 million under a points system and $1 million for relief appearances.
New York's starting rotation includes Jacob deGrom, Noah Syndergaard, Marcus Stroman and Steven Matz, and the Mets have a pending $10 million, one-year deal with Rick Porcello.
"I've got my mindset going in as a starter right now," Wacha said. "Down the road, who knows what's going on. But my mindset going in is definitely a starter. "
The 28-year-old Wacha starred as a rookie for the National League champion St. Louis Cardinals in 2013, winning NL Championship Series MVP, but he has been hampered by injuries since. He had a 4.76 ERA over 126⅔ innings last season in 24 starts and five relief appearances. He was diagnosed with a right shoulder strain in September and did not pitch in the playoffs.
"I'm very confident in the work that we've been putting in in the offseason, preparing for this next season," he said. "I'm very confident with the guys I'm working out with."
As a rookie in 2013, he was teammates with new Mets manager Carlos Beltran. Wacha referred to Beltran as "El Caballo" — the horse.
"I was very fortunate enough to play with him in 2013 and just see the way he prepared for the game. He knows the amount of work that goes into being a very successful ballplayer," Wacha said. "He really is the best, an unbelievable knowledge about the game."
Wacha was an All-Star in 2015, when he went 17-7.
"I was attacking the zone. I was not getting in trouble with walking guys," he said.
He is represented by CAA, where Van Wagenen was an agent before the Mets hired him in late 2018.
Wacha would earn a point toward a bonus for each start or each relief appearance of three or more innings, getting $500,000 each for points 10, 14, 18, 20 and each additional point through 30. He would get $250,000 apiece for 40, 45, 50 and 55 relief appearances.
He also has award bonuses of $50,000 for Cy Young, $25,000 for second and $10,000 for third; $100,000 for World Series MVP and $50,000 each for League Championship Series MVP, making the All-Star Game and winning a Gold Glove or Silver Slugger Award.
The Associated Press contributed to this report.
Cardinals' Harrison Bader confident he'll start in center field this season
ST. LOUIS — Harrison Bader is confident he'll be in center field for the St. Louis Cardinals when the season begins.
Bader was in St. Louis on Saturday taking part in the annual Cardinals Winter Warm-Up.
"I'm the starting center fielder," the 25-year-old Bader said. "It's my position. I'm going to take it. There's no sense in talking about it. I'm looking forward to showing up Day One guns blazing and ready to go."
While there is no question about his defensive ability and speed in center, it's his bat that gives some pause.
Last season, Bader finished with a .205 batting average. He hit 12 home runs, drove in 39 runs and stole 11 bases.
"Last year, individually it wasn't what I wanted it to be production-wise," Bader said. "The biggest thing I've taken away at this point is how I responded. I've been very fortunate to be with people behind the scenes who've helped me take steps in the right direction to help me produce like I want to and how I know I can.
"There's no secret to it. There's no special sauce. This is a day-in and day-out grind. My swing is feeling really good. All you can do is go out there and play hard. That's what I've been doing."
"I'm the starting center fielder. It's my position. I'm going to take it. There's no sense in talking about it. I'm looking forward to showing up Day One guns blazing and ready to go."

Harrison Bader
Bader finished his 2018 rookie season hitting .264 with 12 homers and 15 stolen bases in 138 games. He took over in center after Tommy Pham was traded on July 31 to Tampa Bay. His flair in the outfield, making diving catches or running down line drives in the gap, made him a fan favorite.
Bader began 2019 as St. Louis' starting center fielder, but offensive struggles landed him on the bench. He was sent to Triple-A Memphis on July 30. When he was demoted, Bader was hitting just .195 with six home runs in 90 games.
The Cardinals brought him back Aug. 20 and Bader made a big impression in his first game after being called up. He legged out a triple, scored two runs, walked three times and made a spectacular diving catch in shallow center during a 9-4 win over the Milwaukee Brewers.
Then in a five-game stretch against Colorado and Pittsburgh, Bader got eight hits. But he tailed off again after that.
"My bat was not present last year. Plain and simple," Bader said. "It showed up a couple of times but I wasn't nearly as consistent as I needed to be."
Following the season, he was a Gold Glove finalist.
"The Gold Glove recognition was nice," Bader said. "As tough as it was at the plate, you don't want that to carry over into the field. Regardless if I'm a .330 hitter or what I was last year as a hitter, I always want to play as a Gold Glove center fielder.
That mentality will always stick with me."
Bader certainly might be the opening day starter in center. However, he could just as easily find himself in a platoon role.
There might be a challenge to Bader in spring training. Center field will likely be one of the most competitive battles for the Cardinals this spring.
President of baseball operations John Mozeliak has said he views center field and left field as open tryouts this spring.
Possibly in line for the job in center is Dylan Carlson, a 2016 first-round draft pick. Carlson is considered one of the team's top breakout prospects this season. Last year, he hit .292 with 26 homers and 20 steals as a 21-year-old between Double-A Springfield and Triple-A Memphis.
Carlson has above-average speed and shows the instincts that could make him a standout defender in center.
The Cardinals are thought to be interested in dealing for Rockies star third baseman Nolan Arenado. Bader has been one of the names mentioned in trade speculation.
"I live in the present. I know my name has been tossed around," he said. "No trade has been made so I'm going to go with, they still have confidence in me to go on the field and do what I'm supposed to do and capable of doing."
When the Cardinals recently made a deal with Tampa Bay for pitching prospect Matthew Liberatore, some initial rumblings had Bader included in the trade. He was on a plane and when he got off, Bader said he had about 60 messages on his phone telling him he had been traded.
One of those messages, however, was from his agent, telling him he was not part of the deal.
"I'm thankful for every day I get to wear this uniform. I want to be a Cardinal. I have been a Cardinal since Day One. I want myself to be a consistent bat. I want to be a very hard out night in and night out. I don't want any pitching staff or pitcher to think I'm an easy out," Bader said.
That's what he wants to show the Cardinals in spring training.
"There's no other focus in my life than to do what I need to do to produce on the field and to help us win a World Series," Bader said.
Hall of Fame says deceased players on MLB's ineligible list won't be on ballots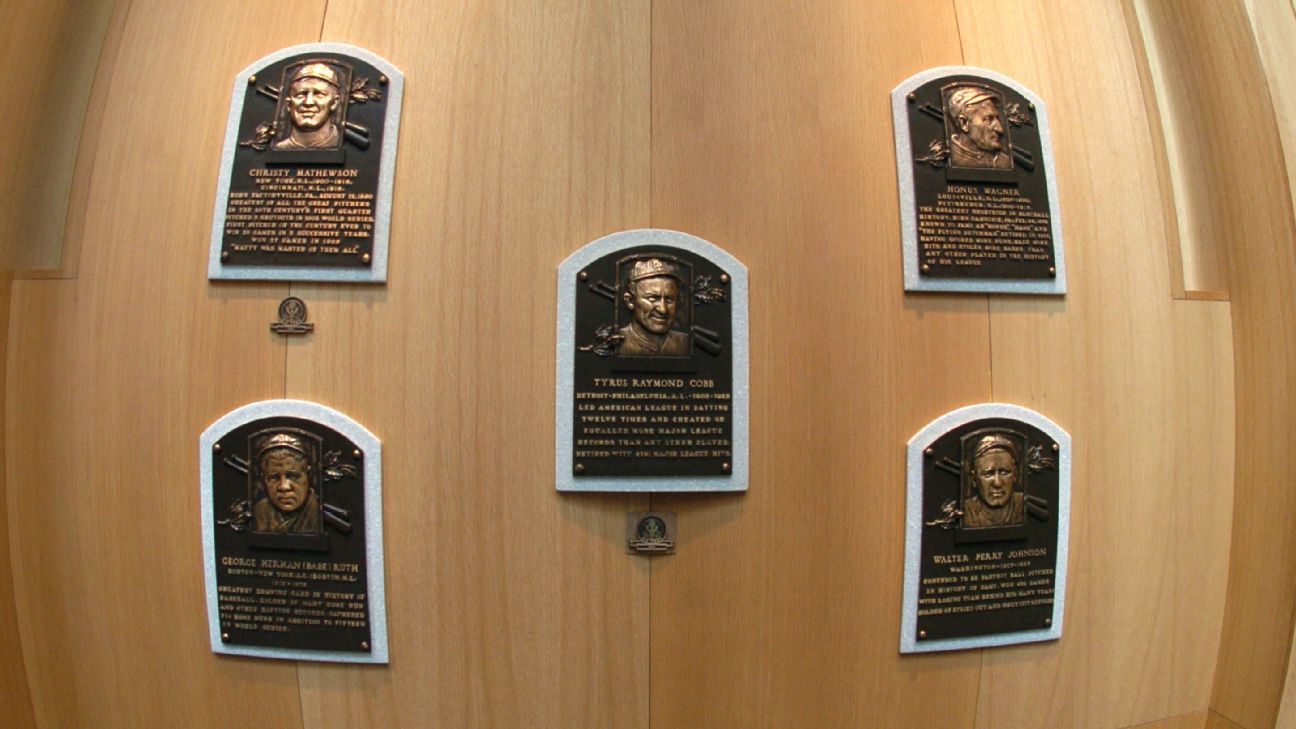 Any player on Major League Baseball's ineligible list will not be considered for induction into the Baseball Hall of Fame, even after the banned individual's death, a hall spokesman told ESPN on Saturday.
"This designation remains in place after an individual's passing," said Jon Shestakofsky, a Baseball Hall of Fame and Museum spokesman.
The Hall of Fame's statement comes one day after ESPN reported that a senior MLB source said that the league has no hold on banned players after they die because the ineligible list bars players from privileges that include a job with a major league club. This would have meant MLB no longer views banned players who die as being on its permanently ineligible list.
The previously unreported change gave fresh hope to supporters of "Shoeless" Joe Jackson that he would be considered later this year for Cooperstown by the Hall of Fame's Early Era committee. Jackson is a .356 career hitter who was prohibited from playing professional baseball in 1921 by commissioner Kenesaw Mountain Landis for having a role in the fixing of the 1919 World Series won by the Cincinnati Reds.
But the Hall of Fame apparently shut the door on that possibility on Saturday, saying, in effect, that permanently banned players would remain banned forever. Shestakofsky declined to answer a follow-up question about whether MLB's shift in thinking about the ineligible list would impact, or could change, the hall's view.
In February 1991, the Hall of Fame's board of directors passed a rule declaring any player ruled ineligible by Major League Baseball would not appear on a Hall of Fame ballot. This quickly became known as "the Pete Rose rule," because it closely followed the indefinite banning of Rose, MLB's all-time hits leader, by MLB commissioner Bart Giamatti in 1989.
Unless the rule is changed by the Hall of Fame's board of directors, it apparently also ends any chance Rose would have to get inducted into the Hall of Fame, even after his death.
Rose has never appeared on a Hall of Fame ballot, and his application for reinstatement was rejected by commissioner Rob Manfred in December 2015. The change in baseball's thinking about deceased players on its ineligible list will be a part of the latest episode of the ESPN docuseries "Backstory," which debuts Sunday on ESPN (3 p.m. ET). In the episode, Rose is asked if he believes he'll be inducted into the Hall of Fame after his death, and if it matters to him. "How'm I going to know?" Rose said, laughing. "Can you help me with that?"
Two MLB sources said that there is deep opposition among baseball insiders to Rose getting into the Hall of Fame, even after his death. And that factors into the thinking of the Hall of Fame to not consider "Shoeless" Joe Jackson, nearly 70 years after he died at the age of 64 in Greenville, South Carolina, the sources say. Since the late 1980s, South Carolina legislators, baseball legends Ted Williams and Bob Feller and thousands of people have lobbied and signed petitions for Jackson to be removed from MLB's ineligible list and be considered for induction into the Hall of Fame.
As recently as 2015, Manfred declined a request to remove Jackson from MLB's ineligible list.
Earlier this week, after repeated questions on this issue, a senior MLB source told ESPN, "From our perspective, the purpose of the ineligible list is a practical matter. It's used to prevent someone from working in the game. When a person on the ineligible list passes away, he's unable to work in the game. And so for all practical purposes, we don't consider a review of the status of anyone who has passed away."
A subcommittee of the Early Era's committee will decide the 10 individuals who played or were involved in the game prior to 1950 that will appear on this year's ballot, to be voted on by the full Early Baseball committee in December 2020. In August, Major League Baseball will play a regular season game between the New York Yankees and Chicago White Sox at the Field of Dreams movie site in Dyersville, Iowa, where the 1989 movie that helped turn Joe Jackson into a sympathetic figure was filmed. Some baseball commentators and fans have speculated whether MLB and the Hall of Fame is planning to announce that Jackson would be considered for induction into the Hall of Fame.
Manfred, who is also a member of the Hall of Fame's Board of Directors, declined to comment through a league spokesman.
As for the perennial debate over Jackson and Rose's eligibility, an MLB source told ESPN, "We're agnostic about a players' eligibility for the Hall of Fame, whether they're dead or alive." On Saturday, another MLB source said, "There is now significant daylight on this issue between baseball and the Hall of Fame. It'll be interesting to see how it all plays out."
The shift in thinking by MLB has been pushed for years by some baseball historians, including John Thorn, the official historian of MLB who first argued that the ineligible list ends with an individual's death in an essay in February 2016. He made the case again in an op-ed in The New York Times last October upon the 100th anniversary of the fixed World Series between the White Sox and the Cincinnati Reds.
"Major League Baseball removes players from the ineligible list when they die, and because the Baseball Hall of Fame aligns its balloting procedures with Major League policy, theoretically there is no barrier to Jackson's induction," wrote Thorn, who declined to comment for this story.
Baseball insiders told ESPN that in years past, Manfred had not agreed with Thorn's view. But an MLB source told ESPN this week that Major League Baseball does now agree with Thorn's view that the ineligible list ends upon a player's death. In fact, a source said, MLB has seen it this way for some time but had chosen not to make it public until this week.
Backstory with Don Van Natta Jr. premieres at 3 p.m. ET on Sunday (re-air at 9 p.m. ET) on ESPN. The show is also available to watch anytime on the ESPN app.
J.D. Martinez confident Red Sox will be cleared in investigation, as 'there was nothing going on here'
SPRINGFIELD, Mass. — Boston Red Sox designated hitter J.D. Martinez said he believes Major League Baseball's investigation into the 2018 World Series champions will reveal no wrongdoing.
"I'm excited for the investigation to get over with just so they can see there was nothing going on here," Martinez said at the team's Winter Weekend fan festival.
When asked if he believed the investigation would reveal no wrongdoing, Martinez responded affirmatively.
"I believe that, yes," Martinez said.
Martinez played a critical role as an offensive catalyst in Boston's run to a title in 2018 and has been an anchor mainstay in the Red Sox lineup in his two seasons, while gaining a reputation with the Boston media as a straight-shooter. When pushed by reporters about why he was so strong in his belief, Martinez did not budge from his stance, saying that the team did nothing wrong. Major League Baseball opened an investigation Monday to probe claims the Red Sox used video to decode opponent sign sequences and passed the info to their players in 2018, as alleged in a report by The Athletic.
"I was in there, so I saw straight up," Martinez said. "Everyone seems to forget that in 2016 and 2017, this was a really good team. They won 93 games those two years and then we got better. Like I said, I'm excited for it. Really not allowed to comment on it, but we'll see what happens."
Martinez, who hit .304 with 36 home runs, 33 doubles and 105 RBIs in 2019, also commented on his relationship with pitcher Mike Fiers, who went on the record about Houston's sign-stealing scheme to The Athletic, kicking off the entire scandal. Martinez and Fiers played together at Nova Southeastern and have been friends for a long time.
"It sucks for Fiers," Martinez said. "I've talked to him about it. I understand his side of it. I understand his side of being in the division and going against those guys; it's one of those things where he's in an uncomfortable position for him, and I understand it."
With less than a month before spring training, Red Sox chief baseball officer Chaim Bloom has kicked off his search for Cora's replacement. Martinez added that he thinks bench coach Ron Roenicke is a strong candidate to be the next Red Sox skipper.
"I guess it's up to Chaim to pick that," Martinez said. "I could definitely see it coming from within. Ron is a great candidate and he knows our team, so I wouldn't be surprised if it's him or something. I don't know."
Even with the instability in the manager's office at Fenway Park, Martinez believes the 2020 Red Sox will be fine, given the continuity in the clubhouse among players over the past few seasons.
"This is a group of professionals and a very talented team," Martinez said. "You look at our team and there's a lot of talent, a lot of guys that know how to play the game, and I'm excited. Guys are only going to get better and continue to grow. Look at [Rafael] Devers last year. Who's to say he's not going to grow?
"Christian Vazquez is going to get better. Jackie Bradley Jr. will have a bounce-back. Andrew Benintendi will get better. These are all relatively young guys that are still forming and coming into their own. I'm definitely excited because the injuries that happened with Chris Sale last year, with David Price, those are two big guys for us. How Eduardo Rodriguez threw the ball last year, there's a lot of room for growth here. Not a lot of guys coming out of their prime. A lot of guys going into it."