How Miami Dolphins could land one of the 2019 Heisman Trophy finalists – Miami Dolphins Blog
It's Heisman Trophy weekend for four finalists: LSU quarterback Joe Burrow, Alabama quarterback Jalen Hurts and Ohio State quarterback Justin Fields and defensive end Chase Young. With all four seemingly destined for NFL futures likely beginning in 2020 (or 2021 with Fields), it is a good time to examine their pro futures.
The Miami Dolphins might be the most important team in the 2020 NFL draft with three first-round picks and 14 projected picks. All eyes are on the Dolphins' pursuit of a franchise quarterback, something they haven't had since Dan Marino retired in 2000. Miami has other needs such as edge rusher and offensive tackle, too.
LSU's record-setting quarterback, Joe Burrow, holds his spot atop ESPN's rankings as the Heisman front-runner.
Heisman Watch »
Plays, moments in Burrow's chase »
Strange tales of O.J.'s Heismans »
ESPN's Football Power Index projects the Dolphins (3-10) to secure the No. 4 pick in April. Two games back of the Cincinnati Bengals (1-12), the Dolphins have a 5.7% chance of landing the top pick. So what actions should Miami take if it doesn't control the top of the draft board?
"The Dolphins should feel really good with the job that [coach] Brian Flores has done, but they can ruin that by reaching for a player," ESPN college football and NFL analyst Dan Orlovsky said. "Everybody wants to find the quarterback, but if you land the No. 4 pick, you may miss on Joe Burrow. It will be really hard for them to find their guy if they don't get the top pick.
"Everybody thought this would be a great QB class, but with the Tua [Tagovailoa] injury, that's a massive question mark. Justin Herbert has had some performances that will raise some questions. If they fall in love with Burrow, they may need to maneuver. If they adore Herbert at No. 3, then great. But you don't want to erase all the good by getting a guy you aren't sold on. So, maybe you go Chase Young or another player and wait until 2021."
Here's each Heisman candidate's early pro scouting report, a comparable NFL player and how the Dolphins could land each one. The Heisman Trophy ceremony will be on at 8 p.m. ET Saturday on ESPN.
Joe Burrow, QB, LSU
6-foot-4, 216 pounds; 78% completion, 4,715 passing yards, 289 rushing yards, 51 total TDs, 6 INTs
Orlovsky's scouting report: "There's a watery elusiveness to his game. The stuff that is hard to measure is the big moments where it could have gone either way, and he's succeeded instead of failing every time. That's what teams are going to fall in love with — and his personality. The physical talent — he's not a massive arm guy, but who cares? He's made big throws against SEC defenses; that translates. The accuracy is there, pretty good anticipation, ball placement to covered receivers is cool. He's going to be the No. 1 pick. He has assumed leadership of his team and Baton Rouge folks fell in love with him."
Orlovsky pro comparison: Steve Young, QB, Tampa Bay Buccaneers 1985-86, San Francisco 49ers 1987-99
Wolfe on the Dolphins' fit and how Miami could land him: To get Burrow, it likely would mean Miami trading up to the No. 1 pick. Burrow is a special talent. It would cost a pretty penny of draft capital, but if the Dolphins love him, they should not hesitate. His moxie, playmaking ability and unique swag have some current Dolphins players salivating over potentially playing with him.
Chase Young, DE, Ohio State
6-foot-5, 265 pounds; 16.5 sacks, 21 tackles for loss, 7 forced fumbles
Orlovsky's scouting report: "He's a long, freak, physical athlete who has bendability, violent hands and can get off the football. The brains match the physical talent. He's a game-wrecker. He's a scheme-changer. He's a guy you will game plan for week after week. You'll leave him one-on-one and let him dominate, or double-team him and open someone else up. It'll be a tough decision at the top of the board because many teams really need a quarterback, but some teams may feel this kid is the best player available."
Orlovsky's pro comparison: Terrell Suggs, OLB, Baltimore Ravens 2003-18, Arizona Cardinals 2019
Wolfe on the Dolphins' fit and how Miami could land him: Young might be the draft's best overall player, as he is ranked on Mel Kiper Jr.'s Big Board. The Dolphins are last in the NFL with 17 sacks, and they desperately need a game-changing edge rusher. Young would fit like a glove. Quarterbacks often rise up draft boards, so there's a chance Miami could stay put and take Young if they land the No. 2 or No. 3 pick. Otherwise, another trade up might be the only route.
Jalen Hurts, QB, Oklahoma
6-foot-2, 218 pounds; 72% completion, 3,634 passing yards, 1,255 rushing yards, 51 total TDs, 7 INTs
Orlovsky's scouting report: "The intangibles and leadership ability is off the charts. The sacrifice, the team stuff — every NFL team is looking for that. Hurts is going to be limited as a NFL thrower. We're seeing that at Oklahoma right now. They've become a run-based football team. Hurts has made progress throwing the football, but enough progress to be a starting quarterback in the NFL? That's still a question. It's not as simple as making him like [Baltimore Ravens QB] Lamar Jackson. Lamar avoids hits a lot better than Jalen. [Carolina Panthers QB] Cam Newton was a lot better thrower. I don't know how many NFL systems he can be successful in."
Orlovsky's pro comparison: A more natural-throwing Tim Tebow, Denver Broncos 2010-11, New York Jets 2012
Wolfe on the Dolphins' fit and how Miami could land him: Hurts perfectly fits Flores and general manager Chris Grier's desire for players who have overcome adversity with team-first mentalities. It's unclear what they think of his developing ability to be an NFL starting quarterback. This could be a Day 2 pick with the idea of drafting another QB in 2021 or supplementing the pick with a veteran free agent (Cam Newton?) or risky 2020 pick (Tagovailoa?).
Justin Fields, QB, Ohio State
6-foot-3, 223 pounds; 68% completion, 2,953 passing yards, 471 rushing yards, 50 total TDs, 1 INT
Orlovsky's scouting report: "His future is incredibly bright. He's got 40 touchdowns to one interception this year. He's only going to get better with understanding and tightening up of his long throwing motion. He's a very strong thrower. He wants to stay in the pocket. He deserves a lot of credit for looking this good after 12-13 games. If he continues this growth, he's going to skyrocket in the draft when he declares."
Orlovsky's pro comparison: Steve McNair, Houston Oilers/Tennessee Titans 1995-2005, Baltimore Ravens 2006-07
Wolfe on the Dolphins' fit and how Miami could land him: Fields' talent is tantalizing, and his size and skill set are sure to make scouts drool. He isn't eligible until 2021, so this would mean the Dolphins punt on a first-round 2020 quarterback, building the rest of their team and wait for the 2021 draft class, which will feature Fields and Clemson's Trevor Lawrence.
Ravens' Lamar Jackson named Offensive MVP at Pro Bowl
ORLANDO — Lamar Jackson headed to Orlando for the Pro Bowl with one goal in mind: Soak up as much as he could.
Not the Central Florida sunshine (which finally appeared on Friday), but any and all information from the rest of the Pro Bowlers. Though he's likely going to be named the league's MVP, Jackson is just in his second season and knows there's so much more for him to learn.
From that standpoint, he'd call this past week a success.
"I didn't really have an individual I wanted to learn from," Jackson said after the AFC's 38-33 victory in front of 54,024 at Camping World Stadium on Sunday. "I wanted to hear everybody's stories. I wanted to hear what they had to pitch and put in our ear. It was just everybody.
"I dialed in on it and I learned a lot."
That may make Jackson even more dangerous in 2020 because he already was pretty darn good, and he capped his first season as a starter by being named the Offensive MVP at the Pro Bowl. Jackson threw for 185 yards and two touchdowns with one interception and added two carries for six yards before leaving the game after three drives.
Jackson started the game – at 23 years, 19 days he's the youngest quarterback to do so in NFL history — and led the AFC to the NFC 10-yard line before misfiring on a throw to Jarvis Landry that safety Budda Baker intercepted in the end zone. Jackson's first TD pass went to Andre Roberts, though the play was initially ruled incomplete. After a review, it was changed to a 5-yard touchdown. Jackson hit his Baltimore Ravens teammate Mark Andrews for a 3-yard touchdown on the AFC's third possession.
Jackson's 104.4 passer rating was higher than all the other quarterbacks that played except Drew Brees (141.4) and Deshaun Watson (148 yards) and Kirk Cousins (181 yards) were the only other QBs to surpass 100 yards.
It was a heck of a way to cap a week that he had hoped would be informative than anything else.
"I was just surprised by everything because it's different watching on TV, you know, growing up than actually being in it," Jackson said. "It was like being a little kid in a candy store. I just wanted to see everything … and I have."
Jackson's 2019 season – 3,127 yards and a league-high 36 touchdowns passing and 1,206 yards and seven touchdowns rushing – was historic on numerous levels, most notably because he became the first player to throw for 3,000 yards and rush for 1,000 yards in a single season.
He helped lead Baltimore to a 13-2 record (he sat out the regular-season finale) and the No. 1 seed in the AFC before being upset in the divisional round by the Tennessee Titans.
Pro Bowl becomes tribute to Lakers legend Kobe Bryant – NFL Nation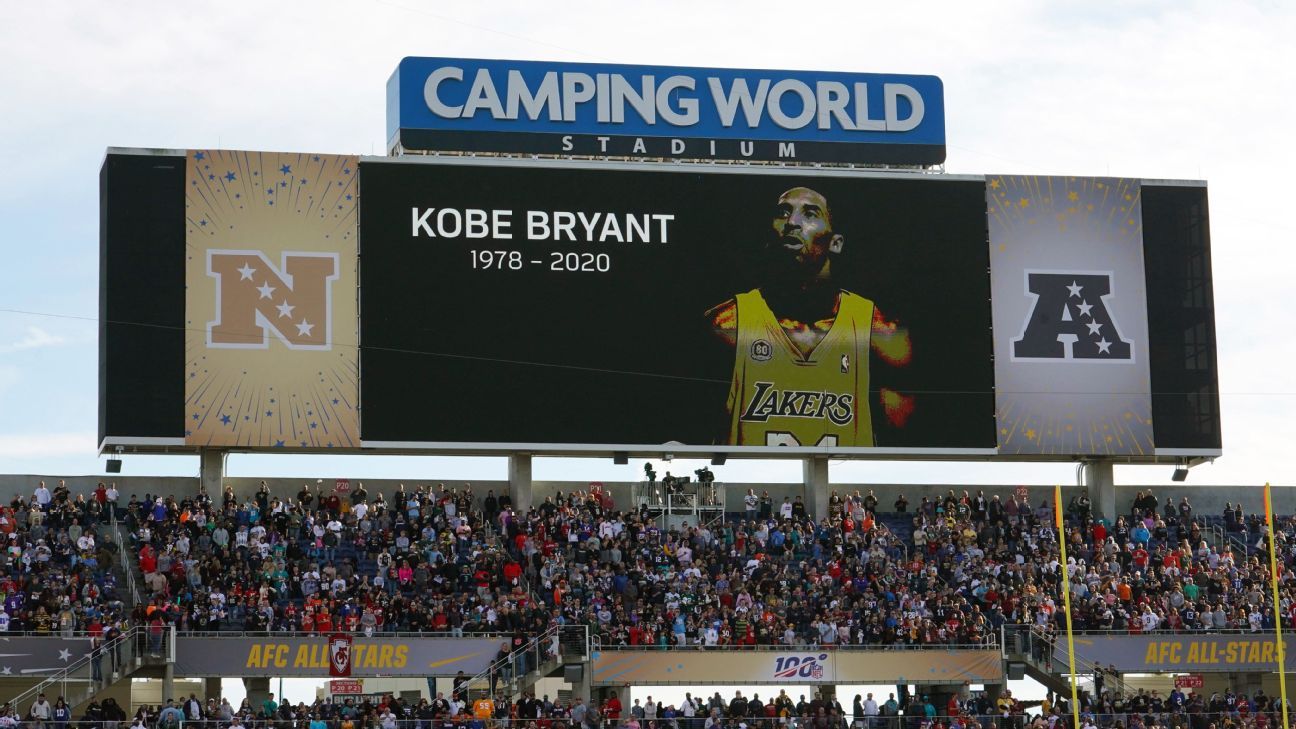 ORLANDO, Fla. — What started as just another Pro Bowl quickly turned into a tribute to NBA legend Kobe Bryant.
News that Bryant and his daughter Gianna were among several people killed in a helicopter crash Sunday morning in California broke shortly before the Pro Bowl game began. The players found out in the locker room moments before the start of the AFC's 38-33 victory at Camping World Stadium. Numerous players took time throughout the game to pay tribute to the fourth-leading scorer in NBA history.
Seattle quarterback Russell Wilson led a prayer in the locker room before the teams took the field. NFC defensive players made multiple gestures to honor Bryant, the first coming during a timeout early in the second quarter when all the players in the huddle did a fadeaway jumper. That was Bryant's signature move during his 20-year career with the Los Angeles Lakers.
Green Bay linebacker Za'Darius Smith, as well as Detroit's Darius Slay and Tampa Bay's Shaq Barrett, did step-back fadeaway jumpers following Smith's sack of Ravens quarterback Lamar Jackson later in the second quarter. Smith, Minnesota's Eric Kendricks and Everson Griffen, and Atlanta's Grady Jarrett were among a group of players who repeated the gesture after a forced fumble early in the third quarter.
"It was a tribute to Kobe and his family," Smith said during the game's broadcast on ESPN. "This what we're gonna do: two steps, then a fadeaway for him. For everyone to participate as a team, I just hope that touched a lot of people in a special way."
Jacksonville's Calais Campbell and Baltimore's Matthew Judon each took a knee during a moment of silence at the stadium during the two-minute warning. The crowd chanted "Ko-be" after the moment of silence was over.
"I'm still in disbelief," Campbell told ESPN just prior to the start of the second half. "It's heartbreaking, you know? You're devastated to hear news like that, you know? I met Kobe a few times and he's been an incredible guy. An inspiration to my life even growing up and stuff. Such a leader, such a motivator and to lose him, it's always sad to lose a legend like that. You never know when your time is over in this world and when God calls you.
"He's a legend. You know, he's a guy that inspired millions and his life deserves to be celebrated."
Green Bay's Davante Adams twice flashed two fingers and then four fingers — a reference to Bryant's No. 24 jersey he wore with the Lakers — after his third-quarter touchdown catch.
Saints quarterback Drew Brees reacts to the news of Kobe Bryant's death in a helicopter crash Sunday morning.
Brees gets the start: Wilson was supposed to be the NFC's starting quarterback, but he gave up that honor to New Orleans' Drew Brees, who was making his 13th Pro Bowl appearance. It was clearly a sign of respect for the 41-year-old Brees, who is contemplating retirement. Brees is scheduled to become a free agent in March and said earlier in the week that he was either going to play for the New Orleans Saints in 2020 or not at all. Brees told media after Saturday's Pro Bowl practice that he would wait until after football is completely finished before announcing a decision.
Ravens fly: Baltimore had a league-high 12 players in the Pro Bowl and its offensive stars accounted for 289 yards and two touchdowns. Quarterback Lamar Jackson — the game's offensive MVP — threw for 185 yards and two touchdowns with one interception and tight end Mark Andrews had a game-high nine catches for 73 yards and one touchdown. Running back Mark Ingram ran for 31 yards and caught one pass for 17 yards.
Safety Earl Thomas had one of the AFC's two interceptions.
Chiefs players land in Miami wearing Hawaiian shirts in nod to Andy Reid
MIAMI — The Kansas City Chiefs arrived at the site of Super Bowl LIV with some players wearing Hawaiian shirts in apparent tribute to head coach Andy Reid, who favors the fashion.
Reid left the Chiefs' chartered aircraft at Miami international Airport wearing a suit.
Quarterback Patrick Mahomes, tight end Travis Kelce, wide receiver Tyreek Hill and safety Tyrann Mathieu were among the players wearing Hawaiian shirts.
The Chiefs will play the San Francisco 49ers next Sunday at Hard Rock Stadium. The 49ers were scheduled to arrive in Miami later Sunday.