Ravens QB Lamar Jackson breaks Michael Vick's single-season rushing yards record
BALTIMORE — Baltimore Ravens quarterback Lamar Jackson set the most impressive record of his young NFL career on Thursday night, breaking Michael Vick's single-season rushing mark by a quarterback.
Jackson, the electric dual-threat quarterback and NFL Most Valuable Player front-runner, eclipsed his childhood idol in the first quarter against the heavy underdog New York Jets on a chilly night at M&T Bank Stadium. He entered the game needing 23 yards to eclipse Vick's mark of 1,039, set in 2006, and gained 27 on Baltimore's opening drive, breaking the record on a 5-yard run that preceded a 6-yard touchdown by Mark Ingram to put the Ravens up 7-0.
After the score, the Fox broadcast cut to a taped segment of Vick congratulating Jackson.
"Lamar, I just want to say congratulations on making history," Vick said. "One of many milestones that you will surpass in your career. Best of luck in everything that you do. You deserve it. Keep up the hard work, and I'll always be rooting for you."
With the way Jackson has run the ball this season — from his spinning around two defenders on a touchdown run in Cincinnati to juking defenders off their feet on a weekly basis — it had long been anticipated that Jackson would shatter Vick's record. Jackson recently said it would be "an honor" to surpass Vick, reiterating that the four-time Pro Bowl quarterback is his favorite player.
Just like many of his elusive runs, Jackson established the new standard for rushing quarterbacks in staggering style, doing so in his 14th game of the 2019 season (which includes not playing a full fourth quarter in four games). He entered Thursday's game as the leading rusher for the NFL's No. 1 ground attack and on pace to rush for 1,251 yards rushing this season.
Jackson, 22, broke the record despite not being at full strength. He was limited in a couple of practices this week and was listed as questionable after injuring his quadriceps five days earlier in a 24-17 victory over the Buffalo Bills.
What makes Jackson's achievement even more special is that no one previously got close to Vick's record, which stood for 13 years. Before Jackson began sprinting past tacklers, the most rushing yards by a quarterback since 2006 came from Russell Wilson, who ran for 849 yards in 2014 — which were 190 yards shy of Vick. Last month, Vick acknowledged that he didn't think his record would ever get broken.
Jackson and Vick are the only quarterbacks to reach 1,000 yards rushing in a season, but they reached that milestone in different ways. Vick's rushing yards were a near-even split between designed runs (52%) and scrambles (48%), according to ESPN Stats & Information research. With Jackson, 65% of his rushing total is off designed runs, most of which come on zone reads.
Jackson has repeatedly downplayed any individual milestones, saying his focus is on winning. But Jackson's running has been a major key to Baltimore's success. When Jackson has run for at least 70 yards, the Ravens are 12-0 (entering Thursday's game).
Pat McAfee likes what he sees every week from the Ravens and thinks Lamar Jackson deserves to be crowned MVP right now.
What sets Jackson apart from Vick is his ability to beat teams with his arm as well. In Vick's record-setting season, he threw for 2,474 yards and 20 touchdowns (75.7 passer rating). Through 13 games, Jackson had already surpassed those numbers, passing for 2,677 yards and 28 touchdowns (109.2 rating). He could become the first quarterback in NFL history to finish a season with 1,000 yards rushing and a passer rating over 100.
This isn't the first time Jackson passed a mark of Vick's. On Dec. 1, against the San Francisco 49ers, Jackson recorded his fourth 100-yard rushing game of the season, breaking a single-season record Vick shared. Last month, Jackson became the fastest quarterback ever in the Madden video-game franchise, with a 96 speed rating, moving him past Vick (who had a 95 speed rating).
Jackson's popularity has exploded in his first full season as an NFL starting quarterback. He is the current favorite to win NFL MVP with 9-to-1 odds at Caesars Sportsbook. He tops all players in Pro Bowl balloting. He also watched one of his autographed No. 8 jerseys get presented to Pope Francis a couple of weeks ago.
Jackson has led the Ravens to the best start in franchise history. Baltimore (11-2), which entered Thursday as the AFC's top seed, can clinch its second consecutive AFC North title with a win over the Jets.
Chicago Bears' Mitchell Trubisky delivers warning shot to critics
Chicago Bears quarterback Mitchell Trubisky delivered a message to his critics Friday.
"…I'm just trying to prove everybody wrong and prove my teammates right," he said on a video call with Chicago media.
Trubisky, 25, is set to compete in training camp with veteran Nick Foles for the Bears' starting job.
The second overall pick of the 2017 NFL draft had been Chicago's unquestioned starter for most of the past three seasons, but his play regressed last year. Trubisky finished 28th in total QBR (39.4), tied for 27th in touchdown passes (17), 21st in passing yards (3,138), 32nd in yards gained per pass attempt (6.1) and 28th in traditional quarterback rating (83.0) as the Bears went 8-8 and missed the playoffs.
In 2018, Matt Nagy's first season as coach, the Bears went 12-4 as Trubisky passed for 3,223 yards, 24 touchdowns and 12 interceptions and rushed for 421 yards and three touchdowns.
Chicago acquired Foles from the Jacksonville Jaguars at the onset of the new league year and declared an open quarterback competition. The organization later declined Trubisky's fifth-year option.
"For me it's [the criticism] very motivating," Trubisky said. "You're always going to have people writing you off. It's got to light a fire under you, which it has for me, and I'm just trying to prove everybody wrong and prove my teammates right. There is just so much hard work that goes into it. And for people who write you off, I mean, that definitely motivates you in a way that you just want to go out there and play as best you possibly can. So, I'm definitely fired up. And I just … You've got to make it happen."
Foles, the MVP of Super Bowl LII while with the Philadelphia Eagles, enters camp with a slight disadvantage of not having worked on-field with any new teammates in the offseason. But Foles, 31, arrives in Chicago with strong pre-existing relationships with several of Chicago's current offensive coaches, including Nagy, who spent time with Foles in Philadelphia and Kansas City before landing the Bears' top job.
Both quarterbacks were inside the Bears' facility Friday and participated in a walkthrough with the club's rookies.
"I love competitions," Foles said on a Friday video call. "I love competition at practice. But sometimes competitions, if you approach them the wrong way, become very toxic for a team and an organization because it becomes about 'me' and not about the team.
"So the hardest thing is how do I make it about the team? How can we make this offense better? Whoever is the best person at executing this offense, that can help the Chicago Bears win games and lead this team should be the starter."
Nagy expressed confidence on Wednesday that Chicago will settle on a starting quarterback in advance of Week 1 — despite reduced camp schedules and the elimination of preseason games.
"Even though it's a shortened preseason in regards to the preseason games and some of the practices, our coordinators have done a really good job of figuring out ways to we're going to evaluate," he said. "It'll come to us. We feel very confident about that."
Bill Belichick – Cam Newton will have to win Patriots' starting QB job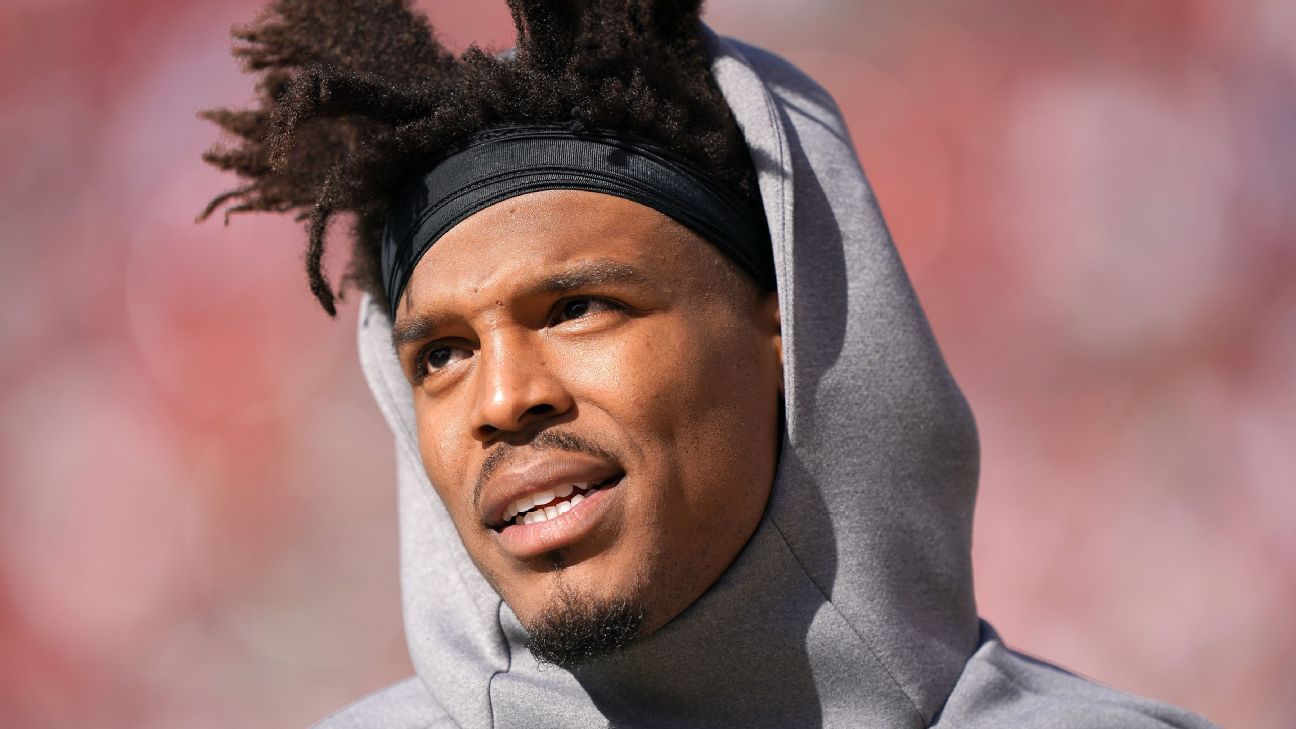 If Cam Newton is to succeed Tom Brady as starting quarterback of the New England Patriots, he's going to have to earn the job in training camp. Bill Belichick stopped decisively short of naming Newton the team's QB1.
"That spot is the same as all the other spots on the team. We have a long way to go. We'll see how things turn out," Belichick said Friday in his first public remarks since Newton signed with the team. "I can't control how players perform; that's up to them. We'll give everyone an opportunity and see what happens. I don't know."
Belichick has been consistent with that type of approach in his 20 seasons as Patriots coach, although there was no question who would be starting at quarterback once Brady seized the top job in 2001, helping the franchise to its first of six Super Bowl championships.
Brady's free-agent departure to the Tampa Bay Buccaneers in March has created a mammoth void that Newton — based on career résumé — is the leading candidate to fill after agreeing to a one-year contract with the club in late June.
"We spent quite a bit of time with Cam, [had] a number of different people, and a number of different conversations, just trying to see how the fit would be. It was very positive on our end. I'm glad it worked out," Belichick said.
Newton's primary competition will be 2019 fourth-round pick Jarrett Stidham, a fellow Auburn alum. Brian Hoyer, an 11-year veteran, is also on the depth chart alongside undrafted free agent Brian Lewerke of Michigan State.
Stidham served as the Patriots' top backup last year, and he helped organize throwing sessions with receivers in suburban Boston for several months in the offseason. Once Newton officially joined the Patriots, he connected with some of the team's pass-catchers in Los Angeles over the last month, such as Julian Edelman and 2019 first-round draft pick N'Keal Harry.
But Newton has ground to make up after missing the team's virtual offseason program during the coronavirus pandemic.
"The meetings were beneficial for all of us — for the players, the staff — kind of bringing things together. I felt like we did what we could do. We got a lot out of the opportunities we had," Belichick said, acknowledging they were different from being able to practice on the field.
As for how the Patriots will build a playbook without naming a starting quarterback, Belichick said it will be the same as it has been over the first 20 years of his tenure.
"You set up a general structure that you implement. Everybody needs to learn certain fundamentals and certain basics. Every player, no matter how long he's played — whether it's two years or 20 years — there is still a basic progression to training camp at that player's position," Belichick said. "That's where we're going to start. That, in my opinion, is what needs to be done, regardless of who the player is or what position he plays. …
"I don't think you start off in training camp with your football team putting in a triple-reverse, or double-reverse pass, or things like that which might highlight a particular player. Those are the kind of things that come down the road a little bit."
While the Patriots' plans to replace Brady will be closely watched, so too will how the team adapts to having an NFL-high six players opt out of the 2020 season, a group headlined by linebacker Dont'a Hightower, safety Patrick Chung and starting right tackle Marcus Cannon.
Asked his reaction to the opt-outs, Belichick said, "I respect all of them. I talked to those guys and they explained their situation. They had to make the decision that was best for them and I totally respect and support it 100 percent."
Belichick added that he was unsure if there would be more players who might decide to opt out of the season.
"Everybody has to make their own individual decisions on that. They have to weigh their own situation," he said. "Each one of us is unique and we all have different lives, situations, families, environments and so forth and so on."
NFL training camp 2020 – Joe Burrow, Jordan Love, Jerry Jeudy rocking team gear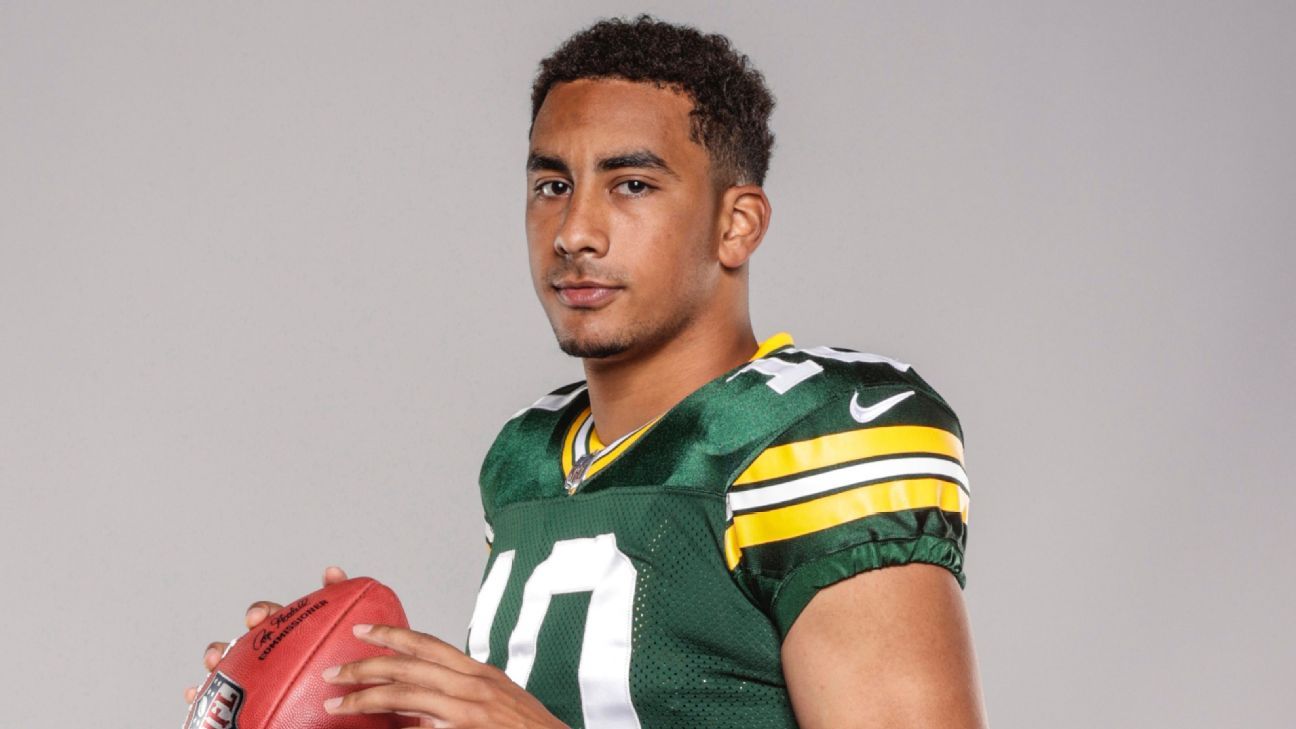 We got a look at some high-profile rookies in their new uniforms on Friday. That included first-round picks Joe Burrow, Jordan Love and Jerry Jeudy.
Plus, Kyler Murray got in some work in the Arizona heat — it's a dry heat, right? — and we got a behind-the-scenes look at how some teams are keeping their players and staff safe in the time of COVID-19.
Here's what you need to know from camps across the league:
Jump to the best of the day:
Photos | Videos | Notes from NFL Nation reporters

Top news of the day
NFL gives Antonio Brown 8-game suspension for violating personal conduct policy
Free-agent wide receiver Antonio Brown has received an eight-game suspension without pay for multiple violations of the NFL's personal conduct policy, the league announced Friday.
Brown had been the subject of an NFL investigation following an accusation of sexual misconduct at his home by an artist who was working there in 2017. He also pleaded no contest in June to a felony burglary with battery charge and two lesser misdemeanor charges related to a January incident with a moving truck company outside his home in Hollywood, Florida. In announcing the suspension, the NFL said that Brown was directed to continue counseling and treatment. The league also said that any further violations would likely result in harsher discipline.
Ryan Clark discusses whether teams will take a chance on Antonio Brown now that he has been given an eight-game suspension.
Bill O'Brien: Texans 'working hard' on extension for QB Deshaun Watson
Houston Texans coach and general manager Bill O'Brien on Friday said the team is "working hard" with quarterback Deshaun Watson's representatives on a contract extension, and that "we want him here for a long time." Watson, a first-round pick in 2017, was eligible for a contract extension for the first time this offseason. He made less than $3.8 million in 2019, which was just 4.88% of the Texans' cap. He is scheduled to make $4.4 million during the 2020 season.
"Deshaun is a great player, an even better person, and we want him here for a long time," O'Brien said. "… I know that we're working hard. We're not going to really talk about it in the media, but obviously we feel so strongly about him and the future of him in this offense, in this organization, and we want him here for a long time."
Cam Heyward, Pittsburgh Steelers haven't had serious talks on new deal, says agent
All-Pro defensive end Cam Heyward would like to retire as a Pittsburgh Steeler but is concerned that might not happen due to a lack of movement on a contract extension. Heyward enters the final year of his deal, and there have been no substantive contract discussions between the Steelers front office and Heyward's agent, Michael Perrett of Element Sports Group.
"I thought we'd be further along in the process. In a normal year, we might be," Perrett told ESPN. "The current situation (with the pandemic) has led to a lot of uncertainty, but NFL business is still moving forward. Cam would love to retire a Steeler, but at this point, he just doesn't know how all of this is going to play out."

Bengals rookie Joe Burrow expects to 'play well, win a lot'
Cincinnati Bengals rookie quarterback Joe Burrow isn't shy about accepting the expectations thrust upon his shoulders this offseason. If and when the season begins, Cincinnati wants the top overall pick in the 2020 draft to come and be successful immediately. In his first news conference since the Bengals selected him, Burrow said he shares the same aspirations in his first season in the NFL.
"Going into my rookie year I expect to play well and I expect to win a lot of games," Burrow said when asked about reflecting on recent success that includes a Heisman Trophy and a national title. "If I look back now, I'm doing myself a disservice and the team a disservice."
New Lions safety Jayron Kearse suspended three games
Detroit Lions safety Jayron Kearse has been suspended three games by the NFL for violation of its substance abuse policy. Kearse, 26, signed with the Lions in March after four seasons in Minnesota, where he played in 62 games with five starts, making 79 tackles and defending eight passes.
Kearse was charged with DWI and carrying a firearm without a permit last October, when he was with the Vikings. Kearse apologized for his actions back in October, saying the arrest is "not a reflection of who I am as a person."
More:
---
What our NFL Nation reporters saw and heard today
Bill Belichick held his first media availability Friday since players and coaches reported for training camp, and the biggest takeaway is that he isn't naming a starting quarterback. Over the last 18 years, while Belichick never named an official starter, there wasn't much question who would be QB1 in New England. Now? "That spot is the same as all the other spots on the team," Belichick said. "We have a long way to go. We'll see how things turn out. I can't control how players perform. That's up to them. We'll give everyone an opportunity and see what happens. I don't know." — Mike Reiss
Newly acquired safety Bradley McDougald — a.k.a. the other player in the Jamal Adams trade — said his goal with the Jets isn't to become the next Adams, but to continue to play the way he did in Seattle. He said his strengths are versatility and pass coverage, adding, "I've had some success against some of the biggest-name tight ends in the game." The Jets' plan is to start him at strong safety. McDougal said all the right things in his Zoom call with reporters, not sounding bothered at all that he went from a perennial contender to the Jets. — Rich Cimini

The Ravens set the NFL's all-time single-season record for rushing yards last season, but rookie second-round pick J.K. Dobbins still believes he can make an immediate impact. "I don't know how patient I can be," he said Friday. "My goal is not to be patient. I was not taught that in college. Don't be patient; take advantage of your opportunities. [I'm] not saying that I'm going to start or anything, but I feel like if I just work hard enough and show the coaches that I can play at this level, then I'll be on the field. My goal is to help the team win the Super Bowl, not sitting on the bench." — Jamison Hensley
One of the great stories of training camp last year was 2018 fifth-round pick Cole Madison. He made the team after sitting out his entire rookie year to focus on his mental health. A year later, he won't get that chance. He was waived on Friday. He likely wouldn't have been ready to practice because of the recovery ongoing from the torn ACL he sustained in practice last November. — Rob Demovsky

Ball security is a point of emphasis for Carson Wentz this offseason after finishing with the second most fumbles in the league last year (16). He and the coaching staff have analyzed every one of those fumbles, and are anxious to finally get to work on it on the field. "You dive into it, try to figure out why it's happening, how we can correct it, and what we can do to emphasize it as we go," said QB coach/pass game coordinator Press Taylor. — Tim McManus

I guess the Mitchell Trubisky revenge tour officially kicked off today. We'll see how long that tour lasts, but in the meantime, Trubisky told us today that he's "out to prove everybody wrong" when asked about all the people that have written him off. Here's the full quote:
"For me it's very motivating. You're always going to have people writing you off. It's got to light a fire under you which it has for me and I'm just trying to prove everybody wrong and prove my teammates right. There is just so much hard work that goes into it. And for people who write you off, I mean, that definitely motivates you in a way that you just want to go out there and play as best you possibly can. So I'm definitely fired up. And I just … You've got to make it happen." — Jeff Dickerson

No news is good news for the Panthers in terms of making it to Friday with no players on the NFL COVID-19 list. That paves the way for players to enter Bank of America Stadium this weekend, likely Saturday, and officially begin training camp in e revamped facility. Carolina also has had only one player, undrafted rookie Jordan Mack, opt out this season so far. First-year coach Matt Rhule hasn't gotten many breaks in terms of preparing for this year, but this has to help his rebuilding effort. — David Newton

The Falcons now have five players on the reserve/COVID-19 list after adding starting defensive tackle Tyeler Davison and reserve quarterback Danny Etling to the list on Friday. Davison and Etling join safeties Jamal Carter and Jaylinn Hawkins as well as fullback Keith Smith. Sources indicated both Carter and Smith were asymptomatic and doing well, while the status of the other three is unknown. The Falcons are not allowed to comment on the players, meaning they can't confirm which ones tested positive for the coronavirus or are under quarantine restrictions. The Falcons are set to begin conditioning work next week. — Vaughn McClure

After speaking with medical professionals prior to the start of training camp, the Bills figured positive tests were going to come, but after five positives in four days the team took preventative measures and sent players home Thursday, conducting the rest of their meetings virtually. Only rookies, quarterbacks and rehabbing players were in the facility this week, so the team sought to get out ahead of any potential outbreak before it happened. — Marcel Louis-Jacques

The Giants are one of the few teams going the 90-man roster route this year for training camp. That means they will be split into two groups for practices, weight training and pretty much everything until trimming their roster to 80 by Aug. 16. Coach Joe Judge revealed Friday that his quarterbacks, including Daniel Jones, will be in Group 1, which reported last week and consists of rookies, first-year players and previously injured veterans. This means that Jones and the rest of the quarterbacks room won't be co-mingling with the veterans at least for a few weeks. Why? "For us, it was important to get the quarterbacks in that first group so we can start their clock right away and get them on the field and keep them healthy," Judge said. — Jordan Raanan
ESPN Senior Writer
Broncos OLB Bradley Chubb, who tore his left ACL in Denver's Week 4 loss to the Jaguars last season, was asked Friday if he would be ready for this year's season opener and he said: "No doubt, I feel like I'll be ready to go." Chubb added he will gradually do more and more when the Broncos do start their full on-field work in camp in the weeks to come. Coach Vic Fangio had said earlier this week that Chubb wasn't quite 100 percent yet in his recovery, but "was pretty damn close."
Washington running back Derrius Guice has suffered three knee injuries in his first two seasons and has yet to touch the ball more than 10 times in an NFL game. But he's still one of the team's most intriguing offensive players. In five games last season he averaged 5.83 yards on 42 carries. He also had a 45-yard touchdown on a screen pass. He must prove he can stay healthy; it's a big question now. They still have Adrian Peterson; they signed third-down back J.D. McKissic and drafted versatile back Antonio Gibson. But if Guice stays on the field, he's a big weapon. "I always tell him this, 'the only thing you did this past year is you were an appetizer, I want the whole steak, I want the whole lobster, I want the whole thing,'" said Washington running backs coach Randy Jordan. — John Keim
---
Best videos
Wasting no time! @JoeyB is ready to work. 💼 pic.twitter.com/a2chpP0SqB

— Cincinnati Bengals (@Bengals) July 31, 2020
.@K1 at 110° pic.twitter.com/Pbtkovig11

— Arizona Cardinals (@AZCardinals) July 31, 2020
Simba is ready to find his roar 🦁 pic.twitter.com/XNb19MliU5

— Washington Football Team (@WashingtonNFL) July 31, 2020
Crisp.@MikePitt_Jr | #ColtsCamp pic.twitter.com/aQqaqjKXI9

— Indianapolis Colts (@Colts) July 31, 2020
safety is our number one priority. pic.twitter.com/oUK6rigpsV

— Los Angeles Chargers (@Chargers) July 31, 2020
---
Best photos
Fields are painted. Sun is out. Only birds allowed on the field are @Seahawks #WeGotThisSeattle pic.twitter.com/bYqifZdGCK

— Turf (@Turfthedog) July 31, 2020
.@jordan3love in green & gold 👀#GoPackGo pic.twitter.com/BL07Vmcoj9

— Green Bay Packers (@packers) July 31, 2020
A glimpse at what press conferences look like for the players this year 📸@MicrosoftTeams | #DUUUVAL pic.twitter.com/xKTakpkThY

— #DUUUVAL (@Jaguars) July 31, 2020
🔥 @jerryjeudy in the orange & blue 🔥 pic.twitter.com/dtXQB8gA8x

— Denver Broncos (@Broncos) July 31, 2020
Good to see some familiar faces!@TeamJuJu | @VMcDonald89 | @JamesWashington | @Bud_Dupree pic.twitter.com/AhPyaPnZyI

— Pittsburgh Steelers (@steelers) July 31, 2020
Back where we belong 📍#FlyEaglesFly pic.twitter.com/7wvbiKHKaj

— Philadelphia Eagles (@Eagles) July 31, 2020
Views from @thestarinfrisco as #DallasCowboys make visible changes

📷 https://t.co/QiKo236u32 pic.twitter.com/Q3OMsiTiCe

— Dallas Cowboys (@dallascowboys) July 31, 2020
---
Quotable
Physicals and body company today had me biiig cheesin… lol combine Cam 287 lol yr 10 cam 285… the consistency lol God is Good!!! pic.twitter.com/ltnYsvLR16

— cameron jordan (@camjordan94) July 31, 2020