Ravens QB Lamar Jackson breaks Michael Vick's single-season rushing yards record
BALTIMORE — Baltimore Ravens quarterback Lamar Jackson set the most impressive record of his young NFL career on Thursday night, breaking Michael Vick's single-season rushing mark by a quarterback.
Jackson, the electric dual-threat quarterback and NFL Most Valuable Player front-runner, eclipsed his childhood idol in the first quarter against the heavy underdog New York Jets on a chilly night at M&T Bank Stadium. He entered the game needing 23 yards to eclipse Vick's mark of 1,039, set in 2006, and gained 27 on Baltimore's opening drive, breaking the record on a 5-yard run that preceded a 6-yard touchdown by Mark Ingram to put the Ravens up 7-0.
After the score, the Fox broadcast cut to a taped segment of Vick congratulating Jackson.
"Lamar, I just want to say congratulations on making history," Vick said. "One of many milestones that you will surpass in your career. Best of luck in everything that you do. You deserve it. Keep up the hard work, and I'll always be rooting for you."
With the way Jackson has run the ball this season — from his spinning around two defenders on a touchdown run in Cincinnati to juking defenders off their feet on a weekly basis — it had long been anticipated that Jackson would shatter Vick's record. Jackson recently said it would be "an honor" to surpass Vick, reiterating that the four-time Pro Bowl quarterback is his favorite player.
Just like many of his elusive runs, Jackson established the new standard for rushing quarterbacks in staggering style, doing so in his 14th game of the 2019 season (which includes not playing a full fourth quarter in four games). He entered Thursday's game as the leading rusher for the NFL's No. 1 ground attack and on pace to rush for 1,251 yards rushing this season.
Jackson, 22, broke the record despite not being at full strength. He was limited in a couple of practices this week and was listed as questionable after injuring his quadriceps five days earlier in a 24-17 victory over the Buffalo Bills.
What makes Jackson's achievement even more special is that no one previously got close to Vick's record, which stood for 13 years. Before Jackson began sprinting past tacklers, the most rushing yards by a quarterback since 2006 came from Russell Wilson, who ran for 849 yards in 2014 — which were 190 yards shy of Vick. Last month, Vick acknowledged that he didn't think his record would ever get broken.
Jackson and Vick are the only quarterbacks to reach 1,000 yards rushing in a season, but they reached that milestone in different ways. Vick's rushing yards were a near-even split between designed runs (52%) and scrambles (48%), according to ESPN Stats & Information research. With Jackson, 65% of his rushing total is off designed runs, most of which come on zone reads.
Jackson has repeatedly downplayed any individual milestones, saying his focus is on winning. But Jackson's running has been a major key to Baltimore's success. When Jackson has run for at least 70 yards, the Ravens are 12-0 (entering Thursday's game).
Pat McAfee likes what he sees every week from the Ravens and thinks Lamar Jackson deserves to be crowned MVP right now.
What sets Jackson apart from Vick is his ability to beat teams with his arm as well. In Vick's record-setting season, he threw for 2,474 yards and 20 touchdowns (75.7 passer rating). Through 13 games, Jackson had already surpassed those numbers, passing for 2,677 yards and 28 touchdowns (109.2 rating). He could become the first quarterback in NFL history to finish a season with 1,000 yards rushing and a passer rating over 100.
This isn't the first time Jackson passed a mark of Vick's. On Dec. 1, against the San Francisco 49ers, Jackson recorded his fourth 100-yard rushing game of the season, breaking a single-season record Vick shared. Last month, Jackson became the fastest quarterback ever in the Madden video-game franchise, with a 96 speed rating, moving him past Vick (who had a 95 speed rating).
Jackson's popularity has exploded in his first full season as an NFL starting quarterback. He is the current favorite to win NFL MVP with 9-to-1 odds at Caesars Sportsbook. He tops all players in Pro Bowl balloting. He also watched one of his autographed No. 8 jerseys get presented to Pope Francis a couple of weeks ago.
Jackson has led the Ravens to the best start in franchise history. Baltimore (11-2), which entered Thursday as the AFC's top seed, can clinch its second consecutive AFC North title with a win over the Jets.
49ers GM John Lynch at Senior Bowl, looking to build talent
MOBILE, Ala. — San Francisco 49ers general manager John Lynch could have been preparing for his Super Bowl trip, but instead he was grinding on the Senior Bowl circuit this week.
The team's mindset is clear: Celebrating is not an option heading into the Feb. 2 matchup with the Kansas City Chiefs.
"We haven't done a whole lot yet," Lynch said from a Senior Bowl practice in Mobile, Alabama. "We've earned a really cool opportunity and we want to see it through."
That means enjoying the chance to win the franchise's sixth Super Bowl — which would tie the Pittsburgh Steelers and New England Patriots for the most — while keeping the foundation of the team strong for future years.
"That's why you're in Mobile the week before the Super Bowl," Lynch said. "It's a big decision, do you leave back home? Because there are a lot of details to get wrapped up. But you've got to constantly be better and trying to better your organization. This is a valuable opportunity to do that."
The 49ers broke through in Year 3 of the Lynch-Kyle Shanahan regime, earning the NFC's top seed with a 13-3 regular-season record and defeating the Minnesota Vikings and Green Bay Packers in the playoffs by a margin of 64-30.
But Lynch cites the struggles of the first two seasons as a catalyst. The 49ers were feeling good about themselves until "we get humbled a little bit" by the 4-12 campaign in 2018.
The team added No. 2 overall pick Nick Bosa to an already stout defensive line, created the game's best rushing attack and watched players such as tight end George Kittle rise to stardom.
"A lot of guys gained a lot of valuable experience," Lynch said about the losing. "We knew we gained the right type of guys, we knew the talent was growing. We had to add more finishers, more explosive players and also depth. Then it's all up to the players."
The 49ers signed Shanahan and Lynch to six-year deals despite the pair's minimal connection beyond Lynch having played for Kyle's father, Mike Shanahan, in Denver.
Now, the franchise hopes the duo's synergy remains intact for a long time.
"Our vision was to come in here and get this place back," Lynch said. "How long that was going to take, we didn't know. But we were going to put our head down and work every day to try to improve our organization. That was our mindset. And we tried to bring in guys who have that same mindset."
Number of reported concussions rose slightly in 2019 from previous season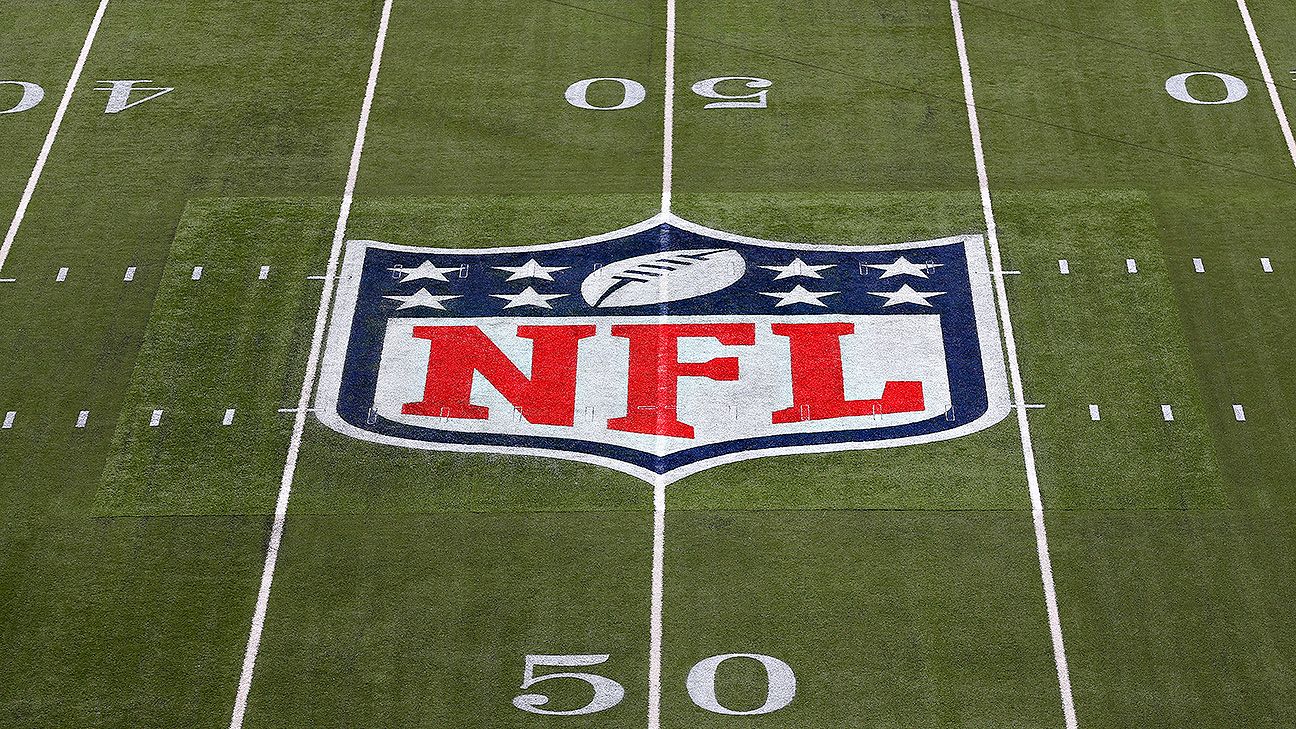 Reported concussions rose slightly during the NFL's 2019 preseason and regular season, moving to 224 from 214 in 2018, according to data released Thursday by the league.
The new total remained well below the previous three-year average from 2015-17 (266.3), an outcome that league executives attributed to the permanence of a series of rule and policy changes implemented after the 2017 season.
After recording 281 concussions in 2017, the league overhauled the kickoff and added a new rule that prohibited players from lowering their heads to initiate contact with opponents. It also worked with the NFL Players Association to evaluate helmets and banned players from using certain outdated or underperforming models.
Speaking Thursday on a conference call with reporters, NFL executive vice president of health and safety initiatives Jeff Miller said the 2019 numbers validated the drop from 2017 to 2018 and created a "new benchmark" for future efforts.
"From where on," Miller said, "we are going to be driving our concussion reduction efforts against that new benchmark. Last year's number was a substantial drop. This year's number is statistically similar to it. We feel as if we've found a new place from where we need to continue to push down the number of concussions."
The NFL's most concerning concussion number was revealed last fall: a rise in concussions during preseason games from 34 in 2018 to 49 in 2019. Owners and players, however, are discussing a possible reduction in the preseason as part of a new collective bargaining agreement.
Meanwhile, the league said that ACL and MCL injuries each dropped to five-year lows in 2019. There were 47 ACL tears during the preseason and regular season, compared to an average of 56.5 during the previous four seasons. And there were 109 MCL injuries, compared to an average of 140.5 from 2015-18.
Sources — Gary Kubiak to take over OC duties for Vikings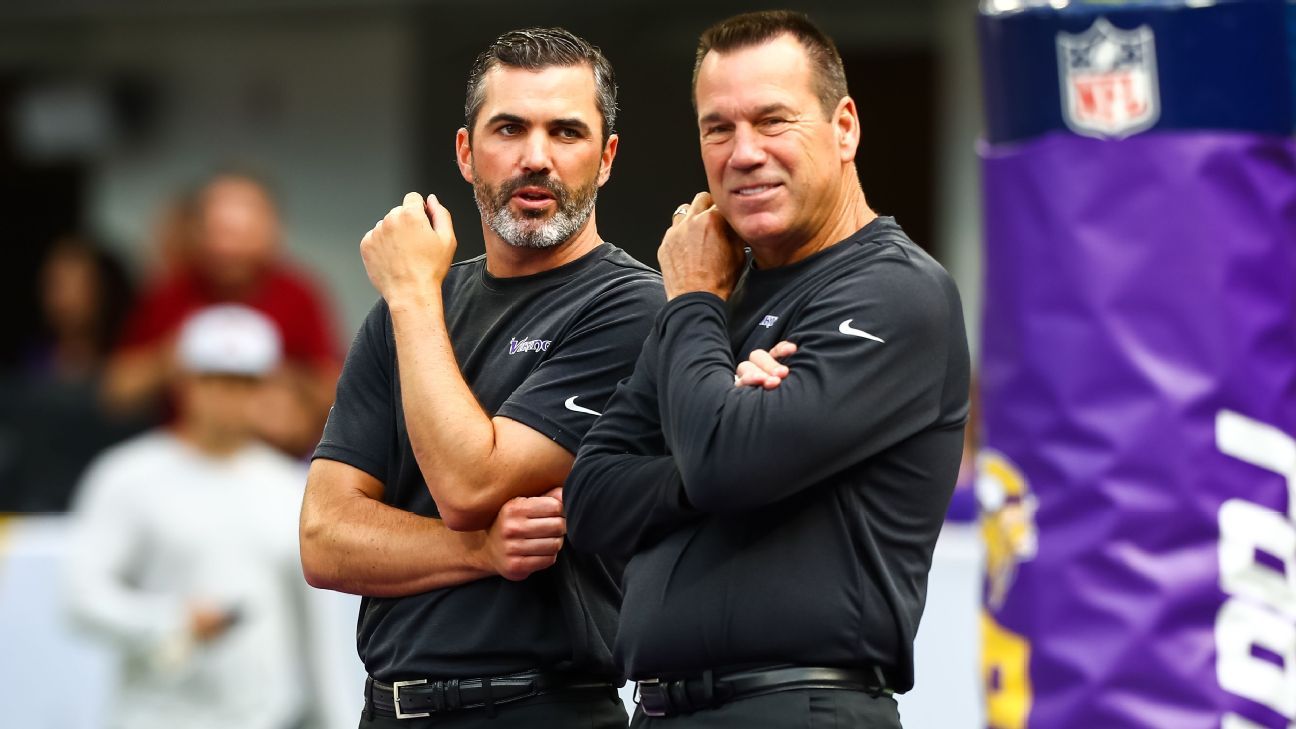 MOBILE, Ala. — The Minnesota Vikings are handing offensive coordinator duties to Gary Kubiak, multiple league sources confirmed to ESPN. Kubiak served as the team's assistant head coach/offensive adviser during the 2019 season.
Kubiak will take over the role held by Kevin Stefanski since Week 15 of the 2018 season. Stefanski left Minnesota after 14 seasons to become the new head coach of the Cleveland Browns.
During his season-ending news conference, Vikings coach Mike Zimmer prioritized a need to retain continuity on offense as the team began its search for Stefanski's replacement. Minnesota hired Kubiak last year to serve in an advisory role; on game days, Stefanski called plays from the sideline while Kubiak oversaw the offense from the coaches box. Along with the hire came Kubiak's signature zone-blocking scheme that he ran in 21 seasons as an NFL head coach or offensive coordinator.
From 2018 to 2019, the Vikings offense jumped from 19th to eighth in points and 23rd to sixth in yards per attempt. Minnesota had the second-highest designed run percentage (47) in the NFL last season and averaged 133.3 rushing yards per game.
"It'll be the same system," Zimmer said last week. "Obviously [quarterback Kirk Cousins] is going to have a new offensive coordinator. It'll be his fifth coordinator in five years, I think he told me yesterday, or at least voice in his ear on game day. So, I mean, there's nothing I can do about that, but I think it's important not just for Kirk, but for the entire offense, to have the same system, the same calls and things like that so that when they come in here on day one it's not completely foreign to them."
Kubiak's passing offenses have ranked in the top 10 in net yards per attempt 12 times since his first year as a coordinator in 1995. Eleven times, his scoring offenses cracked the top 10 during that span. A lot of that had to do with how much he was able to get out of the quarterback position.
Cousins compiled one of his strongest seasons as a pro, leading the NFL with 13 touchdowns off of play-action. The Vikings QB notched the third-highest completion percentage of his career (69.1), had the fourth-best passer rating (107.4) and was seventh in yards per attempt (8.1).
"I think Kirk played a lot better this year than he did the year before," Zimmer said. "I think obviously the scheme helped him quite a bit, and so I think yeah, I think this may have been his best year that he's played in the NFL."
Kubiak, who already under contract through the 2020 season according to a source, helped revive the Vikings offense during a season that ended in the divisional playoffs. Stefanski often talked about the impact Kubiak had on his limited experience calling plays.
"Having him around has been invaluable to me," Stefanski said in November. "This is my first year doing this, so having somebody that I can bounce ideas off of both during the week and during the game and then on top of that … you guys know Gary — great person. In terms of working together, I think he among all of our staff, I'd point out to every single one of our coaches, I think it's a really great working environment where we could get a lot done and respect each other's ideas and thoughts. And Gary's certainly at the forefront of that."
Prior to joining the Vikings staff, Kubiak held a position in the Denver Broncos personnel department after retiring from coaching after the 2016 season. He led Denver to a win in Super Bowl 50 and holds the all-time record for wins with the Texans (61), where he was the head coach from 2006-13.