New England Patriots sign viral kicker Josh Gable to practice squad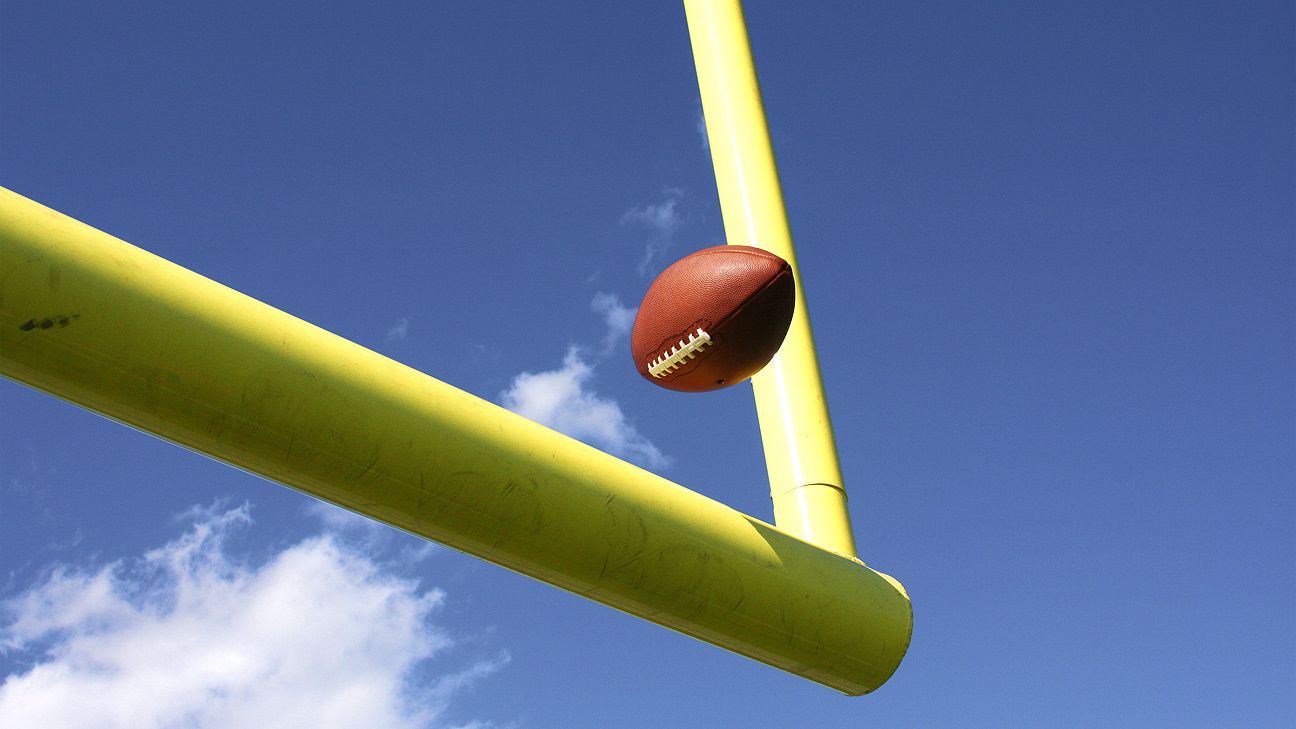 FOXBOROUGH, Mass. — In a season in which they've employed four kickers on the active roster, the New England Patriots added an unusual layer of insurance at the position Wednesday by signing Josh Gable — who never played college football — to their practice squad.
Gable, 29, played professional soccer in Italy and Belgium before returning to the United States in 2016 to kick for the Nebraska Danger, Iowa Barnstormers and Tucson Sugar Skulls in the Indoor Football League. But Gable is probably best known for the trick-shot kicks he's posted on social media.
The Patriots have kept close tabs on Gable for three years, having first invited him to their rookie minicamp in 2017. He was also among a group of kickers the Patriots worked out in early October this year after Stephen Gostkowski was placed on injured reserve due to his hip.
The team ultimately signed 37-year-old veteran Mike Nugent out of that group, and he lasted four games. Nick Folk was signed to replace Nugent, and when the 32-year-old Folk required surgery on his appendix in late November, Kai Forbath replaced him for one game.
Folk was re-signed on Saturday, and in four games with the Patriots, he's 8-of-11 on field goal attempts and 4-of-4 on point-after attempts.
It's unlikely the Patriots would turn the job over to Gable, especially given what is almost certainly ahead – high-stakes playoff games. But with open spots on the practice squad, and Gable's versatility to help handle kickoffs, punts and field goals in practice, his addition could take some strain off Folk and punter Jake Bailey (who handles kickoffs).
It also gives the Patriots the chance to work with Gable and evaluate whether he might be a legitimate option for the top job in the 2020 season.
In 2019 with the Sugar Skulls of the Indoor Football League, Gable was 6-of-16 on field goals and 50-of-57 on point-after attempts. Goal posts in the IFL are 9 feet wide, and the crossbar is 15 feet high, while the goal posts in the NFL are 18 feet, 6 inches wide, and the crossbar is 10 feet high.
As for the NFL, Gable also previously worked out for the Chicago Bears and Indianapolis Colts.
Ravens' Lamar Jackson named Offensive MVP at Pro Bowl
ORLANDO — Lamar Jackson headed to Orlando for the Pro Bowl with one goal in mind: Soak up as much as he could.
Not the Central Florida sunshine (which finally appeared on Friday), but any and all information from the rest of the Pro Bowlers. Though he's likely going to be named the league's MVP, Jackson is just in his second season and knows there's so much more for him to learn.
From that standpoint, he'd call this past week a success.
"I didn't really have an individual I wanted to learn from," Jackson said after the AFC's 38-33 victory in front of 54,024 at Camping World Stadium on Sunday. "I wanted to hear everybody's stories. I wanted to hear what they had to pitch and put in our ear. It was just everybody.
"I dialed in on it and I learned a lot."
That may make Jackson even more dangerous in 2020 because he already was pretty darn good, and he capped his first season as a starter by being named the Offensive MVP at the Pro Bowl. Jackson threw for 185 yards and two touchdowns with one interception and added two carries for six yards before leaving the game after three drives.
Jackson started the game – at 23 years, 19 days he's the youngest quarterback to do so in NFL history — and led the AFC to the NFC 10-yard line before misfiring on a throw to Jarvis Landry that safety Budda Baker intercepted in the end zone. Jackson's first TD pass went to Andre Roberts, though the play was initially ruled incomplete. After a review, it was changed to a 5-yard touchdown. Jackson hit his Baltimore Ravens teammate Mark Andrews for a 3-yard touchdown on the AFC's third possession.
Jackson's 104.4 passer rating was higher than all the other quarterbacks that played except Drew Brees (141.4) and Deshaun Watson (148 yards) and Kirk Cousins (181 yards) were the only other QBs to surpass 100 yards.
It was a heck of a way to cap a week that he had hoped would be informative than anything else.
"I was just surprised by everything because it's different watching on TV, you know, growing up than actually being in it," Jackson said. "It was like being a little kid in a candy store. I just wanted to see everything … and I have."
Jackson's 2019 season – 3,127 yards and a league-high 36 touchdowns passing and 1,206 yards and seven touchdowns rushing – was historic on numerous levels, most notably because he became the first player to throw for 3,000 yards and rush for 1,000 yards in a single season.
He helped lead Baltimore to a 13-2 record (he sat out the regular-season finale) and the No. 1 seed in the AFC before being upset in the divisional round by the Tennessee Titans.
Pro Bowl becomes tribute to Lakers legend Kobe Bryant – NFL Nation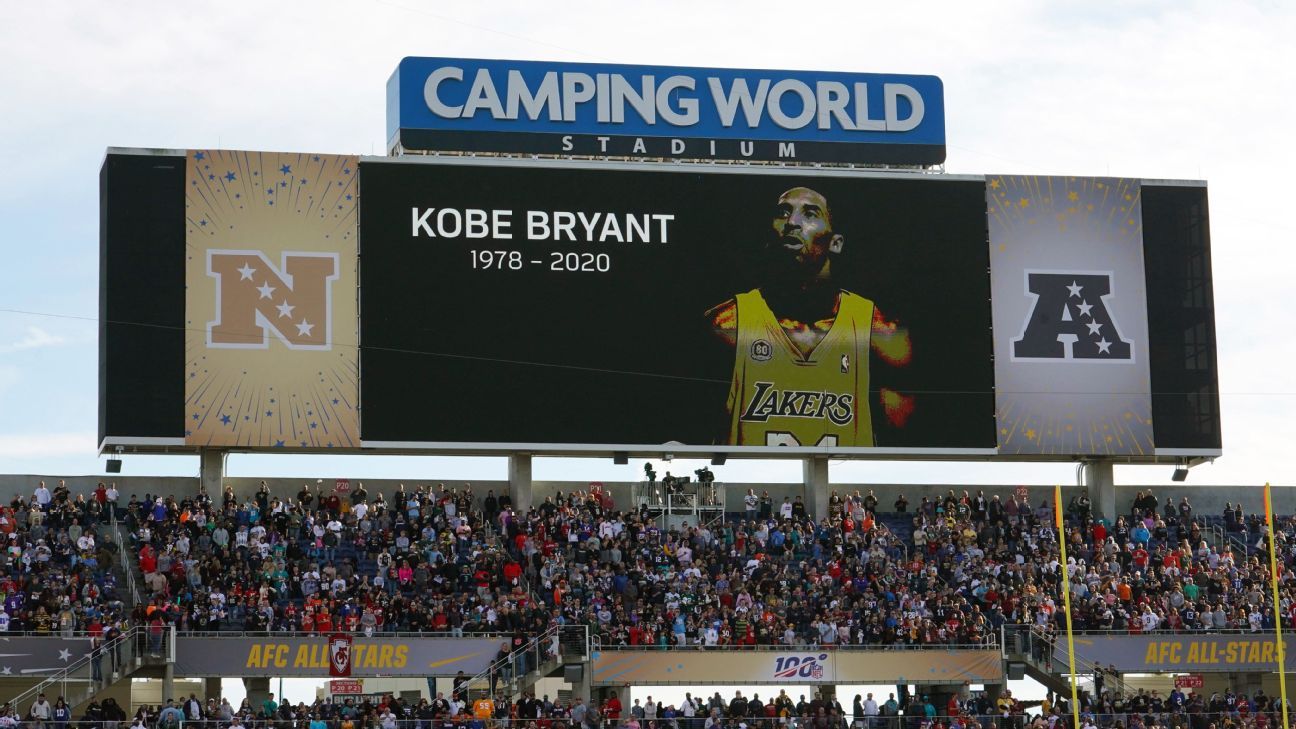 ORLANDO, Fla. — What started as just another Pro Bowl quickly turned into a tribute to NBA legend Kobe Bryant.
News that Bryant and his daughter Gianna were among several people killed in a helicopter crash Sunday morning in California broke shortly before the Pro Bowl game began. The players found out in the locker room moments before the start of the AFC's 38-33 victory at Camping World Stadium. Numerous players took time throughout the game to pay tribute to the fourth-leading scorer in NBA history.
Seattle quarterback Russell Wilson led a prayer in the locker room before the teams took the field. NFC defensive players made multiple gestures to honor Bryant, the first coming during a timeout early in the second quarter when all the players in the huddle did a fadeaway jumper. That was Bryant's signature move during his 20-year career with the Los Angeles Lakers.
Green Bay linebacker Za'Darius Smith, as well as Detroit's Darius Slay and Tampa Bay's Shaq Barrett, did step-back fadeaway jumpers following Smith's sack of Ravens quarterback Lamar Jackson later in the second quarter. Smith, Minnesota's Eric Kendricks and Everson Griffen, and Atlanta's Grady Jarrett were among a group of players who repeated the gesture after a forced fumble early in the third quarter.
"It was a tribute to Kobe and his family," Smith said during the game's broadcast on ESPN. "This what we're gonna do: two steps, then a fadeaway for him. For everyone to participate as a team, I just hope that touched a lot of people in a special way."
Jacksonville's Calais Campbell and Baltimore's Matthew Judon each took a knee during a moment of silence at the stadium during the two-minute warning. The crowd chanted "Ko-be" after the moment of silence was over.
"I'm still in disbelief," Campbell told ESPN just prior to the start of the second half. "It's heartbreaking, you know? You're devastated to hear news like that, you know? I met Kobe a few times and he's been an incredible guy. An inspiration to my life even growing up and stuff. Such a leader, such a motivator and to lose him, it's always sad to lose a legend like that. You never know when your time is over in this world and when God calls you.
"He's a legend. You know, he's a guy that inspired millions and his life deserves to be celebrated."
Green Bay's Davante Adams twice flashed two fingers and then four fingers — a reference to Bryant's No. 24 jersey he wore with the Lakers — after his third-quarter touchdown catch.
Saints quarterback Drew Brees reacts to the news of Kobe Bryant's death in a helicopter crash Sunday morning.
Brees gets the start: Wilson was supposed to be the NFC's starting quarterback, but he gave up that honor to New Orleans' Drew Brees, who was making his 13th Pro Bowl appearance. It was clearly a sign of respect for the 41-year-old Brees, who is contemplating retirement. Brees is scheduled to become a free agent in March and said earlier in the week that he was either going to play for the New Orleans Saints in 2020 or not at all. Brees told media after Saturday's Pro Bowl practice that he would wait until after football is completely finished before announcing a decision.
Ravens fly: Baltimore had a league-high 12 players in the Pro Bowl and its offensive stars accounted for 289 yards and two touchdowns. Quarterback Lamar Jackson — the game's offensive MVP — threw for 185 yards and two touchdowns with one interception and tight end Mark Andrews had a game-high nine catches for 73 yards and one touchdown. Running back Mark Ingram ran for 31 yards and caught one pass for 17 yards.
Safety Earl Thomas had one of the AFC's two interceptions.
Chiefs players land in Miami wearing Hawaiian shirts in nod to Andy Reid
MIAMI — The Kansas City Chiefs arrived at the site of Super Bowl LIV with some players wearing Hawaiian shirts in apparent tribute to head coach Andy Reid, who favors the fashion.
Reid left the Chiefs' chartered aircraft at Miami international Airport wearing a suit.
Quarterback Patrick Mahomes, tight end Travis Kelce, wide receiver Tyreek Hill and safety Tyrann Mathieu were among the players wearing Hawaiian shirts.
The Chiefs will play the San Francisco 49ers next Sunday at Hard Rock Stadium. The 49ers were scheduled to arrive in Miami later Sunday.