New England Patriots sign viral kicker Josh Gable to practice squad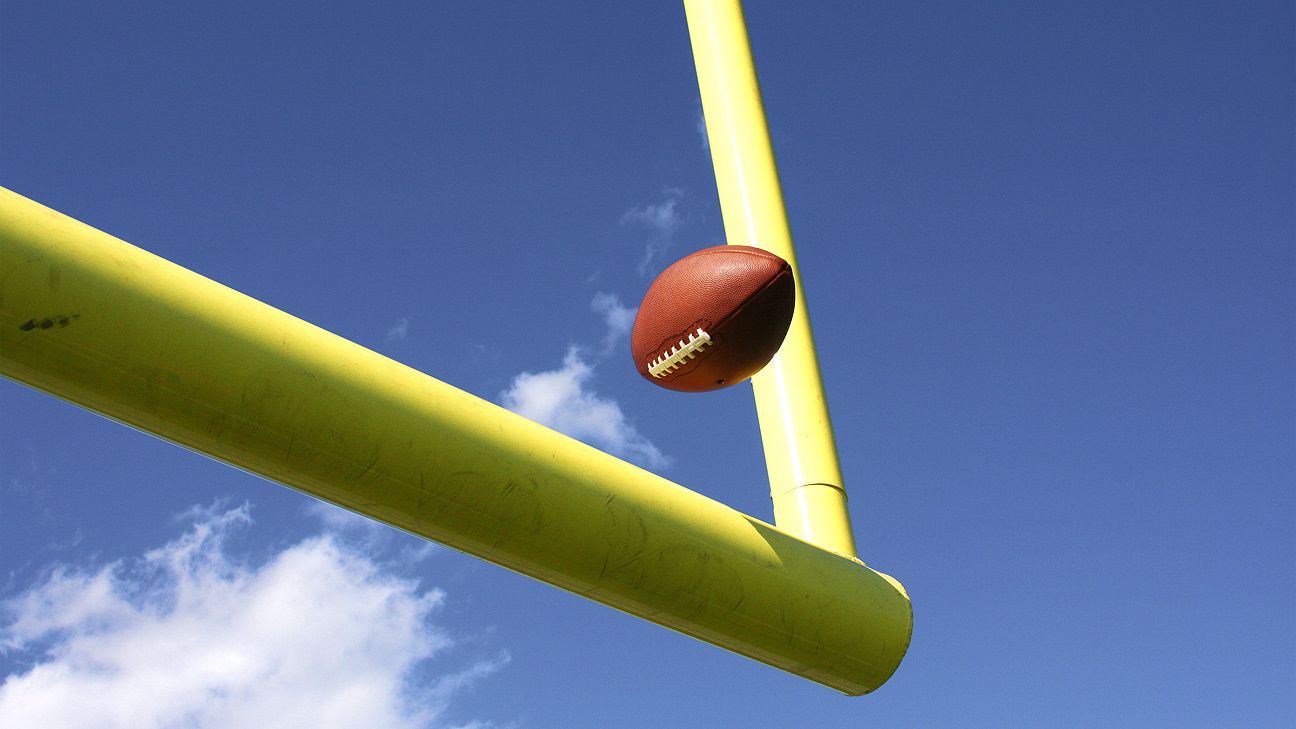 FOXBOROUGH, Mass. — In a season in which they've employed four kickers on the active roster, the New England Patriots added an unusual layer of insurance at the position Wednesday by signing Josh Gable — who never played college football — to their practice squad.
Gable, 29, played professional soccer in Italy and Belgium before returning to the United States in 2016 to kick for the Nebraska Danger, Iowa Barnstormers and Tucson Sugar Skulls in the Indoor Football League. But Gable is probably best known for the trick-shot kicks he's posted on social media.
The Patriots have kept close tabs on Gable for three years, having first invited him to their rookie minicamp in 2017. He was also among a group of kickers the Patriots worked out in early October this year after Stephen Gostkowski was placed on injured reserve due to his hip.
The team ultimately signed 37-year-old veteran Mike Nugent out of that group, and he lasted four games. Nick Folk was signed to replace Nugent, and when the 32-year-old Folk required surgery on his appendix in late November, Kai Forbath replaced him for one game.
Folk was re-signed on Saturday, and in four games with the Patriots, he's 8-of-11 on field goal attempts and 4-of-4 on point-after attempts.
It's unlikely the Patriots would turn the job over to Gable, especially given what is almost certainly ahead – high-stakes playoff games. But with open spots on the practice squad, and Gable's versatility to help handle kickoffs, punts and field goals in practice, his addition could take some strain off Folk and punter Jake Bailey (who handles kickoffs).
It also gives the Patriots the chance to work with Gable and evaluate whether he might be a legitimate option for the top job in the 2020 season.
In 2019 with the Sugar Skulls of the Indoor Football League, Gable was 6-of-16 on field goals and 50-of-57 on point-after attempts. Goal posts in the IFL are 9 feet wide, and the crossbar is 15 feet high, while the goal posts in the NFL are 18 feet, 6 inches wide, and the crossbar is 10 feet high.
As for the NFL, Gable also previously worked out for the Chicago Bears and Indianapolis Colts.
Titans' Kevin Byard can share home-birth story with his son 'for the rest of our days' – Tennessee Titans Blog
NASHVILLE, Tenn. — Kevin Leon Byard IV was due to be born on Aug. 24. But he had his own schedule, coming a day early and forcing his dad, Tennessee Titans safety Kevin Byard, into action.
Byard helped deliver his son at home on Aug. 23 while receiving instructions over the phone from a doula.
Earlier that evening, Byard's wife, Clarke, started having contractions. But after they subsided, Byard fell asleep — until Clarke's contractions returned around 10:30 p.m. Byard checked on Clarke before getting some clothes and helping her get dressed. He called and asked the doula to meet them at the hospital.
But then things progressed rapidly.
"I was downstairs getting the car ready, then went back upstairs and she was still having pretty bad contractions," Byard said. "She was on the floor on her hands and knees and told me to call the doula to come to the house."
Byard updated the doula, who advised him to get Clarke into the bathtub. As he helped his wife to her feet, Byard saw his son's head emerging.
"Tell her to start pushing — the baby is coming," the doula told Byard.
The doula was right, but there was a scare first.
"His face was pointing upward," Byard said. "I could see his face was real purple. I was nervous about that. But the doula told me to support his head, check around his neck, make sure the umbilical cord wasn't wrapped around his neck. Thank God it wasn't."
The delivery got easier once Kevin IV's head was out.
"The shoulders and everything else just slipped out. I kind of caught him in my arms," Byard said. "We waited about five seconds, then he coughed two or three times and started crying. I laid my wife down on her back and we waited for the ambulance to arrive."
The whole experience went really fast for Byard, who says it took about 30 minutes for Kevin IV to arrive.
August will always be a special month for the Byard family. Kevin and his wife have a 1-year-old daughter, Elaina, whose birthday is Aug. 22, one day before her little brother.
Looking back on the experience, Kevin Byard called it one of the most memorable moments of his life.
"It's a story that I will be able to tell my son for the rest of our days," Byard said.
Dallas Cowboys RB Ezekiel Elliott shows off 'Feed Me' tattoo on stomach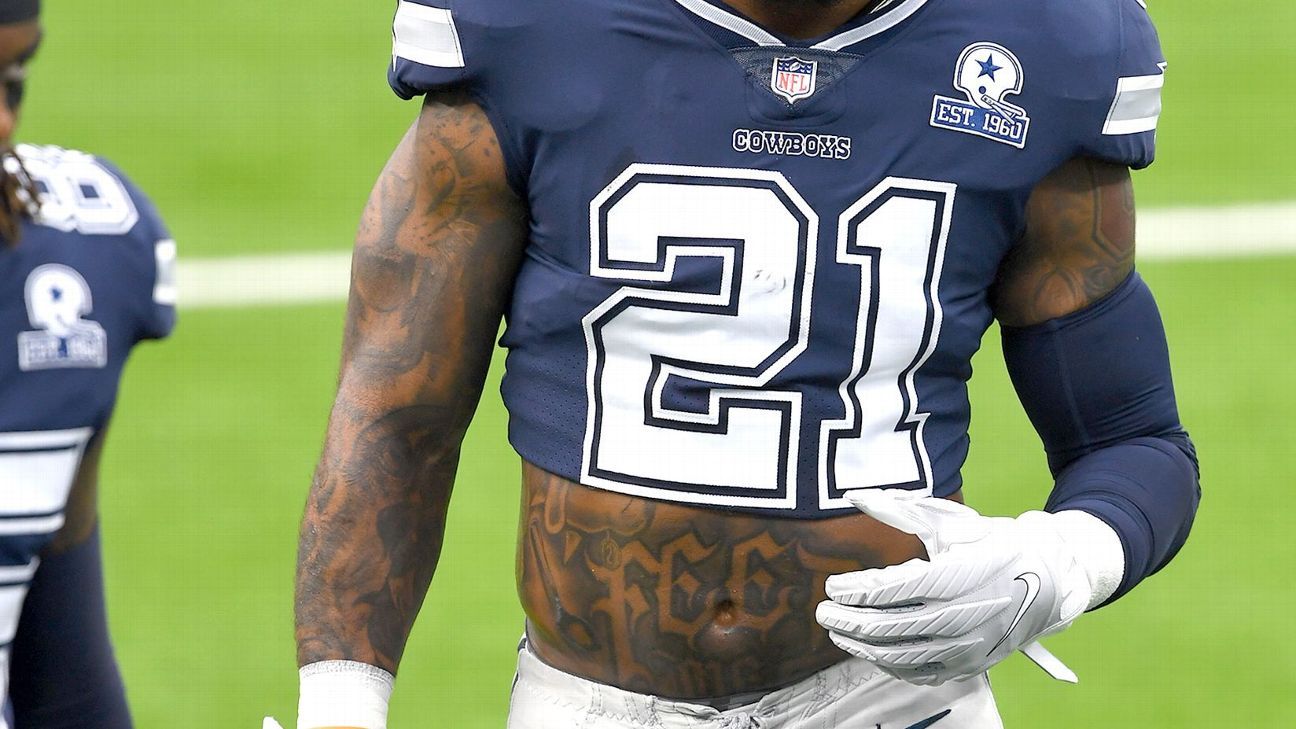 FRISCO, Texas — Ezekiel Elliott has not been shy about showing off his midriff.
He did it at Ohio State. He famously walked on the red carpet before the 2016 NFL draft with his dress shirt tucked up. And now he has added a tattoo to his midsection.
After scoring a touchdown against the Los Angeles Rams in the season opener, Elliott lifted up his jersey to show off a "Feed Me" tattoo, complete with a spoon.
"That's my brand, Feed Me," Elliott said Wednesday.
He started making the gesture after big runs during his rookie year, and it has been a staple for Elliott since.
He got the tattoo in Dallas shortly before training camp started. While he had the idea for the tattoo, he let the Dallas artist take care of the design.
Oh, and the location of this one hurt more than his other tattoos.
"It was super painful," Elliott said. "I think like the next day we went and threw at [Dak Prescott's house], and it was all swollen and puffy. It was awful. Not going to lie, it was painful. But happy with the result."
His mother, Dawn, did not seem to be a fan of the new ink when asked on Twitter.
— Momma, Mom & Mommy (@itz_mizdee) September 14, 2020
The running back thought differently Wednesday.
"At this point, my mom is like over getting mad at me for getting tattoos," Elliott said. "Now she's coming around to them."
The team certainly seems to succeed when Elliott is fed. The Cowboys are 22-4 when he rushes for more than 100 yards in a game.
Wide receiver Michael Gallup likes the tattoo and the message.
"Feed him. Don't see why he wouldn't, but it ain't too bad," Gallup said. "Zeke's always coming up with something funny to get everybody going. For him to get that new tattoo, lift it up when he scores, he's just telling you plain and simple, just feed him."
Added defensive end DeMarcus Lawrence: "I mean, I got kids, so I wouldn't say I approve it, but it's a dope tattoo. As long as he takes care of it, they keep feeding him and he get the touchdowns, I ain't got no problem with the tattoo."
Panthers' Robby Anderson hilariously mistakes team mascot for a bear – Carolina Panthers Blog
CHARLOTTE, N.C. — The Carolina Panthers had 10 to 12 defensive calls that didn't get to the huddle properly on Sunday because of an issue with headsets. Special-teams gunner Trenton Cannon got tangled in a television wire on the sideline that whipped around and hit several teammates and coach Matt Rhule's son.
But perhaps the biggest item in the blooper reel from the Week 1 34-30 loss to the Las Vegas Raiders might have come from wide receiver Robby Anderson.
He mistook the team mascot, Sir Purr, for a bear. The exchange, caught on tape:
Robby Anderson: What's that bear doing?

DJ Moore: Bear????

Robby: Panther

DJ: That's Sir Purr, Bro

Robby: Y'all call him that?

Me: 🤣😂🤣😂🤣 pic.twitter.com/rbU9mN2yns

— Carolina Blitz (@KeepBlitzin) September 16, 2020
"What's that bear doing?" said a mic'ed up Anderson as he sat on the bench next to fellow wide receivers Curtis Samuel and DJ Moore.
"Bear?" said a seemingly confused Moore.
Anderson directed his attention to Sir Purr, dressed in a white No. 00 jersey, running around the stands with no fans.
"That's Sir Purr, bro," Moore explained.
Replied Anderson, "Who?"
"Sir Purr," Moore said.
"How you say that?" Anderson asked.
"Sir Purr," Samuel offered.
"Sir Purr. Oh, Sir Purr. … Wow!" Anderson said. "You call him that?"
Moore: "Yeah, that's his name."
"So you be like, 'What's up, Sir Purr?" Anderson said, staring back into the stands.
Fortunately for the Panthers, Anderson knew what to do when the Raiders defensive back bit on his quick move and fell down midway through the fourth quarter. He kept running and quarterback Teddy Bridgewater hit him in stride for what turned into a 75-yard touchdown that gave the Panthers a 30-27 lead.
Anderson, who signed a two-year, $20 million deal during the offseason, finished with six catches for 115 yards.
But it's been the sideline video of Anderson calling the Panthers' mascot a bear that's gotten him the most attention.
It became so popular that teammates were getting it sent to them via text.
"Robby be trippin' sometimes," Bridgewater said. "He'll be in his own little world, but he's special, man. He's one of those guys, he's all ball. When I saw the video, asking what that's bear doing, that's just Robby being Robby."
Robby being Robby is the same description wide receiver Pharoh Cooper used when talking about the video.
"Yeah, Robby is a little different, but that's what makes Robby [Robby]," Cooper said. "It's hard to really describe him. … He just kind of be in his own world. But he's a cool cat."
At least a quirky cat. To be fair, Cooper didn't realize Carolina's mascot was a Panther until Sunday.
"I didn't know who he was until I saw the video," he admitted.