Corey Knebel, Brewers agree to same $5.1M salary
SAN DIEGO — The Milwaukee Brewers agreed to a one-year contract for $5,125,000 with pitcher Corey Knebel, who is returning from Tommy John surgery.
A 28-year-old right-hander, Knebel hurt his elbow during spring training and had surgery April 3. He had been eligible for salary arbitration and will have the same salary as in 2019.
His deal includes a $50,000 bonus for comeback player of the year along with other award bonuses.
Knebel had 39 saves in 2017, when he was an All-Star, and 16 the following season.
His deal was announced Tuesday.
Major League Baseball to sponsor U.S. Olympic softball team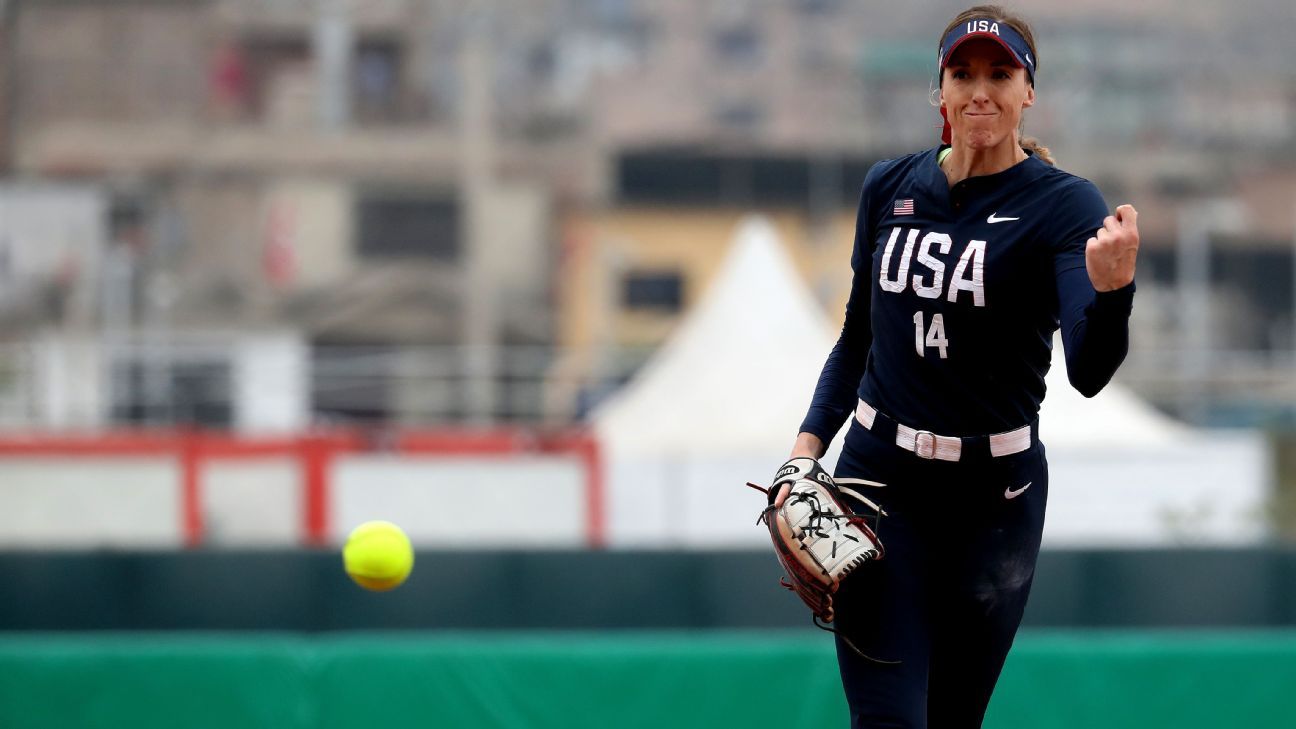 NEW YORK — Major League Baseball is using its financial muscle to support the U.S. women's softball team, which already is assured a spot in the Tokyo Olympics while the American men's baseball team struggles to qualify.
MLB announced an agreement Thursday to become the presenting sponsor of the women's "Stand Beside Her" tour, a slate of exhibition games leading up to the Olympic tournament from July 22-28.
"We're both bat and ball sports. Even though we're not the same sport, there are so many similarities that you just can't ignore," said Kim Ng, MLB's senior vice president for baseball operations. "It was important for us to make sure that they have this acknowledgment and recognition of their ability and their talent."
Softball began as an Olympic sport for the 1996 Atlanta Games. The U.S. won gold medals in 1996, 2000 and 2004 with players that included Dot Richardson, Jennie Finch and Jessica Mendoza, then lost to Japan in the 2008 gold medal game.
Baseball and softball were dropped for the next two Olympics, then restored for this year, when the U.S. and Japan will be joined by Australia, Canada, Italy and Mexico for games in Fukushima and Yokohama but not Tokyo. The sports are likely to be dropped for 2024 in Paris but could return four years later in Los Angeles.
The U.S. men's baseball team stumbled in its first attempt to qualify, wasting a ninth-inning lead against Mexico in the final game of the Premier12 tournament in November and losing in the 10th. The U.S. has two more chances to join Israel, Japan, Mexico and South Korea in the Olympic field: an Americas tournament in Arizona from March 22-26 and a final tournament in Taiwan from April 1-5.
MLB is not allowing players on 40-man big league rosters to compete in qualifying, and few top pitching prospects were at the November tournament.
Softball has no such issues. The Olympics are the sport's highest-profile event.
"The platform for us is 10 times bigger," American outfielder Haylie McCleney said. "For us, it's a great opportunity for people that have never watched softball before, people that have only followed it at the collegiate level, to really see how fun our game is to watch, how pure it is. If people are baseball fans, I guarantee they're going to love softball because it's pretty much just a faster game — it's shorter, it's quicker, it's more entertaining to watch, in my opinion."
The 2008 gold medal softball game took 1 hours, 45 minutes — less than half the 3:45 average for this year's World Series.
As part of the deal with MLB, the softball team's official training facility will be at the Jackie Robinson Training Complex in Vero Beach, Florida, the old Dodgertown spring training camp.
MLB Network will include programming from the tour, which currently starts Feb. 4 in Tampa, Florida, and has about three dozen stops.
The U.S. women's soccer team has attracted huge television audiences. MLB sees softball as an opportunity for the sport's growth.
"These are world-class athletes," Ng said. "Because we have not been in the Olympics for the last 12 years, they just haven't had that stage. So it's really important at this point that we show as much support as we can for them."
Pros and cons of trading Mookie Betts, Kris Bryant, Francisco Lindor, Nolan Arenado
With nearly all of the top free agents off the market, four of the game's biggest stars have been attached to trade rumors this offseason. Nolan Arenado, Mookie Betts, Kris Bryant and Francisco Lindor would be welcome additions to any team. Over the past four years, each member of that group ranks in the top 10 in FanGraphs wins above replacement. Last season, the group averaged more than 5.0 fWAR, with Lindor's very good 4.4 mark the lowest of the bunch.
We should acknowledge that the team trading one of these players would do so as a cost-saving measure designed to trim payroll, and thus would be expected to be worse in 2020. Given that the Red Sox, Cubs and Indians are all clear contenders, and the Sox and Cubs are two of the wealthiest teams in the game, these are unusual circumstances lacking in sound logic. However, if the team owner is calling for a reduction in payroll, then perhaps trading a star player close to free agency might be the best way to achieve that and get better in the near future, even if it isn't 2020.
Parting with any of these stars would be an incredibly difficult decision, but with the caveat above, here is an argument for and against trading each of the four.
MLB umpires' union clarifies use of electronics at spring training sites
Hours after baseball commissioner Rob Manfred indicated that an electronic strike zone would be used in spring training games, the executive committee of the umpires' union clarified that news, indicating that the electronics would not be used in place of a plate ump's judgment.
Rather, as umpires go through their regular spring work, MLB will be operating an electronic zone for nine games in Florida as it continues to refine its system that is expected to be implemented in the years ahead.
The umpires' committee released a statement to ESPN on Wednesday evening that read: "Reports that MLB will use 'robo-umps' to call balls and strikes in spring training games this year are completely inaccurate. … Our understanding is that a camera-based tracking system will be running in the background during some spring training games for technology development and training purposes. But any game in which a Major League Baseball umpire is working will have a human calling balls and strikes."
A Major League Baseball official confirmed this.
The umpires' statement also addressed their stance on the electronic strike zone.
The union, according to the statement, "has never opposed the use of technology to improve the accuracy of calls, including on balls and strikes, if it can be done while protecting the integrity of the game. We do not claim to be perfect and we work constantly to improve our performance.
"But no automated system will be perfect either, and we have concerns about potential fundamental changes to pitch-calling that will need to be accepted by both the players and the fans.
"To achieve this new contract with the owners, however, we agreed that MLB can use [the electronic strike zone], if important conditions are met, and after a process through which umpires will have direct input into when and how the technology enters Major League games, including spring training games. We believe our involvement will be crucial to preserving fair play if the owners are determined to introduce this fundamental change.
"We bargained hard for these protections, and the process we negotiated has not even started. Use of … technology in spring training games this year would be premature and would violate our new agreement. We have received absolutely no word from the Office of the Commissioner that MLB intends to do that."
MLB began experimenting with a computerized strike zone last year in the independent Atlantic League. Plate umpires, crouched in their normal position behind the catcher, wore earpieces connected to a phone that relayed ball or strike calls from a camera system.
Baseball also used the system in the Arizona Fall League last season.
Manfred cautioned Wednesday during an interview with Fox Business Network that referring to the system as robots "may be an overstatement" and emphasized that "from the fans' perspective, it looks exactly like it looks today."
"The current strike zone design is actually three-dimensional," Manfred said, "and a camera is better at calling a three-dimensional strike zone than the human eye."