What will the Angels do now after missing out on Gerrit Cole?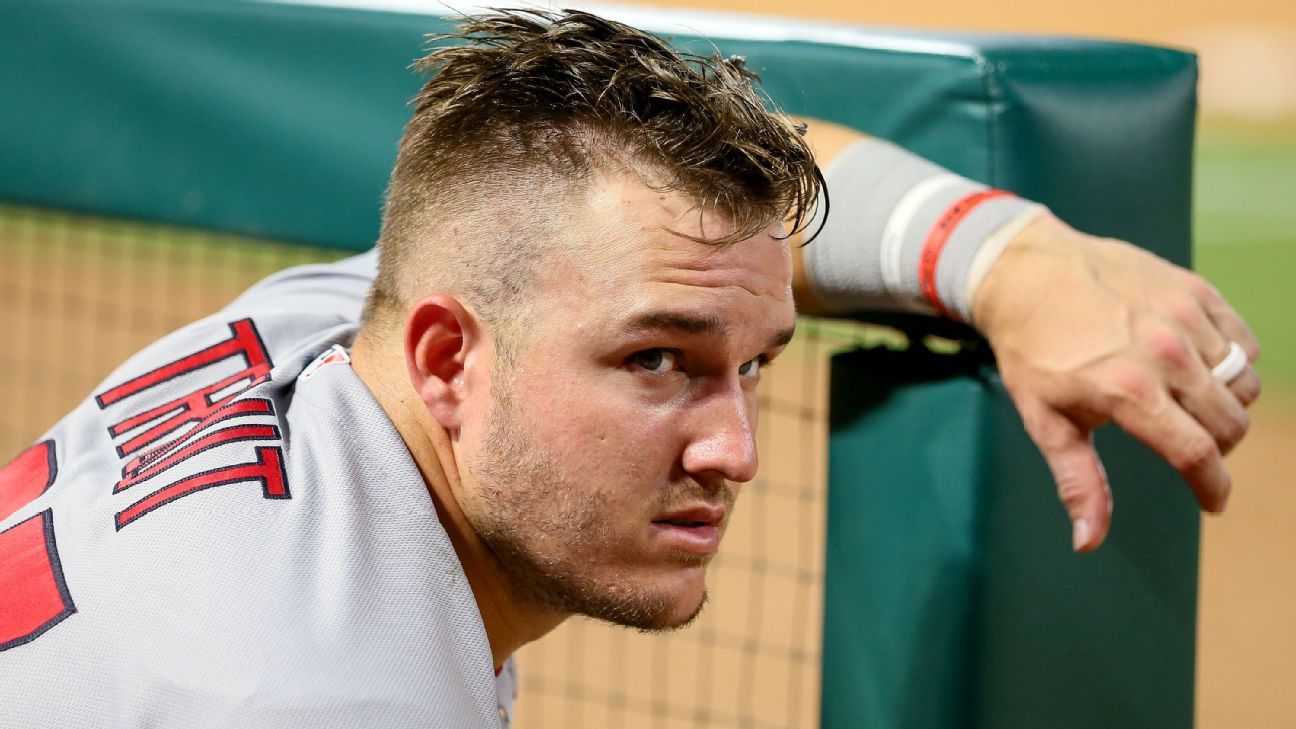 SAN DIEGO — The past five years, the average win total needed to earn a playoff spot in the American League has rounded out to 91. For the Los Angeles Angels, striving to launch themselves into legitimate contention as quickly as possible, that means finding 19 more wins in one offseason. Teams have done it — 29 of them since 2000, most recently the 2019 Minnesota Twins and the 2018 Oakland Athletics — but never easily.
"I think it's going to require risk," Angels general manager Billy Eppler said. "So you have to be prepared to take risks, be willing to kind of pursue both marketplaces, free agency and trade, in order to do that."
The Angels' best chance to make up the difference might have vanished Tuesday, when Gerrit Cole joined the New York Yankees on a nine-year, $324 million contract. Now the Angels have a lot of money to spend and no obvious place to spend it. They seemingly began Tuesday with enough payroll space to give Cole a massive contract — though perhaps not that massive. Then they sent the 15th overall pick in the 2019 draft to the San Francisco Giants so they could free themselves of the nearly $13 million they still owed Zack Cozart.
The Angels are now projected to sit roughly $70 million below the 2020 luxury-tax threshold, which is set at $208 million, according to information from Cot's Contracts. Owner Arte Moreno has declined to reveal his operating budget for next season, but Eppler acknowledged that the team "probably" has the means to sign multiple players to $20-plus million contracts. Speaking five hours before Cole made his decision, Eppler expressed optimism about his ability to acquire front-line starting pitchers besides Cole, specifically through the trade market. He smiled when asked if he could access those players without parting with his top prospect, Jo Adell.
"Yes," he said, "I feel confident in that."
The Angels' actual record and Pythagorean record were the same last season: 72-90. They need to increase that win total to at least 91, but how? First, they need to count on improvement from their current players.
An obvious one is Shohei Ohtani, who will return to a two-way role next season. Steamer projects him to be worth 4.7 FanGraphs-blend wins above replacement (fWAR) in 2020, which would be 2.9 more than he was worth in 2019. Steamer also projects an increase of 1.8 fWAR from left fielder Justin Upton, who struggled to stay healthy last season. It projects 2.3 fWAR from newcomer Dylan Bundy, who is probably taking the spot of a replacement-level starter. That is — ideally — seven more wins.
If Adell can somehow match the 3.6 fWAR Fernando Tatis Jr. produced in 84 games as a rookie for the San Diego Padres this season, that would qualify as a one-win increase over Kole Calhoun, the man he will eventually replace. Now we're at a maximum of eight.
How do the Angels pick up the rest? Below is a look. We'll take a guess at the Competitive Balance Tax payroll, which uses the average annual value of contracts, and put it at $190 million, giving the team an estimated $52 million or so to spend. We'll ask that you be mindful that this is a very inexact exercise, especially because we aren't factoring in the newcomers' potential replacements.
1. An easier route: Sign starting pitchers Hyun-Jin Ryu and Dallas Keuchel, sign C Martin Maldonado
Estimated 2019 cost: $42 million
Projected fWAR added: 6.7
This is very straightforward. The Angels would move on to the next tier of free-agent starters and hope two of them can come close to or surpass the production the team would have received from Cole. Ohtani is expected to pitch once a week, not every five games, which means the Angels will need a sixth starter every now and then. This gives them a rotation of Ryu, Keuchel, Ohtani, Bundy and Andrew Heaney and allows them to keep the innings low for young guys such as Griffin Canning and Patrick Sandoval. It keeps them somewhat flexible with their payroll and keeps their improving farm system intact while giving them a shot at a playoff spot. It's safe. Too safe?
2. An alternative route: Sign 3B Josh Donaldson, sign Keuchel, trade for C Willson Contreras
Estimated cost: $45 million
Projected fWAR added: 8.6
Donaldson adds more might to the lineup, giving the Angels someone who can probably play both third and first base and easing the burden for guys such as David Fletcher, Tommy La Stella and Luis Rengifo. Keuchel isn't an ace, but he can slide into the No. 2 spot and give the Angels a respectable rotation of Ohtani, Keuchel, Bundy, Canning and Heaney. Contreras, attainable from the Chicago Cubs, solidifies the catcher's spot with someone new manager Joe Maddon is quite fond of. It isn't necessarily sexy, but it is solid.
3. A bolder route: Sign 3B Anthony Rendon, trade for starting pitcher Corey Kluber, trade for reliever Josh Hader
Estimated cost: $55 million
Projected fWAR added: 10.4
The cost would be high, both financially and in prospects, but this would be fun. Rendon would join a lineup with Mike Trout, Ohtani and Upton. Kluber would sit atop the rotation, making it a formidable group. Hader would be the dominant, left-handed force in a bullpen that includes Keynan Middleton, Hansel Robles and Ty Buttrey.
The Angels would be a pretty complete team, one that might be equipped to beat a Houston Astros club that seems poised to come back to the pack. Rendon will require an exorbitant contract, but Kluber and Hader are affordable. Question is: Can the Angels acquire those two without parting with Adell? Would guys such as Canning, Fletcher, Brandon Marsh and Jeremiah Jackson be enough?
Boston's Dustin Pedroia has serious setback in recovery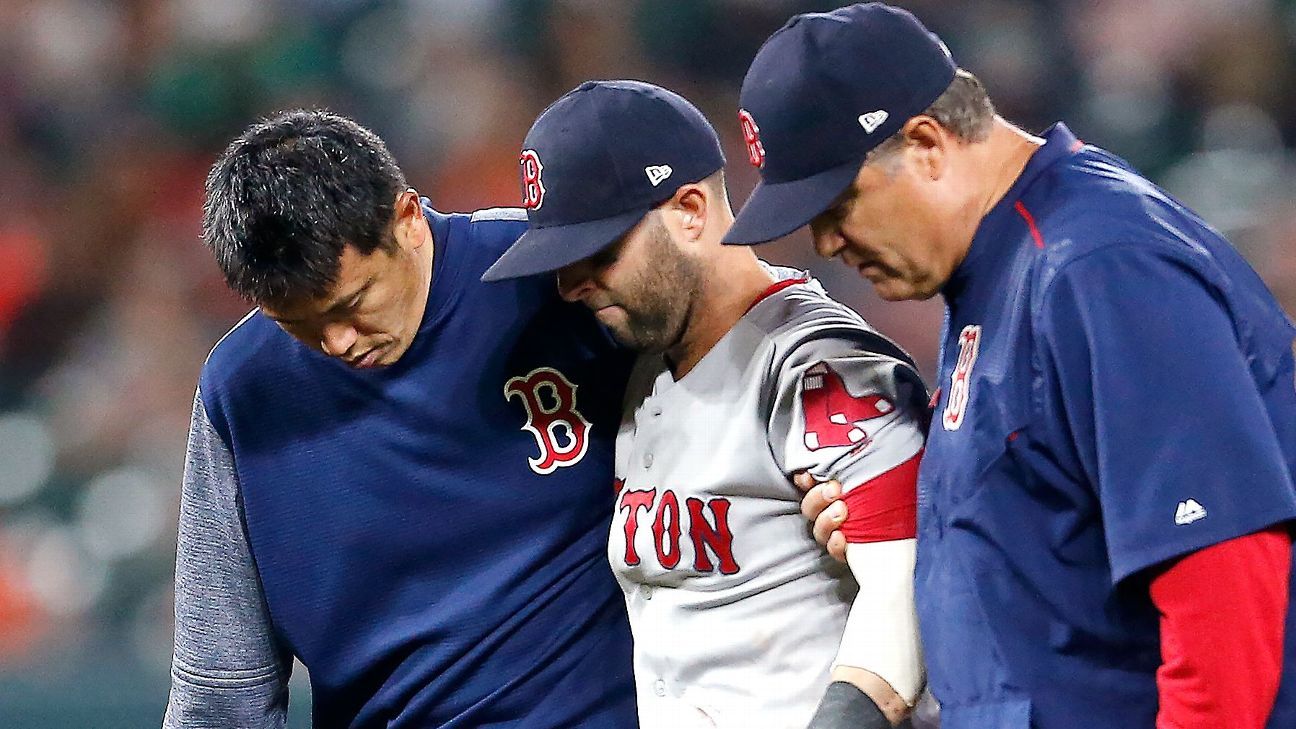 Dustin Pedroia's lengthy comeback attempt hit another roadblock, as the Boston Red Sox second baseman suffered a "significant setback" with his left knee, a team spokesperson confirmed to The Associated Press on Tuesday.
Pedroia has played just nine games over the past two seasons, collecting three hits in 34 plate appearances while trying to return from a knee injury suffered in 2017 on a slide into second base by Baltimore's Manny Machado. Pedroia last played a game on April 17, 2019.
Pedroia, 36, is now discussing his options with his family, the Red Sox and his representation, sources said.
News of Pedroia's setback was first reported by The Boston Globe.
Pedroia underwent knee joint preservation surgery — often an alternative to full knee replacement — in August, and he spent much of the 2019 season away from the team, rehabilitating his injury and spending time with his family.
Pedroia, whose gritty nature and willingness to fight through injuries has endeared him to Red Sox fans, expressed doubts last May that he would be able to return to the field.
"I'm at a point right now where I need some time. That's what my status is," Pedroia said. "Some days, I feel fine, and an hour later, walking is tough. If I'm on an hour-to-hour basis of being able to do anything athletically, that's tough. I think the time will give me the right answer of if I can do this."
After the surgery, Pedroia's mindset shifted, and he indicated to the Red Sox that he hoped to return to the field and become an everyday player again. But news of his latest setback brings up the question of retirement, given that he is now three seasons removed from a fully healthy season, when he played 154 games for Boston in 2016.
Red Sox general manager Brian O'Halloran expressed optimism for Pedroia's return as recently as the GM meetings in November.
"He's been working out and doing well by his own account and we're going to talk to him and learn more," O'Halloran said. "I don't think anything specifically has changed. I think it's more that time has passed and he's been feeling better."
Pedroia is a four-time All-Star and American League Gold Glove winner. He was the AL MVP in 2008 and a key player for the World Series-winning teams in 2007 and 2013.
Derek Jeter, Larry Walker elected to Baseball Hall of Fame
NEW YORK — Derek Jeter came within one vote of being a unanimous pick for the Hall of Fame, and Larry Walker also earned baseball's highest honor Tuesday.
Jeter, the longtime New York Yankees captain, appeared on 396 of 397 ballots cast by the Baseball Writers' Association of America, falling just shy of the standard set when longtime Yankees teammate Mariano Rivera became the first unanimous selection last year. Jeter's 99.7 voting percentage moved above Ken Griffey Jr. (99.3%) for the second highest.
It was not immediately known which voter didn't choose Jeter, who was listed on all 219 ballots made public before the announcement. The BBWAA will release additional ballots on Feb. 4 of writers who chose a public listing.
Walker appeared on 304 ballots, six above the 75% needed, in his 10th and final appearance on the BBWAA ballot, up from 54.6% last year.
Pitcher Curt Schilling was third with 278 votes (70%) in his eighth ballot appearance, an increase from 60.9% but still 20 votes shy. Roger Clemens (61%) and Barry Bonds (60.7%), whose careers were tainted by steroids, both showed slight increases. Bonds rose from 59.1% last year and Clemens from 59.5%. Among those who saw sizable gains in their percentages were longtime shortstop Omar Vizquel (42.8% to 52.6%) in his third year on the ballot and third baseman Scott Rolen (17.2% to 35.3%).
Jeter and Walker will be inducted on July 26 at the Hall in Cooperstown, New York, along with catcher Ted Simmons and former players' association head Marvin Miller, who were voted in last month by the Hall's Modern Era Committee.
Tim Kurkjian reacts to Larry Walker's induction into the Baseball Hall of Fame, which took 10 years.
"I was speechless when I got the call," Jeter said. "Quite frankly, I was pretty nervous, and when I got it I really didn't know what to say."
While Jeter said he didn't want to jinx things by believing his induction was a lock, Walker's election was far from a guarantee. He received just 20.3% in his first ballot appearance in 2011 and dropped as low as 10.2% in 2014. He rose to 21.9% in 2017 before jumping to 34.1% in 2018.
"Being Canadian, you're born into this world with a stick in your hand and skates on your feet," Walker said. "So that's how I was as a kid. You played hockey and that's all that really mattered. When hockey didn't quite go the way I wanted, baseball more or less found me."
Jeter played all 20 of his seasons for the Yankees after being drafted with the sixth pick of the 1992 amateur draft as a high school player out of Kalamazoo, Michigan. Jeter was bypassed by Houston (Phil Nevin), Cleveland (Paul Shuey), Montreal (B.J. Wallace), Baltimore (Jeffrey Hammonds) and Cincinnati (Chad Mottola). He debuted for the Yankees on May 29, 1995, and was installed at shortstop — taking over for Tony Fernandez — the following spring training by new manager Joe Torre.
It was a position he held down for two decades, never logging a single defensive inning at another position. He won five Gold Gloves despite defensive metrics that were maligned.
Jeter defined himself by moments more than numbers: his unexpected backhand flip from foul territory to throw out Oakland's Jeremy Giambi in the 2001 American League Division Series; his Mr. November home run in the 10th inning that won Game 4 of the 2001 World Series; his face-first leap into the stands after catching a 12th-inning popup by Boston's Trot Nixon in 2004; a home run into the left-field bleachers for his 3,000th hit as part of a career-best 5-for-5 game in 2011; a ninth-inning walk-off single in his final home game in 2014; a single in his last at-bat three days later that lifted his career average to .310.
A 14-time All-Star, Jeter was named AL Rookie of the Year in 1996 and finished in the top 10 of AL MVP balloting eight times, topping out at second in 2006. He scored 100 or more runs 13 times and ranks sixth all time with 3,465 career hits. While leading the Yankees to five World Series crowns during his career, Jeter played in a record 158 playoff games — 33 more than any other player. His postseason OPS (.838) was 21 points better than his regular-season mark (.817).
He was appointed captain by owner George Steinbrenner in June 2003, filling a position that had been open since Don Mattingly's retirement after the 1995 season. He finished with 260 homers, 358 stolen bases and 1,311 RBIs, earning $266 million from the Yankees.
He was the ninth player elected to the Hall after playing exclusively for the Yankees, joining Lou Gehrig (1939), Bill Dickey (1954), Joe DiMaggio (1955), Earle Combs (1970), Whitey Ford and Mickey Mantle (1974), Phil Rizzuto (1994) and Rivera.
Jeter now is a part-owner of the Miami Marlins and heads up that franchise's baseball operations department. He becomes the 28th member of the Hall of Fame to represent the Yankees.
Walker spent his 17-year career with the Montreal Expos, Colorado Rockies and St. Louis Cardinals, winning the 1997 National League MVP for Colorado. He hit .366 that season with a career-high 49 homers, 130 RBIs and a .720 slugging percentage. Walker won NL batting crowns in 1998 (.363) and 1999 (.372). Known for his athleticism and strong arm, Walker won seven Gold Gloves during his career. Walker's .965 career OPS ranks 15th all time.
Walker was born in Maple Ridge, Canada, where he also attended high school. His 72.7 career WAR, per baseball-reference.com, is easily the most among Canadian-born position players. Among pitchers from that country, only Hall of Famer Fergie Jenkins had more WAR (82.2). Walker joins Jenkins as the only two Canadian-born members of the Hall.
"I know I speak for the whole Rocky Mountain region in congratulating Larry for his election into the Hall of Fame," Rockies owner Dick Monfort said in a statement. "Larry blessed our region for parts of 10 seasons and we feel extremely fortunate to be a part of his incredible career. Congrats, Larry."
Schilling won 20 or more games three times during his career for the Orioles, Astros, Phillies, Diamondbacks and Red Sox. He finished second in the Cy Young balloting three times and twice finished in the top 10 of MVP voting. He was also known for his postseason prowess while winning titles with the Diamondbacks (2001) and Red Sox (2004, 2007).
While Schilling's on-field Hall résumé is comparable to other pitchers to have been admitted to Cooperstown, such as 2019 inductee Mike Mussina, his controversial off-the-field stances probably have stirred the ire of some voters.
Newcomers to the ballot next year include pitchers Mark Buehrle and Tim Hudson as well as outfielder Torii Hunter. None appear to be slam-dunk selections, which could provide an opening for Schilling, Bonds, Clemens and others such as Vizquel, Rolen, reliever Billy Wagner (31.7%) and slugger Gary Sheffield (30.5%) to get over the threshold.
The 2022 ballot will include David Ortiz and Alex Rodriguez, who served a season-long suspension in 2014 for violations of the drug program and baseball's collective bargaining agreement.
Information from ESPN's Bradford Doolittle and The Associated Press was used in this report.
Marcell Ozuna gets one-year deal from Braves worth $18 million
Outfielder Marcell Ozuna has signed a one-year, $18 million contract with the Atlanta Braves, the team announced Tuesday.
The St. Louis Cardinals traded for Ozuna in December 2017, and the 29-year-old outfielder offered protection — and punch — in the lineup behind Paul Goldschmidt as the Cardinals made it back to the playoffs for the first time since 2015.
Ozuna had 29 homers and 89 RBIs this past season after blasting 28 homers and driving in 88 runs the year before. In 2017 with the Miami Marlins, he hit .312 with 37 homers and 124 RBIs.
Ozuna has made two All-Star Games on the strength of his bat, but one criticism of play has been his outfield defense.
He is coming off a one-year, $12.25 million contract.