What will the Angels do now after missing out on Gerrit Cole?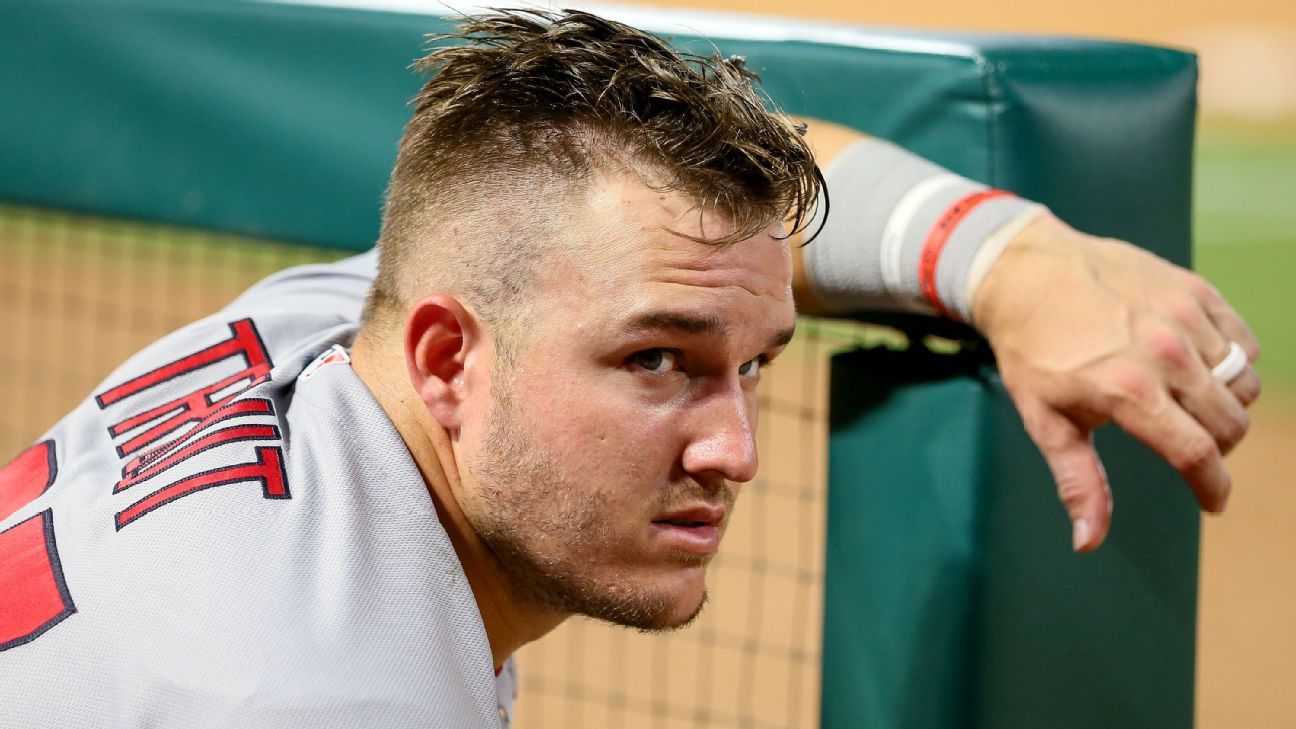 SAN DIEGO — The past five years, the average win total needed to earn a playoff spot in the American League has rounded out to 91. For the Los Angeles Angels, striving to launch themselves into legitimate contention as quickly as possible, that means finding 19 more wins in one offseason. Teams have done it — 29 of them since 2000, most recently the 2019 Minnesota Twins and the 2018 Oakland Athletics — but never easily.
"I think it's going to require risk," Angels general manager Billy Eppler said. "So you have to be prepared to take risks, be willing to kind of pursue both marketplaces, free agency and trade, in order to do that."
The Angels' best chance to make up the difference might have vanished Tuesday, when Gerrit Cole joined the New York Yankees on a nine-year, $324 million contract. Now the Angels have a lot of money to spend and no obvious place to spend it. They seemingly began Tuesday with enough payroll space to give Cole a massive contract — though perhaps not that massive. Then they sent the 15th overall pick in the 2019 draft to the San Francisco Giants so they could free themselves of the nearly $13 million they still owed Zack Cozart.
The Angels are now projected to sit roughly $70 million below the 2020 luxury-tax threshold, which is set at $208 million, according to information from Cot's Contracts. Owner Arte Moreno has declined to reveal his operating budget for next season, but Eppler acknowledged that the team "probably" has the means to sign multiple players to $20-plus million contracts. Speaking five hours before Cole made his decision, Eppler expressed optimism about his ability to acquire front-line starting pitchers besides Cole, specifically through the trade market. He smiled when asked if he could access those players without parting with his top prospect, Jo Adell.
"Yes," he said, "I feel confident in that."
The Angels' actual record and Pythagorean record were the same last season: 72-90. They need to increase that win total to at least 91, but how? First, they need to count on improvement from their current players.
An obvious one is Shohei Ohtani, who will return to a two-way role next season. Steamer projects him to be worth 4.7 FanGraphs-blend wins above replacement (fWAR) in 2020, which would be 2.9 more than he was worth in 2019. Steamer also projects an increase of 1.8 fWAR from left fielder Justin Upton, who struggled to stay healthy last season. It projects 2.3 fWAR from newcomer Dylan Bundy, who is probably taking the spot of a replacement-level starter. That is — ideally — seven more wins.
If Adell can somehow match the 3.6 fWAR Fernando Tatis Jr. produced in 84 games as a rookie for the San Diego Padres this season, that would qualify as a one-win increase over Kole Calhoun, the man he will eventually replace. Now we're at a maximum of eight.
How do the Angels pick up the rest? Below is a look. We'll take a guess at the Competitive Balance Tax payroll, which uses the average annual value of contracts, and put it at $190 million, giving the team an estimated $52 million or so to spend. We'll ask that you be mindful that this is a very inexact exercise, especially because we aren't factoring in the newcomers' potential replacements.
1. An easier route: Sign starting pitchers Hyun-Jin Ryu and Dallas Keuchel, sign C Martin Maldonado
Estimated 2019 cost: $42 million
Projected fWAR added: 6.7
This is very straightforward. The Angels would move on to the next tier of free-agent starters and hope two of them can come close to or surpass the production the team would have received from Cole. Ohtani is expected to pitch once a week, not every five games, which means the Angels will need a sixth starter every now and then. This gives them a rotation of Ryu, Keuchel, Ohtani, Bundy and Andrew Heaney and allows them to keep the innings low for young guys such as Griffin Canning and Patrick Sandoval. It keeps them somewhat flexible with their payroll and keeps their improving farm system intact while giving them a shot at a playoff spot. It's safe. Too safe?
2. An alternative route: Sign 3B Josh Donaldson, sign Keuchel, trade for C Willson Contreras
Estimated cost: $45 million
Projected fWAR added: 8.6
Donaldson adds more might to the lineup, giving the Angels someone who can probably play both third and first base and easing the burden for guys such as David Fletcher, Tommy La Stella and Luis Rengifo. Keuchel isn't an ace, but he can slide into the No. 2 spot and give the Angels a respectable rotation of Ohtani, Keuchel, Bundy, Canning and Heaney. Contreras, attainable from the Chicago Cubs, solidifies the catcher's spot with someone new manager Joe Maddon is quite fond of. It isn't necessarily sexy, but it is solid.
3. A bolder route: Sign 3B Anthony Rendon, trade for starting pitcher Corey Kluber, trade for reliever Josh Hader
Estimated cost: $55 million
Projected fWAR added: 10.4
The cost would be high, both financially and in prospects, but this would be fun. Rendon would join a lineup with Mike Trout, Ohtani and Upton. Kluber would sit atop the rotation, making it a formidable group. Hader would be the dominant, left-handed force in a bullpen that includes Keynan Middleton, Hansel Robles and Ty Buttrey.
The Angels would be a pretty complete team, one that might be equipped to beat a Houston Astros club that seems poised to come back to the pack. Rendon will require an exorbitant contract, but Kluber and Hader are affordable. Question is: Can the Angels acquire those two without parting with Adell? Would guys such as Canning, Fletcher, Brandon Marsh and Jeremiah Jackson be enough?
NL East adds big twist to already chaotic 2020 MLB season
Nothing says watching Major League Baseball in 2020 quite like watching Monday's New York Mets–Atlanta Braves game in Atlanta, hearing a loud clap of thunder and having Mets announcer Gary Cohen explain that the thunder was actually from Citi Field in Queens, where he, Ron Darling and Keith Hernandez were broadcasting the game.
The Mets have had their usual measure of stormy weather already, including a couple of bullpen meltdowns and the sudden departure of Yoenis Cespedes on Sunday, when he opted out of playing the remainder of the season. The Mets entered Monday's game with a five-game losing streak and the division rival Braves looking to sweep their four-game series and gain a five-game lead less than two weeks into the 60-game schedule.
It seemed like one of those games with a little extra must-win urgency for the Mets. After all, they were sitting at 3-7 after one sixth of the schedule, and the Braves were already 5-1 against them on the season. The Mets had two-time reigning Cy Young winner Jacob deGrom on the bump, but the Braves countered with sensational sophomore Mike Soroka in what promised to be a great pitcher's duel, especially because the Mets usually struggle to score runs for their ace.
Instead, the night took an ugly turn, as Soroka suffered a season-ending torn Achilles tendon in the third inning, when he tried to bounce off the mound to cover first base. Meanwhile, deGrom was dominant other than one hanging slider that Travis d'Arnaud hit for a home run, finishing with 10 strikeouts in six innings. Soroka struggled with his control before his injury, and the Mets scored some runs for deGrom for a change, winning 7-2. In one game, the NL East took a sudden twist in plot as the stumbling, bumbling Mets righted their ship and the Braves now have a huge hole in their rotation.
It's hard to imagine deGrom getting better than he's been the past two years, but that's the case through three starts. He has always had elite velocity, but he's averaging 98.7 mph so far on his four-seam fastball and has hit 100 mph 10 times this season — after doing it just twice previously in his career. His swing-and-miss rate is at 38.0%, up from 31.4 last season. He even dropped in a few curveballs against the Braves, registering a couple strikeouts with it, because, you know, his fastball/slider/changeup combo isn't enough.
Sure, deGrom has electric stuff, but he's also smart and knows how to make adjustments. When he does throw the curveball — and it's usually only a handful of times in a game — it's usually later in the game, but he threw several early in Monday's game. Afterwards he explained that his changeup was a little flat and he wanted to give hitters something "with a little different speed difference." He struck out Freddie Freeman in the first with a curve and then Marcell Ozuna in the second on a nine-pitch battle. Imagine seeing eight pitches from deGrom — including one fastball at 100.7 mph — and then he drops in a curveball? That's how you can join Greg Maddux and Randy Johnson as the only pitchers to win three straight Cy Young Awards.
Still, deGrom is the one constant with Mets. Everything else, in true Mets fashion, remains a bit chaotic. Cespedes' departure caught the team by surprise, but given the unique circumstances of 2020, understandable. "Every guy has to take into (account) their own personal situation and with all that's going on and recent outbreaks with certain teams, I completely respect Cespedes' decision," Pete Alonso said on a Zoom call earlier in the day with reporters. "I don't think anything less of him. He's a great teammate. If he felt he was at risk, then by all means, this is an unprecedented time."
The slugging first baseman, coming off that record-setting 53-homer rookie season, is the focal point of the Mets' offense, but is off to a slow start, hitting .167 with just one extra-base hit, a home run. In many ways, he's also the emotional center of the Mets and his energy was a big reason the team went 46-26 in the second half.
"I always try to refine my craft and try to be the best player I can be, so to not produce is frustrating," Alonso said. "It's my job. It's been tough stringing together the results, but they're going to come. I know they are. I know what I'm capable of. I work hard, I work diligently, I'm a smart ballplayer, so for me I know it's rough now but it's only going to be temporary."
He went 0-for-2 on Monday, but to back up that approach, he did draw three walks. He mentioned a couple mechanical things to work on and the Mets broadcast showed side-by-side images of 2019 and 2020, with 2020 showing his shoulder a little more tucked, his hands resting a little higher and going a little deeper as he begins his swing. For now, it's watching a lot of footage from 2019 and doing a lot of work in the cage.
The Mets still have rotation issues after deGrom, with Noah Syndergaard out for the season, Marcus Stroman gone for an extended period with a torn calf and Rick Porcello and Michael Wacha struggling so far.
Assistance is needed to carry Mike Soroka off the field in the Braves' game against the Mets after he suffers a noncontact injury to his right leg while attempting to cover first base.
The Braves, meanwhile are now without the three starters who pitched for them into last year's NL Division Series against the Cardinals — Soroka, Dallas Keuchel (signed with the White Sox) and Mike Foltynewicz (designated for assignment after one bad outing and now at the team's alternate training site). Cole Hamels, signed to replace Keuchel as the veteran lefty, is on the 45-day IL and will miss more than half of the truncated season.
"To sum it up, this night just sucks," Freeman said. "When you lose, in my mind, one of the top pitching arms in the game for the whole season, it's pretty tough. It just sucks. There's no sugarcoating this night."
Soroka and Max Fried had been the only Braves starters to pitch five innings in a game, so now even more pressure falls on Sean Newcomb, Touki Toussaint and Kyle Wright. Options to replace Soroka include Bryse Wilson and Tucker Davidson or veteran Josh Tomlin, who is currently working out of the bullpen.
That's a group not without potential. Newcomb went 12-9 with a 3.90 as a starter in 2018, before pitching mostly out of the bullpen in 2019. Toussaint is a big power arm who was former top-100 prospect. Wright was the fifth pick in 2017 out of Vanderbilt, but in 31 ⅔ career innings in the majors he's walked 26 batters. Wilson is still just 22 and has a few big league innings and Davidson had a 2.15 ERA in the minors in 2019. Tomlin might get first crack, but the Baby Braves are going to have to step up.
"Somebody else is going to get an opportunity," Braves manager Brian Snitker said after the game. "Things like that happen. These guys will regroup. Somebody is going to get an opportunity to do something really good. Our young guys are going to continue to get better. We're going to be fine."
Given the pandemic that wiped out a week of games for the Marlins and Phillies, no division is in chaos like the NL East. If we get through this season, it just got a lot more chaotic.
MiLB president installs new committee to handle MLB negotiations
Five weeks after Minor League Baseball president Pat O'Conner announced the cancellation of the 2020 season, he disbanded the MiLB committee that was handling negotiations with Major League Baseball over the future structure and governance of the minors.
ESPN confirmed a report Monday night by Baseball America that also said O'Conner installed a new committee — including Triple-A team presidents Sam Bernabe of the Iowa Cubs and Ken Schnacke of the Columbus Clippers — "viewed by numerous MiLB owners as having much closer ties to O'Conner and more sympathetic to attempts to save St. Petersburg's MiLB offices and MiLB's independence."
The pandemic has put talks on hold between MiLB and MLB over their agreement that expires Sept. 30. MLB, which provides the players and coaches and pays their salaries, has proposed reducing the number of affiliated teams from 160 to 120 and eliminating some low-level minor leagues.
Contacted Monday night by ESPN, Bernabe said the new committee also includes D.G. Elmore Jr., a holdover from the disbanded group, and Chuck Greenberg, the former managing partner of the Texas Rangers. Elmore and Greenberg both own multiple minor league teams.
"We want to get a deal," Bernabe said.
One minor league owner reached by ESPN said O'Conner broke the news to the members of the disbanded committee via email on Monday after MLB had been informed of the change.
A member of the MiLB Board of Trustees told ESPN O'Conner sent an email memo to the board Monday saying the new negotiating committee would be developing a proposal for delivery "directly to the Commissioner (Rob Manfred) in confidence." Multiple sources told ESPN that when the disbanded committee was engaged in talks with MLB, they were with deputy commissioner Dan Halem and executive vice president Morgan Sword.
When the MiLB season was canceled on June 30, O'Conner said the minors are in "dire straits" and that perhaps half of all teams would have trouble surviving without financial help.
Braves ace Mike Soroka helped off field with injured leg
ATLANTA — Atlanta Braves ace Mike Soroka had to be helped off the field in the third inning against the New York Mets after tumbling to the infield grass with an injured right leg Monday night.
Soroka was hurt after delivering a pitch to J.D. Davis, who grounded the ball toward first baseman Freddie Freeman. Soroka broke toward first to cover the bag, but he went down on his first step off the mound. Soroka appeared to injure his ankle or foot.
Soroka yelled in obvious pain and tried to walk gingerly for a couple of steps before dropping to his knees. The right-hander was helped toward the clubhouse with the assistance of a trainer and manager Brian Sniker.
If the injury is serious, it would be a major blow to the two-time National League East champion Braves, who had won five straight despite struggling to put together an effective rotation.
Soroka, who turns 23 on Tuesday, made his first Opening Day start after going 13-4 with a dazzling 2.68 ERA in 2019 to finish second in the NL rookie of the year balloting and sixth for the Cy Young Award.
Soroka was making his third start of the season. He came in having allowed just two earned runs over 11 1/3 innings but struggled against the Mets, trailing 3-0 when he left the game with two runners aboard.
He allowed three hits, walked four and wound up being charged with four earned runs in 2 1/3 innings, the second-shortest stint of his career.
Soroka was replaced by Chris Rusin.