Le'Veon Bell doesn't regret bowling trip — 'I wasn't a distraction until now'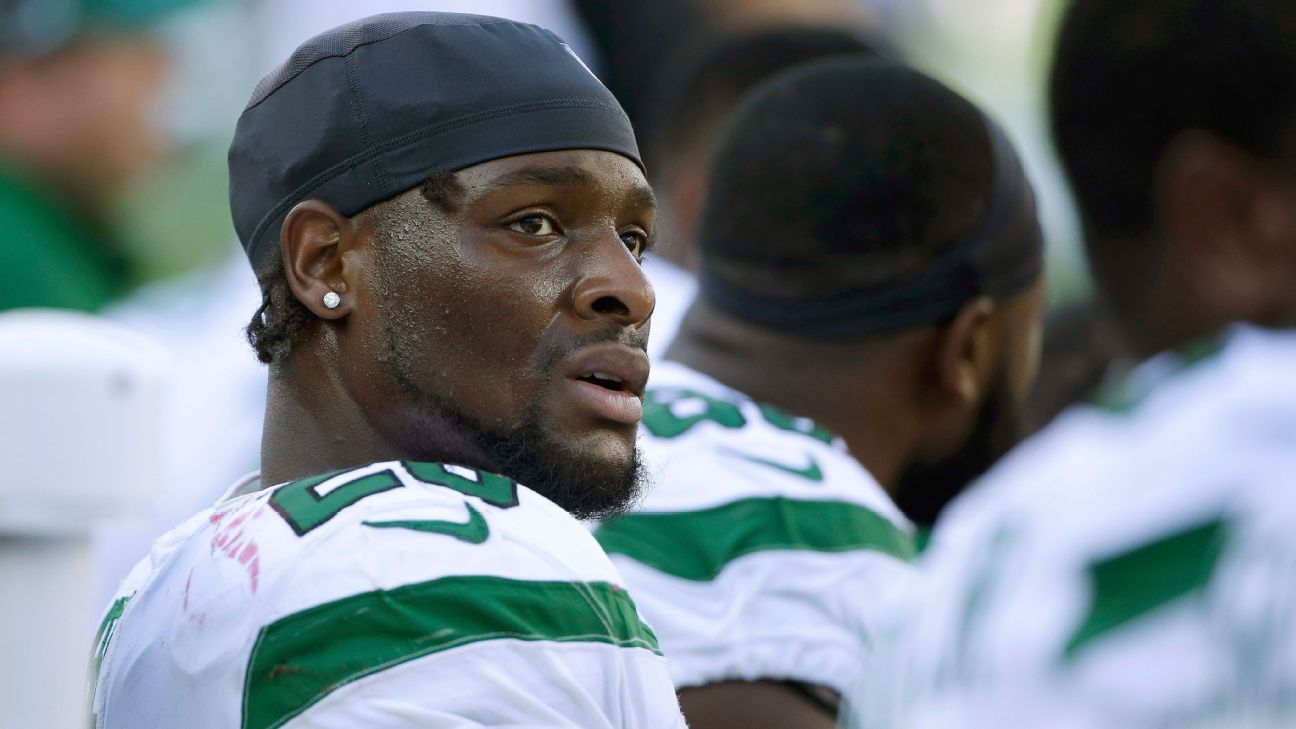 FLORHAM PARK, N.J. — A flu-stricken Le'Veon Bell went bowling last Saturday night and the result was a split.
New York Jets coach Adam Gase said Tuesday the star running back's late night on the lanes was a bad optic for Bell and the organization, considering he was too sick to play in Sunday's game.
Bell responded later Tuesday, showing no remorse and claiming his only regret was that he was spotted in public. He joked about it, noting he bowled a career-high 251 "coming off the flu."
"I don't feel bad about what I did," Bell said. "I didn't break any rules. I wasn't a distraction until now."
This became more than a bowling story.
Bell added layer of intrigue to his closely scrutinized relationship with Gase, claiming he feels under-utilized in the offense. This wasn't the first time he voiced his opinion on the matter, but these were his most strident comments of the season.
Asked if he has been afforded the opportunity to thrive, Bell replied, "Honestly, no. I think that's just being in a new system, with new guys up front, a new coaching staff. I'm with a new organization. Everything kind of takes time, I understand that. That's why I've always been patient.
"But to be honest with you, no. I feel like when I do, I'll be back to what people are used to seeing."
Bell battled the flu last week and missed two practices, plus the Saturday walkthrough. At 5 p.m. Saturday, the Jets announced Bell had been ruled out for their game against the Miami Dolphins. More than five hours later, he was spotted at a bowling alley in Boonton, New Jersey, first reported by the New York Post.
Bell watched the game from a private box at MetLife Stadium. Gase got wind of the bowling episode late Monday night.
Gase said he won't discipline Bell because no team rules were violated, but he acknowledged it was a bad look.
"Yeah, I'd say so," Gase said.
Bell, wearing bright orange pants, bowled with family and friends from 10:30 p.m. to 1 a.m., when the alley closed.
"That wasn't his fault that we said he's still contagious," Gase said. "I mean, that's what the doctors told him. I'd rather him not be [bowling]. I'd rather him be at home, getting better. But that will be a conversation we have."
They spoke late Tuesday about the incident. According to Bell, Gase reminded him about the perception it created.
Stephen A. Smith disagrees with Le'Veon Bell's decision to go bowling after being ruled out by the Jets with the flu.
Asked if he plans to impose a penalty, Gase said, "What am I going to discipline him for? I can't tell him, 'You have to stay in your house.'"
Bell gave his side of the story, saying he wanted to play but that he had dropped nine pounds.
"They weren't sure about my energy and hydration, so they held me out of the game," Bell said. "But they advised me to get out of the house and move a little bit. I had a lot of family and friends there because they were expecting me to play. Everybody was at my house, just kind of looking at me. I felt better, I felt a lot better, so we went out bowling and had fun."
Bell has regained some of the weight and is expected to play Thursday night against the Baltimore Ravens.
"Yeah, he'd better," Gase said. "We're out of guys."
Bilal Powell, who replaced Bell last week and rushed for 74 yards (a team-high for the season), likely will miss the game because of an ankle injury. He also has the flu.
This has been a disappointing season for Bell, who arrived with big expectations after signing a four-year, $52.5 million contract in March. He hasn't rushed for more than 70 yards in a game, and his numbers for the year are the worst of his career — 589 yards, a 3.2 average and three touchdowns. He's second on the team with 55 catches.
Bell seemed particularly frustrated after the Jets' Week 13 loss to the Cincinnati Bengals, a game in which he rushed only 10 times. Gase was opposed to signing Bell, sources said, prompting speculation that he's trying to reduce his role.
After New York's Week 8 loss to the Jacksonville Jaguars, Bell was so frustrated that he approached Gase and they talked it out. Bell said he's done talking about it.
"I don't like to keep harping on the same thing," he said. "I said what I said. We had the conversation. That was that. I'm not about to have the same conversations over and over. We both understand each other. As time goes on, things will get better."
DK Metcalf's big-play ability gives Seahawks draft class solid grade – Seattle Seahawks Blog
DK Metcalf began the regular season with 89 receiving yards in the opener, the most ever by a Seattle Seahawks rookie in his NFL debut.
He finished it with 58 catches, tied for second among rookies in 2019 and second most by a rookie in franchise history.
Metcalf then set a Seahawks playoff record with 160 yards in the wild-card round, which also was an NFL postseason record for a rookie in the Super Bowl era. He had a touchdown in that game, to go along with seven in the regular season.
Of all the noteworthy numbers he posted during his spectacular rookie campaign, this might be as important as any: 18. Metcalf didn't miss a game, playing in all 16 during the regular season and two more in the playoffs. That alone was an accomplishment after he saw his college career get cut short by a serious neck injury, then needed knee surgery 19 days before the Seahawks' opener.
The Seahawks couldn't have expected anything more out of Metcalf in 2019.
• Reid's legacy on line in Super Bowl LIV
• 49ers back and that's good for NFL
• Players who leveled up on every team
• Dallas has options, but clock ticks on Dak
• Super Bowl picks, analysis from Pro Bowlers
They couldn't have gotten much less out of first-round pick L.J. Collier than his three tackles and zero sacks.
Even with Collier's forgettable season — and an even more forgettable one from fourth-round pick Gary Jennings — Pro Football Focus still ranked the Seahawks' rookie class as the NFL's 10th-most productive based on PFF's new wins above replacement metric and where each player was selected in the 2019 draft. Metcalf, a steal as the final pick of the second round, was the main reason why.
Here's a review of what the Seahawks got out of their 11 draft picks and a look at what's next for each:
DE L.J. Collier, Round 1 (29 overall): Including the playoffs, Collier was a healthy scratch six times and missed Week 1 because of an ankle sprain suffered early in training camp. No rookie can afford to miss all the time he missed, but it was an especially costly setback given the rawness in his game after just one season as a college starter. The Seahawks' 28 sacks were tied for the second fewest in the league, and no one on their defense had more than Rasheem Green's four. While that is a reflection of how weak Seattle's pass rush was, it also is another reason to not write Collier (142 defensive snaps) off. Green, a 2018 third-round pick, had a similarly nondescript rookie season, then played the third-most snaps of any Seattle defensive lineman in 2019. The Seahawks need Collier to take the same second-year jump.
S Marquise Blair, Round 2 (47 overall): Blair lived up to his reputation as a thumper and made a key play in one of his three starts when he forced a fumble at the goal line to help preserve a win over Atlanta. It was curious that neither Quandre Diggs' sprained ankle nor Lano Hill's struggles could get Blair (219 defensive snaps) back into the starting lineup late in the regular season. Pete Carroll might have had more confidence in Blair's readiness had he not missed so much time during the spring and summer due to hamstring and back injuries. The Seahawks didn't draft Blair in the second round just so he could remain a depth piece, but Diggs and Bradley McDougald are each under contract for one more season, so it might take Seattle releasing McDougald or another injury for Blair to start in 2020.
WR DK Metcalf, Round 2 (64 overall): An area of Metcalf's game he can improve is his efficiency. His 58 catches came on 99 targets for a catch rate of 58.6% that ranked 57th among wide receivers, per ESPN charting. For context, Tyler Lockett was third at 73.9%.
LB Cody Barton, Round 3 (88 overall): Barton (148 defensive snaps) made four starts at strongside linebacker for Mychal Kendricks. That will help the Seahawks gauge Barton's readiness to take over that job full time next season, if need be. Kendricks, a pending free agent, is coming off a torn ACL and is headed toward sentencing in his insider trading case, so there might be a need. Barton led the Seahawks in special-teams snaps.
WR Gary Jennings, Round 4 (120 overall): You don't often see teams move on from fourth-round picks as quickly as the Seahawks moved on from Jennings, and his spot on the roster seemed tenuous well before they waived him in November. Jennings had trouble picking up the playbook and lost valuable time during the spring with a hamstring injury. He was a healthy scratch for every game before he was waived and claimed by Miami.
G Phil Haynes, Round 4 (124 overall): Haynes spent half the season on physically unable to perform list, didn't see the field until the playoffs, then had to take over at left guard in the divisional round because of injuries to Mike Iupati and Jamarco Jones. That isn't enough playing time to leave anyone with a strong sense of how viable of an option Haynes would be to start if Iupati, a pending free agent, isn't back.
DB Ugo Amadi, Round 4 (132 overall): Amadi was one of Seattle's top special-teams players, and it appears he will be an ace there, if nothing else. Can he grab hold of the nickelback job and do it well enough to compel the Seahawks to not remain in base personnel as often as they did in 2019? Amadi (75 defensive snaps) didn't become Seattle's primary option there until late in the season.
LB Ben Burr-Kirven, Round 5 (142 overall): BBK, as he is called, didn't see much meaningful action outside of special teams, where he played the second-most snaps. He projects as a backup in 2020 and core special-teamer.
RB Travis Homer, Round 6 (204 overall): Homer went from the Seahawks' No. 4 tailback to their first option after injuries hit their backfield hard. He combined for 92 yards on 15 touches in Week 17 but wasn't effective outside of that game, leading Seattle to start Marshawn Lynch in the divisional round. Homer will compete with whichever tailback(s) the Seahawks add to reinforce their depth with Chris Carson and Rashaad Penny coming off injuries.
DT Demarcus Christmas, Round 6 (209 overall): Christmas spent all year on PUP, and he will be competing for a roster spot next season. He is more of a run-stuffer than a pass-rusher.
WR John Ursua, Round 7 (236 overall): Ursua's only catch came in the final minute of Week 17, when he converted a fourth-and-10 but came up about a foot shy of what likely would have been the game-winning score. The Seahawks were so high on Ursua's potential and so afraid of losing him to waivers that they kept him on their 53-man roster all season, even though he was a healthy scratch for all but four games. Jaron Brown will be an unrestricted free agent, David Moore will be restricted and Josh Gordon is suspended, so Ursua will compete with Malik Turner and whichever other receiver(s) Seattle adds for the No. 3 role behind Lockett and Metcalf.
NFL working with police on social media hacks
The NFL confirmed Tuesday a widespread hack of league- and team-connected social media accounts and said it was cooperating with its platform providers and law enforcement.
"On Monday, the NFL cybersecurity department became aware of a breach of a league-related social media account," the league said in a statement. "Targeted breaches and additional failed attempts were discovered across the league and team accounts. The NFL took immediate action and directed the teams to secure their social media accounts and prevent further unauthorized access.
"Simultaneously, the league alerted the social media platform providers and, with their assistance, secured all league and club accounts. We continue to work diligently with the teams, which have resumed normal operations."
The official Twitter accounts of nearly half of the teams teams were hacked Sunday and Monday, as was the league's own Twitter account.
The Chicago Bears' Twitter account was the first to begin displaying messages Sunday from a hacker group that called itself "OurMine." One of the messages said the hack was to announce that "we're back" as well as to "show people that everything is hackable."
Similar messages appeared on the other team feeds as well as the NFL's. A tweet posted to the Green Bay Packers' account Monday read: "Hi, we're Back (OurMine). We are here to show people that everything is hackable." It then provided an email for information on how to "improve your accounts security."
Raheem Mostert's six-day audition with Jets: Frustrating, forgettable – New York Jets Blog
Marcel Shipp was an NFL running back for six seasons and later coached the position for the New York Jets, so he was understandably impressed by Raheem Mostert's historic performance for the San Francisco 49ers in the NFC Championship Game on Jan. 19. More than the average fan, he appreciated the nuances in Mostert's game, especially his understanding of each play and his fluid running style.
"The kid just moves so well," Shipp said in a phone interview with ESPN.
Now for the strange part of the story.
Shipp didn't realize it during the game, but he actually coached Mostert with the Jets. Mostert was on the Jets' practice squad for six days in 2016 — Sept. 6 to Sept. 12 — but Shipp had no recollection of the running back. The aha moment came last Friday during that phone interview.
"Wow, I don't remember him at all," Shipp said with a laugh. "I usually remember those guys. This is bad. I do not remember him being in the room."
Hey, it happens. Teams routinely churn their roster, especially early in the season, creating a revolving-door effect. For instance: In September 2016, the Jets made 64 transactions. Who could have imagined that one of them would become a postseason hero?
Mostert spent two years on the NFL treadmill, bouncing from team to team before landing with the 49ers in 2016. Now he's one of the biggest stories in Super Bowl LIV. Cut by six teams before signing with the 49ers, he became the first player in NFL history to rush for at least 200 yards and four touchdowns in a playoff game. He ran for 220 yards against the Green Bay Packers after replacing the injured Tevin Coleman.
Three years ago, Mostert was just a name on the Jets' transaction wire, one of several running backs who cycled through the organization. Matt Forte and Bilal Powell were entrenched as the top two backs, but the Jets wanted a third back for depth purposes. Players such as Khiry Robinson, Troymaine Pope, Brandon Wilds and C.J. Spiller spent time on the 53-man roster.
Mostert never made it to the 53. He was barely in New Jersey long enough to get unpacked. His time with the Jets ended "in the blink of an eye," according to his agent, Brett Tessler.
"Of all the transactions throughout his career, that was probably the most frustrating one," Tessler said. "At that point, he had made real progress as a player. Even though the Browns let him go [prior to the Jets], he had a year on NFL rosters under his belt. You would think his résumé would've warranted more than a week on a practice squad."
Mostert went from the Philadelphia Eagles to the Miami Dolphins to the Baltimore Ravens to the Browns to the Jets to the Chicago Bears to the 49ers. He played a preseason or regular-season game for every team except the Jets.
The personnel department was impressed with his speed, toughness and smarts, but there was concern about a fumbling problem. Some in the building felt he had potential, but the front office and coaching staff in that regime weren't always aligned on personnel evaluations. When an organization has a disconnect, it can result in players slipping through the cracks.
Maybe that happened with Mostert, who told Yahoo! after the NFC title game that his low point was getting released by the Jets.
"That year with the Jets, I didn't know what was going on with that third running back," said Shipp, who was fired after the 2016 season. "The people upstairs were shuffling a lot of players, so I don't remember [Mostert]."
But that doesn't mean he doesn't admire Mostert. Shipp, who retired from coaching and operates a pool-servicing company in Phoenix, lauded Mostert for his perseverance.
"It says a lot about the kid," Shipp said. "It says a lot about the experts, too. The experts were wrong and, obviously, I was one of them. Six teams missed on him. He finally found the team and the system that suits him. Hats off to him."