Stephen Strasburg stays with Nats on $245M deal
Stephen Strasburg and the Washington Nationals have reached agreement on a seven-year, $245 million deal, sources told ESPN's Jeff Passan on Monday.
That deal surpasses the previous high for a pitcher's contract, set by David Price when he signed a seven-year, $217 million deal with the Boston Red Sox. Strasburg also has the highest annual average value, eclipsing Zack Greinke's $31.5 million. Both records might not last long, with former Houston Astros right-hander Gerrit Cole drawing interest.
Strasburg, who opted out of the final four years of his contract with the Nationals, entered free agency fresh off a season in which he posted a career-high 18 wins and led the National League with 209 innings pitched — no small measure for a pitcher who has battled injuries throughout his career.
He continued rolling in the playoffs: He became the first pitcher in major league history to win five games in a single postseason without a loss; his 47 strikeouts were tied for the second most in a single postseason (Curt Schilling had 56 in 2001); and he posted a 1.98 ERA in six appearances overall.
The 31-year-old right-hander won two games against the Houston Astros in the World Series, including a pivotal Game 6 on the road in which he became the first pitcher to go at least eight innings in a World Series start since Matt Harvey did so in Game 5 in 2015. The following night, Washington won Game 7 and Strasburg became the first No. 1 overall draft pick to be named World Series MVP.
The key to Strasburg's success this past season was his increased use of his two best off-speed pitches — his power curveball, which was the most valuable curveball in the majors in 2019 per FanGraphs, and his plus changeup with good arm speed and late-fading action. So while he still throws hard, averaging 93.9 mph on his four-seamer according to Statcast, he has been much better by throwing other pitches.
The big knock on Strasburg is his lack of durability. In eight full seasons, he has qualified for the ERA title just three times, falling three innings short in a fourth. He reached the threshold just twice in the past five seasons, missing about 10 starts in 2018 with injuries to his shoulder and neck.
In a career interrupted by Tommy John surgery shortly after his spectacular major league debut in 2010, Strasburg is 112-58 with a 3.17 ERA and 1,695 strikeouts in parts of 10 seasons.
ESPN's Keith Law contributed to this report.
Setting sights on spring training, Jose Altuve confident embattled Astros will 'be in World Series'
HOUSTON — A week filled with fines, suspensions, firings and impromptu press conferences as a result of their sign-stealing scandal, ended awkwardly in Houston Saturday, with the Astros meeting and greeting fans and media at their annual winter festival.
Two of the team's biggest stars — Jose Altuve and Alex Bregman — took center stage: One for his unfazed confidence, the other for his terse tone and tenor.
Houston second baseman Jose Altuve said the Astros will be in the World Series again while pushing back on the idea that the team's cheating went beyond the sign-stealing detailed in MLB's report earlier this week.
"Believe me, in the end of the year, everything will be fine," he said. "We're going to be in the World Series again. People don't believe it, we will. We will. We made it last year, we were one game away of winning it all."
Altuve was the AL MVP in 2017, and since the sign-stealing scandal broke, some have questioned whether he deserved the award. In recent days, he's also been accused of wearing an electronic device under his jersey to tip pitches, which he vehemently denies.
"You know, we all know that some people made that up," he said. "And like I said, the best thing to happen to me was the MLB investigate that and they didn't find something."
While Altuve didn't have a problem answering numerous questions about the scandal, Bregman, Houston's third baseman, refused repeated attempts by reporters to get him to address what happened and kept repeating variations of the same phrase.
"The commissioner made his report, made his decision and the Astros made their decision," he said. "And I have no further comment on it."
After being pressed on if he plans to discuss the sign-stealing in the future, Bregman finally gave an answer that didn't seemed as rehearsed. "I think in the 2020 year," he said, "our actions will speak louder than our words.
Altuve and Bregman were the only two stars at FanFest who were part of the 2017 championship team. Many of the other big names that helped the Astros win their first title, including World Series MVP George Springer, ace Justin Verlander, who was the ALCS MVP and shortstop Carlos Correa, did not attend the daylong event where fans interact with players.
Meanwhile, Altuve was consistent is spinning the storyline forward. With spring training less than a month away, he wants the focus on baseball.
"I have two options. One is cry and one is go down and play the game and (perform) and help my team," he said. "And you know what one I am going to do."
MLB's investigation of Houston began after former Astros pitcher Mike Fiers, who played for Oakland last season, told The Athletic about the team's scheme to steal signs. Martinez said he has spoken to Fiers and gets why he came forward.
Houston manager A.J. Hinch and general manager Jeff Luhnow were suspended for a year by MLB Commissioner Rob Manfred on Monday after he found illicit use of electronics to steal signs during the Astros' run to the 2017 World Series championship and again in the 2018 season. Team owner Jim Crane then fired both Hinch and Luhnow. Manager Alex Cora left the Red Sox on Tuesday after the report identified him as the ringleader of the sign-stealing scheme when he was the bench coach for the Astros in 2017.
The Astros were fined $5 million, which is the maximum allowed under the Major League Constitution, and must forfeit their next two first- and second-round amateur draft picks.
The investigation found that the Astros used the video feed from a center field camera to see and decode the opposing catcher's signs. Players banged on a trash can to signal to batters what was coming, believing it would improve the batter's odds of getting a hit.
"It's a tough situation and as a team we have to stay together and go through this as a team like we've been doing, always," Altuve said. "We have to talk about it at spring training and try not to let things in the past distract us for next year."
Cardinals' Harrison Bader confident he'll start in center field this season
ST. LOUIS — Harrison Bader is confident he'll be in center field for the St. Louis Cardinals when the season begins.
Bader was in St. Louis on Saturday taking part in the annual Cardinals Winter Warm-Up.
"I'm the starting center fielder," the 25-year-old Bader said. "It's my position. I'm going to take it. There's no sense in talking about it. I'm looking forward to showing up Day One guns blazing and ready to go."
While there is no question about his defensive ability and speed in center, it's his bat that gives some pause.
Last season, Bader finished with a .205 batting average. He hit 12 home runs, drove in 39 runs and stole 11 bases.
"Last year, individually it wasn't what I wanted it to be production-wise," Bader said. "The biggest thing I've taken away at this point is how I responded. I've been very fortunate to be with people behind the scenes who've helped me take steps in the right direction to help me produce like I want to and how I know I can.
"There's no secret to it. There's no special sauce. This is a day-in and day-out grind. My swing is feeling really good. All you can do is go out there and play hard. That's what I've been doing."
"I'm the starting center fielder. It's my position. I'm going to take it. There's no sense in talking about it. I'm looking forward to showing up Day One guns blazing and ready to go."

Harrison Bader
Bader finished his 2018 rookie season hitting .264 with 12 homers and 15 stolen bases in 138 games. He took over in center after Tommy Pham was traded on July 31 to Tampa Bay. His flair in the outfield, making diving catches or running down line drives in the gap, made him a fan favorite.
Bader began 2019 as St. Louis' starting center fielder, but offensive struggles landed him on the bench. He was sent to Triple-A Memphis on July 30. When he was demoted, Bader was hitting just .195 with six home runs in 90 games.
The Cardinals brought him back Aug. 20 and Bader made a big impression in his first game after being called up. He legged out a triple, scored two runs, walked three times and made a spectacular diving catch in shallow center during a 9-4 win over the Milwaukee Brewers.
Then in a five-game stretch against Colorado and Pittsburgh, Bader got eight hits. But he tailed off again after that.
"My bat was not present last year. Plain and simple," Bader said. "It showed up a couple of times but I wasn't nearly as consistent as I needed to be."
Following the season, he was a Gold Glove finalist.
"The Gold Glove recognition was nice," Bader said. "As tough as it was at the plate, you don't want that to carry over into the field. Regardless if I'm a .330 hitter or what I was last year as a hitter, I always want to play as a Gold Glove center fielder.
That mentality will always stick with me."
Bader certainly might be the opening day starter in center. However, he could just as easily find himself in a platoon role.
There might be a challenge to Bader in spring training. Center field will likely be one of the most competitive battles for the Cardinals this spring.
President of baseball operations John Mozeliak has said he views center field and left field as open tryouts this spring.
Possibly in line for the job in center is Dylan Carlson, a 2016 first-round draft pick. Carlson is considered one of the team's top breakout prospects this season. Last year, he hit .292 with 26 homers and 20 steals as a 21-year-old between Double-A Springfield and Triple-A Memphis.
Carlson has above-average speed and shows the instincts that could make him a standout defender in center.
The Cardinals are thought to be interested in dealing for Rockies star third baseman Nolan Arenado. Bader has been one of the names mentioned in trade speculation.
"I live in the present. I know my name has been tossed around," he said. "No trade has been made so I'm going to go with, they still have confidence in me to go on the field and do what I'm supposed to do and capable of doing."
When the Cardinals recently made a deal with Tampa Bay for pitching prospect Matthew Liberatore, some initial rumblings had Bader included in the trade. He was on a plane and when he got off, Bader said he had about 60 messages on his phone telling him he had been traded.
One of those messages, however, was from his agent, telling him he was not part of the deal.
"I'm thankful for every day I get to wear this uniform. I want to be a Cardinal. I have been a Cardinal since Day One. I want myself to be a consistent bat. I want to be a very hard out night in and night out. I don't want any pitching staff or pitcher to think I'm an easy out," Bader said.
That's what he wants to show the Cardinals in spring training.
"There's no other focus in my life than to do what I need to do to produce on the field and to help us win a World Series," Bader said.
Hall of Fame says deceased players on MLB's ineligible list won't be on ballots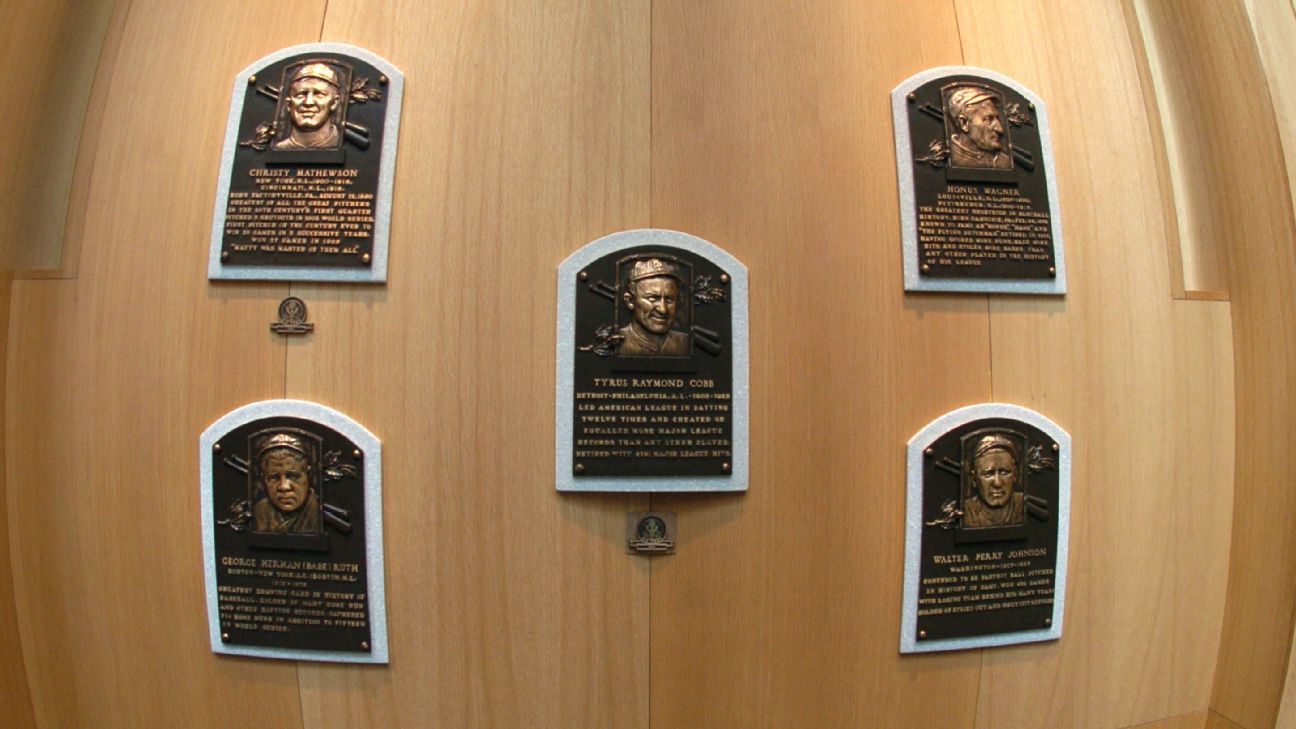 Any player on Major League Baseball's ineligible list will not be considered for induction into the Baseball Hall of Fame, even after the banned individual's death, a hall spokesman told ESPN on Saturday.
"This designation remains in place after an individual's passing," said Jon Shestakofsky, a Baseball Hall of Fame and Museum spokesman.
The Hall of Fame's statement comes one day after ESPN reported that a senior MLB source said that the league has no hold on banned players after they die because the ineligible list bars players from privileges that include a job with a major league club. This would have meant MLB no longer views banned players who die as being on its permanently ineligible list.
The previously unreported change gave fresh hope to supporters of "Shoeless" Joe Jackson that he would be considered later this year for Cooperstown by the Hall of Fame's Early Era committee. Jackson is a .356 career hitter who was prohibited from playing professional baseball in 1921 by commissioner Kenesaw Mountain Landis for having a role in the fixing of the 1919 World Series won by the Cincinnati Reds.
But the Hall of Fame apparently shut the door on that possibility on Saturday, saying, in effect, that permanently banned players would remain banned forever. Shestakofsky declined to answer a follow-up question about whether MLB's shift in thinking about the ineligible list would impact, or could change, the hall's view.
In February 1991, the Hall of Fame's board of directors passed a rule declaring any player ruled ineligible by Major League Baseball would not appear on a Hall of Fame ballot. This quickly became known as "the Pete Rose rule," because it closely followed the indefinite banning of Rose, MLB's all-time hits leader, by MLB commissioner Bart Giamatti in 1989.
Unless the rule is changed by the Hall of Fame's board of directors, it apparently also ends any chance Rose would have to get inducted into the Hall of Fame, even after his death.
Rose has never appeared on a Hall of Fame ballot, and his application for reinstatement was rejected by commissioner Rob Manfred in December 2015. The change in baseball's thinking about deceased players on its ineligible list will be a part of the latest episode of the ESPN docuseries "Backstory," which debuts Sunday on ESPN (3 p.m. ET). In the episode, Rose is asked if he believes he'll be inducted into the Hall of Fame after his death, and if it matters to him. "How'm I going to know?" Rose said, laughing. "Can you help me with that?"
Two MLB sources said that there is deep opposition among baseball insiders to Rose getting into the Hall of Fame, even after his death. And that factors into the thinking of the Hall of Fame to not consider "Shoeless" Joe Jackson, nearly 70 years after he died at the age of 64 in Greenville, South Carolina, the sources say. Since the late 1980s, South Carolina legislators, baseball legends Ted Williams and Bob Feller and thousands of people have lobbied and signed petitions for Jackson to be removed from MLB's ineligible list and be considered for induction into the Hall of Fame.
As recently as 2015, Manfred declined a request to remove Jackson from MLB's ineligible list.
Earlier this week, after repeated questions on this issue, a senior MLB source told ESPN, "From our perspective, the purpose of the ineligible list is a practical matter. It's used to prevent someone from working in the game. When a person on the ineligible list passes away, he's unable to work in the game. And so for all practical purposes, we don't consider a review of the status of anyone who has passed away."
A subcommittee of the Early Era's committee will decide the 10 individuals who played or were involved in the game prior to 1950 that will appear on this year's ballot, to be voted on by the full Early Baseball committee in December 2020. In August, Major League Baseball will play a regular season game between the New York Yankees and Chicago White Sox at the Field of Dreams movie site in Dyersville, Iowa, where the 1989 movie that helped turn Joe Jackson into a sympathetic figure was filmed. Some baseball commentators and fans have speculated whether MLB and the Hall of Fame is planning to announce that Jackson would be considered for induction into the Hall of Fame.
Manfred, who is also a member of the Hall of Fame's Board of Directors, declined to comment through a league spokesman.
As for the perennial debate over Jackson and Rose's eligibility, an MLB source told ESPN, "We're agnostic about a players' eligibility for the Hall of Fame, whether they're dead or alive." On Saturday, another MLB source said, "There is now significant daylight on this issue between baseball and the Hall of Fame. It'll be interesting to see how it all plays out."
The shift in thinking by MLB has been pushed for years by some baseball historians, including John Thorn, the official historian of MLB who first argued that the ineligible list ends with an individual's death in an essay in February 2016. He made the case again in an op-ed in The New York Times last October upon the 100th anniversary of the fixed World Series between the White Sox and the Cincinnati Reds.
"Major League Baseball removes players from the ineligible list when they die, and because the Baseball Hall of Fame aligns its balloting procedures with Major League policy, theoretically there is no barrier to Jackson's induction," wrote Thorn, who declined to comment for this story.
Baseball insiders told ESPN that in years past, Manfred had not agreed with Thorn's view. But an MLB source told ESPN this week that Major League Baseball does now agree with Thorn's view that the ineligible list ends upon a player's death. In fact, a source said, MLB has seen it this way for some time but had chosen not to make it public until this week.
Backstory with Don Van Natta Jr. premieres at 3 p.m. ET on Sunday (re-air at 9 p.m. ET) on ESPN. The show is also available to watch anytime on the ESPN app.