Rams coach Sean McVay 'not being an idiot,' using running back Todd Gurley more
THOUSAND OAKS, Calif. — Todd Gurley's role in the Los Angeles Rams offense has recently increased.
The reason, according to Rams coach Sean McVay, is quite simple.
"Me not being an idiot," McVay said Wednesday.
The Rams have sputtered through a 7-5 season as McVay has been hesitant to commit to the run and eager to rely on the passing game. Gurley, once the focal point of McVay's offense, has been relegated to a role player, sharing a portion of his workload with backups Malcolm Brown and Darrell Henderson.
Until recently, that is.
Last Sunday, in a 34-7 win over the Arizona Cardinals, Gurley rushed for 95 yards and a touchdown on 19 carries. Two weeks earlier, Gurley tied a season high as he rushed for 97 yards on a season-best 25 carries in a 17-7 win over the Chicago Bears.
Gurley had at least 100 scrimmage yards in two of his last three games. The only other game he accumulated more than 100 scrimmage yards this season was in a Week 1 win over the Carolina Panthers.
"He's done a nice job handling a bigger workload," McVay said.
That should come as no surprise given Gurley is a two-time All Pro and three-time Pro Bowl selection, who the Rams awarded a record-breaking four-year, $60 million extension, with $45 million in guarantees, before last season.
Quarterback Jared Goff chuckled when told that McVay called himself an idiot in regards to Gurley's usage.
"He's being hard on himself," Goff said about McVay. "We all want to get Todd involved as much as possible. I think these last couple of weeks we've seen that and good things tend to happen."
McVay pointed to the Rams' Week 10 loss to the Steelers as a wake-up call when it comes to Gurley, who was averaging 6.1 yards per carry, but was kept on the sideline early in the fourth quarter, despite the Rams trailing 14-10. By the time Gurley was inserted late in the game, it was too late to utilize the run and the Rams lost, 17-12.
"The Steelers game stands out in terms of where we were running the football well and you didn't really give him a chance to get back going based on how that thing played out," McVay said. "You always try to learn from your previous experiences."
McVay denied Wednesday, as he has throughout the season, that Gurley has been on any sort of load management program.
"It has nothing to do with that," McVay said. "It was really just, you're just kind of working through the 2019 season — the best way to utilize all of our players and figuring out what our identity is."
In 11 games, Gurley has averaged 58 yards on 14 carries, down from the 89 yards on 18 carries that he averaged in 2018, when he rushed for 1,251 yards and 17 touchdowns.
Gurley has rushed for 642 yards and 8 touchdowns and has caught 22 passes for 134 yards and a touchdown. He has yet to rush for more than 100 yards in a single game, something he accomplished six times in 2018.
16-0? Analytics and oddsmakers say Ravens on path to perfection – Baltimore Ravens Blog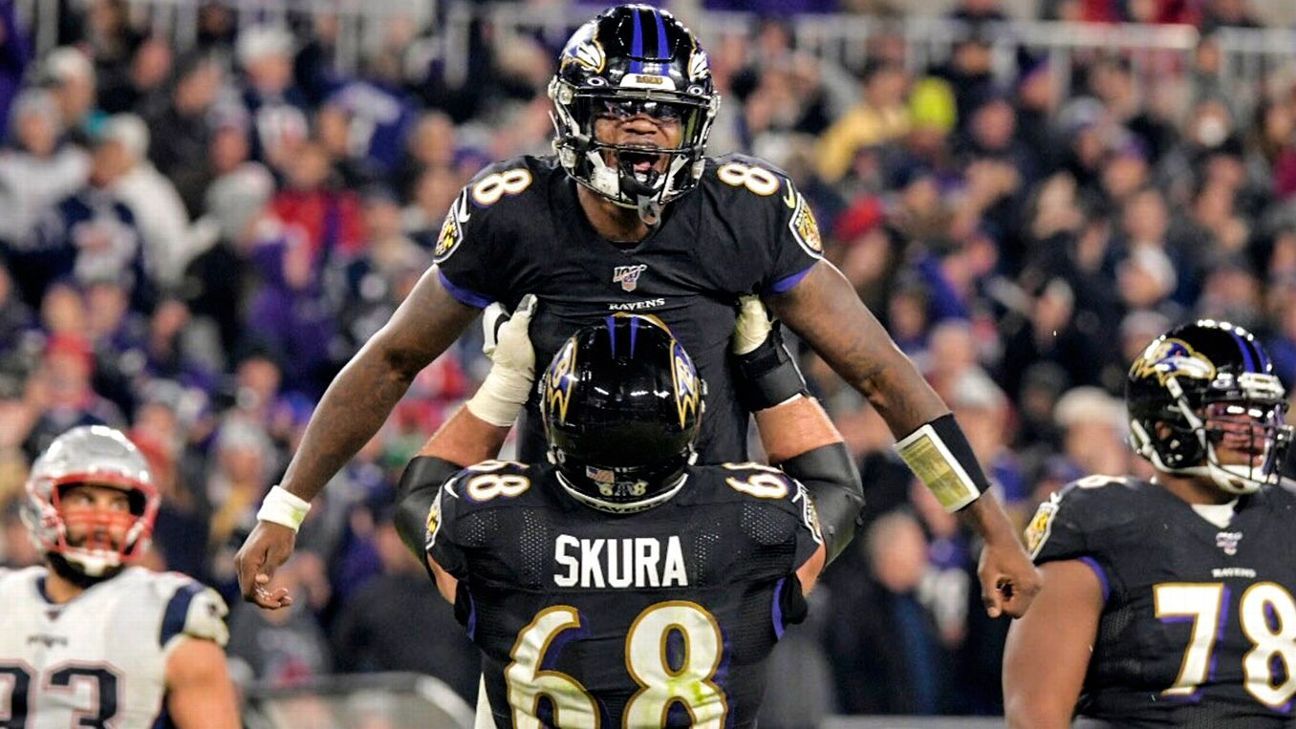 At this time last year, the Baltimore Ravens were considered a middle-of-the pack team in the NFL, the third best in their division, and in coach John Harbaugh's estimation, an iceberg.
"Ninety percent of what we were going to be capable of was still underwater and people hadn't seen it yet," he said.
As the start of this year's training camp nears, titanic expectations await reigning NFL MVP Lamar Jackson and the Ravens.
• Big questions » | Power Rankings »
• Free agency: Tracker » | Grades »
• Draft: All 255 picks » | Grades »
• Fantasy: Cheat sheets » | Projections »
• 2020 schedule » | More NFL coverage »
Analytics and oddsmakers have the Ravens favored to win all 16 games this season. Baltimore looks just as strong or even better than last season, when it won its last 12 regular-season games to finish 14-2. The Ravens return all but one starter from the NFL's highest-scoring offense and improved the front seven, the weakest part of the defense.
If that doesn't set up the Ravens for success, they play teams whose combined 2019 winning percentage was .438 (worst in the NFL) and travel a total of 6,310 miles, the lowest of any team over the past four years. The Ravens play outside the Eastern time zone only once (a Week 2 game at Houston) and go a stretch of 47 days in which they won't have to board a plane (three home games, short road trips to Washington and Philadelphia in addition to a bye).
As a result, Baltimore is projected to win 12 of its games by over a field goal, including eight by more than a touchdown, according to ESPN's Football Power Index. The easiest game on the Ravens' schedule is home against the Jacksonville Jaguars, whom Baltimore is predicted to beat by 15.9 points.
What does Harbaugh think about all this 16-0 talk?
"It really is just noise — it's static, it's background," Harbaugh said. "You can't let other people define you. You define yourself."
The 2007 New England Patriots are the only team to record a perfect regular season since the NFL expanded to its 16-game schedule in 1978. Only three other teams — the 1934 and 1942 Chicago Bears and the 1972 Miami Dolphins — have completed undefeated and untied regular seasons in the 101-year history of the league. Only six teams have finished 15-1 and just two of them (1984 49ers and 1985 Bears) won a Super Bowl.
"At the end of the day, the only expectations that matter are the ones that we have for ourselves," Ravens wide receiver Miles Boykin said. "If we go out there and say our expectation is to win a Super Bowl, we'll have to start with Week 1. I think [Harbaugh] is great on talking about that and talking about how it starts at Week 1. It doesn't start at Week 16; it doesn't start at the Super Bowl. You have to build yourself a Super Bowl team."
Jackson doesn't lose many regular-season games that he's expected to win, which is why Baltimore being favored in every game this season is so significant. The Ravens are 15-1 as the betting favorites with Jackson as their starting quarterback. Baltimore's .938 win percentage as the favorite with Jackson is the best in the league, according to ESPN Stats & Information research.
According to Caesars Sportsbook, the Ravens' toughest games are home on Sept. 28 against the defending Super Bowl champion Kansas City Chiefs and at the Philadelphia Eagles on Oct. 18. Baltimore is listed as a 2.5-point favorite in both games.
"We have the Ravens and Chiefs pretty much dead even on a neutral field," said Jeff Davis, the director of trading at Caesars Sportsbook.
Stephen A. Smith makes a case that Lamar Jackson hasn't done enough yet to be considered one of the top two quarterbacks in the NFL.
Few saw Baltimore and Kansas City on equal footing last summer, when the Ravens were ranked No. 16 in ESPN's preseason Football Power Index and had the third-best odds to win the AFC North, behind the Pittsburgh Steelers and Cleveland Browns.
Now, Jackson is on the cover of the Madden video game. The Ravens return a dozen Pro Bowl players. Baltimore is the consensus No. 2 team in the NFL, behind the Chiefs, in the Power Rankings.
There's no ambushing teams this season.
"I think there's always a challenge when you have a target on your back, and that just comes with the territory," Ravens All-Pro offensive tackle Ronnie Stanley said. "Everyone's going to bring their best game when they play you, so you just have to be ready for that. And, if you're not ready for that, then you really don't deserve to be the best. So, that just comes with the territory."
ESPN's David Bearman contributed to this article.
Lawyers for Seahawks' Quinton Dunbar, Giants' DeAndre Baker deny report of cover-up
Lawyers for Seattle Seahawks cornerback Quinton Dunbar and New York Giants cornerback DeAndre Baker are denying a report of a cover-up in the alleged robbery involving the two NFL players in May.
The New York Daily News, which obtained a search warrant that cited previous evidence gathered in the case, reported that a witness in the robbery, Dominic Johnson, oversaw a payout of $55,000 to the four alleged victims at the office of Dunbar's attorney, Michael Grieco, in the days after the robbery occurred.
Grieco called the report false.
"Law enforcement, both local and federal, was advised from day one and beyond that the alleged 'victims' in this case were actively extorting Baker and Dunbar," he told the Seattle Times. "These men fabricated a robbery story after waiting an hour to call police and then immediately began contacting the players demanding money.
"My office obtained accurate and truthful affidavits consistent with the independent witness and my client's account. These 'victims' are seasoned career criminals who have been arrested and/or convicted of crimes ranging from conspiracy to commit murder, to human trafficking, to filing a false police report. Mr. Dunbar took and passed a polygraph confirming that he did not participate or witness any robbery."
The alleged robbery took place May 13 in Miramar, Florida. Baker, a 2019 first-round pick, pleaded not guilty to eight charges; Dunbar also pleaded not guilty to four charges. Both players are out on bail ($200,000 for Baker, $100,000 for Dunbar).
The state attorney's office has yet to decide whether to go forward toward trial in each player's case.
Source — Steelers' Bud Dupree files grievance over linebacker classification
Pittsburgh Steelers outside linebacker Bud Dupree signed his franchise tender a little less than three months ago, but earlier this week he filed a grievance with the NFLPA to be classified as a defensive end rather than a linebacker, a source told ESPN.
Designated as an outside linebacker, Dupree would make $15.828 million playing on the franchise tag. As a defensive end, Dupree's one-year salary would increase by $2 million to $17.788 million. The two sides also have until July 15 to work out a long-term deal, and though there have been talks, nothing is imminent, per the source.
Dupree is technically an outside linebacker in the Steelers' 3-4 base defense, although he frequently lined up on the line of scrimmage as an edge rusher — which would be considered a defensive end. Dupree can argue the tag designation based on his usage.
According to Next Gen Stats, Dupree's defensive positioning at the time of snap last season was determined to be "EDGE" — within 1-2 yards of the line of scrimmage — on 827 of his 929 defensive snaps played last season (89%). That's the most snaps as "EDGE" among all Steelers last season and second to only Arizona's Chandler Jones among all NFL players.
Dupree is the second linebacker to file a grievance to be reclassified, joining Tampa Bay Buccaneers linebacker Shaq Barrett.
With Dupree playing under the franchise tag as a linebacker, the Steelers currently have $5.67 million in cap space.
Dupree, 27, initially signed his tender on April 23, just a few hours before the NFL Draft. A 2015 first-round draft pick, Dupree became a regular starter in the final three years of his rookie deal and put together a career season after the team picked up his fifth-year option for the 2019 season.
Anchoring the outside linebacker spot opposite T.J. Watt, Dupree racked up a career-high 11.5 sacks along with 16 tackles for loss and 17 quarterback hits. He also forced four fumbles.
He has 200 tackles, 31.5 sacks, 6 forced fumbles and 1 interception in five seasons.