Pope Francis gifted custom Ravens jersey signed by Lamar Jackson
OWINGS MILLS, Md. — The Lamar Jackson bandwagon now includes the pope.
Representatives from the Archdiocese of Baltimore gave a Ravens No. 8 jersey to Pope Francis during a visit in Rome on Tuesday. The jersey, which features Jackson's number, has "Francis" on the back and was autographed by coach John Harbaugh and the NFL Most Valuable Player front-runner.
#Blessed. 🙏

@archbalt is in Rome to meet with @Pontifex and brought him a custom Ravens jersey signed by @Lj_era8 and Coach Harbaugh! pic.twitter.com/sqgrDqursX

— Baltimore Ravens (@Ravens) December 4, 2019
"It's great," Harbaugh said Wednesday. "Baltimore is the home of the Catholic Church, Roman Catholic Church. It first started here in the New World, here in Baltimore. So, it's an honor to have Pope Francis here, obviously, especially as a Catholic. I appreciate that. And it's kind of neat."
Harbaugh added, "We'll see if he's wearing his jersey any time soon."
Baltimore Archbishop William Lori, who presented Pope Francis with the jersey, said, "The pope, of course, he's a big soccer fan, but the pope gave us a thumbs-up. [It] got a big smile out of him … it was a really happy moment."
Jackson's popularity has exploded in his first full season as an NFL starting quarterback. He currently leads all players in Pro Bowl voting, receiving 83,000 more votes than second-place Russell Wilson. On the biggest shopping day of the year, Cyber Monday, Jackson outsold every other athlete in total merchandise on Fanatics, per a company official.
Jackson has led the Ravens (10-2) to the best start in franchise history, becoming the first quarterback in NFL history to produce 2,500 yards passing and 950 yards rushing.
Now, Pope Francis could have a decision to make on which team to root for if the top two seeds meet in the Super Bowl: the Ravens vs. the Saints.
Chiefs rule out Damien Williams for Patriots game
KANSAS CITY, Mo. — The Kansas City Chiefs will play Sunday's game against the New England Patriots without two of their top three running backs after ruling Damien Williams out because of a rib injury.
The Chiefs earlier in the week placed Darrel Williams on the injured reserve list because of a hamstring injury.
The injuries leave the Chiefs at running back with LeSean McCoy, rookie Darwin Thompson and Spencer Ware. McCoy leads the Chiefs in rushing with 410 yards. Thompson received his first extended playing time in last week's game against the Raiders. Ware played for the Chiefs from 2015 through last season and led the team in rushing in 2016 but signed only this week.
"They all practiced and took the rotation in there," coach Andy Reid said. "I'd tell you we're comfortable with any of them playing."
While McCoy is the only one of the three available backs to have played a significant role all season, the Chiefs have been hesitant to give him a heavy workload. McCoy hasn't had more than 12 carries in a game all season and has just 15 total in the past four games. He was even a healthy scratch in a Week 10 game against the Tennessee Titans.
Thompson carried 11 times for 44 yards and a touchdown, all on one drive in the fourth quarter, last week. Otherwise, he has just three carries all season.
Reid indicated the Chiefs might use Ware even though he didn't practice with them until Wednesday.
"The retention part wasn't really a big deal," Reid said. "He picked up right where he left off.
"One of the reasons that you bring him back is just the production from when he was here before. He knows the offense. He doesn't have to go through that whole thing. It looks like he is in pretty good shape. He hasn't played football, but he's in pretty good shape . . . He's not going to be your starter and go out and play every down. That's not what he's doing."
Colts to be without Adam Vinatieri, T.Y. Hilton vs. Bucs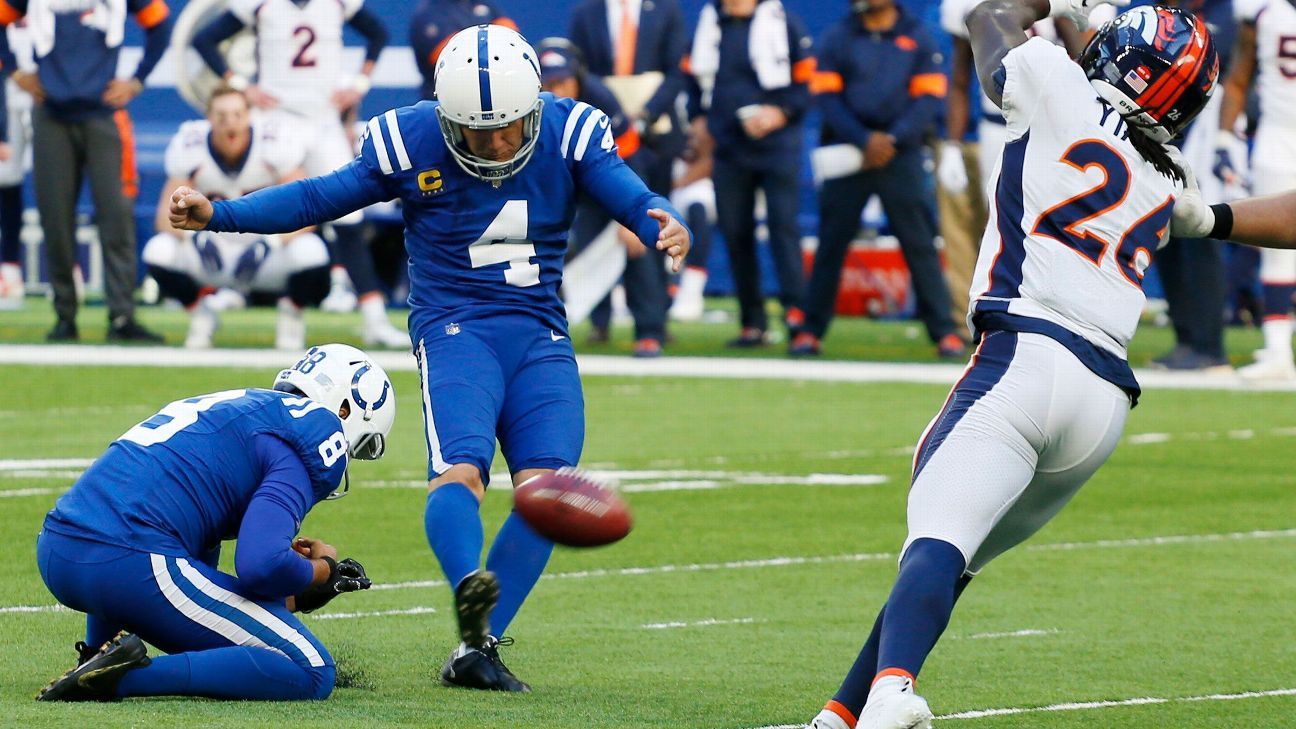 INDIANAPOLIS — Colts kicker Adam Vinatieri has been ruled out for Sunday's game at Tampa Bay because of a left knee injury, coach Frank Reich said Friday.
Vinatieri, who said he started feeling pain in his knee last week, did not practice Thursday or Friday after being a limited participant Wednesday. It will be the first game he has missed due to injury since 2009.
Reich said they have not talked about putting Vinatieri on the season-ending injured reserve list, instead classifying the kicker as being "week to week" with four games left in the regular season.
Vinatieri, 46, dealt with a similar knee problem during training camp.
He has made a career-low 68% of his field goal attempts this season and missed 14 kicks — eight field goals and six extra points. Two of Vinatieri's misses — against the Chargers and Steelers — cost the Colts games.
Chase McLaughlin, who the Colts claimed off waivers Wednesday, will handle the kicking duties. McLaughlin has played in seven games this season, four with the Chargers and three with the San Francisco 49ers. He was 13-for-17 on field goals and made all 15 of his extra point attempts.
The Colts, who are on a two-game losing streak, also ruled out receiver T.Y. Hilton (calf) and cornerback Kenny Moore (ankle) for Sunday's game.
The Colts will get some help on offense, as running back Marlon Mack (hand), who has rushed for a team-high 862 yards, and rookie receiver Parris Campbell (hand) are expected to return, barring any setback after missing two and four games, respectively.
Le'Veon Bell leaves Jets practice with illness, status for Sunday in doubt
FLORHAM PARK, N.J. – New York Jets running back Le'Veon Bell, mired in the worst statistical season of his career, is sick and may not play Sunday.
Bell was sent home Friday and missed his second straight day of practice, leaving his status in doubt.
"I think I'll have more information probably by (Saturday)," coach Adam Gase said. "We'll see how he feels."
Gase said "I don't know" when asked if Bell would play against the Miami Dolphins.
"The biggest thing was get him checked out and get him out of the building so nobody else gets sick," Gase said.
Tight end Ryan Griffin and cornerback Maurice Canady also have battled illnesses this week, but they're expected to play.
Not expected to play is safety Jamal Adams, who missed practice for the third straight day after spraining his left ankle in last week's loss to the Cincinnati Bengals. Cornerback Arthur Maulet (calf) and nickel back Brian Poole (concussion) probably will sit out, meaning they will be without three of their top five defensive backs.
If Bell can't play, the Jets will lean on Bilal Powell and Ty Montgomery, with Powell likely receiving the larger share of the workload. They've combined for only 51 carries, as the entire running back corps has revolved around Bell.
This has been a difficult season for Bell, who signed a free-agent contract worth $52.5 million over four years. He's not getting the ball as much as he did with the Pittsburgh Steelers and his production is down. Bell has rushed for only 589 yards on 183 carries, a career-low 3.2 average. He has 55 receptions, second on the team, but he's averaging only 83 total yards per game – about 46 below his career average.
He seemed frustrated after getting only 10 carries last week, but he hasn't complained about his role. Bell didn't speak with reporters this week, but he addressed the lack of work in his weekly podcast on Sirius/XM.
Noting that he's used to getting the ball more than 20 times per game, Bell said, "It's been funny this year because it hasn't happened. I understand, you know, offense is starting to come together, and guys are starting to learn, and we've got a new system, and new players up front, and we've got new coaches and things like that.
"But I think, you know, for me, I would love to put the game on my back and take games over. I haven't had one of those games this year yet. A lot of people don't think I'm the same player or that I can't do that. That's just because I haven't had the opportunity really to show. As time goes on we'll get better. We'll find a way to make things shake."