49ers suspend radio analyst Tim Ryan for Lamar Jackson comments
BRADENTON, Fla. — The San Francisco 49ers suspended radio color analyst Tim Ryan on Wednesday after he said on a Bay Area radio station that Ravens quarterback Lamar Jackson's dark skin helps him disguise a dark football when running fake handoffs in Baltimore's zone-read heavy offense.
Ryan will not broadcast Sunday's game against the New Orleans Saints while serving the suspension. The Niners released a statement on the matter Wednesday evening from Florida, where they are preparing to play the Saints at IMG Academy after losing 20-17 to the Ravens last week.
"We are disappointed in Tim Ryan's comments earlier this week, and have suspended him for the upcoming game," the statement said. "We hold Tim to a high standard as a representative of our organization and he must be more thoughtful with his words. Tim has expressed remorse in a public statement and has also done so with us privately. We know Tim as a man of high integrity and are confident he will grow and learn from this experience."
Ryan made the comments early in an interview on the "Murph and Mac" show on KNBR radio in San Francisco on Wednesday morning when discussing Jackson's success running the ball against the Niners. KNBR is the Niners' radio partner and broadcasts all of the team's games.
"He's really good at that fake, Lamar Jackson, but when you consider his dark skin color with a dark football with a dark uniform, you could not see that thing," Ryan said on air. "I mean you literally could not see when he was in and out of the mesh point."
Jackson led Baltimore to the win against the Niners after rushing for 101 yards and a touchdown on 16 carries and throwing for 105 yards and a touchdown on 14-of-23 passing. Much of that production in the running game came on the zone read plays that have become a staple of Baltimore's offense with Jackson and offensive coordinator Greg Roman at the controls.
Jackson gained a career-high 70 yards on zone read runs, the most a quarterback has rushed for on those plays since Robert Griffin III in 2013, according to ESPN Stats & Information.
Ryan also issued a statement Wednesday, apologizing for his comments.
"I regret my choice of words in trying to describe the conditions of the game," Ryan said in the statement. "Lamar Jackson is an MVP-caliber player and I respect him greatly. I want to sincerely apologize to him and anyone else I offended."
According to the team's release, representatives from the Niners reached out to the Ravens, explained what happened, apologized for Ryan's words and said "the matter is not being taken lightly."
Ryan, who played in 58 games over four years as a defensive lineman for the Chicago Bears in the early 1990s, has been the Niners' color analyst since 2014 after spending 12 seasons in that same role for FOX television.
The 49ers have yet to determine who will replace Ryan on Sunday's broadcast from New Orleans.
Panthers lock up LB Shaq Thompson through 2023 season
The Carolina Panthers are giving linebacker Shaq Thompson a four-year, $54.2 million extension that includes $28 million guaranteed, agent Doug Hendrickson told ESPN's Adam Schefter on Saturday.
Hendrickson said the deal has a max value of $57 million and contains a $16 million signing bonus.
Thompson, 25, has three sacks in 12 games this season. The first-round pick out of Washington has 9.5 career sacks, two fumble recoveries and an interception.
"Shaq is our type of person and our type of player," general manager Marty Hurney said in a statement announcing the extension. "He's proven that he can play linebacker at a very high level, and he's got all the traits you want. He's smart, he's physical, he can run and he's very versatile. He fits the blueprint for what we want at the position."
The move keeps Thompson from hitting the free-agent market after the season. He is now under contract through the 2023 season.
Fantasy fallout: Can you trust surging receivers like Alshon Jeffery in playoffs? – NFL Nation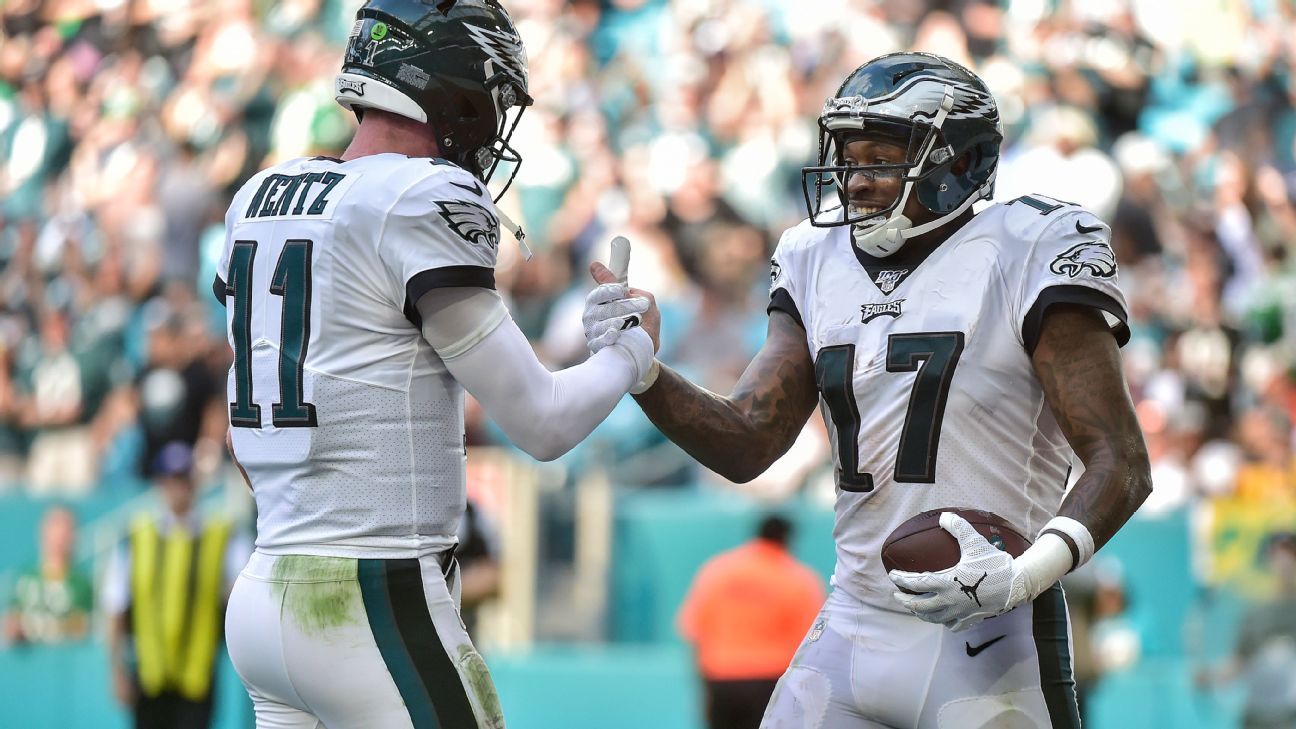 Alshon Jeffery turned back the clock last week with his best fantasy performance in four years … while being started in fewer than 25% of ESPN leagues.
More than 80% of ESPN fantasy owners also missed out on recent surges from James Washington, Anthony Miller, Cole Beasley and Dede Westbrook — all of whom ranked as top-18 receivers in fantasy scoring over the past two weeks.
But can they keep it up? Can you actually trust any of these guys enough to use them in your starting lineups now that we're into the fantasy playoffs?
As always, our NFL Nation reporters are here to help:
Jeffery: The 29-year-old went off with nine catches for 137 yards and a touchdown last week after missing the previous two games. It would be hard to expect a repeat of that caliber. But Philadelphia Eagles reporter Tim McManus recommended Jeffery as a fantasy starter "if you're looking for solid but unspectacular numbers." McManus said the key is just to make sure he's going to be active every week, because he has been limited by calf and ankle injuries this season.
"He reminds me of a veteran power forward who doesn't have the old burst but gets by thanks to his size and savvy," McManus said. "He might not light it up, but he'll still generate some offense for you, especially given the Eagles' favorable closing schedule."
Washington: The second-year pro has been a bit of a fantasy tease in the past. But Pittsburgh Steelers reporter Brooke Pryor said he is at least worthy of a roster spot because "no one has benefited more from the Steelers' quarterback change than Washington."
"The chemistry he was supposed to have with Mason Rudolph has instead been found with Devlin 'Duck' Hodges," said Pryor, who wrote about the bond Washington and Hodges have formed while hunting together. "Since Hodges took over the job just after halftime against the Bengals [in Week 12], Washington has two touchdowns and 203 receiving yards.
"[Coach Mike] Tomlin, though, said this last game wasn't a breakout performance, hinting that Washington's is still to come. With JuJu Smith-Schuster out and Diontae Johnson going through a rough patch in his rookie season, Washington is emerging as the Steelers' No. 1 guy."
Miller: The second-year pro had career-highs of nine catches and 140 yards in Week 13. Then he followed up with his first TD catch of the season on Thursday night for his fourth straight double-digit fantasy week.
Jeff Dickerson wrote about the Chicago Bears' cautious optimism in Miller's development last week. But Dickerson also warned that it's still "a tad difficult to completely trust Miller since coach Matt Nagy has gone on record — multiple times — saying that the second-year receiver often struggles to be in the right spot."
"Miller is an enticing fantasy play, and he has definitely been more involved lately with Taylor Gabriel sidelined because of a concussion. But there's risk involved," Dickerson said. "Remember, Chicago's victory over the Lions on Thanksgiving was only Miller's second 100-yard receiving game of his career."
Beasley: The eighth-year veteran probably qualifies as another solid-but-unspectacular choice. But he has 12 catches for 186 yards and two TDs over the past two games. He has five touchdowns over the past seven weeks. And he is on pace for career-highs of 847 yards and seven TDs in his first year with the Buffalo Bills after having his biggest game yet last week against his former team, the Dallas Cowboys.
"Beasley is a sneakily productive receiver as Buffalo's perceived No. 2 option," said Bills reporter Marcel Louis-Jacques, who pointed out that the "opportunity is there" for Beasley, who is averaging nearly seven targets per game. "With formidable pass rushes coming up in the Bills' next three games, Josh Allen will look to get the ball out quickly — which makes Beasley even more valuable. If you're looking for flex help in a PPR league, you can do worse."
Westbrook: The Jacksonville Jaguars' latest quarterback switch probably won't make a major difference for Westbrook, who caught a total of 10 passes for 112 yards from Nick Foles over the past two weeks before catching three passes for 17 yards and a TD from Gardner Minshew off the bench.
But Jaguars reporter Michael DiRocco still considers Westbrook a low-end flex option because he hasn't shown this level of consistency throughout the season. His only other TD came in Week 1.
"He did have an 82-yard game and a 103-yard game with Minshew, and the offense certainly has been more effective with Minshew on the field," DiRocco said. "But Minshew also likes to target DJ Chark and sometimes forced balls to him that he shouldn't. Maybe the past three games he sat the bench will give him a better perspective."
Now for the rest of our weekly tour around the league:
Buffalo Bills: Louis-Jacques also wrote about the Bills' No. 1 receiver, John Brown, who is breaking out in his sixth NFL season with his third different team because "they're letting me be a receiver here."
Matthew Berry has John Brown on his hate list and outside the top 25 as he gets set to face the Ravens defense in Week 14.
Kansas City Chiefs: Tight end Travis Kelce has been the one constant for the Chiefs this year, wrote Adam Teicher. Kelce is on the verge of becoming the first TE in NFL history with four straight 1,000-yard seasons.
Los Angeles Rams: As Lindsey Thiry wrote, Sean McVay gave a concise explanation for why RB Todd Gurley's workload has increased: "Me not being an idiot," McVay said.
Matthew Berry explains why he has some optimism about Sony Michel's fantasy prospects vs. the Chiefs.
Miami Dolphins: Receiver DeVante Parker should really have his own category in this column because he has become a weekly staple. Cameron Wolfe wrote about how Parker has been shedding the "bust" label.
New England Patriots: If Sony Michel is ever going to come through for fantasy owners, now might be the time. Mike Reiss wondered if the Patriots might return to the "ground-and-pound" approach they used when they ran for 176 and 173 yards in two wins over Kansas City last year.
Matthew Berry and Daniel Dopp detail Devante Parker's fantasy performance this season, coming in as the fourth best WR in fantasy in terms of total points since Week 7.
New Orleans Saints: Believe it or not, no receiver has ever won the NFL's MVP award. But Michael Thomas might be making the most compelling case of anyone since Jerry Rice.
New York Jets: Coach Adam Gase seems to have lost faith in running back Le'Veon Bell based on his usage last week, wrote Rich Cimini.
San Francisco 49ers: What could be more Shanahan than an unpredictable RB rotation? Raheem Mostert became the third Niners back to run for more than 100 yards this season when he busted loose for 146 last week, wrote Nick Wagoner.
Mike Clay likes Ryan Tannehill's matchup against the Raiders' defense, which has struggled to defend the pass.
Tennessee Titans: At his current rate, QB Ryan Tannehill will become just the third quarterback in NFL history to complete more than 70% of his passes while averaging at least 9.0 yards per attempt, wrote Turron Davenport. The others? Some dudes named Joe Montana and Sammy Baugh.
Washington Redskins: Now healthy after two significant knee injuries over the past two years, RB Derrius Guice showed the patience, vision, speed and violence that the Redskins have been waiting for — all in one run, wrote John Keim.
Eli Manning to start as Giants rule out Daniel Jones, Evan Engram
Quarterback Eli Manning will start for the New York Giants against the Philadelphia Eagles on Monday Night Football, the team announced Saturday.
Rookie quarterback Daniel Jones, who supplanted Manning as the Giants' starter after two games, was officially ruled out Saturday due to a high ankle sprain. Also ruled out for the Giants were tight ends Evan Engram (foot) and Rhett Ellison (concussion), along with cornerback Corey Ballentine (concussion).
Engram, who has missed three games over four weeks, was a limited participant in practice this week but was deemed "ready to go" by coach Pat Shurmur on Friday. He leads the team with 44 receptions and has 467 yards and three touchdown grabs in eight games.
His return would have given Manning a full complement of weapons on offense as the Giants (2-10) try to snap an eight-game skid. The Giants still haven't had Engram, receivers Golden Tate and Sterling Shepard, and running back Saquon Barkley on the field together this season.
Tate, who is second on the Giants with four receiving touchdowns, missed last week's loss to the Green Bay Packers. He is set to play his first game with Manning after missing the first four weeks of the season for violating the league's policy on performance-enhancing substances.
ESPN's Jordan Raanan contributed to this report.