Travis Shaw a free agent after Brewers opt not to tender contract
The Milwaukee Brewers did not tender a contract to infielder Travis Shaw on Monday, making him a free agent.
Shaw had put together two impressive seasons for the Brewers after they acquired him three years ago from the Red Sox in a multiplayer deal that sent reliever Tyler Thornburg to Boston.
Shaw, 29, batted .273 with 31 home runs and 101 RBIs in 2017, then followed that with a .241-32-86 line in 2018.
But Shaw, who has started at both second and third base in Milwaukee, slumped to .157 with just 7 home runs and 16 RBIs last season.
Milwaukee also did not tender contracts to pitchers Junior Guerra, Jimmy Nelson and Alex Claudio, and infielder Tyler Saladino. Nelson struggled after missing nearly two years following surgery on his right shoulder. Milwaukee projects to save around $15 million in salary in 2020 by cutting the five players.
The Brewers and left-hander Ben Gamel agreed to a $1.4 million, one-year deal to avoid arbitration. The contract includes a team option for 2021 at $2.55 million with no buyout. Shortstop Orlando Arcia also agreed to a $2.2 million, one-year deal to avoid arbitration.
Milwaukee has parted with a number of key players this offseason. After catcher Yasmani Grandal left as a free agent for a $73 million, four-year contract with the Chicago White Sox last month, infielder Mike Moustakas agreed to a $64 million, four-year deal with Cincinnati on Monday, league sources tell ESPN's Jeff Passan.
Information from The Associated Press was used in this report.
Giants' Buster Posey still unsure if he'll opt out of season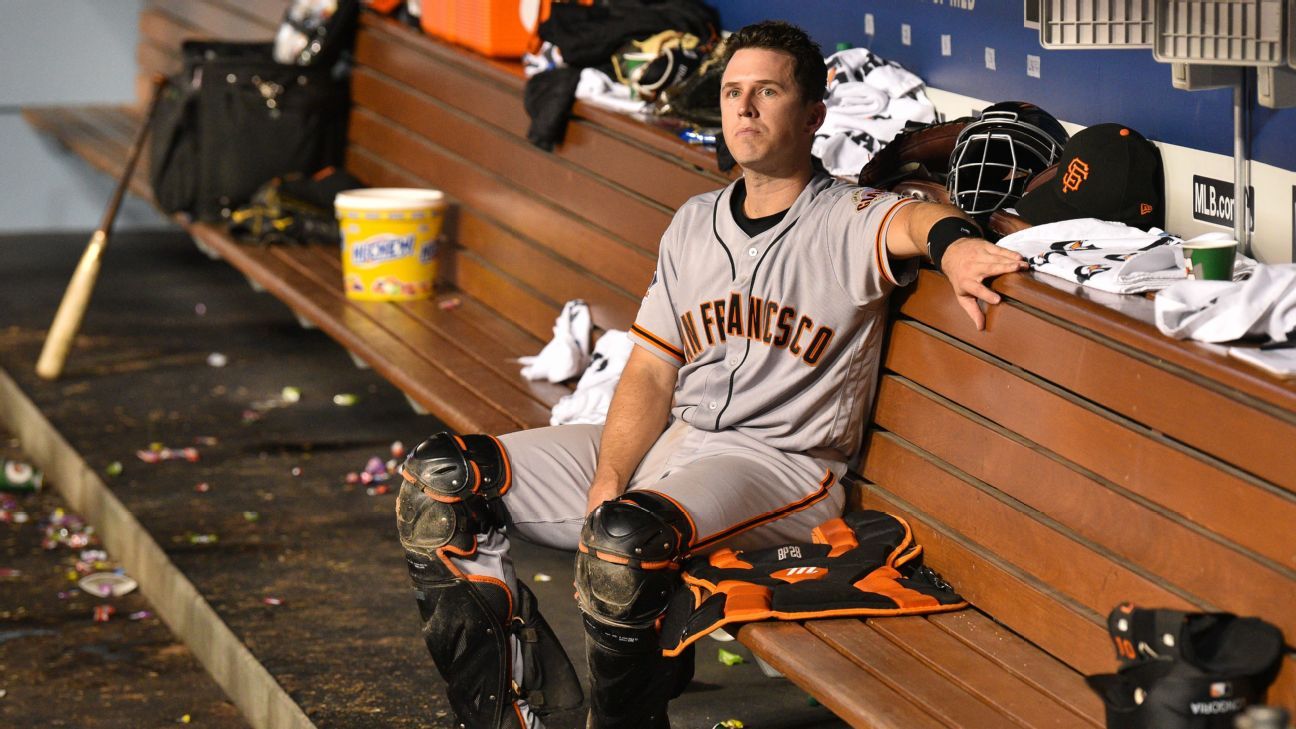 San Francisco Giants catcher Buster Posey says he's still not sure if he will play this season.
"There's still some reservation on my end. I think I want to see kind of how things progress here over the next couple of weeks," Posey said Saturday.
Posey said he wouldn't be surprised by any development right now, including the cancellation of MLB's planned 60-game season. The U.S. has seen a surge in new coronavirus cases with a series of daily records in recent days.
"It would be a little bit maybe naive or silly not to gauge what's going on around you. Not only around you here but paying attention to what's happening in the country, in different parts of the country," Posey said.
"Obviously unprecedented times right now so most definitely I've thought about it and talked about it with my wife quite a bit."
Ex-MLB pitcher Tyson Brummett, 3 others die in plane crash
AMERICAN FORK, Utah — A former Philadelphia Phillies pitcher and three others died in a plane crash in rural Utah.
Ex-pitcher Tyson Brummett, 35, of Salt Lake City, was flying the small plane, which left from the South Valley Regional Airport in West Jordan and crashed near Box Elder Peak in American Fork Canyon just before 8 a.m. Friday, according to the Utah County Sheriff's Office.
A witness said the plane went into a downward corkscrew motion as it crashed.
TV station WPVI reports all four people on board did not survive.
The passengers were identified as Elaine W. Blackhurst, 60, her husband Douglas Robinson Blackhurst, 62; and their nephew Alex Blackhurst Ruegner, 35. The three were from Riverton, Utah.
"The Phillies organization sends heartfelt condolences to the family of and friends of former pitcher Tyson Brummett, along with three members of the Ruegner and Blackhurst families, who tragically passed away in a plane crash yesterday morning," the team said in a statement released Saturday.
Brummett was drafted by the Phillies in 2007 out of UCLA. A right-hander, Brummett's lone appearance in the majors came in 2012, when he faced four batters, striking out two of them.
The National Transportation Safety Board said it is investigating the crash.
Information from The Associated Press was used in this report.
Dodgers pitcher David Price says he won't play this season
Los Angeles Dodgers pitcher David Price is opting out of the 2020 season.
In a statement Saturday directed at Dodger fans, Price said he decided it was in the best interest of his and his family's health to not play this season.
"I will miss my teammates and will be cheering for them throughout the season and on to a World Series victory," Price said in a Twitter post. "I'm sorry I won't be playing for you this year, but I look forward to representing you next year."
The 60-game season is scheduled to begin July 23.
The Boston Red Sox traded Price and Mookie Betts in a blockbuster deal with the Dodgers earlier this year. The 34-year-old won the 2012 AL Cy Young Award with Tampa Bay and helped the Red Sox win the 2018 World Series.
While Price has yet to take the mound for the Dodgers in a regular season game, he has already made an impact on the team. Back in May, Price pledged to give $1,000 to every minor league player not on the Dodgers' 40-man roster for the month of June, sources confirmed to ESPN.
Price is under contract through the 2022 season.