San Francisco Giants let Kevin Pillar enter free agency, retain Alex Dickerson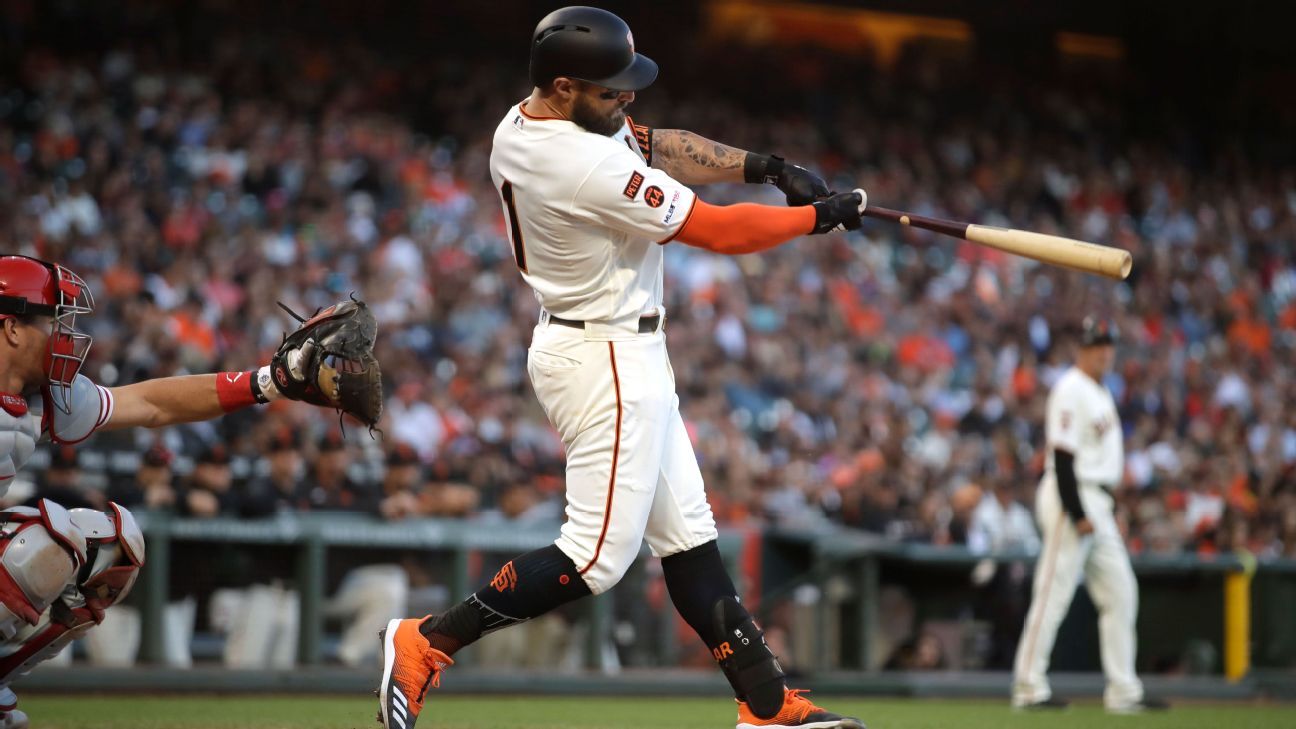 SAN FRANCISCO — The Giants allowed Kevin Pillar to become a free agent by failing to offer the outfielder a 2020 contract on Monday, though they agreed to deals with outfielder Alex Dickerson, left-hander Wandy Peralta and second baseman Donovan Solano.
Acquired from Toronto on April 2, Pillar hit .264 for San Francisco with 21 homers and 87 RBI. He made $5.8 million and likely would have received a salary of around $10 million had the Giants offered a contract, which would have made him eligible for arbitration.
San Francisco also declined to offer contracts to left-hander Tyler Anderson, right-hander Rico Garcia and outfielder Joey Rickard and
Dickerson, who agreed to a $925,000, one-year contract, played 68 games for the Giants and San Diego Padres last season, batting a career-best .276 having played parts of three major league seasons.
The Giants acquired Dickerson from their division rival last June. He made 33 starts in the outfield for San Francisco, 32 in left.
Solano ($1,375,000) appeared in 81 games for the Giants and batted .330 with four home runs, 13 doubles and 23 RBI in 215 at-bats. Peralta ($805,000) went 1-1 with a 5.67 ERA over 47 outings between the Reds and Giants. He didn't have a decision in eight appearances and 5 2/3 innings for San Francisco after being claimed off waivers in September.
No Giants remain eligible for arbitration.
Athletes join in on the Baby Yoda meme frenzy
You must unlearn what you have learned about elite Internet memes in the past because Baby Yoda is the better than all of them.
OK, maybe there's a slight recency bias accompanying that statement, but it's certainly in the GOAT discussion. Baby Yoda burst on the social media scene so quickly– and with such fervor — that "woman yelling at a cat" meme couldn't see it coming. Heck, even the "I'm gonna tell my kids" meme didn't stand a chance against the likes of Baby Yoda. The Face App #AgeChallenge? Can hardly remember it.
We're not going to say that the force is strong on the Internet right now, but just know we're thinking it. Luckily for us, the sports world is not immune to the magic of "The Child," as 50-year-old Yoda is referred to in the Disney+ series The Mandalorian. From Russell Wilson to Tennessee football, athletes and teams alike are jumping on meme train.
Here are some of our favorites:
---
This Is The Way… pic.twitter.com/JWnyzQHoMg

— Russell Wilson (@DangeRussWilson) December 3, 2019
We heard this is the way. #SeattleLove pic.twitter.com/lTDzbEvtPb

— Seattle Mariners (@Mariners) December 3, 2019
---
cue rocky top, baby yoda pic.twitter.com/enkVwXRkHi

— Tennessee Football (@Vol_Football) December 3, 2019
---
News alert !!!

Baby Yoda is a @YANKEES FAN.

"Games, we shall win. A Jedi's strength flows from the Pinstripes." 😂😂😂 pic.twitter.com/cvc9S8lUSW

— Alex Rodriguez (@AROD) December 3, 2019
---
Kelly Oubre, I am. pic.twitter.com/VxeuJu7Isj

— Phoenix Suns (@Suns) December 3, 2019
---
The baby wants #Renegade! pic.twitter.com/x1SY70j5u9

— Pittsburgh Steelers (@steelers) December 5, 2019
---
---
Six year old me in the bleachers at @Oracleparksf. #SFGiants pic.twitter.com/1Xb3mHistW

— SFGiants (@SFGiants) December 6, 2019
---
'Bout that time. pic.twitter.com/d9t5jC3AVc

— LA Clippers (@LAClippers) December 4, 2019
---
Stop touching things, @chicagobulls. pic.twitter.com/ZvJE8qnv7D

— Sacramento Kings (@SacramentoKings) December 3, 2019
Michael Pineda, Twins reach agreement on $20M, 2-year deal
Right-hander Michael Pineda is returning to the Minnesota Twins as the sides have reached an agreement on a two-year, $20 million contract, sources tell ESPN.
FOX 9 of Minneapolis was the first to report on the agreement.
Pineda will begin the 2020 season serving the remainder of a 60-game suspension that began in early September. He originally was given an 80-game ban after testing positive for the banned diuretic hydrochlorothiazide, which can mask other substances, but the penalty was reduced to 60 upon appeal.
The 6-foot-7, 280-pound right-hander still has about five weeks of the suspension left to serve, meaning he'll be available for only five months of the coming season. Pineda apologized to the Twins following the ban for his "error in judgment," saying he was given an over-the-counter medication by an acquaintance to help manage his weight.
The suspension was a big blow to the rotation for the AL Central champion Twins. One of the team's steadiest starters, Pineda likely would have been near the top of the team's playoff rotation; instead the Twins were swept by the New York Yankees in the AL Division Series.
Pineda's presence in the rotation had been one of the most underappreciated improvements made by the Twins in 2019. Before the suspension, in his 26th start of the season, Pineda reached double-digit strikeouts for the first time since April 10, 2017, when he was with the Yankees. Pineda missed the second half of that season and, after signing with the Twins, all of 2018 while recovering from Tommy John elbow surgery.
In 14 starts prior to the suspension, Pineda was 10-4 with a 2.96 ERA and 87 strikeouts in 82 innings. His success was attributed to better command and a much-improved changeup.
Pineda, who was 11-5 with a 4.01 ERA for the season, pitched 146 innings and missed bonus opportunities of $500,000 apiece for 150 innings and each additional 10 through 200. He also had to forfeit $989,247 of his $8 million salary last season due to the ban.
In 2014, Pineda was suspended 10 games while with the Yankees for putting pine tar on his neck to help get a better grip during a game against the Boston Red Sox.
Pineda was traded to the Yankees by the Seattle Mariners after a spectacular 2011 debut season that saw him finish fifth in AL Rookie of the Year voting and earn an All-Star selection.
Overall, Pineda is 51-46 with a 4.04 ERA and 827 strikeouts in six seasons with the Twins, Yankees and Mariners.
ESPN's Keith Law and The Associated Press contributed to this report.
Sources — Yankees make signing righty Gerrit Cole top offseason priority
The New York Yankees have made signing right-hander Gerrit Cole their clear offseason priority and have ownership-level approval to offer him a record-setting deal, sources familiar with their plans told ESPN.
The Yankees' fondness for the 29-year-old Cole, whose fantastic 2019 season with the Houston Astros set him up to smash David Price's record contract for a pitcher of $217 million, was only reinforced during a meeting with him earlier this week, sources said.
New York and the Los Angeles Angels, a team similarly smitten with Cole and in even greater need of pitching than the Yankees, are preparing for a bidding war that executives expect will reach well beyond $250 million, according to sources. The Los Angeles Dodgers' interest in Cole is acute as well, though they are also considering bids for right-hander Stephen Strasburg and third baseman Anthony Rendon, sources said.
While the expectation going into the offseason was that negotiations with Cole could stretch into January, the clear willingness of teams to engage in high-year, high-dollar deals could ratchet up the timetable, according to sources. Cole's agent, Scott Boras, has yet to solicit offers, but the teams' recognition of Cole's value and understanding of multiple motivated buyers could have an expeditious effect, sources said.
The Yankees' willingness to play in that financial range signals a shift from recent years, in which they have avoided big-money free-agent signings. Their last nine-figure commitment to a free agent was to pitcher Masahiro Tanaka, on whom they spent $175 million in January 2014 — he is entering the final year of his deal. In December 2017, New York traded for outfielder Giancarlo Stanton and assumed $265 million of the $295 million left on his contract.
The commitment from owner Hal Steinbrenner to strongly pursue Cole has emboldened the Yankees, who sent GM Brian Cashman, manager Aaron Boone, pitching coach Matt Blake and longtime Yankees star Andy Pettitte to their meeting in California. The attention paid by New York to embracing modern pitching analysis could appeal to Cole, whose thirst for knowledge and intelligence are among the qualities teams appreciate about him the most, according to sources.
New York finds itself well-positioned to absorb the $35 million-or-so a year Cole is expected to command. Among Tanaka, J.A. Happ and James Paxton, they could clear more than $50 million in salaries before the 2021 season. Though a number of their young stars will see escalating salaries through the arbitration process — outfielder Aaron Judge and catcher Gary Sanchez will be second-time eligible, and infielder Gleyber Torres will be in his first year beyond a near minimum salary — the Yankees recognize the value of an ace-caliber pitcher such as Cole.
Their familiarity with him dates back more than a decade. In 2008, New York chose Cole with the 28th overall pick in the draft and planned to offer him a record bonus to sign. Cole spurned the Yankees for UCLA and three years later went No. 1 overall to the Pittsburgh Pirates.
It wasn't until a January 2018 trade that Cole unlocked the stuff that has him in the conversation for the best pitcher in baseball. In his first season after being dealt to the Astros, he went 15-5 with a 2.88 ERA. This year, he was even better: 20-5 with a league-leading 2.50 ERA and a major-league-best 326 strikeouts in 212 1/3 innings. He finished second in American League Cy Young voting to teammate Justin Verlander.
Though the Yankees have prioritized signing Cole, they have not ruled out pursuing Strasburg, the reigning World Series MVP who is also being pursued by the Washington Nationals and Dodgers. Strasburg opted out of the four years and $100 million left on his contract with the Nationals and is expected to receive a deal of at least $180 million.