San Francisco Giants let Kevin Pillar enter free agency, retain Alex Dickerson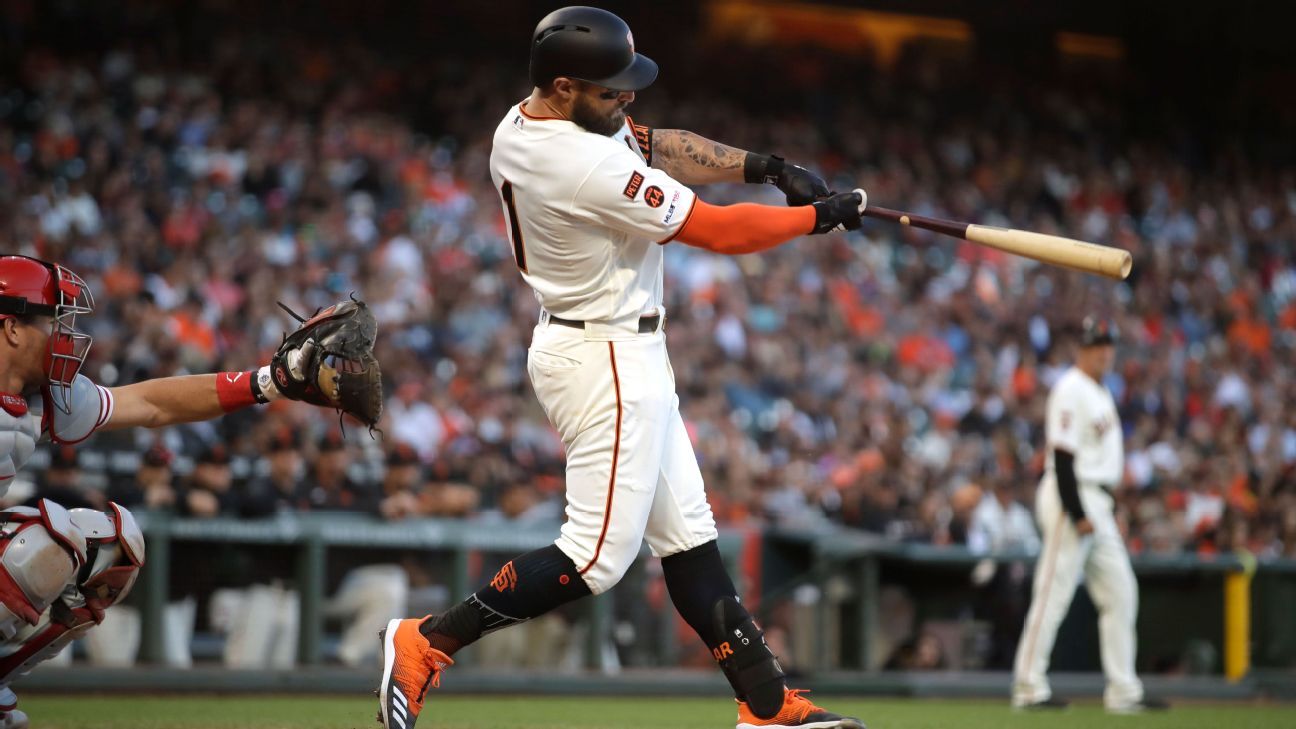 SAN FRANCISCO — The Giants allowed Kevin Pillar to become a free agent by failing to offer the outfielder a 2020 contract on Monday, though they agreed to deals with outfielder Alex Dickerson, left-hander Wandy Peralta and second baseman Donovan Solano.
Acquired from Toronto on April 2, Pillar hit .264 for San Francisco with 21 homers and 87 RBI. He made $5.8 million and likely would have received a salary of around $10 million had the Giants offered a contract, which would have made him eligible for arbitration.
San Francisco also declined to offer contracts to left-hander Tyler Anderson, right-hander Rico Garcia and outfielder Joey Rickard and
Dickerson, who agreed to a $925,000, one-year contract, played 68 games for the Giants and San Diego Padres last season, batting a career-best .276 having played parts of three major league seasons.
The Giants acquired Dickerson from their division rival last June. He made 33 starts in the outfield for San Francisco, 32 in left.
Solano ($1,375,000) appeared in 81 games for the Giants and batted .330 with four home runs, 13 doubles and 23 RBI in 215 at-bats. Peralta ($805,000) went 1-1 with a 5.67 ERA over 47 outings between the Reds and Giants. He didn't have a decision in eight appearances and 5 2/3 innings for San Francisco after being claimed off waivers in September.
No Giants remain eligible for arbitration.
Yankees' Masahiro Tanaka struck in head by line drive during training camp
New York Yankees pitcher Masahiro Tanaka was struck in the head by a line drive during the team's training camp Saturday at Yankee Stadium.
The ball hit by Yankees outfielder Giancarlo Stanton put the Japanese right-hander on the ground for several minutes.
He eventually was able to walk to the club house with some assistance.
There was no official update on Tanaka's condition.
In six seasons with the Yankees, Tanaka is 75-43 with a 3.75 ERA, 947 strikeouts and 200 walks.
Atlanta Braves give no indication of considering name change
ATLANTA — With teams in two sports taking a second look at names deemed offensive to Native Americans, the Atlanta Braves on Saturday gave no indication they are willing to consider a similar change.
The Cleveland Indians on Friday said they're reconsidering their nickname. And a source told ESPN that the NFL's Washington Redskins are likely to change their name.
The Braves released a statement saying the team "honors, supports, and values the Native American community. That will never change."
The Braves said they "have much work to do on and off the field."
The team said in recent months it has "created an even stronger bond with various Native American tribes, both regionally and nationally, on matters related to the Braves and Native American culture."
"We have also held meetings with our Native American Working Group which will collaborate with us on cultural issues, education and community outreach to amplify their voices and show our fans they are still proudly here," the statement said.
"The Atlanta Braves have a meaningful commitment to honor the Native American community and we are excited about working together to ensure this happens," it said.
The Braves have not said if they will encourage the tomahawk chop and chant by fans this season. The chant caused a stir in last year's NL Division Series loss to the St. Louis Cardinals.
Cardinals pitcher Ryan Helsley, a member of the Cherokee Nation, said he found the chant insulting. Following Helsley's criticism of the chant, the Braves did not distribute their traditional red foam tomahawks to fans before Game 5 of the series, won by the Cardinals.
The foam cutouts are used when Braves fans do the chop chant at games.
Before Game 5, the Braves said they did not distribute the foam cutouts "out of respect for the concerns" expressed by Helsley. The Braves said they would continue to examine the issue after the season.
There will be no fans in the stands when the Braves' 2020 season, delayed by the coronavirus pandemic, is scheduled to start on July 23 or 24. The Braves made no reference to the chop in their statement on Saturday.
Four Twins players, two Red Sox pitchers among positive coronavirus cases
Four Minnesota Twins players, including third baseman Miguel Sano, and two Boston Red Sox pitchers were announced as having tested positive for COVID-19 as a number of teams addressed coronavirus cases among their players.
Along with Sano, catcher Willians Astudillo, shortstop Nick Gordon and right-handed reliever Edwar Colina tested positive among the Twins, according to the team.
Red Sox left-handers Josh Taylor and Darwinzon Hernandez tested positive and were isolated from their teammates, according to manager Ron Roenicke.
Also on Saturday, four Atlanta Braves players — first baseman Freddie Freeman, reliever Will Smith, right-hander Touki Toussaint and infielder Pete Kozma — had the team disclose their positive tests, and Kansas City Royals catcher Salvador Perez announced his diagnosis on a call with reporters.
St. Louis Cardinals president of baseball operations John Mozeliak announced that left-handers Ricardo Sanchez and Genesis Cabrera had tested positive, with a few test results still pending.
Braves manager Brian Snitker said Freeman had a fever but added it's too early to know if the four-time All-Star's status for the start of the season could be jeopardized.
Perez told reporters he was asymptomatic and could play baseball today if needed, though regulations in the operations manual for the 2020 season would prevent that. Perez said he would miss at least 12 days before he could rejoin the team.
Major League Baseball and the players' association announced Friday that 31 players and seven staff members had tested positive for COVID-19, a rate of 1.2%.
MLB will not identify what players test positive for the coronavirus, citing privacy laws. Teams also will not specifically announce a COVID-19 injured list placement for a player who is removed from the club after testing positive; it will just be a trip to the IL.
But some positive diagnoses will make their way out. Players announced Friday as testing positive were Cleveland Indians outfielder Delino DeShields Jr. and San Diego Padres outfielder Tommy Pham.
Snitker said concerns will remain even after the four Braves players return to workouts.
"Guys have gotten it more than once," Snitker said. "We're going to have to be careful all year, and it's going to be the new normal for the next three months."
The Associated Press contributed to this report.