A's reach deal with reliever Jake Diekman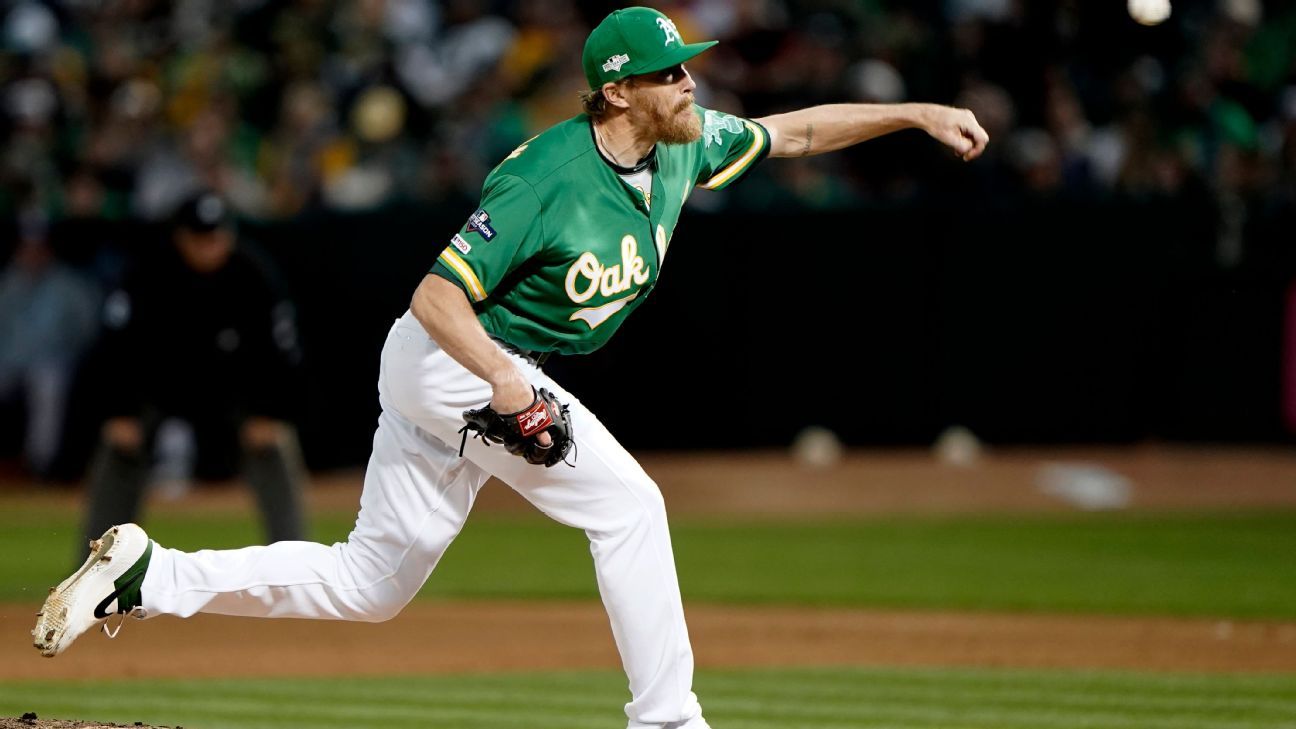 Left-handed reliever Jake Diekman and the Oakland Athletics are in agreement on a two-year deal with a club option.
A source familiar with the deal told ESPN's Jeff Passan that the contract is for $7.5 million.
The move comes a day after the A's decided not to tender a contract to another member of the team's bullpen, reliever Blake Treinen, making him a free agent. Treinen, a right-hander, posted a 0.78 ERA and saved 38 games as the A's closer in 2018 but his ERA rose to 4.91 in 2019 as he lost his closer's job to Liam Hendriks.
Diekman, 32, was acquired by the A's in a trade with the Kansas City Royals in July. He became a free agent after the season.
After joining Oakland, he went 1-1 with a 4.43 ERA in 28 appearances. The eight-year veteran has a 3.90 ERA in his career in 441 appearances for five major league teams.
Ex-MLB pitcher Tyson Brummett, 3 others die in plane crash
AMERICAN FORK, Utah — A former Philadelphia Phillies pitcher and three others died in a plane crash in rural Utah.
Ex-pitcher Tyson Brummett, 35, of Salt Lake City, was flying the small plane, which left from the South Valley Regional Airport in West Jordan and crashed near Box Elder Peak in American Fork Canyon just before 8 a.m. Friday, according to the Utah County Sheriff's Office.
A witness said the plane went into a downward corkscrew motion as it crashed.
TV station WPVI reports all four people on board did not survive.
The passengers were identified as Elaine W. Blackhurst, 60, her husband Douglas Robinson Blackhurst, 62; and their nephew Alex Blackhurst Ruegner, 35. The three were from Riverton, Utah.
"The Phillies organization sends heartfelt condolences to the family of and friends of former pitcher Tyson Brummett, along with three members of the Ruegner and Blackhurst families, who tragically passed away in a plane crash yesterday morning," the team said in a statement released Saturday.
Brummett was drafted by the Phillies in 2007 out of UCLA. A right-hander, Brummett's lone appearance in the majors came in 2012, when he faced four batters, striking out two of them.
The National Transportation Safety Board said it is investigating the crash.
Information from The Associated Press was used in this report.
Dodgers pitcher David Price says he won't play this season
Los Angeles Dodgers pitcher David Price is opting out of the 2020 season.
In a statement Saturday directed at Dodger fans, Price said he decided it was in the best interest of his and his family's health to not play this season.
"I will miss my teammates and will be cheering for them throughout the season and on to a World Series victory," Price said in a Twitter post. "I'm sorry I won't be playing for you this year, but I look forward to representing you next year."
The 60-game season is scheduled to begin July 23.
The Boston Red Sox traded Price and Mookie Betts in a blockbuster deal with the Dodgers earlier this year. The 34-year-old won the 2012 AL Cy Young Award with Tampa Bay and helped the Red Sox win the 2018 World Series.
While Price has yet to take the mound for the Dodgers in a regular season game, he has already made an impact on the team. Back in May, Price pledged to give $1,000 to every minor league player not on the Dodgers' 40-man roster for the month of June, sources confirmed to ESPN.
Price is under contract through the 2022 season.
Yankees' Masahiro Tanaka struck in head by line drive during training camp
New York Yankees pitcher Masahiro Tanaka was struck in the head by a line drive during the team's training camp Saturday at Yankee Stadium.
The ball hit by Yankees outfielder Giancarlo Stanton put the Japanese right-hander on the ground for several minutes.
He eventually was able to walk to the club house with some assistance.
There was no official update on Tanaka's condition.
In six seasons with the Yankees, Tanaka is 75-43 with a 3.75 ERA, 947 strikeouts and 200 walks.