The Cowboys aren't playing the Cowboy way on offense. Is that good or bad?
Dissecting the Dallas Cowboys is America's pastime, and at this point it feels a little silly. They are, after all, 6-4 and in first place in the NFC East. This time last year, they were 5-5 and went on to win the division. Since the start of the 2016 season, only four teams have won more games than the Cowboys. You could make a convincing case that we should get off their backs.
But something about this season's version feels weird, right? Ezekiel Elliott doesn't look dominant. Dak Prescott does, which is obviously helpful, but the defense is showing cracks, too. Hasn't been consistent, at least. The Cowboys' success in recent years has been built on the run game, the offensive line and a defense that pressures the quarterback. This season, it's all running through Prescott, who ranks first in the NFL in passing yards per game (322.1) and yards per attempt (8.8) and second in Total QBR (77.8).
So because I'm a reporter and my job is to ask questions, I asked some. Talked to a few Cowboys people earlier this week and more or less asked them, "Is Zeke all right?" Elliott, who led the NFL in rushing yards per game in each of his first three seasons, ranks eighth in that category in 2019. His yards-per-carry average of 4.3 is down from 4.7 in 2018. And he's on pace for 1,333 rushing yards, which would be his lowest total in a full NFL season.
The answers I got were all pretty much the same: Yes, they believe Elliott is fine but that opposing defenses are selling out to stop him and daring Prescott and the passing game to beat them. Which they are, and the team's thought is that eventually defenses will adjust and open things up for Elliott again.
Makes sense, but because I'm a reporter and not a stenographer, I didn't want to just take the team at its word. I was talking to my colleague Marcus Spears on Tuesday, and he thinks part of the Cowboys' problem is that the defense is on the field too much and is getting a little bit exposed. Marcus is a smart man, and the numbers back him up. Dallas' average time of possession per game this year is 29 minutes, 22 seconds, which ranks 20th in the NFL and is, as you can figure out with simple subtraction, less than half of an NFL game. The Cowboys' opponents have had the ball more than the Cowboys have.
This is not the Cowboy way. Over the three years prior to this one — Elliott's first three years in the league, during which the team went 32-16 — Dallas averaged a time of possession of 31:13 per game, which ranked sixth in the NFL. It hasn't finished under 30:00 for a full season since 2013.
But what's weird is that the 2019 Cowboys are averaging three more offensive plays per game than they did in 2016-18. So the offense is running more plays … but is on the field less.
I wanted to explore two key questions, one about the offense in general and one about Elliott specifically. ESPN Stats & Information and NFL Next Gen Stats were an immeasurable help:
---
Are the Cowboys playing too fast?
That they are playing faster than they used to play is not in dispute. The 2019 Cowboys average 26.6 seconds between plays, which is calculated from the start of the play clock until the snap. That's the fifth-fastest rate in the NFL. In 2016-18, they averaged 29.6 seconds between plays, which was the third-slowest. Former offensive coordinator Scott Linehan was often criticized for running a plodding offense, and the numbers show that he absolutely did. New offensive coordinator Kellen Moore has picked up the pace. But if you're running plays three seconds faster and running only three more plays per game, it's easy to see how the time of possession edge gets wiped out.
This is obviously working for the offense. Dallas leads the NFL in yards per game (444.6) and yards per play (6.7). But the time-of-possession issue shows up. The Cowboys have averaged 31:19 time of possession in their six wins and just 26:27 in their four losses. Since the start of the 2016 season, they are 29-7 in games in which they have the ball longer than their opponent does, and they're 10-15 in games in which they don't.
This is intuitive, and not unique to Dallas — the longer a team's defense is on the field, the more likely it is to lose, because it can't score if it doesn't have the ball. But the fact that the Cowboys have seen such a drop in a category that's been such a big part of their DNA gives some weight to the theory that the offense, in spite of Prescott's brilliance, isn't exactly what they want or need it to be. Which leads to the next question.
Is Elliott the victim of extra defensive attention, or is he actually not playing well?
If the Cowboys believe the reason Elliott's numbers are down is that he's running against stacked boxes … well, we have the ability here to tell them whether they are correct.
They are not.
According to NFL Next Gen Stats data, Elliott is running against loaded boxes (meaning the defense has more defenders in the box than the offense has blockers) just about as frequently as he did last season. A little bit less often, in fact. This season, 38.1% of Elliott's rushes are against loaded boxes, whereas that number was 38.5% in 2018. He's also running a bit better against them (4.4 yards per rush) than he did last season (4.2). The league average for backs in that category is 3.8 yards per rush.
He is not doing as well, however, when his offense has the numerical blocking advantage. Against non-loaded boxes this season, Elliott is averaging 4.2 yards per carry, which is 0.2 less than the league average, 0.2 less than he runs against loaded boxes and 0.8 less than his average in those situations in 2018.
Which is all weird, right? How is Elliott's yards-per-carry average better when the opponent commits more defenders to him than when it doesn't? It's an odd statistical anomaly, with a couple of possible explanations. One is that Elliott just isn't as explosive a runner as he was in his first three seasons, which could be because he's getting older, because he has some nagging physical issue we don't know about, because he skipped camp — any number of possible reasons, all speculative.
But there's evidence to dispute that, too. Elliott is averaging a career-high 5.4 yards per carry when the Cowboys have the lead, which is a huge part of his job. And he's converting a career-high 71% of his third-down rushes into first downs. So he has been Zeke-level excellent in certain crucial situations.
Ryan Clark explains that Dak Prescott is showing every week that he should be included in MVP conversations and that he deserves the contract he's asking for.
It's also possible his yards per carry is down because he's running in the red zone more than usual. Elliott already has logged a career-high 43 red zone carries this season. In general, yards-per-carry numbers go way down in the red zone, for everyone, because there's less room to run and a cap on how far you can go even on a breakaway run. An average NFL run play in the red zone this season has gained 2.7 yards, compared to 4.6 outside of the red zone. So if Elliott is getting an unprecedented number of red zone carries, it could be hurting his overall average. Outside of the red zone this season, he's averaging 4.7 yards per carry, down only slightly from his career average of 4.9.
One final possible explanation for Elliott's struggles shows up in the fourth quarter of games, where he's averaging a career-low 3.4 yards per carry. But there's some evidence that his vaunted offensive line is partly to blame for that. His 1.4 average yards per carry before first contact in the fourth quarter is his lowest of any quarter, and his 2.04 average yards per carry after first contact in the fourth quarter is his highest of any quarter. If he's not wearing down as the game goes along, maybe his offensive line, which has battled injuries for most of the season, is.
So what do we make of all of this?
The Cowboys are playing faster than usual, which has resulted in eye-popping numbers for Prescott and the offense as a whole but also has led to extra exposure for their defense as a result of reduced time of possession. And for the Cowboys, reduced time of possession increases the likelihood of losing. So while they might expect opponents to start focusing more on stopping their passing game, opponents probably shouldn't take the bait.
Prescott has reached the point where it's a pick-your-poison situation for opposing defenses. But it should be easy to decide which poison to pick. If you don't stop Elliott, you can't get the ball. If you don't stop Prescott, you might still give up points, but you'll get more chances to score points of your own.
---
A few other things I found interesting around the NFL this week:

Chark is honest about his second-year rise
I covered the Colts-Jaguars game last weekend and had a chance to speak with Jacksonville receiver DJ Chark, who's having a breakout season with 51 catches for 796 yards and is tied for the league lead with eight touchdown receptions. I asked him what he thought was behind his second-year breakout and he surprised me with his honesty when he said he was taking his job more seriously this season.
"Your rookie year, you can take some shortcuts, going home early instead of staying to watch film, that kind of thing," Chark told me. "So it's more attention to detail, I would say. Everyone tells you to be a professional when you get here. Everybody tells you to take notes in meetings. But just being honest, halfway through camp, those notebooks aren't open anymore."
Mike Clay expresses confidence in DJ Chark's fantasy value with Nick Foles back at quarterback for the Jaguars.
This season, Chark said, is all about the notebook. He has developed a habit of staying after practice and watching film of himself with a notebook open and pen in hand so he can write down what he sees.
"Bad routes. Was my pad level right? How am I coming out of my blocks? If it's a drop, why did I drop it? That kind of thing," Chark said. "Just creating a habit. I'm on my second notebook now."
---

How Garrett's suspension affects his contract
I don't expect Browns defensive end Myles Garrett's suspension to last too deep into next season. But if, hypothetically, the NFL suspended him for the first 11 games of 2020 (along with the final six games of this season, which it already has), it could have massive contract implications.
The first overall pick in the 2017 draft, Garrett is scheduled to make about $4.6 million in 2020, the fourth year of his rookie contract. The Browns would hold a fifth-year option for 2021, likely for something in the neighborhood of $15 million. But if Garrett doesn't play at least six games in 2020, it wouldn't count as an accrued season, and his contract would toll, meaning the fifth-year option would be pushed back to 2022.
It's also worth noting that Garrett's rookie contract structure itself is costing him money. Rookie contracts are "slotted," which means the overall value, the signing bonus and the year-by-year payouts on draft picks' deals are predetermined. But the structure is not, and it matters in a big way to Garrett.
Garrett did his deal with a basic contract structure. He got a $20.258 million signing bonus and salaries of $465,000 in 2017, $1.847 million in 2018, $3.230 million in 2019 and $4.621 million in 2020. He's suspended without pay for six games of this season, and because players are paid in 17 weekly installments, that means he's missing six-seventeenths of his 2019 salary as a result of his suspension. That comes out to $1.14 million in lost pay.
Which is why many high draft picks do a different structure when they sign their contracts. The 2018 first overall pick, Baker Mayfield, and the 2019 first overall pick, Kyler Murray, both had their deals structured with roster bonuses in each season as opposed to taking all the money as salary, like Garrett did.
Adam Schefter reacts to Myles Garrett's suspension being upheld and Maurkice Pouncey's suspension being reduced from three games to two.
The difference? Well, Mayfield's third-year payout (in 2020) will be $3,451,180, which is slightly higher than Garrett's third-year payout of $3.23 million because the league adjusts these numbers up slightly every year to account for inflation. But Mayfield's deal pays only $660,000 of that in salary and the rest ($2,791,180) as a roster bonus. He gets the same amount of money, just on a different schedule. Murray, same thing. In his third season, in 2021, he'll make $675,000 in salary and $3,016,240 in roster bonus.
The reason this matters is because fines are taken out of the salary, not out of bonuses. So if, hypothetically, Mayfield were to be suspended for six games of his third season without pay, it would cost him only six-seventeenths of $660,000, or a total of $232,941.18. If Murray were to be suspended for six games of his third season, it would cost him $238,235.29. A lot less than Garrett is losing. Remember this the next time you're wondering why the draft picks don't all just sign right away. There is still stuff to negotiate.
---

Don't count out the Vikings in the NFC North
The Vikings' 20-point, second-half comeback against the Broncos on Sunday was massive for a team trying to hang in very competitive NFC North division and NFC wild-card races. Offensive coordinator Kevin Stefanski made a crucial change after halftime, putting Kirk Cousins in the two-minute offense for basically the whole second half and scoring 27 points. Makes you wonder why the Vikings didn't do that in the first half, but at least they figured it out before it was too late.
The Vikings (8-3) are missing injured wide receiver Adam Thielen, thin at receiver overall, and they believe defenses are rolling coverage to Stefon Diggs and it's hurting their ability to do everything they want to do. But they're hopeful that Thielen can return after this week's bye, and with Cousins playing as well as he has since signing there, Minnesota believes it has a chance to run down the Packers and maybe even snag a first-round bye.
---

How the Dolphins' patience could win out
The Tua Tagovailoa injury, and the chance he drops in the 2020 NFL draft as a result, got me thinking.
For all the talk about how the Dolphins were supposedly tanking to get the No. 1 pick so they could draft Tagovailoa (which they weren't, as we've said many times), imagine if they ended up getting him with the first-round pick they got from the Steelers in the Minkah Fitzpatrick trade or the one they got from the Houston Texans in the Laremy Tunsil trade?
The ESPN Football Power Index projects Miami to have pick Nos. 3, 17 and 24 next April.
Washington Redskins' nickname has been under fire for decades – Washington Redskins Blog
The Washington Redskins' nickname has been mired in controversy for decades.
Former team owner Jack Kent Cooke said in 1988: "There is not a single, solitary jot, tittle, whit chance in the world," that the Redskins change their nickname. "I like the name and it's not a derogatory name."
A few years later, protesters picketed against the nickname at the Super Bowl following the 1991 season.
The issue faded in both instances, but every so often, it comes up again. The arc is similar each time: An initial wave of support for a name change, the Redskins holding firm, and finally, waning attention to the issue.
• Redskins to undergo 'thorough review' of nickname
• Stadium sponsor FedEx asks Redskins to change nickname
• Now is the time to rename Washington's NFL team
Then came George Floyd's death on May 25 at the hands of Minneapolis police. The protests that followed led to monuments being felled, the Mississippi state flag's retirement and countless other changes throughout the nation.
Now Washington's NFL team might become part of that change. It put out a statement Friday saying it was going to "undergo a thorough review of the team name." It's the first time under Dan Snyder, who has owned the team since 1999, the franchise has gone to this extent.
Here's a look at some of the challenges to the Redskins' nickname over Snyder's tenure:
Aug. 11, 2006: Suit challenges Redskins trademark
Amanda Blackhorse became the lead plaintiff in a lawsuit that challenged the trademark of Washington's nickname, saying it disparaged Native Americans. It was the second time Blackhorse was part of a suit that challenged a trademark that protected the Redskins' name. The first one, decided in 2005, was unsuccessful.
May 9, 2013: 'Put it in all caps'
Snyder's strongest comment on the name happened during the 2013 offseason as focus returned to the topic, perhaps spurred by more winning. Washington was coming off a 10-6 season under rookie quarterback Robert Griffin III.
During an interview with USA Today, Snyder said, "We'll never change the name. It's that simple. NEVER — you can use caps."
Sept. 15, 2013: Protests lasted the season
The Oneida Indian Nation kicked off a season-long protest campaign when Washington played at the Green Bay Packers. The group protested at every road game that season. Perhaps the biggest one occurred in Minnesota before a game vs. the Vikings when hundreds of protesters marched the streets to the stadium.
Several days before the Packers game, Brandon Stevens, an Oneida Nation official, told the Milwaukee-Wisconsin Journal-Sentinel: "The warrior image is not the image we want to be portrayed."
Oct. 5, 2013: President Obama weighs in
President Barack Obama stopped short of saying the name should be changed. But he was the latest politician to discuss the matter.
He told The Associated Press: "If I were the owner of the team and I knew that there was a name of my team — even if it had a storied history — that was offending a sizable group of people, I'd think about changing it."
Obama also said: "I don't know whether our attachment to a particular name should override the real legitimate concerns that people have about these things. I don't want to detract from the wonderful Redskins fans that are here. They love their team and rightly so."
Oct. 10, 2013: Snyder's letter to fans
Five days later, as pressure mounted on the Redskins, and more protests took place, Snyder wrote to the fan base.
In the letter, which represented his most extensive comments on the controversy, Snyder defended the name by saying: "Our franchise has a great history, tradition and legacy representing our proud alumni and literally tens of millions of loyal fans worldwide. We are proud of our team and the passion of our loyal fans. Our fans sing 'Hail to the Redskins' in celebration at every Redskins game. They speak proudly of 'Redskins Nation' in honor of a sports team they love."
Snyder also expanded on what the term "Redskins" means to him: "When I consider the Washington Redskins name, I think of what it stands for. I think of the Washington Redskins traditions and pride I want to share with my three children, just as my father shared with me — and just as you have shared with your family and friends."
May 22, 2014: 50 Senators sign a letter protesting the name
Fifty senators, all Democrats, signed a letter sent to the NFL saying Washington should change its nickname.
The letter stated: "The NFL can no longer ignore this and perpetuate the use of this name as anything but what it is: a racial slur. We urge the NFL to formally support a name change for the Washington football team. … We urge you and the National Football League to send the same clear message as the NBA did: that racism and bigotry have no place in professional sports."
The NFL also issued a release to the New York Times defending the name.
"The intent of the team's name has always been to present a strong, positive and respectful image," the statement read. "The name is not used by the team or the NFL in any other context, though we respect those that view it differently."
June 8, 2014: Court rules against Redskins
The U.S. Patent and Trademark Office canceled six trademarks held by the Redskins, calling the nickname "disparaging to Native Americans." It cited a federal law that prevented trademark protection in cases in which the language was offensive or disparaging.
The Redskins appealed the decision.
May 19, 2016: Washington Post poll says 90% of Native Americans not offended
In 2004, the Annenberg Public Policy Center released a poll that said nine out of 10 Native Americans were not bothered by the name. A Washington Post poll 12 years later found similar results.
The Post found that 90% of 504 respondents who identify as Native American were not offended by the name. Seven of 10 did not feel it was disrespectful and eight of 10 said they would not be offended if a non-Native American called them by that name.
June 19, 2017: Supreme Court rules in favor of Washington
The Redskins won a victory when the U.S. Supreme Court ruled that the law the U.S. Patent and Trademark Office used to prevent the team from registering trademarks using the word "Redskins" was unconstitutional.
The Supreme Court stated it was "far-fetched to suggest that the content of a registered mark is government speech, especially given the fact that if trademarks become government speech when they are registered, the Federal Government is babbling prodigiously and incoherently."
The court cited a case involving an Asian band named The Slants, ruling the name did not violate the First Amendment's free-speech clause because "Contrary to the Government's contention, trademarks are private, not government speech."
May 25, 2020: George Floyd dies
While George Floyd's death in police custody happened in Minnesota, it set off a chain of events that impacted Washington and beyond. Thousands of people flocked to the streets in cities across the country, protesting police brutality and racism. The country's focus shifted from the coronavirus pandemic to race relations.
Statues were toppled in many cities and towns over the next month — including that of Washington's first owner, George Preston Marshall, outside RFK Stadium. The Redskins also removed Marshall's name from their Ring of Fame. NASCAR banned the Confederate flag from racetracks.
The protests led to another opening for those who opposed the team name, and they mobilized.
July 1, 2020 : Letter to sponsors
On Wednesday, Adweek reported that 87 investors and shareholders, worth a combined $620 billion, sent a letter the previous week to three sponsors — FedEx, Nike and PepsiCo — urging them to support a name change. In the past, groups had protested outside stadiums and tried to change the name through the courts. But this represented a targeted push directed at sponsors.
On the same day Adweek's story appeared, the Washington Post quoted multiple officials in Washington, D.C., saying the team would not be able to move back to the city unless it changed their name. The Redskins want to build a new stadium after their lease on the land in Landover, Maryland, expires after the 2027 season. They have considered the site where RFK Stadium, their former home, still stands. But because it's on federal land, the opinions of politicians matter.
"I call on Dan Snyder once again to face that reality, since he does still desperately want to be in the nation's capital," Eleanor Holmes Norton (D-D.C.), a nonvoting delegate to the House of Representatives, told the Post. "He has got a problem he can't get around — and he particularly can't get around it today, after the George Floyd killing."
July 2, 2020: FedEx statement
One person who knows Snyder well called FedEx CEO Frederick Smith, who owns 10% of the team. The person said Snyder idolized Smith. That's why it mattered when FedEx released a statement Thursday that read, "We have communicated to the team in Washington our request that they change the team name." Another person who knows Snyder well said he had to have felt "betrayed" by such a statement.
In 1998 — the year before Snyder bought the Redskins — FedEx struck a $205 million, 27-year deal for naming rights to the stadium. In 2014, the Oneida Tribe of Indians of Wisconsin asked FedEx shareholders to reconsider the naming rights agreement. But shareholders voted to continue the relationship, which ends in 2025. FedEx has not stated if it would sever ties now, but no sponsor has a stronger direct tie to the organization. The statement, multiple people said, was a game-changer.
Nike also released a statement, saying: "We have been talking to the NFL and sharing our concerns regarding the name of the Washington team. We are pleased to see the team taking a first step towards change."
When searching for Redskins gear on Nike's website, this is what comes up: "We could not find anything for 'Redskins.'"
PepsiCo has not released a statement.
July 3, 2020: Redskins statement
The Redskins released a statement late Friday morning. The first two paragraphs packed power:
"In light of recent events around our country and feedback from our community, the Washington Redskins are announcing the team will undergo a thorough review of the team's name. This review formalizes the initial discussions the team has been having with the league in recent weeks.
"Dan Snyder, Owner of the Washington Redskins, stated, 'This process allows the team to take into account not only the proud tradition and history of the franchise but also input from our alumni, the organization, sponsors, the National Football League and the local community it is proud to represent on and off the field.'"
One person who knows Snyder well predicted this was the final step toward eventual change, with the owner trying to see what traditions can be preserved. It's the most serious the organization has been about the name change.
The team's statement closed: "We believe this review can and will be conducted with the best interest of all in mind."
CFL's Edmonton Eskimos keeping name after 'engagement program'
EDMONTON, Alberta — The Edmonton Eskimos are keeping their team name.
The Canadian Football League team said Friday it is keeping the Eskimos moniker following "an extensive year-long formal research and engagement program with Inuit leaders and community members across Canada."
"The consistent feedback was a desire for more engagement with the club," the team said in a statement. "There were a range of views regarding the club's name but no consensus emerged to support a name change. The club has therefore decided to retain its name."
The Eskimos said their research and engagement program "included meetings with Inuit leaders and community leaders in Iqaluit, Inuvik, Yellowknife and Ottawa; and a research phase with a combination of in-depth interviews with Inuit across the north and in Edmonton, and a telephone survey among a broad group of Inuit across Canada."
NFLPA board votes to recommend canceling all preseason games this year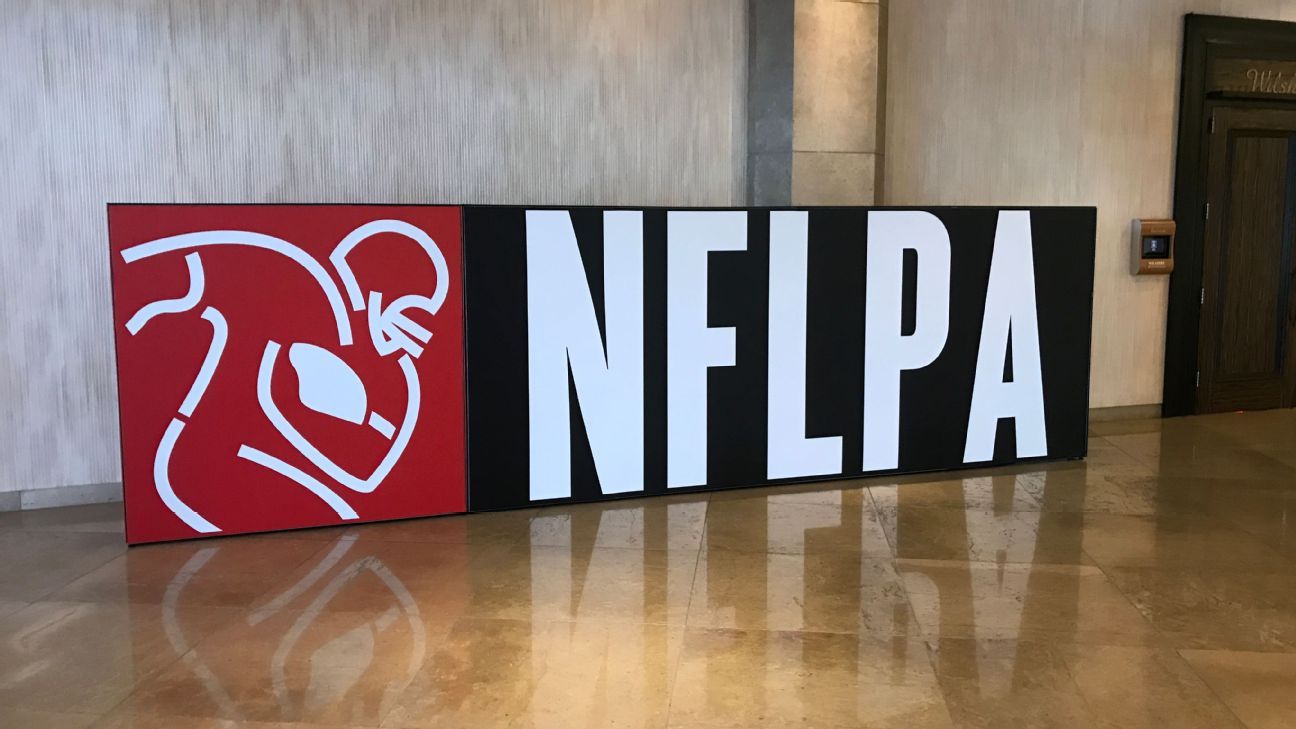 Earlier this week, the NFL decided to shorten its preseason from four weeks to two to account for the coronavirus pandemic and the ways in which it's affecting the league's ability to start the season. But the NFL's players don't think that move went far enough.
An NFL Players Association source said Friday that the union's board of player representatives had voted to recommend scrapping all 2020 preseason games. The matter came to a vote during Thursday evening's conference call with NFLPA player reps, and the source said the vote was unanimous.
It's unclear whether the NFL will consider the players' recommendation. The league has yet to formally announce the reduction of the preseason from four games to two, though a source told ESPN's Kevin Seifert on Wednesday that the decision had been made.
The league does not believe it needs the union's approval to set its preseason schedule, though the players would argue that the changes in work rules brought on by the pandemic allow them the right to be involved in the decision.
Training camps for most NFL teams are set to begin July 28, only weeks away, and the league and union are still finalizing health and safety protocols to protect players and team personnel from the virus. Many of those protocols were discussed on the Thursday night call with the player reps and union medical director Thom Mayer. They range from newly designed protective face masks to reduced sizes of training camp rosters to possible fines for players who spread the virus after circulating in public outside of the team facility.
Sources familiar with the content of Thursday's call said players had many unanswered questions about how they can safely return to practice and play. The NFL has so far maintained that it plans to start camp and the regular season on time.