Mike Tomlin says Steelers accept responsibility for role in Browns melee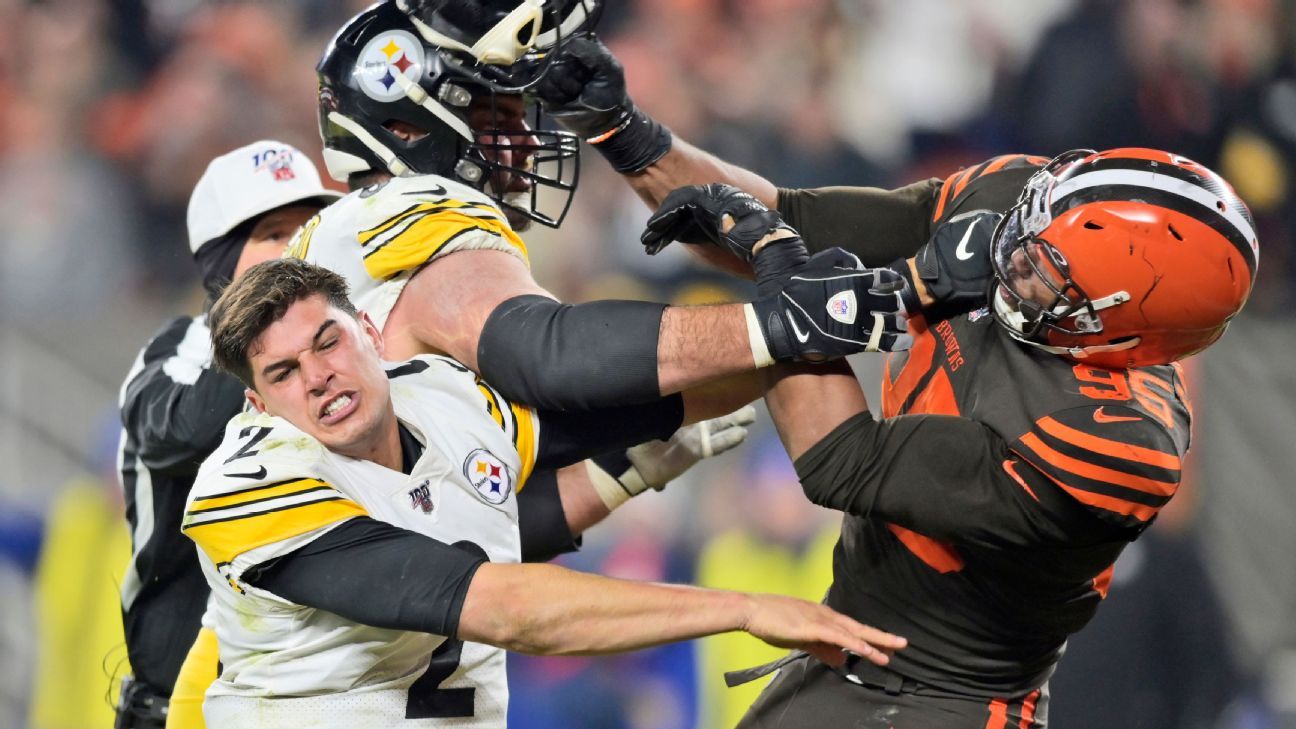 PITTSBURGH — Steelers coach Mike Tomlin opened his weekly news conference by accepting responsibility for his team's role in Thursday night's melee with the Cleveland Browns.
"It was ugly," said Tomlin, who had refused to take any questions about the incident directly after the game. "It was ugly for the game of football. I think all of us that are involved in the game, particularly at this level, want to safeguard and protect the game, its integrity. And in that instance, it was compromised, obviously, with an unfortunate incident.
"None of us want those incidents to transpire. It did. We were a part of it. We accept responsibility for our actions within it."
Because players, including center Maurkice Pouncey, are appealing suspensions, Tomlin declined to elaborate. Pouncey was given a three-game suspension, while Myles Garrett, who struck Mason Rudolph in the head with the quarterback's own helmet, was given an indefinite suspension. Browns defensive tackle Larry Ogunjobi was suspended for one game.
All three are expected to have their appeals heard this week, and the league is also expected to levy fines to other players involved in the fight, including Rudolph.
Tomlin rebuffed the idea that the game-ending fight could be used as a teachable moment for his team.
"Nothing to learn there," he said.
He was also asked whether coaches around the league could do anything to prevent future brawls.
"I don't know," Tomlin said. "You've got to ask those guys. … I don't know that we did anything to make it happen in the first place. That's why I said we didn't have anything to learn from it."
The two teams will meet for a rematch in less than two weeks when the Steelers host the Browns on Dec. 1.
Chiefs clinch division title in New England, though Pat Mahomes injures hand
FOXBOROUGH, Mass. — The Kansas City Chiefs wore the T-shirts and ball caps they had ready for the occasion after they clinched their fourth consecutive AFC West championship with Sunday's 23-16 victory over the New England Patriots.
But not all the news was favorable for the 9-4 Chiefs afterward. Quarterback Patrick Mahomes was scheduled to have X-rays after injuring his passing hand early in the game.
"It doesn't feel great right now," said Mahomes, who played the whole game and threw for 283 yards and a touchdown. "It's something you play with. In this sport you're going to get hurt. You're going to bang something. For me, it's about going out there and competing and relying on my teammates to help me out when maybe I'm not feeling 100 percent."
Mahomes landed awkwardly after throwing a pass and being hit. Mahomes still managed to throw a 48-yard touchdown pass to Mecole Hardman, but the Chiefs didn't score after taking a 23-7 lead with a field goal six minutes into the third quarter.
"I just kind of hit the ground weird when I was kind of throwing that ball away and got hit," he said. "I got tackled right as I threw it away. I knew something was wrong but I didn't know for sure and I tried to fire that next pass and it didn't look too pretty. So kind of let the trainers look at it. They gave me the 'Good to go.' So I went out there, battled, figured out ways to throw the ball across the middle, maybe not shoot those longs shots I usually throw."
Mahomes said he never asked to come out of the game, and coach Andy Reid said it was never a consideration to take him out.
"We think it's OK," Reid said. "We'll see how it goes. It was hard for him to grip the ball and do the things he needed to do. But he powered through it. … He kept messing with that hand. I could tell he wasn't gripping it all that well."
Winning the AFC West was cause for celebration for the Chiefs, who will play at least their first playoff game at Arrowhead Stadium. They would also get a first-round playoff bye if they can make up one game through the rest of the regular season on the 10-3 Patriots.
The Chiefs had never won back-to-back division championships in their history until the current streak, though they had won 10 such titles in their first 56 seasons.
But there was also a been-there, done-that feel to winning the AFC West. The Chiefs had bigger things in mind for this season after advancing to the AFC championship game and losing to the Patriots in overtime last season.
Defensive end Frank Clark was among Chiefs players who in the locker room after the game wore a T-shirt that read, "The West is Not Enough."
"We haven't done [anything] yet," said safety Tyrann Mathieu, in his first season with the Chiefs. "It seems like the Chiefs win the division every year. The goal is to get back to where we were last year and win that game. So we still have big goals out there."
Seahawks RB Rashaad Penny sprains ACL early in loss to Rams
LOS ANGELES — Seattle Seahawks running back Rashaad Penny left Sunday night's 28-12 defeat to the Los Angeles Rams after spraining the ACL in his knee on Seattle's opening drive.
Penny went down in obvious pain after gaining 16 yards on a screen pass. He was initially ruled questionable to return before being downgraded to out.
"We don't know how serious it is, but it's significant," Seattle coach Pete Carroll said after the game.
Penny had started to come on of late. After spending most of his first season and a half playing sparingly behind Chris Carson, the 2018 first-round pick had seen an uptick in his usage the past two games, playing a combined 65 offensive snaps to Carson's 70.
He had the most productive game of his career two weeks ago with 129 yards and a touchdown against Philadelphia, then scored twice last week against Minnesota. His 14 and 15 carries in those games were career highs.
Carson, meanwhile, entered Sunday night's game needing only 19 rushing yards to reach 1,000 for the second straight season, which he surpassed in the first half. He's the first Seahawks player with consecutive 1,000-yard rushing seasons since Marshawn Lynch in 2013 and '14.
Carson finished Sunday's game with 76 yards rushing on 15 carries and he also caught three passes for 15 yards.
Rams keep playoff hopes alive with win over Seahawks – Los Angeles Rams Blog
LOS ANGELES — Remember the fun Los Angeles Rams? The ones who lit up the scoreboard and ignited the NFL on their way to the Super Bowl last season?
Those Rams, not this season's impostors who have been teetering on the verge of playoff elimination, made an appearance Sunday night at the L.A. Memorial Coliseum.
The result? A 28-12 takedown of the NFC West-leading Seattle Seahawks.
Simulate your own scenarios and check out the latest playoff picture. Playoff Machine »
• Full schedule » | Standings » | More »
The Rams improve to 8-5 as they continue to chase the Minnesota Vikings in the wild-card race. They'll likely need to win their remaining three games, which include road contests against the Dallas Cowboys and San Francisco 49ers and a regular-season finale against the Arizona Cardinals, to earn a playoff bid.
But after a dominant win Sunday, a playoff run appears within reach.
QB breakdown: Jared Goff appeared every part of a franchise quarterback Sunday night — at least in the first half, when he passed for 184 yards and two touchdowns. Goff finished 22 of 31 for 293 yards with two touchdowns and two interceptions, including a pick-six. The performance served as a reminder as to why the Rams signed Goff to a four-year extension with $110 million in guarantees before the season. On the Rams opening possession, Goff orchestrated an eight-play, 75-yard drive that included 19- and 15-yard passes to receiver Robert Woods and a 33-yard pass to tight end Tyler Higbee. On their second possession, he found an open Woods for a two-yard touchdown pass, and then later in the first half delivered a strike to receiver Cooper Kupp for another score. In the third quarter, safety Quandre Diggs intercepted passes from Goff on back-to-back series, but Goff later rebounded to lead a seven-play, 95-yard scoring drive to take a 28-9 lead.
Promising trend I: The Rams defense was 8:35 away from posting a shutout last Sunday, but that was against rookie quarterback Kyler Murray and the struggling Cardinals. Against the Seahawks, who are among the top-rated offenses in the league, the defense wreaked havoc for Russell Wilson, as Samson Ebukam and Dante Fowler Jr. each sacked him twice and Aaron Donald also added a sack. The Seahawks did not score a touchdown on offense.
Promising trend II: Two games, two career-best performances. Last Sunday, in a 34-7 win over the Cardinals, Higbee caught seven passes for a career-best 107 yards. That was a breakout performance. Against the Seahawks, Higbee caught seven passes for a career-best 116 yards, and suddenly becoming a key playmaker in McVay's offense. Higbee's 33-yard reception in the first half is his longest of the season. He averaged 29 receiving yards per game in his first 11 games of the season, according to ESPN Stats and Information Research.
Pivotal play: The Rams offense appeared to be headed for a three-and-out on its opening possession after Todd Gurley rushed for 6 yards on consecutive carries. But, on third-and-four, Goff completed a 19-yard pass to Woods and from there, the offense took off. Running back Malcolm Brown capped the eight-play, 75-yard opening possession with a 1-yard touchdown run to give the Rams a 7-3 lead.