Kenjon Barner's 78-yard punt return the first for Falcons since Devin Hester
Week 13 NFL overreactions – The Jaguars' Foles problem, and Kitchens will be one-and-done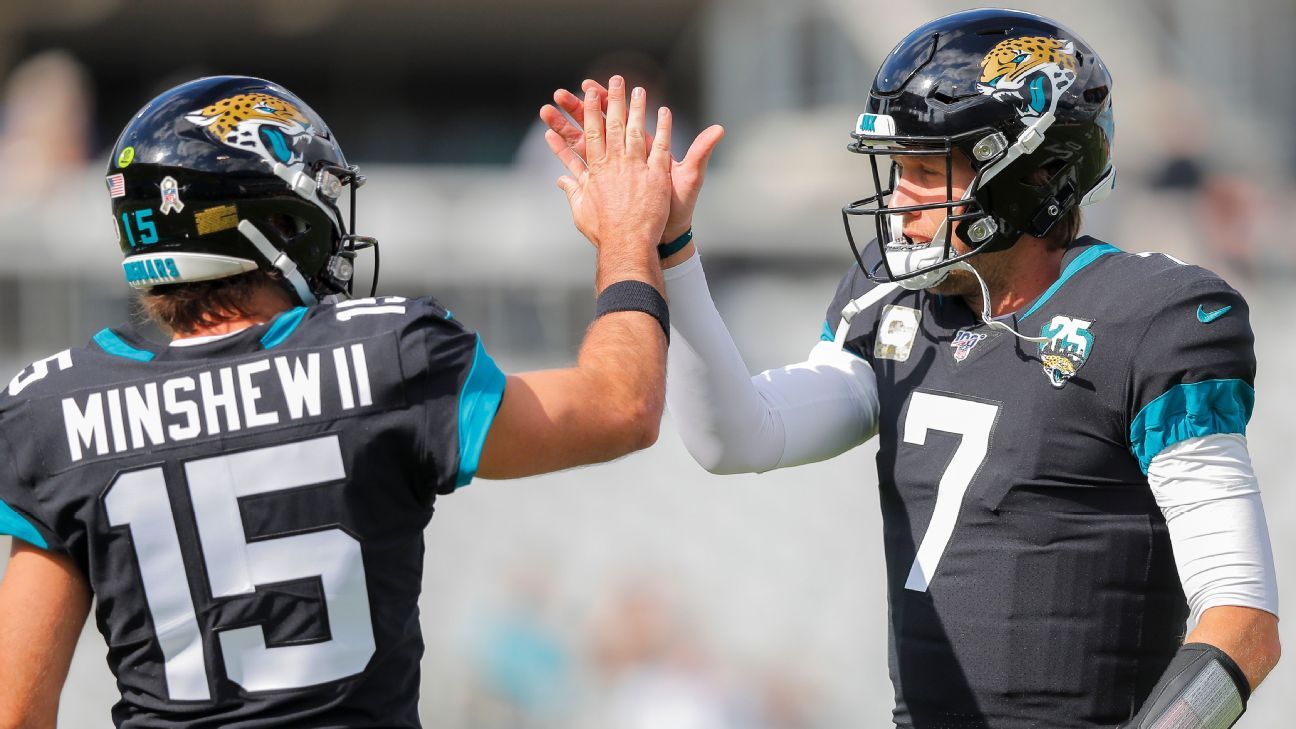 A lot of air went out of a lot of NFL balloons in Week 13. If you're a fan of the Browns, Chargers, Colts, Raiders, Panthers, Jaguars or even Eagles, Sunday was a tough day for whatever remaining hope this season held for you.
Not that all of those teams are cooked, mind you. But Sunday was some level of gut punch for all of those teams if they were still dreaming big postseason dreams. In some cases, it might be an overreaction to say the season's over. In others, it's not, and it's time to look ahead to a too-early offseason filled with questions and regret.
On that note, we begin our Week 13 Overreaction Monday column in the city of football regret.
For more, check out NFL Live at 2:30 p.m. ET Monday on ESPN and in the ESPN App.
---

Freddie Kitchens will be a one-and-done coach in Cleveland
The Browns had everything working in their favor Sunday. The Steelers were down to their third-string quarterback, playing without their No. 1 wide receiver, their starting running back and their center. Both sides had bad blood from their brawl-marred meeting two weeks earlier, but Cleveland — as has been the case for much of this season — had a roster that appeared to be in far better shape.
And by the middle of the second quarter, the Browns also had a 10-0 lead. Then the banged-up Steelers scored 20 points in a row to win the game and improve to 7-5, while the Browns, in their season of so much promise, fell to 5-7.
The Verdict: NOT AN OVERREACTION. It's not over, as Yogi Berra told us, until it's over, and the Browns are only two games out of a playoff spot. But they were supposed to be on that late-season run that propelled them into the playoffs in spite of everything that went wrong in the season's first half, and instead their season slid into a muddy ditch alongside the Ohio, the Allegheny and the Monongahela.
Unless the Browns somehow win their final four games and sneak into the playoffs, this is going to be an ugly end to an ugly season that was supposed to be the season that stopped all the ugly. And while pointing the finger at the coach is too often the easy way out, there's plenty of evidence that Kitchens wasn't the right choice. He has made the wrong moves in-game. He has made the wrong moves wardrobe-wise. He has failed to establish a culture or set a tone that would put the Browns on the path out of their decades of misery. This was his task, and if the team wanted to admit a mistake and move on when the season ended, it wouldn't surprise anyone.
---
The Jaguars made a mistake with the Nick Foles signing
Recall, please, that the Jaguars signed Foles this offseason to a four-year, $88 million contract with $45.125 million guaranteed to be paid over the first two years. He got hurt in Week 1, sat on injured reserve while Gardner Minshew and his mustache captivated a nation, then came off injured reserve to start in Week 11.
The Jaguars have gone 0-3 since then, losing to the Colts, Titans and Buccaneers by the combined score of 103-44, and Foles was benched for Minshew at halftime of Sunday's home loss to Tampa Bay.
The Verdict: NOT AN OVERREACTION. The point of signing Foles lay in the theory that quarterback was the missing piece for a Jacksonville team that was otherwise ready to compete for the Super Bowl berth that barely eluded it two seasons ago.
This season has gone off the rails for the 4-8 Jaguars, however, and although Foles can't be blamed for getting injured, his injury history was a concern before they signed him. The fact that he missed half the year and they didn't contend for the postseason leaves the team in a real bind.
The Jaguars have major cap concerns, and he's one of them. They'd eat almost $34 million in 2020 dead money if they cut him and almost $19 million if they traded him. (And let's be honest, they'd have to pay some of the contract if they wanted to trade him at this point.) The offseason could bring about major changes on the coaching staff and in the front office in Jacksonville, and if that's the case, the new administration there will have major decisions to make while dancing around a monster quarterback cap number.
Foles could well rebound and have a nice career in Jacksonville, but one of the main reasons they signed him was to put them over the top this season. He didn't, and the long-range negative effects of the contract will be tough to overcome.
---
The Patriots won't get one of the top two seeds in the AFC
Sunday night's loss in Houston dropped New England from the 1-seed to the 2-seed by virtue of a tiebreaker, since Baltimore beat them. At 10-2, the Patriots are still two games ahead of the 8-4 Chiefs and the 8-4 Texans. But they play Kansas City next week. And if they lose that one, that lead will shrink to one game over Kansas City and possibly one over Houston. And in that hypothetical situation, they'd lose head-to-head tiebreakers to the Chiefs, Texans and Ravens.
Perhaps even more alarmingly, their lead over Buffalo in the AFC East is only one game, and they have to play the Bills again in Week 16. New England is still in the driver's seat for a first-round bye, but things got a little more precarious Sunday night.
The Verdict: OVERREACTION. That's a whole bunch of "if"s right there, and even if they all come in, New England would still have to lose to either the Bengals, the Dolphins or both in order for the nightmare scenario to come true.
The Patriots looked straight-up terrible on both sides of the ball in Houston, and there is real reason to worry that this won't turn out to be the kind of dominant January team we're used to seeing in New England. But they have shown an ability to beat the bad teams this season, so it's not wrong to think they win the Cincinnati and Miami games. And they have spent the past two decades earning the benefit of the doubt as a team that can overcome adversity — especially late in the season.
---


No NFC East team will finish with a winning record
Hey, no NFC East team has one now, so this is obviously possible. After an inexcusable home loss to Buffalo on Thanksgiving, the 6-6 Cowboys still lead the division by a full game because the Eagles suffered an even more inexcusable loss Sunday in Miami.
For goodness' sake, Washington is 3-9, eliminated from contention for the wild card and any of the top three NFC seeds, but is still, somehow, alive in the division race. This is ugly, folks, and the possibility of an 8-8 or 7-9 NFC East champion has to be taken seriously, if for no other reason than the calendar and the math.
The Verdict: OVERREACTION. I just think either Dallas, Philadelphia or both have better football inside of them than they've shown so far. I don't know why I think this, other than that I thought it before the season and feel like there's still time for them to prove me right.
It's easy right now, in light of a brutal Week 13 for both of them, to believe neither will win another game other than the one they play against each other in Week 16. But things could look a lot different Thursday night if the Dallas defense gets its act together against Mitchell Trubisky and the Bears and the team recommits to Ezekiel Elliott on offense.
The NFC East champ will almost certainly be the No. 4 seed in the NFC at this point, but that doesn't mean it will have limped into the playoffs.
On Nov. 29 in 2018, Stephen A. Smith poked some fun at the Cowboys. Exactly one year later, Stephen A. donned the cowboy hat again to do more of the same.

Philip Rivers is playing his final month as a Charger
Rivers turns 38 next Sunday and does not have a contract beyond this season. Say what you will about the Browns, Eagles, Jaguars and anyone else, but it's hard not to pick the Chargers as the most disappointing team in the NFL this season.
They were 12-4 last season and seemed primed to make a Super Bowl run in the final year of Rivers' contract. Sunday's loss in Denver wasn't all on Rivers, nor is the dismal season. But with 17 touchdown passes and 15 interceptions through 12 games, it's shaping up as his worst season at maybe the worst possible time.
The Verdict: NOT AN OVERREACTION. I mean, if the Chargers were sure they wanted him back for 2020 and he was sure he wanted to be back in 2020… why isn't he signed yet?
This is shaping up as a historically weird quarterback offseason, with question marks about longtime starters in places like New England, New Orleans, Carolina, Tampa Bay, Tennessee and Cincinnati. And the Chargers are a part of that. Rivers could decide he wants to go somewhere else, or retire. The Chargers could have another option in mind, whether they're still in go-for-it mode or whether they decide to retool the roster.
At 4-8 and going nowhere in a season that started with high hopes, there have to be options on the table that were once inconceivable.
Ravens TE Mark Andrews 'plants flag' after TD in response to 49ers' Nick Bosa
BALTIMORE — Tight end Mark Andrews not only helped the Baltimore Ravens set a franchise record but also delivered a response to San Francisco 49ers pass-rusher Nick Bosa on Sunday.
Andrews' 20-yard touchdown catch in the first quarter was the Ravens' 48th, their most ever in a season. Immediately afterward, Andrews ran to the back of the end zone and got teammates Mark Ingram and Hayden Hurst to reenact a plant-the-flag celebration.
This was in response to Bosa's similar celebration against Browns quarterback Baker Mayfield on Oct. 7. Bosa later said that was "payback."
Mark Andrews claps back at Nick Bosa by pretending to plant a flag in reference to Bosa doing the same toward Baker Mayfield earlier in the season.
This celebration dates back to Sept. 9, 2017, when Mayfield planted an Oklahoma flag at midfield of Ohio Stadium after a victory at Ohio State, where Bosa played.
"It was a little comeback," Andrews said. "'Bosa, Bosa,' it was one of those things, just like he said, 'Baker, Baker.' It is what it is. Just having fun out there."
Andrews, who also went to Oklahoma, is close friends with Mayfield and was in his wedding this year. This was Andrews' seventh touchdown catch this season, which ties the Ravens' season tight end record.
"You kind of talk bad about Oklahoma, you're going to get reprimanded," Andrews said.
Earlier in the game, 49ers receiver Deebo Samuel mimicked Ravens quarterback Lamar Jackson's Los Angeles touchdown dance following Samuel's 33-yard TD reception on San Francisco's opening drive.
Said Baltimore cornerback Jimmy Smith after his team held on for the 20-17 victory: "They can have fun doing that on the flight home."
Historic loss exposes Jets as a bad team masquerading as a contender – New York Jets Blog
CINCINNATI — They fooled you, didn't they? The New York Jets made you believe they had taken a big step in their development. Their three-game winning streak made you forget about the 1-7 start. They made you think coach Adam Gase, who seemed like the wrong hire in October, really was a quarterback whisperer.
And then Sunday happened — as disgraceful a performance as you will ever see. Not only did the Jets lose to the previously winless Cincinnati Bengals 22-6 at Paul Brown Stadium, but they were dominated by the worst team in the NFL. They showed no energy whatsoever, committed mistake after mistake and played (and coached) as if they were stuck in a tryptophan coma.
It was historic. The Jets (4-8) became the first team in NFL history to lose to two teams in the same season who entered a game 0-7 or worse — the 0-7 Miami Dolphins in Week 9 and the 0-11 Bengals this week. The last time they fell to a team that was 0-10 or worse was 1980 (New Orleans Saints, 0-14).
Yes, the Jets are a special kind of bad.
The obvious takeaway is that their recent winning streak was a mirage, the byproduct of a cupcake schedule. Still, it injected the team with confidence and that should've been enough to beat the Bengals, but the Jets showed an alarming lack of maturity by underestimating Cincinnati. At some point, a developing team must learn how to handle prosperity. Clearly, they haven't reached that stage yet. That's troubling.
A lot of this falls on Gase, who called a horrible game on offense and didn't have the team ready to play, mentally or physically. They didn't adjust, made too many mental errors and showed no fight when they fell behind. Quite frankly, they didn't do anything right. This was straight out of their 1-7 start.
And quarterback Luke Falk isn't around anymore to be the scapegoat.
Biggest hole in the game plan: Facing the league's lowest-ranked run defense, the Jets ran only nine times out of 37 plays in the first half. Gase got too pass-happy, and they never got out of that mode once they fell behind. Granted, Cincinnati had improved in recent weeks, but this was unforgivable: Le'Veon Bell had only 10 carries. You're paying the man $13 million a year. Give him the rock — or give somebody the rock. Gase kept running the ball up the middle instead of attacking the edges, where the Bengals had been vulnerable.
Eye-popping stat: The Jets had no red zone possessions against the 32nd-ranked defense in yards. Gase should burn the tape because this ranks as one of the biggest clunkers on his coaching résumé.
Troubling trend: The revamped offensive line, which showed signs of hope in recent weeks, regressed in a major way. The line, with its seventh different starting combination, committed seven (seven!) penalties and allowed four sacks. Left tackle Kelvin Beachum played one of the worst games of his career — three penalties, including a holding call in the end zone for a safety. This was a clear reminder for general manager Joe Douglas: Find better linemen.
Sell your stock on the defense: So much for the scrappy/overachiever narrative. Defensive coordinator Gregg Williams had no answers for wily veteran Andy Dalton, who passed for 243 yards and a touchdown. The Jets had to shuffle their cornerbacks because of injuries to Brian Poole and Arthur Maulet, but that was no excuse for the bad tackling and lack of fire. Where was safety Jamal Adams?
QB breakdown: The quarterback can't do it alone. Sam Darnold (28-for-48, 239 yards) played turnover-free football and well enough to win, but he was undermined by five dropped passes and an offensive line that couldn't block a four-man rush (three sacks). Darnold's job is to get the team in the end zone and he failed to do that, so this is a step back after a good run of games. Don't blame him, though. The problems were everywhere.
Silver lining: Wide receiver Robby Anderson (seven catches for 101 yards) made some tough catches, especially in the traffic.