Colts RB Marlon Mack hits spin button on video game-like TD run
INDIANAPOLIS — Running back Marlon Mack showed off his elusiveness during a touchdown run on the Colts' second offensive series of the game against Jacksonville. Mack started his run up the middle, where he it looked like he was going to be stopped for a minimal gain, before he went video game-style by spinning off Jaguars cornerback Tre Herndon.
MARLON MACK. SPIN CYCLE. 🌀😳 #JAXvsIND pic.twitter.com/j0CXPxjePd

— Indianapolis Colts (@Colts) November 17, 2019
Former Colts linebacker Najee Goode had what appeared to be a clear shot at Mack after he spun off Herndon. Nope. Mack hit the spin button again, spinning to the right and racing into the end zone just inside of the pylon for the 13-yard touchdown.
What shareholders looking to sell means for Dan Snyder, Redskins – Washington Redskins Blog
The Washington Redskins likely will have a new name and minority shareholders in the franchise at some point in the near future. Two days after the team announced it would strongly review its name, multiple reports stated the team's three minority shareholders — Dwight Schar, Bob Rothman and Fred Smith — are looking to sell after 17 years and have hired an investment banking firm to help.
That, of course, leads to more questions about a franchise that has faced a great deal of scrutiny in recent years under owner Dan Snyder.
What impact does this have on Snyder?
Two days after the 2003 season ended, when the Redskins needed another coach, Schar made a phone call. To Joe Gibbs. It set in motion a series of events that led to the bombshell return of Gibbs as coach.
While Snyder eventually closed the deal, it was Schar who made the first call to his longtime friend in an aggressive early pursuit. Schar was on the board of Gibbs' Youth for Tomorrow Foundation, and the two had a strong relationship.
• How Vikings are pushing for social justice
• Broncos turn to 2011 plan for direction
• Rams optimistic on O-line's outlook
• Has Jaguars' offense gotten better or worse?
• Measuring Brady's fantasy impact on Bucs
That was an unusual situation, but the impact will come mostly at a personal level. In the past 10 months, the organization hierarchy has changed quite a bit: Several trusted employees, including president Bruce Allen and senior vice president of football operations/general counsel Eric Schaffer, are gone. So, too, is Redskins senior vice president of communications Tony Wyllie and athletic trainer Larry Hess. They all knew Snyder well. They knew he was a demanding owner, with late-night calls and expectations to alter plans at the last minute.
Hess (18 years), Schaffer (17), Allen (10) and Wyllie (10) combined for 55 years of experience under Snyder.
But Snyder still had his group of minority investors that he considered friends. Smith, the chairman and CEO of FedEx, was not a regular at games, home or away, but Schar and Rothman often attended (Rothman, the chairman and CEO of Black Diamond Capital, was at just about every game). They became tight with Snyder and, one source said, served as a calming influence after games. Snyder would hang out in the owner's box after games, sometimes pacing, depending on the result. He could get lost in the minutiae of the moment, but the others could present a big-picture focus, a source said.
One source said Schar, chairman of NVR, the the nation's fifth-largest home builder, "couldn't be more down to earth but also had common sense brilliance to him, and Fred is the same." Both provided strong guidance when needed and business wisdom for Snyder over the years. One source said Snyder almost idolized Smith, especially for his business acumen in how he built FedEx. As one person said, "This had to sting [Snyder]."
Will they have trouble finding new investors?
Late last season, during the team's search for a new coach, one refrain stood out: There are only 32 teams. In other words, someone would want the job because the NFL is a fraternity few can join. One person who used to work for Snyder provided the same answer when asked about finding more investors.
But it certainly won't be easy.
When this trio invested in the Redskins in 2003, it cost them a combined $200 million initially for a 20% stake. In July 2019, Forbes listed the franchise value at $3.1 billion. If that's the case, replacing the group's 40% stake with three other investors would require a pay-in of about $400 million apiece. That's a hefty fee, which might force Washington to seek a lot more investors. Snyder could recruit a number of people or celebrities in his orbit. In 2015, NBA star Kevin Durant, who grew up in the shadows of FedEx Field and is a big Redskins fan, told the ESPN Fantasy Football Podcast that "[Owning a team] would be cool. My first priority would be the Washington Redskins, but I, even if it's a small percentage, man, I just want to be involved."
Any new part-owner would have to be approved by three-quarters of the NFL owners.
If the team changes its name and moves back into the District with a new stadium in 2028, it would increase the value of the franchise. That could tempt investors. Snyder has been able to convince others to join him in the past, whether it's coaches or smart businessmen such as Smith, Schar and Rothman. With a new name, it might remove one obstacle for potential investors.
Also, despite a string of failures in recent years, the franchise remains valuable. Washington has posted one 10-win season over the past decade and hasn't won a playoff game in 15 years. It had the third-lowest percentage of home attendance in the NFL last season. Yet, the Redskins ranked 14th on the Forbes list of the top 50 most valuable sports teams a year ago. They were fifth among NFL teams.
And, while some wonder about what it means for Snyder's ownership, another person who knows him well says he'd have a hard time ever seeing Snyder sell the franchise — even if it could command a price tag of $4 billion.
"It's his identity," the source said. "That's a big, big deal."
What impact do minority owners have?
In many cases, minority owners get some of the perks but don't have to worry about the responsibility of ownership. There's no real day-to-day impact. Often it's about being part of a club without the headaches. They can fly in for games, get escorted to the stadium, watch the game and then go home.
But with only a combined 40 percent share — Snyder, his mother and his sister own 60 percent of the team — they don't have voting power and don't always have a say in team matters. Snyder's inner circle has changed, and often he receives guidance from outside sources. However, while Schar had a big influence in landing Gibbs, Rothman was a key part of the interview process in luring current coach Ron Rivera, according to a source. He also was at the scouting combine with Rivera and Snyder earlier this offseason, prompting one person close to the situation to express surprise that Rothman would want to sell.
Snyder needed this trio for their money. When they bought in 17 years ago, Snyder used their $200 million to pay down debt, taking it from $450 million to about $250 million.
Why now?
There's no explanation yet as to the timing of why they want to sell their shares, if all three do sell. Multiple sources said they did not think it had to do with the team name, though Pro Football Talk reported that Smith had been trying to convince Snyder for several years to change the name. Indeed, FedEx put out a statement on Thursday saying it had asked the franchise to do so — one day before Washington announced it would seriously reconsider the name. If Smith did want the name changed, and Snyder appears headed down that path, it wouldn't make sense for that to be the reason.
Another source said that one of the minority owners — believed to be Schar — is looking to retire. He's 78 years old.
Will Dak Prescott be with Cowboys for the long haul? Answer is near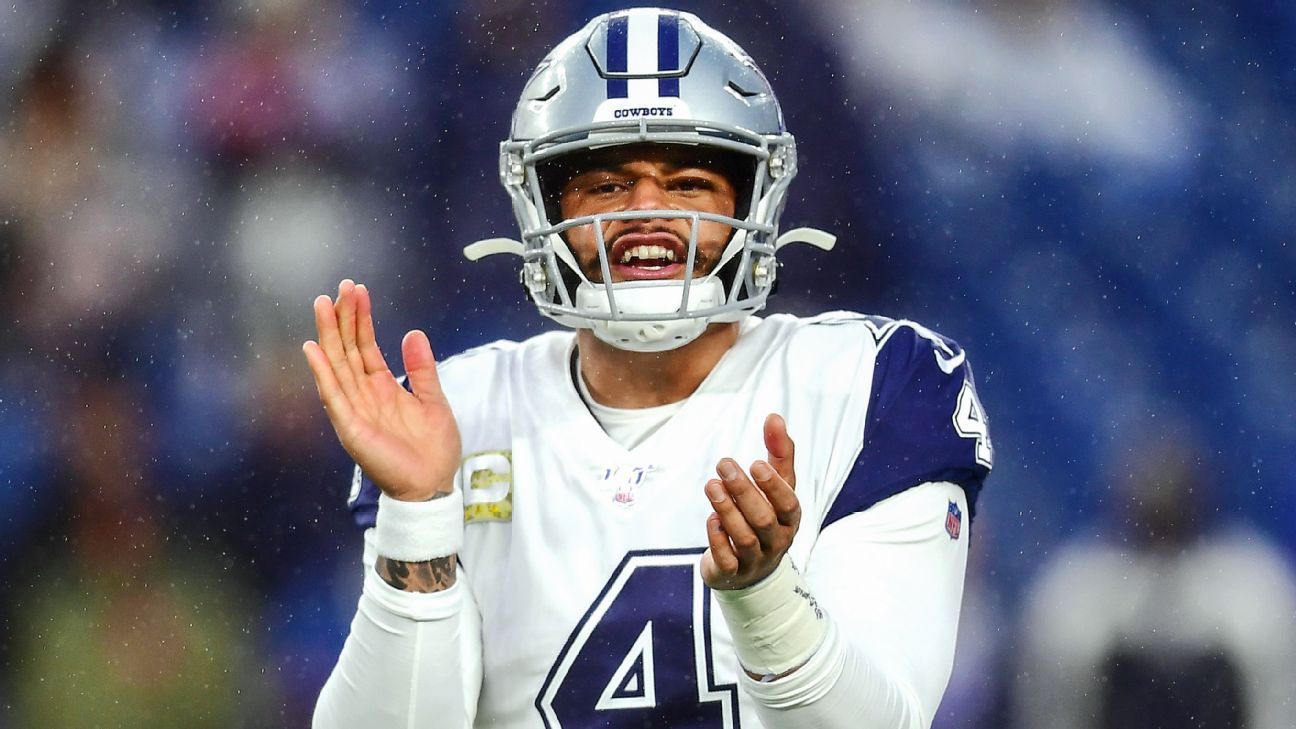 Perhaps mercifully, a determination on Dak Prescott's contractual fate with the Dallas Cowboys will be known in a week.
Talks between the Cowboys and Prescott's agent, Todd France, began in the spring of 2019. The club initially hoped a deal could be consummated before training camp, then during training camp, then at the start of the season, but it never happened.
Unable to get a contract worked out before free agency, the Cowboys put the exclusive franchise tag on Prescott, knowing that July 15 is the deadline to sign him to a long-term deal.
The negotiations have generated a lot of public debate. Do the Cowboys really believe Prescott is their guy? Why won't owner and GM Jerry Jones just pay the man? Does Prescott really think he should be the NFL's highest paid quarterback, even after the 10-year extension worth up to $503 million Patrick Mahomes agreed to Monday with the Kansas City Chiefs?
By next week, there will be some answers. Either Prescott and the Cowboys will have their contract agreement or the quarterback will play the upcoming season on the franchise tag.
For perhaps the final time, here are some answers to some key questions regarding Prescott's situation:
Where do negotiations stand?
It seems the sides have not had any substantive talks since March. Perhaps the coronavirus pandemic played into that because there was not the traditional offseason program. Prescott did not miss any on-field work even if he was not a part of all the virtual meetings.
Before the Mahomes news, sources said the Cowboys' offer would make Prescott the second-highest paid quarterback in terms of average per year to Seattle's Russell Wilson, who makes $35 million a season. That offer includes a guarantee that is on par with the $110 million the Los Angeles Rams gave Jared Goff. What is unknown are the details of the Cowboys' offer, such as how much is guaranteed at the time of signing and how much is guaranteed for injury and cash flow.
Is the deal's length a concern?
Yes. The Cowboys would like a five-year deal; Prescott would like four years. The reasons are pretty obvious. If the Cowboys are going to make such a commitment, they would like it for as long as possible so they are not back at the negotiating table any sooner than necessary. Prescott would like a shorter term so he can hit the open market again when the new television money is expected to kick in. That might be a bit trickier now considering the pandemic, but live sports has been a cash cow.
How does Mahomes' deal impact the discussions?
Stephen A. Smith has faith in Dak Prescott to lead the Cowboys to a Super Bowl based on their revamped offense.
Truthfully, it probably doesn't all that much. The Cowboys likely would do a 10-year deal with Prescott, but if he won't do a five-year deal, why would he do a longer deal if the guaranteed money does not go up appreciably?
Quarterbacks are judged on wins and stats. Mahomes has both. His first two years as Kansas City's starter are off the charts. He has taken the Chiefs to an AFC Championship Game and a Super Bowl win in his first two seasons. Prescott has one playoff win and has missed the postseason twice in his first four seasons.
Depending on how you want to read the Mahomes deal, it's a max of $50.3 million per season, $45 million per season based on new money or $39.75 million when looking at it as a 12-year deal. You know which way France will view it and which way the Cowboys will view it.
What happens if the sides do not reach an agreement?
Prescott has to play the season on the $31.4 million tag and the sides cannot discuss a long-term deal until 2021. Essentially, this might kick the can down the road for a year before the sides get into the same prolonged dance again. The only good news is we wouldn't have to hear and read incessant reports about negotiations until next offseason.
Could Prescott sit out?
Now that he has signed the tender, he is under contract and would face prohibitive fines if he does not report to camp. For those who believe Prescott would hold out, he played last season for $2 million, why wouldn't he play for $31.4 million this season?
If he had not signed the tender, he would not have faced any fines for skipping training camp and preseason games (however those look starting later this month). He could have shown up the week before the season opener against the Rams.
By signing the tender, the Cowboys and Prescott will avoid the fiasco the Pittsburgh Steelers and Le'Veon Bell went through in 2018.
Can the Cowboys use the tag on Prescott in 2021?
Yes, and it would cost them roughly $38 million, a 120% increase over what he makes in 2020. Washington used the franchise tag on Kirk Cousins two years in a row in 2016 and '17, but never made him an offer as substantial as the one the Cowboys have made to Prescott.
If the Cowboys wanted to use the franchise tag on Prescott for a third year, it would cost more than $54 million.
Have the Cowboys gotten to this point with a franchise-tagged player before?
Yes, but not a quarterback. They were able to sign Troy Aikman and Tony Romo to long-term deals before either could have come close to testing the market. In the years between Aikman and Romo, they did not have a quarterback they wanted to keep long term.
In 2015, the Cowboys put the tag on receiver Dez Bryant. He spent only a handful of days around the team in the offseason because he did not sign the tender. Eventually, the Cowboys and Bryant agreed to a five-year, $70 million deal, but it nearly did not happen.
After the sides agreed, the Cowboys needed Bryant to sign the contract before sending it to the league office. It wasn't until about 10 minutes before the deadline that Bryant made it to Valley Ranch to put pen to paper.
'Most hated' tweet helps Cardinals' Eno Benjamin become an entrepreneur – Arizona Cardinals Blog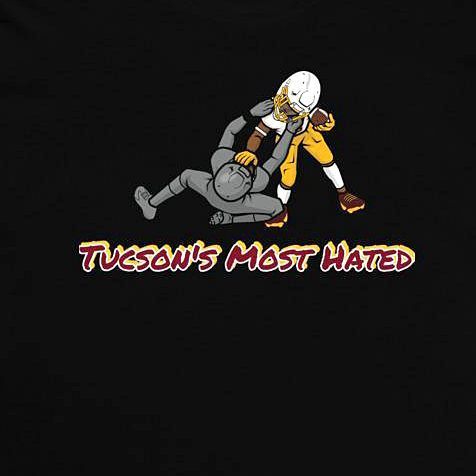 TEMPE, Ariz. — Arizona Cardinals rookie running back Eno Benjamin saw a hole in the marketplace and hit it this past January.
Benjamin, the Cardinals' seventh-round pick in April's draft, played college football at nearby Arizona State, where he set the Sun Devils' single-season rushing record and graduated from the school's W.P. Carey School of Business in three years. A native of Wylie, Texas, Benjamin knew about the rivalry between his Sun Devils and the Arizona Wildcats before he arrived on campus, and he quickly learned about its intensity during his first two seasons.
Then, in a tweet on May 20, 2019, he unknowingly laid the foundation for an entrepreneurial endeavor.
I want to be the most hated man in the city of Tucson..🔱#RandomThought

— Eno Benjamin (@EnoB) May 20, 2019
He not only got his wish as the most hated man in Tucson but also earned himself a nickname.
"They kind of ran off with that," Benjamin said.
In January, after declaring himself eligible for the NFL draft, Benjamin announced that he had launched a line of shirts — including one that has "Tucson's Most Hated" emblazoned under a caricature of Benjamin stiff-arming a defender — that are being sold on a website named after his full first name: Enotobong.
"I knew when I had this whole opportunity, knowing that you have the moment, you got to seize it," Benjamin said. "And so, just trying to put out as much content as I can. Just knowing that over the years, I'm gonna look back and be happy that I did it."
An off-the-cuff tweet that turned into a nickname that turned into a T-shirt that turned into a brand isn't blind luck. It comes from Benjamin's interest in sports marketing and has him developing his brand before he sees the first snap of his rookie season.
"I think it's amazing," said Tayo Adewon, Benjamin's marketing representative.
"One of the things we preach, and you see it everywhere, is being more than an athlete, building your brand. There'll come a time [when you'll have to ask yourself], what are you gonna do? What type of passions do you like to do? What type of hobbies? What types of things can you do to generate revenue and stay relevant off the field? And so, Eno's a really smart kid."
Benjamin doesn't know what he wants to do after football, whether marketing, finance or accounting, but he has "always been into those classes," he said.
When it was time to design his T-shirt line, Benjamin was hands-on. He drew his logo and put his own ideas on paper. With the help of Adewon, Zach Soskin, Benjamin's other marketing rep, and the e-commerce brands they partnered with, the final designs were picked. The result, now on sale, is the "Tucson's Most Hated" and the "All About the Benjamin" shirts, which come in a variety of styles priced from $25 to $60.
"It's been going really well, and [he's been able] to immerse himself into the business side of being a professional athlete," Adewon said.
"He always wants to know what's going on, why this is the way it is, etc. etc. I'm really excited for him because he's one of the guys that get it, and he's really young, so it's really cool to have a guy that gets it at that age."
Although Adewon said there are plans to keep expanding Benjamin's line of shirts as the 2020 season approaches, how he performs on the field will be a major factor in the brand's long-term success. Benjamin rushed for 2,707 yards and scored 31 touchdowns in his three seasons in Tempe, but he enters his rookie season behind Kenyan Drake and Chase Edmonds on the Cardinals' depth chart.
As a member of the state's professional football team, Benjamin also risks alienating with the "most hated" shirts some of his fans who root for the Wildcats.
"That was a question that went through my head," Benjamin said. "That was something I thought about.
"I'm faithful to my school, but just knowing what else I'm gonna have to take just to let them [Arizona Wildcats fans] back in my life, I'm going to be back in their life as well. So we're gonna see."