Twins pitcher Jake Odorizzi — Betting on self as 2020 free agent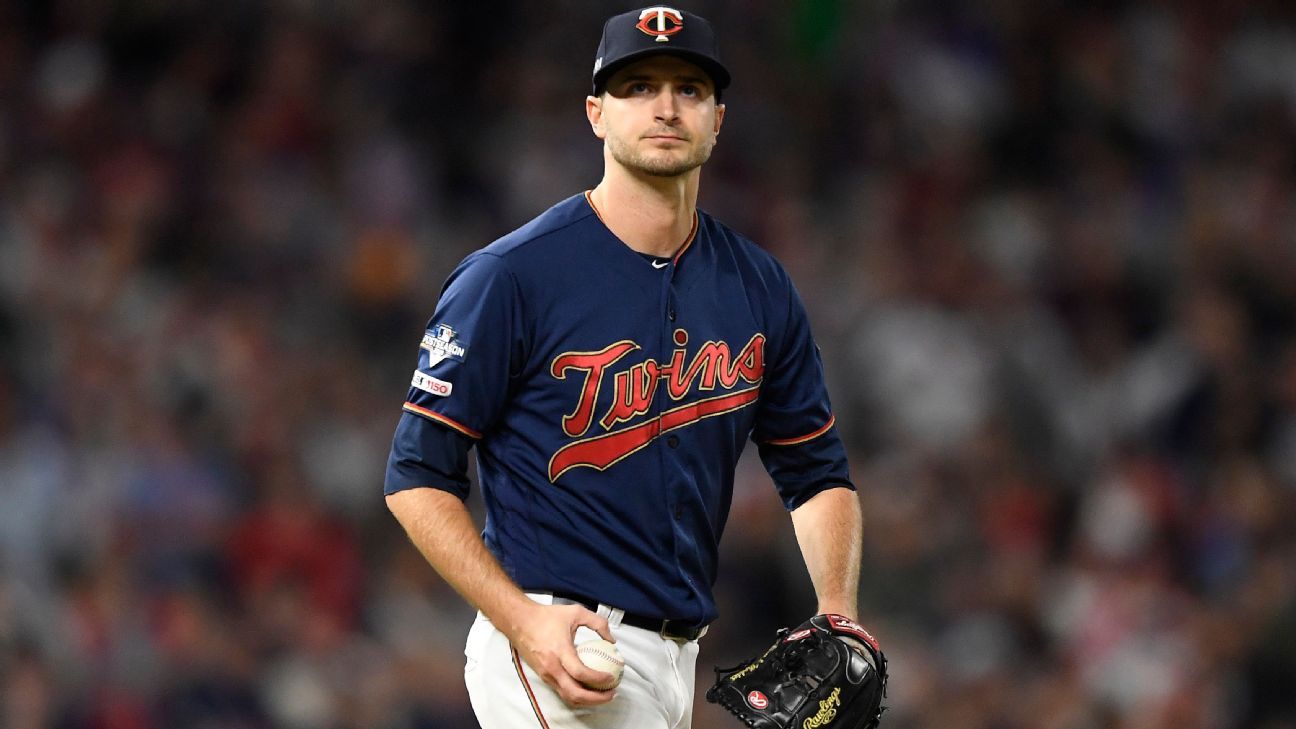 MINNEAPOLIS — Jake Odorizzi watched Dallas Keuchel remain on the free-agent market until June and didn't want to take a chance of lingering without a contract. So he accepted the Minnesota Twins' $17.8 million qualifying offer for a one-year contact and put himself in position to become a free agent again after the 2020 season.
"When it came down to it, the decision came down to me pretty much betting on myself and returning to a place I know very well and enjoyed and continue to improve on what I did last year and then re-entering the market next offseason with a different class," Odorizzi said Friday, a day after accepting the offer just before the deadline.
While this year's free-agent class includes Gerrit Cole, Stephen Strasburg, Zack Wheeler and Madison Bumgarner, next year's is a less accomplished group headed by Trevor Bauer, James Paxton, Masahiro Tanaka, Marcus Stroman, Jose Quintana and Jake Arrieta.
If Odorizzi had turned down the Twins' offer and signed with another team before next June's amateur draft, his new team would have lost at least one draft pick as compensation. Atlanta waited until compensation was no longer a factor, finalizing Keuchel's $13 million, one-year contract on June 8.
"There's probably a good chance of getting a deal done at some point in this offseason but there's also a point of not getting a deal done, a one-year deal at some point like people have done in the past or even sat out," Odorizzi said.
A free agent can be given a qualifying offer just once, making free agency after the 2020 season more attractive for Odorizzi.
"I think it's obviously a determining factor and we gathered that from talking to teams," Odorizzi said. "It's unfortunate the system is in place how it is. It's a flawed system. But it's one that is in place and we have to abide by the rules."
A right-hander who turns 30 in March, Odorizzi was 15-7 with a 3.51 ERA last season for Minnesota, becoming a first-time All-Star. He struck out a career-high 178 batters in 159 innings in his second season with the Twins and the qualifying offer was a near certainty with the AL Central champions having just one other accomplished starter, Jose Berrios, under club control for next season.
"We gauged the market. There was a lot of interest," Odorizzi said. "It was one of those things that interest is really great, but interest doesn't have a dollar figure to it."
Odorizzi's return gives the Twins two former All-Star right-handers at the top of the rotation. Beyond that, chief baseball officer Derek Falvey and general manager Thad Levine say starting pitchers will be a focus in free agency.
Odorizzi and Minnesota could try to negotiate a multiyear contract before he goes on the open market.
"I'm always open to more years," Odorizzi said. "That's obviously a thing that I'm interested in. It's just a matter of if Thad or Derek are interested in it. My interest is there. I enjoy Minnesota. I've been very vocal about the culture there, the time I've spent there."
Justin Bour agrees to play for Japan's Hanshin Tigers, report says
TOKYO — The Hanshin Tigers of Japan's Central League are set to acquire major league free agent Justin Bour.
Per the Kyodo News agency, Tigers general manager Osamu Tanimoto said this week the team has reached a basic agreement with the 31-year-old Bour, who played first base for the Los Angeles Angels last season.
Hanshin officials were not available for comment on Saturday.
Bour has a career .253 batting average with 92 home runs, 303 RBIs and 433 hits over six seasons in Major League Baseball. He started his career with the Miami Marlins in 2014 and had a brief stint with the Philadelphia Phillies in 2018 before joining the Angels for the 2019 season.
Seymour Siwoff, longtime Elias Sports Bureau owner, dies at 99
Seymour Siwoff, the statistics maven who turned the Elias Sports Bureau into the place to go for exact information on teams and athletes for more than a half-century, died Friday. He was 99.
Siwoff owned Elias for more than 70 years before selling it to his grandson in March 2018. He started as an accountant in 1938 and purchased the company in 1952.
Elias was started in 1913 by brothers Al Munro Elias and Walter Bruce Elias and became official statistician of baseball's National League in 1919. It is now the official statistician for MLB, NFL, NBA, WNBA, MLS and the NBA G-League.
Elias also works with broadcasters and sports networks such as ESPN, MLB Network, NFL Network, Turner Sports, Comcast and NESN.
The Associated Press contributed to this report.
Mr. Niche Guy — The best free-agent fits for very specific needs
We're past Thanksgiving now, or at least the main event, though lots of you surely have fridges full of leftovers to dispatch. Football takes center stage during this particular holiday, which pains me to admit, but what can you do? It's not like baseball is riding a tidal wave of happy PR at the moment.
In our sport, there has been some movement on the free-agent market. The White Sox made a splash last week by signing the best available catcher in Yasmani Grandal. The Braves jumped into the leftover backstop market to nab Travis d'Arnaud to assume co-catching duties with Tyler Flowers, a spot opened up by Brian McCann's retirement. The Braves also grabbed the top available reliever in all-purpose lefty Will Smith.
Not bad, considering the glacial pace of recent hot stove seasons. Those three players are the best free agents to change teams. Other solid veterans have re-upped with their old teams, a group that includes Flowers, Nick Markakis, Chris Martin and Darren O'Day — all with the proactive Braves — along with Jose Abreu (White Sox) and Adam Wainwright (Cardinals). Jake Odorizzi accepted the qualifying offer proffered by the Twins, and J.D. Martinez declined to option out of his Red Sox contract.
That's pretty much your free-agent update. Of Keith Law's Top 50 free agents, 43 remain unaccounted for, including the top seven. Opportunity abounds!
We tend to look at free agency through the prism of rankings, such as Keith's list. If our team needs a pitcher, we go to the rankings, skim down to the best available guy and decide that's who our hardworking local GM must sign. It's a reasonable attitude.
However, it's not the only way to look at things. While top-line evaluations of available talent are the best guides to free agency, there is also the question of fit. What are the categories in which a team's prospective roster is deficient? And which players are most apt to shore up those specific categories? Players often fit better on some teams than others in a way not reflected in ordinal rankings.
Looking at the free-agent pool through the fit lens adds nuance to tracking the offseason. It becomes more than a matter of crossing names off the ranking list and shines a light on some names that aren't dominating the rumor mill. The best part from the team perspective is that signing most of these players won't break your bank.
Let's wade into the remaining free-agent pool with this in mind by asking, and answering, a few strategic game-situation and roster-building questions.