Twins pitcher Jake Odorizzi — Betting on self as 2020 free agent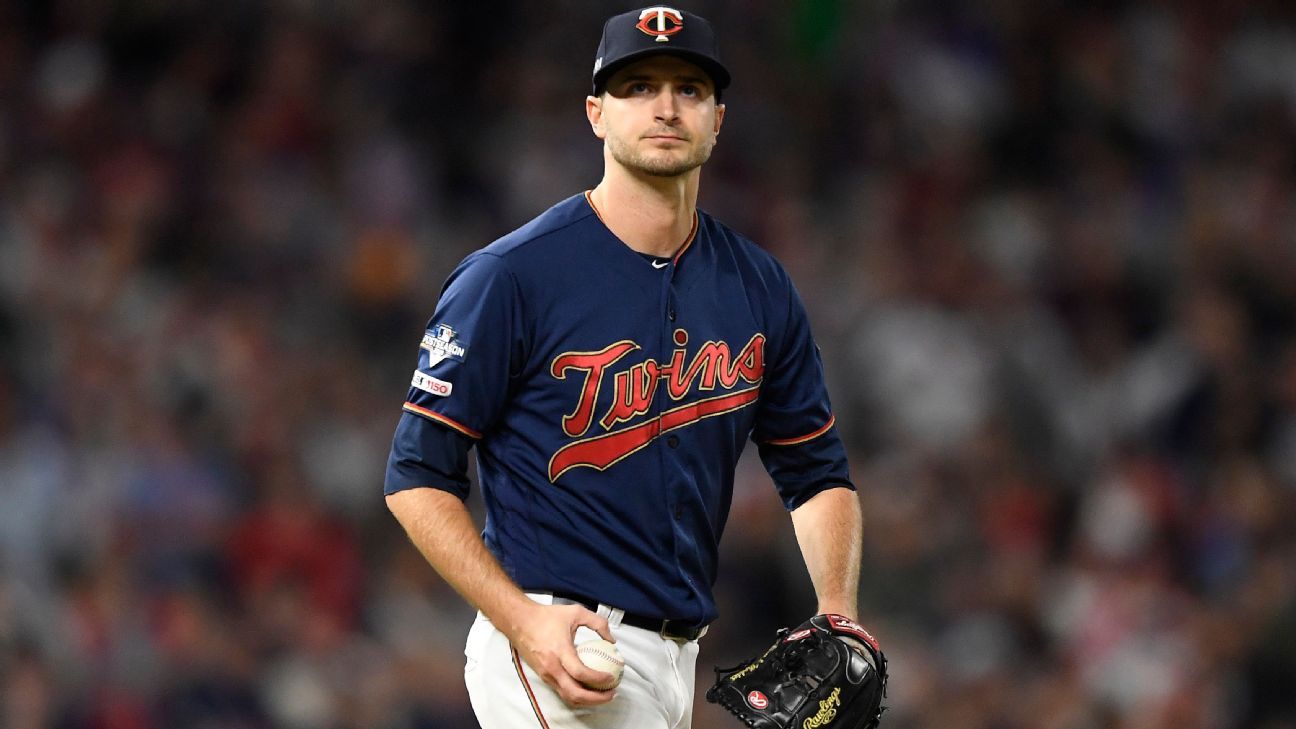 MINNEAPOLIS — Jake Odorizzi watched Dallas Keuchel remain on the free-agent market until June and didn't want to take a chance of lingering without a contract. So he accepted the Minnesota Twins' $17.8 million qualifying offer for a one-year contact and put himself in position to become a free agent again after the 2020 season.
"When it came down to it, the decision came down to me pretty much betting on myself and returning to a place I know very well and enjoyed and continue to improve on what I did last year and then re-entering the market next offseason with a different class," Odorizzi said Friday, a day after accepting the offer just before the deadline.
While this year's free-agent class includes Gerrit Cole, Stephen Strasburg, Zack Wheeler and Madison Bumgarner, next year's is a less accomplished group headed by Trevor Bauer, James Paxton, Masahiro Tanaka, Marcus Stroman, Jose Quintana and Jake Arrieta.
If Odorizzi had turned down the Twins' offer and signed with another team before next June's amateur draft, his new team would have lost at least one draft pick as compensation. Atlanta waited until compensation was no longer a factor, finalizing Keuchel's $13 million, one-year contract on June 8.
"There's probably a good chance of getting a deal done at some point in this offseason but there's also a point of not getting a deal done, a one-year deal at some point like people have done in the past or even sat out," Odorizzi said.
A free agent can be given a qualifying offer just once, making free agency after the 2020 season more attractive for Odorizzi.
"I think it's obviously a determining factor and we gathered that from talking to teams," Odorizzi said. "It's unfortunate the system is in place how it is. It's a flawed system. But it's one that is in place and we have to abide by the rules."
A right-hander who turns 30 in March, Odorizzi was 15-7 with a 3.51 ERA last season for Minnesota, becoming a first-time All-Star. He struck out a career-high 178 batters in 159 innings in his second season with the Twins and the qualifying offer was a near certainty with the AL Central champions having just one other accomplished starter, Jose Berrios, under club control for next season.
"We gauged the market. There was a lot of interest," Odorizzi said. "It was one of those things that interest is really great, but interest doesn't have a dollar figure to it."
Odorizzi's return gives the Twins two former All-Star right-handers at the top of the rotation. Beyond that, chief baseball officer Derek Falvey and general manager Thad Levine say starting pitchers will be a focus in free agency.
Odorizzi and Minnesota could try to negotiate a multiyear contract before he goes on the open market.
"I'm always open to more years," Odorizzi said. "That's obviously a thing that I'm interested in. It's just a matter of if Thad or Derek are interested in it. My interest is there. I enjoy Minnesota. I've been very vocal about the culture there, the time I've spent there."
Buster Olney's top 10 third basemen — Hot corner is a hot commodity
A small army of third basemen was on the move last winter. Anthony Rendon got the biggest deal ever doled out by Arte Moreno and signed with the Angels. Josh Donaldson signed with the Twins for $92 million. The Cubs made it known they were open to dealing Kris Bryant for the right return.
In the midst of all that, the name of Nolan Arenado popped into the market, less than a year after he and the Rockies agreed to an eight-year, $260 million contract, with speculation mounting that a team like the Dodgers might explore the idea of dealing for him. But that was before the pandemic, and before the extraordinary shift in the financial landscape that leaves Arenado a distinct choice:
1. He could opt out of his deal after the 2021 season, but probably would have to accept far less in his next contract.
2. Stick with his current deal and make peace with the idea of staying with the Rockies (unless the Rockies are so financially strapped that they are compelled to move him).
The safe bet now is that Arenado will be with the Rockies for the foreseeable future. He's among the top 10 third basemen, of course.
Yoenis Cespedes says he'll be ready to start season with Mets
NEW YORK — Yoenis Cespedes is sure he'll be ready to start the pandemic-delayed season with the New York Mets.
Out of the lineup for almost two years, the 34-year-old slugger said Saturday he finally is close to fully recovered from a string of injuries to his feet and legs.
"I don't have an exact percentage on how I feel, but I feel way better than I did back in March," Cespedes said through a translator on a video conference call.
When the coronavirus outbreak halted spring training on March 12 and pushed back Opening Day about four months, that gave Cespedes more time to rehab and heal up.
He said he woke up at 5 a.m. for workouts seven days a week during the hiatus.
"I think possibly in the beginning in March I felt like I probably wouldn't have been ready for the season, I wouldn't have been ready in time," Cespedes said. "But I know for certain now that I will be ready and I'm very excited for the season to start in two weeks."
The Mets open at home on July 24 against Atlanta. And with the designated hitter available in the National League this year, Cespedes is a prime candidate for that role during a shortened schedule of 60 games.
The two-time All-Star outfielder missed last season and most of 2018. He had surgery on both heels and then broke his right ankle in a nasty fall at his Florida ranch in a reported run-in with a wild boar.
Cespedes said at spring training in February that he expected to return this year, and he's looked healthy and dangerous in the batter's box since summer camp opened July 3 at Citi Field.
He cracked a two-run homer off Seth Lugo during an intrasquad game Thursday. But rather than trot around the bases after the ball cleared the fence, Cespedes simply walked back to the dugout.
It seems his only remaining hurdle is showing he can sprint full speed without issue.
"I've been able to start running close to as normal as possible, and I think that's been the biggest stride," Cespedes said. "Just the way that my body feels now, it's been great."
Late last month, general manager Brodie Van Wagenen said the team was optimistic Cespedes would be ready for the season. Van Wagenen also noted Cespedes is a five-tool athlete and won't necessarily be limited to DH duty if healthy.
The left fielder is entering the final season of a four-year contract.
"The way that my body's feeling right now and the way that I've been able to run, I feel so much better and I feel like I'll be able to play the outfield if that comes up," he said.
Cespedes hasn't played since July 20, 2018 — his only major league game after May 13 that year.
"To be honest, I'm not out here to prove anything to anyone. I'm out here to prove something to myself — that after three surgeries that I can come back and play the way that I know that I can," he said.
Yankees closer Aroldis Chapman tests positive for coronavirus
New York Yankees closer Aroldis Chapman has tested positive for the coronavirus, manager Aaron Boone told reporters on Saturday.
Chapman has mild symptoms, according to Boone.
"[Zack Britton] naturally could fill the [closer] role," Boone said. "Britt would be a natural guy [to close games] if Chappy is not able to go."