Bears living life in QB limbo with Mitchell Trubisky – Chicago Bears Blog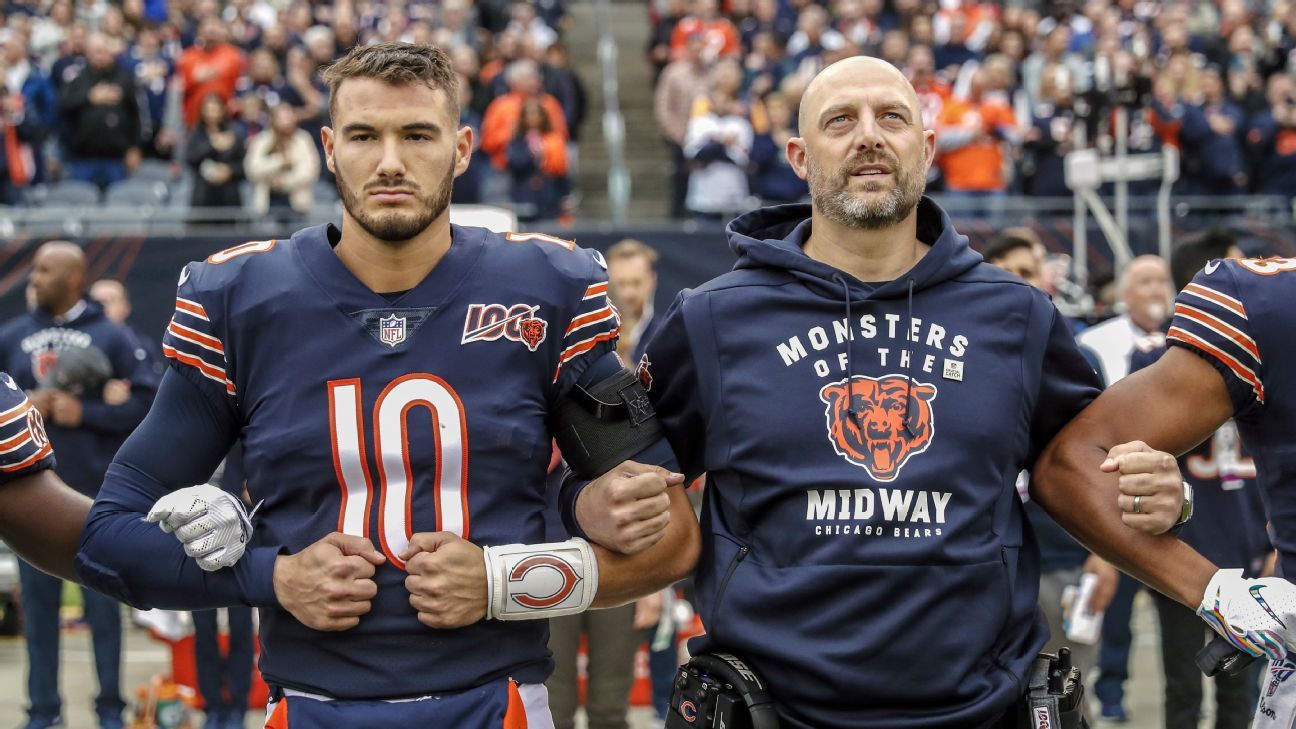 LAKE FOREST, Ill. — Don't expect the Chicago Bears to host a splashy offseason news conference to announce a lucrative contract extension for quarterback Mitchell Trubisky. That, however, doesn't mean Chicago's front office is done with the 25-year-old quarterback.
"The Bears aren't going to give up on Trubisky. Not right now," said Rex Ryan, an ESPN NFL analyst and former New York Jets and Buffalo Bills head coach. "There is no way that's going to happen."
But even Trubisky's most ardent supporters can't expect the Bears to offer him a second deal in the range of other young quarterbacks. In September, the Los Angeles Rams gave Jared Goff a four-year contract extension with $110 million guaranteed. In June, the Philadelphia Eagles signed Carson Wentz to a four-year extension with $107 million guaranteed.
Both had their team options picked up prior to the extension, and unlike Trubisky, both have had elite seasons.
But the Bears, without any electrifying results from Trubisky or real playoff success, find themselves stuck in quarterback limbo. The kind of place where a team doesn't have a solution or a clear path forward.
Goff, who will face the Bears Sunday (8:20 p.m. ET, NBC), got the deal because he guided the Rams to the playoffs in consecutive years and reached the Super Bowl last season. Goff has passed for 12,191 yards and 76 touchdowns with 35 interceptions since being drafted No. 1 overall in 2016.
Wentz, chosen second overall by the Eagles in 2016, passed for 3,296 yards and 33 touchdowns with seven interceptions in 11 games in 2017 before suffering a season-ending injury. Philadelphia went on to win the Super Bowl that year. In his career, Wentz has passed for 12,212 yards and 85 touchdowns with 32 interceptions.
Trubisky entered the league as the second overall pick in 2017. Over 34 career regular-season starts, Trubisky has passed for 6,806 yards and 39 touchdowns with 22 interceptions.
Those numbers pale in comparison to those of quarterbacks Patrick Mahomes (8,007 passing yards, 68 touchdowns, 14 interceptions) and Deshaun Watson (8,296 passing yards, 63 touchdowns 22 interceptions), both of whom were drafted after Trubisky in 2017.
Mahomes, the reigning MVP, and Watson are all but assured of inking record-setting deals in the offseason.
For the Bears, it's a type of football purgatory that many teams have experienced.
"To me, it is a tough situation. There is a lot of heat from the fan base because they don't think he can play," said Ryan, who was with the Jets when they drafted quarterback Mark Sanchez in the first round in 2009. "So you have a lot of things to consider, but I think they are going to err on the side of caution and wait and see. They just want some reason to sit back and say, 'Hey, look, he's got a chance.'"
But no matter how you spin it, the former North Carolina quarterback is in the throes of a subpar third season. Trubisky's only bright spots have been against dreadful defenses in Detroit and Washington, against whom he threw six of his eight touchdowns passes. The rest of the season has been one shaky performance after another, a seemingly endless stream of incompletions, inaccuracy, indecision and general ineffectiveness. The Bears could have easily pulled the plug on Trubisky following back-to-back home losses to the New Orleans Saints and Los Angeles Chargers, but they stayed the course.
"Right now it's too early to panic if you are in the Bears' front office," former NFL executive of the year Scott Pioli said. "Fans are going to react and overreact. The media is going to act and overreact, and that's what they are supposed to do. … When you're inside the room, you need to try and hold a steady hand. Keep working towards what you believe in until the time comes that you don't believe it's going to work anymore."
The Bears haven't reached that point, in large part because general manager Ryan Pace is heavily invested in Trubisky. Pace sent the third, 67th and 111th picks of the 2017 NFL draft and a 2018 third-round pick to the San Francisco 49ers to move up one spot to select Trubisky. By virtue of being the second overall pick, Trubisky signed a four-year, fully guaranteed rookie contract worth more than $29 million.
And Trubisky did — at times — reward Pace's faith last year. He passed for 3,223 yards and 24 touchdowns with 12 interceptions while the Bears went 12-4, won the NFC North and reached the playoffs for the first time since 2010.
"You can always go back to that [success last year] and see that it's not that this has never happened," Bears coach Matt Nagy said Thursday.
Ryan said he considered Trubisky one of the league's "most exciting players" in 2018.
On top of the strides Trubisky made in the passing game, he added a dual-threat ability, rushing for 421 yards and three touchdowns in 2018. This season, Trubisky dislocated his non-throwing shoulder and suffered a slight labrum tear in Week 4, and he has run just 14 times for 54 yards.
"With Trubisky, look, it hasn't been great, but I think last year he made huge strides," Ryan said.
"There is no set timetable for a quarterback. Some guys hit late. The one thing we know he has is the tools to be a legitimate NFL quarterback. And he's also had some flashes where you say, 'OK, this kid is pretty good.' That's kind of where you run into that fine line of asking yourself will there be other teams willing to roll the dice with him. I don't know. But you'd hate for somebody else to take him and he hits."
Pioli believes the worst thing Pace can do is bail on Trubisky prematurely.
"Right now, Mitch is not trending in a positive way, but the thing Ryan Pace can't do and the head coach can't do is jump the ship too early," Pioli said. "This is Mitch's third NFL season. There is still time. He's still learning …
"There's no blueprint for how long you wait on a quarterback."
The final piece of living in this limbo is procuring Trubisky's replacement. Where do you find him? Do you turn the offense over to backup Chase Daniel, who plays well in spurts but struggles when opponents have time to prepare for him? Do you sign a veteran in the offseason? Do you use limited draft capital — the Bears do not have a first-round pick but have two picks in the second round — and search for a college prospect?
And can the Bears find an upgrade to Trubisky?
For the impressive roster that Pace and the Bears have built, the quarterback spot is still in question. Remember, the Bears originally wanted Trubisky to sit out his entire rookie year. Pace signed veteran Mike Glennon — and guaranteed him $18.5 million — to bridge the gap until Trubisky was ready. But Glennon turned out to be an unmitigated disaster and lasted four games before Trubisky was forced into action.
"Be careful what you wish for, because when the guy is gone, who the hell is going to take his place?" Ryan said.
"It's not like you have a slam dunk heading your way. That's not the case. It's really a hard situation. I think they're going to stick with this guy and give him more time than people want. … It's easy to say we need a quarterback. Really, where are you going to find them?"
With no clear-cut alternative, Nagy and the Bears have no choice but to preach patience, even if that becomes increasingly difficult after every poor Trubisky outing.
"We all understand the significance and the importance of the quarterback position," Nagy said. "If you don't, then you're not really being real with the situation."
How Rams coach Sean McVay is handling his biggest challenge yet – Los Angeles Rams Blog
THOUSAND OAKS, Calif. — "Hold up!" a loud voice echoed inside the Los Angeles Rams locker room, after a celebratory postgame cheer.
John Fassel, the Rams' special teams coordinator, stepped to the middle of the room.
"When you talk about adversity, we've got a great leader, who always carries us through the highs and the lows," Fassel hollered in Rams coach Sean McVay's direction. "When it's time to work, he keeps focused on the mission."
Fassel handed McVay a game ball. "For everything you do," he said.
Ten months after McVay took the Rams to Super Bowl LIII, was hailed as an offensive genius and sent teams with coaching vacancies scrambling and reaching to hire anyone remotely connected to him, the Rams' 33-year-old coach has drifted back to reality.
The Rams are 7-5, and after winning back-to-back division titles are hoping, at best, for a wild-card playoff berth. As they prepare for a Sunday Night Football matchup against the 10-2 Seattle Seahawks (8:20 p.m. ET, NBC), the Rams have a 17.7% chance of making the postseason, according to ESPN's Football Power Index.
From the outside, it's easy to ask what has gone wrong, as McVay's signature offense has unexpectedly and repeatedly stalled. Last season, the Rams' offense was among the highest-scoring units in the NFL, averaging 26.5 points, but this season it has dropped to 17th, averaging 21.2. The defense, while often stout behind two-time NFL Defensive Player of the Year Aaron Donald, showed gaping holes in losses to the Tampa Bay Buccaneers and Baltimore Ravens.
"I would be lying to say that this [season] hasn't been more challenging," McVay said. "But that's also why there's a motivation to make sure to do right and to use this as an opportunity to try to respond in the way that you challenge your players and everybody else to."
McVay received a game ball after earning his first win as coach in 2017. He received a second game ball last season, after leading the Rams to their first playoff victory in 13 years.
But when Fassel stopped the celebration to acknowledge McVay, it wasn't a historic milestone — it was merely Week 11 of the regular season, moments after the Rams delivered a gritty, much-needed win over the Chicago Bears.
That night, in front of a prime-time audience and coming off an inexplicable loss to the Pittsburgh Steelers, McVay started an offensive line held together by threads, he lost receiver Robert Woods, who three hours before kickoff notified the team he would miss the game, and McVay utilized a game plan that departed from anything he'd previously shown, as they committed heavily to the run.
"The team basically gave him a game ball because he keeps pointing them in the right direction," defensive coordinator Wade Phillips said. "He's done a great job with that."
Through the ups and downs, which for the first time in McVay's career have included a plethora of injuries and personal issues that have affected the team, Rams assistants and players continue to point to what McVay is doing right.
The culture he established that helped turn around a team entrenched in mediocrity practically overnight remains intact, several players said.
"The foundation is still set," cornerback Nickell Robey-Coleman said. "Our chemistry is still on point."
Players continue to dash from the locker room to team meetings, fearing arriving even a second late could result in a fine. And attitudes throughout the locker room remain upbeat, despite sitting at five losses — tied for the most in a single season since McVay's arrival — with four games remaining.
McVay often has appeared as his energetic, upbeat self. For better or worse, he has kept to his way of shouldering blame for the Rams' shortcomings, especially on offense.
"You go through those first two years with all the success in the regular season and then, you kind of think, 'Man, what's it going to be like if we are not riding high at all times?'" said quarterback Jared Goff, who has passed for 13 touchdowns and 12 interceptions. "Now, we're not exactly doing that, but he's been the same guy."
"Your normal self's a lot easier when you're winning every game and everyone's telling you you're a genius," said offensive line coach Aaron Kromer, when asked how McVay has handled the uneven season. "He's just as much of a genius, or just as good as a football mind this year."
In McVay's third season, though, he has shown a vulnerability off the field that's a reminder that despite the overwhelming success early in his career, he's still a first-time head coach with plenty to learn.
Days after a stunning Week 4 loss to the flailing Tampa Bay Buccaneers, McVay spoke about his stress in a way he never had before. "I'm stressed because I'm always stressed out," he said. Days before a Week 10 loss to the Steelers, McVay appeared out of character, as his voice sounded hoarse and his eyes appeared wide. "It's been an exciting week," McVay said. "A lot of yelling."
Perhaps, it shouldn't have come as a surprise when the Steelers upset the Rams 17-12 two days later.
What did come as a shock was the 45-6 shellacking delivered by the Ravens on Monday Night Football. It was the worst loss of McVay's career. "There's not anything good to take away from this," McVay said. "Other than the fact that I did feel that our team continued to battle."
Six days later and amid the chaos of a short Thanksgiving week, the Rams bounced back to deliver a drubbing of their own in a 34-7 win over the Arizona Cardinals (3-8-1).
"It's been pretty much the same approach," running back Todd Gurley said about McVay's demeanor throughout the year. "Just trying to stay positive and just keep taking it game by game."
The Rams probably need to win their next four to advance to the playoffs for a third consecutive season. It won't be easy with games against the Seahawks, at the Dallas Cowboys and San Francisco 49ers before finishing at home with the Cardinals. With McVay leading the way, there's confidence it can be done.
"That dude is steady," Goff said. "We feed off him."
Bears' Eddie Jackson honed skills covering Cowboys' Amari Cooper at Alabama – Chicago Bears Blog
LAKE FOREST, Ill. — Chicago Bears safety Eddie Jackson doesn't need a copy of the advance scouting report on Dallas Cowboys receiver Amari Cooper.
"He's really the one that [helped me learn] my coverage skills," Jackson said of Cooper. "He helped me build [as a player] and got me polished."
Both Jackson and Cooper were four-star high school football recruits who played together at Alabama. Cooper finished his career as the Crimson Tide's all-time leading receiver. Jackson, a year younger than Cooper, got to face him every single day at practice.
"There was one time in practice he was killing me," Jackson said. "I was a freshman. I looked back at coach [Nick] Saban, and he said, 'Don't look back at me, Eddie, I'm not going to take him off you.'
"Going into spring ball after my freshman year, that's when everything came and I got him. We were going one-on-one. It used to be Amari, Amari, Amari. Then it became, like, tit for tat. Now it was Amari, Eddie, Amari, Eddie."
Fast forward six years and Cooper is a force to be reckoned with. A three-time Pro Bowler and No. 4 overall pick by the Oakland Raiders in the 2015 NFL draft, Cooper leads the Cowboys with 64 catches for 971 yards and seven touchdowns.
The Bears (6-6) host the Cowboys (6-6) on Thursday night (8:20 p.m. ET, Fox) in a game with serious playoff ramifications.
"Cooper is definitely at the top [of the list of the league's best receivers]," Bears coach Matt Nagy said. "He's one of the best route-runners in this game. Again, I've had the unfortunate familiarity of going against him for years and years in Kansas City. I've seen him have some good games at times, but he's a guy that can win the one-on-one matchup. He has great hands, he's smart and he's a football player."
Barring something completely unforeseen, Cooper will top 1,000 receiving yards for the fourth time in his career. Cooper was traded to Dallas last season but remains unsigned beyond 2019.
"He's just an elite competitor," Bears defensive coordinator Chuck Pagano said on Monday. "He's got all the intangibles. The athleticism is there. The speed is there. The strength, his route-running ability.
"… He's well-coached, I know that. He's got strong hands. He runs great routes. He's very, very precise. He understands coverage. He knows how to get open. And he's going to win a bunch of 50-50 balls, and him and the quarterback have great chemistry."
Jackson describes Cooper's versatility as the veteran receiver's greatest strength.
"Oh, man, he can do a lot of different things," Jackson said. "Route running. He's fast. He can stretch the field vertically. Good release guy. Knows how to drop his weight and shift in-and-out of routes pretty good."
In the mind of Bears offensive coordinator Mark Helfrich, the head coach of perennial powerhouse Oregon when Cooper dominated at Alabama, the 25-year-old receiver is, "a dynamic, dynamic guy."
"He's a fabulous player," Helfrich added.
But something has to give Thursday night. The Bears enter Week 14 with the league's ninth-ranked passing defense. Two members of the Bears' defensive backfield were voted to the Pro Bowl last year (Kyle Fuller and Jackson). This season, Chicago has allowed only four players to reach 100-plus receiving yards in a game (Stefon Diggs, Michael Thomas, Zach Ertz and Kenny Golladay).
But Jackson knows if the Bears aren't careful, Cooper can easily become the fifth player to inflict heavy damage on Chicago's secondary, which features another former Alabama player in safety Ha Ha Clinton-Dix.
"[Amari] is a guy we've got to bring it [against] every play," Jackson said.
Foot injury? For hundreds of NFL players, that means a trip to Green Bay
GREEN BAY, Wis. — All Davante Adams had to do was cross the street.
Cam Newton, Saquon Barkley and more than 200 other NFL players had to cross the country.
Look for the tubing hill — even go down it if you're like Saints defensive end Marcus Davenport — across from Lambeau Field, and you'll find the sports world's most famous foot and ankle specialist, Dr. Robert Anderson, at Bellin Health Titletown Sports Medicine and Orthopedics.
If Bellin Health built it, they believed Anderson would come. And because of him, 403 VIP clients, including 269 NFL players and a head coach, have come through the doors at the state-of-the-art facility since it opened in August 2017 in the NFL's smallest city.
For years, professional athletes from all walks of sports visited Anderson at his practice in Charlotte, North Carolina, and they've followed him to Green Bay.
"Before I took this job, I made some phone calls to some agents and other team physicians and head trainers asking what they think: 'Do you think guys will come to Green Bay to see me?' " Anderson said. "And I'll never forget one very well-known agent said: 'Well, they're not coming to Charlotte because you've got a nice airport.' "
But there are certainly more direct flights to Charlotte than Green Bay.
"That's not an issue for me as long as I'm going to see the right guy," said Chargers defensive end Joey Bosa, who saw Anderson in Green Bay early in the 2018 season because of a bruised foot. "It's your livelihood, especially if you get the wrong opinion, you could do something to worsen your condition. So I think it's important to go see somebody.
"I had already traveled to Houston to see a doctor, so when it comes down to your career, it's not really a pain in the ass."
Adams didn't need to board a flight to see Anderson. He merely crossed Ridge Road, which bisects Lambeau Field and the Packers' growing Titletown District that also includes a park with outdoor games, fitness activities, a winter skating rink, tubing hill, the four-diamond hotel Lodge Kohler and Hinterland Restaurant and Brewery.
But he would have gone anywhere to see the most renowned foot specialist after his turf toe injury on Sept. 26.
"It's great having that resource right here," Adams said. "I know Saquon came to see him right before I did, but obviously I didn't have to travel. I'm not sure why he's in Green Bay of all places, given the guy he is, but it helps a lot."
The Bellin facility has a VIP entrance at the back of the building for the athletes who come from around the country — and in some cases from other countries. Athletes from 37 states and five countries have visited Anderson since he has been in Green Bay.
---
'Who fixed that turf toe?'
To understand why Anderson is in Green Bay, it's necessary to understand how he became the foot and ankle guy.
It happened almost by accident.
Anderson, 62, studied under an orthopedic surgeon in Charlotte, Dr. Angus McBryde, who worked with the U.S. Olympic track athletes. At that time, the New York Giants sent a player with a foot injury to see McBryde. He and Anderson determined it was an injury to his sesamoid, a tiny bone beneath the joint in the big toe.
"At an early age I ended up becoming a guru about a bone this big," Anderson said, holding his thumb and index finger less than an inch apart.
But it's also the bone closest to where turf toe injuries occur.
"People, probably erroneously, made the relationship between my knowledge of the sesamoid issue with turf toe," Anderson said.
Shortly after Dr. Pat McKenzie joined the Packers' medical staff in 1991, he sent a player with turf toe, or sprained ligaments at the base of the big toe, to see Anderson and, according to Anderson, the player "came back and did very well, so the word got out that there's a guy who can fix turf toe and other foot and ankle injuries in athletes."
"From there, it was word of mouth," Anderson said. "It was trainer talking to trainer, [asking] 'Who fixed that turf toe?' "
When the NFL put a team in Charlotte for the 1995 season, Anderson became their foot and ankle consultant and later an assistant team physician. Former NFL commissioner Paul Tagliabue asked him to head up a foot and ankle study in 2003. He now chairs an NFL committee on muscular-skeletal studies.
---
Why Green Bay?
Anderson grew up in Wauwatosa, Wisconsin, and went to school with McKenzie at the Medical College of Wisconsin.
"Dr. McKenzie has been working on me for about 15 years," Anderson said. "He finally broke me down. I had been talking to him for years about coming up to Green Bay, but it was just never right."
Anderson retired as one of the Panthers' team physicians after the 2016 season but planned to keep his private practice in Charlotte until he listened to the recruiting pitch from McKenzie and Bellin, whose Titletown clinic was in the works.
And the athletes followed him.
Earlier this season, Newton was photographed walking through the Austin Straubel International Airport, and someone posted the picture on Twitter, asking why Newton would be in Green Bay more than a week in advance of the Panthers game against the Packers.
The answer, of course, was Anderson. Just days after he saw Anderson, Newton was placed on injured reserve because of his Lisfranc injury.
In November 2017, Richard Sherman posted a video on the eve of his Achilles surgery from Lodge Kohler.
Privacy laws prevent Anderson and Bellin from discussing specific clients, but Anderson described one player's visit to see him for surgery after last season.
"We had a first-round draft choice from one of the teams that came for surgery," Anderson said. "Surgery was planned for the next day, and that night he and his significant other were on the tubing hill multiple times. He's from the South, he's never seen tubing before. He bought the unlimited pass."
"Obviously it's not as convenient as flying to Charlotte or the other hubs. We tell the guys, just get here and it'll be stress-free."

Dr. Robert Anderson
That player, Davenport admitted, was him during his visit in February.
"I went tubing right before because it just so happened to be right outside of the hotel," Davenport said. "Did it over and over again. But it was cold."
Said Anderson: "We had another guy come in for a second surgery and he and his significant other came a few days early just to enjoy the spa at Lodge Kohler because they liked it so much from the first visit. Obviously, it's not as convenient as flying to Charlotte or the other hubs. We tell the guys, just get here and it'll be stress-free."
Anderson is available to see amateur athletes, as well; that was one of his goals when he came to Green Bay.
"I bet it's two-thirds regional patients and one-third professional/VIP," Anderson said. "That's what we strived for. I'd love to be 90 percent regional, 10 percent professional just because the professional guys, you know, they're visible and these visits are oftentimes publicized. But really, there's so many young athletes out there — young guys, the weekend warrior — that really need access to quality care for their sport-related injuries as well, and that's what we're trying to do."
---
It's got to be the shoes
Of the 403 VIP visits, 167 of them resulted in surgery. Among Packers, Adams did not require surgery but coach Matt LaFleur did when he ruptured his Achilles tendon in June.
The nonsurgical visits to Anderson include a wide array of consulting tools to help him determine the proper course of healing. Among them is the "FitStation Powered by HP." All 32 NFL teams have them at their facilities, but when players come to Green Bay, they go through it with Anderson's help.
The device takes a 3D scan of a player's foot — width, height, length and girth — and then comes up with the proper shoe match for the player.
"We're trying to do a paradigm shift with the players and the manufacturers to look at the shoe as a protective piece of equipment, not apparel," Anderson said.
Anderson said most players come to the NFL with the wrong shoes.
"So now you've got a shoe that's not functioning right, that's not bending the way it should, and they're potentially placing themselves at more risk for fractures, turf toe and Lisfranc injuries," he said.
Anderson said many foot injuries are the result of players wearing the wrong shoes and cleats, especially when paired with artificial surfaces.
"We have a torque problem," he said. "The players want traction. To them, that's performance, and they want to do it in a lightweight shoe that has very little protection and, oh by the way, the shoe has to look good. So when that traction becomes too great and when those cleats catch in the seams of the artificial turf, it generates a lot of torque. If the torque doesn't release, you get a lower-extremity injuries."
The FitStation can help.
"We have an app that the player has available to him within the shoe company he works with to say these are the six best shoes in that size currently available," Anderson said. "We test all the shoes for bend in the front of the foot and how the cleats behave and we come up with a scoring sheet. And they have that available, too. It will have, 'not recommended for artificial turf,' and the rest of the shoes are rated."
Then there's the running lab and pressure-point analysis testing machine Anderson has at his disposal to further evaluate foot and ankle injuries.
'This is the guy that you go to'
Most of the VIP clients who have visited Anderson were referrals from team doctors and trainers, but it also has gotten to the point where agents contact Anderson directly when one of their players has an issue.
"It was a consensus. Everybody had talked and [said], 'This is the guy that you go to,'" Davenport said.
There's word of mouth among players, too.
"People reach out," said Adams, who said among those he heard from after his injury were Larry Fitzgerald and Eric Dickerson. "Obviously, the longer you've been in it, the more people you know with experience. I had a couple of guys reach out from other teams and give me guys that they know based on who went to who. Larry Fitz reached out to me, and I had never talked to him before, and he reached out to me about rehab-type stuff, which was really cool."
ESPN's Eric Williams and Mike Triplett contributed.