NFL invites teams to Colin Kaepernick workout Saturday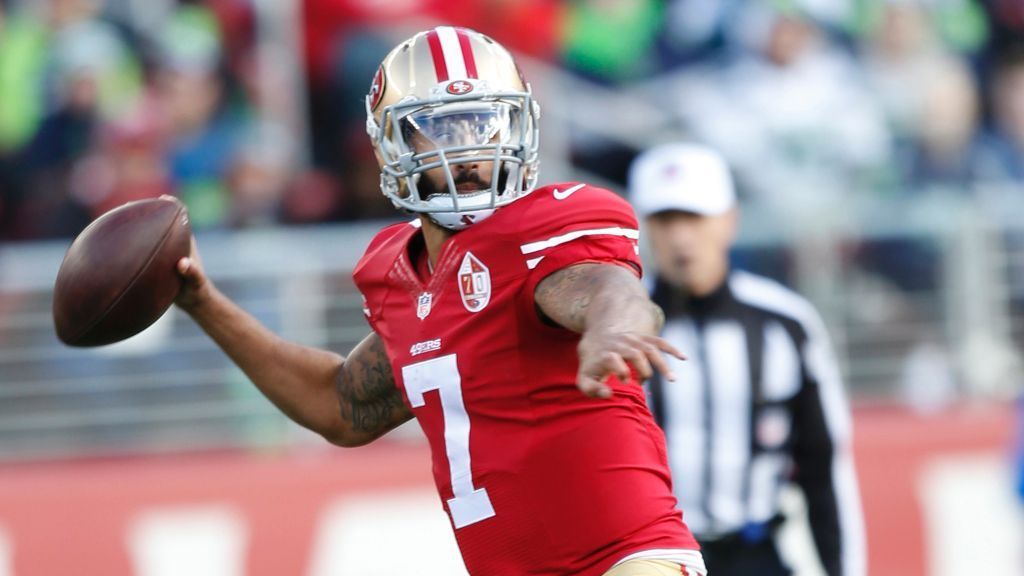 NFL clubs were informed Tuesday that a private workout will be held for free-agent quarterback Colin Kaepernick on Saturday in Atlanta, according to a copy of a memo obtained by ESPN.
The session will include on-the-field work and an interview. All teams are invited to attend, and video of both the workout and the interview will be made available to them.
Several clubs have inquired about Kaepernick's current football readiness, and sources told ESPN's Dan Graziano that the workout was also set up in response to a statement by Kaepernick's representatives sent Oct. 10 saying they had received "little to no response" from all 32 NFL teams. Kaepernick has been out of the NFL since 2016, the year he began protesting police brutality and racial injustice by kneeling during the pregame national anthem.
In the memo, the league said: "Earlier this year, we discussed some possible steps with his representatives and they recently emphasized his level of preparation and that he is ready to work out for clubs and be interviewed by them. We have therefore arranged this opportunity for him to work out, and for all clubs to have the opportunity to evaluate his current readiness and level of interest in resuming his NFL career."
Kaepernick tweeted about the workout Tuesday night:
I'm just getting word from my representatives that the NFL league office reached out to them about a workout in Atlanta on Saturday. I've been in shape and ready for this for 3 years, can't wait to see the head coaches and GMs on Saturday.

— Colin Kaepernick (@Kaepernick7) November 13, 2019
As Kaepernick suggested in the tweet, the proposed workout on Saturday came as a surprise to the quarterback and his representatives.
Sources told ESPN that Kaepernick and his reps were alerted to the workout at 10 a.m. Tuesday, ahead of a 4 p.m. ET personnel notice that was sent to teams. When notified, the quarterback's reps asked for the workout to be on a Tuesday, which typically is when all NFL workouts take place, because head coaches and general managers can more easily attend. On Saturday, almost half of the NFL teams will be traveling to games, and most of the rest of the coaches and players will be heading to their team hotels to prepare for their games the next day.
But the NFL said the workout had to be on a Saturday, sources told ESPN. When the league was asked if it could be on the following Saturday — by making it this Saturday, the 32 teams only have about three days to make a decision on whether to attend and whom to send — the NFL said no and didn't provide a reason.
Sources told ESPN that the NFL league office also said that none of the 32 teams had been made aware of the workout before the memo was sent. When Kaepernick's representatives asked whether a team or teams had asked for the workout, they explained that the NFL league office said, "We can't tell you that."
Because of the shroud of mystery around the workout and because none of the 32 NFL teams had been informed before Tuesday, Kaepernick's representatives began to question the legitimacy of the workout and process and whether it was just a public relations stunt by the league, sources told ESPN. The representatives asked the league office for a list of personnel executives and coaches who would be attending the workout because GMs and head coaches make personnel decisions, especially given how important the quarterback position is.
As it stands now, the ball is in the NFL's court to submit the list of personnel executives and coaches who will attend on Saturday.
One source from an NFC team told ESPN's Josina Anderson that the team will review on Wednesday morning whether to attend the Kaepernick workout. "We have nothing to lose by attending Kaepernick's workout, but I still think for us it would just be an information-gathering trip," the source said. Another source told Anderson that there is interest in the Dallas Cowboys organization to send at least one representative to the workout.
Miami Dolphins coach Brian Flores told reporters Wednesday that his team will have a representative at the workout. He said he likes his team's quarterback situation now, but the organization will do its due diligence.
Sources told Graziano that the workout will be held at the Atlanta Falcons' team facility and will be administered by president of National Football Scouting Jeff Foster, whose responsibilities include deciding which prospects are selected for the NFL draft combine and administering the combine.
The workout, which will be closed to the media, will be conducted by former NFL coaches, although the exact names have not been finalized.
Kaepernick, who turned 32 on Nov. 3, opted out of his contract with the San Francisco 49ers in March 2017, following the season in which he began the protests.
Within the past two years, Kaepernick and former Niners teammate Eric Reid filed grievances against the league through the NFL Players Association, alleging collusion among team owners to deny jobs to both players. In February, it was announced that both players had reached a settlement with the NFL. Terms were not disclosed.
Reid, a safety, is in his second season with the Carolina Panthers.
Last month, Kaepernick's representatives said he has been "working out five days a week, for three years, in preparation to play again" but that the opportunity hasn't presented itself.
Patriots offering free parking for home games
The New England Patriots are offering free parking for home games during the 2020 season, the club announced in a letter to its season-ticket members on Monday.
"In order to show our appreciation for your commitment to the Patriots during this unique season — and in acknowledgment that it will be different than any other season we have ever experienced together — we want to share that we will provide free parking in all Gillette Stadium lots this year," the letter read. "From both a safety and convenience standpoint, we hope this will simplify one aspect of your game-day experience in 2020 and serve to express our gratitude for your support."
There are thousands of parking spots around the Patriots' home stadium, which produce significant revenue for owners Robert and Jonathan Kraft. The exchange of cash to enter the lots, and the potential safety hazards with COVID-19, sparked the decision to offer free parking.
The club also announced that all ticketing, and entry to the stadium, will be digital.
The Patriots continue to also offer season-ticket members at an elevated risk of COVID-19 infection the chance to skip the 2020 season and still on to their seats for the next year.
Ben Roethlisberger's new puppies, Dwyane Wade's new haircut and what you missed this weekend
Here's what you might have missed over the weekend …
The coronavirus put a halt to virtually every sport there is, but nothing, NOTHING, stops Joey Chestnut on the Fourth of July.
Joey Chestnut could have sat out the final 5 minutes and 35 seconds of this year's competition and still won.

His 33 hot-dog-and-bun margin of victory is the largest since the competition split into men's and women's in 2011.

He consumed roughly 21,750 calories in 10 minutes. pic.twitter.com/lh3voGUdpe

— ESPN Stats & Info (@ESPNStatsInfo) July 4, 2020
My stomach hurts just from reading the above — how about you?
---
Maybe you went fishing over the holiday weekend? But you probably didn't do as well as Jawaan Taylor did.
That certainly looks like a catch worthy of an offensive lineman.
---
They don't celebrate Independence Day across the pond, but Manchester United surely celebrated a 5-2 win over Bournemouth. Paul Pogba was not among the goal scorers, but he still made an impact — in more ways than one.
Pogba's barber is clearly back in business.
---
A couple of Super Bowl-winning quarterbacks — Ben Roethlisberger and Tom Brady — were celebrating other things over the weekend as well.
Welcome to the 7 (yes, 7) newest members of the Roethlisberger family! 🐕 pic.twitter.com/J3g1QzTtd0

— BigBen7.com (@_BigBen7) July 5, 2020
Happy Birthday Mom! We love you and adore you! Enjoy your special day!! ❤️❤️ pic.twitter.com/3cZOIZ3hlW

— Tom Brady (@TomBrady) July 4, 2020
Tom's the one in his dad's arms, by the way, in case you couldn't figure that out.
---
Fireworks are a traditional part of July Fourth celebrations, but Dwyane Wade went above and beyond this year.
Whose hair do you like better, Pogba's or Wade's?
---
And finally, if you wanted to see some real fireworks, here you go — thanks to Pittsburgh Steelers wide receiver JuJu Smith-Schuster.
Pittsburgh's giant fireworks display at Point State Park was cancelled, but JuJu had the south side covered. pic.twitter.com/h04Knjv2zc

— Brooke Pryor (@bepryor) July 5, 2020
Hope you all had a good holiday weekend.
Better, worse or same? Jaguars offense could be entertaining – Jacksonville Jaguars Blog
JACKSONVILLE, Fla. – The Jacksonville Jaguars were, at times, a horror show on offense in 2019.
They were also pretty entertaining and effective at times, too.
If they're going to have any chance at all of competing for the AFC South title in 2020, they're going to have to figure out how to be more of the latter with pretty much the same personnel, plus a couple key additions in tight end Tyler Eifert and running back Chris Thompson.
There's a new coordinator in Jay Gruden, who brings a West Coast-style attack. He'll be the team's fifth coordinator since 2015 and the fourth in the last three seasons. Maybe he'll be able to generate more than the 18.8 points per game the Jaguars averaged last season.
So is the Jaguars offense going to be better, worse or the same as it was in 2019? Here's a position-by-position breakdown of the offense:
Quarterback
Additions: Mike Glennon (free agent), Jake Luton (draft)
Losses: Nick Foles
Returners: Gardner Minshew, Josh Dobbs
Better, worse or the same? Same
The Jaguars didn't draft a quarterback until the sixth round, though there were rumors the team wanted to trade up into the top five. They passed on Jameis Winston and Cam Newton, and didn't sign a veteran to replace Foles until May 8, so it's clearly Minshew's team. Minshew went 6-6 as a starter and had a higher passer rating and fewest interceptions of any rookie quarterback last season. The feeling is he'll be a good fit in Gruden's offense. This is his chance to prove that he can be the team's long-term starter.
Running back
Additions: Nathan Cottrell (undrafted free agent), Connor Slomka (undrafted free agent), Tavien Feaster (undrafted free agent), James Robinson (undrafted free agent), Chris Thompson (free agent)
Losses: Jeremy McNichols
• Big questions » | Power Rankings »
• Free agency: Tracker » | Grades »
• Draft: All 255 picks » | Grades »
• Fantasy: Cheat sheets » | Projections »
• 2020 schedule » | More NFL coverage »
Returners: Ryquell Armstead, Leonard Fournette, Devine Ozigbo
Better, worse, or the same? Better
Fournette had a bounce-back season in 2019, compiling 1,674 yards from scrimmage and leading the Jaguars in rushing and receptions. He only scored three TDs and struggled in the red zone and the Jaguars need him back to his rookie form in that area (10 TDs). Thompson should help significantly as a third-down back, which should take some of that burden off Fournette. Armstead and Ozigbo flashed in the 2019 season finale when Fournette was out, which was encouraging.
Wide receiver
Additions: Laviska Shenault (draft), Collin Johnson (draft), Josh Hammond (undrafted free agent), Marvelle Ross (undrafted free agent), Terry Godwin (free agent)
Losses: None
Returners: C.J. Board, DJ Chark, Keelan Cole, Chris Conley, Michael Walker, Dede Westbrook
Better, worse or the same? Same
Chark had a breakout season and made the Pro Bowl, Conley set a career high with 47 catches last season and Westbrook caught 66 passes despite playing the season with a bad shoulder. That's a good nucleus. Cole came on at the end of the year after not getting much time early and he gives the Jaguars four reliable, experienced targets. It will be interesting to see what the team does with Shenault, their second-round pick. Coach Doug Marrone wants to use him as a running back, receiver, tight end and Wildcat quarterback, but that will depend on how well Shenault assimilates the new offense despite having only a virtual offseason. It might be best to temper expectations for Shenault and all rookies because of that.
Tight end
Additions: Tyler Eifert (free agent), Tyler Davis (draft), Ben Ellefson (undrafted free agent)
Losses: Ben Koyack, Seth DeValve, Nick O'Leary
Returners: James O'Shaughnessy, Josh Oliver, Charles Jones
Better, worse or the same:? Better
Eifert played a full season in 2019 for the first time in his career (he played 15 games as a rookie in 2013 but missed 52 games from 2014-18). If he stays healthy, the Jaguars will have a legitimate threat at the position for the first time since Julius Thomas caught 46 passes in 2015. O'Shaughnessy had emerged as the top tight end early last season but suffered a torn ACL in Week 5. The team was really high on Oliver as a rookie last season but hamstring and back injuries limited him to just four games. He has a lot to prove. There's better depth at the position than the Jaguars have had in a long time.
Offensive line
Additions: Ben Bartch (draft), Steven Nielsen (undrafted free agent), Tre'Vour Wallace-Sims (undrafted free agent)
Losses: Cedric Ogbuehi
Returners: A.J. Cann, Tyler Gauthier, Blake Hance, Brandon Linder, KC McDermott, Andrew Norwell, Ryan Pope, Will Richardson, Cam Robinson, Tyler Shatley, Jawaan Taylor
Better, worse or the same? Same
The Jaguars believe their offensive line is one of the team's strengths. but there isn't a single Pro Bowl player in the bunch. Norwell was All-Pro in 2017 but hasn't come close to matching that performance or living up to the enormous contract the Jaguars gave him; his $12 million salary in 2020 is third-highest on the team. Taylor showed a lot of promise as a rookie right tackle last season but he also tied for the NFL lead with 15 penalties. Robinson got better as the season progressed as he returned from a torn ACL. Richardson, who split time with Cann at right guard last season, has been moved to left tackle to compete with Robinson. Bartch is an intriguing prospect out of St. John's University in Minnesota who can play tackle and guard, but he's likely a year away from pushing for a starting job.