NFL invites teams to Colin Kaepernick workout Saturday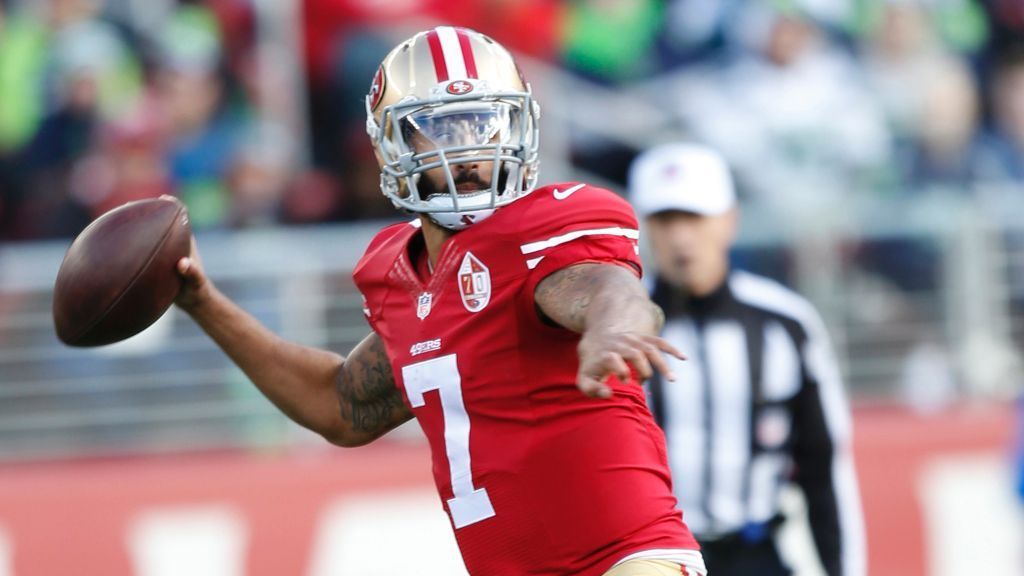 NFL clubs were informed Tuesday that a private workout will be held for free-agent quarterback Colin Kaepernick on Saturday in Atlanta, according to a copy of a memo obtained by ESPN.
The session will include on-the-field work and an interview. All teams are invited to attend, and video of both the workout and the interview will be made available to them.
Several clubs have inquired about Kaepernick's current football readiness, and sources told ESPN's Dan Graziano that the workout was also set up in response to a statement by Kaepernick's representatives sent Oct. 10 saying they had received "little to no response" from all 32 NFL teams. Kaepernick has been out of the NFL since 2016, the year he began protesting police brutality and racial injustice by kneeling during the pregame national anthem.
In the memo, the league said: "Earlier this year, we discussed some possible steps with his representatives and they recently emphasized his level of preparation and that he is ready to work out for clubs and be interviewed by them. We have therefore arranged this opportunity for him to work out, and for all clubs to have the opportunity to evaluate his current readiness and level of interest in resuming his NFL career."
Kaepernick tweeted about the workout Tuesday night:
I'm just getting word from my representatives that the NFL league office reached out to them about a workout in Atlanta on Saturday. I've been in shape and ready for this for 3 years, can't wait to see the head coaches and GMs on Saturday.

— Colin Kaepernick (@Kaepernick7) November 13, 2019
As Kaepernick suggested in the tweet, the proposed workout on Saturday came as a surprise to the quarterback and his representatives.
Sources told ESPN that Kaepernick and his reps were alerted to the workout at 10 a.m. Tuesday, ahead of a 4 p.m. ET personnel notice that was sent to teams. When notified, the quarterback's reps asked for the workout to be on a Tuesday, which typically is when all NFL workouts take place, because head coaches and general managers can more easily attend. On Saturday, almost half of the NFL teams will be traveling to games, and most of the rest of the coaches and players will be heading to their team hotels to prepare for their games the next day.
But the NFL said the workout had to be on a Saturday, sources told ESPN. When the league was asked if it could be on the following Saturday — by making it this Saturday, the 32 teams only have about three days to make a decision on whether to attend and whom to send — the NFL said no and didn't provide a reason.
Sources told ESPN that the NFL league office also said that none of the 32 teams had been made aware of the workout before the memo was sent. When Kaepernick's representatives asked whether a team or teams had asked for the workout, they explained that the NFL league office said, "We can't tell you that."
Because of the shroud of mystery around the workout and because none of the 32 NFL teams had been informed before Tuesday, Kaepernick's representatives began to question the legitimacy of the workout and process and whether it was just a public relations stunt by the league, sources told ESPN. The representatives asked the league office for a list of personnel executives and coaches who would be attending the workout because GMs and head coaches make personnel decisions, especially given how important the quarterback position is.
As it stands now, the ball is in the NFL's court to submit the list of personnel executives and coaches who will attend on Saturday.
One source from an NFC team told ESPN's Josina Anderson that the team will review on Wednesday morning whether to attend the Kaepernick workout. "We have nothing to lose by attending Kaepernick's workout, but I still think for us it would just be an information-gathering trip," the source said. Another source told Anderson that there is interest in the Dallas Cowboys organization to send at least one representative to the workout.
Miami Dolphins coach Brian Flores told reporters Wednesday that his team will have a representative at the workout. He said he likes his team's quarterback situation now, but the organization will do its due diligence.
Sources told Graziano that the workout will be held at the Atlanta Falcons' team facility and will be administered by president of National Football Scouting Jeff Foster, whose responsibilities include deciding which prospects are selected for the NFL draft combine and administering the combine.
The workout, which will be closed to the media, will be conducted by former NFL coaches, although the exact names have not been finalized.
Kaepernick, who turned 32 on Nov. 3, opted out of his contract with the San Francisco 49ers in March 2017, following the season in which he began the protests.
Within the past two years, Kaepernick and former Niners teammate Eric Reid filed grievances against the league through the NFL Players Association, alleging collusion among team owners to deny jobs to both players. In February, it was announced that both players had reached a settlement with the NFL. Terms were not disclosed.
Reid, a safety, is in his second season with the Carolina Panthers.
Last month, Kaepernick's representatives said he has been "working out five days a week, for three years, in preparation to play again" but that the opportunity hasn't presented itself.
Crunchy mouthpieces, frozen gloves: Cowboys' 2013 trip to Chicago – Dallas Cowboys Blog
Center Travis Frederick grew up in Wisconsin, not far from the Illinois border. He played football at the University of Wisconsin. He has gone ice fishing. He knows cold.
At least he thought he did until Dec. 9, 2013 when the Dallas Cowboys played the Chicago Bears at Soldier Field.
"I think that's the coldest game I've ever played in," Frederick said, thinking back to his rookie season.
• Vikes' playoff chances hinge on fixes
• Kelce is Chiefs' one constant
• Minshew begins 2020 audition
• Jets' roster, cap crushed by injuries
• Warner at heart of Niners' defense
• Meet the NFL's foot doctor to the stars
As a Cowboy, it certainly was.
The only game colder in franchise history is one of the most iconic games in NFL history: the Ice Bowl. The 1967 NFL Championship Game at Lambeau Field in Green Bay was minus-13 degrees at kickoff.
In 2013, the temperature at kickoff was 8 degrees with a minus-9 degree wind-chill, making it the coldest regular-season game in Cowboys' history. The Cowboys lost, 45-28, but the score was not indicative of the type of game it was for Dallas.
"When you're ice fishing, you can bundle up, right?" Frederick said. "In football, you can't."
When the Cowboys (6-6) take on the Bears (6-6) on Thursday at Soldier Field (8:20 p.m. ET, Fox), the temperature at kickoff is expected to be in the 30s, which would be relatively balmy compared to that Monday night almost six years ago. For the first time this season, the Cowboys practiced outside all three days in a nod to the conditions. The temperatures weren't too bad for practice in Texas, but it was windy and coach Jason Garrett wanted his guys practicing on grass with the team set to play on the grass at Soldier Field.
"Obviously, it's hard for us to recreate the weather conditions in Dallas that you're going to get in Chicago," Garrett said, "but dealing with the grass is something we can do. So, hopefully we can take advantage of that."
Seven players and six coaches who were there on Dec. 9, 2013, remain with the Cowboys. Here are some of their stories:
Pregame: 'Kicking a brick'
It was only a short walk from the team's downtown Chicago hotel to the buses parked out on the street, but players knew then it was going to be a miserable experience.
Safety Jeff Heath: "Walking out of the hotel to the bus, walking off the bus, man, that was terrible. I remember thinking, 'Man, this is going to be rough.' It was that cold."
Long-snapper L.P. Ladouceur: "From the bus to the locker room, just in that breezeway or hallway, whatever it was, it was just cold. Then I get on the field and I tried to run around and said, 'That ain't gonna happen,' so we went back inside. We went and kicked in the pregame. Our normal set is kick about 20-25 balls, then we do about 20-25 punts. We ended up cutting that to about five or six each side, went back inside and waited until the whole team went out."
Frederick: "That was the first time [veteran tackle] Doug Free told us that we could wear sleeves during the game. I remember specifically that everybody was trying to figure out what we were going to do. … I think there was an ask. We went out for pregame without [sleeves] as well and then we made the decision after that."
Punter Chris Jones: "It was bruise-on-the-top-of-my-foot cold. I think we only punted like two or three times in the game, but just from the pregame and halftime, all that stuff, I mean it was literally like you're kicking a brick. And I bruised my foot."
Tight end Jason Witten: "I think mental toughness is Line 1 for me when you play pro football, and weather kind of falls into that. You can't allow that to say, 'Well, we didn't win the game because of that.' That's the biggest excuse. Get your mind right, practice in it, do those different things that are going to allow you to, do wet ball drills, all that kind of stuff, and go find a way to win. But that was not a good night in Chicago."
The game: 'Long as I don't get out, I'm OK'
It was a bad night for the Cowboys. A defense that finished among the worst in franchise history allowed Bears backup quarterback Josh McCown to throw four touchdown passes and saw the Chicago offense gain 490 total yards.
But the on-field performance is not what players remembered.
Linebacker Sean Lee: "I'd take my mouth guard out, call the huddle and put it back in and it was crunchy. It was that cold. That's part of playing football. That's what makes football fun, playing in different environments."
Heath: "I would spit out of my out of my helmet, and it'd hit the mask and freeze within 10 seconds."
Defensive line coach Rod Marinelli: "Warm socks. Deodorant. The spray. It keeps your feet dry. It works. I just wear one pair of socks."
Ladouceur: "I usually warm up on our sideline, get in one or two snaps before we go in. I literally went from the bench, which was heated, with the coat on and I just threw everything off, ran on the field, snapped, come back and sat in the exact same spot. Chris did the same thing. We didn't kick in the net. It was just a miserable experience."
Witten: "I always kind of lick my gloves or spit on them … and I remember I did that and they kind of froze up. I said, 'Oh, this is pretty cold."
Frederick: "I'm trying to think what a normal person would go through and it's like if you're going swimming and the pool's not heated. It's cold. You jump in and it's cold for a minute and then you're like, 'OK, as long as I don't get out, I'm OK.' So as long as you don't get out, you're not thinking about it because you're thinking about football."
The heaters: 'There was nothing you could do'
For cold-weather games, the Cowboys' equipment staff packs approximately 17,000 pounds of gear with full-length jackets, gloves, hats and all the accouterments.
While the benches were heated, the most popular spot was next to the heaters blowing at each end of the benches.
Lee: "Some of the guys that weren't playing would be around it, and it's like, 'You need to rotate out.' Some of the guys were trying to get their legs warm going out there. We kind of had an etiquette, a code. It usually stays that way. Sometimes you had to remind guys to get out of the way."
Heath: "I'm not sure the heaters even worked. There was nothing you could do [to stay warm]. I mean nothing."
Halftime: 'Remember seeing chicken broth'
Chicago scored 10 points in the final 1:33 of the second quarter to go up 24-14 at halftime. The locker room was an interesting scene.
Frederick: "I remember there being chicken broth. I thought that was weird. I've only seen that one other time, because it's always like coffee and hot chocolate for the coaches. And I remember seeing chicken broth, and I'd never heard of people just drinking chicken broth. Turns out that's a thing."
Heath: "I didn't have any. Just wanted to stay in there at halftime."
Witten: "Never done the chicken broth. That wasn't going to help in 2013, I can damn sure tell you that."
Coach Jason Garrett: "I might have [had some]. We were trying everything."
Marinelli: "I'm a hot coffee guy."
Frederick: "You go back in for halftime, and you've gotten out of the pool. Now you have to jump back into the pool knowing it's cold."
TV timeouts: 'Come on, let's go'
By the end of the third quarter, the score was 35-14 and would expand to 42-14 in the first minute of the fourth quarter. Since the game was on Monday Night Football, that didn't help.
Heath: "They have extra-long TV timeouts, and for the TV timeouts you have to be on the field. So you can't be on the bench during a TV timeout. We would run out there, and it'd be like a two-minute TV timeout and we're all just sitting there, like, 'Come on. Let's go.'"
Frederick: "I thought it was unfair how many times we ended up out there vs. the other team. But I remember some of the skill guys hanging out a little bit more by the sidelines and the heaters, then coming out instead of everybody being out there during that TV timeout."
Witten: "We had it timed up. It's one thing where everybody was standing [on the sideline] for the TV timeout. I don't think coach was too happy about that."
Final thought: 'Nothing but respect'
Players from the Ice Bowl say they still have numbness and frostbite, an aftereffect of that minus-13 degree game.
Witten: "I'm sure the Ice Bowl was colder. But I've got nothing but respect for those guys, because technology has come a long way since those guys played."
Patriots-Chiefs rematch evokes best victories of New England's dynasty – New England Patriots Blog
FOXBOROUGH, Mass. — The New England Patriots host the Kansas City Chiefs on Sunday in a rematch of last season's AFC Championship Game, which was one of the epic wins of the era of coach Bill Belichick and quarterback Tom Brady.
"As usual, I'd say the Chiefs look pretty good," Belichick said Wednesday, noting last year's conference title game has some relevance in game planning. "Offensively, this is about as tough a team to prepare for as there is."
While noting the Chiefs present challenges on defense and special teams, as well, Belichick said of Kansas City coach Andy Reid: "He's as good a playcaller and game planner as anybody I've coached against."
The Chiefs (8-4) have played some of their best football of the season as they enter Sunday on a two-game winning streak, while the Patriots (10-2) are coming off a disappointing loss to the Houston Texans, and their offense has come under some scrutiny for inconsistent play.
The return engagement (4:25 p.m. ET, CBS) provides a springboard to not only revisit that AFC Championship Game, but also place it in historical context among some of the great non-Super Bowl victories of the team's dynastic run since 2001.
Best win ever? Not even in the top tier?
Such rankings are obviously subjective, but using what Brady said after last season's game as a top part of the criteria — that it was especially sweet based on the odds being stacked against the Patriots, a high level of performance, the back-and-forth action and 70,000 people cheering against them — here is one view of the top six (for a touchdown, of course):
1. Patriots 38, Colts 34 (Nov. 30, 2003): Similar to last season's AFC title game, it was on the road in a raucous, ear-splitting environment with high stakes as the teams jockeyed for the No. 1 playoff seed.
With 40 seconds remaining in regulation, the Peyton Manning-led Colts had four chances to win the game from inside the 2-yard line — and were stunningly denied. On fourth down, outside linebacker Willie McGinest charged into the backfield to tackle running back Edgerrin James, capping a back-and-forth game that is a notable chapter in the great Manning-Brady rivalry.
2. Patriots 37, Chiefs 31, OT (Jan. 20, 2019): In the rare spot of underdog, the Patriots couldn't have played a better first half in the AFC Championship Game, leading 14-0, and it likely would have been more if not for an end zone interception thrown by Brady.
But it was only a matter of time before Patrick Mahomes and the Chiefs' offense would get cooking, which set the stage for a tense second half and overtime, with the Patriots converting three third-and-10s on the game-winning drive. As Brady said afterward when explaining why he jumped into the arms of Patriots linebacker Kyle Van Noy, "I was as excited as I've been in a long time."
3. Patriots 38, Giants 35 (Dec. 29, 2007): Playing for history — the first 16-0 regular season — the Patriots hit the road in a playoff-type atmosphere.
Part of what made it special was that it was played on a Saturday night, and there were some questions as to how the Giants might approach the game because they were locked into the No. 5 playoff seed. New York coach Tom Coughlin went all-out, which further contributed to one of the NFL's greatest regular-season finales.
There were five lead changes. When Brady hit Randy Moss for a 65-yard touchdown down the right sideline in the fourth quarter — one play after just missing the connection on a similar long bomb — it was an unforgettable moment because it gave the Patriots a 31-28 lead they wouldn't relinquish and also set NFL records for most touchdown passes in a season (50, since broken) and most touchdown catches in a season (23).
4. Patriots 35, Ravens 31 (Jan. 10, 2015): The only game on the list played at home, the AFC divisional-round matchup finds its way here because the Patriots looked to be in real trouble — facing a 14-point deficit twice.
A touchdown throw from receiver Julian Edelman on a double pass helped provide a second-half spark, and the Patriots used an unusual tactic — declaring eligible receivers ineligible — that rattled the Ravens as the comeback was unfolding.
5. Patriots 24, Steelers 17 (Jan. 27, 2002): Although the Patriots had won seven games in a row, few figured they had much of a chance in the AFC Championship Game in Pittsburgh. Then they lost Brady to injury during the game, thrusting starter-turned-backup Drew Bledsoe into the game.
But as has become their signature under Belichick, they proved resourceful, with a Troy Brown 55-yard punt return for a touchdown and a blocked field goal that was returned 60 yards for a touchdown.
6. Patriots 24, Chargers 21 (Jan. 14, 2007): Brady throwing three interceptions in an AFC divisional-round game should have meant defeat, especially against a top-seeded Chargers team that had been undefeated at home and was led by league MVP LaDainian Tomlinson (31 touchdowns, 186 points, 1,815 yards).
The Chargers had nine Pro Bowlers and five All-Pros, as well. But the scrappy Patriots charged back from a 21-13 fourth-quarter deficit, with a key play coming when receiver Troy Brown stripped safety Marlon McCree on an interception return to set up the game-tying touchdown and 2-point conversion (direct snap to running back Kevin Faulk).
How Rams coach Sean McVay is handling his biggest challenge yet – Los Angeles Rams Blog
THOUSAND OAKS, Calif. — "Hold up!" a loud voice echoed inside the Los Angeles Rams locker room, after a celebratory postgame cheer.
John Fassel, the Rams' special teams coordinator, stepped to the middle of the room.
"When you talk about adversity, we've got a great leader, who always carries us through the highs and the lows," Fassel hollered in Rams coach Sean McVay's direction. "When it's time to work, he keeps focused on the mission."
Fassel handed McVay a game ball. "For everything you do," he said.
Ten months after McVay took the Rams to Super Bowl LIII, was hailed as an offensive genius and sent teams with coaching vacancies scrambling and reaching to hire anyone remotely connected to him, the Rams' 33-year-old coach has drifted back to reality.
The Rams are 7-5, and after winning back-to-back division titles are hoping, at best, for a wild-card playoff berth. As they prepare for a Sunday Night Football matchup against the 10-2 Seattle Seahawks (8:20 p.m. ET, NBC), the Rams have a 17.7% chance of making the postseason, according to ESPN's Football Power Index.
From the outside, it's easy to ask what has gone wrong, as McVay's signature offense has unexpectedly and repeatedly stalled. Last season, the Rams' offense was among the highest-scoring units in the NFL, averaging 26.5 points, but this season it has dropped to 17th, averaging 21.2. The defense, while often stout behind two-time NFL Defensive Player of the Year Aaron Donald, showed gaping holes in losses to the Tampa Bay Buccaneers and Baltimore Ravens.
"I would be lying to say that this [season] hasn't been more challenging," McVay said. "But that's also why there's a motivation to make sure to do right and to use this as an opportunity to try to respond in the way that you challenge your players and everybody else to."
McVay received a game ball after earning his first win as coach in 2017. He received a second game ball last season, after leading the Rams to their first playoff victory in 13 years.
But when Fassel stopped the celebration to acknowledge McVay, it wasn't a historic milestone — it was merely Week 11 of the regular season, moments after the Rams delivered a gritty, much-needed win over the Chicago Bears.
That night, in front of a prime-time audience and coming off an inexplicable loss to the Pittsburgh Steelers, McVay started an offensive line held together by threads, he lost receiver Robert Woods, who three hours before kickoff notified the team he would miss the game, and McVay utilized a game plan that departed from anything he'd previously shown, as they committed heavily to the run.
"The team basically gave him a game ball because he keeps pointing them in the right direction," defensive coordinator Wade Phillips said. "He's done a great job with that."
Through the ups and downs, which for the first time in McVay's career have included a plethora of injuries and personal issues that have affected the team, Rams assistants and players continue to point to what McVay is doing right.
The culture he established that helped turn around a team entrenched in mediocrity practically overnight remains intact, several players said.
"The foundation is still set," cornerback Nickell Robey-Coleman said. "Our chemistry is still on point."
Players continue to dash from the locker room to team meetings, fearing arriving even a second late could result in a fine. And attitudes throughout the locker room remain upbeat, despite sitting at five losses — tied for the most in a single season since McVay's arrival — with four games remaining.
McVay often has appeared as his energetic, upbeat self. For better or worse, he has kept to his way of shouldering blame for the Rams' shortcomings, especially on offense.
"You go through those first two years with all the success in the regular season and then, you kind of think, 'Man, what's it going to be like if we are not riding high at all times?'" said quarterback Jared Goff, who has passed for 13 touchdowns and 12 interceptions. "Now, we're not exactly doing that, but he's been the same guy."
"Your normal self's a lot easier when you're winning every game and everyone's telling you you're a genius," said offensive line coach Aaron Kromer, when asked how McVay has handled the uneven season. "He's just as much of a genius, or just as good as a football mind this year."
In McVay's third season, though, he has shown a vulnerability off the field that's a reminder that despite the overwhelming success early in his career, he's still a first-time head coach with plenty to learn.
Days after a stunning Week 4 loss to the flailing Tampa Bay Buccaneers, McVay spoke about his stress in a way he never had before. "I'm stressed because I'm always stressed out," he said. Days before a Week 10 loss to the Steelers, McVay appeared out of character, as his voice sounded hoarse and his eyes appeared wide. "It's been an exciting week," McVay said. "A lot of yelling."
Perhaps, it shouldn't have come as a surprise when the Steelers upset the Rams 17-12 two days later.
What did come as a shock was the 45-6 shellacking delivered by the Ravens on Monday Night Football. It was the worst loss of McVay's career. "There's not anything good to take away from this," McVay said. "Other than the fact that I did feel that our team continued to battle."
Six days later and amid the chaos of a short Thanksgiving week, the Rams bounced back to deliver a drubbing of their own in a 34-7 win over the Arizona Cardinals (3-8-1).
"It's been pretty much the same approach," running back Todd Gurley said about McVay's demeanor throughout the year. "Just trying to stay positive and just keep taking it game by game."
The Rams probably need to win their next four to advance to the playoffs for a third consecutive season. It won't be easy with games against the Seahawks, at the Dallas Cowboys and San Francisco 49ers before finishing at home with the Cardinals. With McVay leading the way, there's confidence it can be done.
"That dude is steady," Goff said. "We feed off him."