Rams' offense stalls out, puts defending NFC champs in tough spot – Los Angeles Rams Blog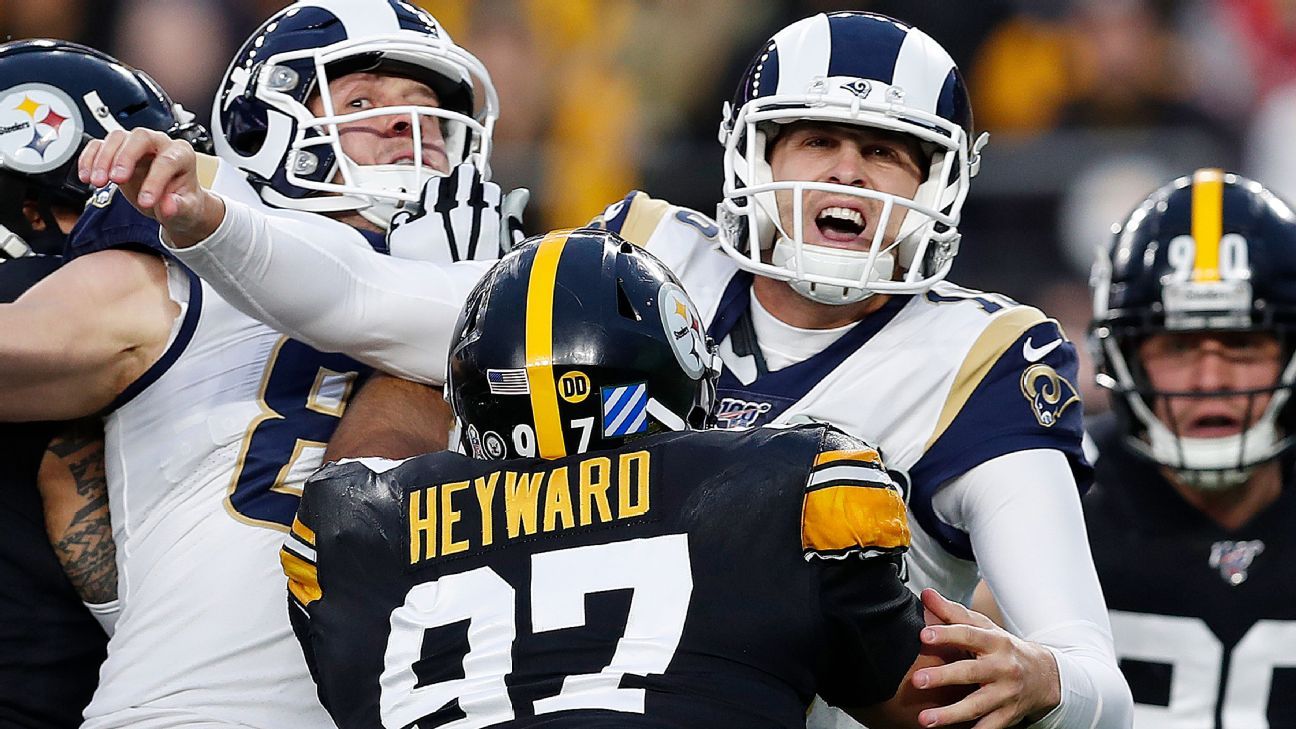 PITTSBURGH — Aaron Donald's homecoming was spoiled, as the Los Angeles Rams' hopes of returning to the playoffs, never mind the Super Bowl, faded quickly into the chilly Pittsburgh night.
The offense faltered, the defense produced two turnovers and scored a touchdown but couldn't overcome the stubborn Pittsburgh Steelers in a 17-12 loss.
The Rams, who at 5-4 remain in third place in the NFC West, have struggled to find their way in 2019 following a discombobulating loss to the New England Patriots in Super Bowl LIII.
On Sunday, they had extra time coming off a bye week to prepare for the uneven Steelers, who have rallied behind backup quarterback Mason Rudolph. However, preparation didn't appear to be the issue, as the same inconsistencies the team has suffered throughout the season, mostly on offense, appeared once again.
Entering Sunday, the Rams were 10-0 against teams in the AFC in the regular season since Sean McVay took over as coach in 2017. This loss ended that streak.
Describe the game in two words: Who needs two words when one will do? UGLY. The Rams turned the ball over four times, had 10 penalties for 95 yards and were unable to establish any offensive momentum.
QB Breakdown: Behind an offensive line that struggled to keep the pressure away, Jared Goff struggled to hold onto the ball and connect with receivers. Goff completed 22 of 41 passes for 243 yards, with two interceptions. The Rams were 1 of 14 on third-down conversions. In the second quarter, Goff was sacked and fumbled, as safety Minkah Fitzpatrick recovered and returned the takeaway 43 yards for a touchdown to give the Steelers a 14-7 lead. On the opening series of the second half, after converting on third down for the first in nine tries, Goff threw a pass that was intercepted by Joe Haden.
A game after receiver Cooper Kupp caught seven passes for a career-high 220 yards and a touchdown, the Rams' go-to slot receiver did not catch a pass despite Goff targeting him four times. The offensive line, which lost center Brian Allen in the first quarter to a knee injury and later right tackle Rob Havenstein, provided their quarterback no favors, as Goff was sacked four times and under duress throughout the game. With the game on the line, Goff was picked off by Fitzpatrick on a deflected pass with 20 seconds left, sealing the Rams' fate.
Promising trend: The defense forcing takeaways and scoring points. The Rams produced two turnovers and nine points. Outside linebacker Dante Fowler Jr. set the tone on the opening series, when Steelers center Maurkice Pouncey airmailed a bad shotgun snap that Fowler recovered and returned 25 yards for a touchdown to give the Rams a quick 7-0 lead 14 seconds into the game.
Fowler, who is playing on a one-year deal worth up to $12 million, is having a career-best season that includes 6.5 sacks. Later in the first half, cornerback Nickell Robey-Coleman stripped receiver James Washington after a 34-yard catch. Linebacker Cory Littleton recovered the fumble. In the fourth quarter, with the Steelers deep in their own territory, Donald sacked Rudolph for a safety, pulling the Rams to within 14-12. Donald, playing in Pittsburgh for the first time in his six seasons as a pro, finished with a half-sack and three quarterback hits.
Rams still alive in playoff chase after beating the Bears – Los Angeles Rams Blog
LOS ANGELES — The Los Angeles Rams' sideline erupted in celebration as running back Malcolm Brown plowed into the end zone late in the fourth quarter Sunday night, ensuring a 17-7 victory over the Chicago Bears and keeping their playoff hopes alive.
The Rams improved to 6-4, and they now turn their attention to the surging Baltimore Ravens, whom they will host on Monday Night Football on Nov. 25.
Simulate your own scenarios and check out the latest playoff picture. Playoff Machine »
• Full schedule » | Standings » | More »
Playoff math and scoreboard watching have become part of the Rams' game-day routine as they keep alive slim hopes for a wild-card spot. The Seattle Seahawks and Minnesota Vikings remain ahead in the race. The Vikings won Sunday to improve to 8-3, while Seattle, 8-2, was on a bye.
QB breakdown: Throwing clearly wasn't part of coach Sean McVay's game plan with receivers Robert Woods and Brandin Cooks inactive and an offensive line that featured three first-year starters. Quarterback Jared Goff completed 11 of 18 passes for 173 yards and an interception. On the Rams' second possession, Goff threw a pass that was intercepted by Bears linebacker Roquan Smith. It was Goff's 10th interception this season but his first thrown from outside of the pocket. Late in the second half, Goff completed a 50-yard pass to Cooper Kupp to set up a 1-yard touchdown run by Todd Gurley II.
Gurley tracker: Gurley had his most productive performance of 2019 with a season-high 28 touches for a season-high 133 all-purpose yards. Gurley lost a fumble, his second of the season, on the Rams' opening play, but he found momentum on their second possession, as he rushed for 16 yards on consecutive carries and caught a 23-yard pass, his longest reception of the season. Late in the second half, Gurley rushed 1 yard for a touchdown, breaking the Rams' streak of 23 possessions — dating to the third quarter of Week 8 — without a touchdown. Gurley rushed for 97 yards, tying his previous season high, and a touchdown on a season-high 25 carries. He now has gone eight straight games with fewer than 100 scrimmage yards, the second-longest streak of his career. Gurley's previous high was 101 all-purpose yards, which included 97 rushing yards, in a Week 1 victory over the Carolina Panthers. He had 19 touches in Weeks 2 and 7.
Pivotal play: In the second quarter, cornerback Troy Hill, who took over as a starter when cornerback Aqib Talib was injured and then traded, intercepted a pass by Mitchell Trubisky. The Rams converted the turnover into a 1-yard score by Gurley to take a 10-0 lead in the second quarter. Hill had six tackles and three pass deflections in the game.
Missing in action: Woods was a surprise scratch and did not attend the game because of a personal issue, a Rams spokesperson said. That left Goff without two of his three starting receivers. Cooks was ruled out early in the week, as the Rams continue to closely monitor his recovery from the two concussions he suffered last month. The Rams also played without right tackle Rob Havenstein, who was sidelined because of a knee injury. Rookie Bobby Evans, a third-round pick from Oklahoma, started in his absence.
How can Patriots get Tom Brady, offense on track? – New England Patriots Blog
PHILADELPHIA — What might get Tom Brady and the New England Patriots' offense back on track? With the Dallas Cowboys (6-4) coming to town on Sunday, that is arguably the top question facing the 9-1 team.
Brady didn't throw a touchdown pass in Sunday's 17-10 win against the Philadelphia Eagles (5-5), as the offense sputtered for extended stretches. Receiver Julian Edelman threw the team's lone touchdown, and this marks the first time in Brady's 20-year career that he played the entire contest and didn't lead the team in touchdown passes in a game. That covers 317 career starts, including playoffs.
Overall, this is just the fourth time Brady has started a game and didn't lead the team in touchdown passes. The other three instances were cases when he left injured (2001 AFC Championship Game; 2008 season opener) or was pulled early (Week 17, 2006).
Coach Bill Belichick previously had made the point that with some players returning to action this week (WR N'Keal Harry and TE Matt LaCosse), more reinforcements expected next week (LT Isaiah Wynn) and the continued integration of recently added players (TE Benjamin Watson, WR Mohamed Sanu), it's very much a developing picture.
It showed against the Eagles, as Brady didn't look like himself for long stretches of the action.
Describe the game in two words: Defensive turnaround. The Eagles had a 95-yard touchdown drive that chewed up 9 minutes, 33 seconds from the first quarter into the second — which was the longest drive New England has allowed all season. But the Patriots' defense responded in a big way after that, with a plan that featured a heavy emphasis on covering Eagles tight end Zach Ertz, giving the inconsistent offense time to generate just enough of the momentum it needed (going to tempo at the start of the third quarter provided a temporary spark).
Bold prediction for next week: With 2018 first-round draft pick Isaiah Wynn set to be activated off injured reserve and return to his spot at left tackle, the one-dimensional, pass-based offense will finally find its groove with some more balance in the run game. Wynn, if he can stay healthy, is the key piece because he can provide more comfort on Brady's blindside. Veteran Marshall Newhouse has competed in his place, but Wynn is a decisive upgrade.
Promising trend. Veteran Nick Folk has helped settle things down with the Patriots' previously shaky kicking situation after Stephen Gostkowski was placed on injured reserve. He made field goals of 35, 22 and 39 yards in Sunday's first half, in some windy conditions.
Biggest hole in the game plan: While the Patriots are easing 2019 first-round draft pick N'Keal Harry into the mix, they perhaps could have used him on a fade route in the red zone. Harry made his debut after opening the season on injured reserve. He played 32 of 74 snaps (including a 2-point conversion) and finished with three catches for 18 yards. He also played on the punt return unit in a rush-based role.
Cardinals quarterback Kyler Murray irked by loss — I'm used to winning
SANTA CLARA, Calif. — Arizona Cardinals rookie quarterback Kyler Murray was visibly upset after Sunday's 36-26 loss to the San Francisco 49ers, in which the Cardinals gave up a 16-0 lead in the first half.
It was the Cardinals' fourth straight loss, dropping them to 3-7-1 as they head into their bye week.
When Murray was asked about the emotions of losing Sunday's game like the Cardinals did — giving up a touchdown with 31 seconds left after Murray scored the then-go-ahead touchdown with 6:40 left in the game — he paused 10 seconds before answering the question.
"I'm used to winning," Murray said. "I've always won, and then being in situations like when you go up 16 or you're in position to win and you should win, it's disappointing."
Murray lost three games as a starter in college between his season at Texas A&M and his career at Oklahoma, and never lost a game he started in high school.
He lost three games in the NFL by Week 4 of this season and it has started to take a toll.
Kyler Murray shows off the wheels as he gets into the end zone on a 22-yard run.
"I'm a competitor," Murray said. "I love the game of football so every time I step on the field I'm going to do me. I'm going to go hard for the guys in the locker room. So, that's really all I can do. Leave it all on the field and we just came up short."
At one point while he was at his locker after the game, Murray let out a yell of frustration.
But when asked if this game hit harder than others, he said all losses are equal.
"Ah, s—, I don't know," Murray said. "A loss is a loss, and we got to get better."