XFL unveils inaugural schedule for 2020 season
The XFL's inaugural season will open Feb. 8 with a game between the D.C. Defenders and Seattle Dragons in Washington, according to a full schedule the league released Tuesday morning. The game will be televised on ABC.
Each of the XFL's eight teams have been divided into two divisions. They will play five home and five away games between Feb. 8 and April 12, followed by one round of two playoff games April 18-19 and a championship game on April 26.
The schedule was devised in part to work around the NFL's winter and spring events. The opening weekend is one week after Super Bowl LIV, and the XFL championship game will take place on the Sunday after the NFL's 2020 draft.
"It's a big moment for us," XFL commissioner Oliver Luck said. "We've got great time slots on the weekends. We think it's a well-designed schedule in terms of competitive balance."
The XFL is owned by WWE chairman Vince McMahon, who has committed $500 million to his second attempt at fielding an alternative football league. The first, also known as the XFL, folded after one season in 2001.
This version of the XFL is run by Luck, who has pledged to avoid gimmicks but has said he wants the XFL will be a faster-paced version of the current game.
Every XFL game in 2020 will be televised by either ABC, ESPN, FOX or FS1. The full schedule can be found here.
"If you think about football in this country, I think you'd certainly have to think about ABC and ESPN and FOX with what they do, so I think these are trusted broadcasters, they've broadcast literally hundreds of thousands of NFL games, major college games," Luck said. "So their talent that they'll assign will be top-notch talent. So we think there's never been quite honestly a startup league that's had these kinds of windows, this kind of exposure."
The Associated Press contributed to this report.
Myles Garrett suspension for Steelers-Browns fight
On Thursday night, Cleveland Browns defensive end Myles Garrett committed the closest thing we've seen to an on-field crime in the modern era of pro football. Only one response will suffice. The NFL must issue the longest suspension for a single on-field act in its history, ending Garrett's 2019 season with six games remaining in the Browns' schedule and making clear to the world that what happened at FirstEnergy Stadium is one of the worst moments on the field in its history.
Such discipline, as harsh as it might seem, won't be particularly controversial to anyone who saw Garrett rip off Pittsburgh Steelers quarterback Mason Rudolph's helmet and then use it to pummel his unprotected head. If Garrett hit someone with a helmet on the streets of Cleveland, he would face arrest. The outburst left grizzled football veterans gasping at its sheer violence, a throwback matched by only a handful — if any — of intentional acts in 100 years of league play.
Myles Garrett hits Mason Rudolph in the head with a helmet as a fight breaks out at the end of the Steelers-Browns game.
The length of Garrett's absence shouldn't be too tough for the NFL to figure out. It suspended Oakland Raiders linebacker Vontaze Burfict indefinitely earlier this season for an accumulation of on-field acts, culminating with a helmet-to-helmet hit, but the longest suspension it has issued for a single on-field incident is five games. That happened in 2006, when then-Tennessee Titans defensive lineman Albert Haynesworth ripped the helmet off Dallas Cowboys center Andre Gurode and then kicked and stomped on his face. Gurode needed 30 stitches to close the wounds.
Only the grace of God saved Rudolph from a similar fate, or worse. The stunned expression on the face of Browns quarterback Baker Mayfield, speaking moments later in an interview on Fox, depicted the weight of the scene. Mayfield couldn't summon an ounce of defense for his teammate.
"It's inexcusable," he said. "That's just endangering the other team. … The reality is he is going to get suspended. We don't know how long, and that hurts our team."
Don't forget that Rudolph was knocked unconscious last month by a hit to his helmet and missed one game. The contact from that blow, initiated by Baltimore Ravens safety Earl Thomas, was so severe that Rudolph's eyes were closed before he hit the ground. If you knew that context, you were surely cringing as you saw Garrett bash Rudolph's head, topped off by Browns defensive lineman Larry Ogunjobi pushing him to the ground from behind. Steelers center Maurkice Pouncey then entered the fray, kicking and punching Garrett and escalating the scene to a point where it wouldn't have been surprising to see police officers on the field.
"I lost my cool and I regret it," Garrett said afterwards. Rudolph called it "cowardly" and "bush" league after the game. But I'm sorry, using normal words to describe a singular act of violence risks assimilating it into all the other dirty and unsportsmanlike plays we've seen in football.
This was worse than Chuck Bendarik's knockout of Frank Gifford in 1960. It was worse than Jack Tatum's hit on Daryl Stingley in 1978, one that ultimately left Stingley paralyzed. Those plays, the first two that come to mind in the NFL's history of on-field violence, were part of the flow of game action. Bednarik clotheslined Gifford in a tackle technique that was not uncommon in that era. Tatum lined up a hit to the head of Stingley, who was stretching for the ball in what would now be considered a defenseless position.
They were violent, unnecessary and exceedingly damaging. Garrett's absurdity, on the other hand, came after the whistle, outside of any semblance of competition.
Maurkice Pouncey says the NFL should suspend Myles Garrett for the rest of the season after hitting Mason Rudolph in the head with a helmet.
There are few precedents in NFL history that come close to matching it. Haynesworth's stomp is one. In 2013, meanwhile, Antonio Smith ripped off the helmet of Richie Incognito and swung it close to his face. For that, Smith was suspended for three games. In 1954, according to pro football historian Dan Daly, Colts defensive end Don Joyce hit Rams linebacker Les Richter with a helmet, for which he was ejected but not suspended.
That, of course, was 65 years ago.
The NFL should be eager to demonstrate its mettle at a time when it has never been more cognizant of a responsive to brain health. There should be little debate Friday at the league headquarters in New York City. Commissioner Roger Goodell should want the world to know how exceptional this situation is. Football can't be like this anymore.
But the truth is that it has rarely — if ever — been like this. The NFL's punishment should reflect that sobering fact.
'Craziest thing I have ever seen on a football field'
The Cleveland Browns were seconds away from wrapping up their second straight win when bedlam ensued.
Browns defensive end Myles Garrett ripped the helmet off Pittsburgh Steelers quarterback Mason Rudolph and hit him over the head with it. Garrett was then taken down by Steelers linemen David DeCastro and Maurkice Pouncey, who kicked Garrett when he was on the ground. Benches cleared before order was restored. Garrett, Larry Ogunjobi and Pouncey were ejected, and suspensions are expected.
Here's how the NFL world reacted across social media on Thursday night:
He's done for year

— Dez Bryant (@DezBryant) November 15, 2019
Suspend him for the rest of the season.

— Louis Riddick (@LRiddickESPN) November 15, 2019
One thing for sure is #MasonRudolph will never try and fight at Defensive Lineman again. #TNF

— Johnathan Cyprien (@cyp) November 15, 2019
Bro i can't even believe that just happen.

— Patrick Mahomes II (@PatrickMahomes) November 15, 2019
In all my life of football that might have been the craziest thing I have seen on a football field! They about to suspend Myles Garrett for 30 years! People getting stomped out, that was a hood fight! 🤦🏾‍♂️ Hate to see that in our game that's not what pro football is about!

— Reggie Bush (@ReggieBush) November 15, 2019
That. Is. Insanity. Wow.

— JJ Watt (@JJWatt) November 15, 2019
Yeaaaah pounce. Straight up don't touch my QB let alone disrespect him like that. #MyBrothersKeeper @MaurkicePouncey https://t.co/CEhWCSGvYk

— Keenan Allen (@Keenan13Allen) November 15, 2019
How many games suspended for everyone involved tonight? #brownsvsteelers #FightClub

— Golden Tate (@ShowtimeTate) November 15, 2019
There is no excuse for that but I want to know What was said or happened before…

— Fruit PUNCH (@marlon_humphrey) November 15, 2019
Myles Garrett should not be allowed to play another snap this season

— Kyle Juszczyk (@JuiceCheck44) November 15, 2019
This is absolutely ridiculous! The fact they let garret slam him 3 secs late and no call is a prob! Mason has every right to be pissed!

— Derek Anderson (@DAnderson314) November 15, 2019
I'm all for being a leader and doing the right thing. My loyalty is with my guys right or wrong. I will never out them on National tv ever!

— Bruce Irvin (@BIrvin_WVU11) November 15, 2019
He could of killed him. In the 17 years I played in the #NFL , never been more disturbed by the end of a game. #disappointed #notcool

— Andre Reed (@Andre_Reed83) November 15, 2019
Myles Garrett just did something that I've only seen in NFL practices. Guaranteed to be suspended.

— Cris Carter (@criscarter80) November 15, 2019
Oh boy, @MylesLGarrett. This isn't going to end well for you.

— Lance Briggs (@LanceBriggs) November 15, 2019
Wow Myles Garret was on one. He could have done some serious damage hitting Rudolph with that helmet. He's done for the season after that. I'd be shocked if he played another game this season.

— Corey Wootton (@CoreyWootton) November 15, 2019
I wouldn't be surprised if Garrett misses the rest of this season and half of next. It's an ugly situation, Mason could have suffered a life altering injury. Football is an emotional sport but that was something different.

— Justin Forsett (@JForsett) November 15, 2019
Three ejected after nasty brawl tarnishes end of Steelers-Browns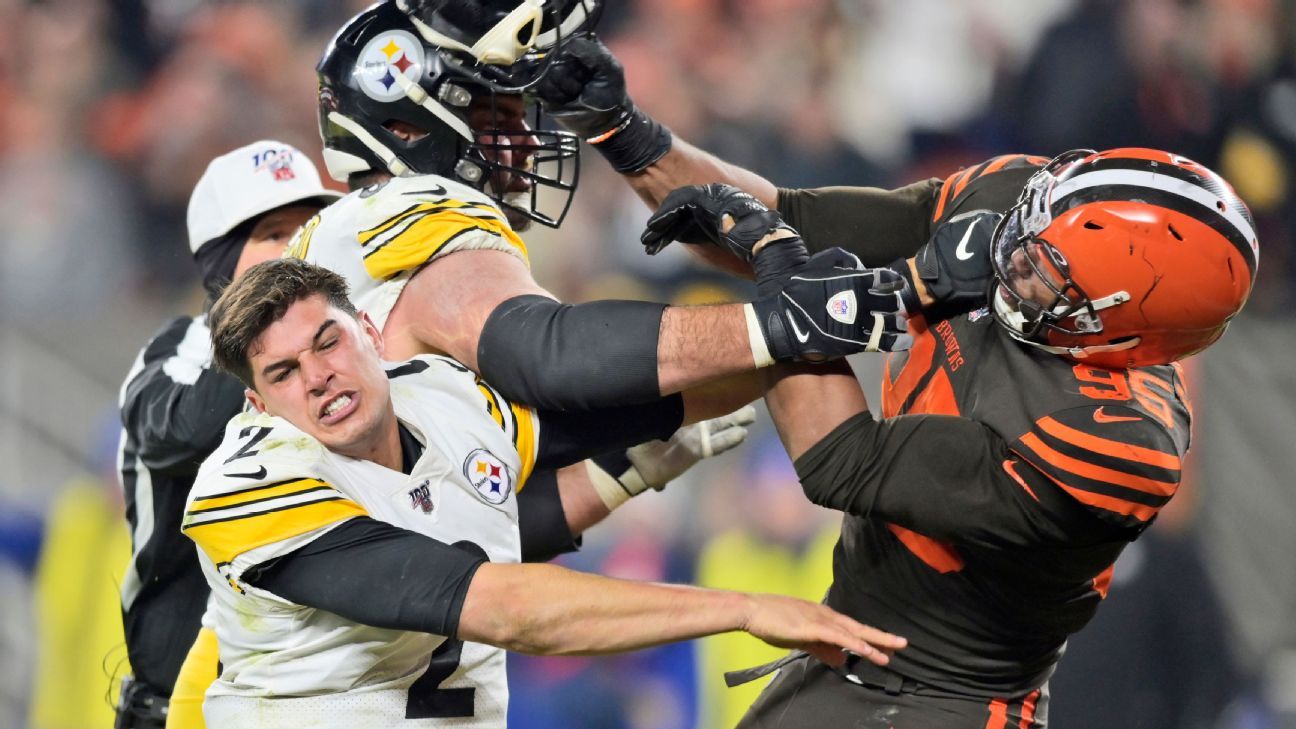 Three players were ejected after a nasty brawl between the Steelers and Browns in the closing seconds of Thursday night's game in Cleveland.
Browns defensive lineman Myles Garrett tore off Mason Rudolph's helmet and struck the Steelers quarterback in the head with it after the two tangled on the ground.
Several skirmishes ensued. Garrett, Browns defensive tackle Larry Ogunjobi and Steelers center Maurkice Pouncey were ejected. Pouncey got tossed after throwing a couple punches and kicking Garrett in the helmet while he was on the ground.
Garrett and Pouncey both likely face suspensions. The longest ban for an on-field incident in NFL history is the five games that Albert Haynesworth got in 2006 for stomping on Andrew Gurode's head.
Rudolph appeared OK despite the hit to his head.
"It's inexcusable," Browns quarterback Baker Mayfield told Fox after the game. "I don't care if it's a rivalry or not."
Asked about what happened, Steelers coach Mike Tomlin told reporters: "I'll keep my thoughts to myself. You guys saw what happened at the end." Asked again, Tomlin said: "That's exactly what I said; I got no comment. … No more questions regarding that, 'cause I'm saying nothing."
Cleveland won the often-chippy game, 21-7. The teams meet again Dec. 1, in Pittsburgh.