Jets need quick fix or else Le'Veon Bell's talent will go to waste – New York Jets Blog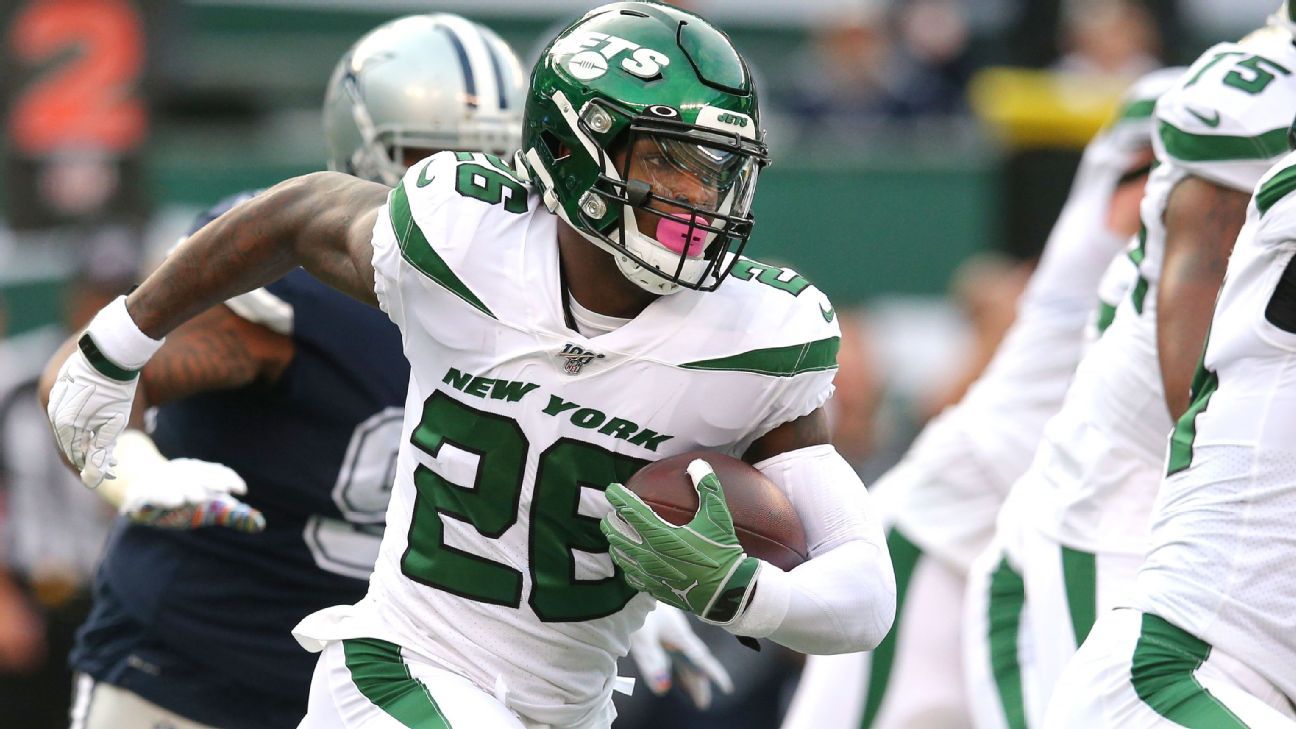 FLORHAM PARK, N.J. – A look at what's happening around the New York Jets:
1. Bell bottoms: Le'Veon Bell got paid, but money can't buy daylight.
The star running back is learning a hard lesson about life after Big Ben, AB, JuJu and that big 'ol Pittsburgh Steelers offensive line. Through no fault of his own, Bell is off to the worst statistical start of his pro career. He's the victim of a perfect storm: Bad blocking, instability at quarterback and no consistent weapons on the perimeter.
As a result, his talent is not being maximized. You figured there would be growing pains in a new system, especially after a year off, but his numbers are alarming.
Bell has failed to reach 4.0 yards per carry in any of the five games, the longest such slump of his career. He hasn't made a run longer than 13 yards. There are 96 players in the league with runs longer than 13 yards, including 16 quarterbacks. He's the Jets' most accomplished offensive player, and yet they haven't been able to get him cranked up.
"Hopefully, we can open it up a little bit for him," Jets coach Adam Gase said. "We've seen a lot of loaded boxes. He's had a lot of tough runs. He's made the most out of what he's had and probably gotten us more than we should have."
Bell has faced a "loaded box" on a league-high 45.9 percent of his runs, according to NFL Next Gen Stats (minimum: 50 rushes). A loaded box is when the blockers are outnumbered by the defenders in the box.
In theory, quarterback Sam Darnold's return should loosen up the defense, creating more space for Bell. Statistically, there was no appreciable difference last week against the Dallas Cowboys, but one game doesn't make a trend.
It won't get easier on Monday at 8:15 p.m. ET (ESPN), though. The New England Patriots (6-0) have the NFL's best defense and coach Bill Belichick, who called Bell "one of the best players in the league," will use his giant brain to scheme ways to stop him.
To his credit, Bell has remained upbeat, insisting, "We're getting better. I can sense it." The Jets (1-4) made him the centerpiece of their offseason spending spree, expecting his presence to raise the level of those around him, namely Darnold. They gave him $28 million in fully guaranteed money, defying the recent economic trend: You don't pay big money to running backs.
It's too soon to call it a bust because he's had only two games with Darnold, but the clock is ticking. Bell is 27 years old, meaning his window could close in a year or two. It might take that long for the Jets to sort out their offensive line issues.
2. Competition Friday: The Jets have incorporated a new twist into their Friday practices — an 11-on-11 period that features the No. 1 offense versus the No. 1 defense. Most teams dial it back on Friday, but Gase has raised the intensity level.
"It's competitive stuff," tight end Ryan Griffin said. "You go all out and try to win. It sets the tone for Sunday."
The benefits? Players on both sides of the ball say it helps them prepare for the unexpected because the periods aren't scripted. It's an old-school approach, but it makes a lot of sense.
3. Money matters: The Jets, who began the offseason with about $100 million in salary-cap space, are down under $5 million, according to overthecap.com. A team can burn through money quickly, especially when it doles out top-of-the-market contracts in free agency (hello, Bell and C.J. Mosley). Injuries also are a factor. Guard Kelechi Osemele, linebacker Avery Williamson, wide receiver Quincy Enunwa and quarterback Trevor Siemian are eating up a combined $23 million in cap space. The latter three are on injured reserve, and Osemele (shoulder) could be there soon.
4. Patriot Games: There were some "there-they-go-again" comments in the Twitter-verse when the Patriots signed former Jets tight end Eric Tomlinson early in the week. Although I don't think it applies to this situation, the Patriots do have a reputation for signing players before they face the player's ex-team, ostensibly to gather intel on said team. But they haven't done it to the Jets as often as you might think.
Research reveals the Patriots did it before the first meeting in 2017 (tight end Will Tye) and before each meeting in 2013 (tight end Matt Mulligan and cornerback Marquice Cole). The all-timer happened in 2010, when they signed running back Danny Woodhead, who turned out to be a lot more than an info source.
In Tomlinson's case, the Patriots actually needed a tight end. And why would they have to pump him for info on the Jets after beating them only five weeks ago?
5. Giant Jets: Tackle Corbin Kaufusi, a new player on the practice squad, is listed at 6-foot-9. If he makes it to the active roster, he would be the franchise's tallest player in nearly 60 years.
Randy Lange of the Jets' official website did the research and came up with this list of big men: In 1960, the franchise's first year (when the team nickname was the Titans), they had a 6-foot-9 player named Joe Katchik.
Checking in at 6-foot-8 are Billy Shields (1985), Matt Willig (1994), Scott Gragg (2005), Anthony Clement (2006), Ropati Pitoitua (2009) and current player Conor McDermott.
6. Special reunion: Center Ryan Kalil and Patriots special-teams star Matthew Slater were rivals in college (USC and UCLA, respectively) and they're rivals again now, but there was a time when they were on the same side — at Servite High School in Anaheim, California.
"I've stayed close with Matt over the years and there's not a better human being that I know than Matthew Slater," Kalil said on this week's "Flight Desk" podcast on ESPN. "Every time we catch up, it's a fun reflection of how far we've come and how quickly it all went by."
A side note: Slater's Hall-of-Fame dad, Jackie Slater, coached Kalil on the offensive line in high school.
7. Did you know? The Jets already have made seven in-season quarterback transactions involving four different players — Siemian, Luke Falk, David Fales and Mike White. From 2015 to 2018, they made only two such transactions at the position, the most noteworthy being Davis Webb's promotion from the practice squad in 2018. Moral of the story: Crazy year, 2019.
8. Deep thoughts: During last week's visit to MetLife Stadium, where they were honored as members of the Jets' all-time team, Wesley Walker and Pat Leahy got into a conversation about the current offense. Leahy asked Walker if there's a home run hitter on the roster — i.e. a Walker-like burner at wide receiver. Walker's response went something like this: Well, they have this guy Anderson, but they never throw him the ball.
Responding on cue, Anderson scored on a 92-yard reception, the second-longest offensive touchdown in Jets history. No one was happier than Walker, who believes Anderson is under-utilized as a deep threat.
"They don't use Robby Anderson that way, and it's baffling to me," said Walker, who has the longest offensive TD in team history — a 96-yard catch in 1985. "I understand [the frustration] more than anybody."
Now that Darnold is back, Anderson will get more shots. Count on it, Wes.
9. Saucy Sam: Darnold's "unstoppable" quote could be considered presumptuous, considering the recent struggles of the offense, but you know what? I like it. They could use some bravado on that side of the ball.
10. The last word: "When I came up for my Ring of Honor [in 2017], it was toward the back end of the season and the team wasn't doing so well, and there weren't a whole lot of people in the stands. This will be a Monday night game and it's earlier in the year. The whole thing will be great. It's against the Patriots. I have a great deal of respect for Belichick and what he's done up there. It's kind of appropriate, considering it's against one of your division rivals." — former Jets great Kevin Mawae, who will receive his Pro Football Hall of Fame ring in a halftime ceremony.
Giants players learn there's more to NASA than stars, planets – New York Giants Blog
The quizzical look on offensive tackle Eric Smith's face said it all. He had just received a text from his friend and New York Giants teammate Chris Peace late last year. It was a recruitment to participate with him in an offseason program at NASA.
This took Smith completely by surprise. He knows Peace well — they were teammates for three years at the University of Virginia and lived in the same apartment complex last year in New Jersey — and didn't remember the second-year outside linebacker ever talking about space, rocket ships or anything of the sort.
"I was making sure he said it correctly and wasn't talking about something else," said Smith, a second-year player who joined the Giants in 2019. "I said, 'NASA? Like space?' The inner kid in me was like, 'Oh, hell yeah! Let's do it.'"
Peace and Smith went for it, participating in a three-day NASA program through the NFL Players Association in February at the Johnson Space Center in Houston.
"When I was a kid, I was always kind of interested in the stars," said Peace, who was claimed by the Giants last summer. "Had a telescope, planets and all that stuff. Real big fan of NASA. So why not, given the opportunity? … It was a chance to do something different."
Different kind of training camp
This program wasn't focused on launching rockets, planets or traveling to the moon. This training camp had a slightly different twist.
The NASA Commercialization Training Camp the pair experienced — alongside eight other current and former NFL players — introduced them to NASA technologies and outlined the possibilities. NASA technologies are available for public licensing, and free to be used by anyone in business or entrepreneurial endeavors.
The NFLPA externship (temporary on-site training) — the first year of this NASA program — involved more than 30 partners and 100 players this offseason. Jacksonville Jaguars quarterback Josh Dobbs, who majored in aerospace engineering, also participated in a separate program in Florida this year. Six or seven players have already turned NFLPA externships into full-time positions at places such as Fanatics and StubHub.
• Which college could build best NFL lineup?
• Questions for new Broncos OC Shurmur
• Playmakers the Redskins are counting on
• Can Patriots' young defenders step up?
• Browns replenish depth around Garrett
"When I got there to Houston in NASA, I was completely caught off guard," Peace said. "I thought we were going to go down there and learn about stars and planets. And we saw a little bit about it. But for the most part, it was kind of like a business internship. When we were down there, we learned about all their technology and worked with their technology side."
They learned NASA technology was more than astronomy and astrophysics. An example is an eye-tracking device NASA originally developed for use in space. The equipment later proved useful for laser surgeries, such as LASIK.
Or even something as common as traditional firefighter equipment. Most firefighters use a lightweight breathing system that NASA helped develop. These are the type of things available to the public, including professional athletes-turned-entrepreneurs because of NASA.
This got Smith and all those in attendance thinking about the possibilities.
"If you were there … and looked at my face, I was in complete shock. I'm like 'there has to be a catch or something to it.' What do you mean free technology?" Smith said. "They were like, 'No, we make ideas and technology for public use. All you have to do is patent it and make it yours.' Sometimes they don't even really want credit. They're just putting out ideas to make everyday life better. I was in shock."
Smith and Peace said they can see themselves using these NASA resources in the future. They know there will be life after football, one reason Peace was amenable to the idea of programs promoted by David Tyree, the Giants' director of player development.
Each day featured different guest speakers. Among them was former NFL fullback Obafemi Ayanbadejo, who is using NASA technology in his startup company, HealthReel. It's a new app that Peace said can scan body fat and provide health readings.
"We were pretty blown away," Peace said.
Hoping to return
It was such an exhilarating and fruitful experience Smith asked for an invitation again next year.
Aside from expanding their business knowledge, the group got to sit in model spaceships and control rooms. There was a field trip each day on NASA's college-like campus.
"I was like a kid in a candy store even though I didn't know I liked space like that," Smith said. "It took me [getting] a little taste of it. By the time I left, whew!
"I asked to go to space, too. I didn't sugarcoat it. Anybody can apply to be an astronaut. I think it's thousands of people that apply."
This is the effect of NASA. Although it's clearly a long shot, maybe it is in Smith's future.
In the meantime, he's trying to solidify a spot on the Giants' roster. Smith was claimed off waivers after final cuts last year from the New York Jets and appeared in two games for the Giants.
Peace is attempting to do the same as an under-the-radar candidate trying to earn playing time at a wide-open outside linebacker position.
Peace is confident things will slow down in Year 2 and believes he can blossom after learning what it takes to succeed at the NFL level. Most notably, the way he studies film and looks at the game should be more advanced after watching veterans last season (he mentioned former Giants safety Michael Thomas by name).
"This season I'm going to try to get better every single day," Peace said. "Prove as much as I can every single day."
The lessons and possibilities experienced through NASA can wait for another day.
Lessons from Selma march as important as ever to Falcons' Ricardo Allen
Numb — that was the first word Atlanta Falcons captain and safety Ricardo Allen used to describe his emotions as he watched the video of a fellow black man, George Floyd, being killed by a white police officer in Minneapolis.
Allen's heart ached as the officer kept his knee on Floyd's neck as Floyd said, "I can't breathe." In Allen's eyes, it was an all-too-familiar tale.
"I don't see it as happening to just one person. I keep seeing it as a replay of what has happened hundreds of times," Allen said. "… But over and over, when you keep seeing this kind of thing happen to black men, it makes you pretty mad."
Floyd's killing was the tipping point in a series of killings of African Americans that have made the names Ahmaud Arbery and Breonna Taylor more meaningful and the cause taken up by Colin Kaepernick for social justice more powerful. Allen, one of the original organizers of the Falcons' social justice committee in 2017, said he strives to educate himself with the goal of helping mend a fractured nation.
He gained an even better understanding of the fight against racial injustice — and the value of peaceful protests — during a 2018 trip to Selma, Alabama, on the anniversary of the historic tragedy.
Remembering 'Bloody Sunday'
Allen joined fellow Falcon Grady Jarrett and NFL players Adrian Clayborn, Benjamin Watson, Matthew Slater and Takeo Spikes on a pilgrimage across the Edmund Pettus Bridge in Selma on the 53rd anniversary of "Bloody Sunday."
On March 7, 1965, a group of around 600 protesters, led by civil rights activist and current U.S. Rep. John Lewis, attempted to walk from Selma to Alabama's capital, Montgomery, in a peaceful demonstration for black voting rights. The group was confronted at the bridge by state troopers, who charged with billy clubs, tear gas and whips. Lewis suffered a skull fracture, 17 others were reportedly hospitalized and over 50 suffered lesser injuries. Television cameras captured the violence, which caused a national outcry.
The events of "Bloody Sunday" inspired two subsequent marches from Selma to Montgomery, led by civil rights icon Martin Luther King Jr. Only the third march was completed without interference. The events were instrumental in the eventual passage of the Voting Rights Act, signed into law by President Lyndon B. Johnson, prohibiting state and local governments to deny citizens equal rights to vote based on race.
"To get down there and see how they had to fight to cross the bridge for our right to vote, for me to actually get to walk and be around history, that's just a blessing to soak up," Allen said. "That's something I want to be able to pass down to the next generation; to spread light to folks to know [the right to vote] wasn't always like this. People fought for this and are continuing to fight for us to have equal rights."
Former Falcons assistant general manager Scott Pioli invited and encouraged the players to attend the Selma event, which was sponsored by RISE (Ross Initiative in Sports Equality) to help raise awareness about civil rights and racism.
"When you learn the history and you're exposed to the history, it allows you to be much more educated in order to fight for what's right," Pioli said.
Pioli, who also walked in Selma, has close relationships with all the players involved. He viewed Allen as the ideal representative based on his leadership skills.
"First of all, Ricardo is brilliant," Pioli said. "And when I say brilliant, I mean that he's both smart and thoughtful. He's strong and he's empathetic. He's truthful and willing to be vulnerable. In the conversations that we've had, he's expressed truths to me about his personal history with racism."
The most memorable part of Selma for Allen was the time spent with Lewis, who is now 80 and living with pancreatic cancer yet still on the front line in the fight toward equality. Lewis says he was arrested at least 40 times during the civil rights movement, including in 1961 in Jackson, Mississippi, for using a whites-only restroom.
"I mean, he got his skull busted, which makes me feel the same way I feel whenever I hear about any brother getting hit across the head, or any human being treated wrong for trying to do right," Allen said. "You're getting attacked and beat down because of [thoughts] other people have made in their own mind about what your value might be in the world.
"With John Lewis, I just see a true dedication to the cause. Even right now, he's not moving as good as he used to because he's an older man, but he's still out there every year marching and letting the world know that this is still important to him."
The lessons learned in Selma, Allen said, can still be applied to the fight for change, starting with exercising the right to vote and educating oneself.
"I'm always for education because when you just get out and jump in and start talking about everything too fast, one of the things that's going to happen is you're going to get discredited," Allen, 28, said. "You've got to try and educate yourself as much as you can. I don't think I know everything, but I know that I'm trying my best to help the cause."
Striving for progress today
When asked if he has been racially profiled, Allen, who grew up in a low-income area of Daytona Beach, Florida, snickered.
"Yeah, I feel like I've been racially profiled plenty of times," he said. "I was stopped at Purdue University one time when I first got there. … I got my bookbag searched one time walking on campus and didn't have anything in it.
"It's sad because as a young black man, you're kind of trained to go along with it because you don't want no problems."
Being "sized up" because of his race is something Allen said he can no longer accept. He hasn't figured out the specific solution, but vowed even after Selma to make a long-lasting impact so black men of the future don't endure an unfair standard.
"I don't just want to make an impact one time, or once or twice," Allen said. "I want to start working toward something where I can make an impact in the black community — social justice and equality — forever."
It starts with open and honest dialogue, particularly with teammates. Racial injustice was at the forefront of the conversation when the Falcons held their virtual team meeting this past week. Atlanta Mayor Keisha Lance Bottoms was the special guest speaker and encouraged the players and coaches to be leaders, to be active.
Allen appreciated breaking into small-group discussions following the mayor's pep talk. He admired how passionate his new defensive-backs coach, Joe Whitt Jr., was in discussing racial issues. His teammate Deion Jones followed later in the week by addressing the media on the topic and saying, "It starts with people's willingness to listen and learn about what it's like to be a black man in America. Also, just taking action and voting, making sure we're holding people accountable."
Allen, who encourages his white teammates to speak out for equality and unity, also applauded quarterback Matt Ryan for posting a statement after Floyd was killed:
"Matt's our top dog. For Ice to show the support and that he's got love, it's really just an acknowledgement that he understands," Allen said of Ryan.
Allen's ultimate goal is to become an offensive coordinator, and he hopes to use that coaching platform to encourage young black athletes to find solutions to racism rather than being part of the problem.
As the Falcons move closer to the NFL season, Allen was asked if the current unrest might spark another round of player protests on Sundays, and whether he would take part.
"If we're all for it, we're all for it," Allen said of taking a knee. "I just want to do it together. If it calls for kneeling and that ends up being what everybody wants to support, I'm down for the cause. I just want to make sure it's something that we're all together on. I will get on my head and do a headstand if they want me to … as long as we're together."
NFL players spoke, and Roger Goodell responded. Now what? Here's what we know
An unprecedented week in the NFL culminated in a landscape-shifting 24 hours that appear to have dramatically changed the league's stance on player protests. Things are happening quickly, and you surely have questions. Is kneeling during the national anthem OK now? Does Colin Kaepernick have a chance to get back in? What role do politics play in all of this? Let's try and bring it all together.
In a video message released Friday night, NFL commissioner Roger Goodell responded to a video released Thursday night by a collection of NFL stars including Michael Thomas, Patrick Mahomes and Deshaun Watson. Goodell's video included three specific statements the players in Thursday's video had asked the NFL to make about racism, social injustice and peaceful protests.
"We, the National Football League, condemn racism and the systematic oppression of black people," Goodell said. "We, the National Football League, admit we were wrong for not listening to NFL players earlier, and encourage all players to speak out and peacefully protest. We, the National Football League, believe that black lives matter."
The first and third statements matched, word for word, the first and third the statements the players asked the league to make the night before. The middle one didn't quite match up with its counterpart. (The players had asked for "We, the National Football League, admit wrong in silencing our players from peacefully protesting.") But from a forward-looking perspective, it did the job. Even if the NFL isn't ready to admit "silencing" the Kaepernick-led peaceful protests of 2016 and 2017, Goodell's statement indicates that the league plans to view any similar future protests differently than it did three and four years ago.
Why does this matter? Because the streets of American cities have, for the last 11 nights, been lined with protesters speaking out in the wake of the deaths of George Floyd, Breonna Taylor and Ahmaud Arbery at the hands of the police. Because the past week in the NFL has seen virtual team meetings ignore football and focus on considerably broader world issues. Because the faces and voices speaking out about the issues that were at the center of Kaepernick's protests look and sound different than the ones who backed him at the time.
"This is not a black problem," Colts GM Chris Ballard said this week. "This is a white problem. This is an issue that we have to talk about, and we can't surgarcoat it. We can't go back into our bubble."
"What Colin was protesting was something that should be respected by all humans," 49ers coach Kyle Shanahan said Friday. "That did take a lot of courage. That is something that is 1,000% wrong and what he was trying to fix and bring light to. And gosh it was hard to bring light to the whole country because people didn't want to totally hear it and it got diluted with so much different stuff."
Things feel a lot different around these issues than they did in 2016 and 2017. Washington running back Adrian Peterson, asked Friday if he planned to kneel during the national anthem in 2020, said "Without a doubt. We're all getting ready to take a knee together." It didn't cause a ripple.
Two days earlier, Saints quarterback Drew Brees was asked about the potential for player protests in 2020 and said, "I will never agree with anybody disrespecting the flag of the United States of America or our country." He was vilified by teammates and opponents alike for his insensitivity about the reasons for the protests and issued two separate apologies Thursday.
Imagine you were an NFL fan who fell asleep in May of 2018, right after NFL owners passed a rule that said players must either stand for the anthem or stay in the locker room until it's over, and you just woke up this week to see all of this. You'd think you'd entered another dimension.
Given everything that went down between the time Kaepernick began protesting in 2016 and the day in May 2018 when NFL team owners tried to implement a restrictive policy on player protests, the league surely has more work to do to convince its players and the public it has really come around on this issue. But Goodell's statement Friday said the league would "encourage all players to speak out and peacefully protest." This allows us to look ahead to an NFL season in which players might be more emboldened than ever to speak out and stand up for what they believe and owners might be more reluctant to tamp down protests than to allow them.
Some questions that still linger on this for the next five months (and beyond):
---
The status of the rule that required players to either stand for the anthem or stay in the locker room until it was over is the same as it was when the 2018 season began. The rule is effectively in limbo, as the owners' passage of it led into summerlong discussions with the NFLPA.
The result of those discussions was an agreement that the rule would not be implemented, and it has not been enforced over the past two seasons. No player has been fined for protesting during the anthem. Sources on Friday said the status of that rule remains unchanged as of now.
Michael Wilbon and Tony Kornheiser discuss NFL players calling for change from the league, with Kornheiser ultimately saying he thinks Roger Goodell is thinking about kneeling in solidarity.
Could these developments lead to the return of Kaepernick?
It's entirely possible that the circumstances that have brought about this week's events — more players, coaches and general managers than ever speaking out, the commissioner issuing a statement in direct response to a request from his players, the protests that have broken out across the nation — could make an NFL team more likely to sign Kaepernick than it might have been before.
There's little doubt at this point that a huge part of the reason no team has signed the quarterback since 2016 is because of the stance he took that year and concern over how people might react to such a signing. But if the league office is now openly condoning the kinds of protests Kaepernick initiated, and if franchise leaders are directly addressing the issues of police brutality and institutional racism that Kaepernick wanted to bring to light, it's fair to think those concerns may have abated.
That said, I wouldn't necessarily expect a repeat anytime soon of this past November, when the league attempted to organize a workout for Kaepernick in front of teams in Atlanta but it ended up being relocated and significantly scaled down because of disputes over how it was being administered and the injury waiver the league asked him to sign. There was a significant amount of anger on both sides about the way that situation unfolded, and it likely would require a significant reconciliation for the league office to issue that kind of olive branch again. It's likely up to an individual team to give Kaepernick another chance.
Does the NFL expect this to get political?
It already has. President Donald Trump, who is up for re-election on the Tuesday of Week 9 on the NFL schedule, tweeted Friday that Brees shouldn't have apologized for his Wednesday statement and used the words "NO KNEELING" in all capital letters.
Brees replied to Trump in an Instagram post Friday night, saying, "We can no longer use the flag to turn people away or distract them from the real issues that face our black communities. We did this back in 2017, and regretfully I brought it back with my comments this week. We must stop talking about the flag and shift our attention to the real issues of systemic racial injustice, economic oppression, police brutality, and judicial & prison reform."
Whether Brees agrees with him or not, it's fair to expect Trump to raise this issue again if players are kneeling during the anthem as the election gets closer.
Stephen A. Smith suggests that diversity should be prioritized in the NFL amid discussions of racial justice.
What effect will the coronavirus pandemic have on all of this?
Interesting wrinkle, for sure. At this point, five months out, there's a chance that NFL games (assuming they are played at all) have to be played in empty stadiums or partially filled stadiums due to ongoing COVID-19 concerns.
Not to minimize the significance of the issues at the root of that, but it obviously would make it more difficult to compare the in-person fan reaction to the reaction the protests got in 2016 and 2017.
What will we hear from NFL team owners on this?
This might be the most important question still remaining. Several team owners, most prominently the Cowboys' Jerry Jones, have in the past taken strong stances against player protests during the anthem. Sources say that there was no formal discussions between Goodell and any team owners about Friday night's video before the league released it (though Goodell does have conversations with owners on a daily basis and it's likely it came up in some of those).
If there remain owners who are dug in on this issue — as there were in 2018 — there's a chance things could get touchy in some places between now and September. But if this week has taught us anything, it's that NFL players believe themselves to be in a position of unprecedented strength. And if a team owner is going to speak out against protests, it's a safe bet that players on his team (and others) will speak out against him in return.