Jalen Ramsey says he's 'overjoyed' with trade to Rams
THOUSAND OAKS, Calif. — Jalen Ramsey says he's "overjoyed" to have been traded from the Jacksonville Jaguars to the Los Angeles Rams.
"Big, big day for me," Ramsey told Uninterrupted's '17 Weeks' Podcast on SiriusXM. "I'm currently just walking outside right now, I'm filled with joy, I'm overjoyed right now. God is the greatest, God makes no mistakes at all. No mistakes at all. I've been so blessed."
On Tuesday, the Rams sent their 2020 and 2021 first-round draft picks, as well as a 2021 fourth-round pick, to the Jaguars in exchange for the two-time Pro Bowl and All Pro cornerback, who was selected fifth overall by the Jaguars in 2016.
"I was so blessed to be drafted by the Jacksonville Jaguars," Ramsey said, adding, "But now I've got a new chapter starter in my life, going out to LA and going to be a part of the LA Rams."
Ramsey requested to be traded from the Jaguars following a Week 2 loss to the Houston Texans, after Ramsey was scolded by Jaguars vice president of football operations Tom Coughlin for engaging in a sideline shouting match with Jaguars coach Doug Marrone.
Ramsey has been inactive the last three games, citing a back issue, and causing him to snap a streak of 51 consecutive starts that dated to when the Jaguars selected him in 2016.
However, Ramsey is expected to pass his physical Wednesday with the Rams and could be available as soon as Sunday against the 1-5 Atlanta Falcons.
He joins a secondary in flux, and a defense that has allowed the second-highest Total QBR (81.6), during a 3-3 run.
Rams cornerback Aqib Talib and safety John Johnson have been placed on injured reserve and before trading for Ramsey, the Rams sent cornerback Marcus Peters to the Baltimore Ravens in exchange for linebacker Kenny Young and a 2020 fifth-round draft pick.
"Excited to be a part of that defense," said Ramsey, who in 51 starts, has nine interceptions and 45 pass breakups. "Coach Wade Phillips, coach Sean McVay, coach Aubrey Pleasant, and I'm excited to get out there and do my thing for the LA Rams and show them that they've got the best corner in the whole NFL for years and years to come."
Ramsey remains on his rookie contract, which is scheduled to pay him $13.7 million in 2020, and the Rams intend to eventually sign him to a long-term extension.
With the Rams, Ramsey reunites with former Jaguars teammates Blake Bortles and Dante Fowler Jr.
Chiefs lose sacks leader Emmanuel Ogbah for season with torn pec
KANSAS CITY, Mo. — Kansas City Chiefs defensive end Emmanuel Ogbah, the team's leader in sacks, will undergo season-ending surgery this week for a torn pectoral muscle he suffered during Sunday's loss at Tennessee, a source told ESPN's Adam Schefter.
Ogbah has 5.5 sacks, which is one more than defensive tackle Chris Jones. He started four of the Chiefs' 10 games.
The Chiefs have the past two weeks played without Alex Okafor, one starting defensive end. Okafor has a high ankle sprain. The other starter, Frank Clark, returned to the lineup against the Titans after missing time because of a pinched nerve in his neck.
The Chiefs acquired Ogbah this year in an offseason trade with the Cleveland Browns. He is scheduled to be an unrestricted free agent at the end of the season.
Dallas Cowboys' Connor Williams to have knee surgery
FRISCO, Texas — Dallas Cowboys left guard Connor Williams will undergo surgery on his left knee Tuesday, but he is expected to be able to return after a few weeks.
The Cowboys will replace Williams with Xavier Su'a-Filo, who took over for Williams last year when he had surgery on his right knee after eight games. Su'a-Filo started the second half of last season and helped solidify the offensive line at the midway point.
"You're always one play," Su'a-Filo said. "I remember last year I had an opportunity in that Philadelphia game and what was the most important thing for me was that I was prepared for it."
Williams, a second-round pick in 2018, started the first nine games this season and was lauded by the coaches for the strength and weight he added in the offseason, although he has had problems with bigger defensive linemen at times this season.
Williams missed one game last year following the surgery but returned in a backup role before replacing an injured Zack Martin at right guard for two games.
Matthew Stafford says he made 'right decision' to sit out Bears game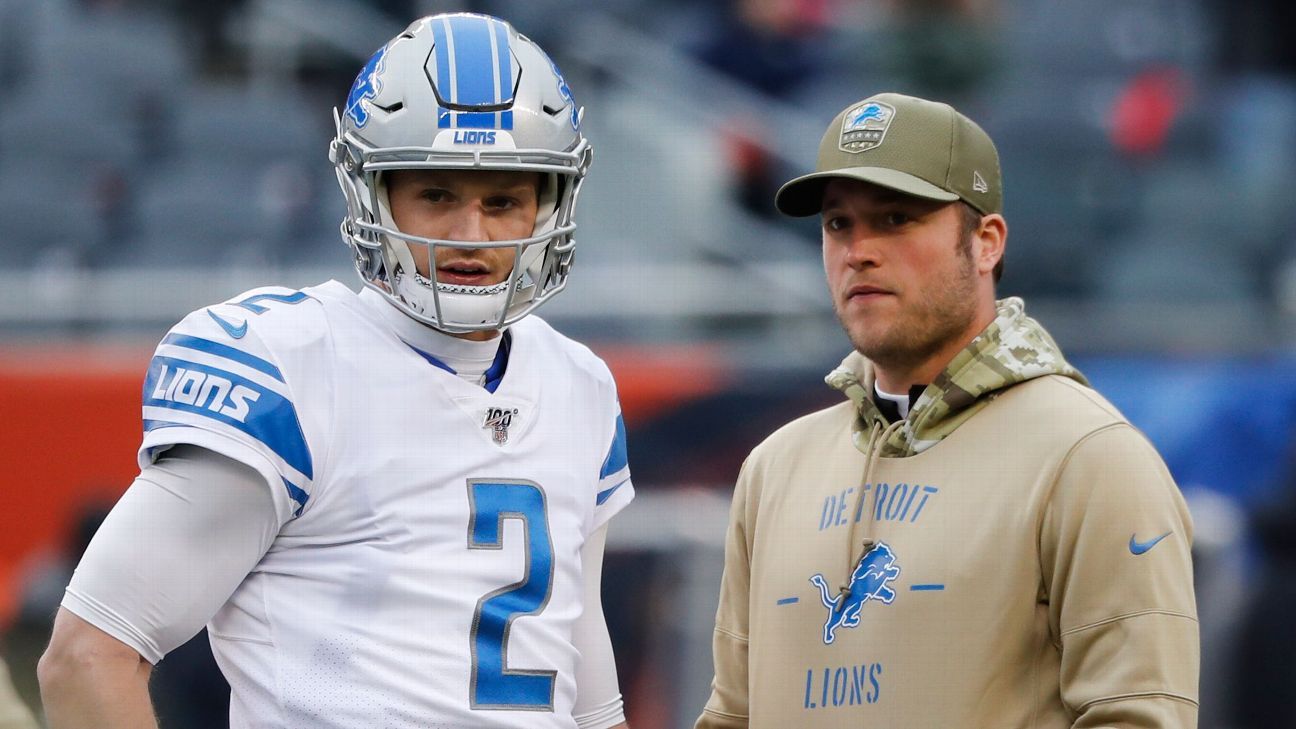 Detroit Lions quarterback Matthew Stafford said Monday he wanted to be on the field Sunday but ultimately did what he felt was best for the team in sitting against the Chicago Bears, snapping his 136-game start streak.
"Ultimately, I think I made the right decision," Stafford said.
He's once again dealing with a back injury, although he stressed it is a different injury than one he had last season, which he played through. Lions coach Matt Patricia classified Stafford as day-to-day and week-to-week earlier Monday.
Stafford said he has no interest in shutting it down for the season.
"That's not my thinking at the moment," Stafford said. "My thinking is to try and be out there as soon as I possibly can to help us win."
Stafford said a bunch of people had input into whether or not he would start — or play — in the Lions' 20-13 loss to the Bears. At one point, he considered dressing to try to be available if the team needed him to hand off at the end or hold for an extra point — anything he could do to help.
The NFL is looking into how the Lions handled the reporting of Stafford's back injury in the week leading up to Sunday's game, including the designation of Stafford as questionable before he was ruled out, a source said.
The 31-year-old quarterback said he knew Saturday he wouldn't start the game but thought he could still dress.
"Obviously, I want to be out there with the guys," Stafford said. "I think it was the right decision, a collective decision. But it's tough. I love playing this game.
"Work really hard to try and be out there for my teammates, but I wasn't able to do it, so a tough pill to swallow. I thought Jeff did a great job, played great, and I think the guys rallied around him, which is good."
Stafford has thrown for 2,499 yards and 19 touchdowns this season. In Week 7, he became the fastest quarterback in league history to pass for 40,000 yards.