Browns GM John Dorsey reaffirms commitment to Feddie Kitchens, Baker Mayfield
BEREA, Ohio — Cleveland Browns general manager John Dorsey reaffirmed his commitment Wednesday to both coach Freddie Kitchens and quarterback Baker Mayfield, despite the team's disappointing 2-4 start heading into its bye week.
Dorsey drafted Mayfield with the No. 1 overall pick last year, then this offseason promoted Kitchens from interim offensive coordinator to head coach. Off a promising 7-8-1 finish to last season, expectations ballooned even more for the Browns when Dorsey traded for star wide receiver Odell Beckham Jr. in the spring.
So far, though, the Browns have sputtered, and Sunday, blew a 20-6 lead to the Seattle Seahawks.
Dorsey said that despite that he's been encouraged with what he's seen from Kitchens, especially with how the Browns played against Seattle, coming off an embarrassing 31-3 loss at the San Francisco 49ers the week before on Monday Night Football.
"I think the team has responded really well," Dorsey said. "I like the offensive scheme that he's kind of developed which was on (display) in the Seattle game, by putting (Mayfield) in a really good position to move those chains.
"I think Freddie has done a really good job. I love where he is right now in terms of that first-year heading label you all try to stick with him."
Dorsey also declared that he remains "100%" convinced of Mayfield being Cleveland's franchise quarterback of the future, despite a slow start in his second season.
After finishing second in the NFL Offensive Rookie of the Year voting last year, Mayfield leads the NFL with 11 interceptions. He also ranks 33rd with a completion rate of 56.6% — way down from the 63.8% he posted last season.
"Mastering the quarterback position is very hard," Dorsey said. "Right now, defensive coordinators are probably throwing different looks that he hasn't seen. But Baker is one of those guys that he's smart enough, he's not going to make the same mistake twice. He's learning from that.
"I like where he is. I like his competitiveness. I love everything about him — that hasn't changed one bit, in terms of his competitiveness, his ability to throw the football. … I still think his balls are still accurate. Everybody keeps saying that there's inaccuracy with his ball, I still think he throws a good football. … What I really like is his teammates like him."
Dorsey was also effusive in his praise of Beckham, whom the Browns have had trouble getting the ball to at times. Despite the hype he arrived with, OBJ ranks just 31st in the NFL with 29 receptions and 16th with 436 receiving yards. He also only has one touchdown grab.
Still, Dorsey noted that Beckham has impacted the Browns in ways other than pass-catching.
"Is he a talented player? Yeah, he's a talented football player," Dorsey said. "If we can get the ball to him, we get the ball to him. But let's don't force it. Let's win the game, that's the objective.
"Odell is one of those guys who's a selfless individual. I think he really does a nice job run blocking. I'm happy we have him."
The Browns soon will add 2017 rushing champ Kareem Hunt to their offense. Hunt is serving an eight-game suspension for violating the NFL's personal conduct policy and has been away from the team. Dorsey said that Hunt is "doing really well" and is ahead of schedule rehabilitating from sports hernia surgery.
"In a couple weeks he's going to be back," Dorsey said, "and I can't wait to see him."
Dorsey also hinted the Browns might not be done upgrading the offense heading into the trade deadline later this month. Cleveland has been connected to All-Pro Washington left tackle Trent Williams, who is holding out due to his unhappiness with the Redskins, and would bolster and offensive line that Dorsey admitted needs to be "more consistent."
Dorsey wasn't very cryptic in expressing his interest. Asked if he's spoken to Washington team president Bruce Allen, Dorsey responded, "We've had a few conversations." After Williams' name was brought up, Dorsey answered, "It takes two to tango."
Ravens add veteran DT Domata Peko in series of moves
OWINGS MILLS, Md. — The Baltimore Ravens bolstered their defensive front by signing veteran tackle Domata Peko on Tuesday, his agent announced.
The Ravens (7-2), who lead the AFC North by two games, are in need of depth because Michael Pierce is dealing with an ankle injury and rookie Daylon Mack (hip and knee) was placed on injured reserve.
Peko, 34, played 11 seasons for the Cincinnati Bengals and the past two years with the Denver Broncos. The 6-foot-3, 325-pound nose tackle has been one of the NFL's most stout run defenders over the past decade.
The Ravens also signed defensive tackle Justin Ellis and activated rookie cornerback Iman Marshall off injured reserve.
To make room on the 53-man roster, Baltimore cut cornerback/punt returner Cyrus Jones and defensive end Ufomba Kamalu.
Jones was inactive last Sunday, one week after he fumbled a punt return against the Patriots. De'Anthony Thomas replaced Jones as Baltimore's returner.
Teams invited to Colin Kaepernick workout Saturday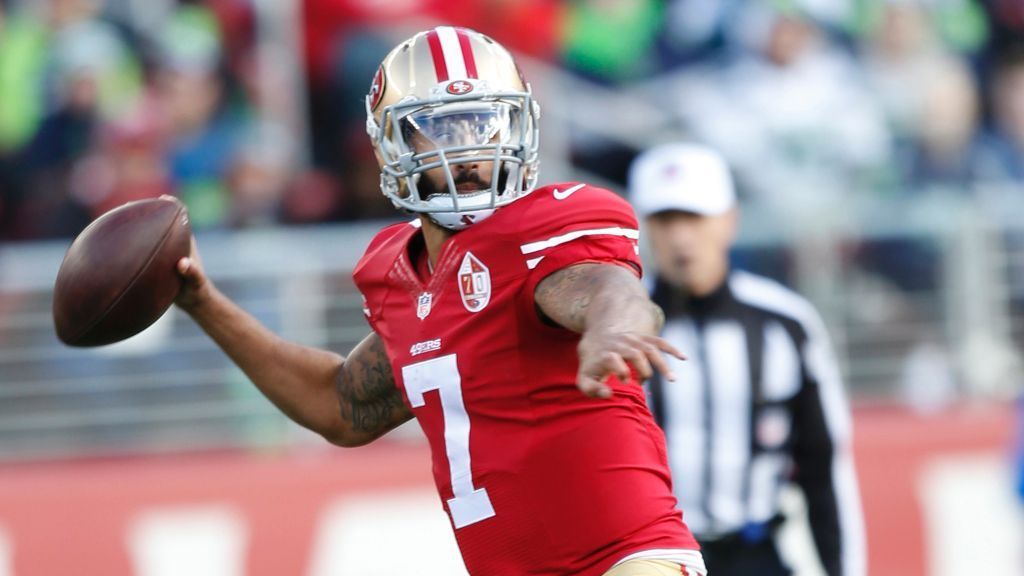 NFL clubs were informed Tuesday that a private workout will be held for free agent Colin Kaepernick on Saturday in Atlanta, according to a copy of a memo obtained by ESPN.
The session will include both on-field work and an interview. All clubs are invited to attend, and video of both the workout and interview will also be made available to all clubs.
Several clubs have inquired as to Kaepernick's current football readiness and both the quarterback and his representatives have frequently expressed his desire to return to the league.
The memo, which was sent to NFL teams, says: "Earlier this year, we discussed some possible steps with his representatives and they recently emphasized his level of preparation and that he is ready to work out for clubs and be interviewed by them. We have therefore arranged this opportunity for him to work out, and for all clubs to have the opportunity to evaluate his current readiness and level of interest in resuming his NFL career."
Kaepernick, who turned 32 on Nov. 3, has not played in the NFL since 2016, when he began protesting police brutality and racial injustice by kneeling during the national anthem. He opted out of his contract with the San Francisco 49ers in March 2017.
Within the past two years, Kaepernick and safety Eric Reid filed grievances against the league through the National Football League Players Association, alleging collusion among league owners to deny them jobs.
In February, it was announced that both players had reached a settlement with the NFL. Terms were not disclosed.
Reid has since landed a job with the Carolina Panthers.
Kaepernick's representatives have said he has been "working out five days a week, for three years, in preparation to play again" but that the opportunity hasn't presented itself.
Browns' Callaway benched for late arrival
BEREA, Ohio — Cleveland Browns wide receiver Antonio Callaway was benched before Sunday's 19-16 victory over the Buffalo Bills for showing up late to FirstEnergy Stadium, a source confirmed to ESPN.
Cleveland.com first reported that Callaway was late in part because he parked in a different lot than usual. Callaway was not available in the locker room to answer questions Tuesday.
Despite warming up in pregame Sunday, Callaway was ruled inactive, and after changing clothes was spotted being escorted through the tunnel to watch the game elsewhere in the stadium.
This week coach Freddie Kitchens didn't back off his decision to bench Callaway, but did say it would be a one-game punishment.
"I don't know if he'd gotten the message or not, but I'm not wavering," Kitchens said. "I always want our guys to make good choices. … I did what I felt like I needed to do, and it's over."
Callaway's benching cleared the way for his replacement, Rashard Higgins, to catch the game-winning touchdown against the Bills late in the fourth quarter.