Stephen Strasburg keeps Nationals' rotation on a serious roll
WASHINGTON — Gerardo Parra wrapped both arms around Stephen Strasburg and wouldn't let go. Their embrace has morphed into something of a tradition. It began late in the season and spilled into the playoffs, partly because this Washington Nationals team has grown so close and partly because Strasburg detests these hugs.
For this one, in the late stages of a victorious night in Game 3 of the National League Championship Series, Parra held on long enough that a nearby Anibal Sanchez could get in on the action. Max Scherzer then spotted them from the end of the dugout, walked over, spread his long limbs out wide and enveloped them all, suffocating Strasburg with affection.
"Why not," Scherzer said. "He deserved it."
Strasburg, pitching three nights after Sanchez and two nights after Scherzer, had just held the St. Louis Cardinals to one unearned run in seven innings on Monday night, leading the Nationals to an 8-1 victory that gave them a commanding 3-0 lead in the best-of-seven series.
In Game 1, it was Sanchez, expertly mixing a variety of pitches, who came within four outs of a no-hitter.
In Game 2, it was Scherzer, playing his fastball off his changeup, who gave up zero hits and struck out 10 through the first six innings.
In Game 3, it was Strasburg, armed with untouchable off-speed pitches, who struck out 12, walked none and added to what is becoming an illustrious postseason resume.
In Game 4, it will be Patrick Corbin — every bit as capable, every bit as imposing — looking to pitch the Nationals into their first World Series.
"They're the heart and soul of our team," Nationals reliever Sean Doolittle said of the team's starting pitchers. "It's fitting that they're the reason we're in this position."
If not for Michael Taylor misreading a line drive on Saturday and Juan Soto slipping in the middle of a throw on Monday, the Cardinals would probably be shut out for 27 innings in this series. Sanchez, Scherzer and Strasburg have combined for one unearned run allowed, three walks and 28 strikeouts in 21⅔ innings. The Nationals' starters boast a 1.59 ERA, a 0.88 WHIP and a .164 opponents' batting average in 56⅔ innings this month, numbers that don't even include their contributions out of the bullpen.
Since the wild-card era began in 1995, only the 2012 Detroit Tigers, the 2018 Milwaukee Brewers and the 1995 Cleveland Indians have had a starters ERA better than that of the current Nationals through their first nine postseason games, according to research from the Elias Sports Bureau. The Brewers, however, relied on openers, skewing the numbers. This postseason has been marked by the rebirth of traditional starting-pitcher usage, and the Nationals — not the Houston Astros — stand as the prime example.
Nationals third baseman Anthony Rendon called the team's starters "nothing short of amazing."
"They're feeding off each other — they really are," Nationals manager Dave Martinez said. "It's fun to watch."
Strasburg has compiled 57 strikeouts and five walks in 41 career postseason innings. His 1.10 ERA trails only Sandy Koufax's 0.95 among pitchers with at least five playoff starts. Strasburg has 10-plus strikeouts in four of his first seven postseason starts, a feat only Bob Gibson and Cliff Lee have matched. And the only pitcher with zero walks and more strikeouts than the 12 Strasburg had Monday in a postseason start was Tom Seaver, pitching in an NLCS that took place 46 years ago.
"It's so impressive to me that when the crowd is the loudest, and in the biggest moments, is when he looks like he's his calmest," Doolittle said. "And you have to be able to stay calm if you're gonna execute your off-speed pitches in the zone the way that he was all night long."
Strasburg recorded all 12 of his strikeouts on off-speed pitches, the most in any start of his career. He allowed a leadoff double in the second, then fielded a comebacker and caught Marcell Ozuna between second and third base. He gave up back-to-back singles in the fourth, then got Yadier Molina to line out and end the threat. Paul DeJong laced a sharp single in the fifth, then Strasburg retired the next five hitters, three of them on strikeouts.
Stephen Strasburg brings the heat, as he records 12 strikeouts from the bump in seven innings as the Nationals take down the Cardinals 8-1 in Game 3 of the NLCS.
When his pitch count was escalating and he needed a quick inning, Strasburg exerted only 10 pitches to get through the sixth.
When trouble brewed in the seventh — on three singles, one of which scored a run after Soto's back foot slipped on an attempted throw home — Strasburg became defiant.
Martinez paid a visit, with two on, one out, a run across and Strasburg's pitch count at 109. The manager saw Strasburg grab his hamstring and thought about removing him. It was merely a cramp, Strasburg told Martinez. Happens all the time.
"I'm staying in the game," Strasburg said. "I want to finish this inning."
"You sure you're all right?" Martinez asked.
"I'm in the game!"
Kurt Suzuki chimed in, told Martinez to let him finish, and the two retreated. Strasburg proceeded to strike out Matt Wieters and Dexter Fowler on nasty changeups that darted below the zone. Opposing hitters have slugged just .218 on that pitch all year, 175 points below the major league average on changeups.
"It looks pretty much like a fastball, just 10 to 12 miles an hour slower and a lot of depth at the end," Cardinals second baseman Kolten Wong said. "It looks like a fastball until it gets to the cut of the dirt, and then it starts to sink or run. It kind of takes on both."
After the inning, as Strasburg was approaching his preferred dugout seat, he was met by Parra, the affable, veteran outfielder who joined the team in May. Parra has been among those who have worked diligently to soften Strasburg, who can be about as tightly wound as they come. Sanchez has tried to help.
"They're just trying to make Stras as uncomfortable as possible," Nationals outfielder Adam Eaton said. "It's great, and when Stras is uncomfortable, good things happen."
Strasburg — the former prodigy with impossibly high expectations, who sat out two prior Octobers but is maximizing what could be his final postseason run with the Nationals — provided a few light pats on the back. He tried to push away, but Parra pulled him back in. Strasburg laughed, swayed side to side and had the look of someone who was trying to savor the moment but didn't quite know how.
"I'm not much of a hugger," Strasburg said. "They kind of just surround me, so I just have to take it."
The Nationals need to capture only one more win, in as many as four tries, to give Washington D.C. its first World Series team since 1933.
More hugs are coming.
New York Mets' Yoenis Cespedes takes batting practice in return effort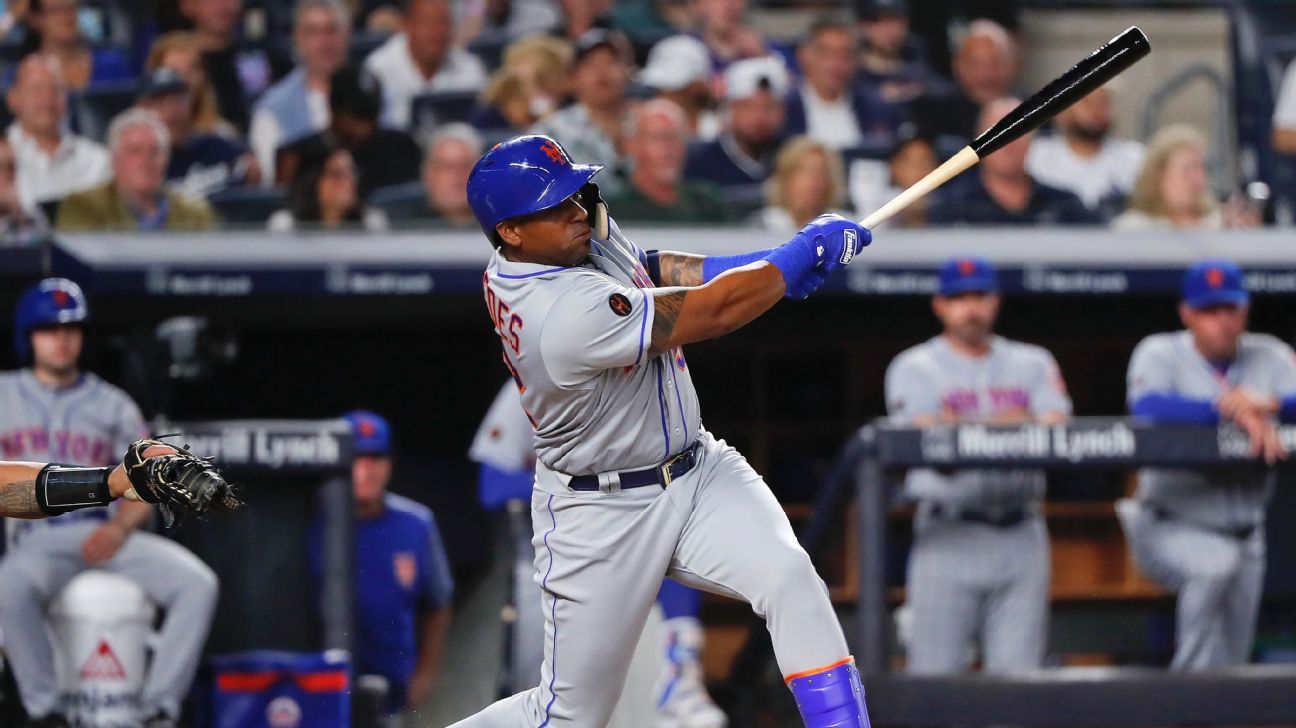 NEW YORK — Mets outfielder Yoenis Cespedes is taking batting practice in his effort to return from a slew of lower-body injuries.
Minor league instructor and former Mets player Endy Chavez posted and then deleted video on Tuesday of the 34-year-old Cespedes taking swings. That came a few weeks after general manager Brodie Van Wagenen said he was uncertain whether Cespedes would play in 2020.
Cespedes broke an ankle in May while recovering from surgery on both heels. The injuries have sidelined Cespedes for most of the past two seasons.
The video showed the right-handed-hitting Cespedes taking all-out cuts. Chavez captioned it "throwing BP to a prospect in recovery."
Cespedes is entering the final season of a $110 million, four-year contract.
In letter, Congress members express opposition to minor league overhaul
More than 100 members of Congress expressed their "firm opposition" to a proposal by MLB that would reportedly eliminate more than 40 minor league teams.
The letter, signed Tuesday and addressed to commissioner Rob Manfred, warned that the proposal would "devastate our communities, their bond purchasers and other stakeholders affected by the potential loss of these clubs."
The current agreement between Major League Baseball and the minor league teams — called the Professional Baseball Agreement — expires at the end of the 2020 season.
MLB is looking to make some major changes that would overhaul all levels of the minors, particularly at low Class A and below.
According to multiple reports, the more than 40 teams at the lower levels that are not included in this venture would be reclassified into a "Dream League," which would be run jointly by MLB and Minor League Baseball and would include players who were not selected in the draft.
"Reducing the number of Minor League Baseball clubs and overhauling a century-old system that has been consistently safeguarded by Congress is not in the best interest of the overall game of baseball, especially when Major League Baseball's revenues are at all-time highs," the letter said.
MLB commissioner says punishments could be severe in sign-stealing scandal
ARLINGTON, Texas — Major League Baseball commissioner Rob Manfred said he believes the sign-stealing scandal that has engulfed the sport involves only the Houston Astros and that he can mete out discipline beyond the standard fine and draft pick penalties if necessary.
Speaking as the owners meetings began Tuesday, Manfred called the allegations of technology-driven sign-stealing by the Astros "the most serious matter." He said "it relates to the integrity of the sport" and promised "a really, really thorough investigation."
"Right now, we are focused on the information that we have with respect to the Astros," Manfred said after a tour of Globe Life Field, the Texas Rangers' new stadium set to open in 2020. "I'm not going to speculate on whether other people are going to be involved. We'll deal with that if it happens, but I'm not going to speculate about that. I have no reason to believe it extends beyond the Astros at this point in time."
Cheating accusations are commonly levied by teams against other teams in discussions with officials in the commissioner's office, although none had taken hold until former Astros pitcher Mike Fiers alleged the 2017 World Series champions used a camera feed near the home dugout to steal catchers' signs and relayed them to hitters by banging on a trash can.
Fiers' allegations prompted the league to open an investigation, which thus far has focused on the 2017 Astros but has included questions about more recent Astros teams, sources told ESPN.
The maximum penalties Manfred has handed out include a $2 million fine and docking of two first-round draft picks after a St. Louis Cardinals employee illicitly accessed the Astros' proprietary database and a ban on international signings after an investigation into the Atlanta Braves' practices in Latin America.
MLB instituted new rules before the 2019 season in hopes of limiting the use of stealing signs via technology, and the scope of Manfred's discipline could depend on the timing of any alleged wrongdoing.
"I'm not going to speculate on what the appropriate discipline is," Manfred said. "That depends on how the facts are established at the end of the investigation. The general warning I issued to the clubs, I stand by. It certainly could be all of those [past disciplinary actions], but my authority under the major league constitution would be broader than those things as well."
Manfred said he does not have a timeline for the investigation, but "I certainly would hope that we would be done before we start playing baseball again."
Discussion of the Astros, sources told ESPN, is expected to be a common topic at the owners meetings, which run through Thursday.
The fear among a number of top executives, sources said, is that the practice of technology-driven sign-stealing has become commonplace in the game and that the Astros' case will serve as a litmus test for Manfred's ability to clamp down.
"Any allegations that relate to a rule violation that could affect the outcome of a game or games is the most serious matter," Manfred said. "It relates to the integrity of the sport. In terms of where we are, we have a very active — what is going to be a really, really thorough investigation ongoing. But beyond that, I can't tell you how close we are to done."