Sources — Forecast rain for Wednesday could alter NLCS, ALCS schedules
The schedule for both the AL and NL Championship Series could be altered because of the forecast of heavy rain in New York on Wednesday, sources told ESPN.
With the possibility that ALCS Game 4 between the Houston Astros and New York Yankees is a washout for Wednesday night, Major League Baseball is considering moving a potential NLCS Game 5 between the Washington Nationals and St. Louis Cardinals to that night, sources said. The NLCS game is currently scheduled to start at 4:08 p.m. ET, but on days there is only one game, MLB prefers to have the game in prime time.
If the rainout occurs, the Yankees and Astros — who play Game 3 Tuesday in New York with the series tied at 1-1 — would be rescheduled to play Games 4 and 5 on Thursday and Friday in New York, before returning to Houston for a potential Game 6 on Saturday.
Sources said MLB would likely announce any change in an NLCS Game 5 prior to Wednesday, giving the teams and fans time to adjust. The Nationals lead the series, 2-0, heading into Monday night's Game 3, so that series could be over as soon as Tuesday night.
If the Yankees and Astros are delayed a day, it could affect pitching plans for both teams. The Astros could bring back Zack Greinke for Game 4 on regular rest, and the Yankees — who are planning a bullpen day for Game 4– could instead go back to Masahiro Tanaka on regular rest.
Angels' Mike Trout edges Astros' Alex Bregman for AL MVP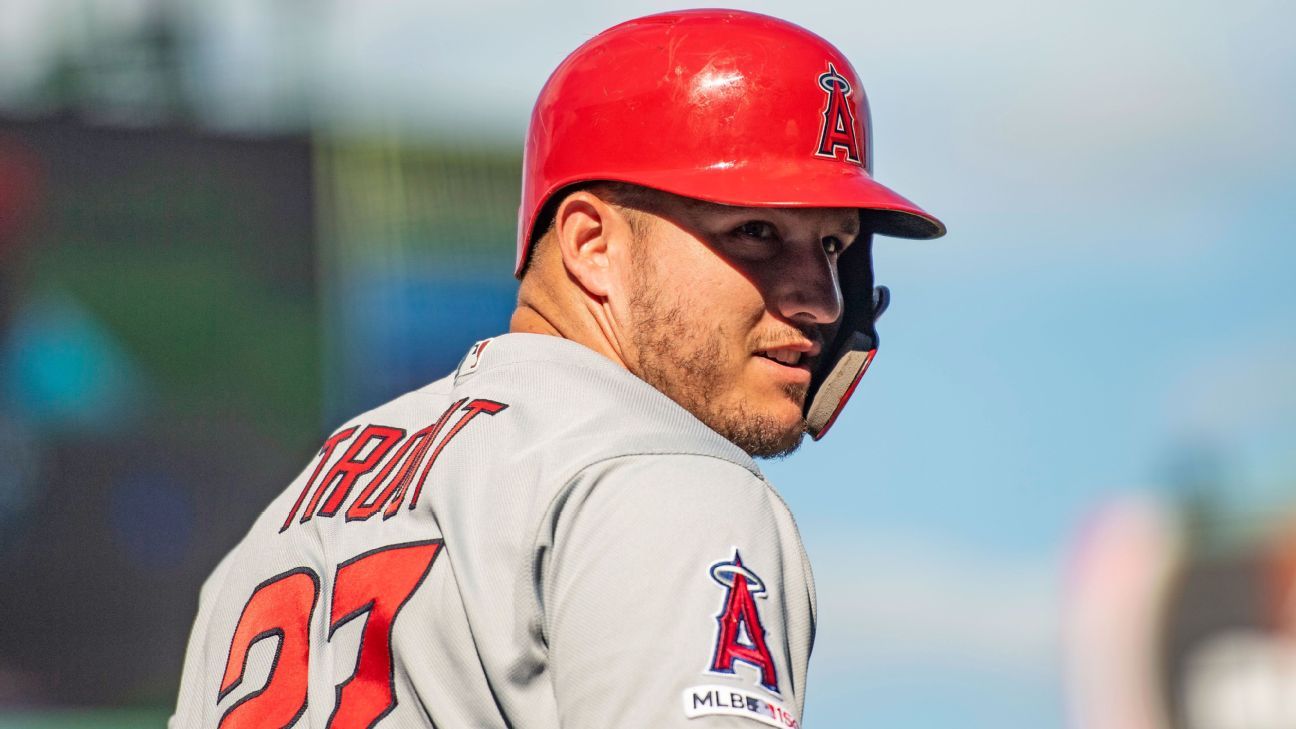 Los Angeles Angels center fielder Mike Trout captured his third American League MVP Award on Thursday, edging Houston Astros third baseman Alex Bregman.
Trout received 17 first-place votes from the Baseball Writers' Association of America, with Bregman receiving the other 13. Trout and Bregman were either first or second on all 30 ballots.
Oakland Athletics shortstop Marcus Semien finished third in the voting.
The 28-year-old Trout trails only Barry Bonds for most career MVPs. Bonds finished with seven, accruing four of them after the age of 35. Ten others — Yogi Berra, Roy Campanella, Joe DiMaggio, Jimmie Foxx, Mickey Mantle, Stan Musial, Albert Pujols, Alex Rodriguez, Mike Schmidt and now Trout — have three.
Trout set a career high with 45 home runs, capitalizing on a season when baseballs were presumed to be juiced, before missing the Angels' final 19 games because of a foot injury. Trout led the majors in on-base percentage (.438), trailed only Christian Yelich in slugging percentage (.645) and paced the sport in weighted runs created plus (180).
Trout's 8.6 FanGraphs wins above replacement was just slightly ahead of Bregman's 8.5, marking the sixth time in eight full seasons that Trout has either led or tied for the lead in FanGraphs WAR. It was enough to make up for the fact that Trout's Angels lost 90 games, missed the playoffs for the ninth time in 10 seasons and ultimately fired their manager, replacing Brad Ausmus with Joe Maddon.
Trout has already compiled 73.4 career FanGraphs WAR, placing him 47th on the all-time leaderboard. By the end of next season, he can reasonably move into the top 35 — with 10 years still remaining on the 12-year, $426.5 million extension he signed in March.
Bregman, 25, finished the 2019 season with a .296/.423/.592 slash line that compared favorably to Trout's. Bregman added 41 home runs, led the majors with 119 walks, filled in at shortstop when Carlos Correa missed time and played his best down the stretch for the eventual AL champions, batting .372 with a 1.236 OPS and 37 extra-base hits after Aug. 1.
Semien tallied a career-high 7.6 FanGraphs WAR, fifth-most in the majors, and was one of only five players to play in all 162 games this season. In addition to playing outstanding defense at shortstop, Semien batted .285/.369/.522 with 33 home runs and 343 total bases.
Cody Bellinger 1st Dodger to win NL MVP since Clayton Kershaw in 2014
Cody Bellinger captured his first National League Most Valuable Player Award on Thursday, beating defending champion Christian Yelich and eventual World Series champion Anthony Rendon.
Bellinger was selected first on 19 of 30 ballots and second on 10 more, beating out Yelich, the runner-up who was named first on 10 ballots and second on 18. Rendon was named first and second on one ballot each.
Bellinger, a .305/.406/.629 hitter with 47 home runs and 15 stolen bases, is the first Los Angeles Dodgers player to win the MVP since Clayton Kershaw in 2014, and the first position player to do so since Kirk Gibson in 1988.
Bellinger and Yelich finished tied in FanGraphs wins above replacement with 7.8 apiece. Yelich posted slightly better offensive numbers, batting .329/.429/.671 with 44 home runs and 30 stolen bases, but Bellinger was the better defensive player, winning a Gold Glove in right field while also displaying Gold Glove-caliber defense at first base and center field.
Yelich also played in 26 fewer games, largely because of a fractured kneecap that put him on the shelf for the season's final three weeks.
Bellinger, who has concluded only three seasons, joined Jackie Robinson and Don Newcombe as the only players in Dodgers history to be named the Rookie of the Year and the MVP. His exploits came immediately after a relatively down season in 2018 that saw him famously sit against left-handed starters throughout the postseason.
Rendon, now a free agent, batted .319/.412/.598 with 34 home runs and a major league-leading 126 RBIs. In October, while the Washington Nationals marched toward the first World Series championship in franchise history, Rendon posted a 1.003 OPS.
Twins' Jake Odorizzi, White Sox's Jose Abreu accept $17.8M qualifying offers for 2020
Minnesota Twins pitcher Jake Odorizzi and Chicago White Sox slugger Jose Abreu have accepted one-year, $17.8 million qualifying offers for 2020 and will forgo free agency, it was announced Thursday.
Barring contract extensions, both will be free agents without restriction after the 2020 season.
Seven players have rejected the qualifying offer and have draft-pick and perhaps international-bonus compensation tied to their free agency: Gerrit Cole, Anthony Rendon, Stephen Strasburg, Zack Wheeler, Madison Bumgarner, Josh Donaldson and Marcell Ozuna.
Relief pitcher Will Smith, who also declined the offer, signed with the Atlanta Braves on Thursday.
Prior to this season, only three out of 80 players had accepted qualifying offers since the practice was implemented after the 2012 season.
Odorizzi, who turns 30 in March, is coming off the best season of his career, going 15-7 with a 3.51 ERA in 30 starts for the American League Central champion Twins. He set career highs for wins and strikeouts (178) as the Twins racked up 101 wins and claimed their first division title since 2010. The All-Star right-hander started Game 3 of the AL Division Series against the New York Yankees, allowing two runs over five innings.
He has made at least 28 starts in six straight years and has thrown at least 143 innings in all of those seasons, reaching 159 innings in five of the six. His velocity jumped on all pitches, and the Twins had him work more with four-seam fastballs up and cutters down or down/glove-side, making his fastball a true out pitch for him.
Jake is back! 🔥 #MNTwins pic.twitter.com/g8Nta4aJSH

— Minnesota Twins (@Twins) November 14, 2019
He's back. pic.twitter.com/MjHF31MLZs

— Chicago White Sox (@whitesox) November 14, 2019
Abreu, who made his third All-Star team in six seasons with the White Sox, led the AL with 123 RBIs last season while batting .284 with 33 home runs. The first baseman/designated hitter, who will turn 33 in January, showed he can still catch up to fastballs as he ranked among the leaders in overall exit velocity, but he struggled with breaking pitches and rarely walks.
The $17.8 million qualifying offer was determined by the average of the top 125 major league contracts in 2019. If a team makes an offer to a player who signs with another club before the June amateur draft, his former club would receive a draft pick as compensation at the end of the first round.
A free agent can be made a qualifying offer only if he has been with the same team continuously since Opening Day and has never received a qualifying offer before.
The qualifying offer price started at $13.3 million in 2012, rose to $14.1 million in 2013, $15.3 million in 2014, $15.8 million in 2015, $17.2 million in 2016 and $17.4 million in 2017.
ESPN's Keith Law contributed to this report.