Twins nearing deal to keep Derek Falvey in front office
The firing of Dave Dombrowski as Boston's head of baseball operations has created an opening that will likely be filled by an experienced executive from another organization. But it is also seemingly spurring a wave of contract extensions for officials who might otherwise be interesting to the Red Sox.
Last month, Arizona's Mike Hazen got an extension after rumors surfaced that the Red Sox might have interest in pursuing him, and according to a well-placed source, the Twins' Derek Falvey — whose team just finished a 100-win season — could soon complete a new deal that will keep him in Minnesota.
Falvey, 36, the Twins' executive vice president and chief baseball officer, would be a natural candidate for the Red Sox, given the respect for him in the game and his Massachusetts roots. But Falvey is highly valued by the Twins' leadership, and for good reason: Minnesota not only has made the playoffs in two of the last three seasons, but Falvey and general manager Thad Levine have built what is considered by peers to be an increasingly effective baseball operations department.
Joc Pederson, Ross Stripling face awkward return at Dodgers camp
GLENDALE, Ariz. — Joc Pederson was back in a familiar clubhouse. He had the same dressing stall and many of the same teammates.
Not much had changed, except for him.
He felt awkward — and with good reason.
Pederson put his Dodgers uniform back on at Camelback Ranch over the weekend for the start of spring training. Just a week earlier, it looked as if he would be performing these February rituals across town in Tempe.
For five days, Pederson appeared to be headed to the Los Angeles Angels along with pitcher Ross Stripling as part of several multiplayer trades surrounding Mookie Betts' move to the Dodgers. The Angels-Dodgers trade was eventually scrapped, but only after an uncomfortable amount of uncertainty for the players involved.
"I thought for sure I was going to the Angels," Pederson said. "It seemed pretty official. I was talking with my wife about what we were going to do living-wise, spring training-wise, talking about changing my cleats, everything."
Stripling thought the same thing. For a few days, he made plans to move on.
"I'm thinking I'm leaving all my friends and teammates," Stripling said. "The Dodgers are all I know."
Both Pederson and Stripling have played for only the Dodgers in their big league careers. But just as they began to pack, they learned the trade was off.
Although nobody has spoken in depth about the reasons for the decision, the Angels and Dodgers decided not to make the deal that would have sent Pederson and Stripling to Orange County for infielder Luis Rengifo and a prospect.
Pederson said he got the news from the Dodgers' front office at about the same time the team's blockbuster deal with Boston for outfielder Betts and pitcher David Price was finalized.
"It was kind of up in the air the whole time, I guess," Pederson said. "There were different options or different avenues they could go, until that happened. It's a little awkward coming back. But I'm excited to be here, ready to win a World Series."
Pederson can't be sure that the Dodgers still won't trade him, particularly with their outfield looking stacked already. Pederson probably could have been the Angels' everyday right fielder as he prepares to hit free agency in a year.
Manager Dave Roberts said he planned to rotate Pederson and A.J. Pollock in left field. Betts will be in center and Cody Bellinger in right.
Although Stripling probably would have been able to secure a spot in the Angels' rotation after bouncing in and out of the Dodgers' starting group, he still reacted to news of the scrapped trade with a celebratory GIF on his Twitter account. Stripling said he doesn't think about whether the Dodgers still plan to trade him.
"You can look at it that way," he said. "But I think you have to trust the relationships you've made with coaches and management. They say, 'We respect you and we really love having you here.' I choose to believe them. I understand the business side of it. I mean, we had a chance to get Mookie Betts and David Price. If that means getting rid of Ross Stripling, then that's part of it. But I don't choose to take it personally."
For Pederson, a roller-coaster ride of a week was further complicated by salary arbitration: He lost his case with the Dodgers, leaving him to make $7.75 million instead of his requested $9.5 million for the upcoming season.
He said his agents asked to delay the hearing because it was unclear where he would play, but a postponement was not granted.
"That definitely added to everything," Pederson said. "The part between the Dodgers and me, that's what the case was for. They won. There's no hard feelings about that."
Reds' Trevor Bauer says reaction to playoff plan criticism 'mostly positive'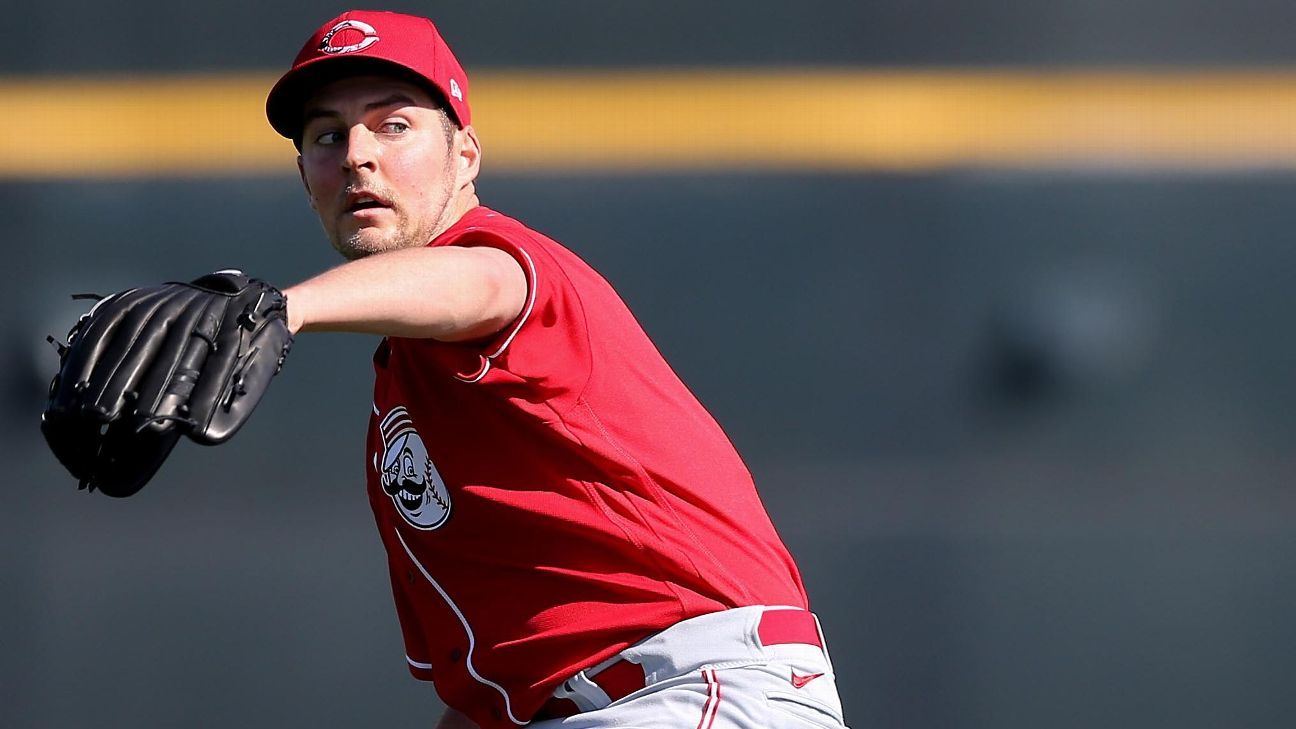 GOODYEAR, Ariz. — Cincinnati Reds pitcher Trevor Bauer says he has gotten positive response to his criticism of a plan being considered by Major League Baseball to expand the playoffs, one that includes an extended break for top seeds and some teams choosing who they will play.
Bauer directed his ire toward Commissioner Rob Manfred in a tweet last week: "Your proposal is absurd for too many reasons to type on twitter and proves you have absolutely no clue about baseball. You're a joke."
Deep into a lengthy with ESPN aired Sunday about the Houston Astros' sign-stealing scandal, Manfred was asked specifically about his reaction to Bauer's tweet that characterized the commissioner as a joke.
"Well, I think if you look back on the questions we've already gone through, I'm pretty good about accepting people's views and criticisms," Manfred told ESPN. "I don't have to agree with them, and I'll say this about that particular comment. No matter how much, how completely I disagreed with what a player thought about something, there's no way I would speak about a major league player like that."
After working out in Arizona, the All-Star pitcher said he hadn't heard the commissioner's response and didn't want to specifically respond to that. He said he had not spoken to the commissioner about the tweet or a lengthy video that Bauer also posted.
"Generally when I say stuff, people take it one way or the other," Bauer said Sunday about the general response to his criticism. "It's been mostly positive. I think when people speak and they come from a place of sincerity and like caring about the situation, you know, it's easy for people to identify that, and to hear that in the genuine nature of it."
Bauer was passionate with his thoughts in the video that was nearly seven minutes long and posted after the tweet. He said near the end of that video that he was open to speaking with the commissioner.
Comedian/actor and baseball fan Jerry Seinfeld sent a tweet Friday with Bauer's video attached to it, and wrote, "Trevor Bauer to the rescue! Love this guy."
Under a plan being considered by MLB, the playoffs would be expanded to nearly half the 30 teams, growing from 10 to 14 with higher-seeded wild-card teams allowed to choose opponents. The top seeds in each league would get byes, creating extended layoffs between games.
Bauer has also had strong reactions to the Astros scandal, including some comments after Houston owner Jim Crane was widely criticized for an apology that rang hollow to many.
"I'm not going to let them forget the fact that they are hypocrites, they are cheaters," Bauer told reporters Friday.
"They mocked everything about everyone who said they were doing something under the table or illegal or whatever," Bauer said, tossing a few expletives while adding, "Now you're lying about your apology."
Bauer took a bit of a different tone Sunday, saying it was "time for everyone to just move on" from that situation.
Asked how that could happen, he said, "It starts by people like me that have had opinions stopping talking about it."
Ex-Dodgers pitcher Yu Darvish — Astros should be stripped of title
MESA, Ariz. — Add Chicago Cubs righty Yu Darvish to the list of those that believe the Houston Astros should be stripped of their 2017 World Series title.
"It's like the Olympics," Darvish said from Cubs camp on Sunday. "When a player cheats, you can't have a gold medal, right? But they still have a World Series title. It (feels) weird."
Pitching for the Los Angeles Dodgers in that World Series, Darvish previously said he doubted himself after getting rocked in Games 3 and 7. At first, he was told he was the one tipping his pitches but now wonders if the Astros stole the signs.
"Was I tipping, or were they stealing?" Darvish asked last month.
On Sunday, he said he wasn't angry but felt for opposing pitchers who lost their jobs due to the Astros scandal while telling Houston players it might be better to be quiet right now.
"So they cheat, I think they shouldn't talk right now," Darvish said referencing Carlos Correa's comments about Cody Bellinger. "Some people lost their job. They have to show more apology. I don't feel anything from those guys."
Darvish compiled a 21.60 ERA over his two games pitched just before going to free agency after the 2017 season. He ended up signing a six-year, $126 million contract with the Cubs who admitted they may have taken advantage of other teams being scared off after his World Series performance.
"I know they were stealing signs, but at the same time, I was not good during the World Series," Darvish said. "I'm better for what I went through. But, yeah, everyone is wondering about (their numbers) pitching against them."
Darvish is just the latest in a long line of players to criticize the Astros after it was revealed they were stealing signs electronically in 2017. No players were punished in the scandal while Houston's apologies have been widely criticized as well.