Oakland mayor says MLB commissioner Rob Manfred warned city A's could move to Las Vegas; Manfred says nothing on tap
Oakland Mayor Libby Schaaf confirmed in a television interview Tuesday that Major League Baseball commissioner Rob Manfred warned city officials that the Athletics could relocate to Las Vegas if the city didn't drop its lawsuit to stop Alameda County from selling its share of the Coliseum to the team.
Manfred confirmed Tuesday that Las Vegas came up during a meeting with Schaaf, but said there are no plans for the A's to move.
"In a recent meeting with the mayor of Oakland, I did mention Las Vegas in the context of pointing out that the A's might have to relocate if a new stadium can't be built in Oakland," Manfred told the Las Vegas Review-Journal. "There is, however, no plan to move to Las Vegas."
Oakland and Alameda County share ownership of the Coliseum; the city wants the county to sell its half of the stadium to Oakland instead of to the A's. The San Francisco Chronicle reports the city can't match the A's offer of $85 million for the venue.
City Councilman Larry Reid told the newspaper earlier this week that Manfred had made the suggestion that Las Vegas could be a possible relocation site for the A's in meetings with city officials last week.
"The reports of that are accurate," Schaaf said in the interview with KTVU-TV. "[Las Vegas] is the city that came out of his mouth."
Oakland will soon lose its NFL team, the Raiders, to Las Vegas, possibly as soon as 2020. So Manfred's choice of a possible relocation city was meant to strike a nerve, Schaaf said.
"Obviously he chose his city wisely as far as exposing a pain-point that all Oaklanders feel about losing our sports teams," she said. She later called the lawsuit "misguided."
Oakland had sued Alameda County to block its sale of its share of the Coliseum to the A's and a judge issued a temporary restraining order last week, blocking the transaction. The A's, who want to build a new stadium at Howard Terminal on the waterfront and redevelop the land around the Coliseum, are hoping it would help subsidize the cost of a privately owned new stadium.
A's president Dave Kaval said last week that the franchise was "blindsided" by the restraining order being granted.
"I will say, though, that I absolutely see a path to a new ballpark right … at Howard Terminal," Schaaf said. "As well as really giving the A's the opportunity to do a community-serving development out at the Coliseum, as well as to maintain that as a background plan. I see this path. I am confident we will get there."
Schaaf told KTVU that the city's lawsuit was filed "over my objection."
"I don't think that it serves the public when two governmental entities are suing each other," Schaaf said. "It certainly is my direction that the city and the county work collaboratively. We are co-owners of this land. The board of supervisors are so well-intentioned. They want to do right by their constituents, which are our constituents, so I believe we will get something done collaboratively and put this lawsuit behind us."
The next court hearing in the city's lawsuit is scheduled for Nov. 14, according to the Chronicle.
Reds' Trevor Bauer says reaction to playoff plan criticism 'mostly positive'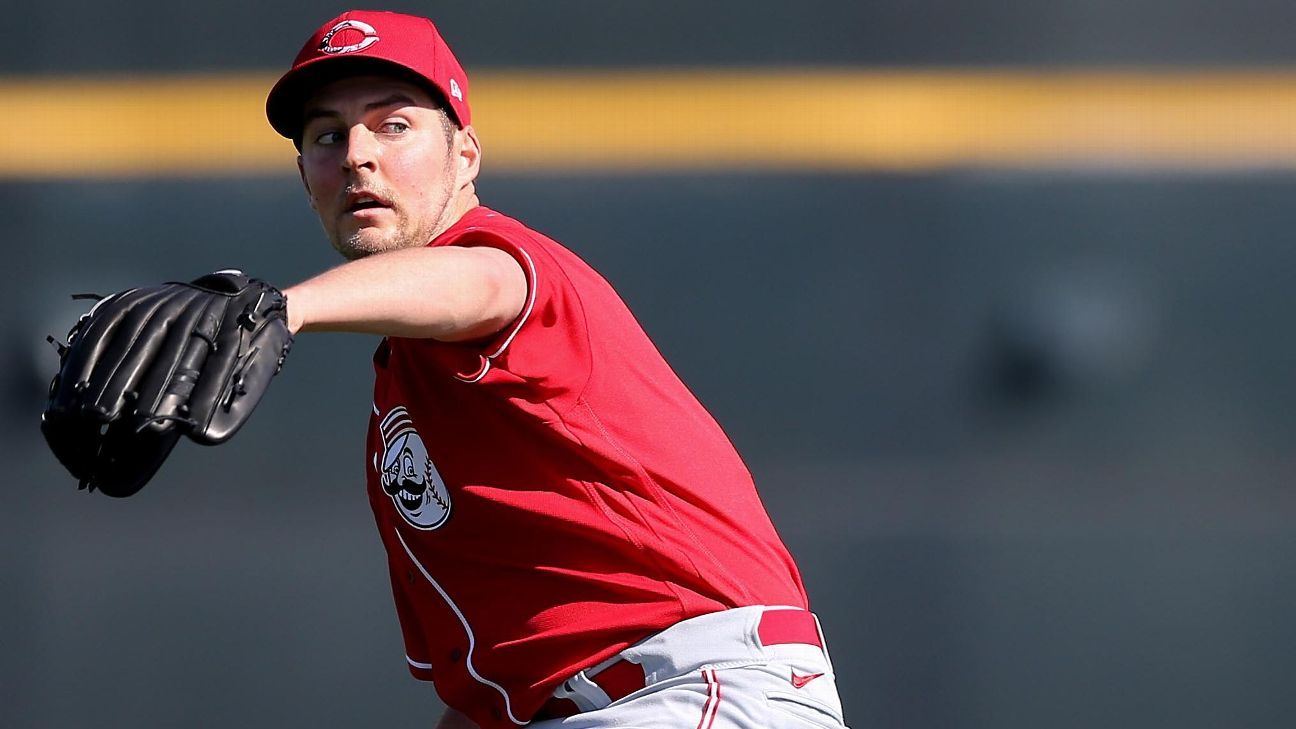 GOODYEAR, Ariz. — Cincinnati Reds pitcher Trevor Bauer says he has gotten positive response to his criticism of a plan being considered by Major League Baseball to expand the playoffs, one that includes an extended break for top seeds and some teams choosing who they will play.
Bauer directed his ire toward Commissioner Rob Manfred in a tweet last week: "Your proposal is absurd for too many reasons to type on twitter and proves you have absolutely no clue about baseball. You're a joke."
Deep into a lengthy with ESPN aired Sunday about the Houston Astros' sign-stealing scandal, Manfred was asked specifically about his reaction to Bauer's tweet that characterized the commissioner as a joke.
"Well, I think if you look back on the questions we've already gone through, I'm pretty good about accepting people's views and criticisms," Manfred told ESPN. "I don't have to agree with them, and I'll say this about that particular comment. No matter how much, how completely I disagreed with what a player thought about something, there's no way I would speak about a major league player like that."
After working out in Arizona, the All-Star pitcher said he hadn't heard the commissioner's response and didn't want to specifically respond to that. He said he had not spoken to the commissioner about the tweet or a lengthy video that Bauer also posted.
"Generally when I say stuff, people take it one way or the other," Bauer said Sunday about the general response to his criticism. "It's been mostly positive. I think when people speak and they come from a place of sincerity and like caring about the situation, you know, it's easy for people to identify that, and to hear that in the genuine nature of it."
Bauer was passionate with his thoughts in the video that was nearly seven minutes long and posted after the tweet. He said near the end of that video that he was open to speaking with the commissioner.
Comedian/actor and baseball fan Jerry Seinfeld sent a tweet Friday with Bauer's video attached to it, and wrote, "Trevor Bauer to the rescue! Love this guy."
Under a plan being considered by MLB, the playoffs would be expanded to nearly half the 30 teams, growing from 10 to 14 with higher-seeded wild-card teams allowed to choose opponents. The top seeds in each league would get byes, creating extended layoffs between games.
Bauer has also had strong reactions to the Astros scandal, including some comments after Houston owner Jim Crane was widely criticized for an apology that rang hollow to many.
"I'm not going to let them forget the fact that they are hypocrites, they are cheaters," Bauer told reporters Friday.
"They mocked everything about everyone who said they were doing something under the table or illegal or whatever," Bauer said, tossing a few expletives while adding, "Now you're lying about your apology."
Bauer took a bit of a different tone Sunday, saying it was "time for everyone to just move on" from that situation.
Asked how that could happen, he said, "It starts by people like me that have had opinions stopping talking about it."
Ex-Dodgers pitcher Yu Darvish — Astros should be stripped of title
MESA, Ariz. — Add Chicago Cubs righty Yu Darvish to the list of those that believe the Houston Astros should be stripped of their 2017 World Series title.
"It's like the Olympics," Darvish said from Cubs camp on Sunday. "When a player cheats, you can't have a gold medal, right? But they still have a World Series title. It (feels) weird."
Pitching for the Los Angeles Dodgers in that World Series, Darvish previously said he doubted himself after getting rocked in Games 3 and 7. At first, he was told he was the one tipping his pitches but now wonders if the Astros stole the signs.
"Was I tipping, or were they stealing?" Darvish asked last month.
On Sunday, he said he wasn't angry but felt for opposing pitchers who lost their jobs due to the Astros scandal while telling Houston players it might be better to be quiet right now.
"So they cheat, I think they shouldn't talk right now," Darvish said referencing Carlos Correa's comments about Cody Bellinger. "Some people lost their job. They have to show more apology. I don't feel anything from those guys."
Darvish compiled a 21.60 ERA over his two games pitched just before going to free agency after the 2017 season. He ended up signing a six-year, $126 million contract with the Cubs who admitted they may have taken advantage of other teams being scared off after his World Series performance.
"I know they were stealing signs, but at the same time, I was not good during the World Series," Darvish said. "I'm better for what I went through. But, yeah, everyone is wondering about (their numbers) pitching against them."
Darvish is just the latest in a long line of players to criticize the Astros after it was revealed they were stealing signs electronically in 2017. No players were punished in the scandal while Houston's apologies have been widely criticized as well.
Buster Olney – How Houston Astros deal with backlash will define their season
FORT MYERS, Fla. — The camps have opened. Left-handers and right-handers are building their pitch counts. New gloves are being oiled, bent and broken in. Some players are learning new positions. Hitters have worked offseason swing changes into their first rounds of spring batting practice. Opening Day is 39 days away, meaning little more than a month for final adjustments.
But there is really no way for the Houston Astros to prepare for what looms this year when they leave their Minute Maid Park cocoon, and perhaps even in moments when they are in that safe zone of home.
Set aside the question of on-field retaliation for the Astros' sign stealing that has been raised by Mike Clevinger, Ross Stripling and others, prompting Dusty Baker to push back Saturday on the hints at violence. What the Astros seem destined to experience is a most extreme form of negative reinforcement.
Thousands upon thousands of fans heaping anger, frustration, bitterness and whatever other emotions they care to temporarily eject from their lives at a small group of men in orange uniforms, tearing at whatever mental scar tissue each of the Astros players can construct day to day.
Over the past week, some players on other teams have watched the backlash to the Astros' repeated public relations debacles and observed the avalanche of fan response on Twitter — undoubtedly fueled by the unprecedented verbal attacks of the Astros' professional peers — and have wondered about the impact on the players who must try to work within that fan reaction.
And there is no escape. Carlos Correa pushed back against some of the criticism in a series of interviews Saturday, aiming to absolve teammate Jose Altuve while absurdly trying to separate moments when the 2017 Astros cheated from when they did not — a futile exercise.