Astros' Justin Verlander dominates in another postseason gem
HOUSTON — Astros ace Justin Verlander continued to move up the all-time postseason charts during a dominant seven-inning outing Friday against the Tampa Bay Rays in Game 1 of their American League Division Series matchup.
Verlander blanked the Rays over seven innings, allowing just one hit and three walks while striking out eight. Houston won 6-2, grabbing the quick series lead over the underdog Rays.
For Verlander, it was just another in a long line of postseason gems and with each outing, he climbs the all-time postseason leaderboards.
"I never get complacent about what I've been able to do in the playoffs," Verlander said. "Each and every game is a new opportunity to go out and re-prove myself."
With his seventh strikeout — a whiff of Tampa Bay's Yandy Diaz in the seventh inning, — Verlander passed Roger Clemens for the third-most K's in postseason history. He's now at 175, eight behind Andy Pettitte and 24 behind the record-holder, John Smoltz. If the Astros enjoy a deep playoff run as expected, Verlander would likely pass Smoltz this October.
The win was Verlander's 14th in the postseason, which moves him into a third-place tie with Hall of Famer Tom Glavine. He's one behind Smoltz, while Pettitte tops the list with 19.
Even if the Astros are eliminated by the Rays, Verlander, 36, will likely get more chances to add to his historic numbers: He continues to insist that he plans on playing until age 45.
"I guess I kind of pegged this like 45 number," Verlander said in advance of his outing. "Whether that's realistic or not, I don't know. I know I'm not going to sell myself short."
Verlander walked Rays leadoff hitter Austin Meadows to start the game after uncharacteristically struggling to find command of his fastball. He went to his secondary pitches to coax two double-play grounders during a sterling effort from the Houston defense. Verlander, typically a flyball pitcher when opposing hitters manage to put the ball in play against him, seemed as proud of that as any of the records.
"I don't know if that's the first game all year I've gotten two double plays," Verlander said. "These guys always give me a hard time because I don't get them enough ground balls. I was able to get them a few in the game today."
The defensive support aside, it was an unusually sterling effort even by Verlander's standards. He became just the 13th pitcher in postseason history to hold an opponent to one or fewer hits over at least seven innings. The last pitcher to do it was Cincinnati's Bronson Arroyo in 2012.
"He's an unbelievable competitor," third baseman Alex Bregman said. "He prepares more than anybody. I love how much pride he takes in every start that he makes."
None of this was any surprise to Bregman and his, teammates who have seen Verlander dominate the majority of his outings since he joined the Astros late in the 2017 season. Still, they can't help but marvel at Verlander's continued excellence.
"When you can execute at your best in the biggest moments," Astros manager A.J. Hinch said. "I mean, there's nothing — there's not a higher league. Like there's nowhere for him to go to be tested any further. So the test is really being able to do it start after start and then postseason after postseason.
"I don't know how to define it. I don't know what it's called. Whatever that 'it' factor is, he's got it."
Yankees vs. Astros – Live Game – October 13, 2019
Tonight, the Yankees will face an opposing starting pitcher who won a Cy Young Award for the 12th time in 18 postseason road games since 2011 (6-11): Zack Greinke and Justin Verlander in the 2019 ALCS at Houston, David Price in the 2018 ALDS at Boston, Justin Verlander (2x) and Dallas Keuchel in the 2017 ALCS at Houston, Corey Kluber (2x) in the 2017 ALDS at Cleveland, Max Scherzer and Verlander in the 2012 ALCS at Detroit, Rick Porcello and Verlander in the 2011 ALDS at Detroit.
Giancarlo Stanton out of Yankees' Game 2 lineup with quad strain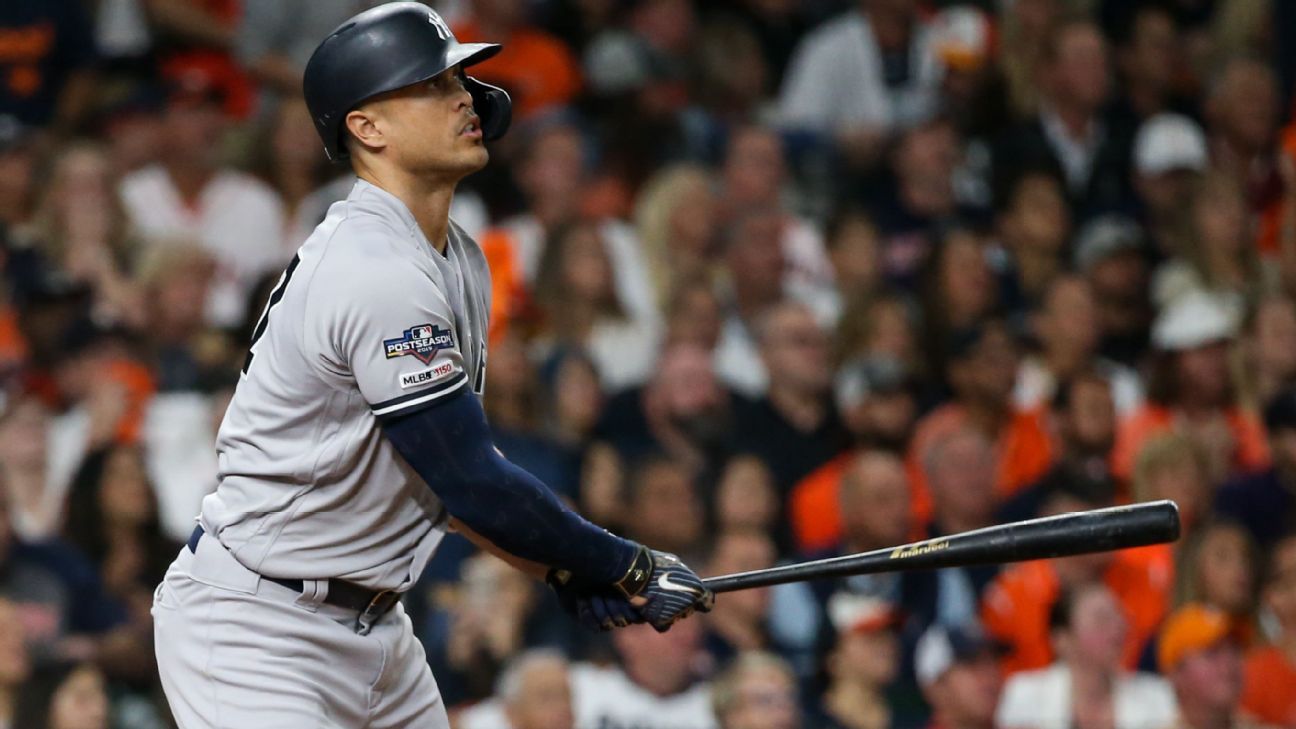 HOUSTON — Outfielder Giancarlo Stanton was left out of the New York Yankees' starting lineup for Game 2 of the American League Champion Series against the Houston Astros after suffering a right quad strain in his team's Game 1 win.
Manager Aaron Boone told reporters the injury occurred during Stanton's second-inning infield hit, in his first at-bat of Saturday night's series opener. He remained in the game and later homered.
Boone said he underwent an MRI, which revealed the strain, but remains an option to pinch hit Sunday.
"He would be available tonight to hit or go in in an emergency situation," Boone said. "He is in play tonight but didn't feel like he was good to start."
The Yankees will see how Stanton responds the next couple of days before making a decision about when he will return to the starting lineup.
"So hoping that it's something that with today and the off day, that he would be back in play for Game 3," Boone said. "We'll just kind of see how these next 48 hours unfold."
Stanton was replaced in left field by Cameron Maybin, batting eighth.
"So obviously [we're] disappointed because we feel like G's really gaining some steam and having good at-bats and we know what kind of impact player he could be," Boone said. "But we know when we turn to Cam or Aaron [Hicks] in this situation, we know what they can be."
Angels employee says cooperating with feds is 'right thing to do'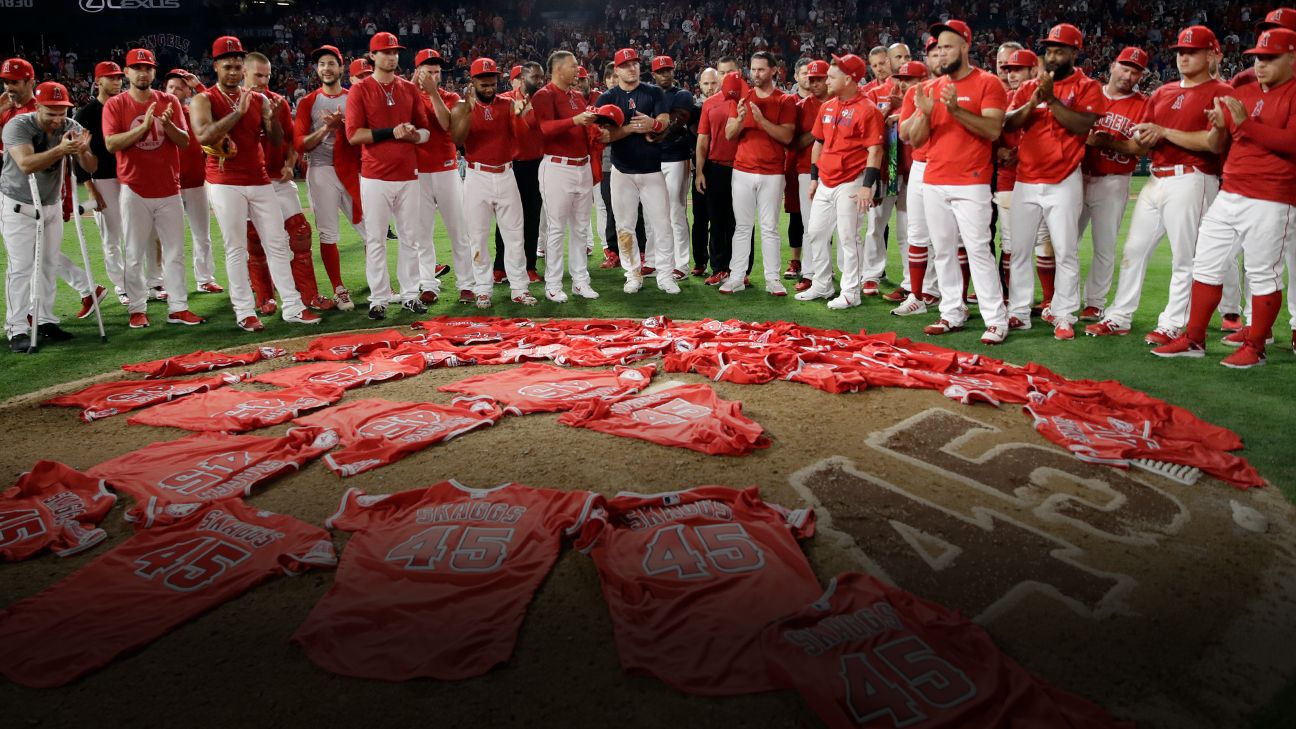 Los Angeles Angels communications director Eric Kay, who last month told U.S. Drug Enforcement Administration agents that he provided opioids to Angels pitcher Tyler Skaggs, said in a statement to Outside the Lines on Sunday that it's "time for everyone to stand up and take responsibility."
"I felt and continue to feel that it is time for everyone to stand up and take responsibility for their respective roles in this," he said in the statement issued by his attorney, Michael Molfetta. "Nothing anyone does will ever provide closure for the Skaggs family. I can't, the Angels can't, and the courts can't, regardless of what happens there. But at least I can help them 'know' instead of 'wonder.' My hope is that there is some peace in that for them."
Skaggs was found dead in his Southlake, Texas, hotel room July 1. He had oxycodone, fentanyl and alcohol in his system, and he asphyxiated on his own vomit, according to an autopsy released Aug. 30.
Outside the Lines on Saturday, citing two sources with knowledge of the investigation, reported details of interviews Kay had with DEA agents from the Dallas and Los Angeles field offices in September. Molfetta confirmed those details to Outside the Lines.
Kay, on paid leave from the Angels, is currently in outpatient treatment for his own opioid addiction. Molfetta told Outside the Lines that Kay was concerned he was going to be blamed for Skaggs' death, and said that, despite obtaining oxycodone for Skaggs for years, Kay did not think he provided the pills he says Skaggs snorted the night he died.
Kay also told DEA agents the names of five other players who he believed used opioids while they were with the Angels. Skaggs asked Kay to obtain the drugs on those players' behalf, he told federal investigators.
Investigators learned of Kay and Skaggs' more than four-year history of opioid abuse together after DEA agents obtained cellphone records from both men after Skaggs' death, sources familiar with the investigation told Outside the Lines.
Kay told agents that he had an arrangement with Skaggs wherein the pitcher would give Kay money to purchase oxycodone for both of them and Kay would obtain the drugs. Outside the Lines reviewed Venmo transactions alleged to have occurred between Skaggs and Kay, which show a series of payments over two years ranging from $150 to $600. Kay's wife, Camela, and his mother, Sandy, told Outside the Lines the payments represented drug transactions.
Sandy Kay said she asked Eric last week about his arrangement with Skaggs: "I said, 'Why did you do it? What did you get out of it?' He said, 'They were $30 a pill, and Tyler paid for it.'"
Eric Kay told investigators he illegally obtained six oxycodone pills and gave three to Skaggs a day or two before the team left California for the road trip to Texas. Kay told DEA agents he does not think the pills he obtained for Skaggs were the same ones the pitcher took the day he died because Skaggs typically would ingest the pills immediately after receiving them from Kay. Skaggs also texted Kay the day the team left for Texas seeking more oxycodone, a request Kay told investigators he was unable to fulfill. Molftetta said Saturday that Kay also told agents he took pills from the same batch after that road trip and suffered no adverse effects.
Kay told DEA investigators that hours before Skaggs' death in July, Skaggs was in his Southlake Hilton hotel room and texted Kay to visit him. Kay also told investigators that Skaggs snorted three lines of crushed opioids in front of him. Kay recognized that two of the lines could have been crushed oxycodone, but the third was not a substance he recognized. Kay said he did not take any drugs, despite being offered them by Skaggs, because he was on a medication that would have negated the effects.
Kay also told DEA agents that he told two team employees, including his then-supervisor, Tim Mead, that Skaggs was an opioid abuser. Sandy Kay told Outside the Lines that, while Eric was hospitalized for an overdose in April, she also told Mead that Skaggs was using opioids and that the team needed to intervene.
Mead, who left the Angels in June to become president of the Baseball Hall of Fame and Museum in Cooperstown, New York, told Outside the Lines no one mentioned Skaggs' name in that conversation or that Skaggs was an opioid user at any other time.
An Angels spokesperson said the team was not aware of Skaggs' drug use before the results of his autopsy.
On Saturday, the Skaggs family's attorney, Rusty Hardin, said in a statement, "The Skaggs family continues to mourn the loss of a beloved son, brother, husband and son-in-law. They greatly appreciate the work that law enforcement is doing, and they are patiently awaiting the results of the investigation."
Eric Kay's statement Sunday did not touch upon details of his conversations with DEA agents. But he did address the national attention that Saturday's news brought to his role in Skaggs' life: "Watching and reading the sordid details of my own weaknesses unfold on the national stage has been nothing short of horrible. However, I am aware and respectful of the fact that my pain is entirely insignificant compared to the pain that the Skaggs family is feeling and will continue to feel for the rest of their lives.
"I made the decision to cooperate with law enforcement because I felt that it was the right thing to do. That is all I can do from this point on, if it comes with public shame and derision, I accept that."
Producer Arty Berko of ESPN's Investigative and News Enterprise Unit contributed to this report.