Cardinals vs. Cubs – Game Recap – September 22, 2019
CHICAGO — Paul Goldschmidt and the St. Louis Cardinals celebrated the franchise's first postseason berth in four years with a champagne toast in the visitor's clubhouse.
It was another sweet finish.
Goldschmidt hit a tiebreaking double in the ninth inning and the Cardinals clinched a playoff spot by rallying past the Chicago Cubs 3-2 on Sunday for their first four-game sweep at Wrigley Field in almost a century.
"Just relentless on our guys' part," manager Mike Shildt said. "That's the way we play baseball. That's the way we compete."
NL Central-leading St. Louis qualified for October for the first time it won the division in 2015. It also stayed three games ahead of Milwaukee.
It was the fifth consecutive win for the Cardinals, who came back for a 9-8 victory Saturday on consecutive homers by Yadier Molina and Paul DeJong against Craig Kimbrel in the ninth.
This time, Chicago manager Joe Maddon sent a dominant Yu Darvish (6-8) back to the mound to go for his first complete game since 2014. But the result was the same in the Cubs' fifth consecutive one-run loss and sixth straight overall.
"If you just play back the tape it's almost unbelievable that it turned out this way," Maddon said.
Pinch hitter Jose Martinez sparked the winning rally with a leadoff triple that glanced off the glove of diving center fielder Albert Almora Jr.
"It was hit hard and it went over my head and I missed it," Almora said. "That's it."
Dexter Fowler followed with a sacrifice fly, tying it at 2. After rookie Tommy Edman singled and stole second, Goldschmidt hit a grounder down the third-base line to put the Cardinals in front for good in the Cubs' rainy home finale.
"I swung and missed a couple times at some pitches in the middle," Goldschmidt said. "Luckily, I was able to hit that last one down the line."
Miles Mikolas pitched 7 2/3 innings of two-run ball and Tyler Webb (2-1) got the last out of the eighth for the win. Andrew Miller worked the ninth for his sixth save.
Nicholas Castellanos hit his career-high 27th homer for Chicago (82-74), which dropped four games back of the Brewers for the second NL wild card. The Cubs finished with a 51-30 home record after losing their last six games of the year at Wrigley.
It was the first four-game series sweep for St. Louis (89-67) at Chicago's famed ballpark since May 1921.
"It kind of seems that we've got the magic going," Edman said. "At any point, we know we're not out of it."
Castellanos also scored the first run of the game when he scampered home on Yadier Molina's passed ball in the first. But DeJong tied it with his 29th homer, a massive drive to Waveland Avenue in the third.
It was still tied when Castellanos led off the sixth with a drive to center for his 16th homer in 49 games since he was acquired in a July 31 trade with Detroit.
The Cubs were without Kris Bryant for most of the day after the slugger sprained his right ankle trying to beat out a double play in the third. X-rays taken at the ballpark were negative.
ONE SWEET TUNE
Gary Pressy threw out a ceremonial first pitch before his 2,687th and final game as the organist at Wrigley. He also led the crowd in the singing of "Take Me Out to the Ball Game" during the seventh-inning stretch.
Pressy is retiring after beginning his career at Wrigley in 1986.
ABOUT THE NUMBERS
The announced attendance was 38,606, bringing the season total at Wrigley to 3,094,865. The Cubs' attendance last year was 3,181,089, but that included a crowd of 38,450 for the Cubs' NL Central tiebreaker loss to the Brewers.
TRAINER'S ROOM
Cardinals: An MRI on Kolten Wong's ailing left hamstring showed a Grade 2 strain. The infielder is hoping to return during the Cardinals' last series of the season against Chicago in St. Louis. "I'm hoping to give this enough time where it definitely won't hinder me going on," he said.
Cubs: SS Javier Baez could return to the field Tuesday at Pittsburgh for the first time since he broke his left thumb. He struck out as a pinch hitter Saturday in his first plate appearance since the injury. "The biggest thing is just closing his glove on defense," Maddon said. "So if he's able to do that and he's making great progress you may see him."
UP NEXT
Cardinals: RHP Adam Wainwright (13-9, 3.83 ERA) starts the opener of a three-game series at Arizona on Monday night. Wainwright is 4-0 in September, allowing one earned run in 27 innings. LHP Alex Young (7-4, 3.27 ERA) pitches for the Diamondbacks.
Cubs: Following an off day, Chicago begins a three-game set at Pittsburgh on Tuesday night. The team hasn't announced its starting pitchers for the series. RHP Mitch Keller (1-5, 7.74 ERA) pitches for the Pirates in the opener.
Dan Straily signs one-year deal with Korean team
SEOUL, South Korea — Veteran pitcher Dan Straily has signed a one-year contract worth $800,000 with the Lotte Giants, the Korea Baseball Organization club announced on Saturday.
The 31 year-old right-hander became a free agent in October after spending last season with the Baltimore Orioles, his sixth major league team.
Each KBO team is allowed two foreign pitchers with Straily joining Adrian Sampson, formerly of the Seattle Mariners and Texas Rangers, who signed with the Giants in November.
Injured Yoenis Cespedes agrees to pay cut in grievance settlement
NEW YORK — Yoenis Cespedes' salary for 2019 was cut in half and his pay for 2020 significantly reduced as part of a settlement of a grievance between the injured outfielder and the New York Mets.
Cespedes agreed to a $110 million, four-year contract in December 2016 but hasn't played since July 20, 2018. The outfielder had surgery to remove bone calcification from his right heel on Aug. 2, 2018, and his left heel that Oct. 26.
Mets general manager Brodie Van Wagenen, Cespedes' former agent, said in late May the outfielder suffered multiple right ankle fractures in an accident at Cespedes' ranch in Port St. Lucie, Florida, where the club's spring training complex is located.
New York withheld part of Cespedes' salary, alleging he was hurt during an activity prohibited by his contract's guarantee language. The players' association filed a grievance, and the sides settled on an amended contract before the case was argued.
"The club has reached an agreement with Yoenis Cespedes to amend and restructure his contract," the team said in a statement Friday. "Cespedes remains under contract with the Mets through the 2020 season."
Van Wagenen said last month he was uncertain whether Cespedes would play in 2020.
Cespedes had been owed $29 million this year and $29.5 million in 2020. His 2019 pay was cut to $14,811,828, according to Mets' payroll information made available to all clubs.
The amended contract will significantly lower his 2020 guaranteed salary from $29.5 million, a source told ESPN's Jeff Passan.
Cespedes will have the chance to earn additional bonuses.
A two-time All-Star, the 34-year-old has played in only 119 games in the first three seasons of the contract — just 38 since the end of the 2017 season.
Minor league instructor and former Mets player Endy Chavez posted and then deleted video on Nov. 19 of Cespedes taking swings.
Also Friday, former All-Star right-hander Michael Wacha and the Mets completed a $3 million, one-year contract that includes $8 million in performance bonuses. Wacha can earn $7 million under a points system and $1 million for relief appearances.
New York's starting rotation includes Jacob deGrom, Noah Syndergaard, Marcus Stroman and Steven Matz, and the Mets have a pending $10 million, one-year deal with Rick Porcello.
"I've got my mindset going in as a starter right now," Wacha said. "Down the road, who knows what's going on. But my mindset going in is definitely a starter. "
The 28-year-old Wacha starred as a rookie for the National League champion St. Louis Cardinals in 2013, winning NL Championship Series MVP, but he has been hampered by injuries since. He had a 4.76 ERA over 126⅔ innings last season in 24 starts and five relief appearances. He was diagnosed with a right shoulder strain in September and did not pitch in the playoffs.
"I'm very confident in the work that we've been putting in in the offseason, preparing for this next season," he said. "I'm very confident with the guys I'm working out with."
As a rookie in 2013, he was teammates with new Mets manager Carlos Beltran. Wacha referred to Beltran as "El Caballo" — the horse.
"I was very fortunate enough to play with him in 2013 and just see the way he prepared for the game. He knows the amount of work that goes into being a very successful ballplayer," Wacha said. "He really is the best, an unbelievable knowledge about the game."
Wacha was an All-Star in 2015, when he went 17-7.
"I was attacking the zone. I was not getting in trouble with walking guys," he said.
He is represented by CAA, where Van Wagenen was an agent before the Mets hired him in late 2018.
Wacha would earn a point toward a bonus for each start or each relief appearance of three or more innings, getting $500,000 each for points 10, 14, 18, 20 and each additional point through 30. He would get $250,000 apiece for 40, 45, 50 and 55 relief appearances.
He also has award bonuses of $50,000 for Cy Young, $25,000 for second and $10,000 for third; $100,000 for World Series MVP and $50,000 each for League Championship Series MVP, making the All-Star Game and winning a Gold Glove or Silver Slugger Award.
The Associated Press contributed to this report.
Clayton Kershaw reflects on NLDS loss, 'shocked' by Astros allegations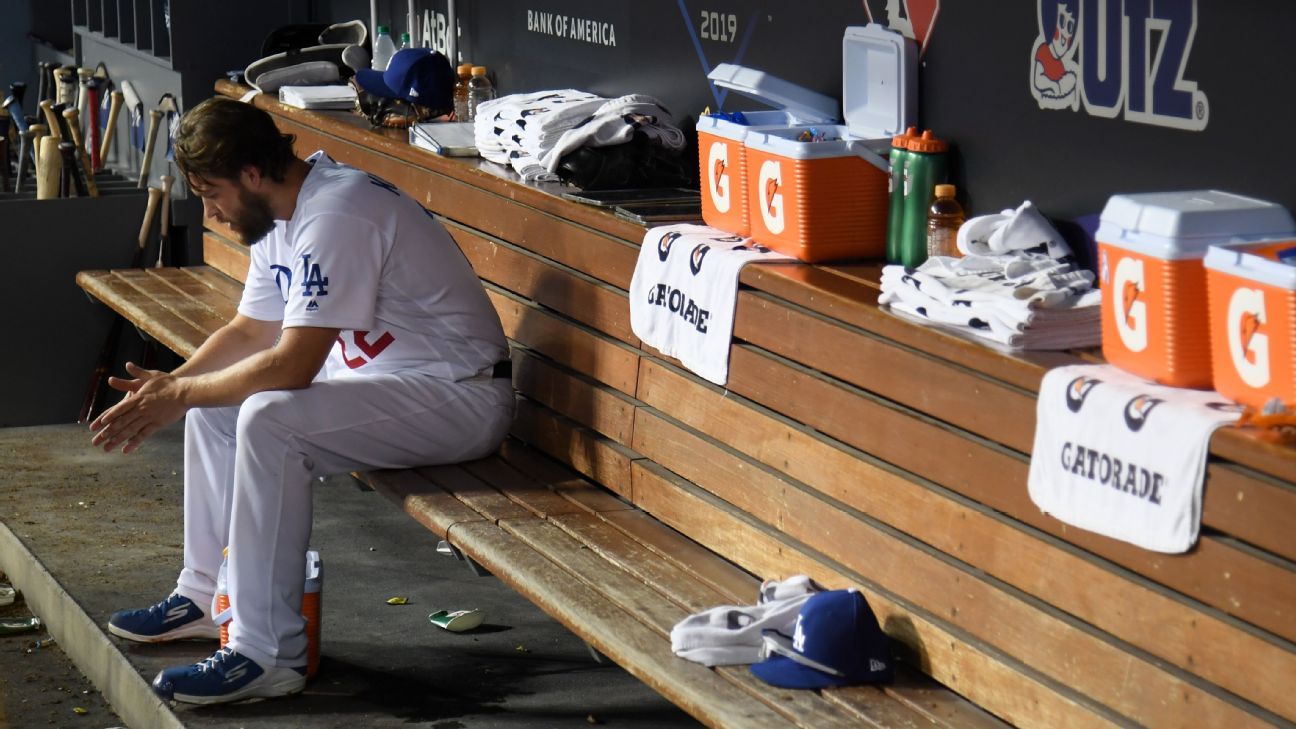 LOS ANGELES — Clayton Kershaw was uncommonly vulnerable on the night of Oct. 9, in the aftermath of an National League Division Series elimination by the Washington Nationals.
Kershaw entered Game 5 with two outs and a two-run lead in the seventh inning. He struck out Adam Eaton, came back out for the eighth and surrendered back-to-back, game-tying home runs to Anthony Rendon and Juan Soto. Later, after watching the Nats take the lead for good with a four-run 10th inning, Kershaw sounded particularly defeated. He talked, somberly, about disappointing his teammates and stated that "everything people say is true right now about the postseason," a nod to his infamous October struggles.
Nine weeks later, while attending a holiday party for about 300 children at Dodger Stadium on Friday, Kershaw was appreciably more upbeat. He had trimmed his beard, had seemingly lost some weight, and had acquired a fresh perspective.
"You have two options: You can either just kind of crawl into a hole, or you can move on and try to get better for the next year," he said. "I don't want to crawl into a hole yet, so I'm going to try to get better for the next year."
Kershaw, noticeably in decline but still considerably effective, is still a central figure for a Dodgers franchise that has won seven consecutive division titles but is now more than three decades removed from a World Series title. The NLDS elimination in 2019 followed consecutive World Series defeats in 2017 and 2018. The first of those was to the Houston Astros, who have been accused by former players — including Mike Fiers, who spoke publicly about it — of using technology to steal opponents' signs and relay them to hitters.
Kershaw, who blew two leads of three or more runs in Game 5 from Minute Maid Park, said he was "a little shocked" by the revelations.
"When the team and the players are doing what they can on the field to get the signs, that's obviously part of the game," Kershaw said. "But when technology comes into play, if that is really true, it sucks. Unless we get to win the World Series, I don't really care what the punishment is. But it does suck, no matter what."
Kershaw hadn't been keeping tabs on the offseason activity throughout Major League Baseball until the winter meetings took place and major moves were made earlier this week. The Dodgers were aggressive in their pursuit of former Astros ace Gerrit Cole but watched him sign a nine-year, $324 million contract with the New York Yankees. The Dodgers reportedly offered an eight-year, $300 million deal and believed Cole's decision ultimately came down to him wanting to play for the Yankees, the team for which he grew up rooting.
Kershaw never called to recruit him.
"We would've loved to have him here," Kershaw said, "but that deal was pretty impressive for him."
The Dodgers were active throughout the winter meetings, but came away with only Blake Treinen, a hard-throwing reliever who constitutes a reclamation project. They have been linked to longtime San Francisco Giants ace Madison Bumgarner, whom Kershaw said he is quite fond of, and could also re-sign free agent Hyun-Jin Ryu to give them another arm for the top of their rotation. The Dodgers have uncommon depth at almost every position, but would like to add the type of elite-level players who tend to make an even greater impact during short postseason series.
After losing to the Boston Red Sox in the 2018 World Series, Kershaw said the Dodgers' shortcomings weren't indicative of any holes on their roster; they simply needed to perform better in October.
Now?
"It's such a hard question for me to answer just because, bluntly, in the postseason, if I pitch better, we probably are better," Kershaw said. "It's not an easy question for me to answer. But we're in a great spot again. We have a great team."